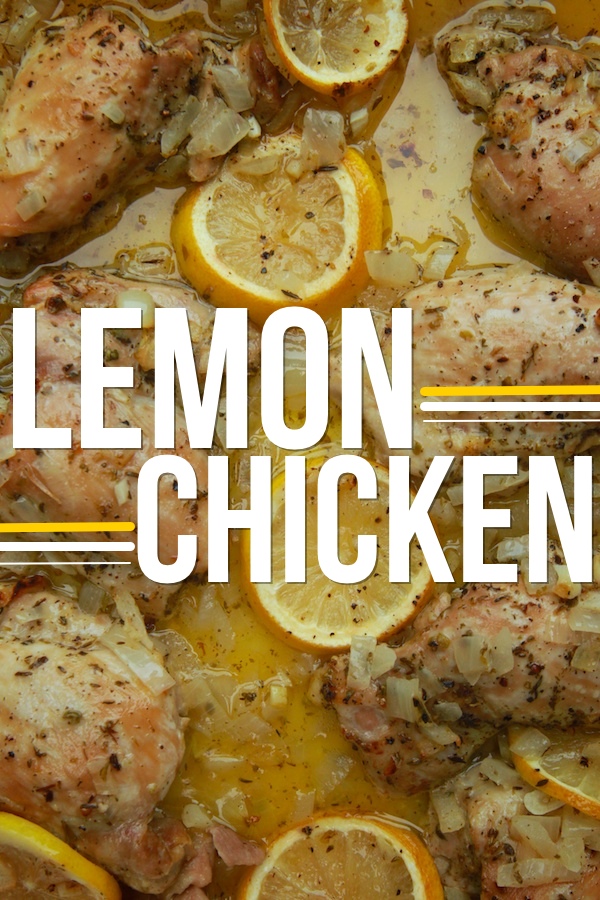 My brother and I like to have these conversations about what dishes we enjoyed the most while growing up. My mom's Lemon Chicken always comes up in the top 5 because THE SAUCE OMG THE SAUCE. We would fight over the crispy burnt onions on the edges of the glass baking dish; my mom never had to work hard to scrub the pan. Having a sibling who also loves crispy bits was a just a weeeeee bit dangerous. Fights ensued and then came taunting. Growing up is fun!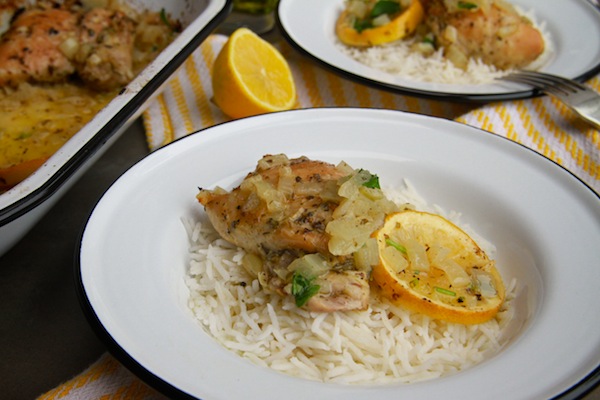 Now, I'm the only person in my family that likes crispy bits (totally awesome!) but Cooper and I BOTH are pizza crust people so I guess there's that…We fight over Casey's crust…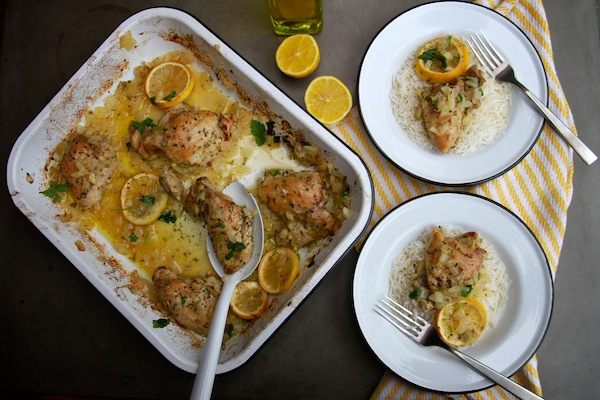 Let's get back to the sauce. It's dreamy/tangy and the onions are mostly soft while some of them are crispy! My parents were out of town and I didn't want to bug my mom asking her for the recipe so I came up with my own interpretation. First I used olive oil instead of butter. If you want to sub butter for olive oil, she uses about 1 stick. Or– you can go half & half. Either way, it makes a delicious sauce. The olive oil is just as good. My mom also uses chicken thighs on the bone while I go boneless. Casey doesn't like having to cut around the bones (I don't blame him!) so we almost always go boneless. She also dredges the chicken in flour before she bakes it. Doesn't do much for the texture but I assume it thickens the sauce? I also added a bit of parsley at the very end to garnish and some sliced lemons in the mix. Fancy!
Any who- this is a pretty quick/easy recipe with a big impact. I almost always serve it with rice and a side of broccoli. I hope one day you'll have people talking about how it's one of your top 10 meals. Enjoy and thanks, Mom!
And we're off!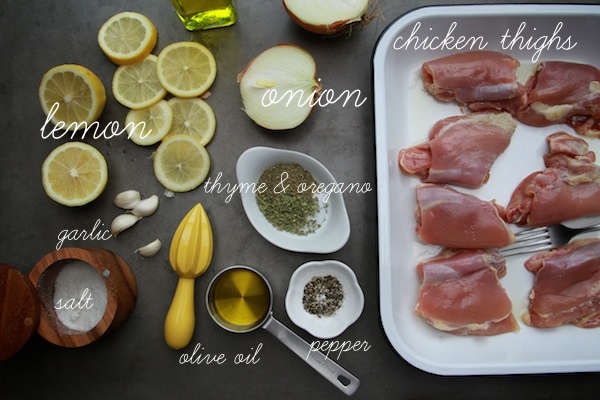 We're gonna chop up the onion, mix the herbs with the olive oil (or butter) and add the thyme & oregano.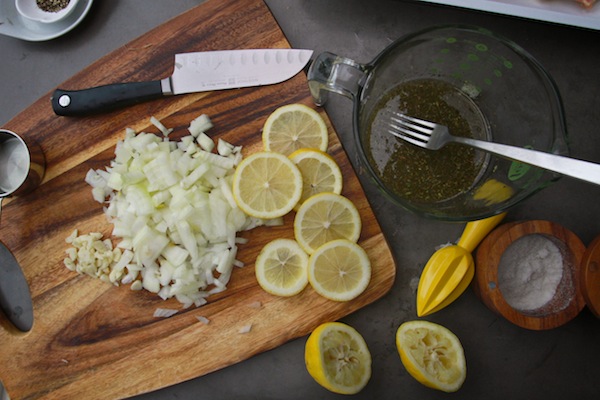 See? The juice of 1 1/2 lemons goes in as well.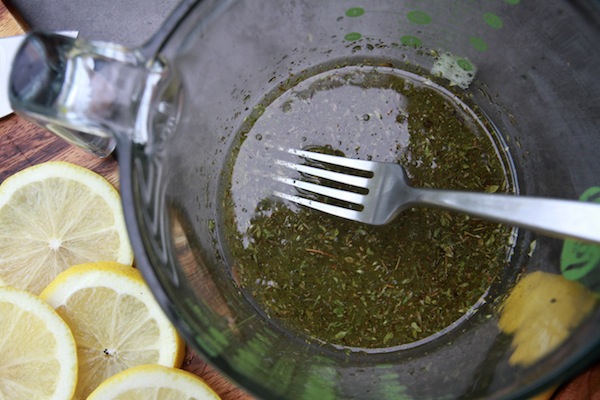 Now we stir in the chopped onions & garlic.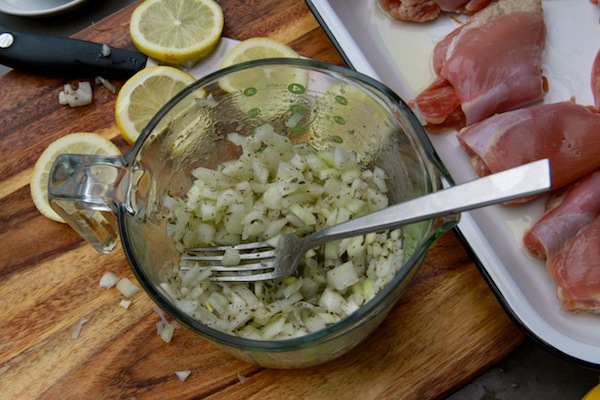 Lightly oil up the baking dish you're going to bake the chicken in. Add the onion mixture on top and stir!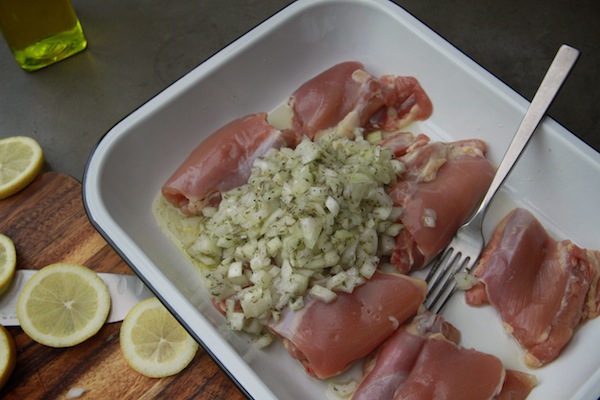 Season with salt & pepper and divvy up the lemon slices around the chicken.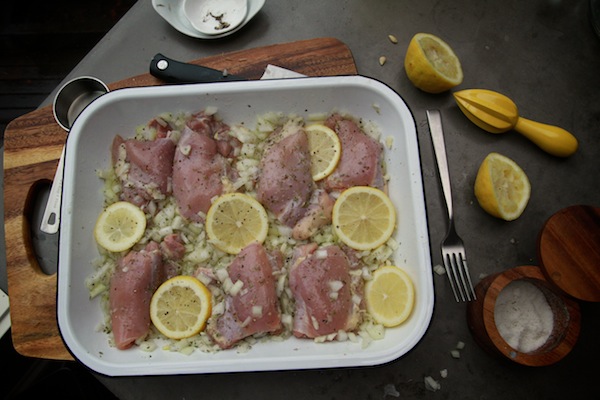 And we're baked! It takes about 35-40 minutes at 375F. If you want to make the sauce creamier, add a little butter at the end.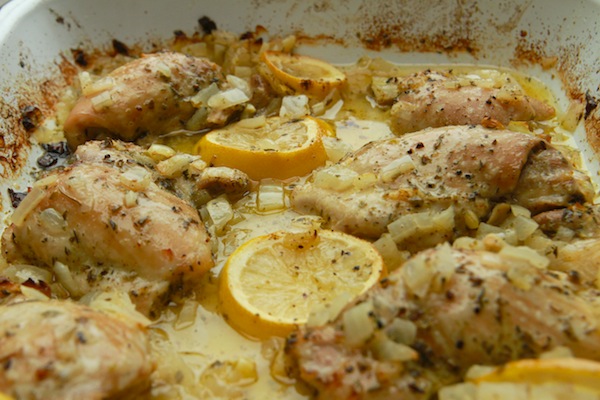 I highly recommend serving the chicken over rice. It's really good with potatoes too.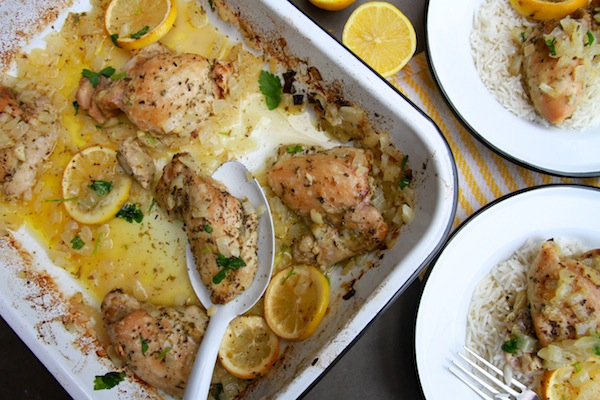 Because….JUICE.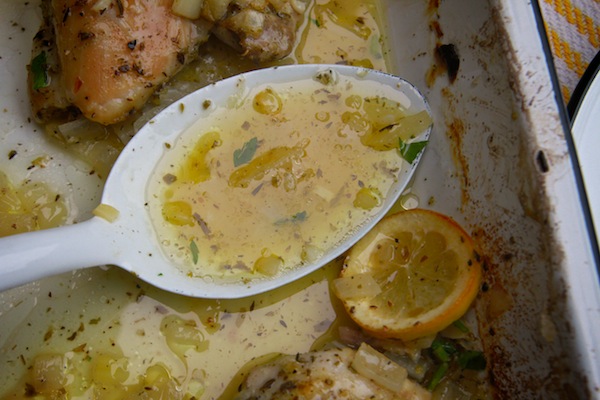 Here are those burnt bits I was telling you about…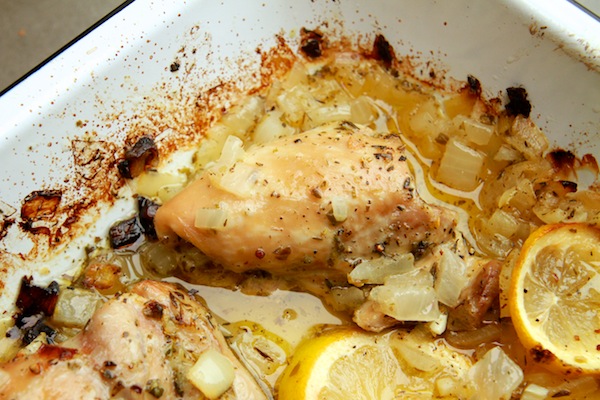 Lemon Chicken

serves 4

1 1/2 lbs. boneless skinless chicken thighs

1/3 cup extra virgin olive oil plus more for pan
juice of 1 1/2 large lemons, plus 5-6 slices of lemon
1 medium onion, chopped
3 cloves garlic, chopped
1 teaspoon dried thyme
1 teaspoon dried oregano
kosher salt & pepper
chopped Italian parsley for garnish

Preheat oven to 375F. Lightly drizzle olive oil in a glass baking dish or enamel pan. Add chicken thighs and set aside. In a large measuring cup or bowl mix together olive oil, lemon juice, onion, garlic, thyme and oregano until well combined. Pour onion mixture over chicken thighs and toss to coat. Nestle lemon slices around the chicken and season with salt & freshly cracked pepper. Place chicken into the oven and bake for 30-40 minutes (depending on the thickness of the chicken), until chicken is thoroughly cooked and the juice is bubbling. Cover the pan and let chicken sit for 5 minutes and sprinkle with fresh parsley. Serve on top of rice, making sure to spoon the juices on top.