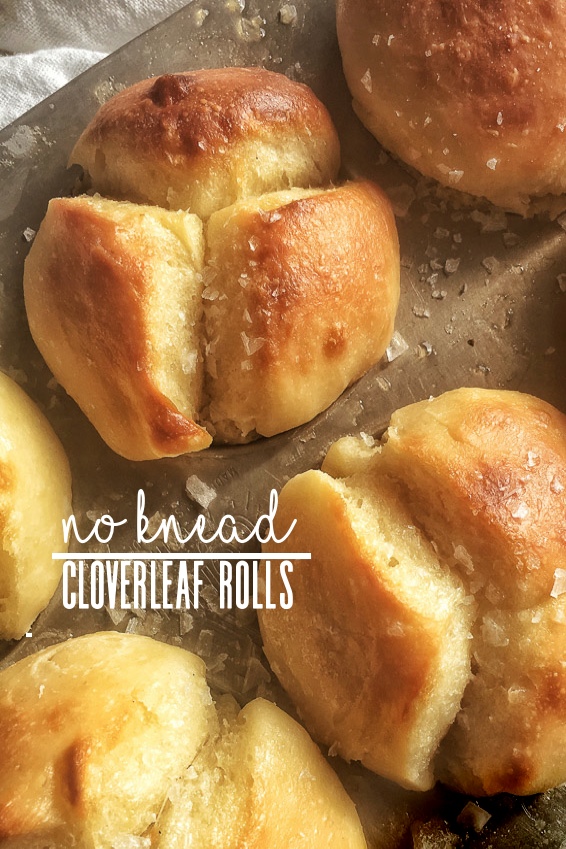 Do you have dinner roll duty for Thanksgiving? I do.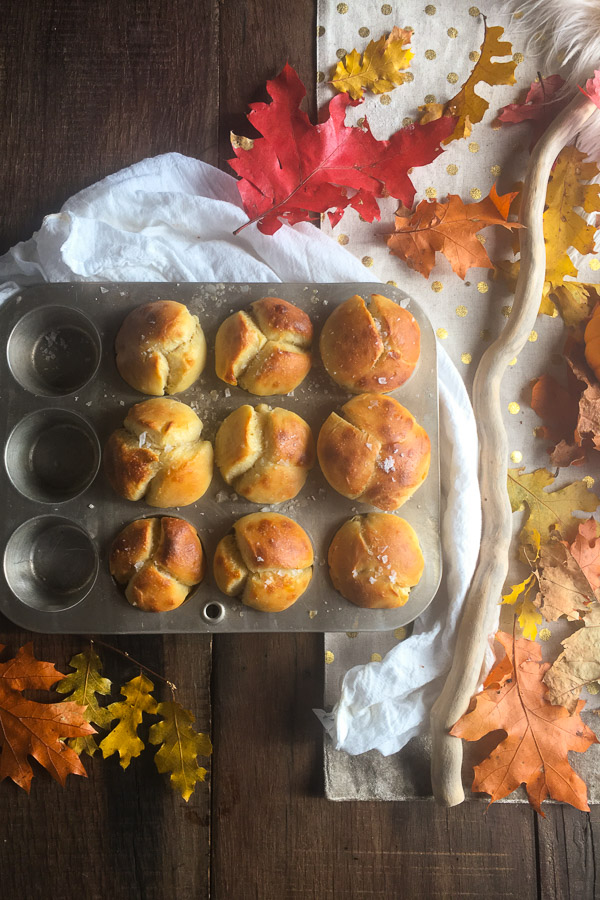 I was thinking of buying rolls but then I saw this recipe and saw how easy it was to make my own No Knead Cloverleaf Rolls.  There's no turning back now.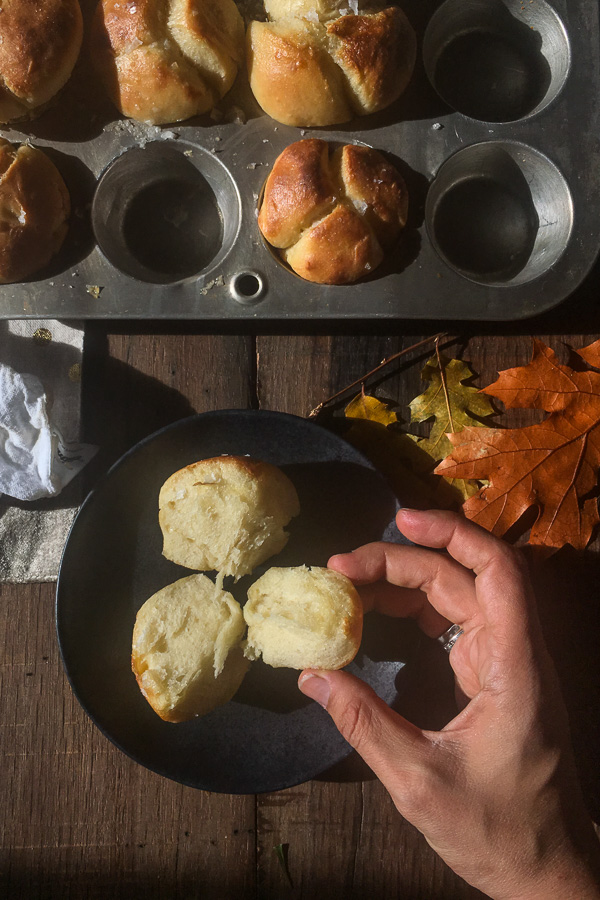 These rolls are fluffy, slightly eggy (which I love), squishy, soft, doughy with a browned crispy buttery salty top. I love how you can pull off each dough ball when you eat a roll. It reminds me a little of these monkey bread minis I made many many years ago, except savory!  Your table could use some carb love this Thanksgiving. More is more, right?!
Let's gather our ingredients: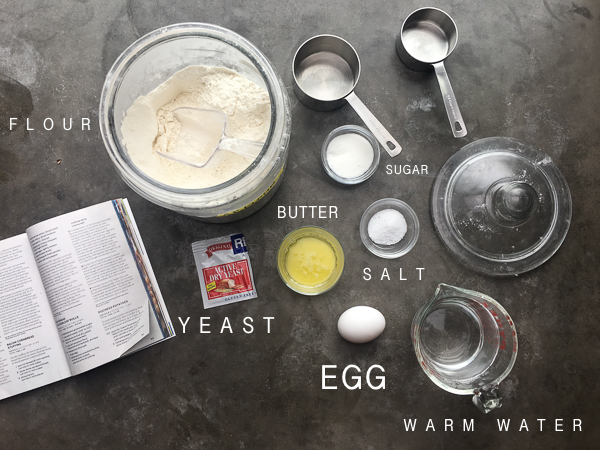 First we mix the yeast with sugar & warm water. We're going to let it sit and bubble.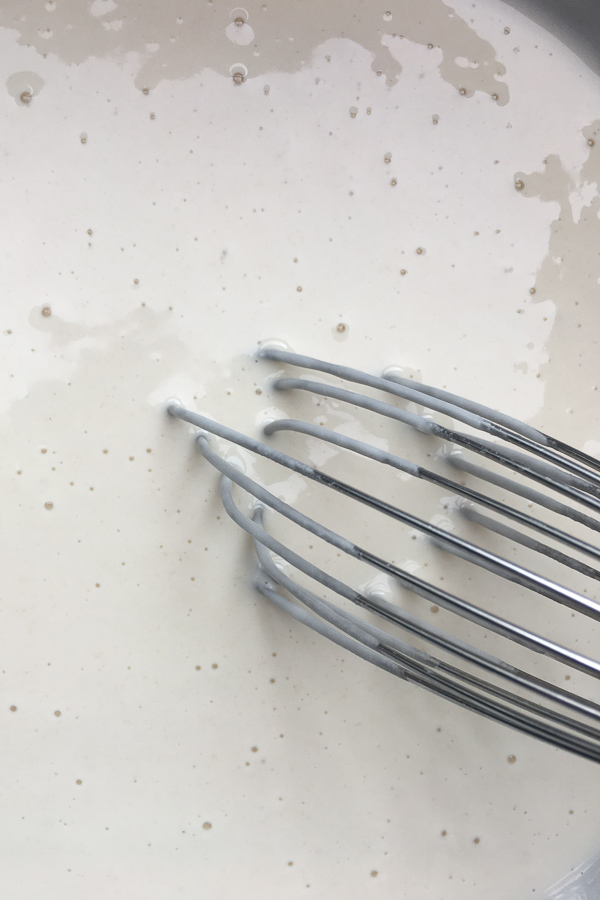 We add some flour and mix!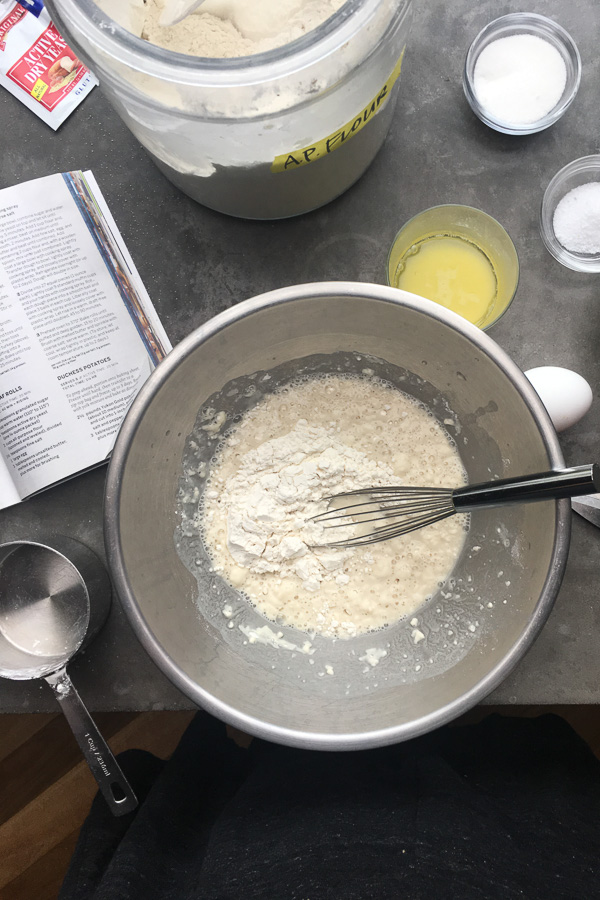 Egggggggggggg butterrrrrrrrrrrr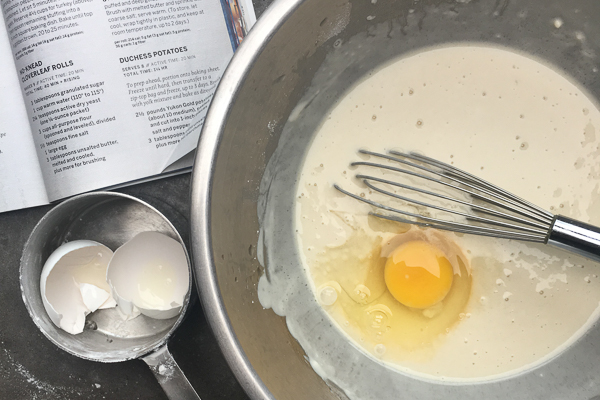 Final flour.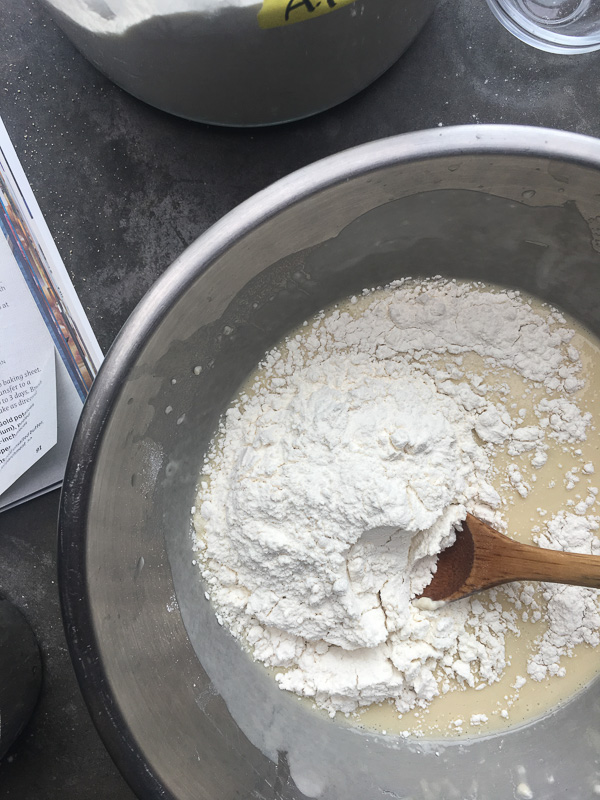 Dough. Let's let it sit (covered) in the fridge.
I had mine in the fridge for two days. WOOT WOOT.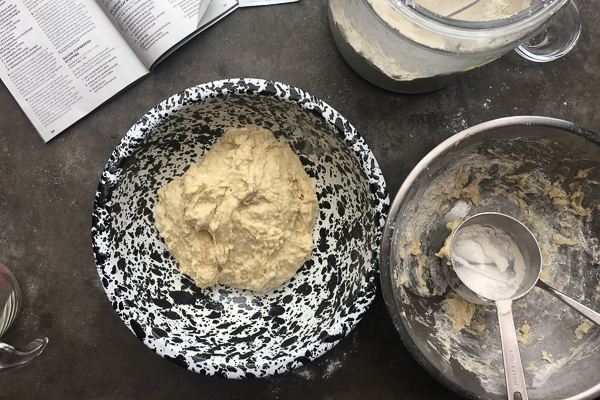 Hello, dough.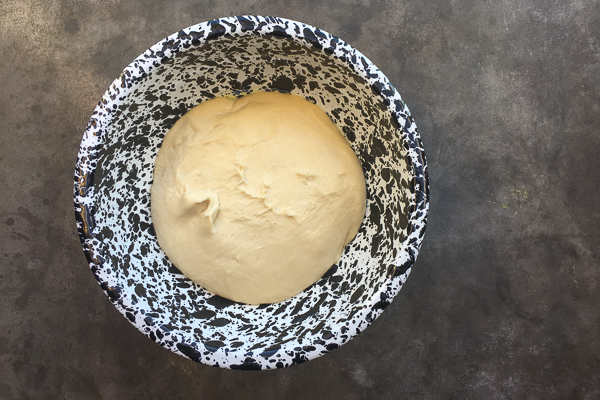 Let's shape you. I use a bench scraper. It's like….the most satisfying thing EVER to cut up dough with it.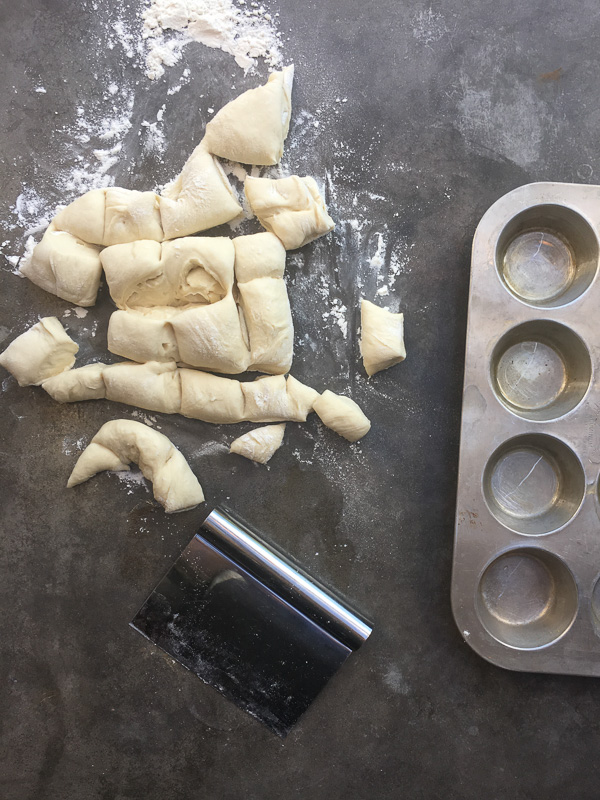 Shaped! Three to a muffin tin.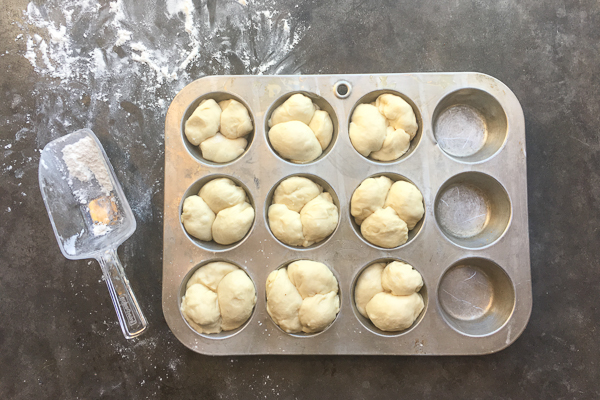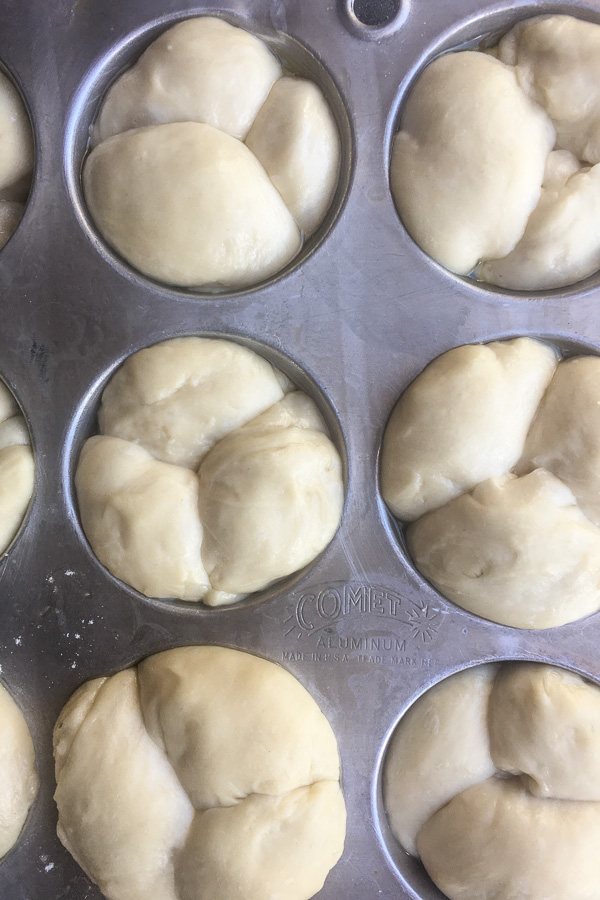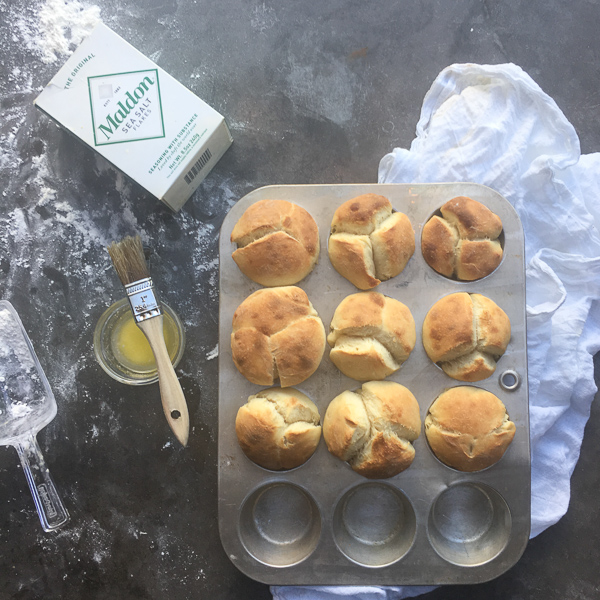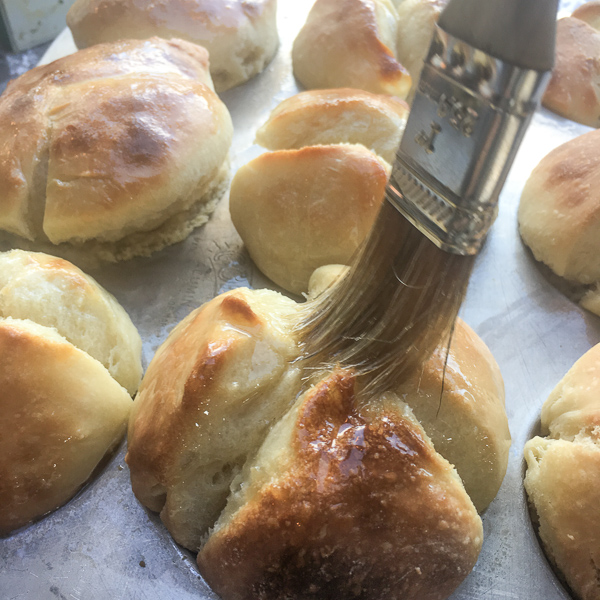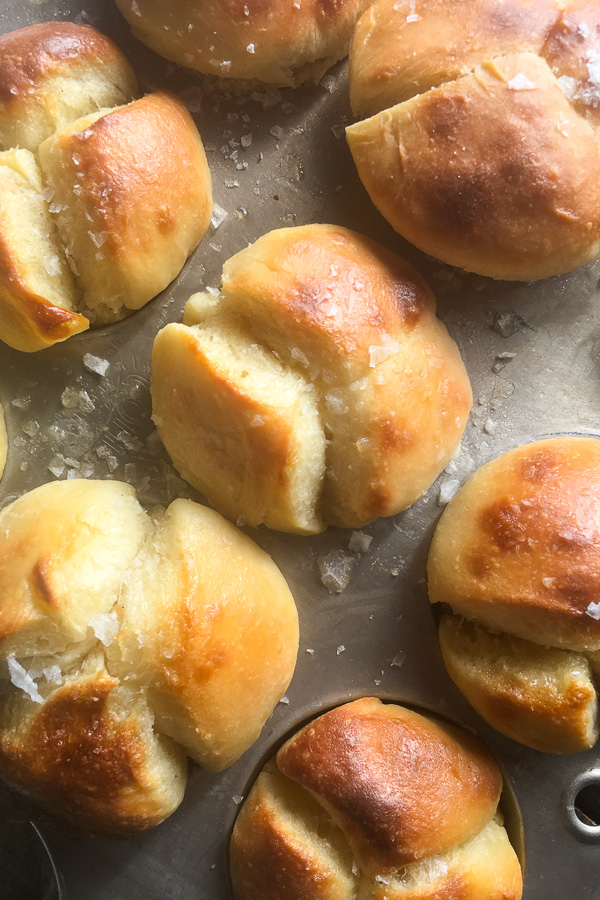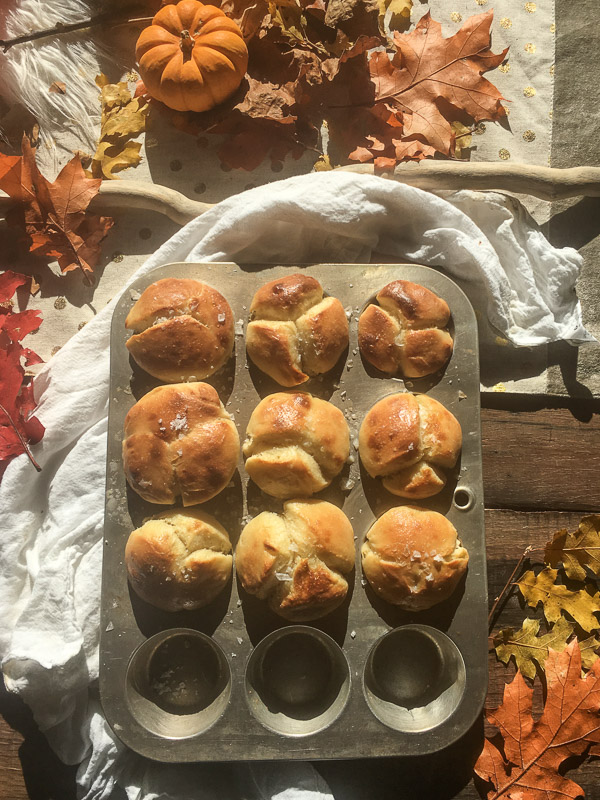 No-Knead Cloverleaf Rolls

makes 9 rolls

recipe slightly adapted from from Everyday Food

3 tablespoons granulated sugar
1 cup warm water (110F-115F)
2 1/4 teaspoons active dry yeast (one 1/4 oz packet)
3 cups all-purpose flour, divided
1 1/2 teaspoons fine salt
1 large egg
3 tablespoons salted butter, melted & cooled, plus more for brushing
cooking spray
maldon salt

In a large bowl, combine sugar and water. Sprinkle yeast on top and let sit until foamy, about 5 minutes. Add 1 cup flour and stir mixture with a whisk until smooth, about 2 minutes.  Add fine salt, egg, and butter and beat until well combined. Add remaining flour and, with a wooden spoon, mix until just combined. Lightly coat a large bowl with cooking spray. Transfer down to bowl, lightly coat with cooking spray, and loosely cover with plastic wrap. Refrigerate overnight (or up to 2 days). Dough will double in size.

Divide into 27 equal pieces (1 oz. each). Lightly coat 9 standard muffin cups with cooking spray. Roll each piece into a small ball and place 3 balls in each cup. Liberally coat with cooking spray and loosely cover with plastic wrap. Let rise in a warm, draft free place until doubled in size, 45 to 90 minutes.

Preheat oven to 375F. Bake rolls until puffed and deep golden, 15 to 20 minutes. Brush with melted butter and sprinkle with Maldon salt.