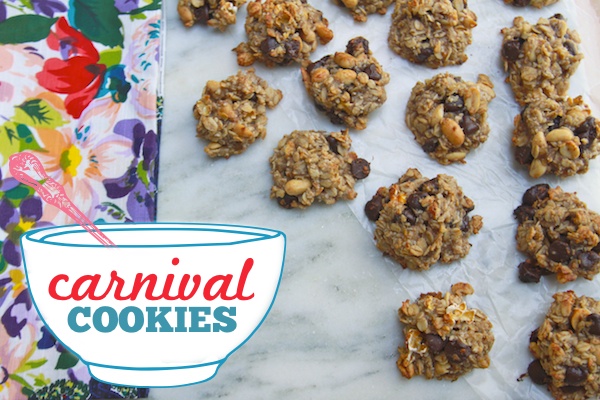 Carnival Cookies! Are you thinking of funnel cakes, corn dogs, pink popcorn & cotton candy? Good.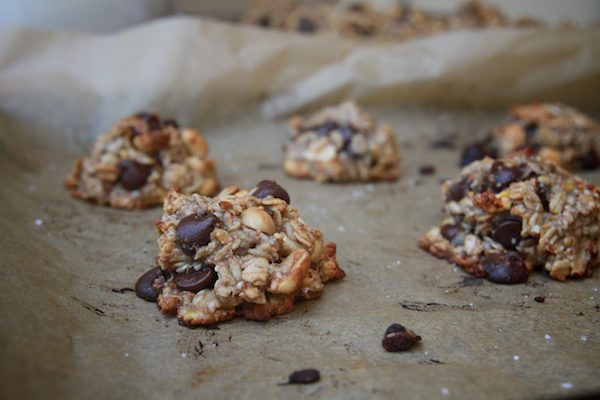 Now think the opposite of that. Go on. Get your healthy cookie thinking cap on!
These cookies taste like a cross between banana bread, oatmeal cookies, trail mix & cracker jacks spiked with chocolate.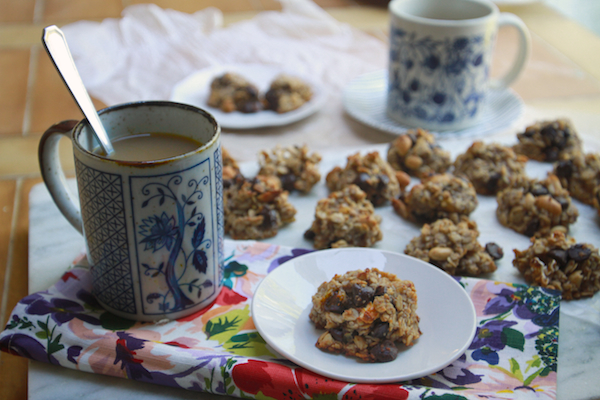 They're even better when you freeze them and eat them on the fly with some hot tea or coffee.
Also good for when you want to:
clean out the pantry
get rid of brown bananas
have an excuse to use coconut oil
have cookies for breakfast and not feel guilty
And we're off!
Ingredient gathering. Not pictured here: cinnamon & baking powder. Oops.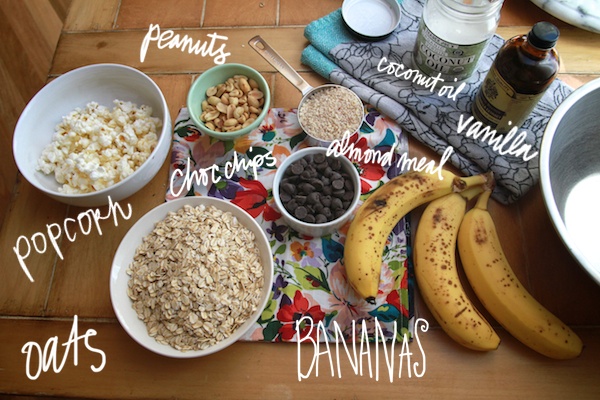 Oh! Here they are! They are mixed in the bowl of oats & almond meal.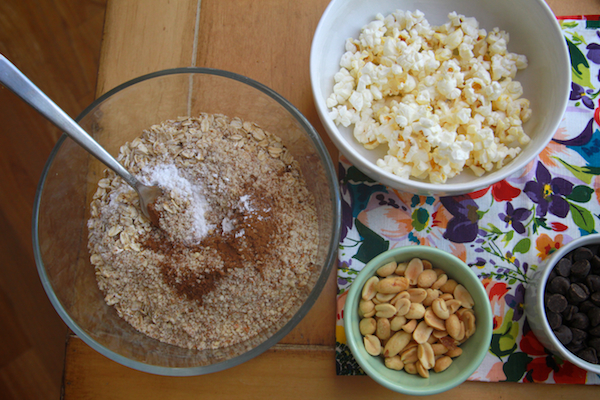 Do you have almond meal? No? Do you have raw almonds? YES?!
Put them in a mini food processor & grind them.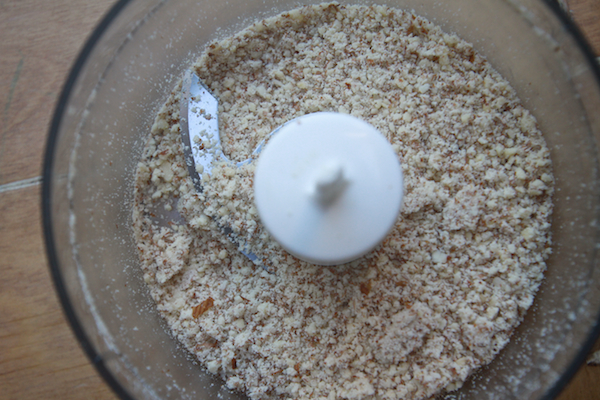 In a large bowl goes the melted coconut oil, mashed bananas & vanilla.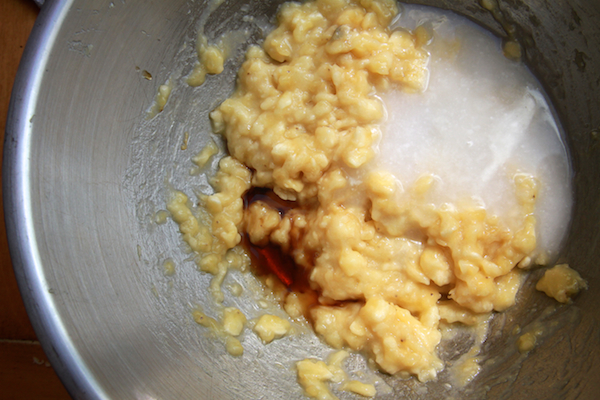 DRY MEETS WET! In stages. First oat mixture.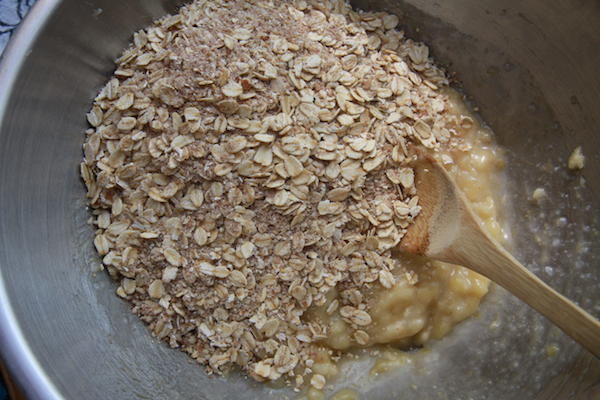 Wazzzzzup peanuts & choc chips??!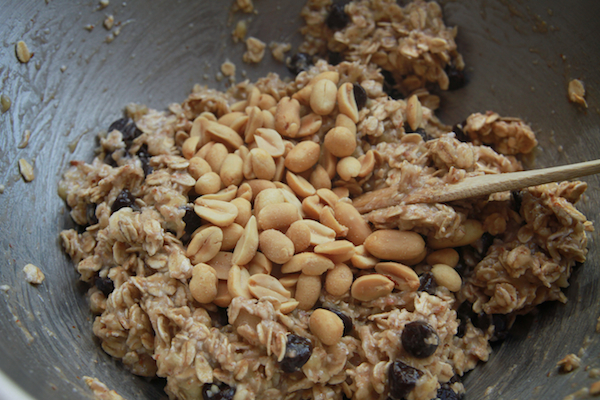 Popcorn??? You're crazy!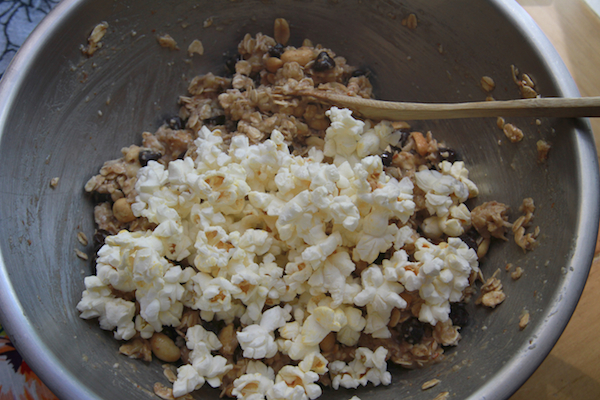 Now form cookies with your hands into small mounds. The dough is WET. Don't fret.
That rhymes.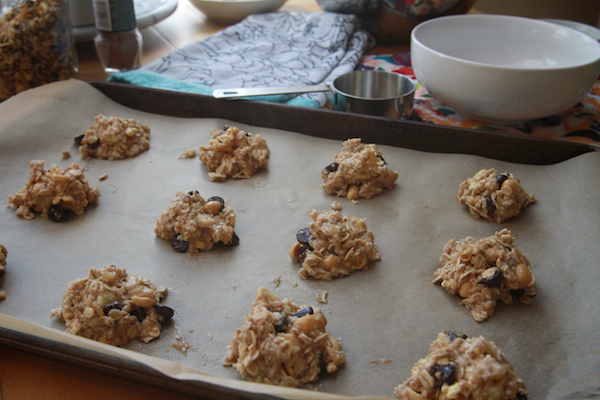 Bake them! Eat them warm or eat them frozen.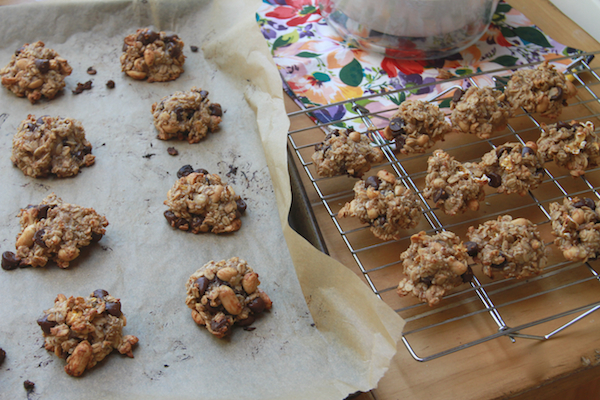 I prefer mine frozen! You'll see what I mean!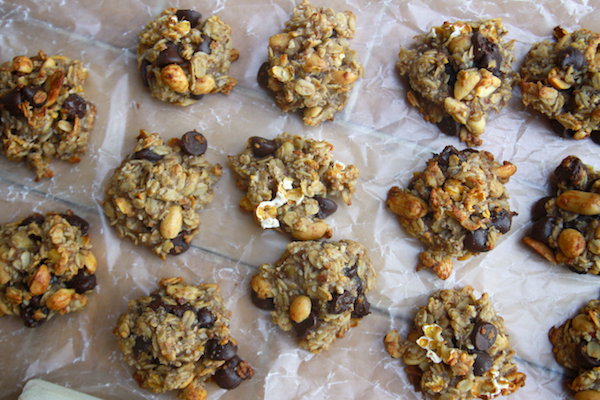 Now let's go try to win a goldfish. We're eating CARNIVAL cookies, after all.
Carnival Cookies

makes 24

recipe slightly adapted from Super Natural Every Day by Heidi Swanson

3 large over ripe mashed bananas
1 teaspoon vanilla extract
1/4 cup extra virgin coconut oil, barely warmed
1 1/2 cups rolled oats
1/2 cup almond meal
1 teaspoon baking powder
1/2 teaspoon ground cinnamon
1/2 teaspoon sea salt
2/3 cups roasted salted whole peanuts
1 cup semi-sweet chocolate chips
1 1/2 cups popped corn

Preheat the oven to 350F. Line two baking sheets with baking paper.

In a large bowl, combine the bananas, vanilla and coconut oil. Set aside. In another bowl, whisk together the oats, almond meal, baking powder, cinnamon, & salt. Add dry ingredients to wet ingredients. Mix to combine. Fold in the chocolate, peanuts and popped corn.

The dough might appear looser than most cookies, but that is alright. Form 1 tablespoon worth of cookie dough on to your palm and shape small balls. Place about 1 inch apart on baking sheets. Bake for approximately 15-18 minutes until golden, swapping the baking sheet back to front once during the baking process. Remove from oven and cool on a wire rack. Will stay just fine in the fridge for a week in an air-tight container. Keep in the freezer for up to three months.