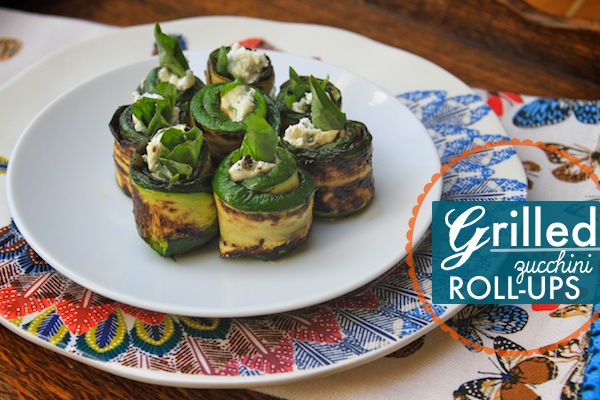 Every once in awhile I need to be reminded that vegetables exist.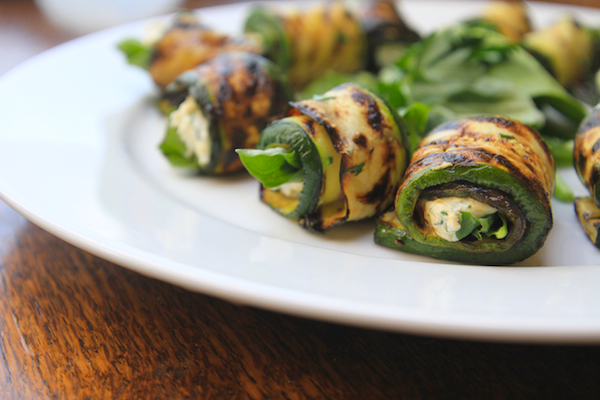 And sometimes I have to remind myself that zucchini is not just for zucchini bread.
Most of the time I forget that you can grill zucchini.
It's stupid to forget how good grilled zucchini tastes.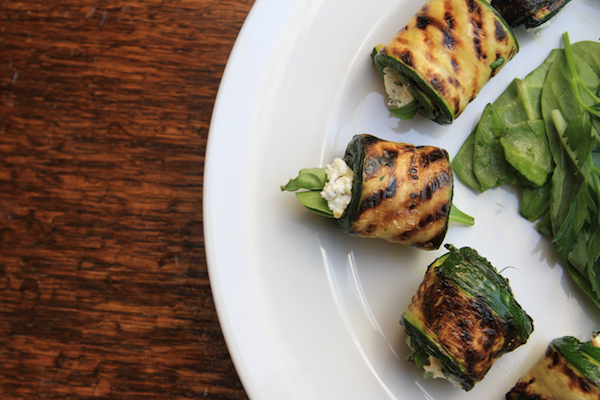 What makes grilled zucchini even better is stuffing grilled strips with a little herbed goat cheese and rolling them up with basil & spinach tucked in. These would be perfect to serve at a party as an appetizer, or on top of a plate of greens.
Or you could be like me and eat all of them off the plate by yourself over a span an afternoon. That's what happens when I'm left home alone without anyone to feed.
I ate 4 zucchini so don't look at me like that. Geeeeeeez.
And we're off!
Ingredient gathering. All the good & healthy stuff. YEAH.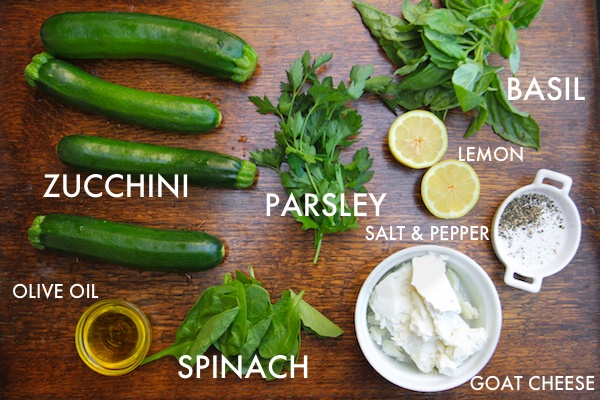 Cut the zucchini into strips. This is kinda hard. You'll get the hang of it by the last zucchini. Promise.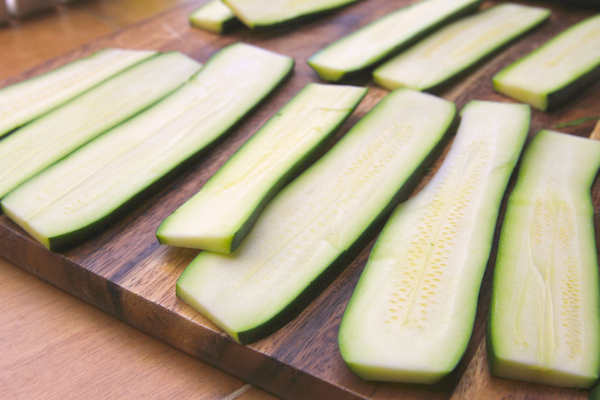 Brush both sides with olive oil.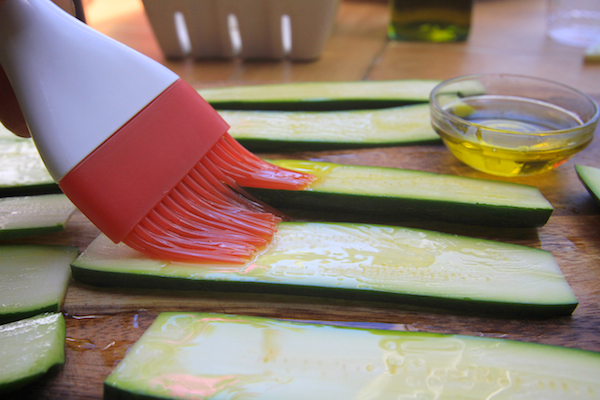 Grill them! I use my grill pan when my husband isn't around because I'm too lazy to turn on the grill.
(I make him turn on the grill and I do the grilling. That's how it works in this relationship BTW.)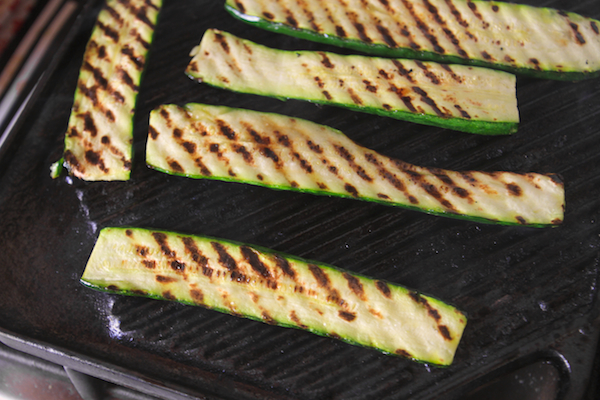 Here's the grilled zucchini loot. Magical!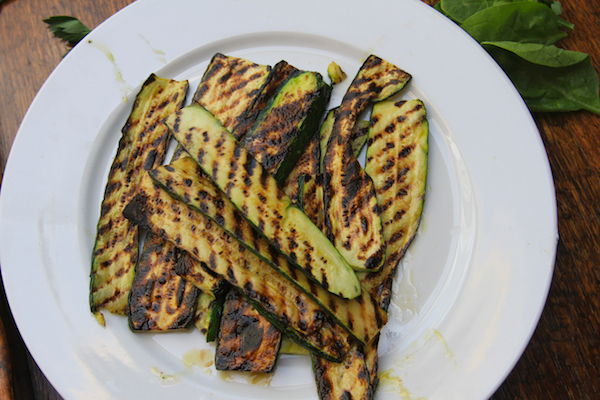 Now it's time to make the herbed goat cheese spread.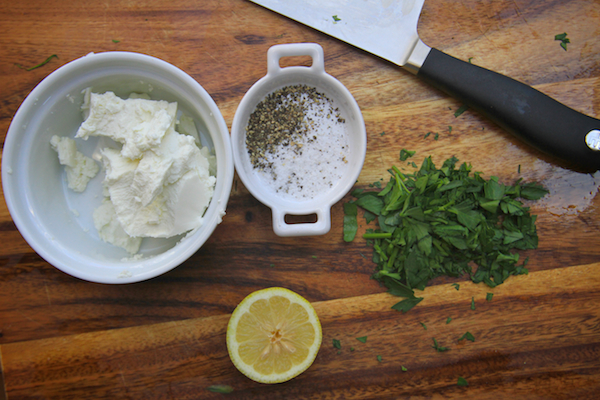 Mix it all together. Now put a dollop at the end of each zucchini slice.
Add a spinach leaf & a basil leaf and ROLL UP. It's pretty fun and therapeutic.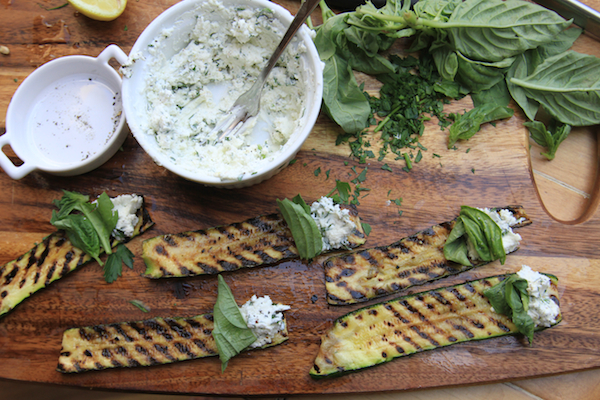 Taste as you go. But if you are sharing….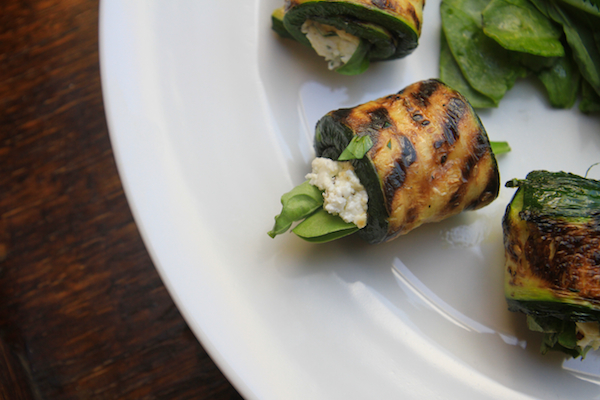 Leave some for others. It's the nice thing to do…or so I've heard.
Grilled Zucchini Roll-Ups

makes about 16 roll-ups

recipe from The Food You Crave, by Ellie Krieger

3-4 zucchini (about 1/2 pound each), sliced lengthwise into 1/4-inch slices
1 tablespoon olive oil
1/8 teaspoon salt
Pinch freshly ground black pepper
1 1/2 ounces  soft goat's cheese
1 tablespoon freshly minced parsley leaves
1/2 teaspoon lemon juice
1 cup baby spinach leaves
1/3 cup basil leaves

Discard the outermost slices of zucchini and brush the rest of the slices with the oil on both sides. Season with salt and pepper. Place on a preheated grill or grill pan for about 4 minutes on each side, or until tender.

In a small bowl combine the goat cheese parsley leaves and lemon juice, mashing with a fork.

Put 1/2 teaspoon of the cheese mixture about 1/2-inch from the end of a zucchini slice. Top with a few spinach leaves and 1 small, or half of a large basil leaf. Roll up and place seam side down on a platter. Repeat with the rest of the zucchini slices. You can make these up to  a day before serving. Store them in an air-tight container in the refrigerator.