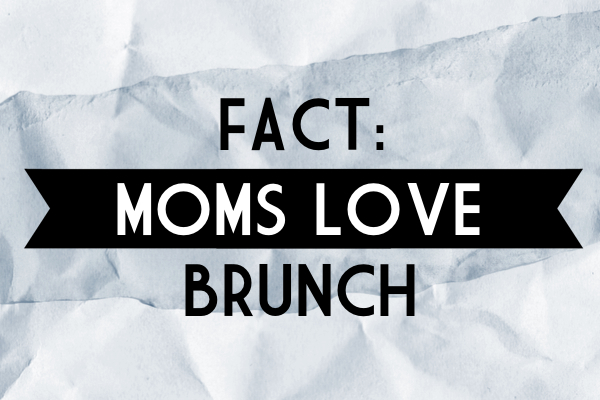 I'm a mom, so I can say this with authority: Moms Love Brunch!
Let me tell you why!
Mother's Day Brunch means:
We don't have to cook and we'd BETTER NOT have to clean up.
For the love of God! Someone finally let us sleep in. That's all we ever want, am I right? Well.. that and a day alone with a good book and a box of chocolates.

YOU get to decide if we want savory OR sweet for brunch.

That's usually the hardest decision EVER. But whatever you feed us must be something WE like. It's our day after all! 
If you're a mother and you want brunch time awesomeness this Sunday, please direct this post to your family. If you want to make brunch for your mother, ask her her thoughts on eating in bed and then take it from there. Breakfast in bed is kind of a tricky thing…especially when there's maple syrup involved. I remember it being a bit awkward when I brought my mom french toast in bed one Mother's day…
Maybe you just wanna take Mom on a spa day and then share three plates of fries afteward?  You hear that, Cooper??!
Let's start with SAVORY:

Asparagus is in season. Moms will be impressed by the breadcrumbs and LOOK! You fried an egg.

Breakfast pizza done right. Women love salad. Look! This is like a salad masking egg, bacon & pizza trickery.

For when you're saving calories cuz yer making mom a spectacular dessert for Mother's Day, try this healthy recipe!

I mean…come on. A few of these biscuits with some eggs…and maybe a little maple syrup in a little bowl. YES.

If you're feeding the whole family in addition to praising your mom, this will do the trick!
LET'S GET SWEET!

Tell your mom it's OK to eat 5. IT'S HER DAY!!! Calories don't matter, she BIRTHED you!

Waffles are easy. She'll like waking up to a batch of these scenting the house.

Light buttery scones perfumed with orange zest. Give your mom a book, some tea & some scones.
Now clean the kitchen without being asked to.

Make one of your mom's classic recipes! She'll love having a break from doing it herself.

Your mom will think you're aces for coming up with such a clever treat. Tell her it's just good genes.

Make these the night before and sneak out of your bed and put them in the oven in the AM.
Go get the newspaper, set the table, and blow your mom's mind. Favorite child? That's you! Duh.

You gotta throw a fruit salad in there. A balanced diet is ALWAYS appreciated. Mom's want to know they've taught you well.

Because we all need dessert for breakfast. Especially after being in labor with you.

Go get your nails done did and drink some French 75s!
PSSST! Don't wait til the last minute to get a card. A mom can smell that from A MILE AWAY.