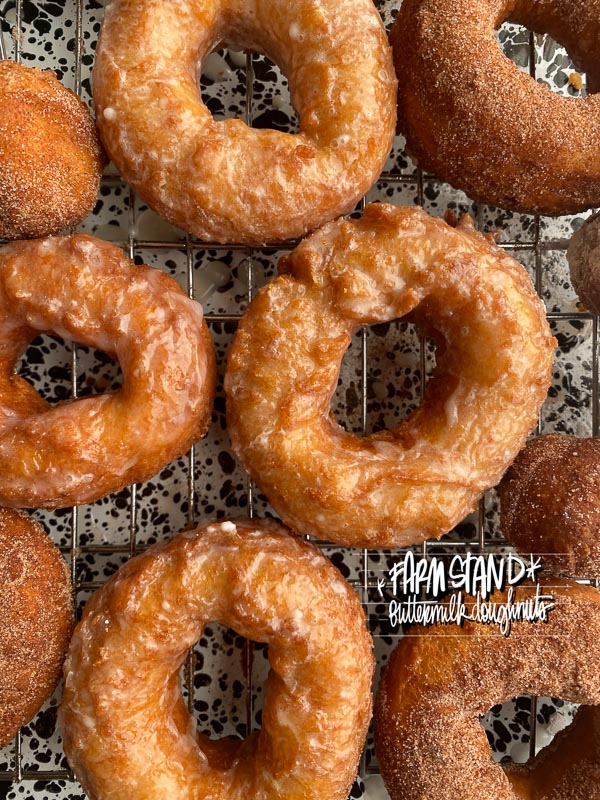 I recently made Crispy Fried Chicken as well as French Fries. If I'm doing all this frying, I might as well make some doughnuts, right? Do you say donuts or doughnuts? I usually type donuts because it's faster. Whatever you say, there's no mistake that they are hands down one of my most favorite foods. I ate six donuts in less than 15 minutes when I was pregnant. True story.
My birthday is coming up, which means I'm rushing to knock stuff off my 31 comes before 32 list. AHHH!! I still have a cleanse to do! And a fondue party in the summer?! WHAT?! Last weekend I knocked off #2. Make donuts from scratch! I had Cooper help me measure out the dry ingredients early in the morning and almost had a heart attack when he dropped the large bowl of flour on the kitchen floor. Yikes.
Five important lessons were learned while making these AH-mazing buttermilk doughnuts:
1. Do not make doughnuts unless you are FULLY caffeinated.
2. If you want a huge mess in your kitchen, ask your almost 3 year old to help you.
3. Hot doughnuts are outrageously good! And with a yeast free buttermilk dough, they're a snap to make!
4. If you are making these for a family of 3, make sure you have friends/neighbors to give some to! Too many doughnuts in your kitchen spells TROUBLE.
5. It may take trying 6 doughnuts to help you figure out if you prefer the cinnamon sugar ones to the vanilla glazed. Don't be alarmed.
Now friends, it's Wednesday. You have a few days to reduce your caloric intake to prepare for this weekend's Buttermilk Doughnut EXTRAVAGANZA! DO IT.

And we're off!
Get all the ingredients together.
Measure out your dry ingredients. Watch out for aggressive almost 3 year olds!
Nutmeg. YES. Whisk the dry ingredients.
Add the wet ingredients. Make a well. Mix the dough.
Pat out the dough on a floured surface. Punch donuts!
Keep at them! I cheated and used a donut puncher that I got from a Japanese dollar store. Best dollar spent!
Get your donuts ready. Lay them out on a parchment lined sheet.
Heat up your oil! Make your glaze/cinnamon sugar and set aside. START FRYING!
Put the fried doughnuts on paper towels. Do not inspect the oil left on the paper towels.
When you're ready, dunk them in the cinnamon sugar. The first one should go directly in your mouth. It's a rule.
Here's a doughnut in the vanilla glaze. I dunked once side. Do both if you feel like it!
Keep working! Look at you go! Holy doughnut motherload!
MMMM cinnamon sugar….
Fry up the holes! Dip them in the glaze/sugar!
Look at your LOOT!!!
You've got yourself a fantastic breakfast!
And you didn't even have to get dressed & drive to a Donut Shop to enjoy it.
Farmstand Buttermilk Doughnuts

Makes about 10-12 doughnuts

(recipe slightly adapted from Baked: Explorations)

For the Doughnuts

3 1/2 cups all-purpose flour
3/4 cup granulated sugar
1/2 teaspoon baking soda
2 teaspoons baking powder
1 teaspoon salt
1 teaspoon freshly grated nutmeg
1 teaspoon cinnamon
2 large eggs
3/4 cup buttermilk
1/4 cup sour cream (I used Greek yogurt)
1/4 cup (1/2 stick) unsalted butter, melted and slightly brown and cooled
vegetable oil for frying

For the Vanilla Glaze:

1 cup confectioner's sugar
1/8 cup whole milk
1 teaspoon pure vanilla extract

For the Cinnamon Sugar

3/4 cup granulated sugar
2 tablespoon cinnamon

To make the doughnuts:

Line one baking sheet with parchment paper and another baking sheet with two layers of paper towels.

In a large bowl, whisk together the flour, sugar, baking soda, baking powder, salt, nutmeg & cinnamon.

In a medium bowl, whisk the eggs, buttermilk, and sour cream until combined. Add the melted, cooled butter and whisk again.

Make a well in the center of the flour mixture and pour the liquid ingredients into the well. With a rubber spatula, slowly fold the flour into the liquid until the mixture forms a sticky dough.

Turn the dough out onto a work surface lightly dusted with flour. Sprinkle the top of the dough with flour and pat out until it is about 1/2 inch thick. Use two round cutters (3 1/4 inch andd 1 1/2 inch) Dip the large cutter in flour and press out rounds. Dip the smaller cutter in the flour and cut out the center of each dough round. Pat the scraps together and form more doughnuts-using up all of the dough. Arrange both the doughnuts and holes onto the parchment lined baking sheet and place in the fridge until your oil is heated and you're ready to fry.

Pour enough vegetable oil into a deep skillet to make a 1- 1 1/2 inch layer of oil. Heat the oil over medium high heat, until the temperature reaches 365-370F. While oil is heating, make your glazes.

Make the vanilla glaze:

In a medium wide mouthed bowl, whisk together the sugar, milk and vanilla extract.

Make the cinnamon sugar;

In a medium wide mouthed bowl, whisk together sugar & cinnamon

To fry the doughnuts:

Once the oil has reached the correct temperature, gently lift the large doughnuts off the baking sheet and place in the hot oil. Fry 3 at a time (no more than that!). Once the bottom side has browned, flip over and continue frying the other side. It takes about 2-3 minutes per side. Using a slotted spoon or a chopstick, transfer the doughnuts to the paper towel lined baking sheet and continue to fry the rest of the dough until finished. The doughnut holes will cook faster and can be made in two or three batches after the doughnuts are done.

Once you have finished frying, work quickly and dip the doughnuts in the vanilla glaze & cinnamon sugar. Serve immediately.