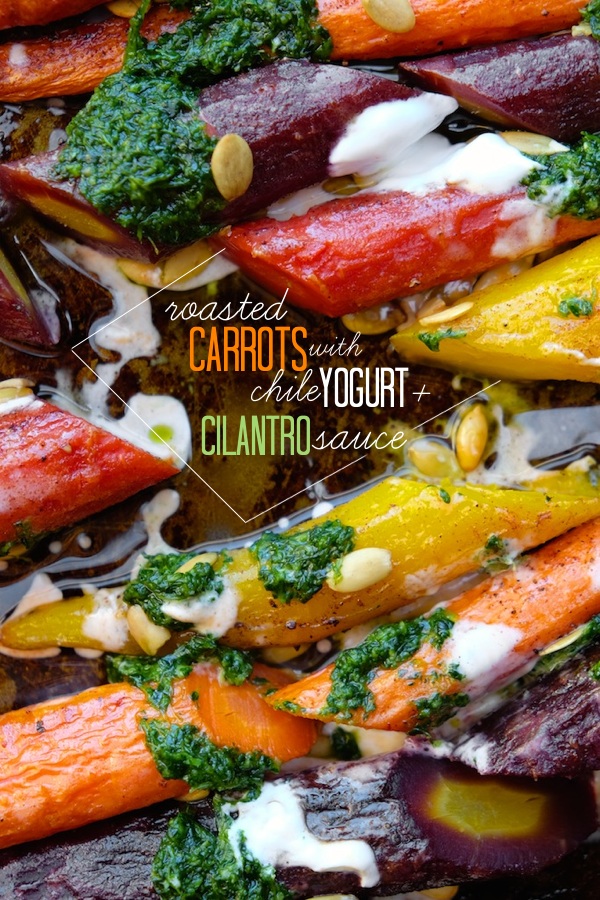 What's the quickest way to get you to consume TWO pounds of carrots?!!
Make Roasted Carrots with Yogurt & Cilantro Sauce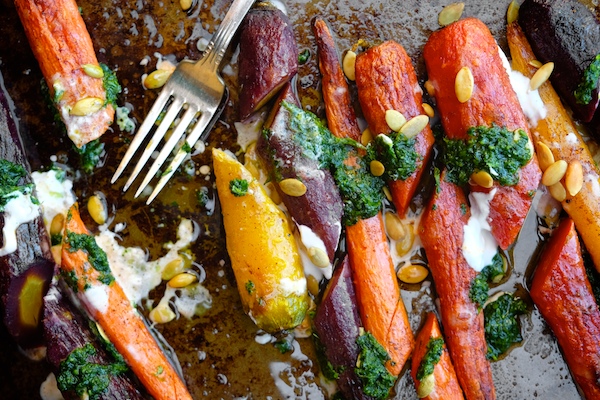 I figured it out…
Roast them with cinnamon, salt & pepper.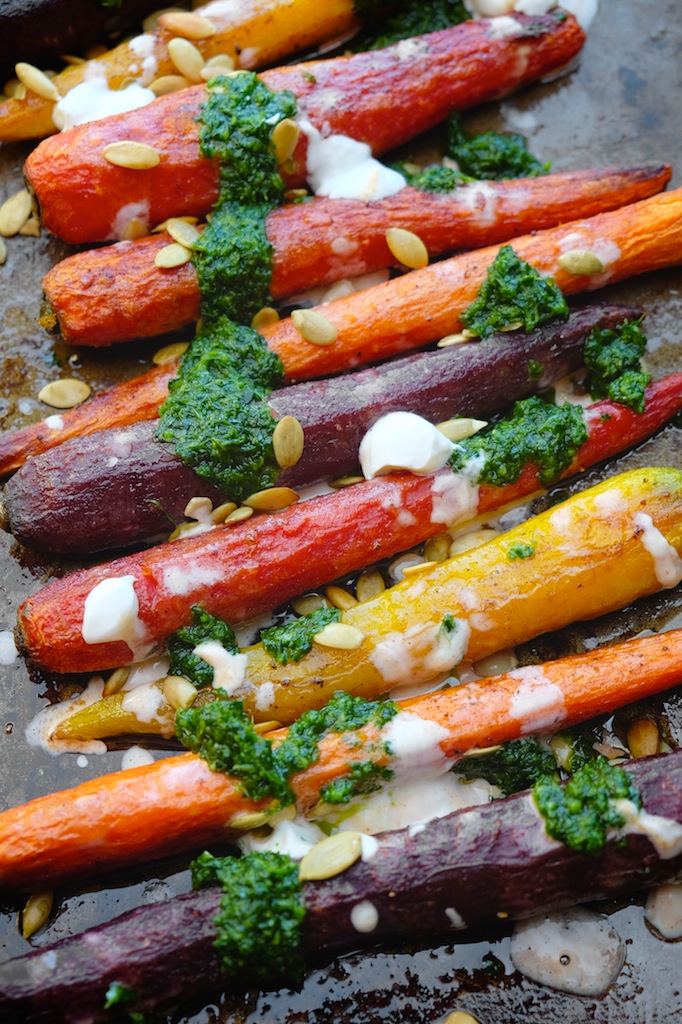 Drizzle roasted carrots with a cilantro pesto, toasted pepitas and finish it with a creamy sriracha yogurt sauce.
Salty/ sweet/ smokey/ spicy/ tangy/ herby/ tender carrots!
Sorry/not sorry you ate 2 lb. bag of carrots!
And we're off!
Peel those carrots. I like the rainbow variety!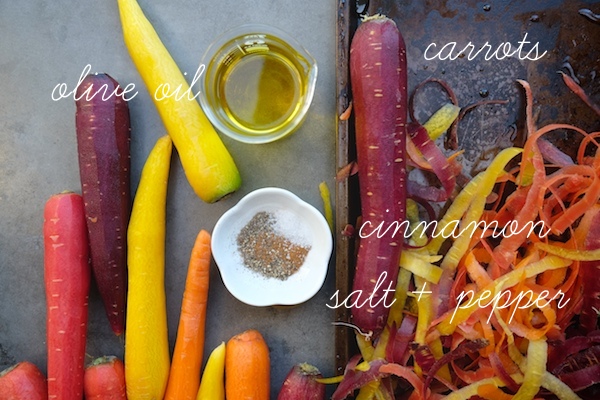 Drizzle the olive oil on the baking sheet. Throw the cinnamon on there.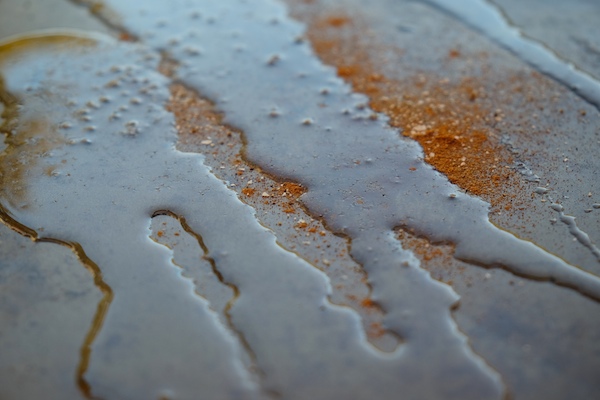 Rub the carrots with the cinnamon oil. Season with salt & pepper.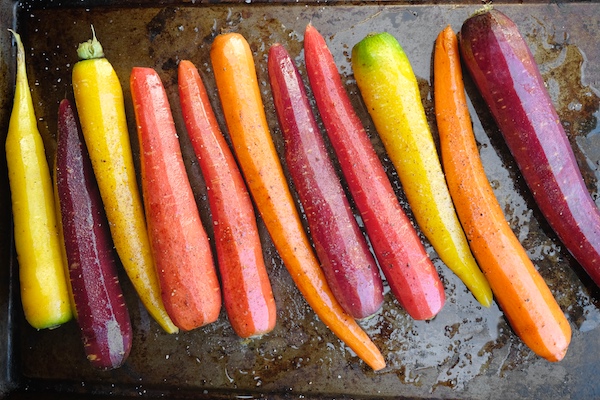 Let's make our cilantro sauce.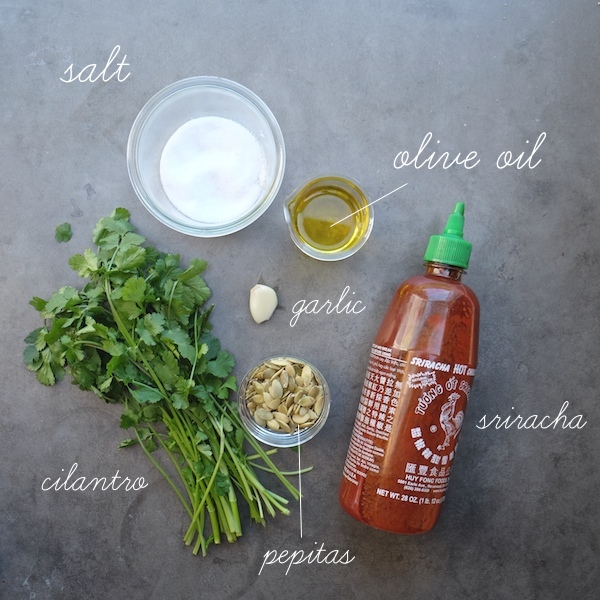 First we blitz some garlic in a MiniPlus Food Processor.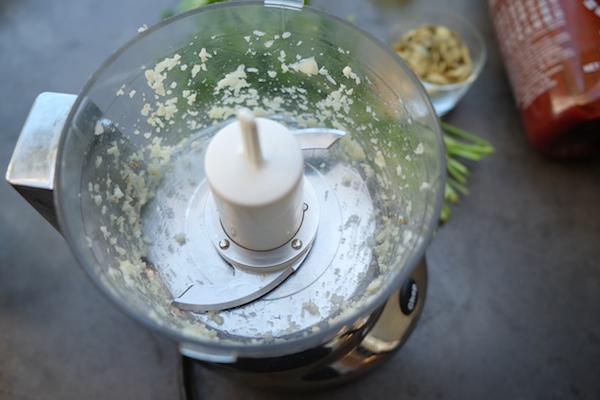 Next we blitz the cilantro- stems and all. Add salt & olive oil. BLITZ.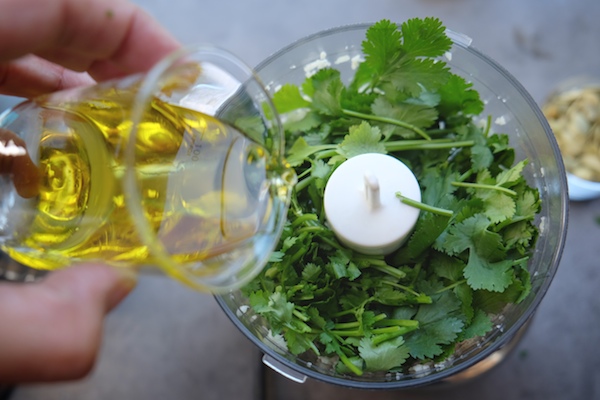 Cilantro pesto.
If you're a love of cilantro, you should check out these recipes
We're gonna roast some pepitas.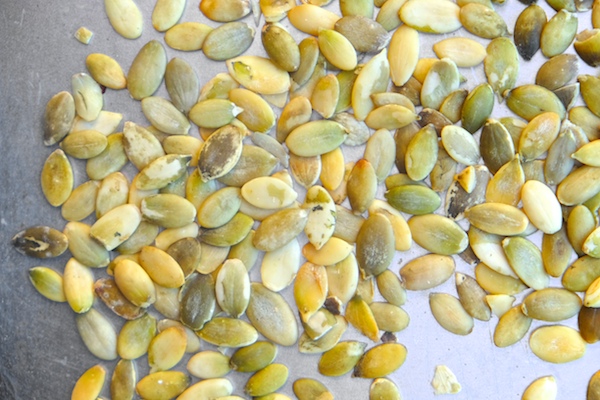 And we're gonna talk about toppings for our carrots.
We have the cilantro sauce. We also have some greek yogurt that we're gonna spice up with sriracha.
And of course we have the roasted pepitas.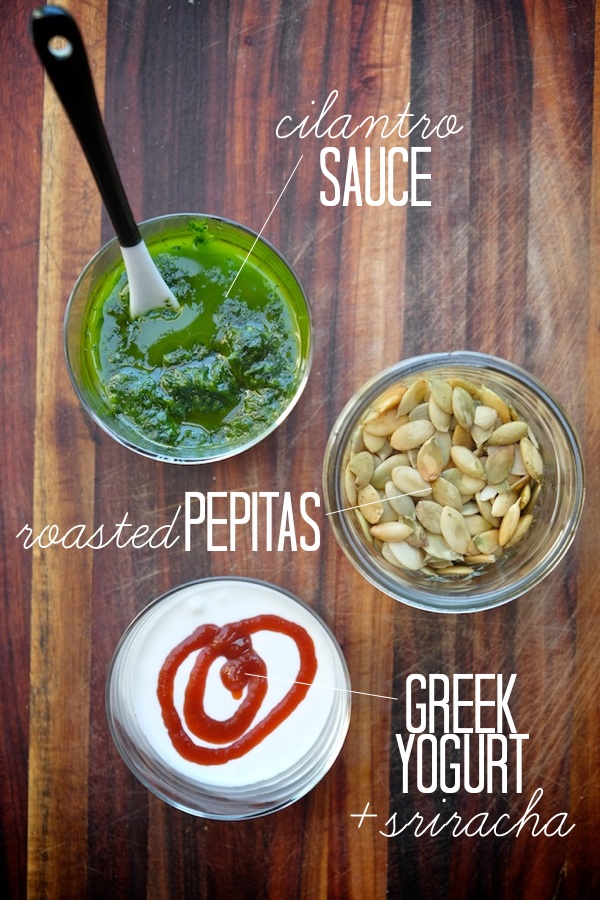 Swirly sriracha.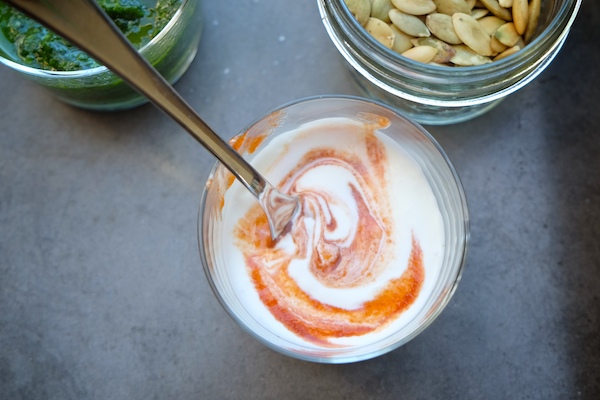 Carrots are roasted.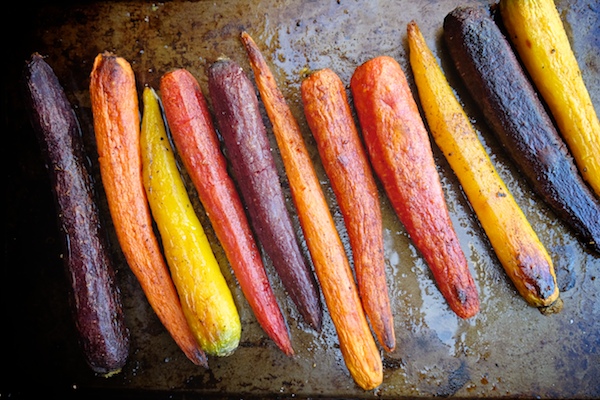 Allllllllll coming together nicely.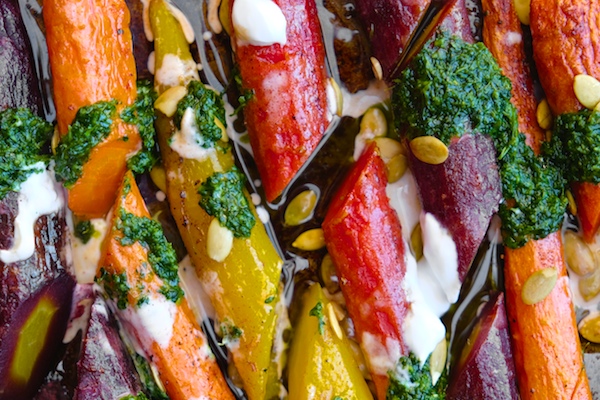 I'm warning you….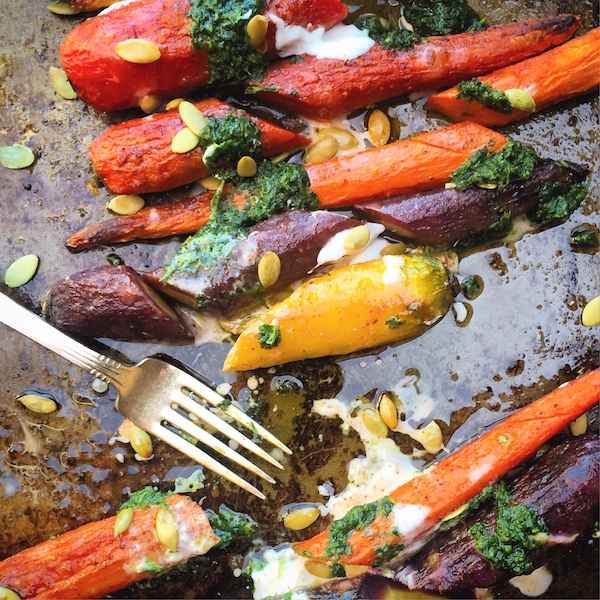 If you were thinking of serving this to 3 other people, you might want to make more.
hashtag: addictive
Roasted Carrots with Chile Yogurt & Cilantro Sauce

serves 4

recipe adapted from Plenty More: Vibrant Vegetable Cooking from London's Ottolenghi

2 lbs. assorted carrots, peeled
1 teaspoon ground cinnamon
6 tablespoons extra virgin olive oil
1 clove garlic
1 3/4 oz. cilantro, leaves and stems, plus extra leaves for garnish
2 1/2 tablespoons raw pumpkin seeds
1/3 cup Greek yogurt
1 1/2 teaspoons Sriracha
salt & pepper

Preheat oven to 425F.

Sprinkle cinnamon on a baking sheet and mix with 2 tablespoons olive oil, 3/4 teaspoon salt, and a good grind of fresh cracked pepper. Toss carrots in cinnamon oil mixture to evenly coat and roast for 35-40 minutes, until soft and nicely browned. Remove carrots from the oven and set aside to cool.

To make herb paste, blitz garlic in a mini food processor until coarsely chopped. Place the cilantro and the remaining 4 tablespoons olive oil and a generous pinch of salt in the processor with the garlic and blitz to form a fine paste, and set aside.

Turn down the oven temperature to 350F. Lay the pumpkin seeds on a baking sheet and roast in the oven for 6 to 8 minutes. Remove from the oven and allow to cool.

When you are ready to serve, swirl together the yogurt and the sriracha sauce. Lay the carrots on a platter and drizzle the spicy yogurt sauce and then herb paste on top. Scatter the pumpkin seeds on top followed by extra cilantro leaves.