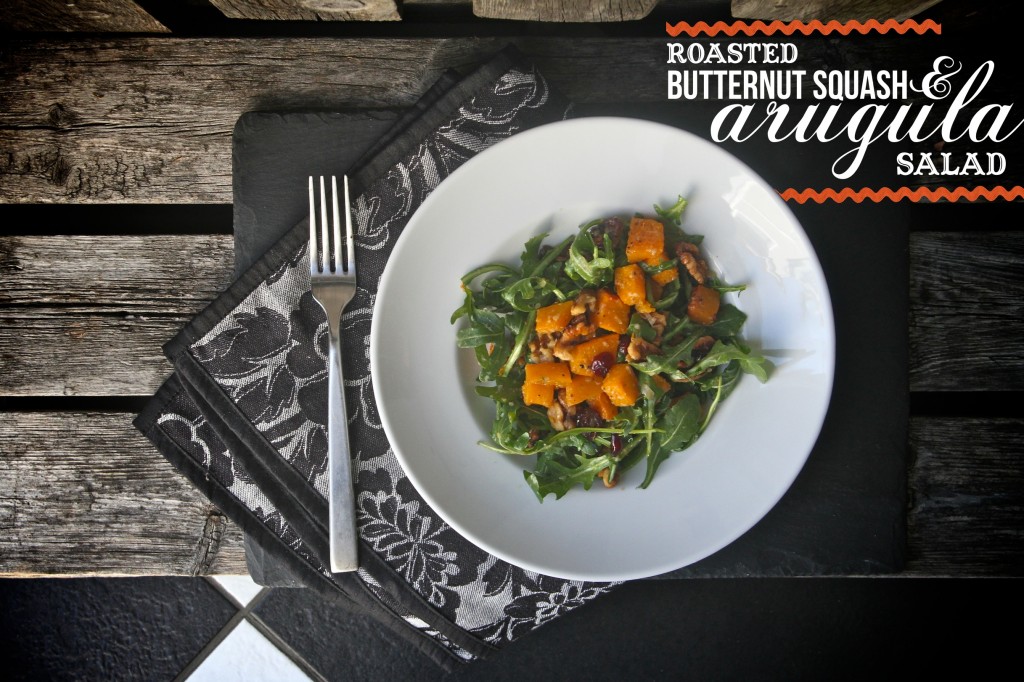 LITTLE EFFORT, BIG IMPACT. That's how I'm living. I almost typed livin' but I don't know if I'm that cool.
Maybe I am. I dunno.
I've got a lot on my plate these days and I wouldn't trade it for the world. I'm working, podcasting, organizing, mom-ing, wife-ing, cooking, making…In other words, there are a lot of ings in my life right now. The most important ing in my life has been and will ALWAYS be eating. You could have guessed as much.
Since I'm a busy lady with a love for new dishes, most of the recipes I've been clipping out have been simple and short. A lot of them require mostly pantry staples with a few fresh produce elements thrown into the mix. This one does just that! I had everything in my kitchen except arugula & apple cider.
Aaaaaand wouldn't you know that with all the my grocery planning, I totally forgot to pick up the apple cider! It was probably those 3 unplanned minutes spent in front of the kombucha shelf figuring out what flavors to get. Guava? Mango? Passionberry? Oooh Strawberry! Tough decisions. When I got home, I made the executive decision to add the orange juice I already had in my fridge to the warm vinaigrette and it worked like a charm!
This salad has all my favorite things:
Toasted walnuts, dried cranberries, Parmesan, arugula & roasted butternut squash.
Loving. Can we make that the new WINNING? Please?
And we're off!
First thing's first. We have to roast that butternut squash! Peel & chop.
Get out some maple syrup & olive oil.
Onto a baking sheet it goes. Lube it up! Now roast.
Throw in the dried cranberries at the last 5 mins of roasting.
They get plumped up!
While you're at it, throw some walnuts in a baking pan and roast them. 5 minutes should do.
Dressing time! It's a warm dressing. It's cozy.
Oj, vinegar & chopped shallot go into a pan.
While it's reducing, get the olive oil & Dijon together.
The vinaigrette has reduced and it's time to add in the mustard & oil.
The roasted squash & cranberries go into a bowl with the walnuts & arugula.
Now the dressing goes on top.
PARMESAN CHEESE!!!!!!!!!
Stir it in there!
Serve it up!
Yeah I know it's February. This is NOT JUST AN AUTUMN SALAD.
I would eat it during summertime if butternut squash was around.

Roasted Butternut Squash & Arugula Salad

(recipe adapted from Barefoot Contessa Back to Basics: Fabulous Flavor from Simple Ingredients)
1 (1 1/2-pound) butternut squash, peeled and 3/4-inch) diced
Good olive oil
1 tablespoon pure maple syrup
Kosher salt and freshly ground black pepper
3 tablespoons dried cranberries
3/4 cup orange juice
2 tablespoons cider vinegar
2 tablespoons minced shallots
2 teaspoons Dijon mustard
8 ounces baby arugula, washed and spun dry
1/2 cup walnuts halves, toasted
3/4 cup freshly grated Parmesan
Preheat the oven to 400 degrees F.
Place the butternut squash on a baking sheet. Add 2 tablespoons olive oil, the maple syrup, 1 teaspoon salt and 1/2 teaspoon pepper and toss. Roast the squash for 15 to 20 minutes, turning once, until tender. Add the cranberries to the baking sheet for the last 5 minutes.
While the squash is roasting, combine the orange juice, vinegar, and shallots in a small saucepan and bring to a boil over medium-high heat. Cook for 6 to 8 minutes, until the cider is reduced to about 1/4 cup. Off the heat, whisk in the mustard, 1/4 cup olive oil, 1 teaspoon salt, and 1/2 teaspoon of pepper.
Place the arugula in a large salad bowl and add the roasted squash mixture, the walnuts, and the grated Parmesan. Spoon just enough vinaigrette over the salad to moisten and toss well. Sprinkle with salt and pepper and serve immediately.