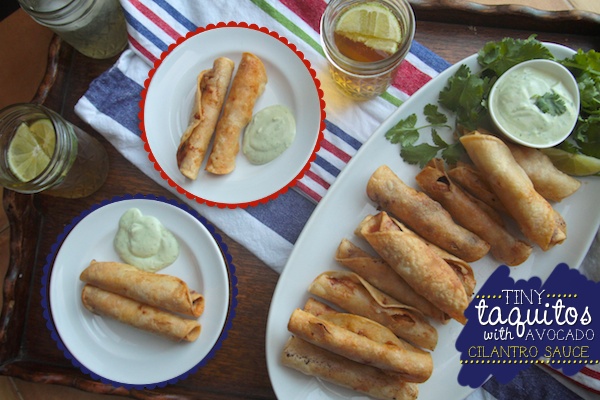 It's PARTY time today. A bunch of us food bloggers are having a virtual baby shower for our dear friend Lisa from With Style & Grace.
Lisa & her husband are about to bring a baby boy into the world and for this party, I decided to make these chicken taquitos from the new book,  Tiny Food Party by my friends Teri & Jenny of Spoon Fork Bacon.
Taquitos are a hot commodity at our house. Both Casey & Cooper looooooove them but I've never made them from scratch before.
This recipe is simple, extremely straight-forward and the perfect solution for a fun party like a baby shower.  With the right adobo sauce, they're gluten free too.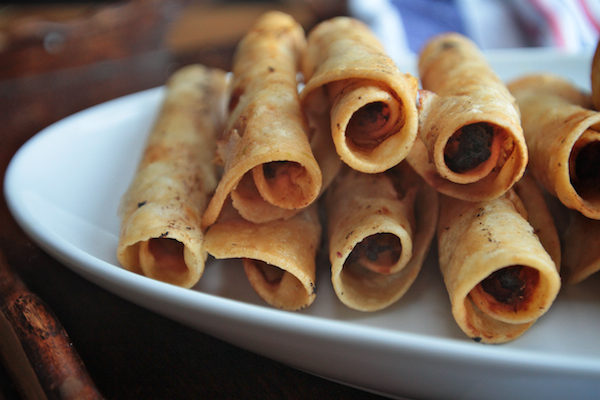 They're crispy, crunchy and the filling is exceptional. The chicken is spicy with a touch of sweetness from the honey. The avocado cilantro sauce push them over the edge! HOLY DELICIOUSNESS. We actually had a Mexican themed co-ed baby shower when I was pregnant with Cooper. Too bad I didn't have this recipe back then. I'm sure this would have been a real hit with all of the guests. They could have played a game of  guess how many Tracy could eat (answer 21).
And for the lady of honor, I'd serve some of my Cilantro Limeade because it tastes pretty darn close to a cocktail. You deserve the very best, Lisa!
And we're off!
Ingredient gathering time.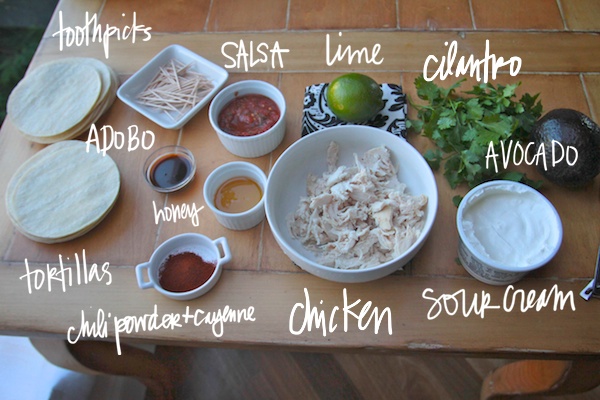 First we make the filling. Shredded cooked chicken gets mixed with salsa, cayenne, chili powder & adobo sauce.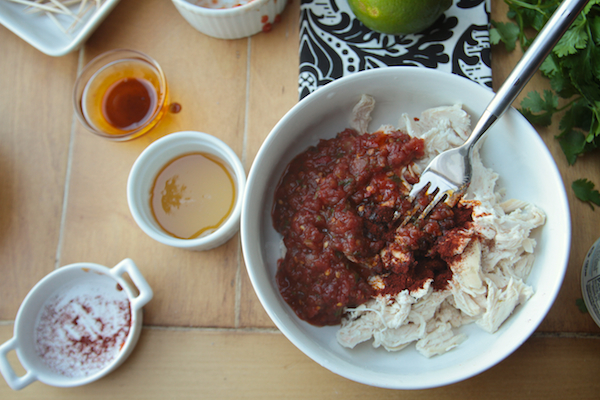 It gets finished with a bit of honey to sweeten the deal!
Now we get our assembly line together!
Toothpicks, mini tortillas & filling.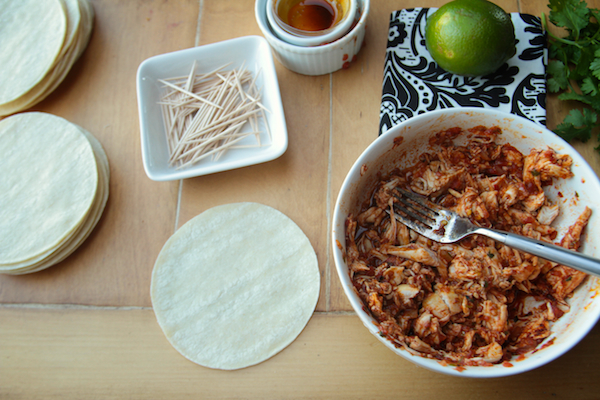 We add a little bit of filling and roll up each of the taquitos & seal them with a toothpick.
While this is happening, get your oil heated up. It's almost fry time.
TIP:
I wrapped my tortillas up in a damp towel and heated them up in the microwave for about a minute to make the tortillas more pliable.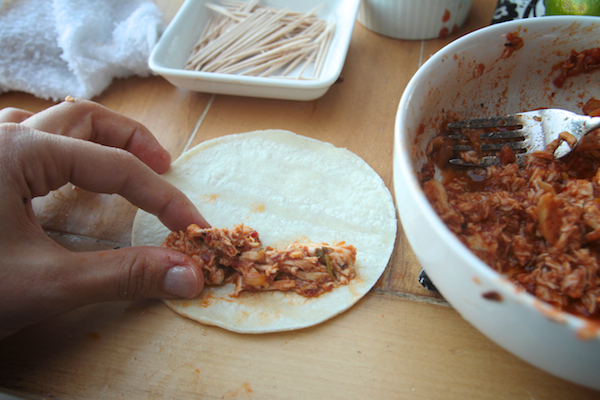 Here are the rolled up taquitos waiting to be fried!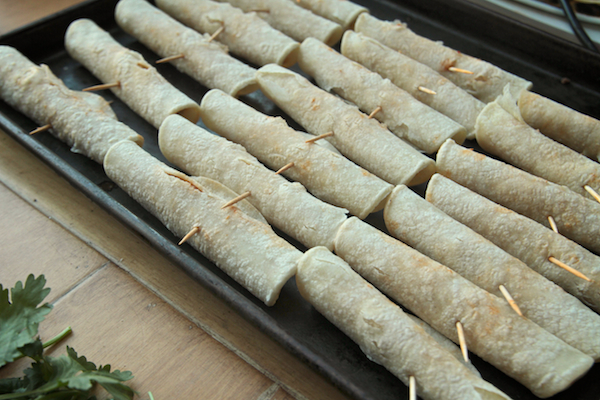 Batch number one! When they're done, place them on a paper towel lined plate & once slightly cooled, pull out toothpicks.
During the frying time I made the avocado cilantro sauce. It's SUPER QUICK.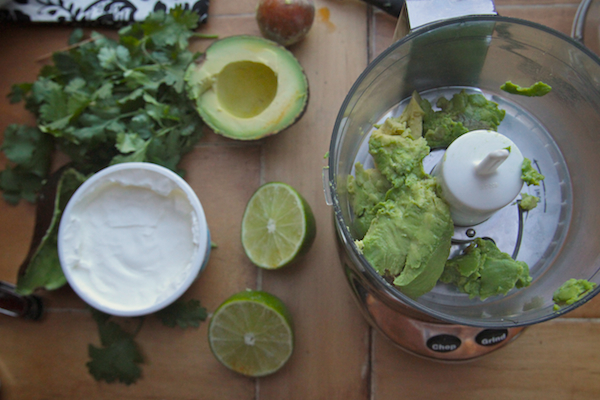 Avocado, lime & cilantro goes into a mini food processor. PROCESS!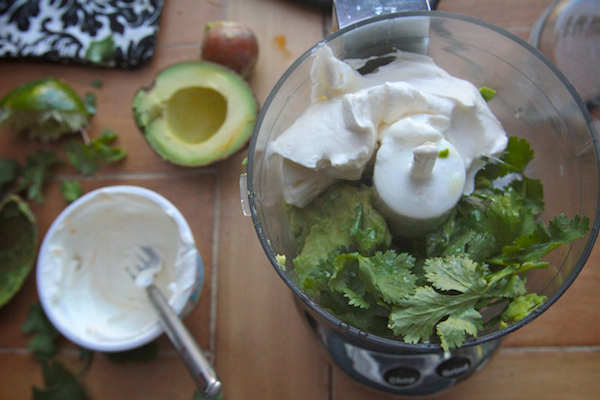 CREAMY DREAMY.
Now let's get this party STARTED!!
As you can see, in my house it's not a party until hot sauce is involved.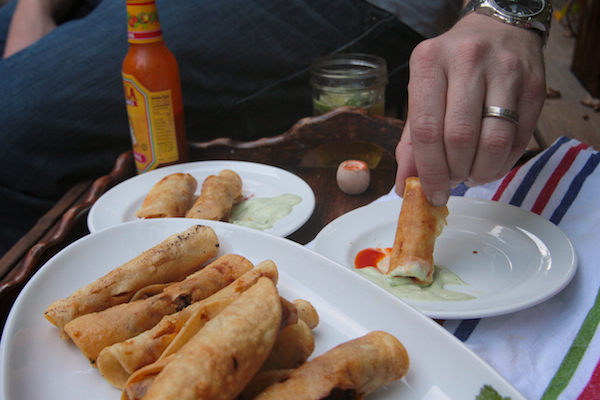 PAAAAAAAAAAAAAAAAAAAARTY!
Congrats Lisa! I know you and Ben are going to be fantastic parents and I hope that one day you're boy eats taquitos with as much authority as Cooper! xo
Here are all the other bloggers sharing their Baby Shower Dishes. What a party it is!
Tiny Taquitos with Avocado Cilantro Sauce

makes 24

recipe from Tiny Food Party by Teri Lyn Fisher & Jenny Park

2 quarts vegetable oil for frying
1  1/2 cups finely shredded cooked chicken
1/2 cup prepared salsa
2 tablespoons adobo sauce
1 tablespoon ancho chili powder
1 teaspoon cayenne pepper
salt and pepper to taste
1  1/2 tablespoons honey
24 small (2-3 inch) corn tortillas

In a large pot, preheat oil to 350F. In a large mixing bowl, toss to combine chicken, salsa, adobo, chili powder, and cayenne pepper. Season with salt and pepper. Drizzle honey over mixture and gently fold to incorporate.

Place about 1 1/2 tablespoons of filling onto each tortilla and carefully roll into a long, thin tube. Secure the rolled taquitos with toothpicks.

In small batches, fry taquitos for 4 to 6 minutes or until crisp and lightly golden brown. Drain on paper towels and remove toothpicks. Serve immediately with avocado sauce for dipping.

Avocado Cilantro Sauce

2/3 cup sour cream
1/2 avocado, peeled and pitted
1/2 bunch cilantro, roughly chopped
juice of 1 lime
salt and pepper to taste

In a bowl of a food processor, combine sour cream, avocado, cilantro, and lime juice. Process until smooth, about 1 minute. Season with salt and pepper, pulse to combine. Use immediately or cover and refrigerate.