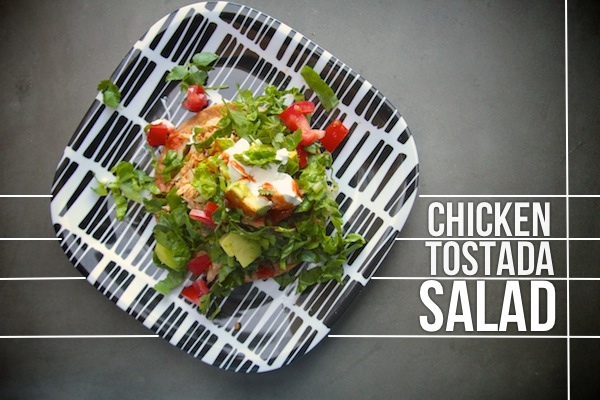 Happy Seis de Mayo!!! Did you eat tacos yesterday? I hoped to but the weather was a little rainy/grey so I made this Mexican Chicken Soup instead. If I was a better food blogger, I would have posted this recipe last week and I would have lead you to some of my favorite Mexican recipes from the past (Shrimp Tacos, Taquitos,  Mexican Popcorn, Stuffed Poblanos,  Goat Cheese Guacamole, Cilantro Limeade, Cinnamon Sugar Tortillas,  Coconut Tres-Leche Cake).  But I didn't…OOPS.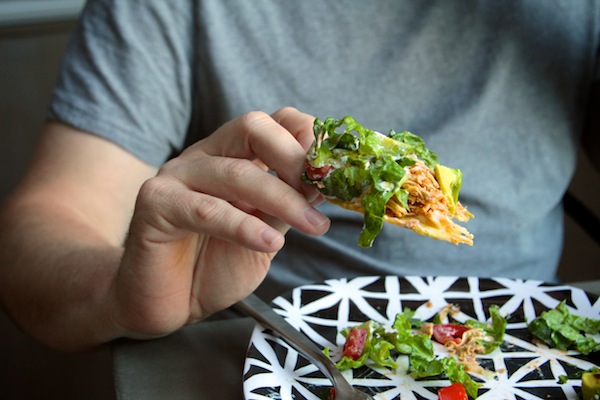 So here I am the day after Cinco de Mayo showing you an easy Chicken Tostada Salad recipe. If you're anything like me, you could eat Mexican food all day/everyday. I seriously never get sick of it. Well…maybe when I was in Mexico for a week I might have…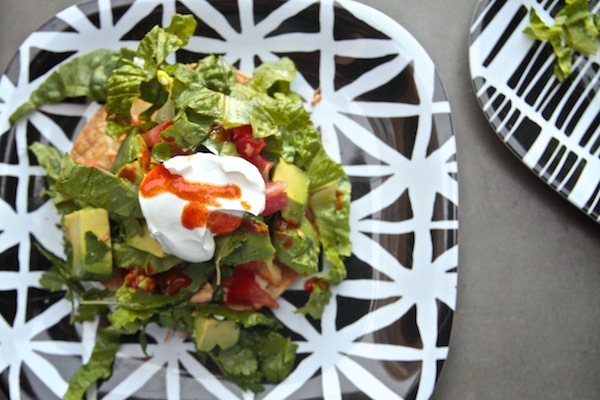 With it staying light outside later (HOORAY) and the ease of this recipe, I'm able to show you something I made after work. This means that if I can do all of this and make a meal for my family, you'll be able to do this in no time. It's a wonderful recipe and a perfect way to use any leftover rotisserie chicken you may have. Both me and the husband ate two each. This is totally going into the weekly rotation.
Do we still get to drink margaritas today? Please say yes.
And we're off!
This is a great recipe if you want to use leftover roasted chicken.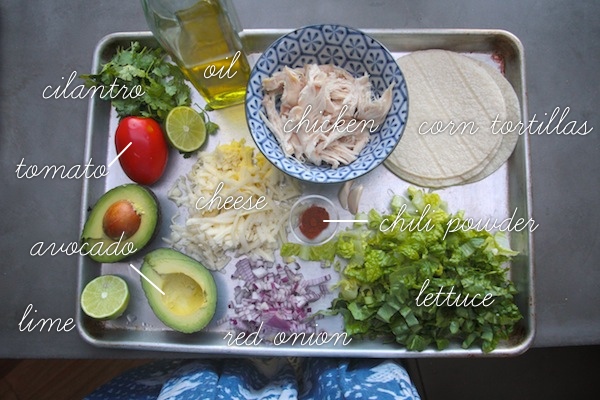 First we make our tostadas. Oil them up. Put them on a baking sheet & bake.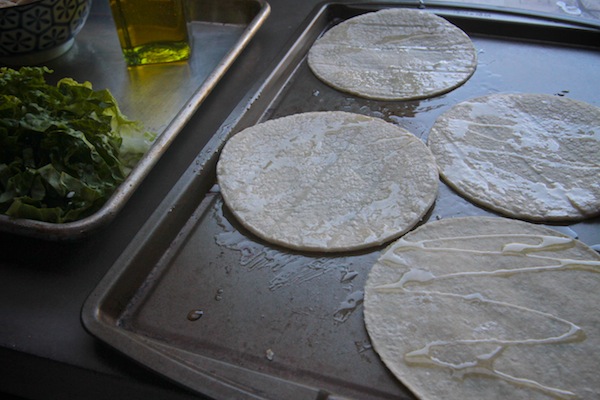 Saute onions in oil. Add garlic and then add the cooked chicken with chili powder & water. Squeeze lime on top.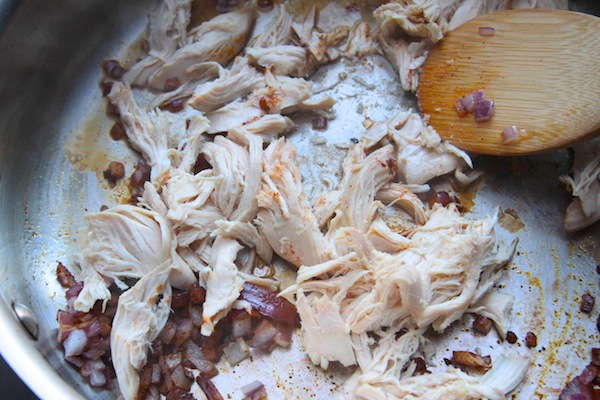 After the tortillas have browned, add the cheese & put back in the oven to melt.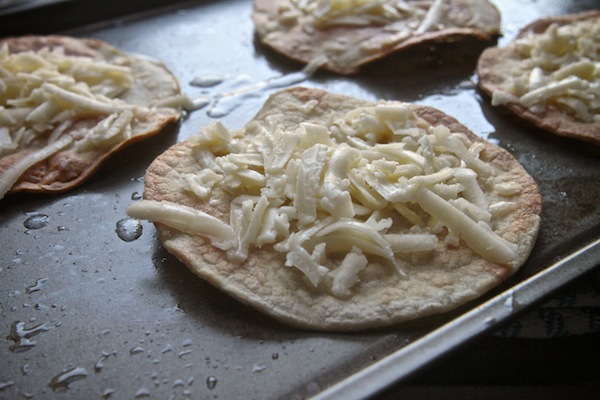 Mix lettuce with lime juice.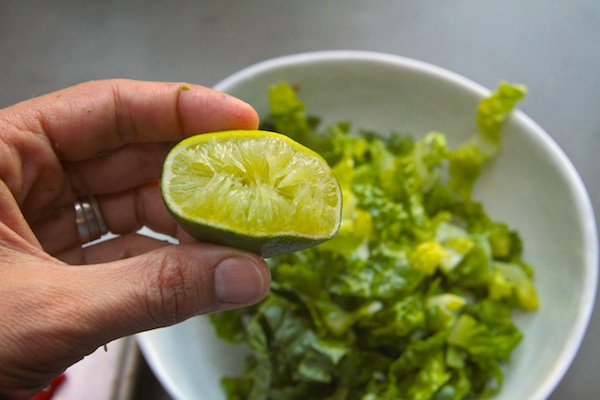 MELTED.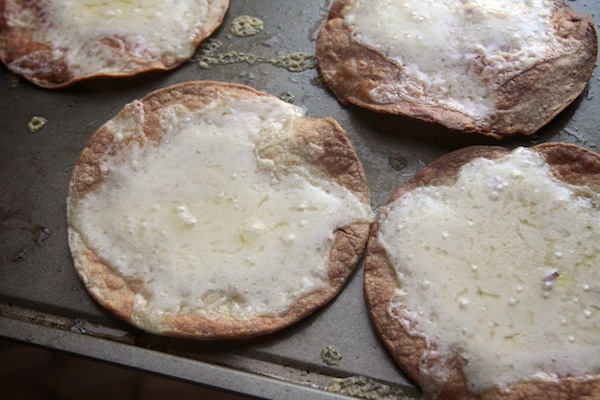 ASSEMBLY LINE.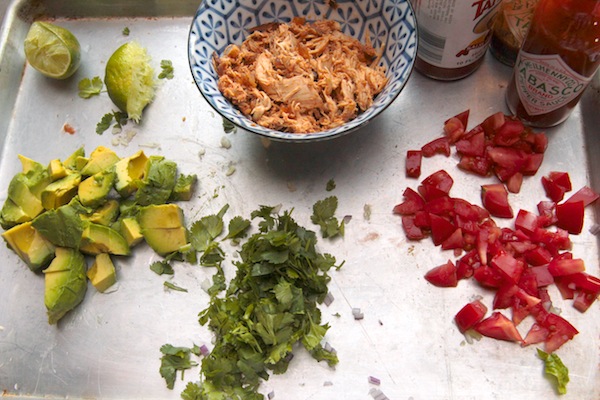 Let's get ready to top.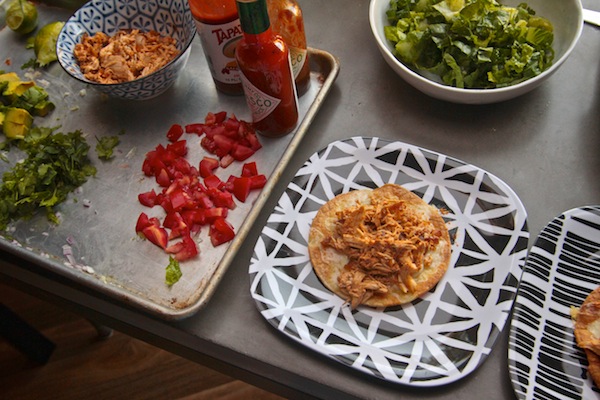 Add all the good stuff on there.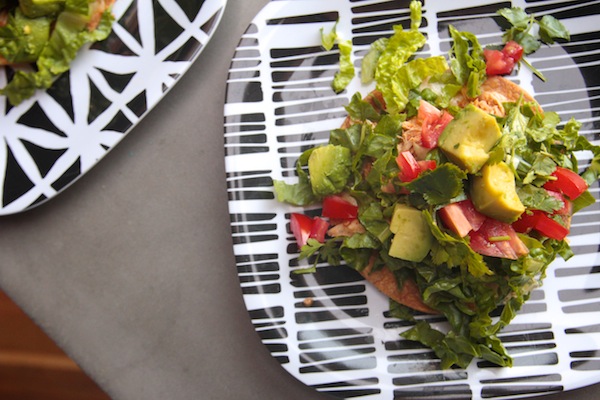 Top with sour cream & hot sauce!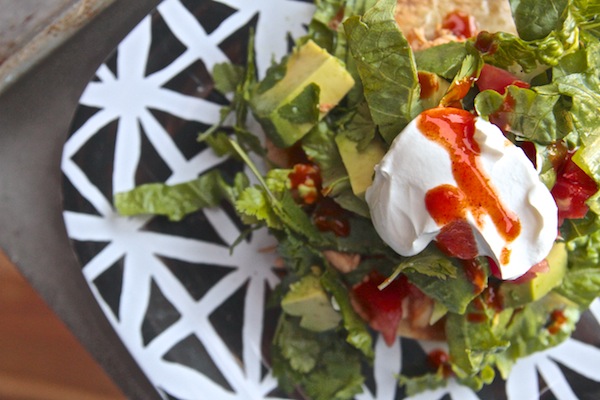 DONE. IN NO TIME!!!!!

Chicken Tostada Salad

makes 4

recipe slightly adapted from Everyday Food 

4 corn tortillas
3 teaspoons extra-virgin olive oil
3/4 cup grated Monterey Jack cheese (2 ounces)
1/2 small red onion, diced small
1 1/2 teaspoons chili powder
2 garlic cloves, minced
breast meat from 1 rotisserie chicken, torn into bite-size pieces
coarse salt and ground pepper
1 tablespoon plus 1 teaspoon fresh lime juice
1/2 head romaine lettuce (6 ounces), shredded
1 tomato, seeded and chopped
1 avocado, halved, pitted, peeled, and diced small
Fresh cilantro, for serving
sour cream, for serving
hot sauce, for serving

Preheat oven to 400. Lightly brush both sides of tortillas with 2 teaspoons oil and place on a rimmed baking sheet. Bake until golden and crisp, 10 minutes. Divide cheese among tortillas and return to oven. Bake until cheese is bubbling, about 3 minutes. Remove from oven and set aside.

In a large skillet, heat 1 teaspoon oil over medium-high. Add half the red onion and cook until softened, about 3 minutes. Add chili powder and garlic and cook until fragrant, 30 seconds. Add chicken and 1/2 cup water and season with salt and pepper. Cook, stirring frequently, until chicken is warmed through and water is almost evaporated, 2 minutes. Stir in 1 teaspoon lime juice and remove from heat.

In a large bowl, combine lettuce and 1 tablespoon lime juice; season with salt and pepper. Toss well to coat and divide among tortillas. Top each tortilla with chicken mixture, tomato, avocado, remaining onion, and cilantro. Add a dollop of sour cream to each tostada and finish with hot sauce, if desired.