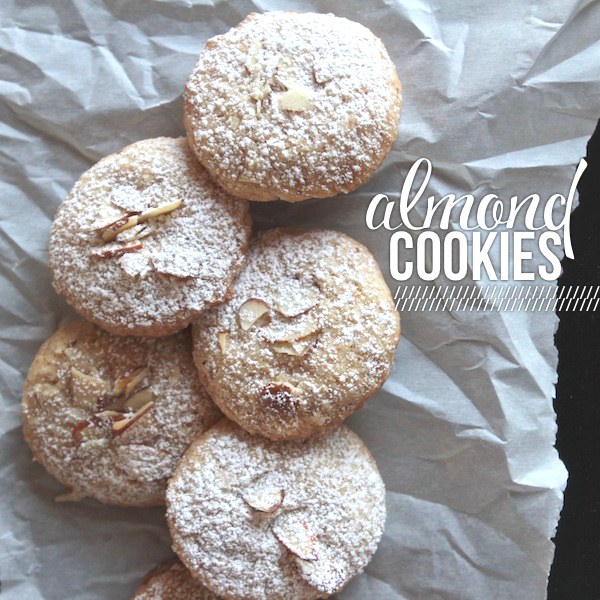 I have this terrible habit of buying the same items of clothing when I'm shopping. I walk in with the intent to get something new and my brain goes into robot mode. MUST FIND STRIPED SHIRTS/BLACK & WHITE ANYTHING/PERFECT BLACK DRESS.  Can one ever have enough striped shirts? (NO) How about the perfect black scooped-neck shirt?  I have to stop myself when I'm about to buy another black dress…It's just that I can't help it. I know exactly what I like/want.  If only stores carried nothing but black denim wide leg pants & striped shirts year round, I'd be all set.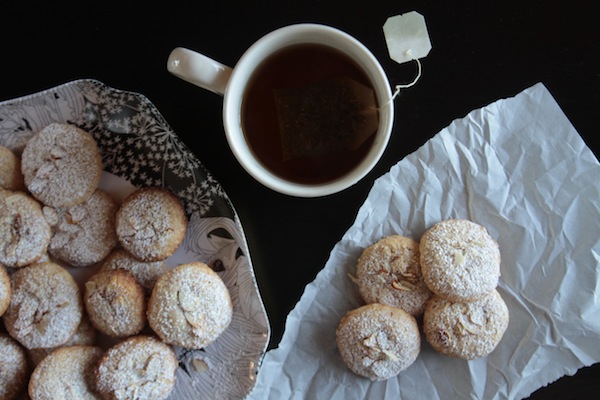 I suppose my food cravings are pretty much the same. I love anything almondy. Here on this site you've seen me make granola, danishes, bars, cookies,vegan cookiest, raw cookies, caramel corn, appetizers loaded with almonds. I feel like I have the same issue with almonds as I do with my striped shirt collection. NEED MORE. ALWAYS. Thank goodness almonds are good for you.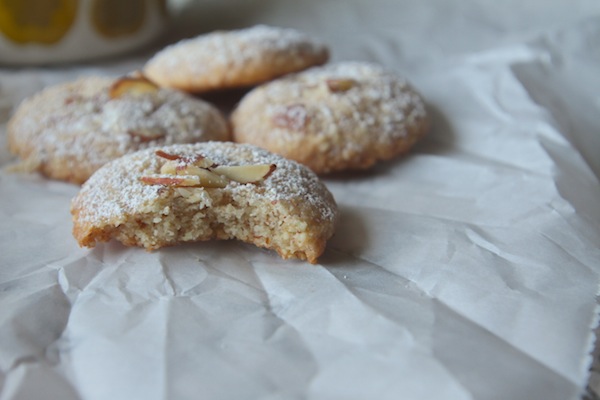 We enjoyed these cookies a little too much at my house. I had to freeze some and give some away because there wasn't much stopping me from eating one after another after another. They're nutty, sweet & fragrant with vanilla. They're perfect for breakfast or an afternoon snack with tea. I wouldn't mind a few broken over ice cream with fresh berries. Let's make that happen! I think on my next go-around, I'm going to add a bit of almond extract because I can't get enough of almonds.
And we're off!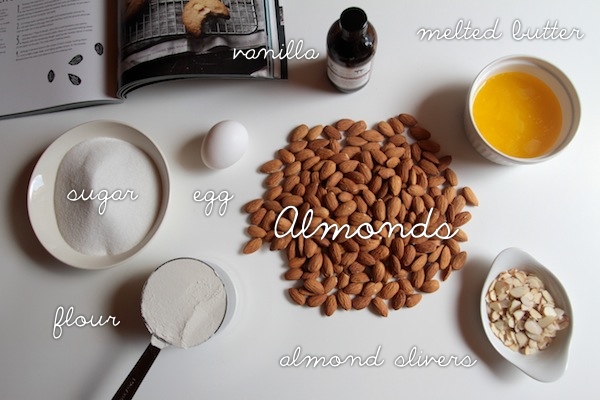 First! You pulse the almonds in a food processor to make almond meal.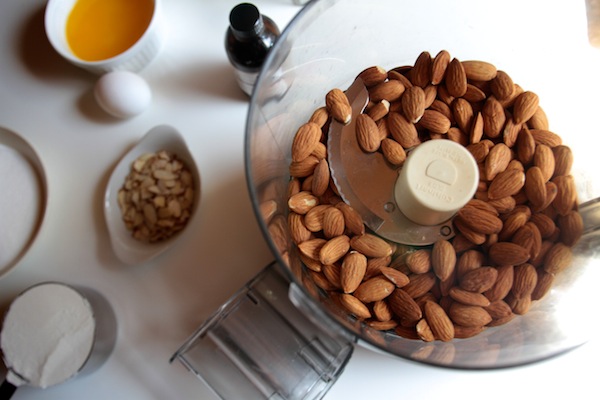 You're supposed to go super fine, but I wanted a little almond chunks in my meal.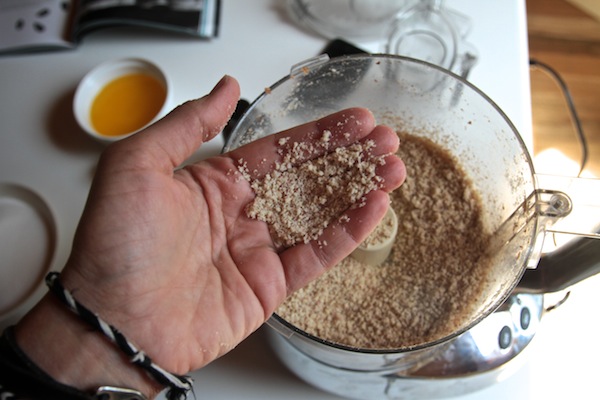 Melted butter & sugar get stirred together. An egg goes in.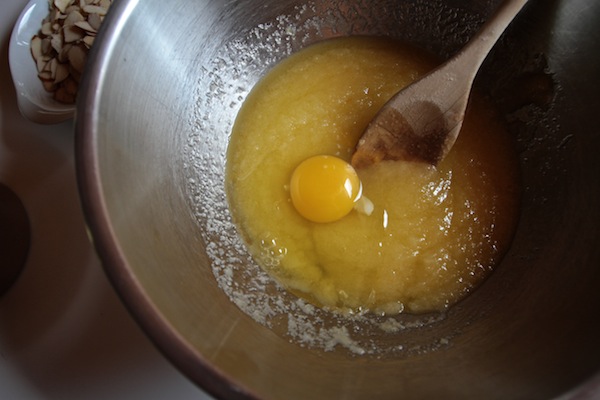 Flour gets stirred in.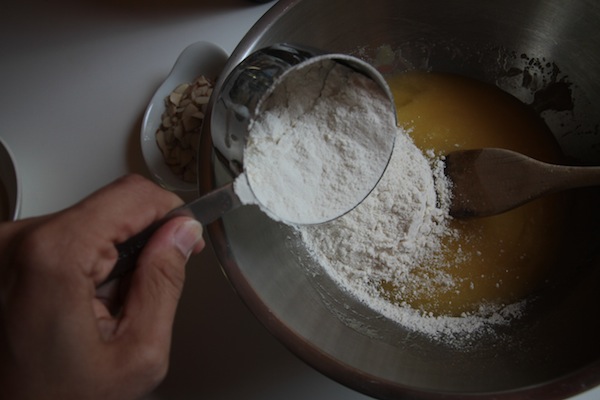 Flour & almond meal.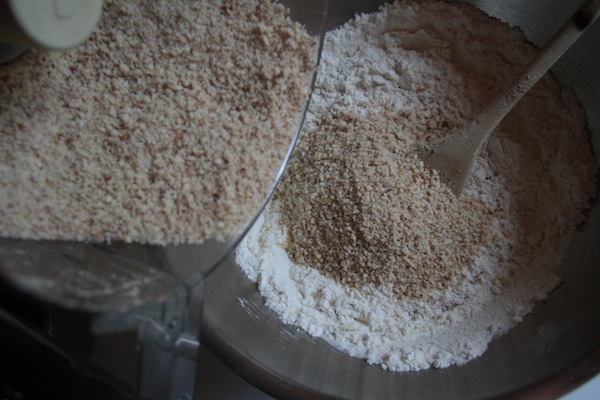 Here's a weird thing. Vanilla extract at this point. I would have put it in during the egg mixture, but I followed the recipe. I wonder if they forgot about it and then when they went to stir they were like…CRAP. Vanilla. Maybe that's just my imagination. Maybe I speak from experience…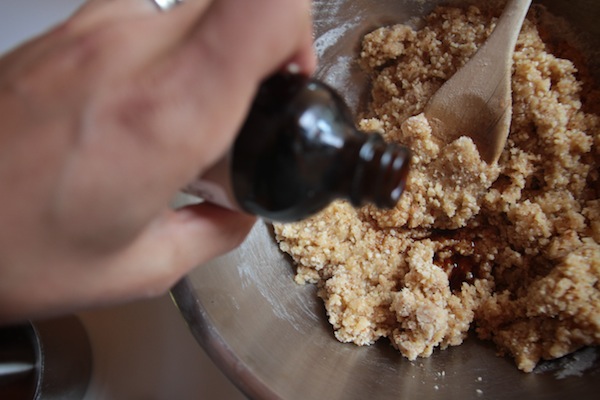 Scoop out a cookie into the palm of your hand. Flatten the cookie. Put the cookie on a greased baking sheet.
REPEAT. Like… a lot.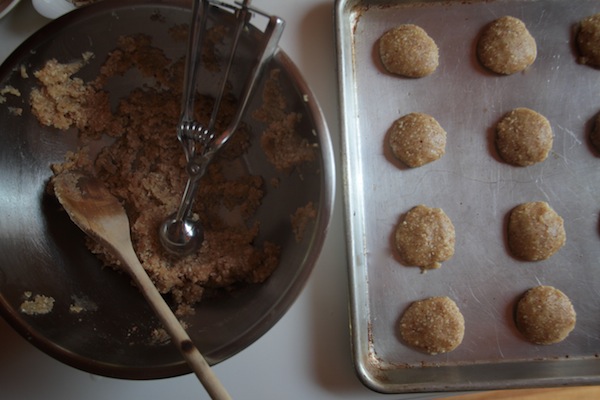 Original recipe calls for three sliced almonds on top of each cookie. I got through three cookies and was like……NOOOOO WAY AM I DOING THIS FOR 20+ cookies.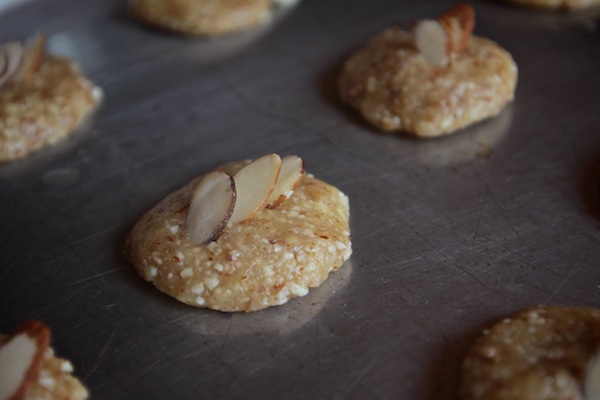 So I took the slivered almonds and smooshed them in the center. Done deal. Time saver. Yeah baby.
They get baked in the oven. They cool on a rack.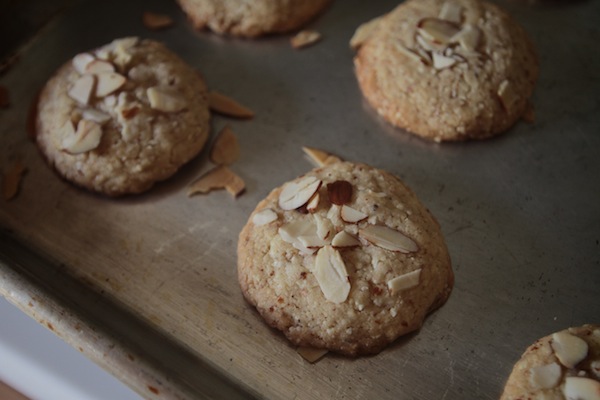 Confectioner's sugar enters the picture…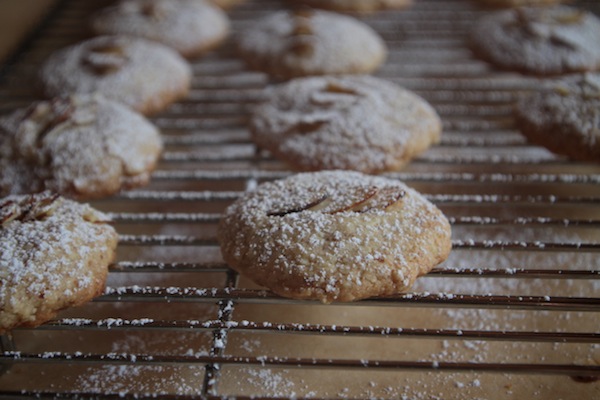 COOKIE PARTY COOKIE PARTY (Sarah Silverman reference)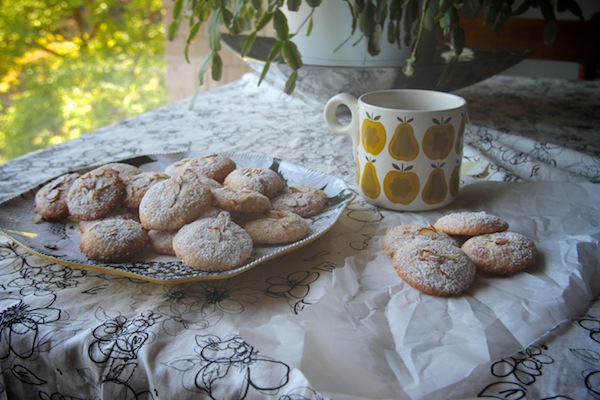 Now…I'm off to find my next almond recipe!
Almond Cookies

makes about 36 cookies

recipe adapted from This Is A Cookbook: Recipes for Real Life

1 1/2 cups whole almonds, plus sliced almonds for garnish

1 cup sugar
1/2 cup unsalted butter, melted
1 large egg
1 cup all-purpose flour
1 teaspoon pure vanilla
1/4 cup confectioner's sugar

Preheat oven to 375F. Put the almonds in a food processor and process until coarsely ground, 15-20 seconds. Stop the machine and pulse carefully until nuts are finely and uniformly ground, stirring in between pulses as needed. Work carefully, as you don't want the nuts to turn to paste. Set aside.

In a large bowl, combine the sugar and melted butter and stir to mix well. Beat in the egg, then add the flour and ground almonds and mix well. Stir in the vanilla extract.

Scoop out 1 tablespoon of dough, roll it into a ball between your palms, and flatten into a round cookie. Place on a greased baking sheet. Repeat with the remaining dough, spacing the cookies about 2 inches apart on the pan. You will need two baking sheets.

Press about a tablespoon of slivered almonds into the center of each cookie. Bake until lightly golden brown, 9-10 minutes. Remove from the oven and allow to cool on a baking rack. Place confectioner's sugar in a sift and sift sugar on top of cookies. Cookies will keep stored in an airtight container for up to one week.