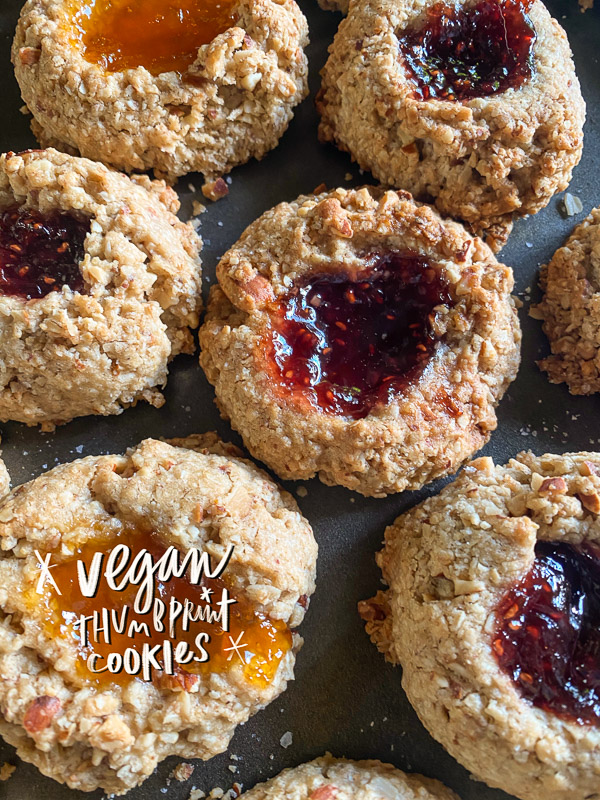 These Vegan Thumbprint Cookies pair ridiculously well with my morning cappuccino & make a fantastic snack in the afternoon with some tea. They are like an energy bar in cookie form!
They're a little dense, crunchy, and kinda buttery with all of the almonds in them. They're a snap to make, totally kid-friendly (as long as there are no nut allergies in your household) and the recipe makes a ton! I definitely think I'll make this WITH Cooper when he's not prone to dumping flour all over the place (that may take a while). It's no big deal if he eats the batter! The only problem I encountered was figuring out which one of the jams I liked most. I used blueberry jam (I made from scratch) as well as apricot & raspberry jam (from Trader Joe's). I really liked the seedy raspberry ones; they were the prettiest. I did love the tang of the apricot too! I dunno! I can't decide. Let me just take another sample…

And we're off!
Grind 2 cups of almonds in a food processor.
Set them aside in a LARGE bowl. You want to keep them chunky. Don't grind too fine.
Now grind your oats with the salt until fine. It's OK to leave it a tad chunky.
Add them to the bowl with your almonds & toss in 1 1/4 cups flour.
Pour in your maple syrup & oil in the dry mixture.
And mix! Add the reserved flour if the mixture is too moist/runny. Let the dough sit for a bit.
Get your jams ready! Get a few small spoons and now start forming your cookies! A small ice cream scooper works well!
With the bottom of a wooden spoon make a little indentation in each cookie. Time to fill!
Here's a little apricot filling for you! I used a 1/8 teaspoon measuring spoon to help me.
Here are the blueberry ones! Off to the oven they go….
Be prepared to make a lot! Experiment with the flavors! Watch out…
They're pretty good.
Vegan Thumbprint Cookies

(recipe from thekitchn.com)

makes 4 dozen 2 inch cookies

2 cups whole almonds
4 cups quick-cooking oats (I used regular oats)
1/4 teaspoon salt
1 1/2 cups flour, divided
1 cup canola oil
1 cup maple syrup
Assorted jams of your choice

Preheat oven to 350°F and line two baking sheets with parchment paper.

Pulse almonds in a food processor until they're chopped into smaller pieces. Large chunks are welcome, but make sure you don't ground them too fine. Place chopped almonds into a large bowl.

Now grind the oats with the salt in the food processor until it turns into a fine meal. Add the oat/salt mixture to the bowl of chopped almonds. Add 1 1/4 cup of flour to the bowl and reserve the remaining 1/4 cup. You may or may not need it depending on the moistness of your final mixture.

Pour the canola oil into the bowl, followed by the maple syrup into the bowl, and thoroughly mix with the dry ingredients until combined. If the dough is on the runnier side, use the reserved flour. Let the mixture sit for 15 minutes. It will stiffen up during this time.

Form into rough balls about the size of a whole walnut. The dough will be slightly wet but surprisingly not too sticky. A small ice cream scooper helps. Place the balls on a cookie sheet about an inch apart (the dough barely spreads out during cooking).

Using the bottom of a wooden spoon, make an indentation in the top of each cookie. Fill the indentation with your jam of choice.

Bake for about 15 minutes, or until the cookies begin to brown slightly. Remove from oven and let cool for about 15 minutes before moving to a rack to cool further (they're a bit fragile when they first come out of the oven).