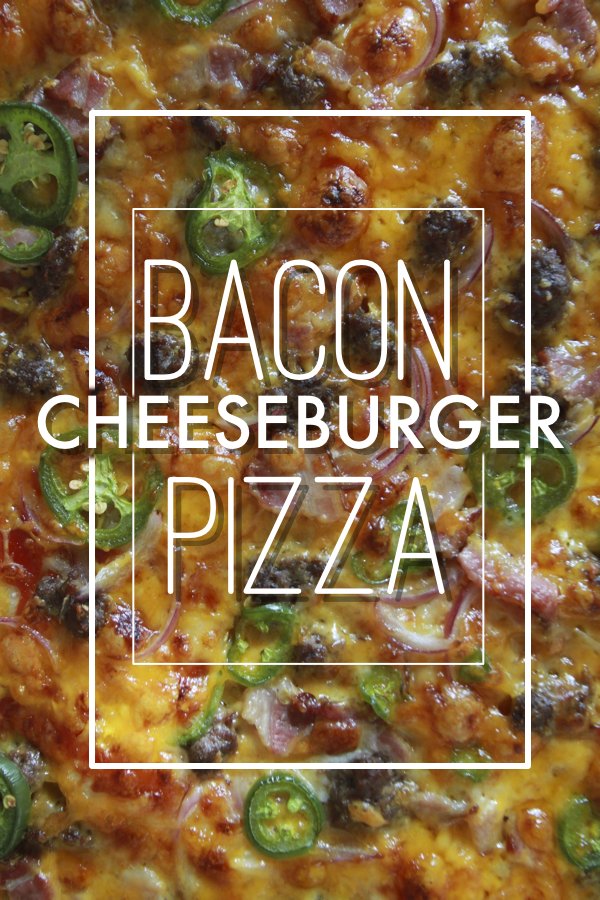 The one thing that is guaranteed to make me really excited in life is FOOD. SHOCKER, isn't it??!  I spend most of my free time thinking about food and reading cookbooks. Thoughts of food combinations, flavor profiles, textures, and cuisines all litter my head. If only I could channel this thought process into more productive things like cleaning up all the piles of crap around my house. But…. that would be no fun.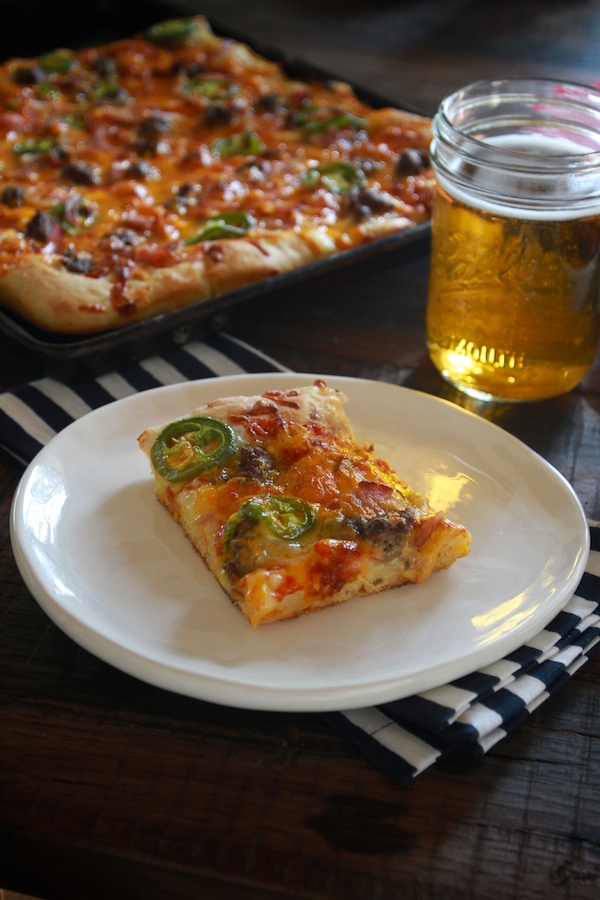 In this crazy brain of mine I've had this idea to combine two of my husband's favorite things together. It's been on my mind for weeks and I finally did it! Whenever we are out for burgers, he ALWAYS orders a bacon cheeseburger with jalapeños. He then proceeds to put Tabasco on said burger as well as his fries…and I think he does the fries part just to mess with me cuz I WILL STEAL ALL OF HIS FRIES. We've been together for 14 years. He knows this and I know that I must suffer through Tabasco on my fries if I want to indulge in my carb fantasies. I digress…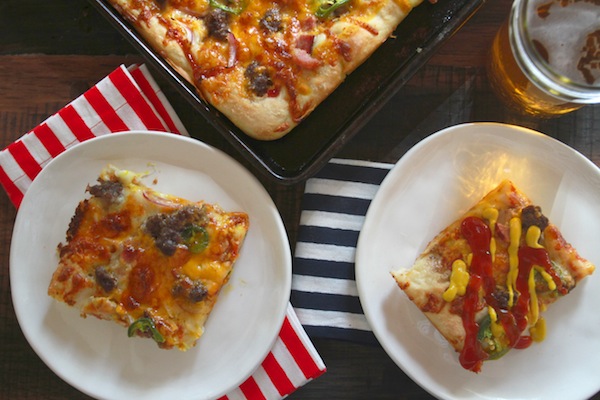 Here we have the realization of my husband's/my food fantasy. A pizza that taste like a burger. A burger that's presented in pizza form. Instead of using marinara as the sauce, we have a ketchup & mustard combo. It's sweet. It's tangy! It's smokey and spicy.  It's so good that I caught Casey standing in the kitchen late at night like Nigella Lawson (sans sexy/silky robe) eating some over the sink.
And we're off!
I made my no knead pizza dough for this one! I actually used the whole batch for the pizza instead of splitting it up into two pizzas. It provides for a thicker pizza–which makes it a little doughier- much like a hamburger bun but PIZZA.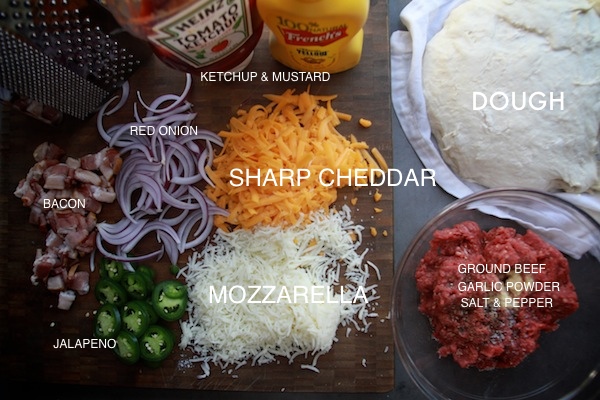 You will need to season the ground beef. I added garlic powder, salt & pepper.
Then you spread olive oil over the baking sheet before you lay down the dough.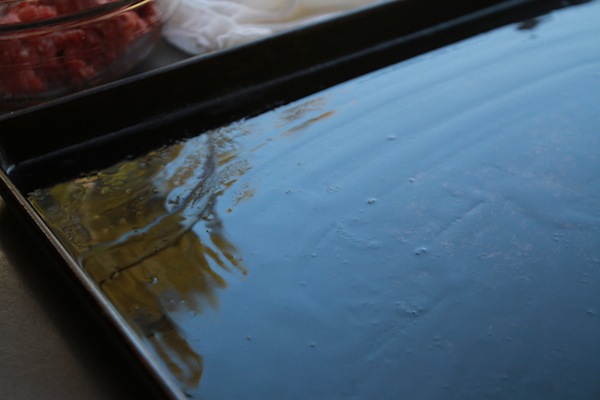 Dough is laid out. Instead of marinara, we add KETCHUP & MUSTARD.
Don't you look at me like that. It's good.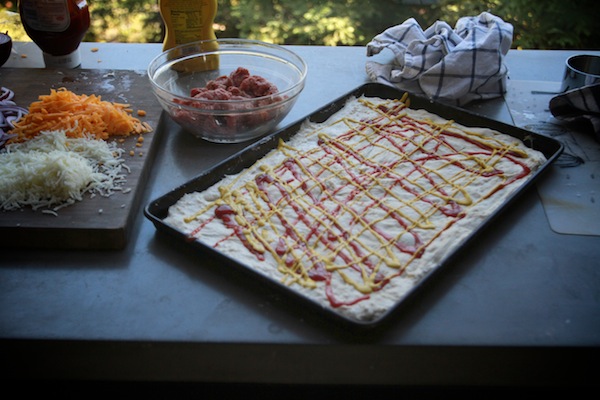 Layer down the cheeses and the onions.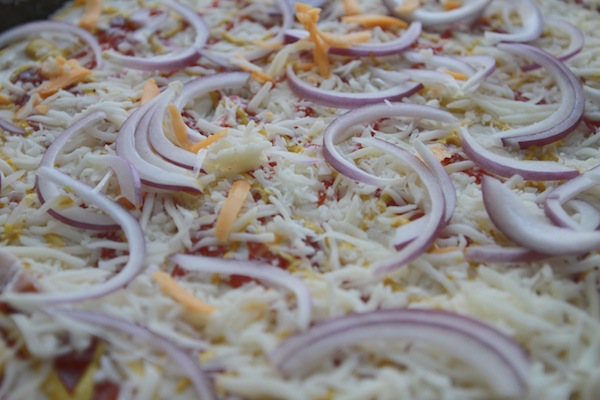 Followed by the bacon, ground beef & jalapeño slices.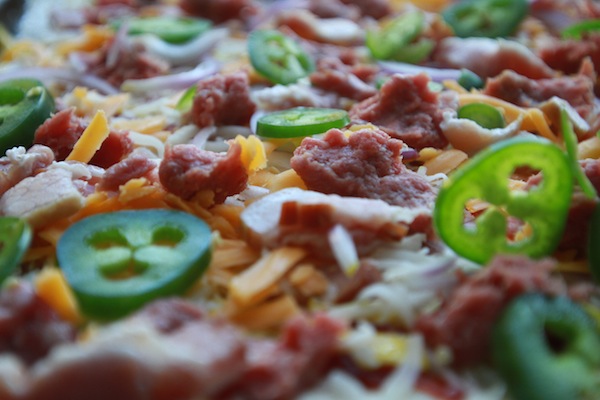 This is the pizza before baking.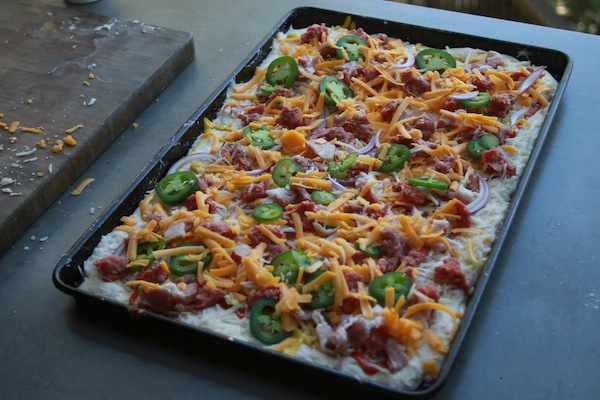 THIS IS AFTER.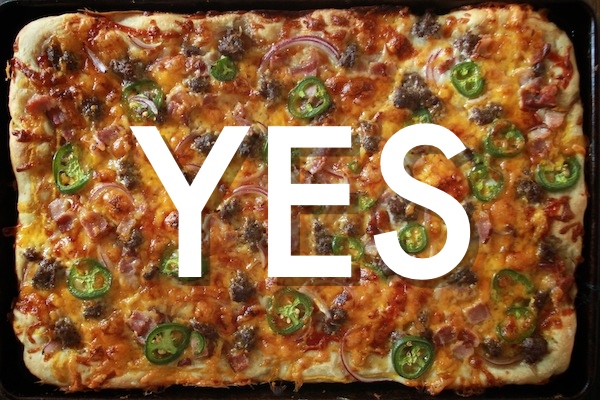 This is an extreme closeup.
It's salty, tangy, smokey, cheesy, MEATY and so dang good.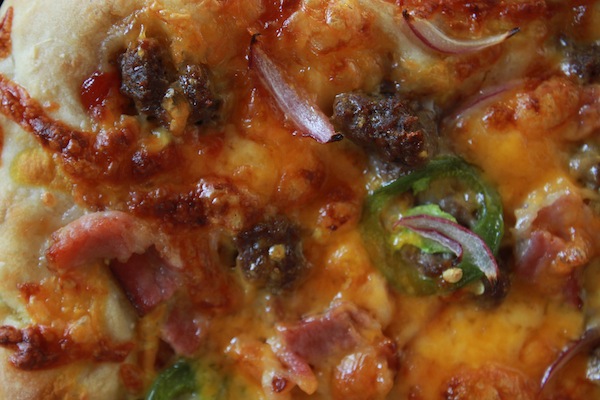 Pair it with a beer and some afternoon sun.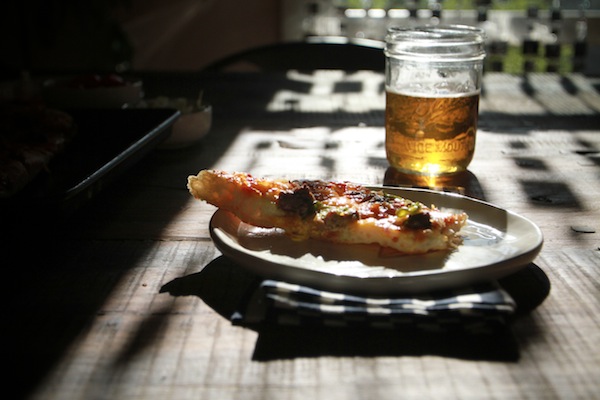 Golden hour just got a little more golden!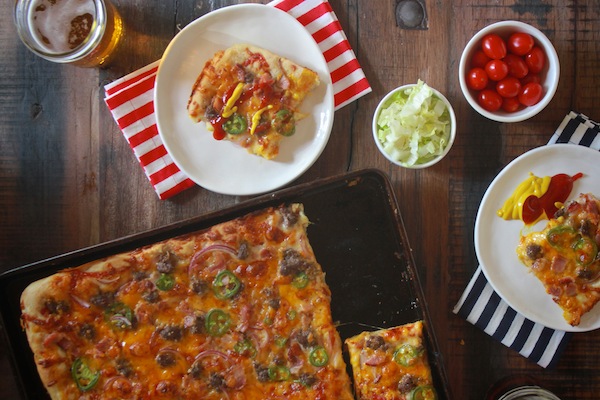 Add a little bit of lettuce or tomatoes if you're into that sorta thing….

Bacon Cheeseburger Pizza

makes a 13 x18 inch pizza

1 full batch no-knead pizza dough
extra virgin olive oil (for baking sheet)
1/4 lb ground beef
1/2 teaspoon garlic powder
1/4 teaspoon kosher salt
1/2 teaspoon ground pepper
1 cup shredded extra sharp cheddar cheese
1 cup shredded mozzarella
1/2  red onion, thinly sliced
1 thinly sliced jalapeño, thinly sliced
5 slices uncooked bacon, thinly chopped
ketchup
yellow mustard

Preheat oven to 500F.

Oil a 13×18 inch rimmed baking sheet liberally with good extra virgin olive oil. Then gently plop the dough on the pan.  Stretch and press it out to the edges. If it springs back wait five minutes and then proceed. The dough is very thin. If it tears, piece it back together.

In a medium bowl, mix the ground beef with the garlic powder, salt & pepper. Set aside.

Liberally squeeze ketchup & mustard on the top of the prepared dough (about 2-3 tablespoons each) Layer the cheddar, mozzarella, and red onions on top of the ketchup & mustard layer. Follow with the jalapeño, bacon and prepared ground beef, evenly distributing on top of the dough.

Place in the oven and cook for 15-18 minutes, or until crust is nicely brown around the edges. Serve immediately.