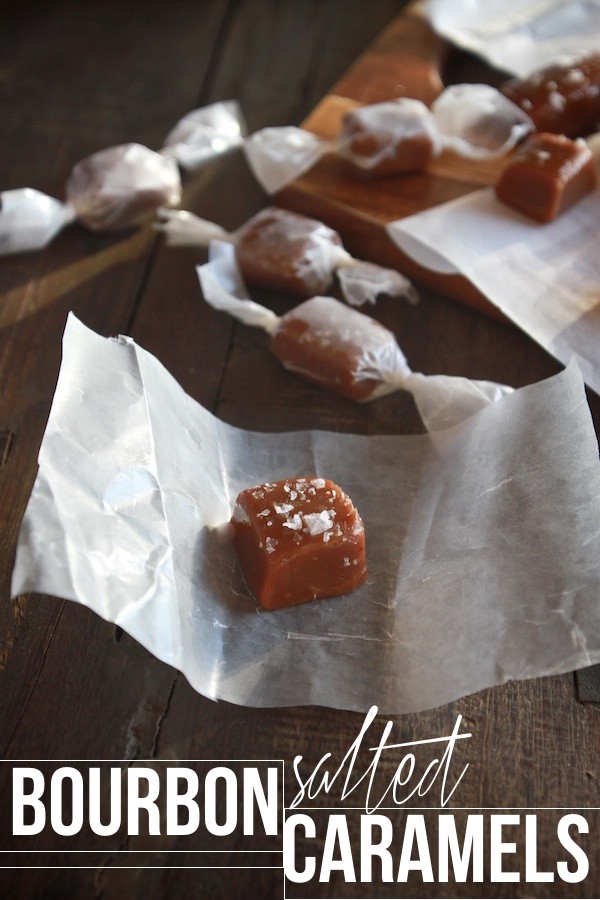 I guess it's time we kick it into full gear and discuss homemade holiday gifts! I'm trying to get my head in the game…but I'm still mustering up the energy to out my fridge of Thanksgiving remnants. When it comes to holiday gift giving, I like going with treats that are a little bit different. I prefer to make treats that will standout in a crowd of holiday tins filled with chocolate dipped Ritz crackers (totally amazing btw). These Bourbon Salted Caramels are sure to do the trick. They're salty with the faintest hint of bourbon…so that's kind of palate cleansing, right?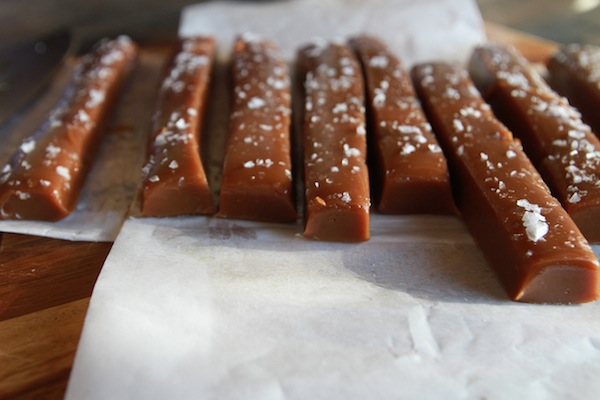 In these caramels the bourbon and the sweetened condensed milk round out the flavor and give it a little more depth. Less butter notes, more grown up flavors! What I love about caramel making is that it really takes the littlest amount of ingredients,  with a bit of patience and some good crafting skills (hello wrapping candies!) and you're good to go!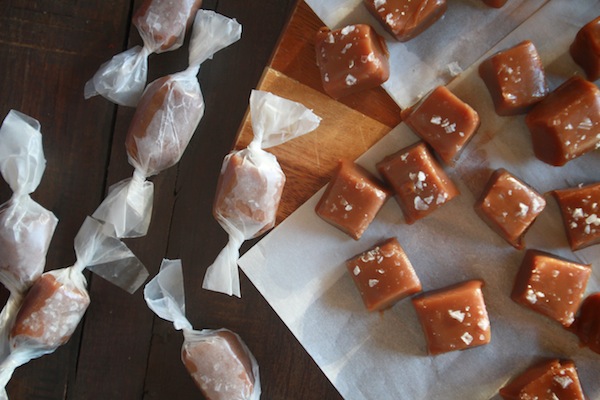 If you're anything like me you'll daydream about opening up your own salted caramel candy shop while you're wrapping each delicious caramel square. Sweet/Salty/Booze/YES/PLEASE.
And we're off!
Ingredient gathering. Not many ingredients, huh? Love that.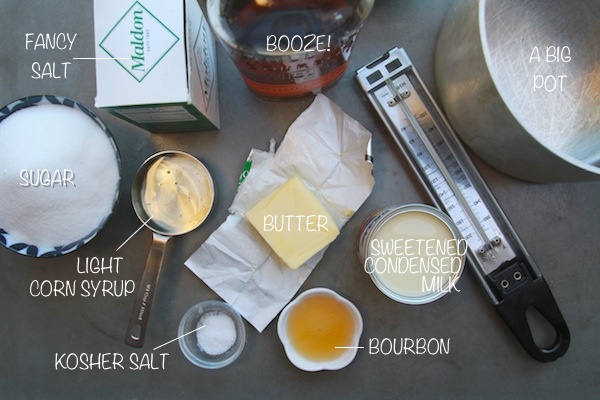 First things first. You need to add parchment to an 8 x 8 baking pan. I secured the edges with binder clips.
I only had three…which means I need to seriously clean out my junk drawer.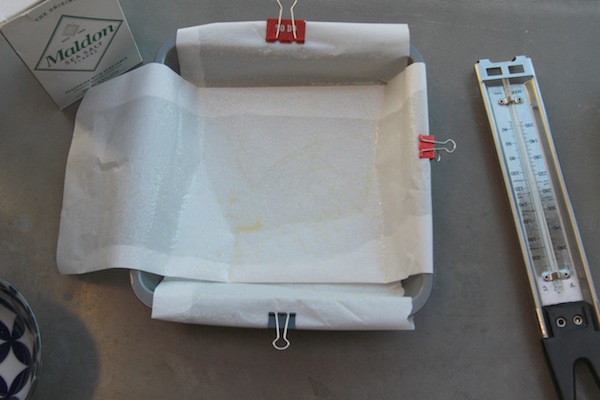 Get your butter cut up into pieces. We want to prep as much as possible because caramel is FAST.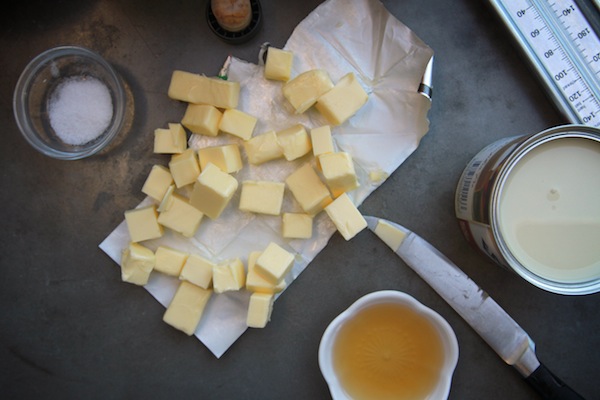 Let's begin. Water, sugar & corn syrup go into a medium saucepan. You're gonna cook it until it turns a dark amber color.
The recipe says it takes 8-10 minutes. It took a little bit longer for me. No bigs!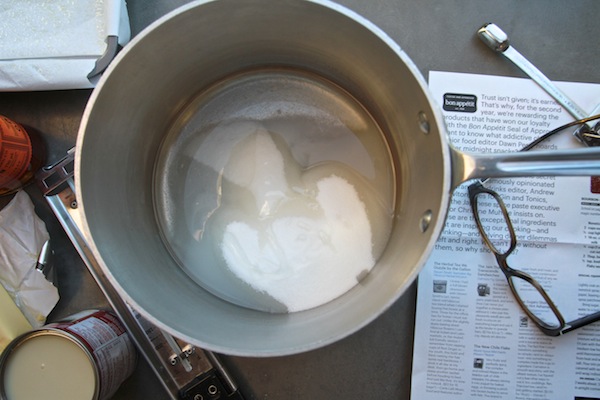 Next step is adding the butter & sweetened condensed milk.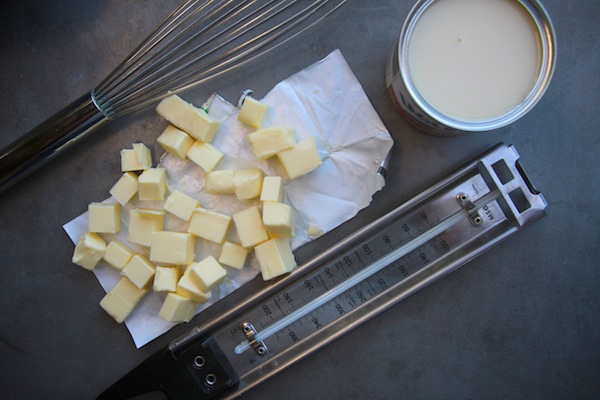 Caramel coming along. Add in the condensed milk.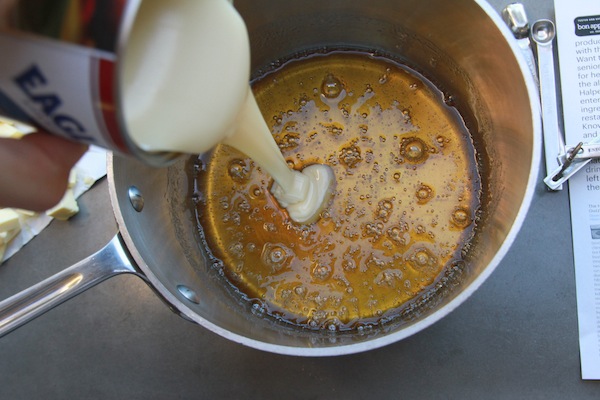 Stir in your butter!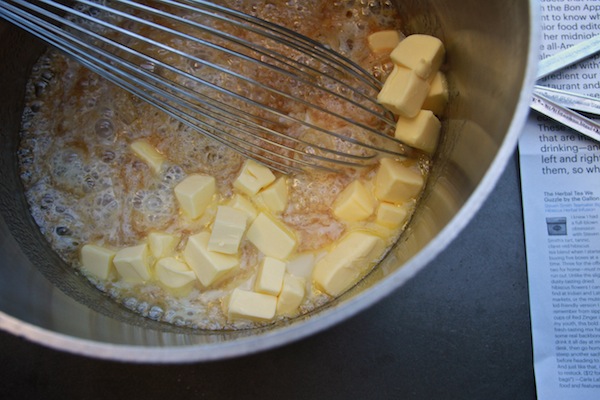 Pop in your candy thermometer. We need to get it to 240F.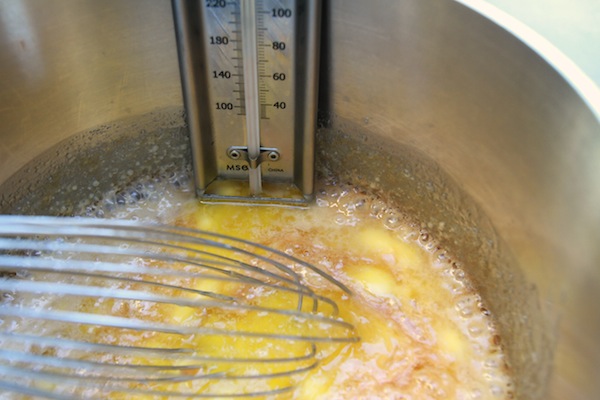 Once it's at the right temp (look at the color!) we stir in the salt & bourbon.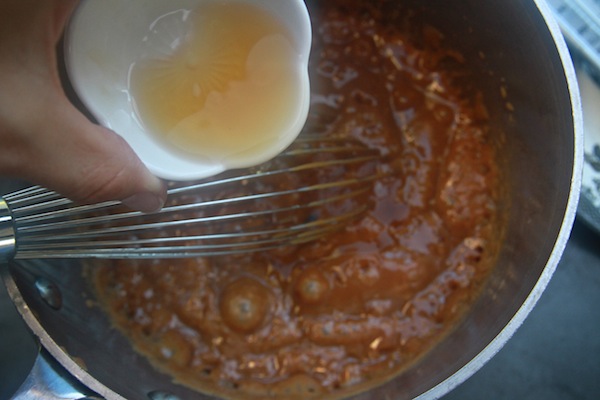 Pour into your prepared pan!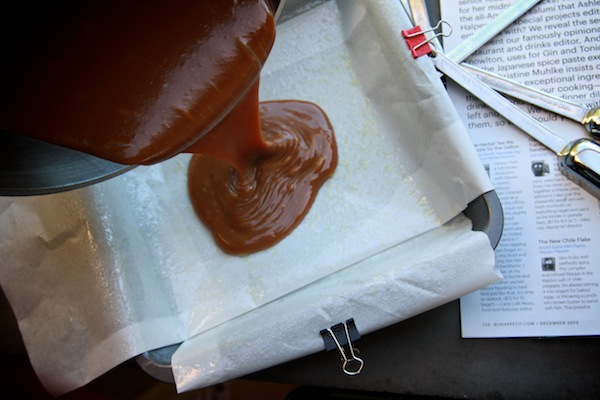 Let it cool for a bit.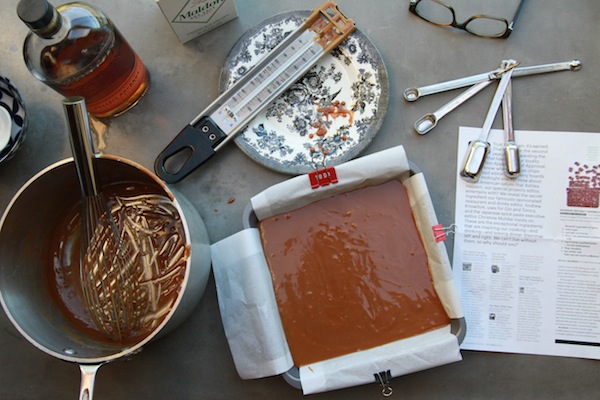 Now we bring in the big guns!! Maldon Sea Salt Flakes! They are AMAZING.
It's AMAZING on avocado toast. Just saying…. Oh and BREAD WITH BUTTER. Unnngh.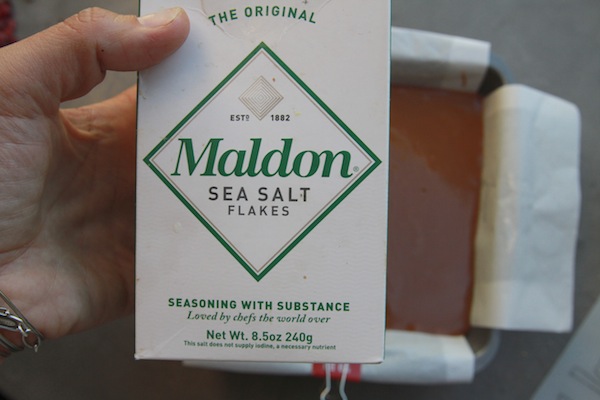 Sprinkle the top.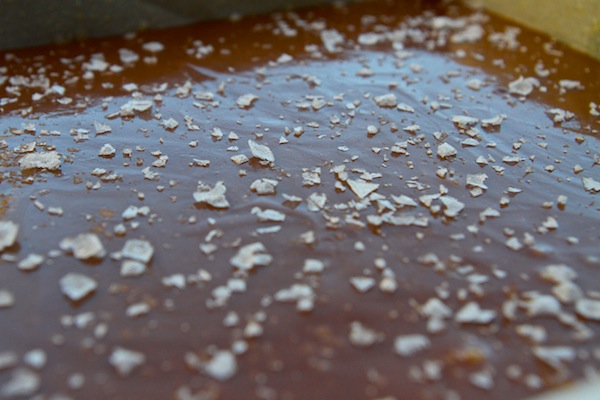 OK. Now that the caramel has cooled, we are ready to cut! Trim the edges…which means EAT THE EDGES.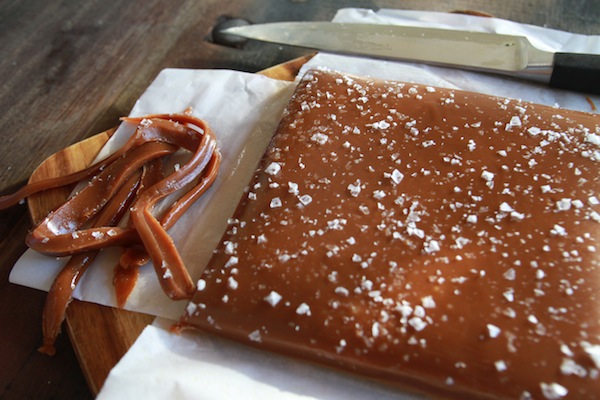 Cut vertically.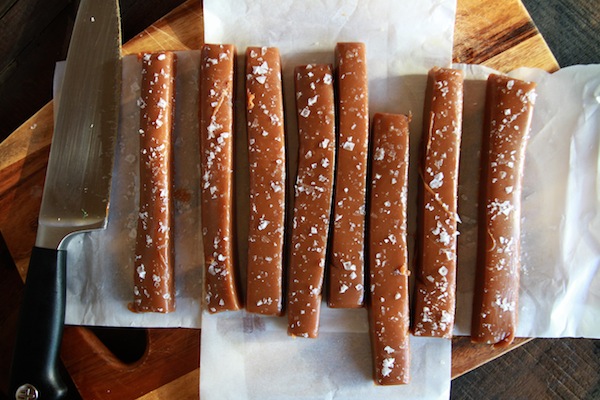 Then horizontally.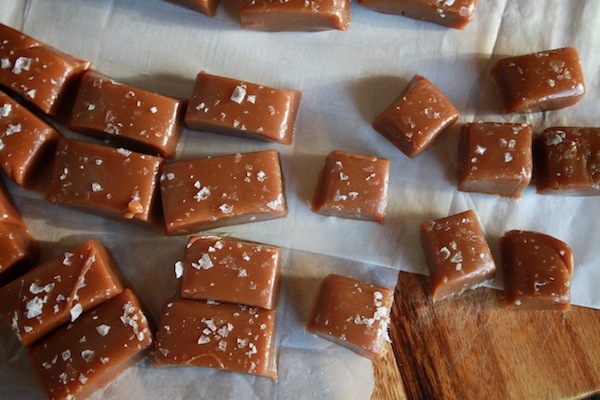 I decided to wrap mine up in waxed paper because I ran out of parchment. Totally a good option!
To make wrappers, cut the paper into 3 x5 sheets. Wrap them/twist them!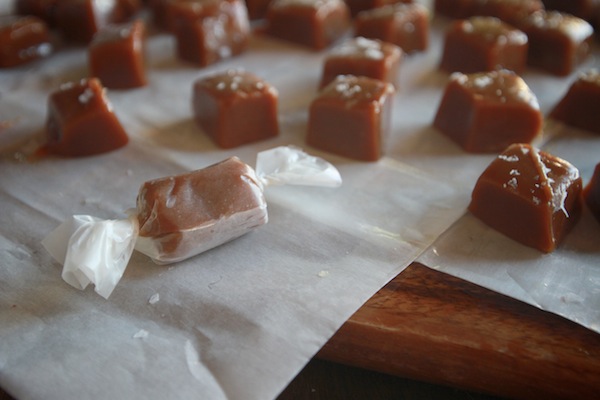 They are deeeeeeeeeee-lish. Add more salt if you feel so inclined.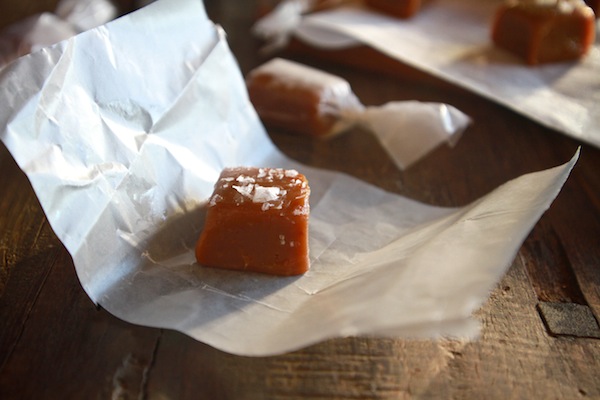 This batch makes SO MANY!  Get your caramel on!

Bourbon Salted Caramels

makes about 75-100 caramels (depending how small you cut them)

recipe from Bon Appetit Magazine

nonstick vegetable oil spray

2 cups sugar
1/2 cup light corn syrup
1  14 oz. can sweetened condensed milk
1/2 cup (1 stick) unsalted butter, cut into small pieces
2 tablespoons bourbon
1/2 teaspoon kosher salt
flaky sea salt (such as Maldon)

Lightly coat a 8 x 8″ baking pan with nonstick spray and line with parchment paper, leaving a 2″ overhang on 2 sides; spray parchment.

Bring sugar, corn syrup, 1/4 cup water to a boil in a medium saucepan over medium-high heat, stirring to dissolve sugar. Cook, swirling pan occasionally, until mixture turns a deep amber color, 8 -10 minutes.  (It took me about 12-14)

Remove pan from heat and whisk in sweetened condensed milk and butter (mixture will bubble vigorously) until smooth. Fit pan with candy thermometer and return to medium-low heat. Cook, whisking constantly, until thermometer registers 240F. Remove from heat and whisk in the bourbon and kosher salt. Pour into prepared pan; let cool. Sprinkle caramel with sea salt, cut into 1 inch pieces and wrap individually in parchment paper.

Caramels can be made up to 2 weeks ahead. Store wrapped tightly in plastic in an airtight container at room temperature. I have mine in the fridge.