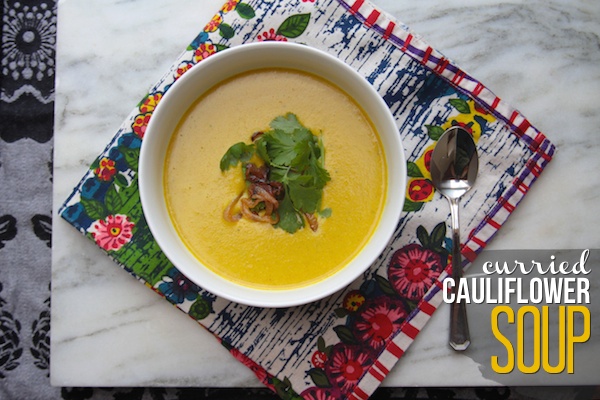 My horoscope keeps telling me that this is the time to start creating new/healthy eating & exercising habits and since it's the new year, I'll be more motivated to do so.  Should I listen to my horoscope or do I think it's trying to get me to buy a gym membership? I bet Leos aren't the only ones getting this horoscope. You can never tell with these apps anymore!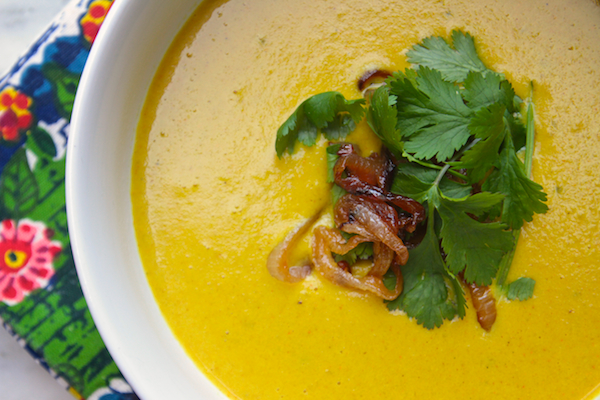 It's been awhile since I made a new soup. Perhaps I could tell the horoscope writing people to include "make some good soup"  into our daily horoscope? That would be a good habit, wouldn't it? If I could write horoscopes, I'd tell Geminis to make up their mind on what soup to make. I'd tell Capricorns to get out of their food comfort zones and try something new! A Leo must go to the newest/hippest restaurant known for its soup and a Pisces should not just be focused on what the place setting looks like around the soup, but should make sure it actually tastes good. Flavor is important!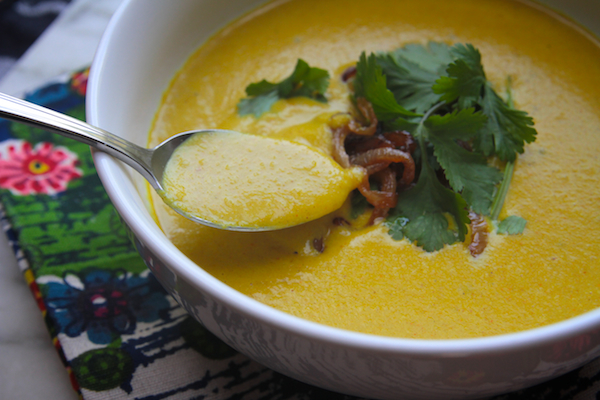 But you never know, I could be giving the wrong horoscope to the wrong sign. It's all a matter of interpretation, isn't it? What I do know is that this soup I made to set my body straight this January is a keeper. It's the first soup I've made with cashew cream and it definitely won't be the last. It's vegan, gluten-free, hearty, spicy and packed with flavor. The texture is smooth & creamy and it will most definitely fill you up. My carb brain thought I needed some bread to accompany it, but I was fine without.  That should tell you something!
And we're off!
Ingredients. Let's do this.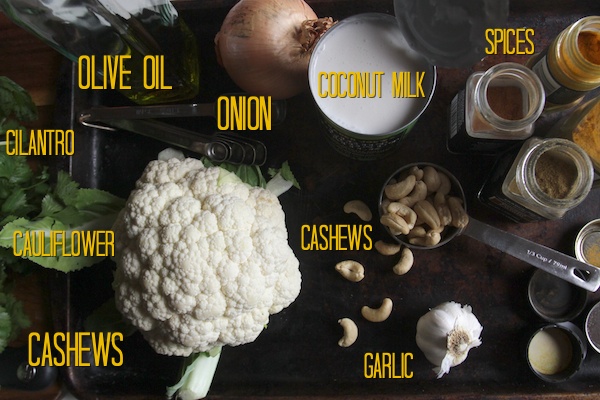 We have a nice combo of spices up in here!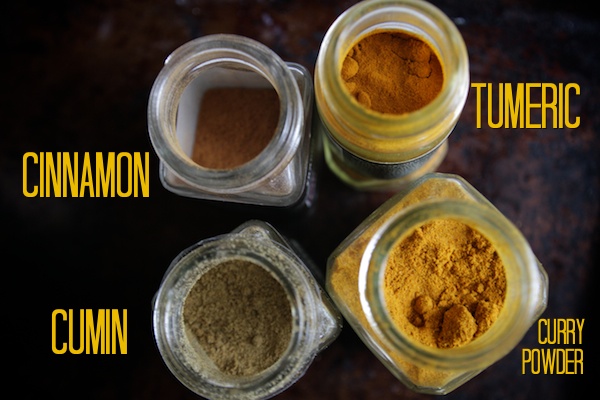 Chop up the onions & cauliflower.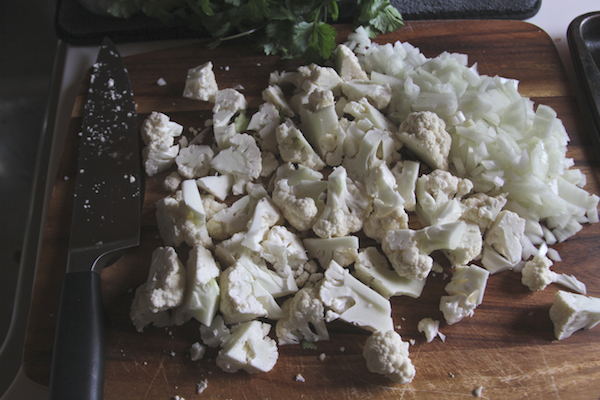 Make the cashew cream!  It's a way to cheat heavy cream and maintain a dairy free zone! We blend cashews.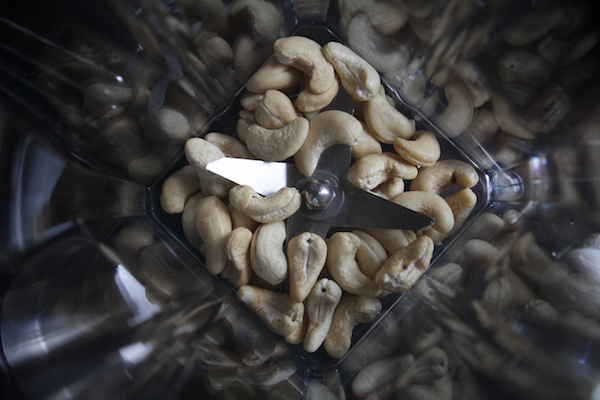 All by themselves…and then we add water! Blend for a few minutes until super creamy.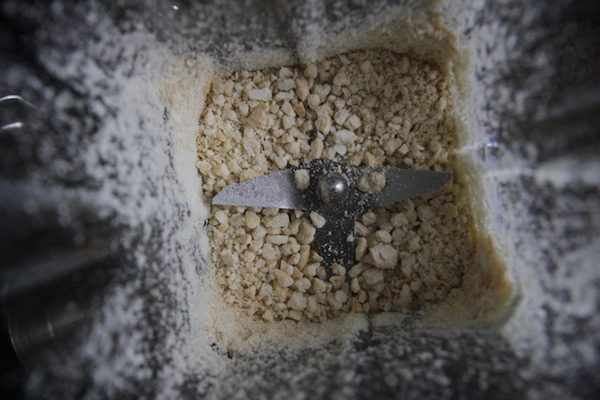 Pour the cashew cream over a sieve to get rid of any bits. My blender left very little.
We also get some creaminess from coconut milk. We'll get to that soon!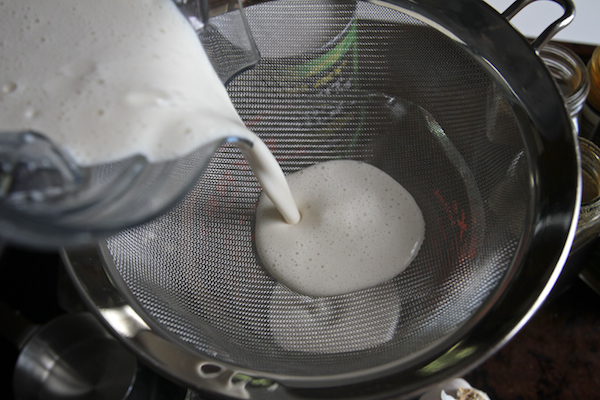 We need to make a garnish for our soup! Caramelized onions! Takes about 3o minutes. You can do this while soup making.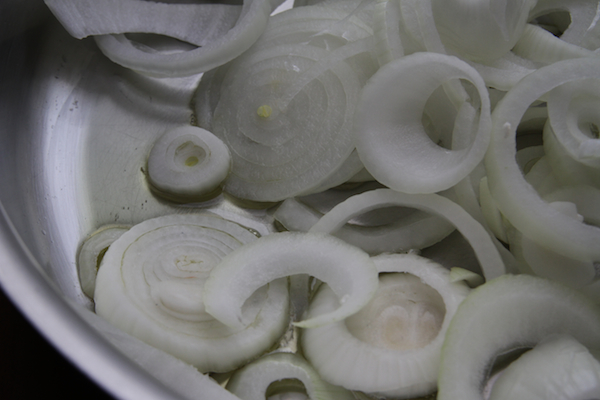 To start our soup, we brown onions in olive oil. Right before adding all of the other ingredients we stir in a clove of minced garlic. We do this quick so it does not burn.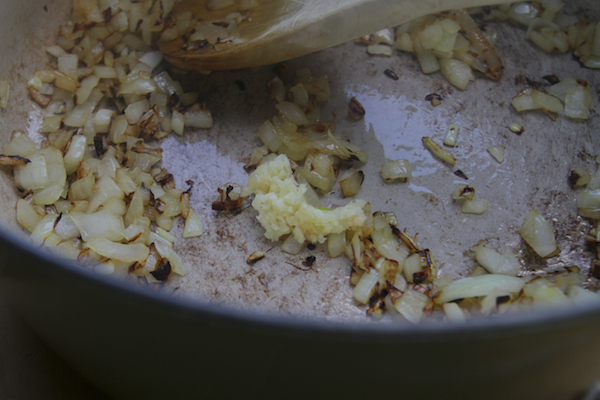 Now we get our spices ready. I like to measure it all in a small bowl & toss it in. This recipe requires a little bit of sugar. It will balance out the flavor profile! Go with it.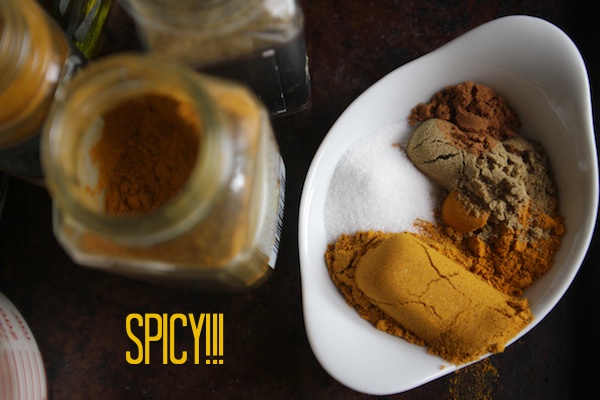 Now we add in the cauliflower, cashew cream, coconut milk and spices!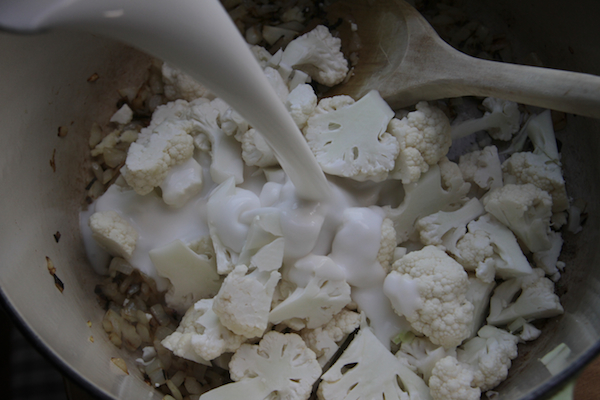 Yeah baby!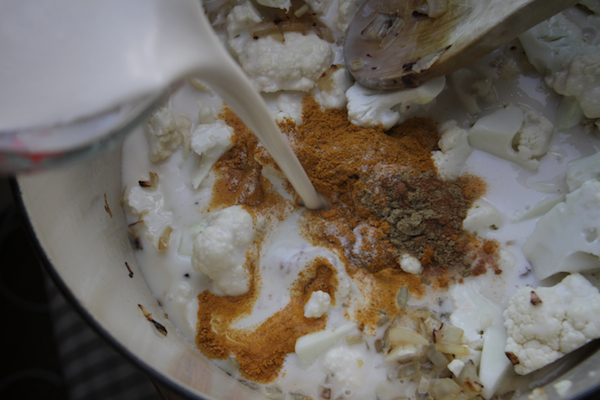 Pour water on top to cover the cauliflower. It doesn't take much. Now cook for 10 minutes until cauliflower is soft.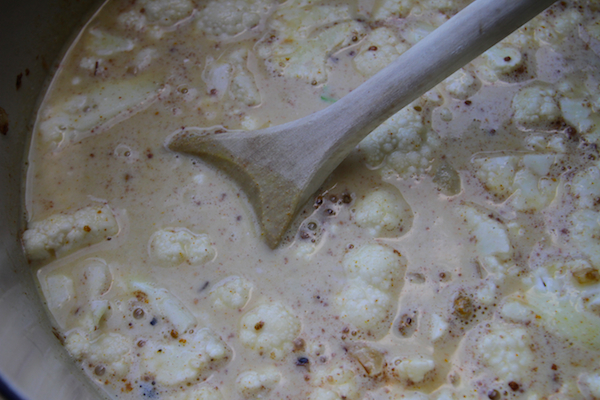 Take an immersion blender  and blend it up! If you don't have one you can use a blender or food processor.
But that's messy business!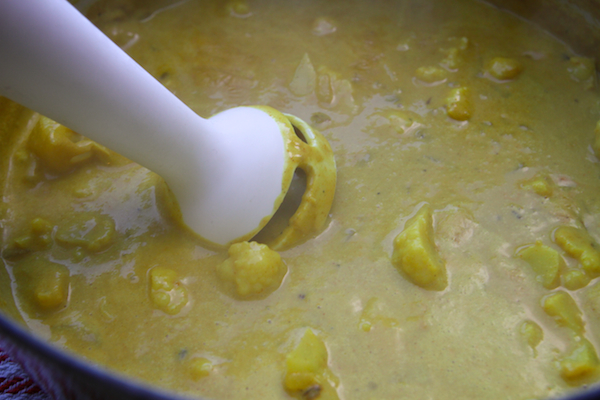 We have our toppings. Caramelized onions & cilantro! Cilantro is totes optional…if you're a cilantro hater.
I know who you are…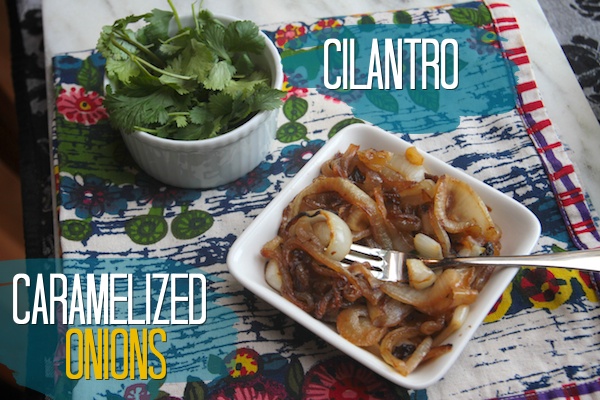 Top the soup with both the toppings.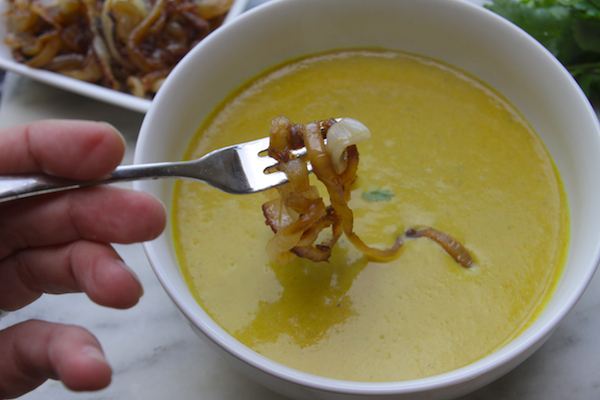 Enjoy!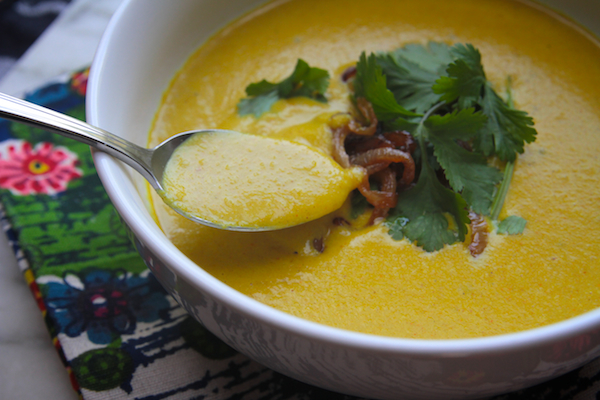 It's really good cold too.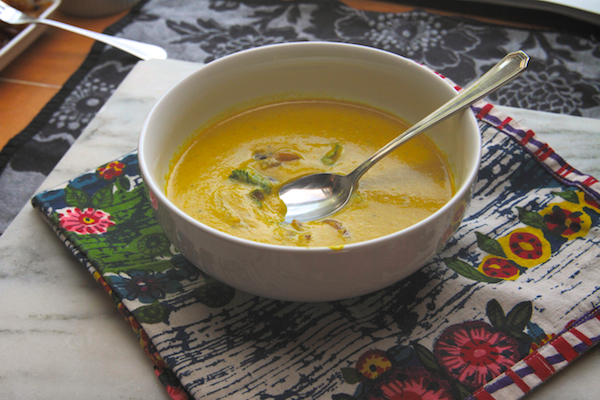 Who would have thought?
Curried Cauliflower Soup

makes 4-6 servings
recipe adapted slightly from True Food : Seasonal, Sustainable, Simple, Pure

1/3 cup raw cashews
2 teaspoons extra-virgin olive oil
1 medium onion, diced
1 clove garlic, minced
1 large head cauliflower, cut into 1 inch pieces
1 (14oz.) can light coconut milk
2 tablespoons curry powder
1 teaspoon ground cumin
1 teaspoon ground turmeric
1 teaspoon evaporated cane sugar
1/4 teaspoon ground cinnamon
salt
caramelized onions (see recipe below)
1/4 cup chopped fresh cilantro

Put the cashews in a blender and blend until finely ground. Add 3/4 cup water and blend for 2 minutes. Pour the cashew mixture through a fine-mesh strainer into a bowl, pressing on the solids with the back of a spoon. Discard solids.

In a large pot, heat the olive oil over low heat. Add the onion and saute until golden. Quickly add the garlic and stir for one minute.  Add the cauliflower, coconut milk, strained cashew milk, curry powder, turmeric, cumin, sugar, cinnamon, and salt as needed. Add enough water to cover. Bring to a boil, reduce the heat and simmer until the cauliflower is tender, about 10 minutes.

Blend the soup with an immersion blender or blender/food processor until the desired consistency is reached. Return to the pot and reheat if serving hot. Ladle into bowls and garnish with the Caramelized onions and cilantro before serving.

CARAMELIZED ONIONS:

1 tablespoon extra-virgin olive oil
2 large onions, thinly sliced

Heat the oil in a large nonstick skillet over low heat. Add the onions and cook for 30 minutes, stirring often, until they are soft and brown. Let cool and then store in a lidded container in the refrigerator for up to 3 days.