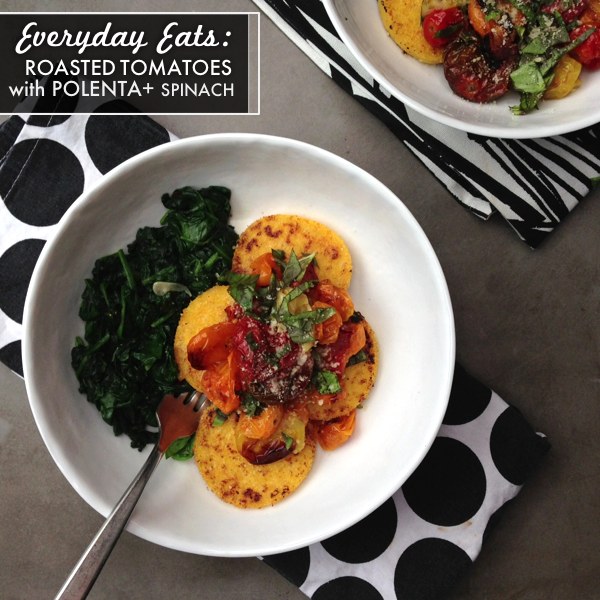 I really love going over to other people's houses for dinner because I usually find new tips & tricks from other people's cooking repertoires. A few years ago I sat in my neighbor's kitchen, drinking a gin & tonic and watched her fry up polenta rounds to accompany roasted meat & vegetables for dinner. It never occurred to me to buy pre-made polenta and fry up rounds as a starchy side. I saved that one to the memory bank….
Now, I'm no stranger to polenta. I make breakfast polenta from scratch on special occasions at home. And when we were growing up, my paternal Italian grandparents used to have a polenta party once a year. My grandma would pour a huge pot of creamy polenta on top of a wooden board the size of our table, top it with marinara, meatballs, sausage & fresh parmesan. We'd all sit around the table with forks & spoons and eat directly off that polenta board.  It was the real deal, but it was also an ALLLLLLL DAY EVENT. We don't always have time for polenta parties (although I wish we did!).
With this simple dish, I grabbed a log of Organic Polenta from Trader Joe's that I had tucked in our pantry and fried up sliced rounds. I topped the polenta with roasted tomatoes, basil & Parmesan and threw in a side of sauteed spinach because I wanted GREENS.  If I had planned ahead, I would have added grilled some sausage to the side but alas, I didn't.  If you've got extra time, make some polenta but if you don't, there's always a log of polenta waiting for you at the grocery store…

Roasted Tomatoes with Polenta & Spinach

serves 4

6 oz. fresh spinach leaves
2-3 tablespoons Extra virgin olive oil
3 cloves garlic, thinly sliced
1 18 oz. package store bought polenta(cut into 1/4 inch rounds)
1 pint cherry tomatoes
pinch red pepper flakes
1/3 cup basil, roughly chopped
1/4 cup freshly grated Parmigiano Reggiano
salt & pepper

Heat 1 tablespoon of olive oil in 8 inch skillet over medium-high heat. Sauté a sliced clove of garlic until slightly golden. Add a few handfuls of fresh spinach with a pinch of red pepper flakes and cook until wilted. Continue adding spinach until all is wilted & cooked down. Season with salt & pepper and transfer to a bowl.

Preheat oven to 400F. On a large baking sheet, toss tomatoes with a glug of olive oil, garlic, red pepper flakes & sprinkle fresh salt & pepper on top. Roast for 15-20 minutes, or until tomatoes are bursting open and release their juices.  When done, stir in freshly torn basil and set aside.

While tomatoes are roasting, clean out skillet, add about 1 1/2 tablespoons olive oil to the pan and fry polenta for 8-10 minutes per side over medium-high heat. Put 4-5 polenta rounds into each bowl. Top polenta with a few spoons full of the tomatoes. Sprinkle with freshly grated PARMESAN, drizzle with olive oil and season with salt & pepper. Serve immediately.