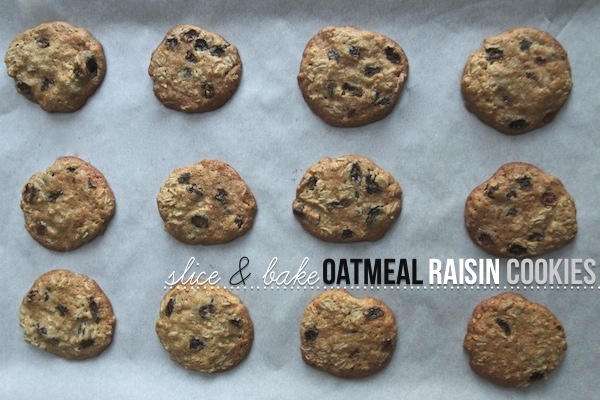 I'm really good at moderation…if given the chance.  In college I had a stash of soups on my side of our dorm room that taunted my roommate. She would "borrow" one and quickly replace it over and over again. I found it amusing and also very kind of her to keep replacing them.  It wasn't so much that I wanted the soup; I just liked having them there in the off chance I might want one one day. I'm a planner by nature. I like to have a stash for a rainy day.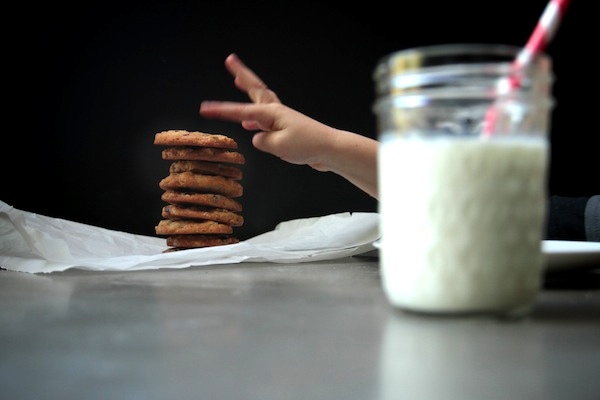 Flash forward many years later and my college roommate lives right down the street. We were hanging out with our kids (who are best friends!), drinking cocktails when she pulled out some cookie dough from the fridge and quickly made a batch of 5 cookies. One for each kid and one for each adult. It got me thinking that I need to have cookie dough in my freezer for when I'm feeling like a cookie and not 4 dozen. There's something so satisfying about having access to cookies when the time calls for it.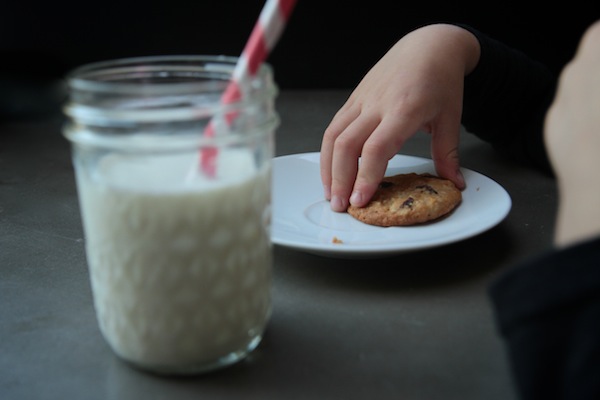 Now when she comes over, I'll guarantee we have cookies in the house, but this time I won't expect her to replace them…
And we're off!
Ingredient gathering time.
Butter & sugars. This is one of my favorite scents in the whole world.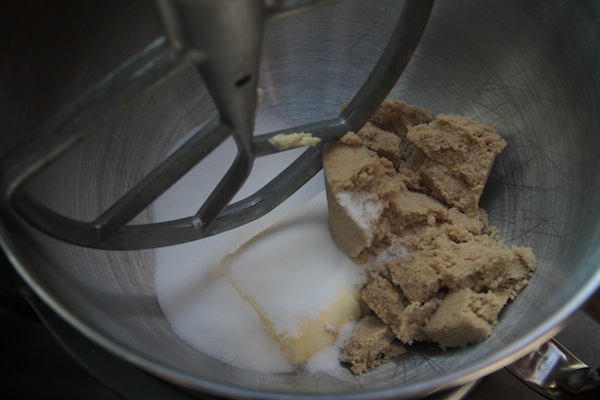 I had a little helper in the kitchen…If only you could have seen his reaction to tasting raw oats…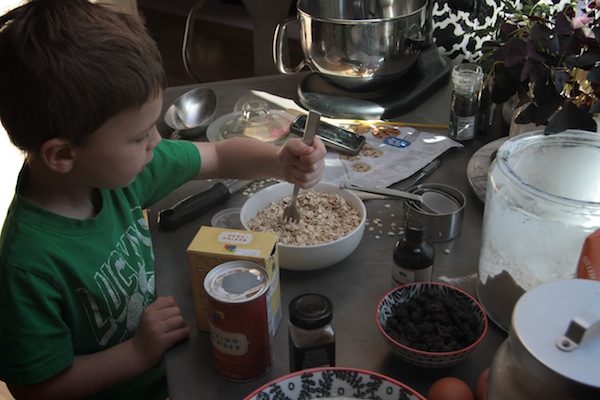 Add the eggs in one at a time. Beat! Now add the vanilla in. Beat!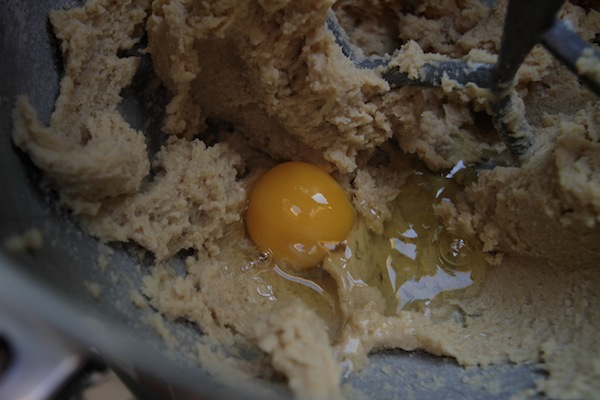 Dry meets wet.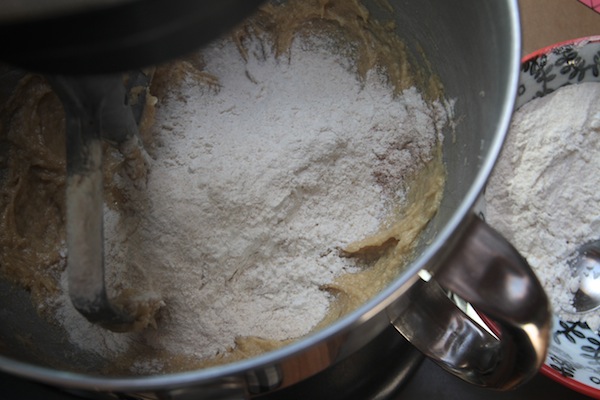 Raisins get folded in.
As do the oats.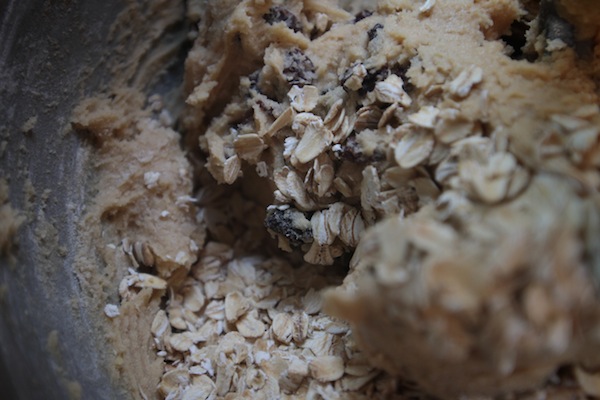 Now we're ready to roll out our dough!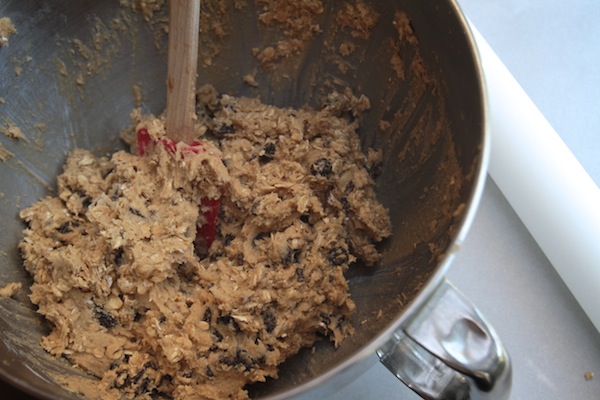 Pull out two pieces of parchment. Make a cylinder. This video might help you…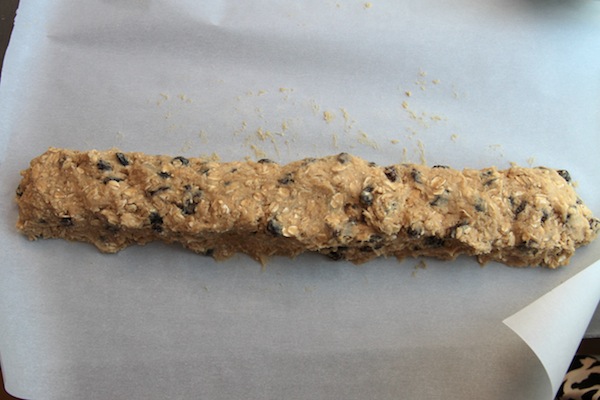 Tada! Two logs of cookie dough ready to go in the freezer.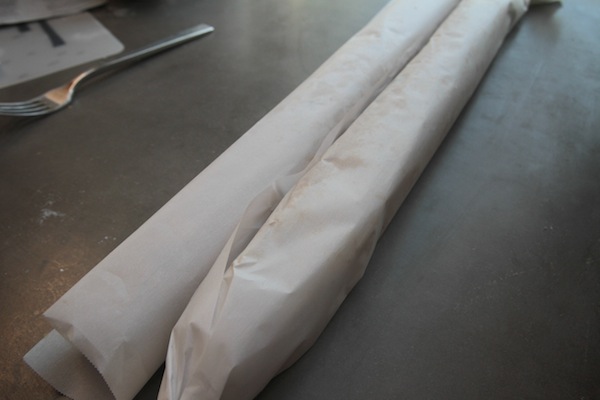 And after 4 hours of chilling, you're ready to slice them up. As you can see, my log isn't perfectly round and I'm perfectly OK with that. The cookies taste just fiiiiiiine.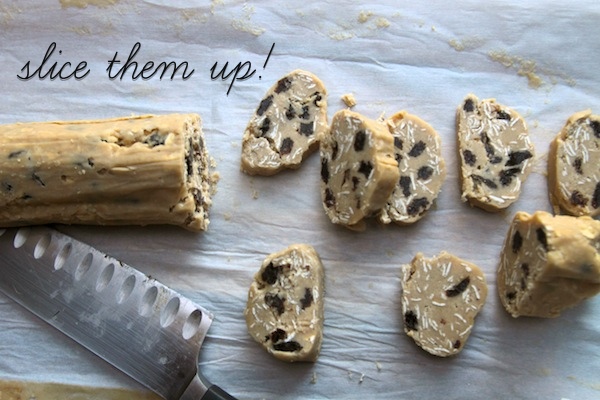 Place your cookies on a parchment lined baking sheet. Now bake!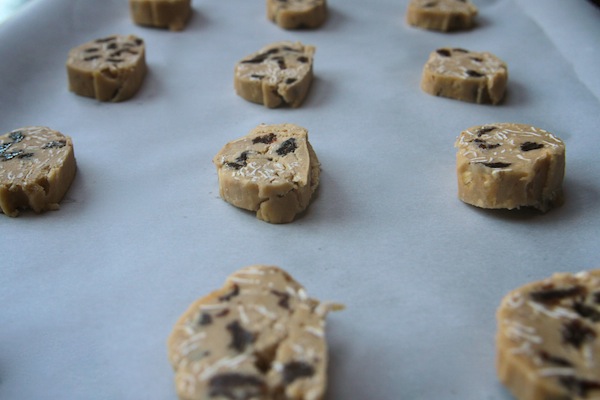 Looks like a sneaky 4 1/2 year old is about to get into some….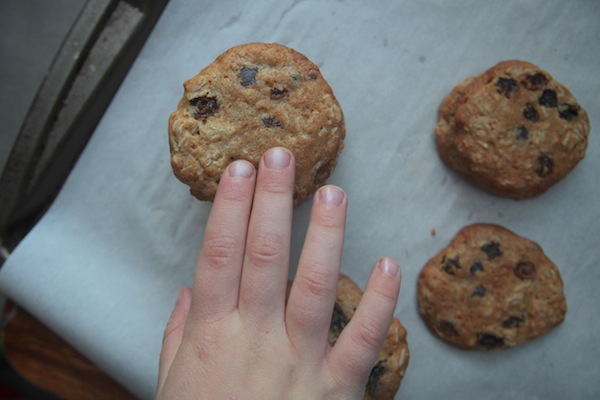 I have to warn you…the frozen cookie dough is pretty good.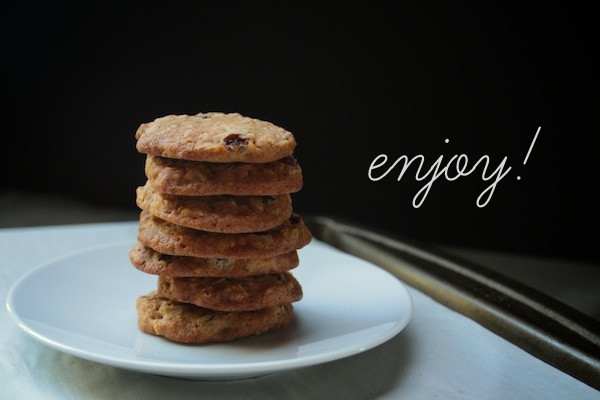 But I'll pretend like the only way I can eat them is if they're baked. Wish me luck!
Slice & Bake Oatmeal Raisin Cookies

makes 4 dozen

recipe slightly adapted from Bon Appetit Magazine

1 1/4 cups all-purpose flour
3/4 cup whole wheat flour
1/2 teaspoon baking powder
1/2 teaspoon baking soda
1/2 teaspoon kosher salt
1/8 teaspoon ground nutmeg
1/2 teaspoon ground cinnamon
1 cup (2 sticks) unsalted butter, room temperature
1 cup (packed) light brown sugar
1/2 cup sugar
2 large eggs
1 teaspoon vanilla extract
2 cups old-fashioned oats
2 cups raisins

Whisk both flours, baking powder, baking soda, salt, nutmeg, and cinnamon in a medium bowl. Using an electric mixer, beat butter and both sugars on high speed until light and creamy, 2-3 minutes. Add eggs one at a time, beating to blend and scraping down bowl between additions. Beat in vanilla.

Reduce speed to low. Gradually add dry ingredients; mix just to combine. Fold in oats and raisins.

Divide dough between 2 large sheets of parchment paper. Using paper as an aid, roll up each piece of dough into a 1 1/2-inch diameter log. Wrap in plastic; freeze for at least 4 hours and up to 3 weeks.

Preheat oven to 350°. Unwrap dough and cut into 1/2-inch-thick rounds (return unused dough to freezer); place 2-inch apart on a parchment paper-lined baking sheet.

Bake cookies until edges are golden brown, 15-18 minutes. Transfer to a wire rack; let cool.