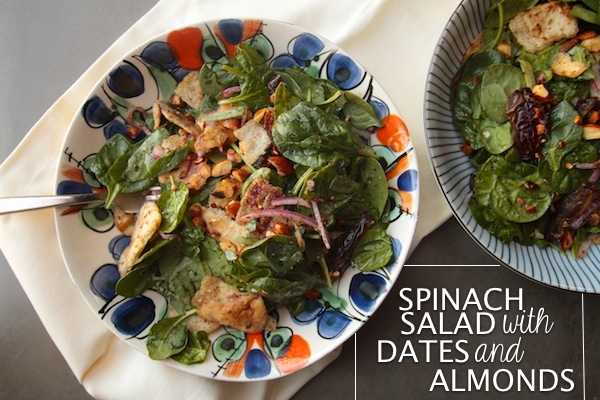 I've had a lot of salads in my life so I feel like I can say (with some authority) that this salad ranks high up there as one of the best salads I've ever made. It has everything I love in a salad— onions that aren't too sharp & potent, sweetness from dried fruits (dates!), crunchy almonds (that almost taste like bacon!) and crunchy flavorful carby pita chips!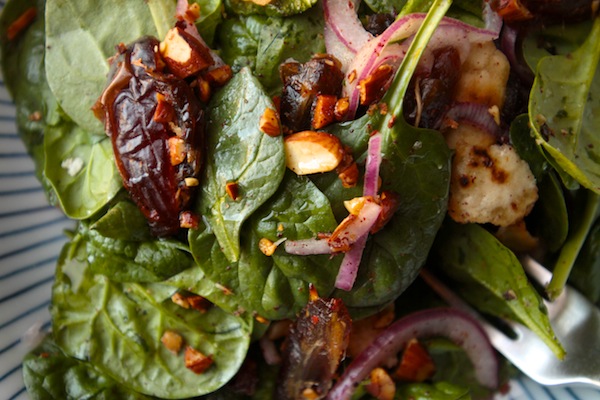 Who doesn't love a salad that has toasted bread in it?!!  All of the flavors here marry into something remarkable. You might find yourself making this twice…or three times in one week.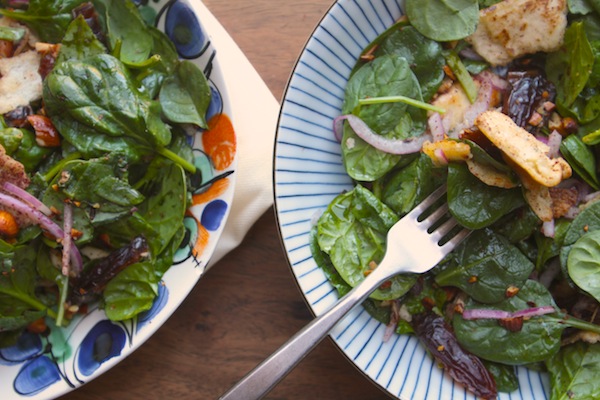 This is the first of MANY recipes I want to make from the Jerusalem Cookbook; I'm a little late on adding it to my cookbook collection.  Better late than never!  I think I have fallen in love with this book most similarly to how I fell hard for Heart of the Artichoke by David Tanis. Both cookbooks are filled with all the foods I want to eat all the time with the people I love.
And we're off!
Ingredient gathering.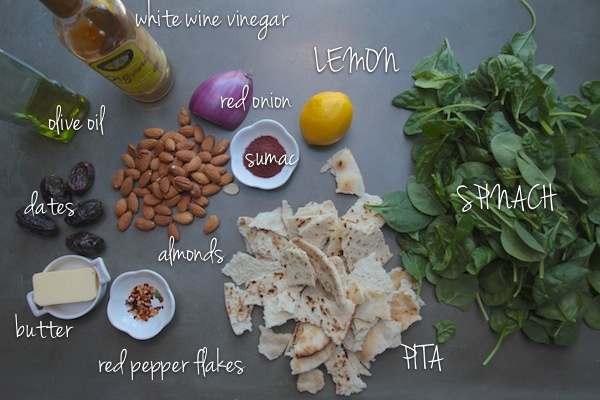 First we marinate the dates & sliced red onion in a bowl with white wine vinegar.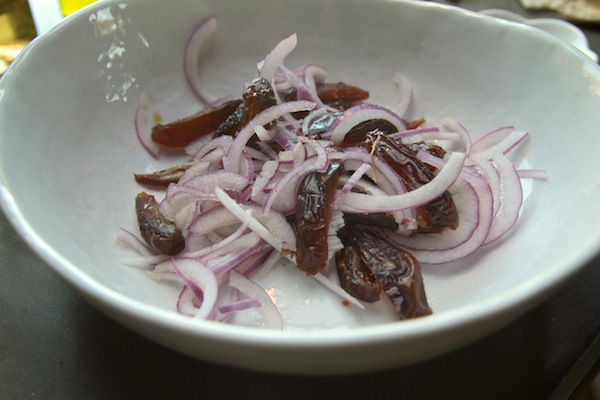 In a pan we brown pita & almonds in a butter/olive oil mixture.
After the pita is golden brown, we stir in red pepper flakes & sumac. HELLO FLAVOR. Set aside to cool.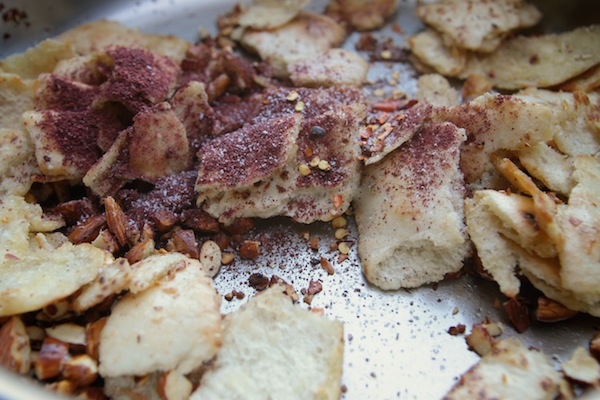 Pita/almond mixture meets spinach.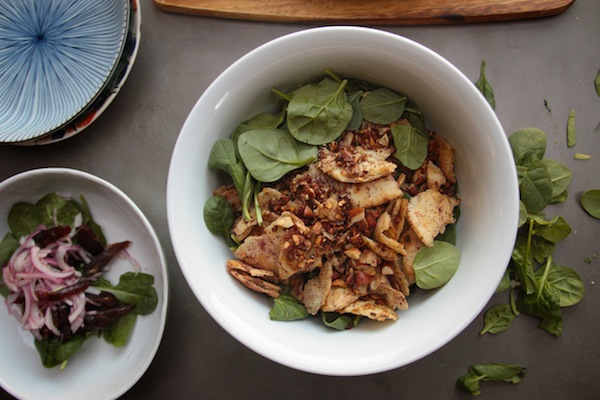 After a little tossing the onion date mixture meets everything else.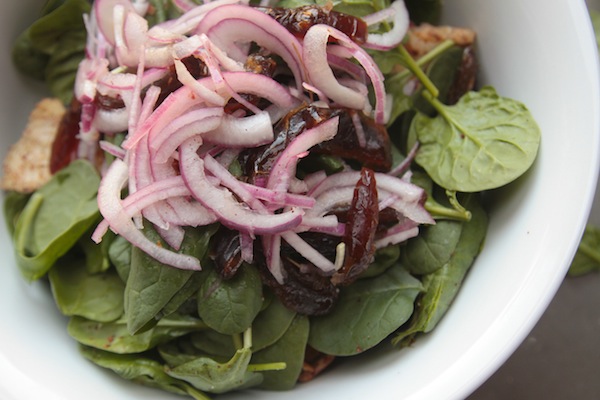 Lemon squeezes…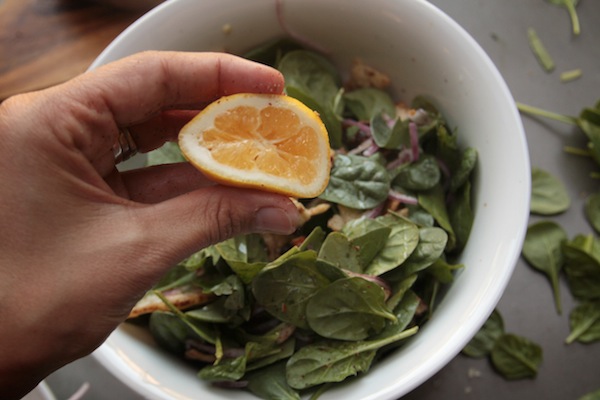 and olive oil drizzles and we're off!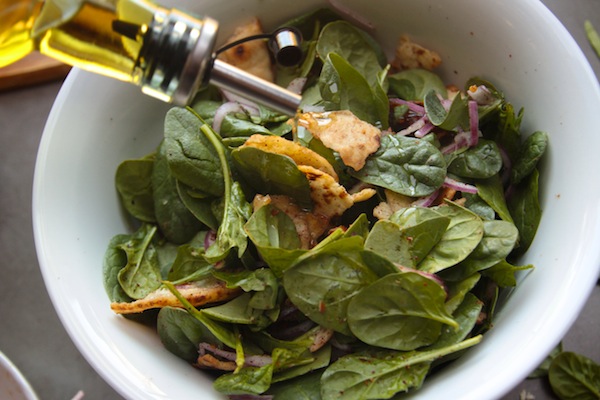 This is the ULTIMATE.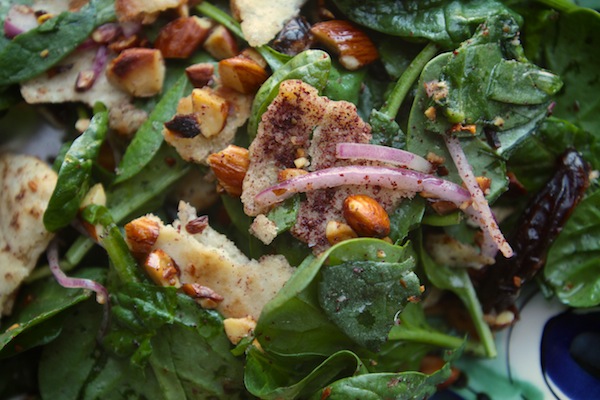 Serves 4. But in my life it served 2.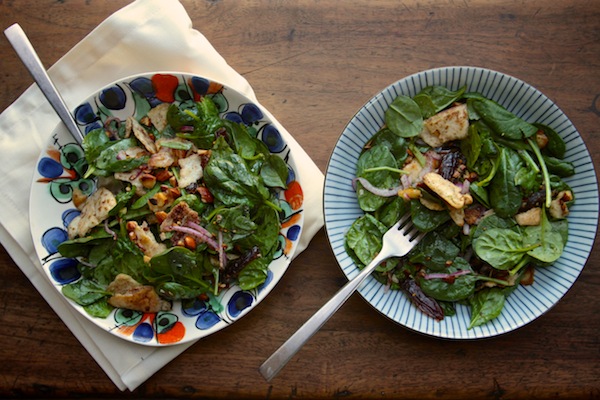 We like our salads big & hearty around these parts.
Spinach Salad w/ Dates & Almonds

serves 4
recipe adapted slightly from the Jerusalem Cookbook

1 tablespoon white wine vinegar

1/2 medium red onion, thinly sliced
4-5 Medjool dates, quartered length-wise
2 tablespoons unsalted butter
2 tablespoons olive oil
2 small pitas, roughly torn into 1 1/2 inch pieces
1/2 cup whole raw/unsalted almonds
2 teaspoons sumac
1/2 teaspoon red pepper flakes
6 oz. baby spinach leaves
2 tablespoons freshly squeezed lemon

Put the vinegar, onion and dates in a small bowl. Add a pinch of salt and mix well. Leave to marinate for 30 minutes.

Meanwhile, heat the butter and half the olive oil in a medium frying pan over medium heat. Add the pita and almonds and cook for 4-6 minutes, striring all the time, until pita is crunch and golden brown. Remove from the heat and mix in the sumac, red pepper flakes, and 1/4 teaspoon salt. Set aside to cool.

When ready to serve, toss spinach leaves with with the pita mixture in a large mixing bowl. Add the dates and red onion mixture, the remaining olive oil, the lemon juice and another pinch of salt. Taste for seasoning and serve immediately.