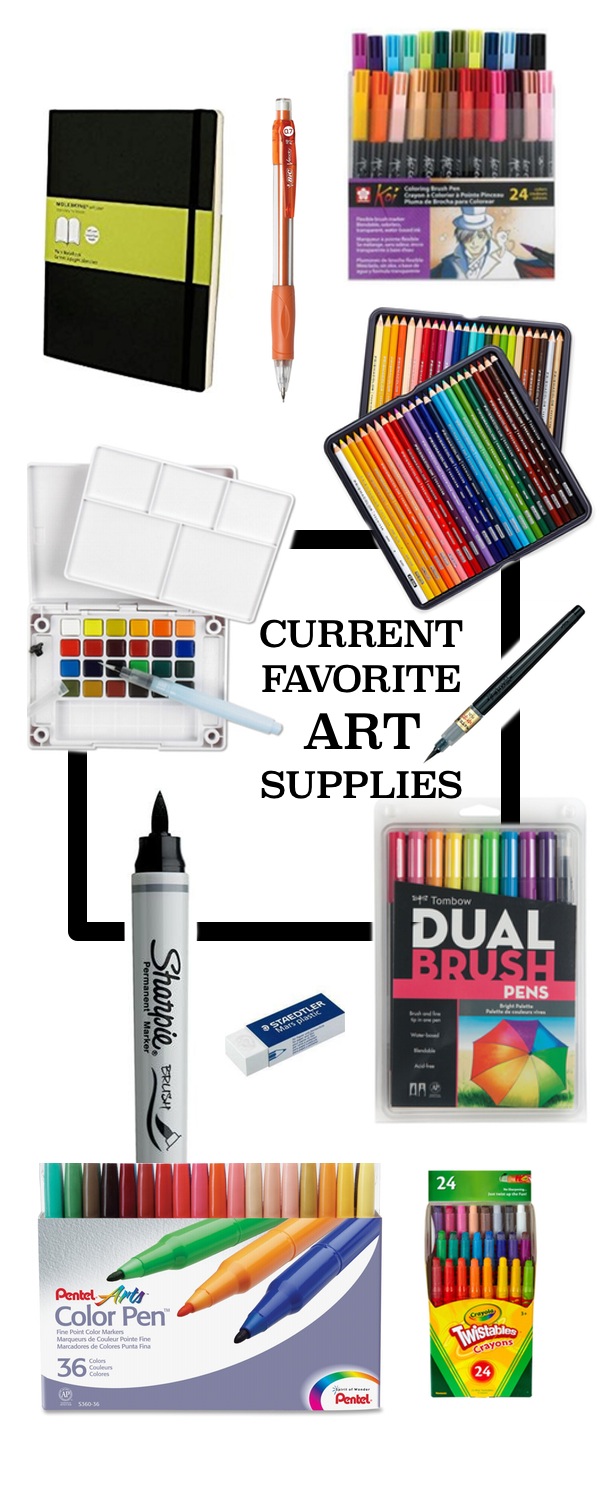 I've been asked by quite a few people to do a post on my Current Favorite Art Supplies and here it is! These are the things I'm into right now and I'm sure that in a few months, I'll have a few more things to add to the list.  My melted crayon phase has morphed into a daily routine of practicing my penmanship through  hand lettering song lyrics that mean something to me. It's been fun!
Here's what I'm into:
Moleskine Notebooks–  I am currently alternating between two books in addition to my bullet journal. I have a leather book for my writing journal and a few of these as sketch books. I like how thin they are and they feel less formal so I don't feel pressure to make whatever I put in it GOOD. 
Mechanical Pencils- I tried one of these at my sister-in-law's house and was HOOKED. They write like butter. Smooth, bold and dreamy. Sometimes I break the lead. I am an aggressive pen writer. What can I say?
Koi Brush Pens – I've been using these ones lately to color in drawings in my journal and highlight things in my bullet journal. I have to stop letting kids use them because the tips are looking ROUGH around the edges. Fortunately, my local art supply store sells them all independently so I mostly need to replace RED BLUE and BLACK.  
Prisma Colored Pencils – I like to use these ones when I'm working on coloring books. I tend to press hard when I am drawing and these ones provide so much color and pigment that I don't have to push too hard.
Watercolor Travel Kit – I've written about this kit before. It's my favorite and I've had mine forever…although I think I am almost ready for more teal (my favorite watercolor color). It's small enough to pop in my bag so we have something to play with if we're out on a family hike or at the beach. I always make sure I have a small mason jar filled with water and some brushes in a little bag and we're ready to go.
Tombow Dual Brush Pens– These ones are super versatile. TWO PENS IN ONE! The only thing I don't like is that they're kind of long and don't always fit in my pen cases. Oh and also— I lose the caps all the time. But other than that, they're dreamy!
Staedtler Eraser – They're the best. If you know of a better eraser, please tell me so I can test them out. I'm always down to try new/ dreamy erasers.
Pentel Brush Pens– I've already written about these on my favorite writing pen post, but a few of you asked me what pen I was using the other day on Instagram, so here it is! I like that you can see brush strokes!
Sharpie Brush Tip – I can't get enough of these. Is it the fumes? Is it because they are inky? When I'm at baseball coloring in the bleachers with the kids, the girls calls these ones the "spongey pens" and that makes me happy. They're right. These pens are very satisfying to work with when you get the right edge! SPONGEY!
Crayola Twistables Crayons– I don't like drawing with crayons unless they are these twistables. THEY ARE SO GOOD and I don't feel like I am going to break them (like a regular crayon) when I'm using them with my giant man hands.
Pentel Pens– Fun fact: I still have the set my mom bought me from Costco when I was like 11. Most of them still work but the tips are SOOOO JANKY. I treated myself to a new set because I deserve it. Also, I don't let any kids use these. THEY ARE ALL MINE. I want them to last until I pass them onto my grandchildren. Is that too much to ask?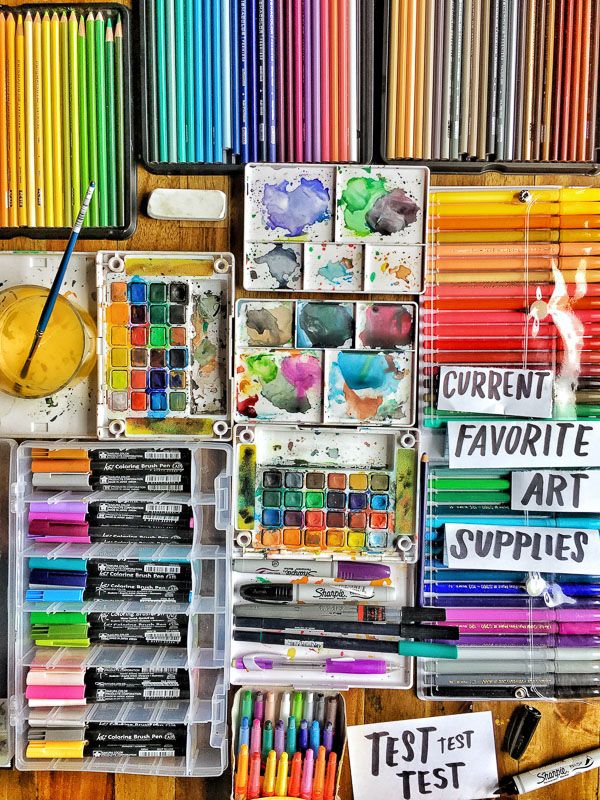 Are any of you really enjoying new art supplies in your creative routines? I'm always looking for fun art supplies, so let me know!