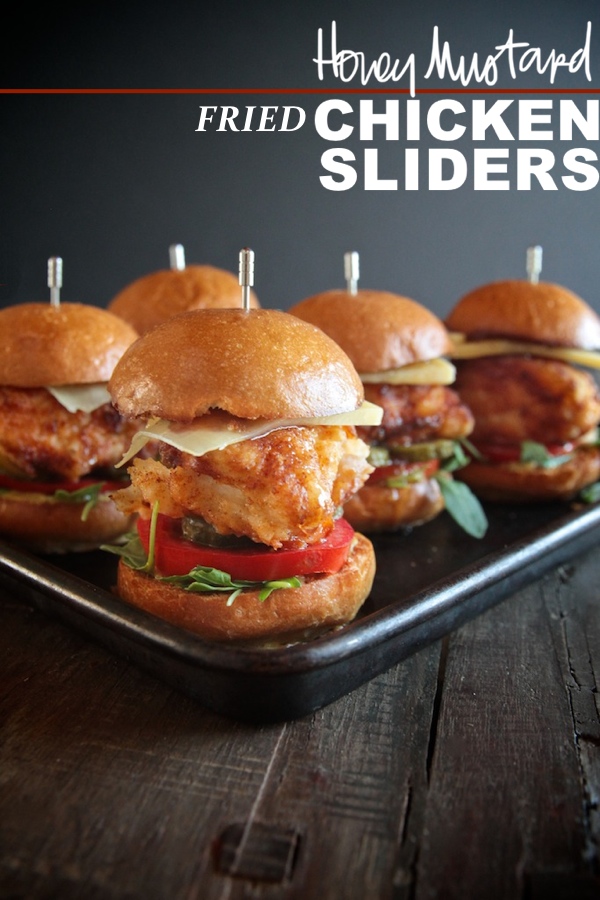 It dawned on me that I've never really had a lot of sandwich recipes around here. Well, I've made my share of panini  and am still obsessed with my panini press but I haven't been so good about getting in to the slider game. What up with that??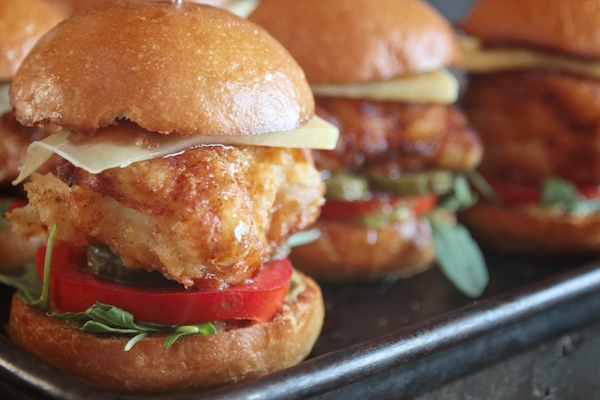 The first recipe (of many) I wanted to make from my friend Stephanie's new cookbook- Easy Gourmet: Awesome Recipes Anyone Can Cook was this fried chicken slider number because HELLO, SLIDERS.  There was something so appealing about having something relatively indulgent in bite size form. I also liked that the recipe made six total, so that means our family of three could have two a piece (with picky eater alterations on two) and be satisfied.  This recipe really is EASY GOURMET!  The fried chicken was flavorful and crisp and I added the sweetness of honey, the sharp bite of brown mustard, creamy aged cheddar, tangy dill pickle slices, peppery arugula and a juicy heirloom tomato slice to each sandwich. Talk about balance!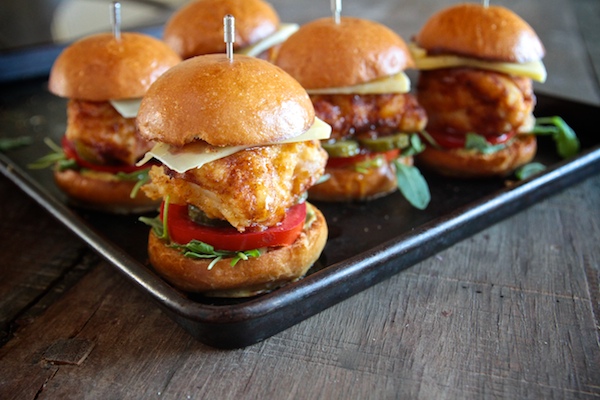 Picture perfect emoji, angel emoji, fire emoji, happy face emoji, lady in red dress dancing emoji, explosion emoji and cut!
Easy Gourmet is one of my favorite cookbooks this year. Check it out and you'll see why.
Way to go Stephanie!!
And we're off.  We have four easy jobs to do.
Dredge chicken, fry chicken, toast bread and assemble sandwiches.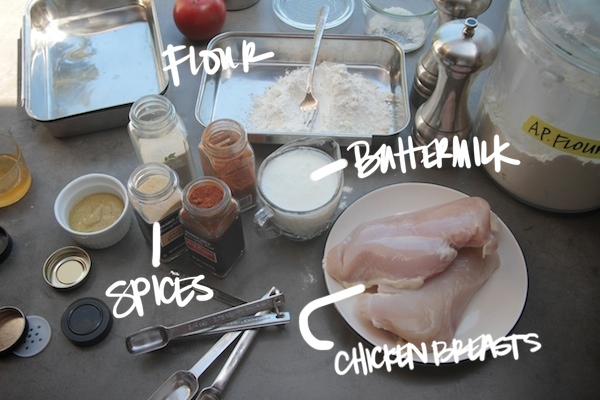 DREDGE (report)
Mix it up.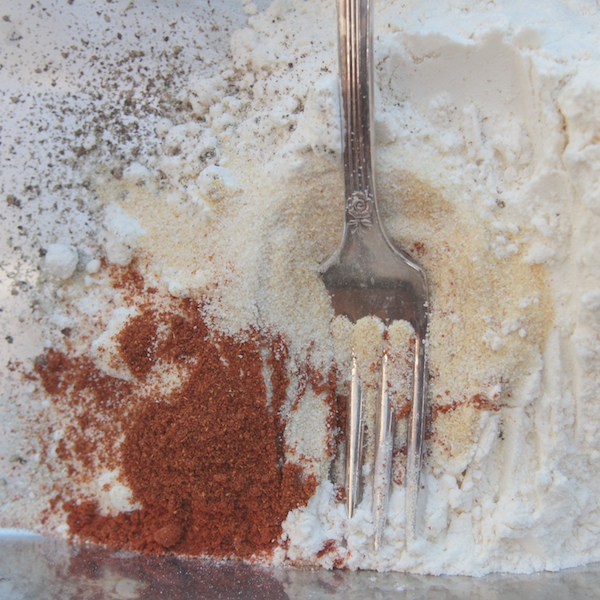 Cut the chicken into 6 pieces. You could even cut the chicken in half again and make 12 thin pieces.
It's up to you!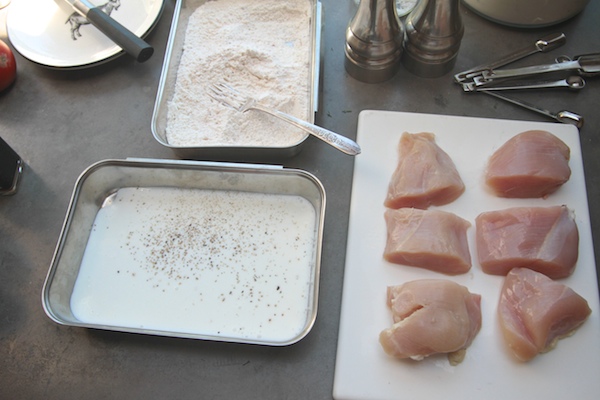 First dredge is in the flour.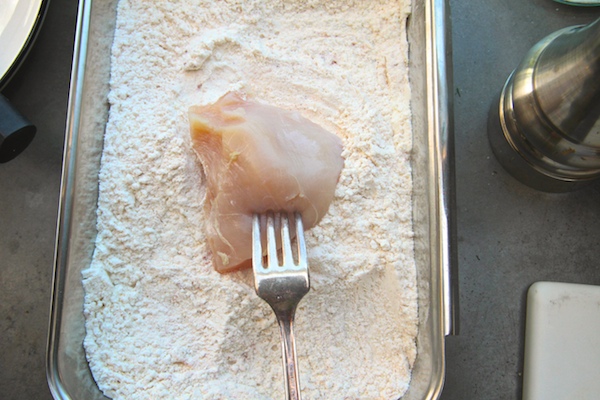 Then we go into the buttermilk.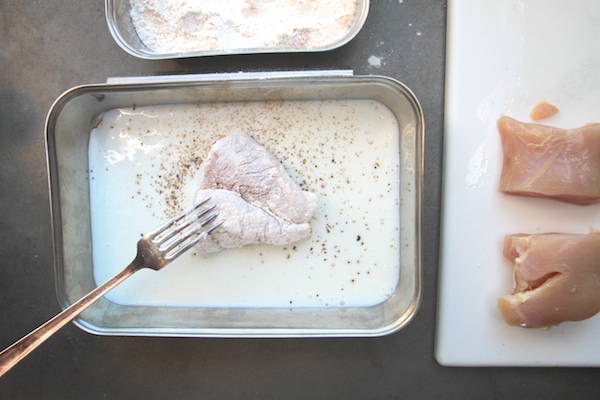 We go back into the dredge and coat!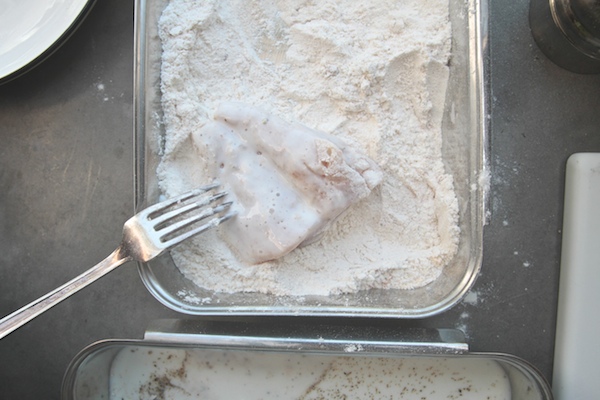 Repeat until all are done.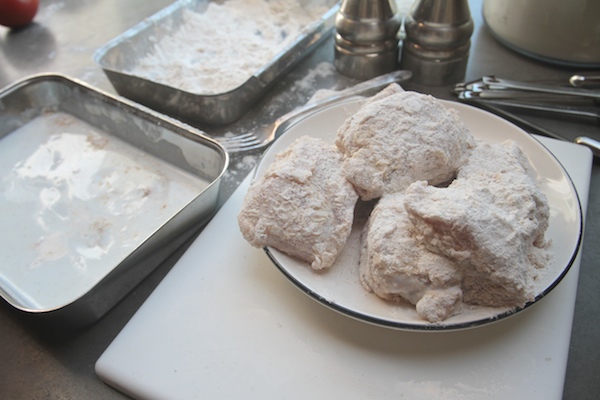 We fry!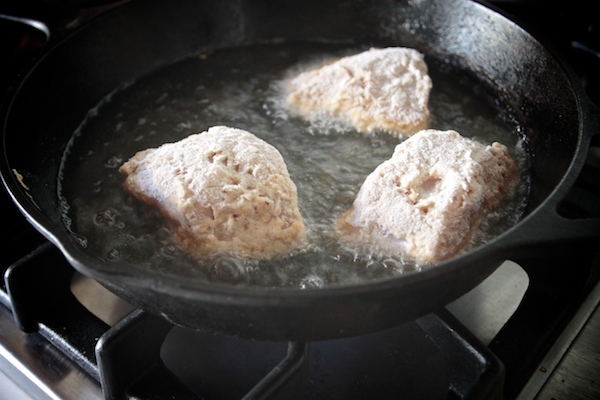 3-5 minutes per side.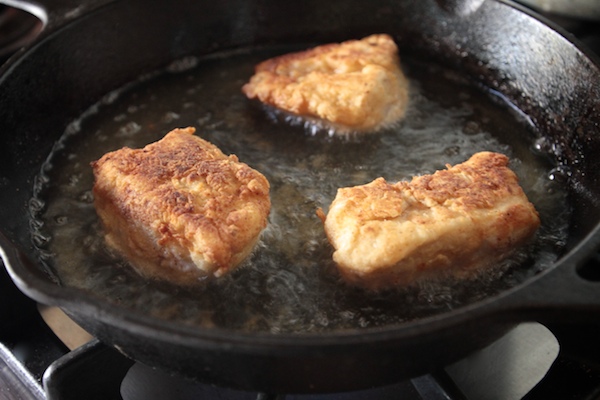 Slider assembly time.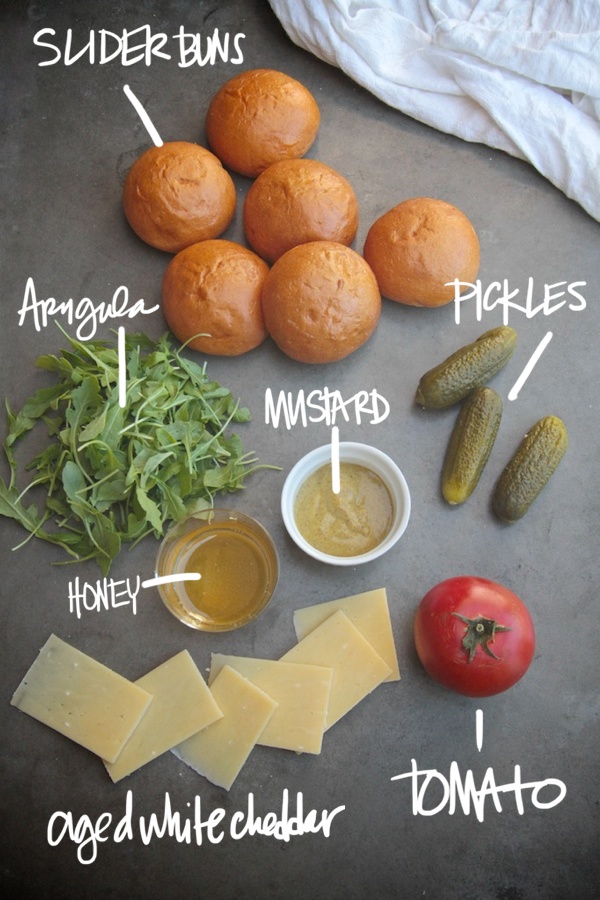 BUNS.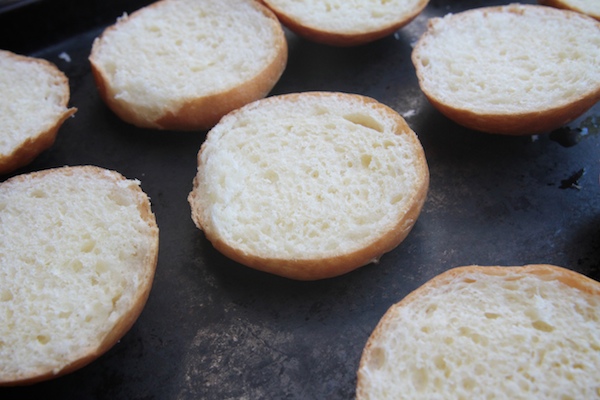 TOASTED BUNS!  I just popped mine under the broiler.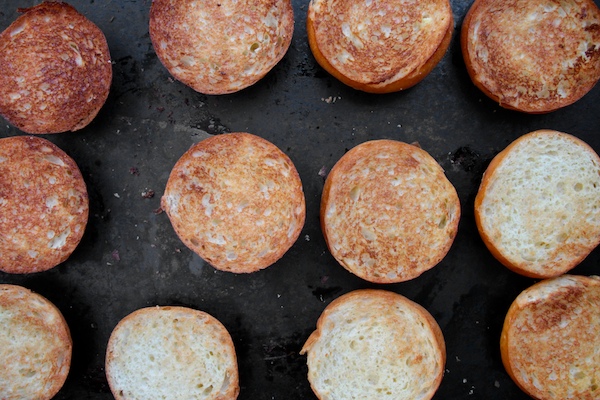 Bottom bun gets mustard. Top bun gets a honey drizzle treatment.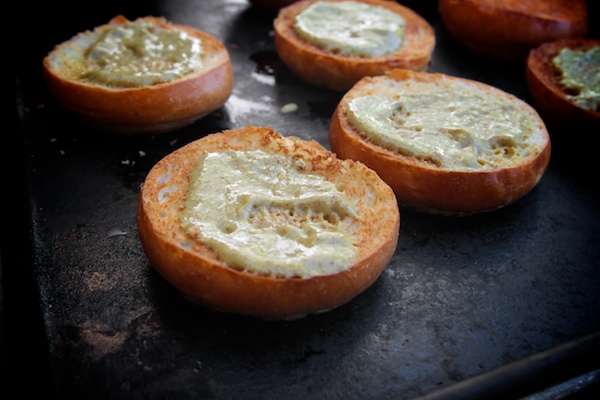 Let's build a base. Arugula and tomato.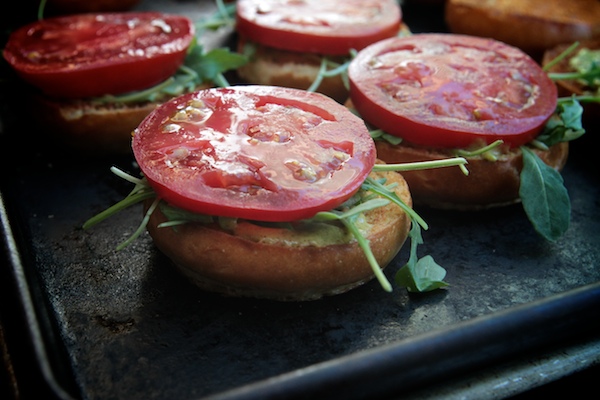 Pickles if you must!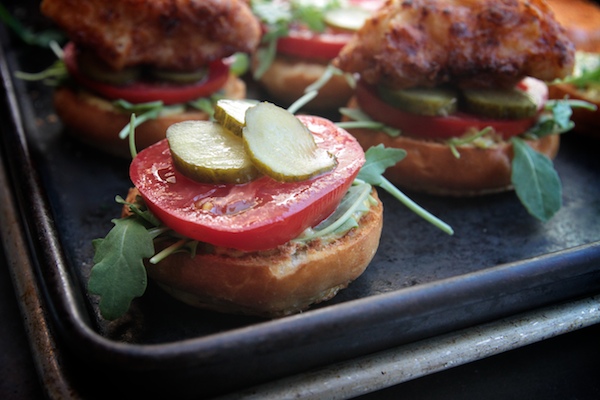 Chicken and cheddar on top. I secured mine with these pretty cocktail picks cocktail picks.
You can see the honey drizzling down the chicken on the picture above…sigh…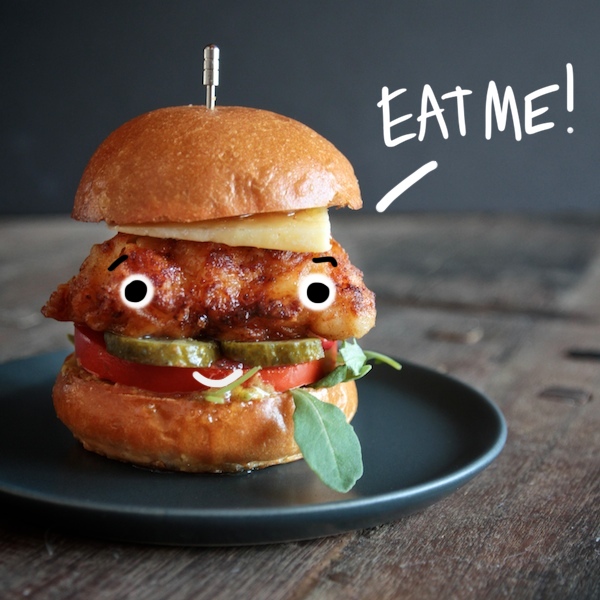 They're so dang good and TOTALLY going in our weeknight rotation. I just need more BUNS. 🙂
Honey Mustard Fried Chicken Sliders

makes 6

recipe adapted from Easy Gourmet: Awesome Recipes Anyone Can Cook

for the chicken coating:

1 cup all purpose flour
2 teaspoons garlic powder
2 teaspoons onion powder
1/2 teaspoon smoked paprika
1/2 teaspoon cayenne
1/2 teaspoon salt
1/2 teaspoon freshly ground pepper

for the buttermilk coating:

1 cup buttermilk
1/2 teaspoon salt
1/2 teaspoon pepper

for the fried chicken:

2 boneless skinless chicken breasts, cut into six even pieces
grape seed oil for pan

for the sliders:

6 brioche slider buns
6 tablespoons brown mustard
3-4 tablespoons honey
handful of arugula
6 slices heirloom tomato
12 sliced pickles
6 slices aged white cheddar

In a shallow bowl, mix together the flour, garlic powder, onion powder, smoked paprika, salt and pepper. In a separate bowl, mix together the buttermilk, salt and pepper. Dip the chicken breast pieces into the flour mix, then buttermilk, then flour again. Rest the coated pieces on a plate while your oil is heating up.

Pour 1/2 inch of oil into a large heavy skilled and heat the oil over medium heat until temperature reaches 350F.

Fry the chicken until golden brown and cooked through, about 3-5 minutes per side. Remove from the oil and drain on a rack.

Toast the buns. Spread a tablespoon of mustard on the bottom of each bun and drizzle honey on the top buns. Place arugula on top of mustard, followed by a sliced tomato and pickles. Top with fried chicken, and a slice of cheese. Top each sandwich with the top bun and enjoy immediately.