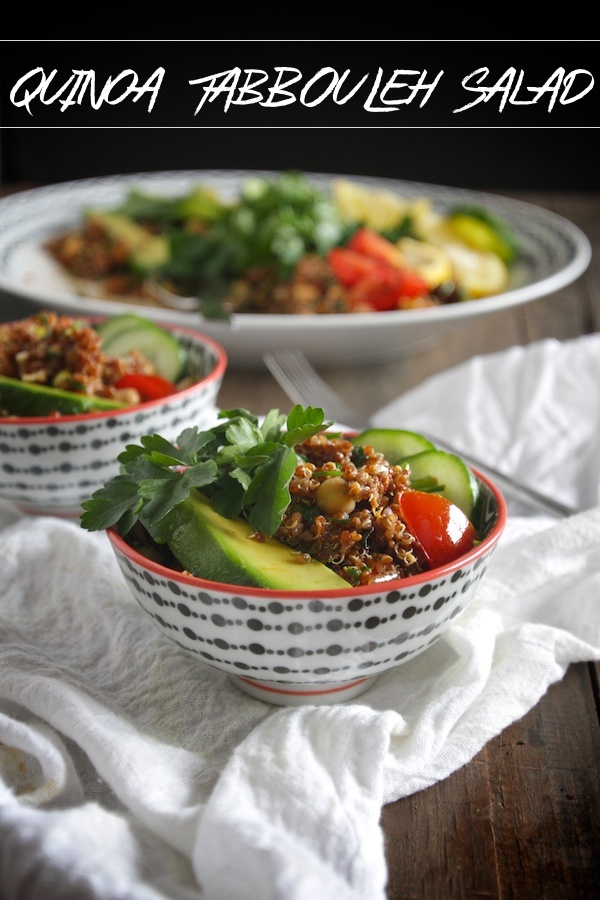 One of my tricks to getting through the work week is to make gigantic quinoa salads to dig into all week for lunches & dinners. This Quinoa Tabbouleh Salad is perfect for leftovers because it gets better with age.  The flavors develop & meld like whoa!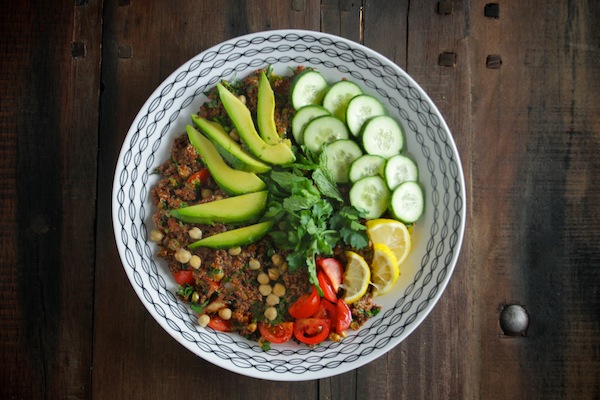 Eat it on its own or add avocado and cucumber on top. Throw some in a pita with lettuce & tahini. Mix it into your regular salad and make a super salad from it! Freshen it up with more lemon juice or a splash of red wine vinegar. Serve it with some grilled chicken or sausage. I told you it was versatile…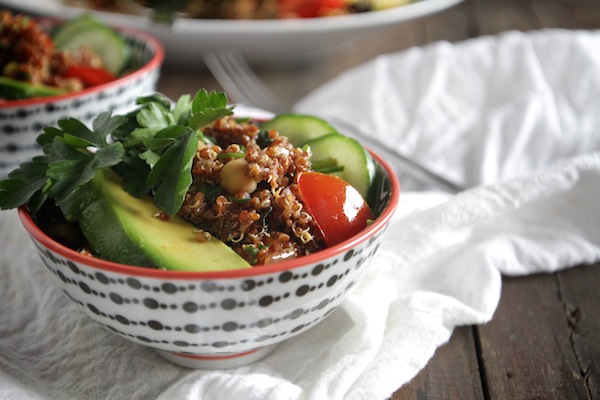 And BTW- It's vegan (although I wouldn't mind if you put feta on top of it!). It's also gluten free, HEALTHY and I'm obsessed with it. There's a smokiness, a tang, a sweetness, and an herbaceous kick! You're gonna want to make this every week. It's a lifesaver.
And we're off!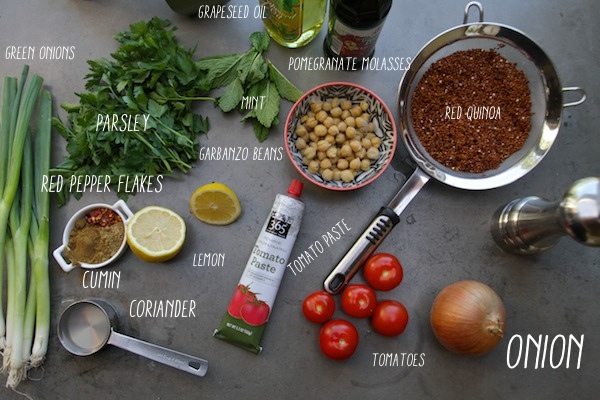 First we make the quinoa. You cook it in coconut oil to toast it slightly.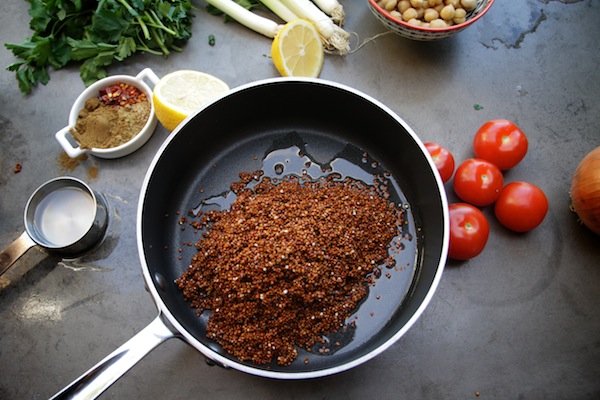 Now we cook the quinoa.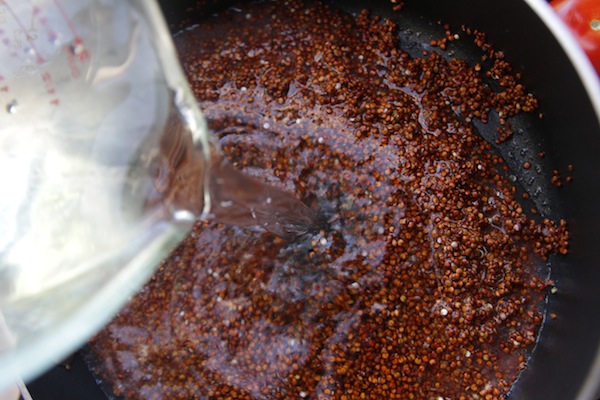 Here we have the spice blend!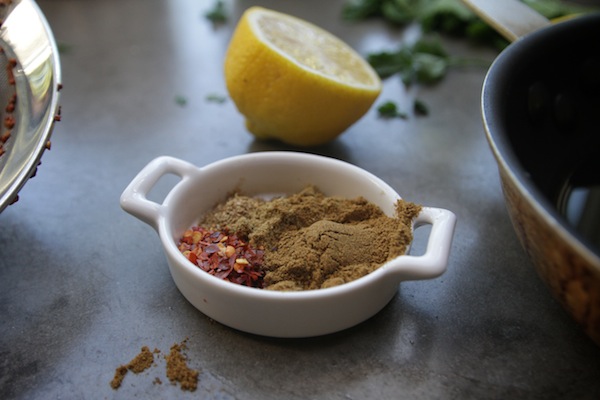 Cook the onions in the coconut oil. Add the spices.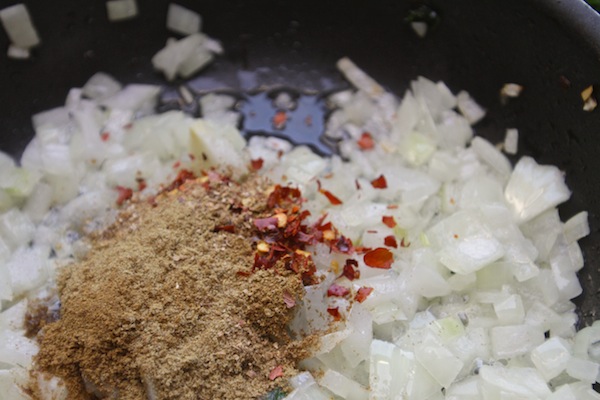 Tomato paste goes in! THIS IS WHERE THE FLAVOR IS AT.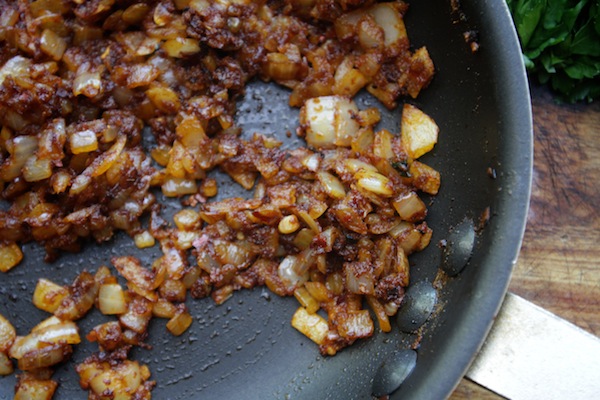 We mix the onions in with the cooked quinoa.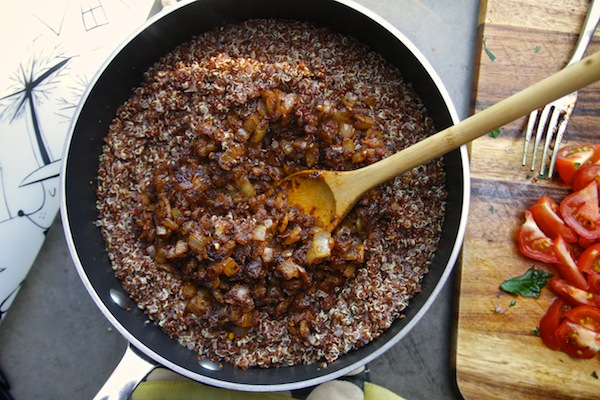 We stir in the garbanzo beans and all of the herbs! Look at all of that green.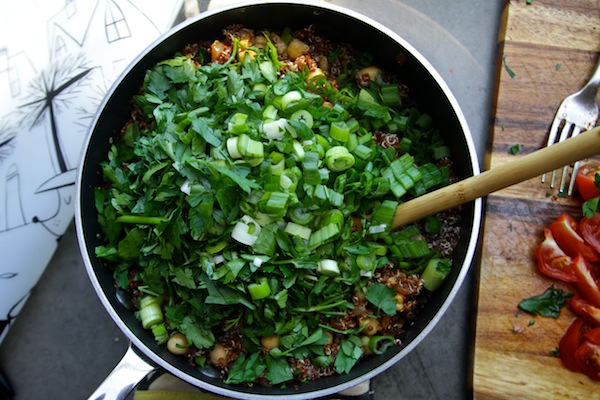 Squeeze the lemon in. Add the grapeseed oil & pomegranate molasses.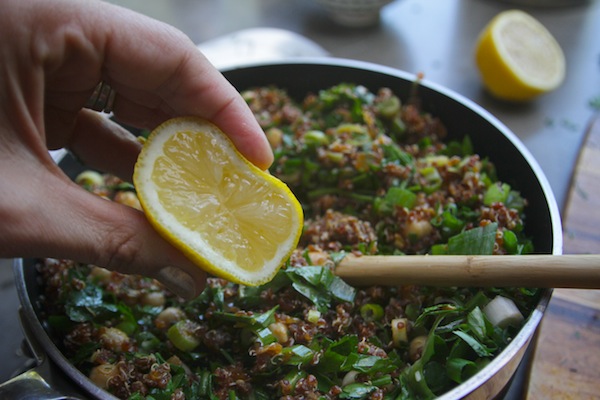 Don't forget the tomatoes.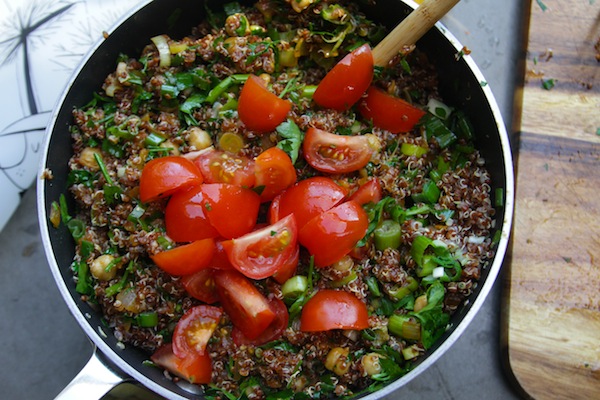 Let's plate it!
I served mined with avocado, cucumbers and lemon.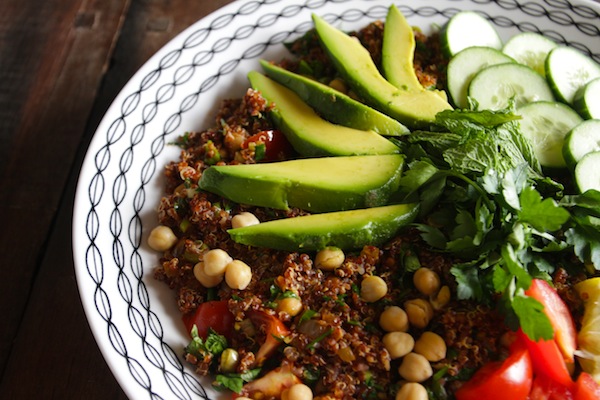 EXTREME CLOSEUP.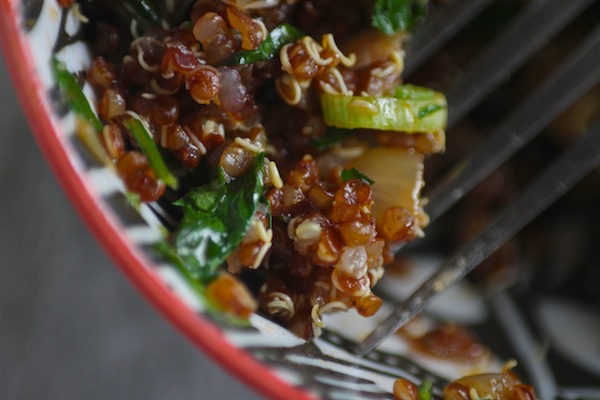 Health!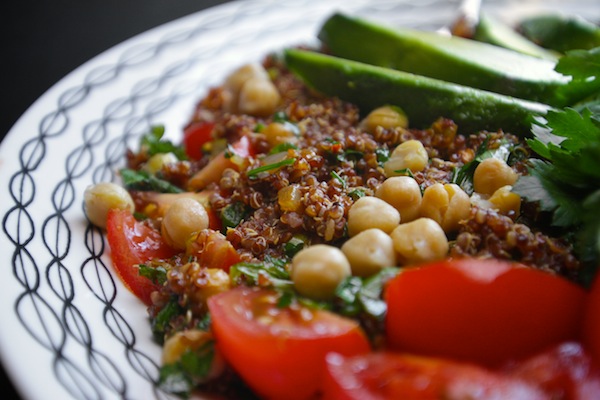 This one is definitely going in the weekly rotation.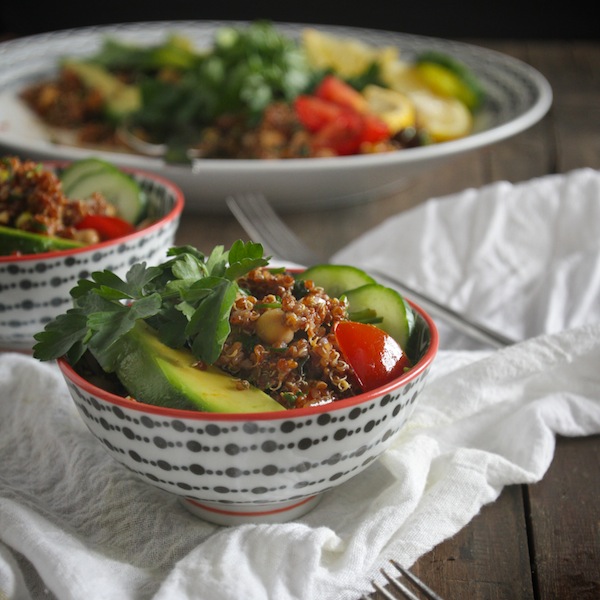 Here's to your health!
Quinoa Tabbouleh Salad

serves 3-4
recipe slightly adapted from the Thrive Energy Cookbook

1/4 cup extra virgin coconut oil
1 cup red quinoa
2 cups water
1 large yellow onion, finely chopped
2 tablespoons ground cumin
1 tablespoon ground coriander
1 teaspoon red pepper flakes
1 1/2 tablespoons tomato paste
4 medium tomatoes, seeded & diced
1 15 oz. can garbanzo beans, drained & rinsed
5 green onions, finely chopped (both white & green parts)
1 1/2 cups fresh Italian parsley, chopped
2 tablespoons freshly squeezed lemon juice
2 tablespoons pomegranate molasses
1 tablespoon grapeseed oil
sea salt & freshly ground pepper to taste
a few lemon wedges, for garnish
1 avocado, thinly sliced for garnish
1/3 English cucumber, sliced for garnish

Heat a medium saucepan over medium-high heat and drizzle the bottom with some of the virgin coconut oil. Add the quinoa; toast, stirring frequently, for 1 to 2 minutes or until dry. Add the water and bring to a boil. Reduce heat to the lowest setting, cover and cook for 15 minutes. Remove from heat and let the quinoa sit, covered for 5 minutes. Fluff with a fork, transfer to a large bowl and let cool.

Meanwhile, heat another medium saucepan over medium-high heat. Add the remaining coconut oil and onion. Cook, stirring frequently, until the onions are translucent, 3 to 4 minutes. Add the cumin, coriander, red pepper flakes, and tomato paste. Cook, stirring for another 3 to 4 minutes. Let cool.

Add the paste mixture to the quinoa and toss gently until fully incorporated. Add the tomatoes, garbanzo beans, green onions, mint, parsley, lemon juice, pomegranate molasses, and grapeseed oil. Toss gently. Season with salt and pepper to taste and garnish with lemon wedges, avocado & sliced cucumber.