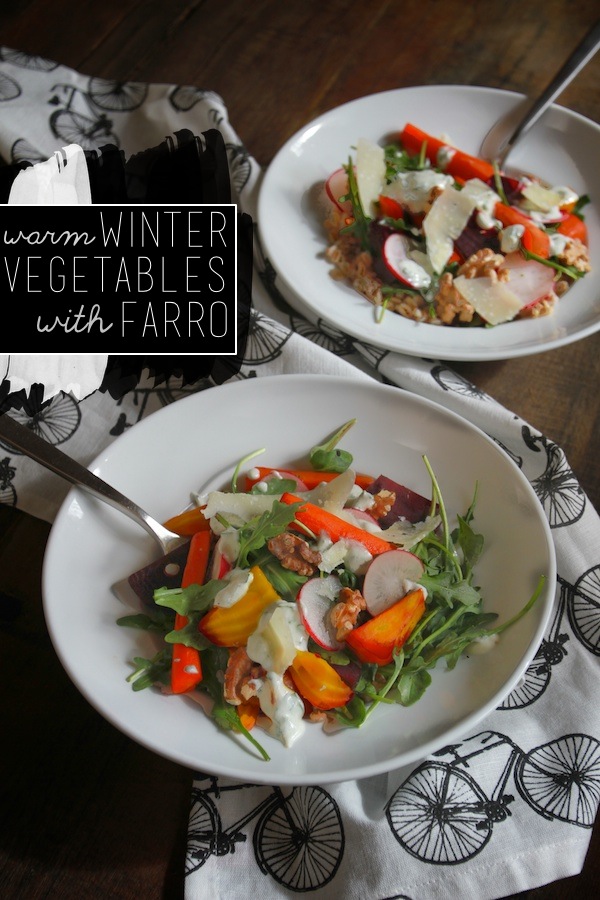 Happy Monday! Did we all eat too much yesterday during the big game? I ate cookies like it was my JOB. I'm not mad, though. They were good.
Hey! So, I wanted to say a quick thank you for all of your comments on my Meal Prep post, I'm so glad that you liked it. I really enjoyed seeing all of your pictures of your own meal prep on Instagram last week! AMAZING/Proud of you! Doesn't it feel nice to have an arsenal of food for the week? Btw- here's what we're eating this week.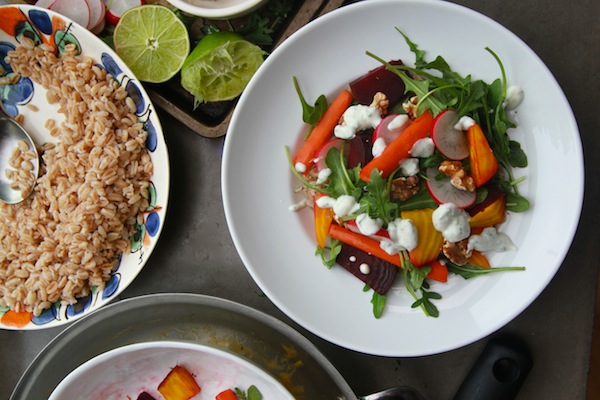 One of the salads I make constantly is my Reset Button Salad. You probably already know that I've been crushing on that salad so hard for the past few months.  My friend, Sarah Copeland  wrote an EXCELLENT vegetarian cookbook called Feast. I'm smitten with the book and I adore her writing and her fresh take on vegetarian food. If you take a look at the book, you'll see that her food combinations are downright inspiring! When I read the recipe for this Warm Winter Vegetables with Farro dish, I knew I had to make it. It has all of the ingredients I love and thought it would help bring new life to my salad game. I was also intrigued by the combination of radishes, honey glazed carrots, Parmigiano-Reggiano and the farro. The lime/yogurt/herb dressing was calling my name!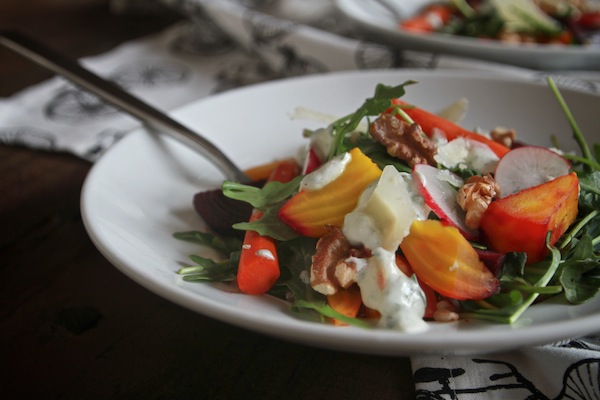 Aaaaaaaand we LOVED it. It's robust & hearty and you won't miss meat for once second. Totally satisfying. And that dressing? Addictive.
My salad game just got taken to a whole new level.
And we're off!
First we have to roast our beets and cook our carrots.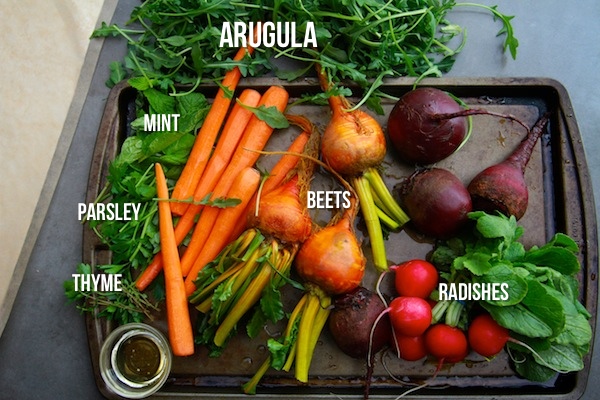 Put some parchment down. Wash/trim beets. Cut them up and drizzle olive oil and season with salt & pepper.  Cover parchment wrapped beets with aluminum foil and pop them in the oven to roast.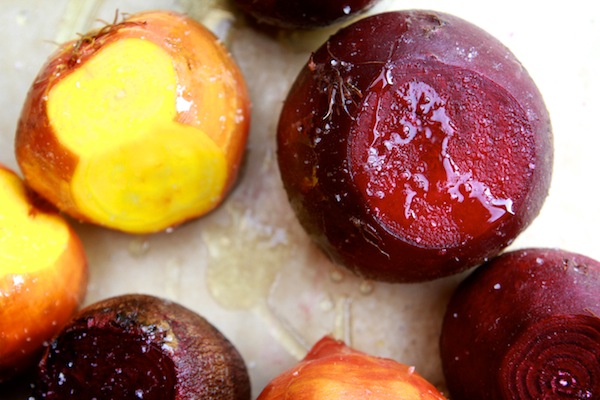 Carrots go into a pan with honey & thyme and get cooked/reduced. They're gonna be glazed! I almost ate all of them before they made it into the salad.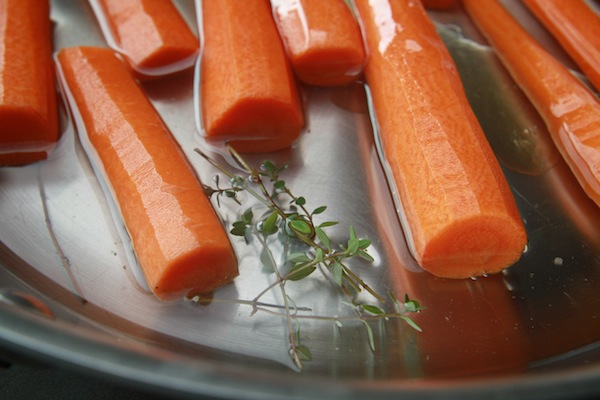 While all of that's happening you cook your farro. You boil it & drain it. Super easy.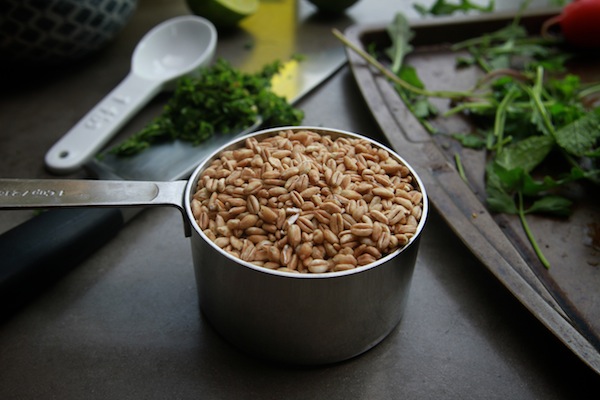 Dressing ingredients!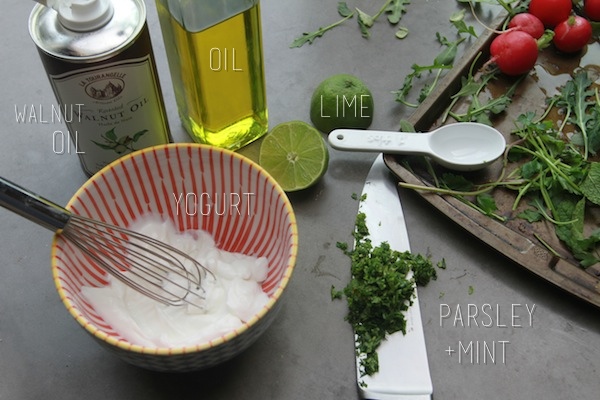 Stir it up!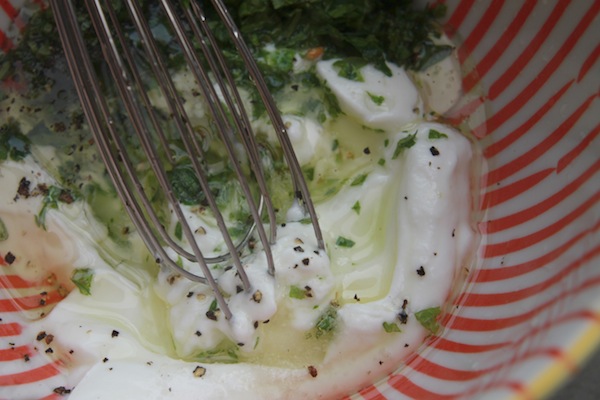 We gather some extra ingredients– slice the radishes, toasted walnuts, arugula, etc.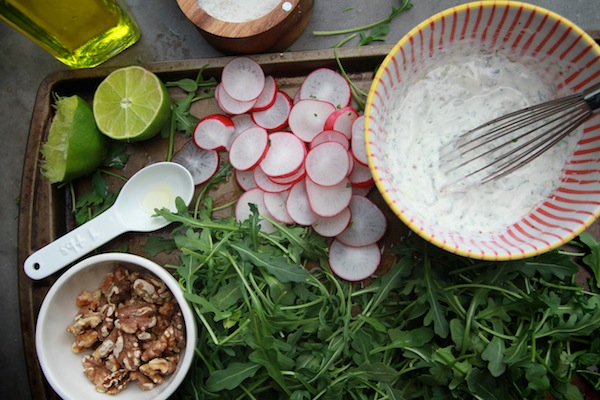 Beets are done. Peel of the skins and chop them up.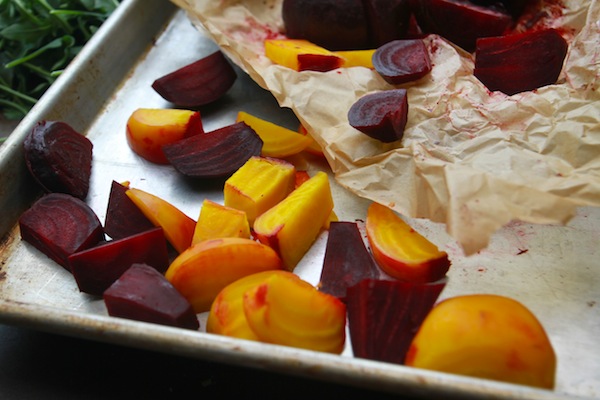 ASSEMBLY TIME. Layer the bottom of a shallow bowl with farro.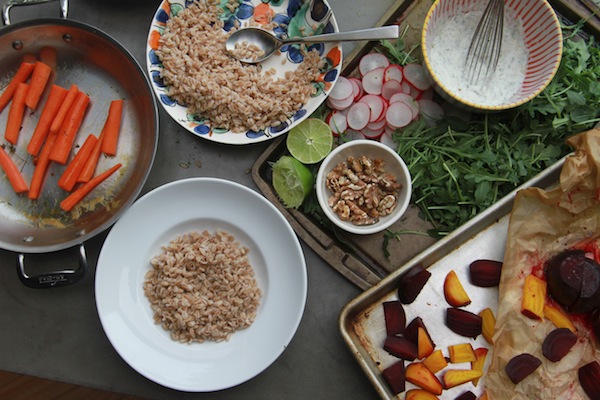 Toss the arugula, beets & carrots together in another bowl.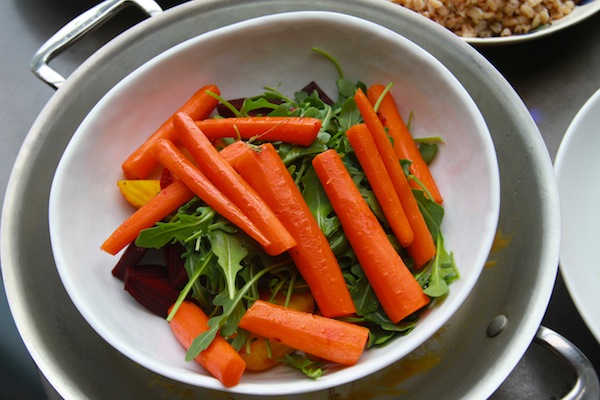 Add that to the farro. Radishes and walnuts get added…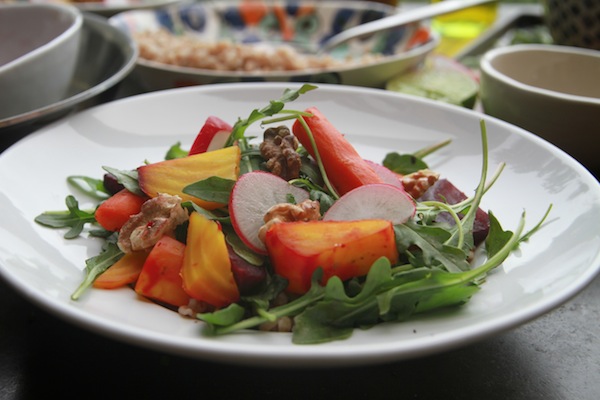 Drizzle the dressing on top.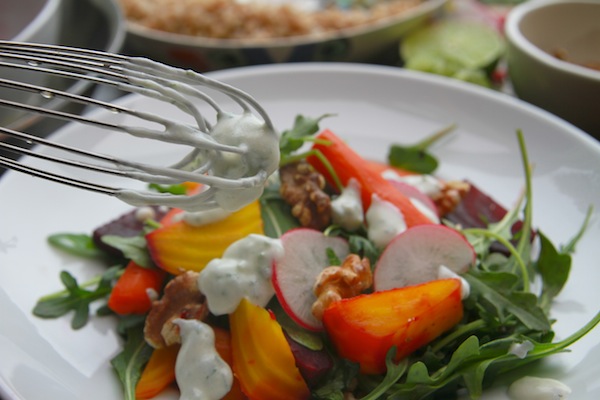 Finish with some slivers of Parmigiano-Reggiano.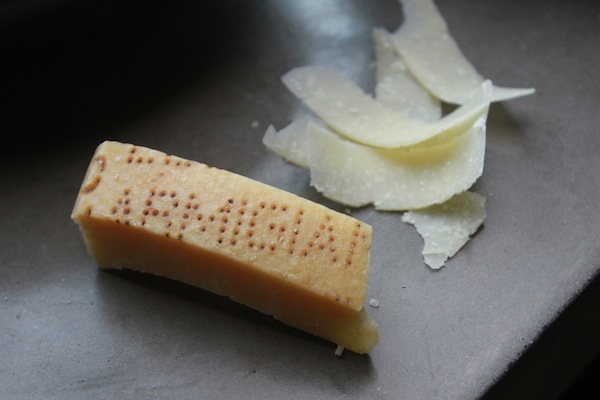 Just a little closeup…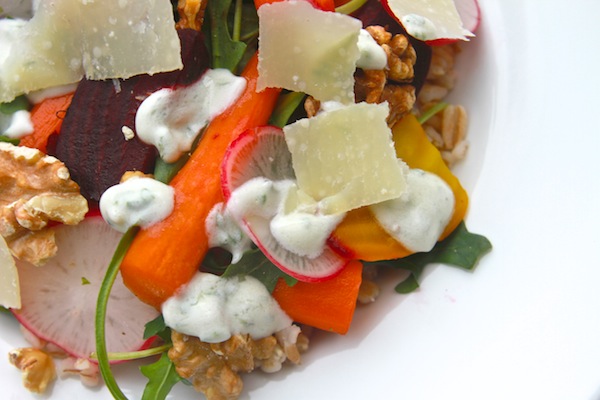 There's something so satisfying about eating all the colors of the rainbow.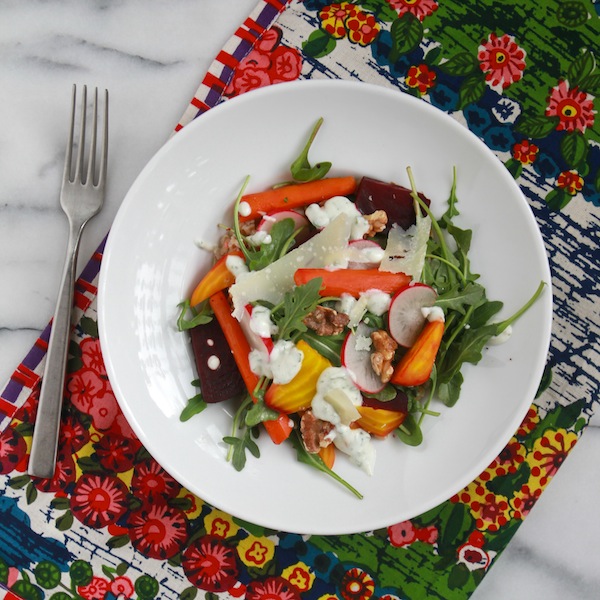 A perfect way to start the week. HEALTH! And leftovers!
Warm Winter Vegetables with Farro

serves 2-4
recipe slightly adapted from Feast

8 red or yellow baby beets, scrubbed & trimmed
2-3 tablespoons extra-virgin olive oil
fine sea salt and freshly ground pepper
6 carrots, peeled & halved
1 tablespoon honey
1 sprig fresh thyme
1 cup farro
6 radishes

for the dressing:

1/4 cup full-fat plain yogurt
juice of 1/2 lime, plus more as needed
2 tablespoons finely chopped assorted fresh herbs (I used parsley & mint)
1 tablespoon walnut oil
1 tablespoon extra virgin olive oil
fine sea salt & freshly ground pepper

for garnishing

2 heaping handfuls arugula
small handful toasted walnuts
3 oz. Parmigiano-Reggiano or pecorino cheese

Preheat oven to 400F. Drizzle the beets with the olive oil and season with salt & pepper. Wrap them tightly with parchment paper and cover completely in aluminum foil. Roast until they can easily be pierced with a fork, about 20-30 minutes. Remove from the oven and cool in the foil.

Combine the carrots, honey, thyme and 1 cup water in a medium skillet over medium heat. Bring to a simmer and cook until the vegetables are fork tender and the broth has reduced to a glaze, about 25 minutes. Remove from the heat and keep warm.

Meanwhile, put the farro in a medium pot and add enough water to cover by about 2 inches. Bring to a boil over medium-high heat, reduce to low heat, and simmer until tender, about 20 minutes. Drain.

When the beets are cool enough to handle, peel the skins with a pairing knife and quarter. Slice the radishes as thinly as possible with a mandoline or very sharp knife.

To make the dressing: Whisk together the yogurt, lime juice, herbs, walnut oil, olive oil 1/4 teaspoon salt and 1/4 teaspoon pepper in a medium bowl. Taste with a leaf of arugula, adjust the salt, pepper or lime juice as needed.

Divide the farro among shallow bowls. Drain the carrots. Combine the beets, carrots and arugula in a large bowl; toss together; and arrange over the faro. Top with the radishes, drizzle with the dressing and sprinkle with walnuts and flaky sea salt. Generously grate or shave the Parmigiano-Reggiano over top with a vegetable peeler. Serve warm.