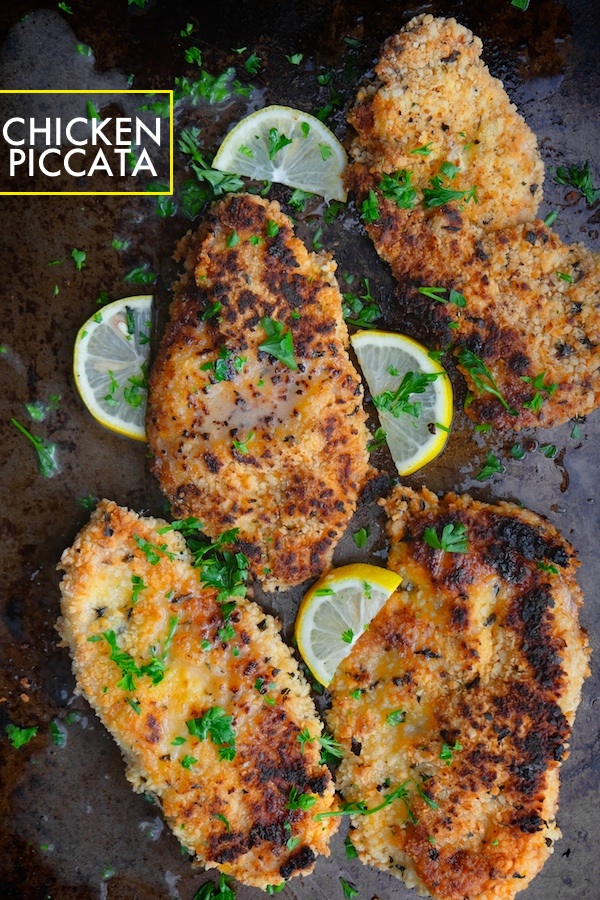 Chicken Piccata with mashed potatoes & roasted broccoli.
This was one of our dinners last week.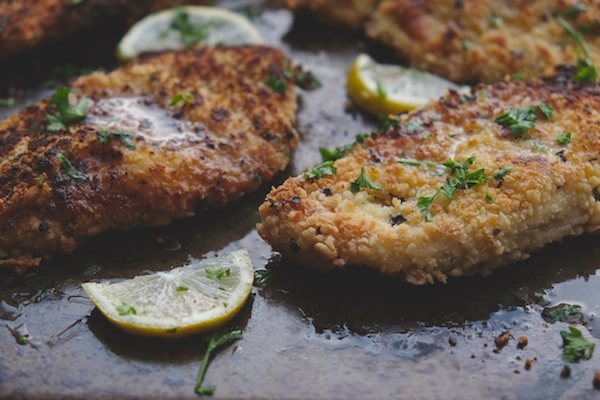 Casey and I loooooooved it and I suppose Cooper did too…but he had an incident with the mashed potatoes I served with the piccata. Turns out he's not a mashed potato fan. He had a problem with them last Thanksgiving and hasn't gotten it out of his head. WHO DOESNT LIKE MASHED POTATOES? I'd make them all the time if he did! He did eat the broccoli and his big "chicken tender" so I would say it was mostly a success! The adults were 100% in though.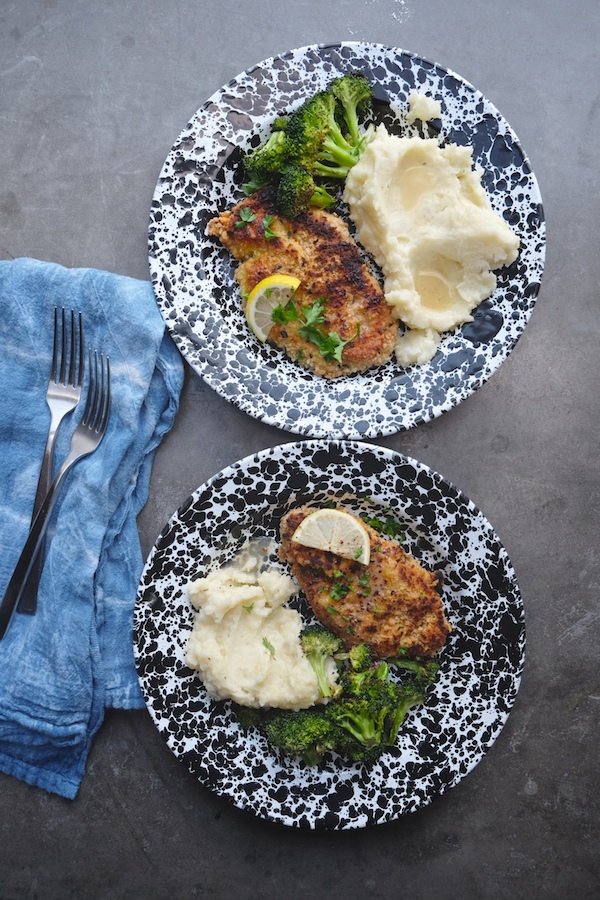 Crispy chicken with a lemony butter sauce (this recipe has no capers!)….mixed in with mashed potatoes and broccoli.
YESSSSSSS. Weeknight dinner done right.
Ingredients needed: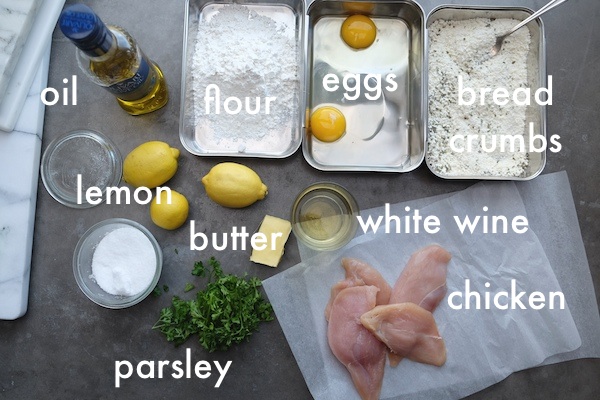 Flatten chicken between parchment paper.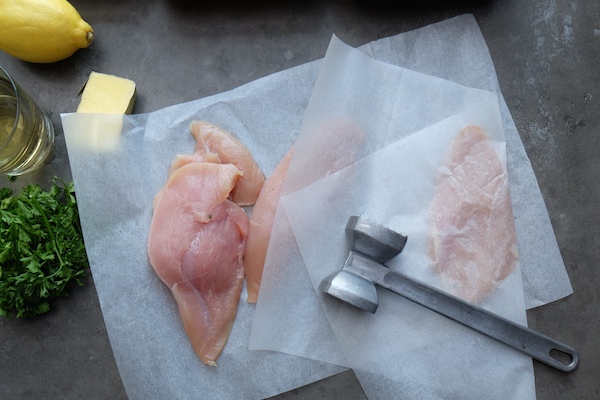 Dredge central.
Done dredging.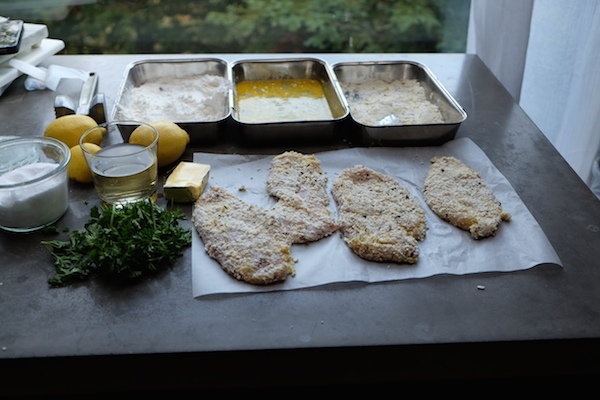 Fry.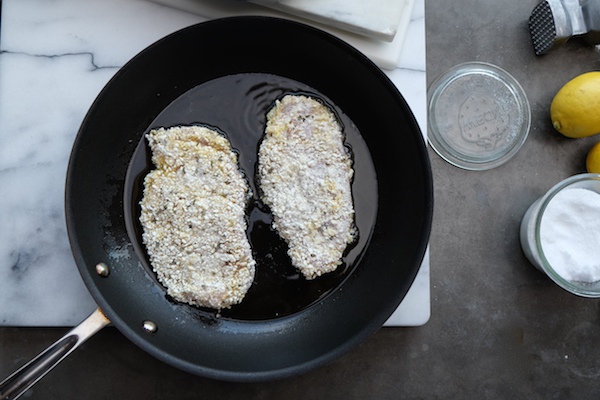 Golden.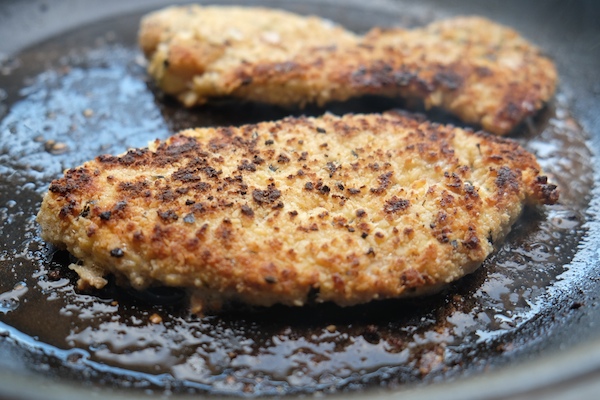 Trip to oven to finish while we make a sauce.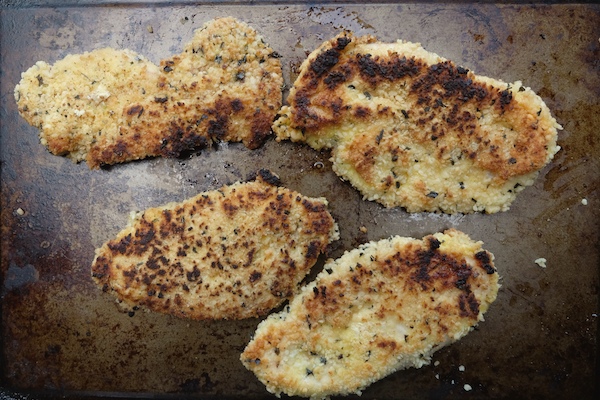 Wine + lemon juice/lemon slices.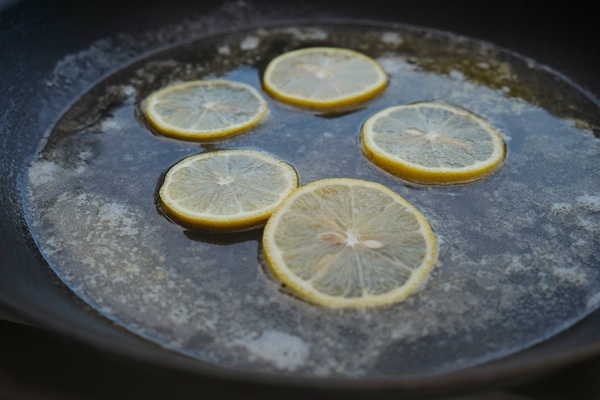 Take the lemon slices out and add BUTTER.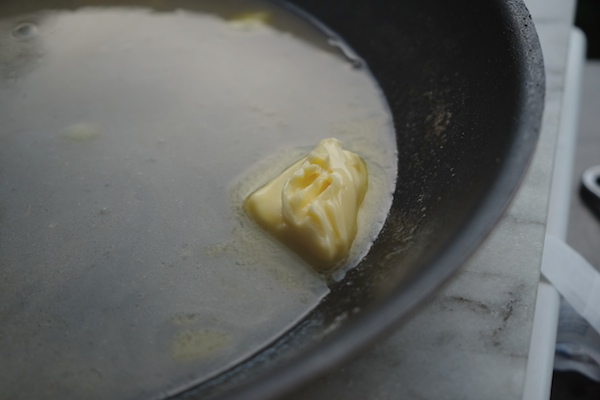 Sauce with chicken. Parsley sprinkle.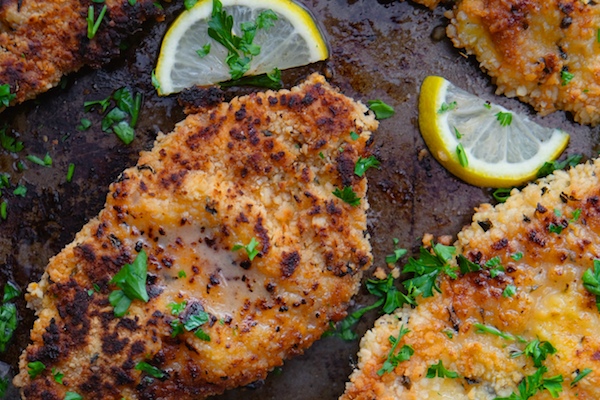 Oh look! We have some mashed potatoes and roasted broccoli.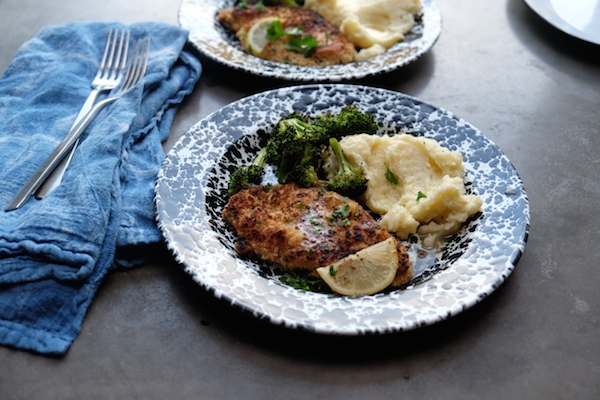 Dinner is SERVED.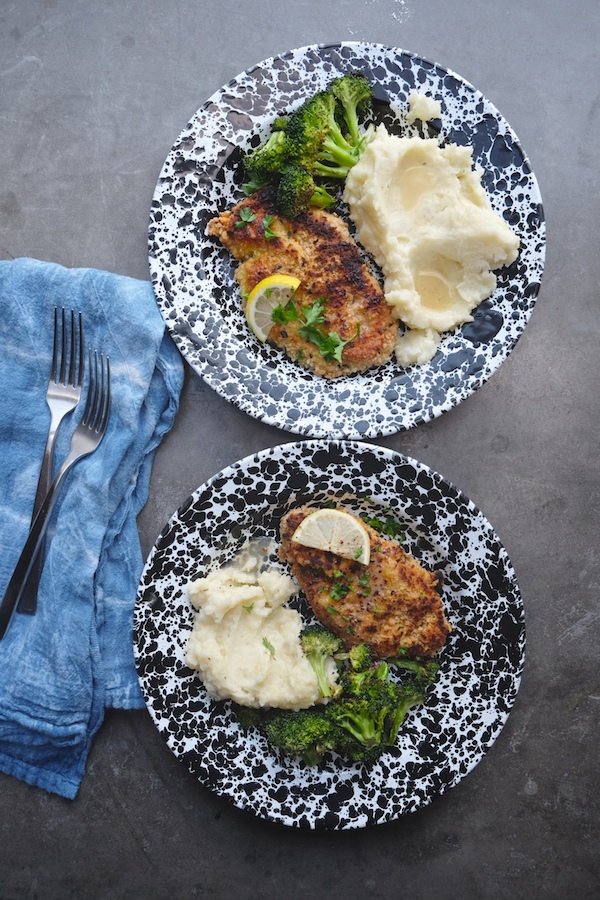 I don't want to hear you complain about my mashed potatoes.
Chicken Piccata

serves 3-4

recipe from Barefoot Contessa

2 split (1 whole) boneless, skinless chicken breasts
½ cup all-purpose flour
Kosher salt
Freshly ground black pepper
1 extra-large egg
¾ cup seasoned dry breadcrumbs
Good olive oil
3 tablespoons unsalted butter at room temperature
1/3 cup freshly squeezed lemon juice (2 lemons), lemon halves reserved
½ cup dry white wine
Sliced lemon and chopped fresh parsley, for serving

Preheat the oven to 400 degrees. Line a sheet pan with parchment paper.

Place each chicken breast between 2 sheets of parchment paper or plastic wrap and pound it out to ¼-inch thick. Sprinkle both sides with salt and pepper.

Mix the flour, ½ teaspoon salt, and ¼ teaspoon of pepper in a shallow plate. In a second plate, beat the egg and ½ tablespoon of water together. Place the breadcrumbs on a third plate. Dip each chicken breast first in the flour, shake off the excess, and then dip in the egg and breadcrumb mixtures.

Heat 1 tablespoon of olive oil in a large sauté pan over medium to medium-low heat. Add the chicken breasts and cook for 2 minutes on each side, until browned. Place them on the sheet pan and allow them to bake for 5 to 10 minutes while you make the sauce.

For the sauce, wipe out the sauté pan with a dry paper towel. On medium heat, melt 1 tablespoon of the butter and then add the lemon juice, wine, the reserved lemon halves, ½ teaspoon salt, and ¼ teaspoon pepper. Boil over high heat until reduced in half, about 2 minutes. Off the heat, add the remaining 2 tablespoons of butter and swirl to combine. Discard the lemon halves and serve one chicken breast on each plate. Spoon on the sauce and serve with a slice of lemon and a sprinkling of fresh parsley.