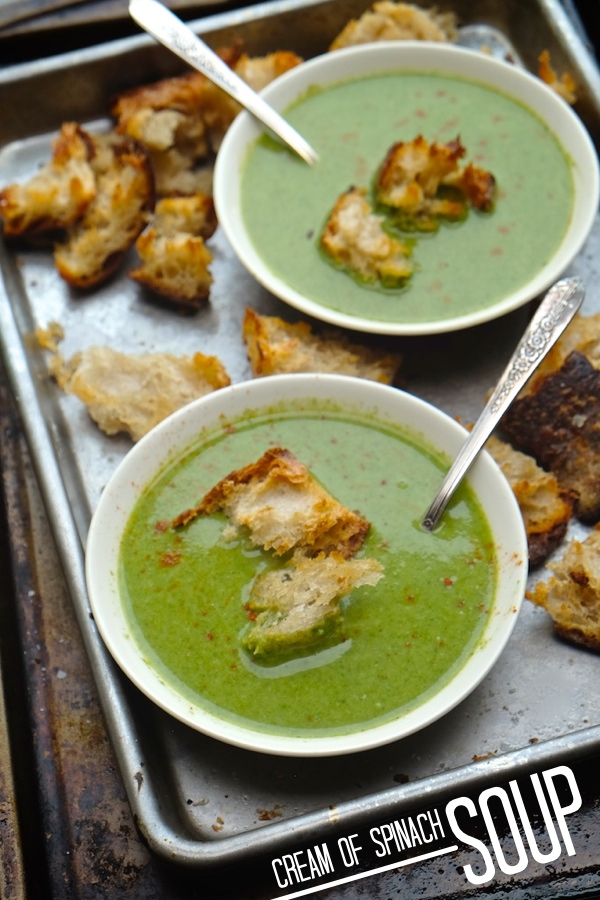 Cream of Spinach Soup!
I found out recently, after almost 9 years of marriage, that my husband doesn't really get excited over soup. WHAT? I feel like we should have talked about this in our marriage prep class. That doesn't stop me from making it…and making him eat it.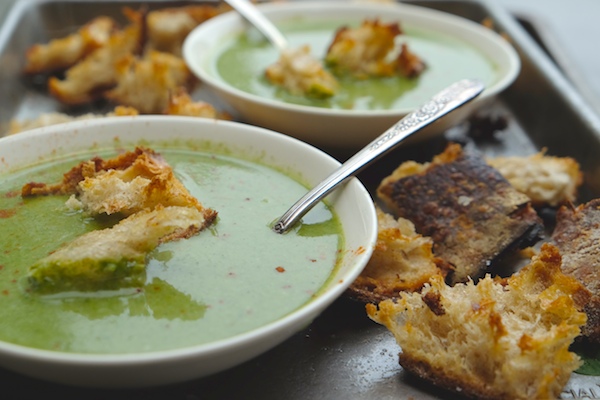 I've been on a soup kick lately and he's been along for the ride. First with the Sidekick Tomato Soup and now with this Cream of Spinach Soup! Really, I think I just want a good excuse to eat croutons…Which he's not super into and that's fine because it means more for Cooper and I (we both have the crouton loving/crust on pizza is the best part gene).
Next up, I think I'm going to make a batch of Pasta Fagioli. The cold weather practically BEGS for it.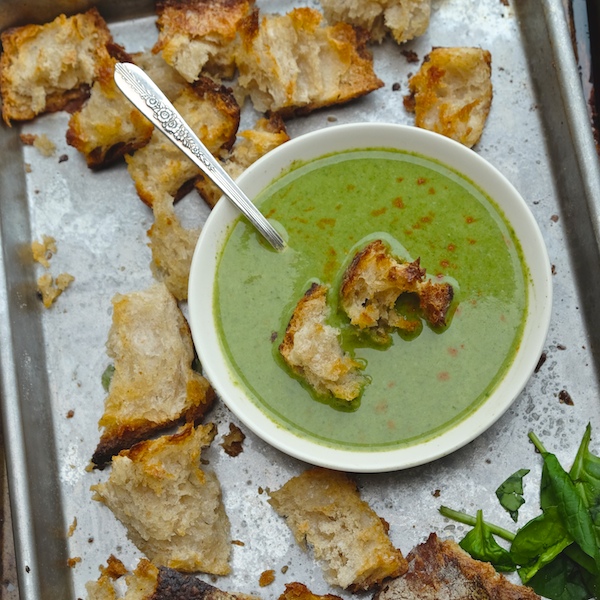 Even though this recipe has cream and butter in it, I feel like it's gotta be good for you. LOOK AT THAT GREEN COLOR. With almost TWO POUNDS of spinach packed in, it's practically a salad. A creamy dreamy warm salad/soup…with croutons 🙂
We're going to start where I always like to start…CROUTON making.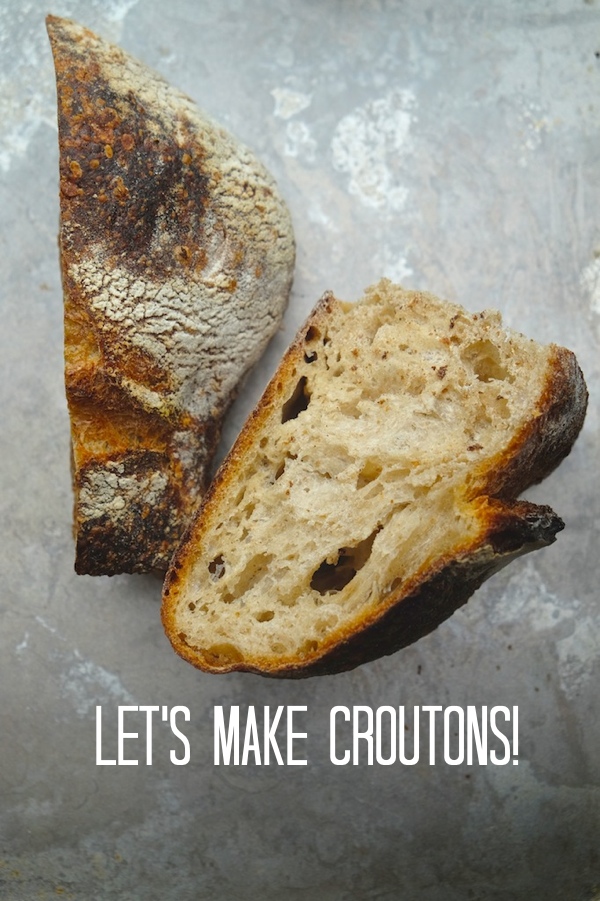 I found parts of this loaf of bread in my freezer (thanks, past Tracy!). I set it on the counter to thaw and then I tore it into some pieces and spread them out on a baking sheet. A few glugs of olive oil and a nice sprinkle of sea salt…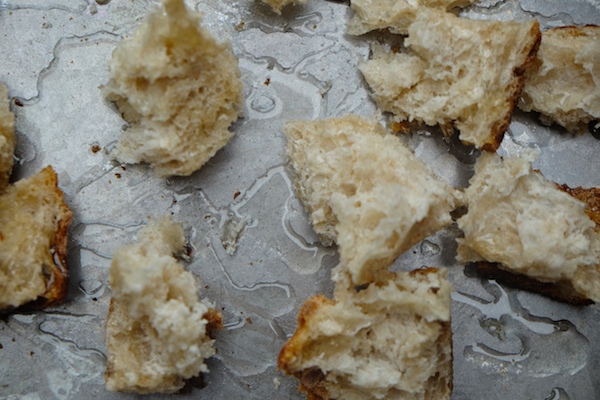 After about 15 minutes in the oven (at 350F) we have torn croutons for our soup.
I like them torn because there are some parts that are still a little chewy/doughy and parts that are crunchy.
They're Cooper's favorite part of my Simple Caesar Salad.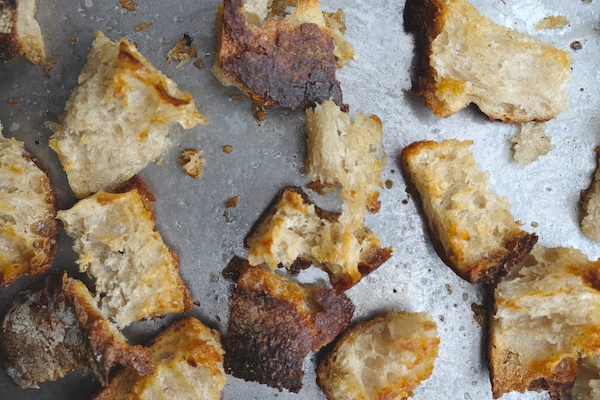 And we're off on soup making.
How do we make it creamy? Heavy cream and butter.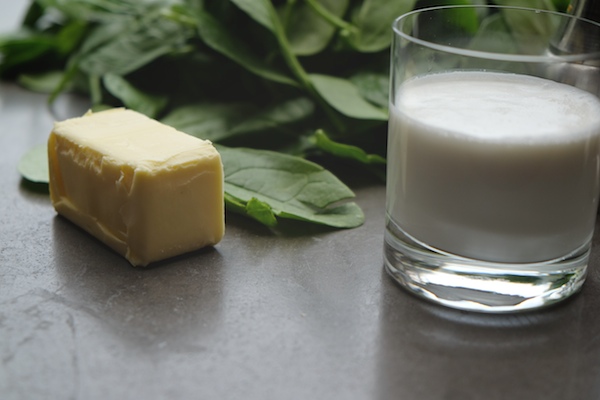 Butter goes into a large pot. We want to melt it until get gets foamy.
There's a little chopping involved here.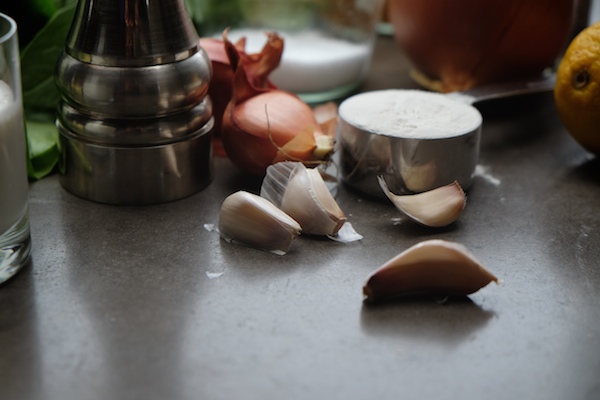 Shallots, onion, garlic.
Spinach gets chopped.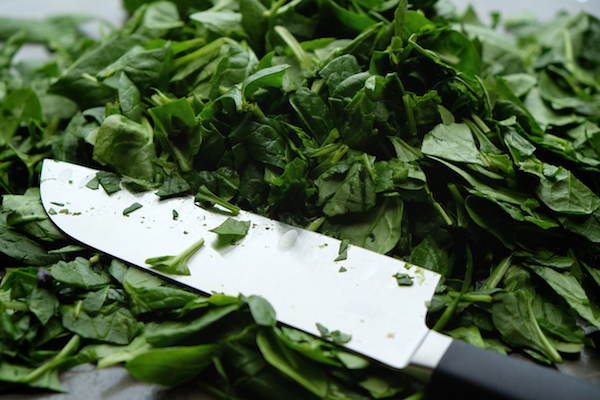 Onions, garlic and shallots go into the butter. We're going to soften them up.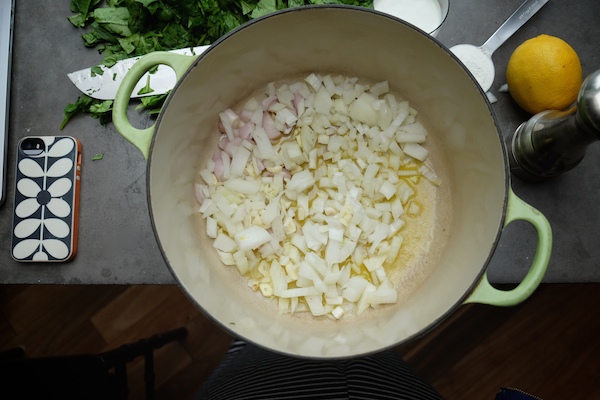 SOFT! This is the point when you need to heat up the chicken stock. I used the trusty microwave for this process.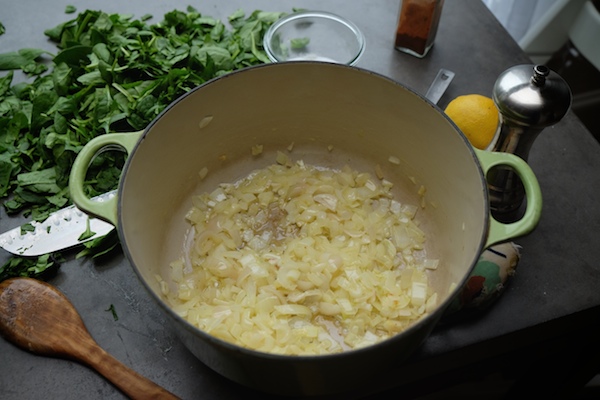 We whisk in flour. This will thicken the soup nicely.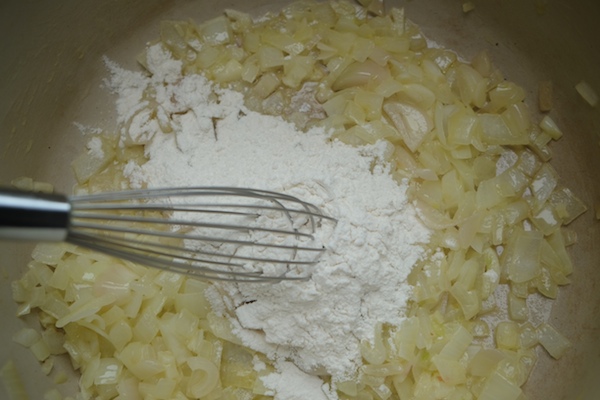 Warm chicken stock goes in. Use vegetable stock if you're feeling it.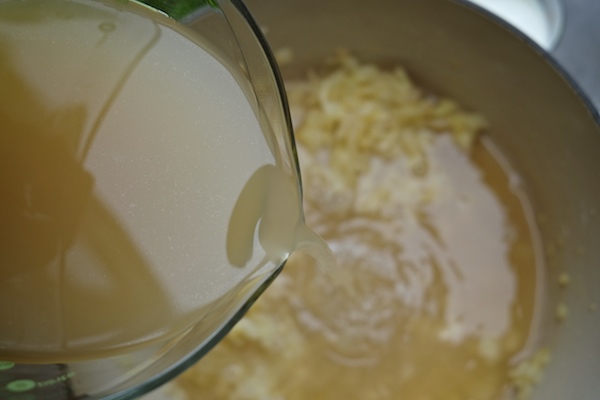 Toss in the spinach.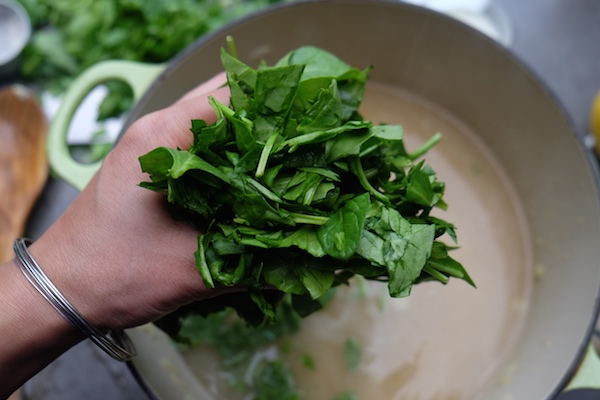 Some leaves went unchopped. It's totally cool. Now we simmer.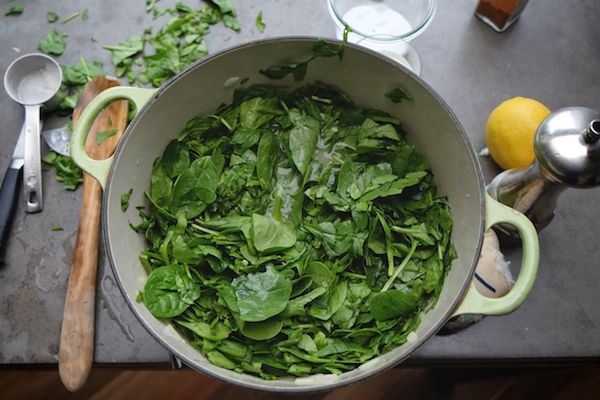 When the soup is ready for the next step, we squeeze in half a lemon.
This will give it a little tang/depth.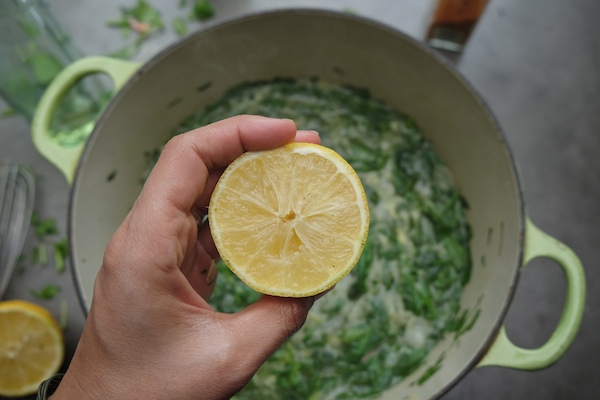 And we blend with an immersion hand blender.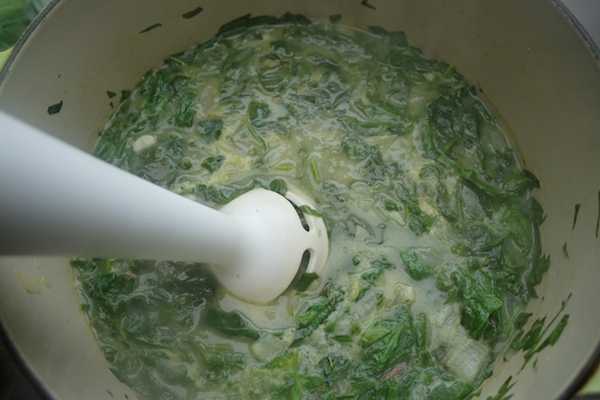 Followed by the cream. Hello steamy facial.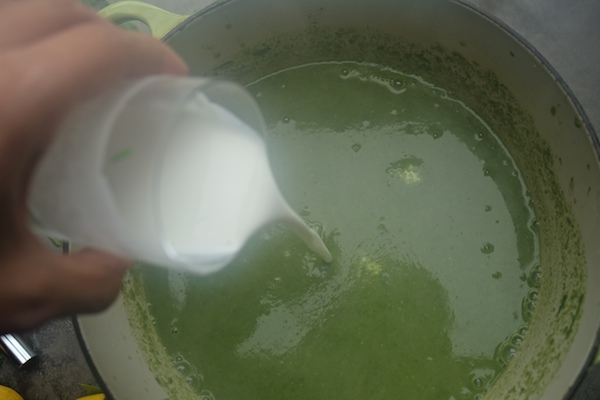 Swirl it in. Let it simmer for another 5 minutes. Flavors meld.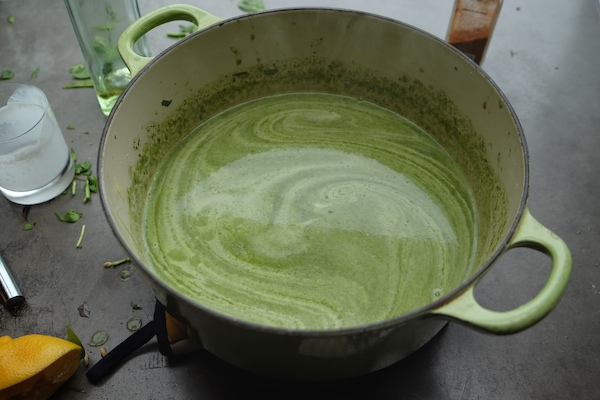 Soup's ready! Season to taste. Check the salt levels.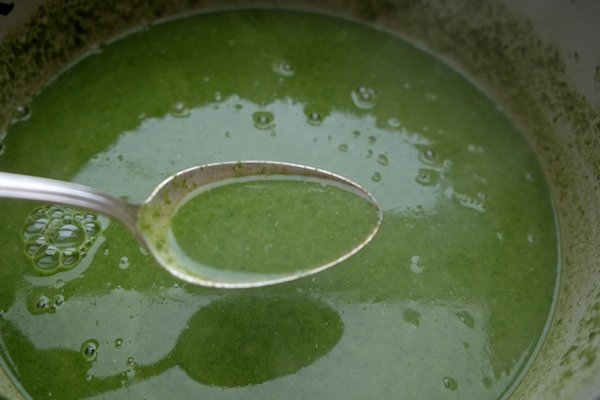 But we need to accessorize! Sprinkle some smoked paprika on top…and maybe a little pepper.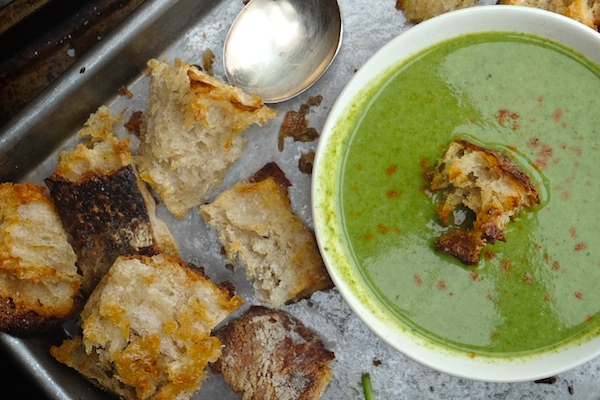 Croutons galore.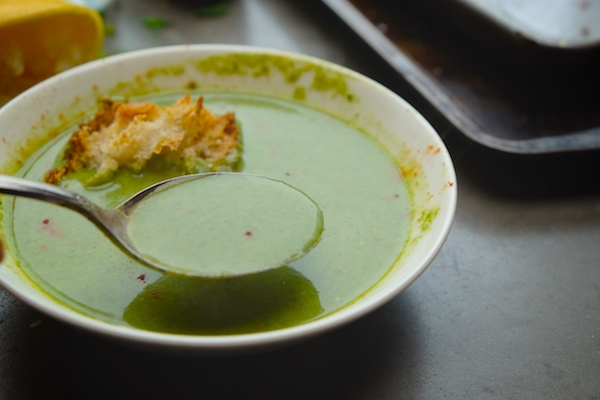 I'm having this for dinner tonight!
Cream of Spinach Soup

serves 4

recipe slightly adapted from Rachael Ray Magazine

1 quart vegetable or chicken stock
3 tablespoons butter
1 medium onion, chopped
2 large shallots, chopped
4 cloves garlic, chopped or thinly sliced
1/4 cup all-purpose flour
1 1/2 pounds spinach, coarsely chopped
juice of 1/2 lemon (about 1 tbsp.)
salt and pepper
1/2 cup heavy cream
smoked paprika, for serving
croutons, for serving

In a medium saucepan, bring the stock to a simmer over medium heat. (Alternately, you can heat the stock in a microwave bowl in the microwave for 3-4 minutes on High).

Meanwhile, in a large pot, melt the butter over medium heat. When it foams, add the onion, shallots and chopped garlic. Partially cover and cook, stirring occasionally, until the vegetables soften, about 5 minutes. Add the flour, whisk for a minute or so, then whisk in the warm stock. Add the spinach and stir until wilted. Simmer 10 to 15 minutes. Add the lemon juice and season with salt and pepper.

Using an immersion blender or working in batches in a high-powered blender or food processor, puree the soup. If using a blender or food processor, return the soup to the pot. Stir in the heavy cream and simmer over low heat 5 minutes. Season to taste and serve each bowl with a sprinkle of smoked paprika and an overflowing handful of croutons.