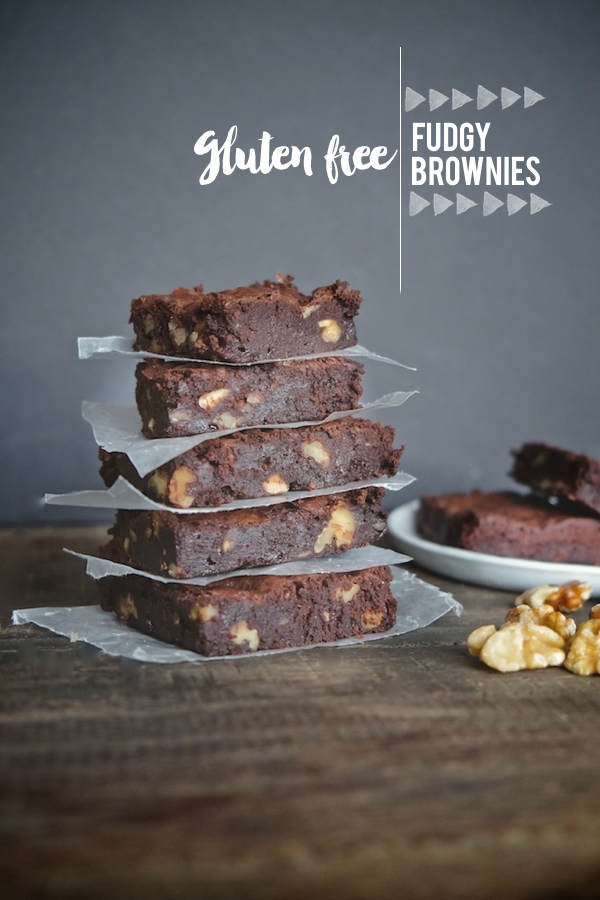 There was a bake sale at school last week. We got a notice that there would be gluten free/nut free options for those with dietary restrictions and it got me to thinking that I don't really have a gluten free baking prowess to flex. I'm not seasoned veteran with gluten free baking because I don't have the arsenal of flours in my pantry. I do have quite an assortment of hot sauces though…which only helps a select few. Gluten-Free Fudgy Brownies to the rescue!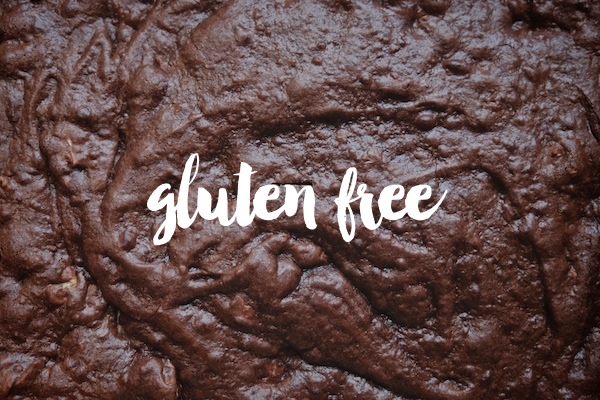 I saw this recipe on Martha Stewart website the other day and was intrigued. No flour. Just cornstarch. I also saw that I had every ingredient in the ingredient list so OF COURSE I had to make them.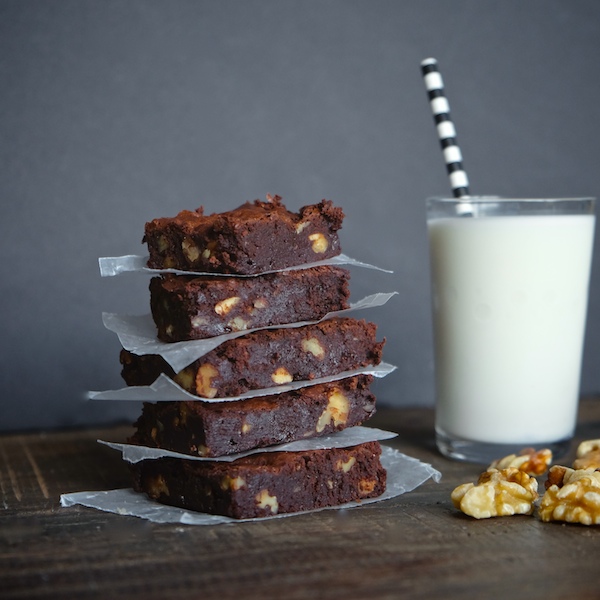 Annnnnd YES. They're totally fudgey. Perfectly intense with good hit of chocolate. They're both chewy and crisp on the edges. You wouldn't really know they were gluten free. They definitely passed the taste taste in our house! I'm glad I have something good to offer future bake sales…of course I'll make them without walnuts but in my house, a brownie isn't a brownie if there's no nuts in them 🙂
And we're off!
I melted butter prematurely. It's cool! It was hot enough to make my chocolate chips melt!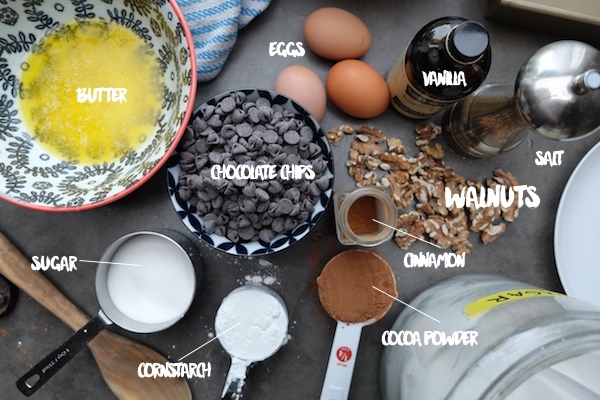 YESSSSS. Put the cornstarch in a bowl with the cocoa powder, salt and cinnamon.
I quite like the addition of cinnamon here. It adds a little oomph. Feel free to omit if you feel the desire.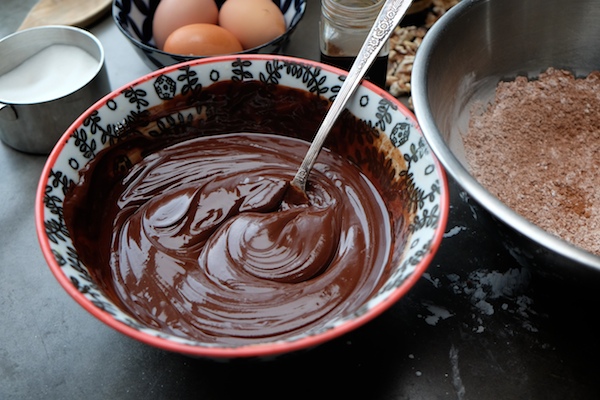 Sugar goes into the melted chocolate/butter situation.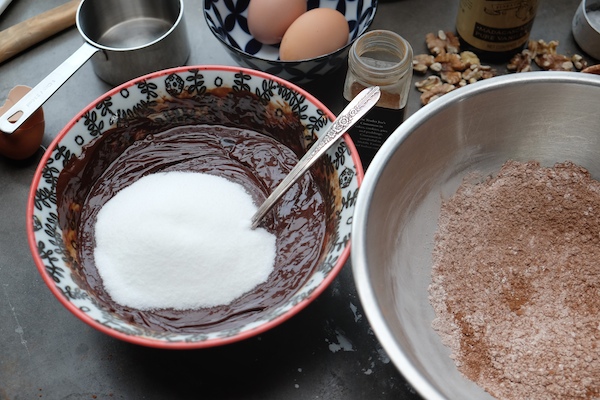 Stir the eggs in one at a time. This is the point when I realized that I should have swapped the bowls.
I didn't get my spatial recognition in check. You win some… you lose some…
Vanilla up in.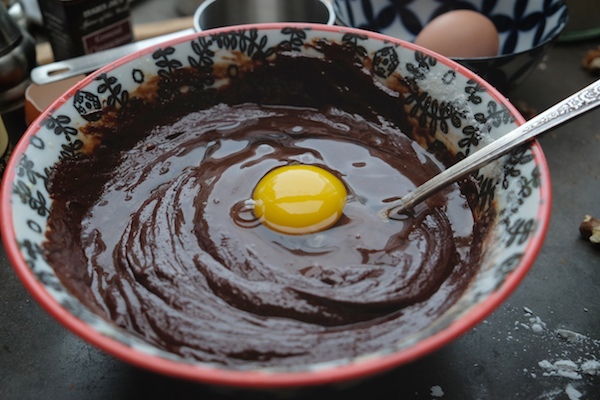 Dry goes into wet…and oh look!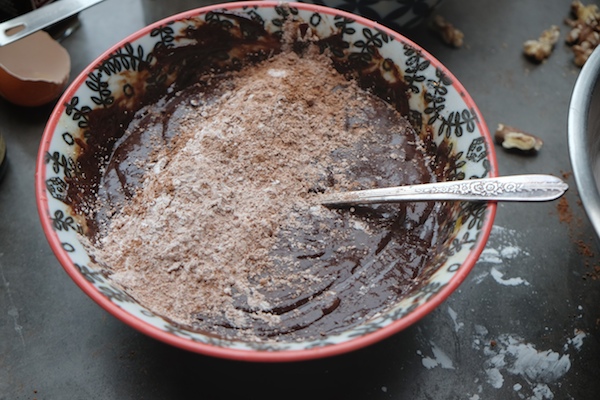 I transferred bowls! Thanks, spatula! The walnuts go into the brownie batter.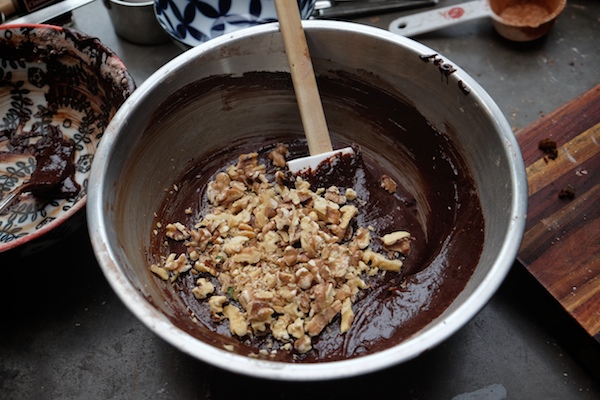 Put the batter in a prepared brownie pan. (I sprayed mine with coconut oil)
I opted out of the parchment lining because I was lazy…
If you don't mind cutting the brownies in the pan, then be lazy like me.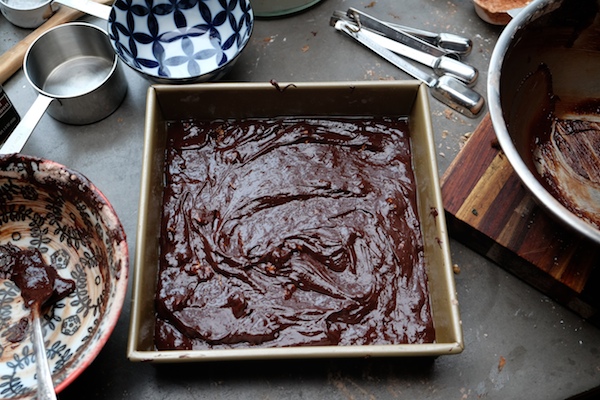 BAKED!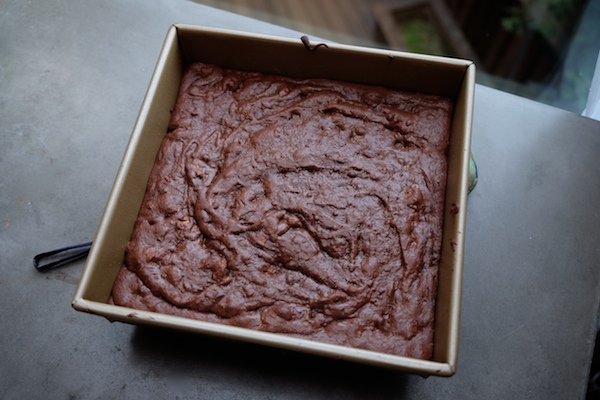 Looks like a brownie.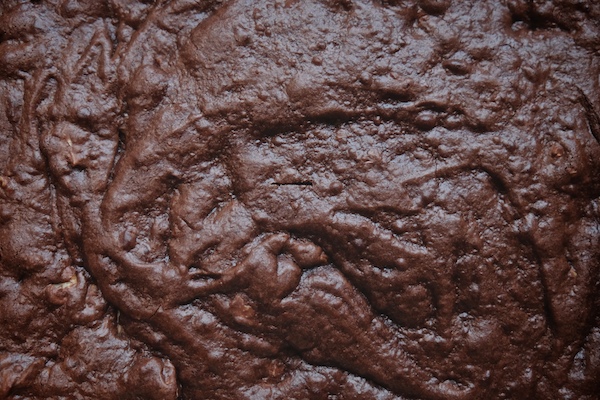 Tastes like a fudgy brownie…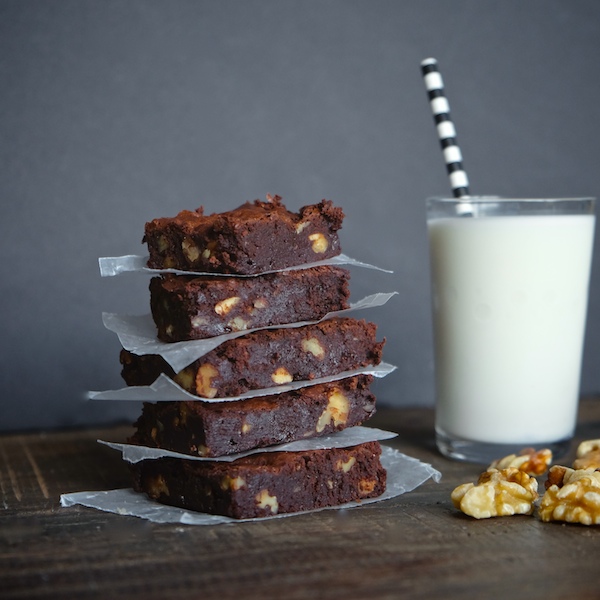 Full of tasty toasted walnuts. DEE-LIGHTFUL. Sans gluten.
Gluten Free Fudgy Brownies

makes 16

recipe slightly adapted from Martha Stewart

6 tablespoons unsalted butter, cut into pieces, plus more for pan
1/3 cup cornstarch (spooned and leveled)
1/4 cup unsweetened cocoa powder
1/2 teaspoon ground cinnamon
1/2 teaspoon fine salt
12 ounces semisweet chocolate chips
3/4 cup sugar
1 teaspoon pure vanilla extract
3 large eggs
1 cup chopped toasted walnuts

Preheat oven to 350F. Lightly butter an 8-inch square baking pan and line with parchment paper, leaving a 2-inch overhang on all sides. Whisk together cornstarch, cocoa, cinnamon, and salt. In a large microwave-safe bowl, microwave butter and chocolate in 30-second increments, stirring each time, until melted and smooth, about 2 minutes. Stir in sugar and vanilla. Stir in eggs, one at a time, until combined. Add cornstarch mixture and stir vigorously until mixture is smooth and begins to pull away from side of bowl, about 2 minutes. Stir in walnuts.

Pour batter into pan and smooth top. Bake until a toothpick inserted in center comes out with a few moist crumbs attached, about 25-30 minutes, rotating pan halfway through. Let cool completely in pan on a wire rack. Using paper overhang, lift cake out of pan and cut into 16 squares.