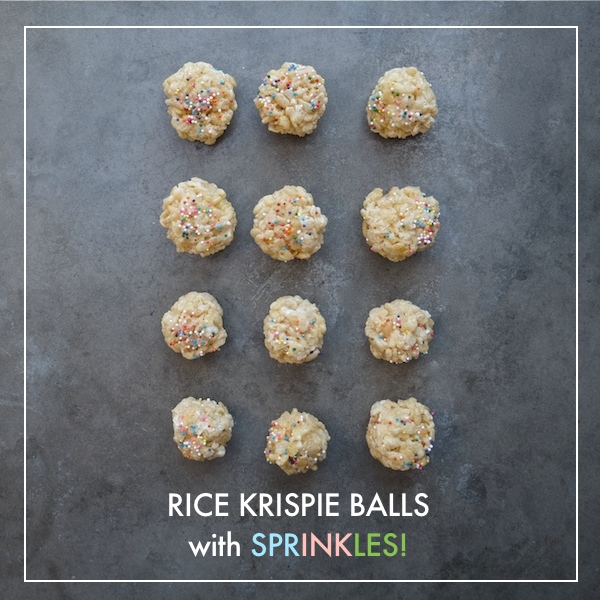 Here's the thing about Rice Krispie Treats. I love them and I almost always have the ingredients in my pantry. The problem is…. I totally forget about them. The other problem is that I make a tray of them and keep cutting off pieces from the tray and then THEY ARE GONE. So here, I kept the batch on the smaller scale. Scooped them out with a once inch cookie scooper and sprinkled SPRINKLES on top to make things a little more fun. They're bite sized and delicious. Perhaps I should add this treat to my weekly meal prep? 
To see more of my Thursday Snack Ideas, follow my Pinterest Board!
Rice Krispie Balls with Sprinkles

makes about 25
recipe adapted from Rachael Ray Magazine

12 large marshmallows
2 tablespoons salted butter
2 cups rice krispies cereal
1/4 cup sprinkles

Place marshmallows and butter together in a medium bowl and heat in the microwave for 1 minute. Give the mixture a stir and heat for another minute, stir and repeat until the mixer is puffy and melted. Stir in the cereal and coat evenly with the marshmallow mixture. Let mixture sit for about 3-5 minutes, or until cool. Using a 1 inch cookie scooper, portion out rice krispie balls on a parchment lined baking sheet. Sprinkle the tops evenly with sprinkles. The more the merrier!