It's Monday. You're starving. You head into Trader Joe's (which is probably a NIGHTMARE because MONDAY) and you think about getting a frozen pizza but you want something different. You know you already have a jar of marinated artichokes at home. Pick up pizza dough, alfredo sauce, cheese and some fresh basil and you're minutes away from Creamy Artichoke Pizza.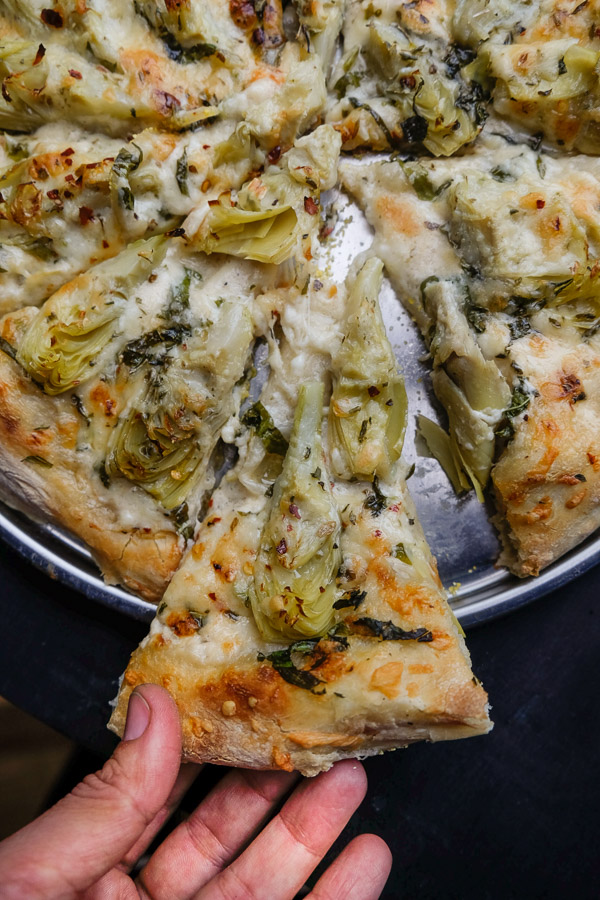 When you get home, let the dough sit on the counter. I remember when Casey and I were first living together, I bought pizza dough from Trader Joe's and it turned out to be an EPIC FAIL. I couldn't get the dough to move. It kept springing back into the center and so we had the doughiest/smallest pizza in history. The problem was that I didn't let the dough sit out long enough. Sometimes you have to let it go away, check on it and then come back later.
Impatience in the kitchen doesn't get you far.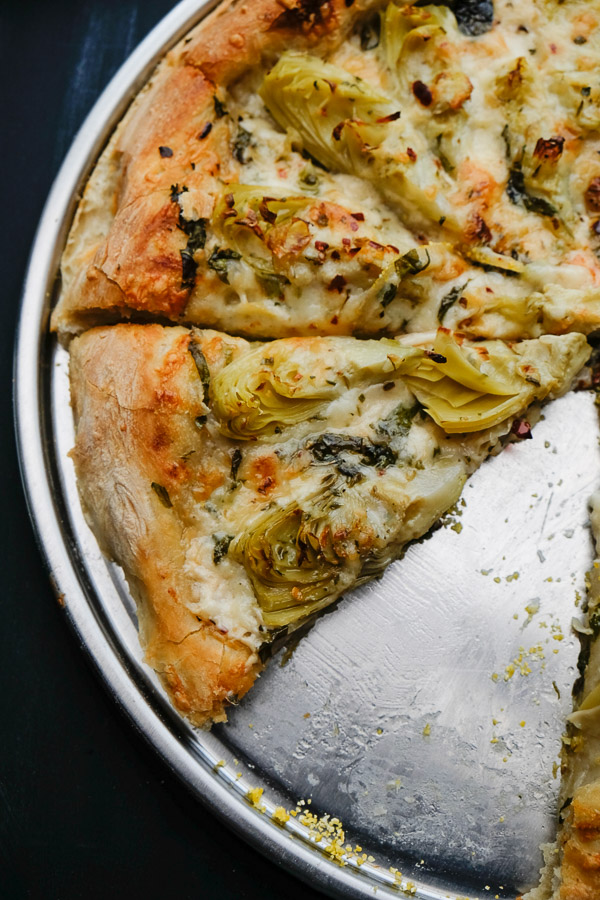 Not too shabby for coming up with a pizza on the fly with things I already had in my kitchen!
Make this tonight and you're totally winning Monday. It definitely beats sitting on the couch eating cereal for dinner…well…not if we're talking about Golden Grahams.
Let's gather our ingredients.
Everything you need is right here. All of these things I usually have in my possession.
The alfredo isn't really a staple of mine. I had an extra jar for a photo shoot and I'm finally putting it to good use. I think it's great in this application, I'm not sure how it is on pasta, though.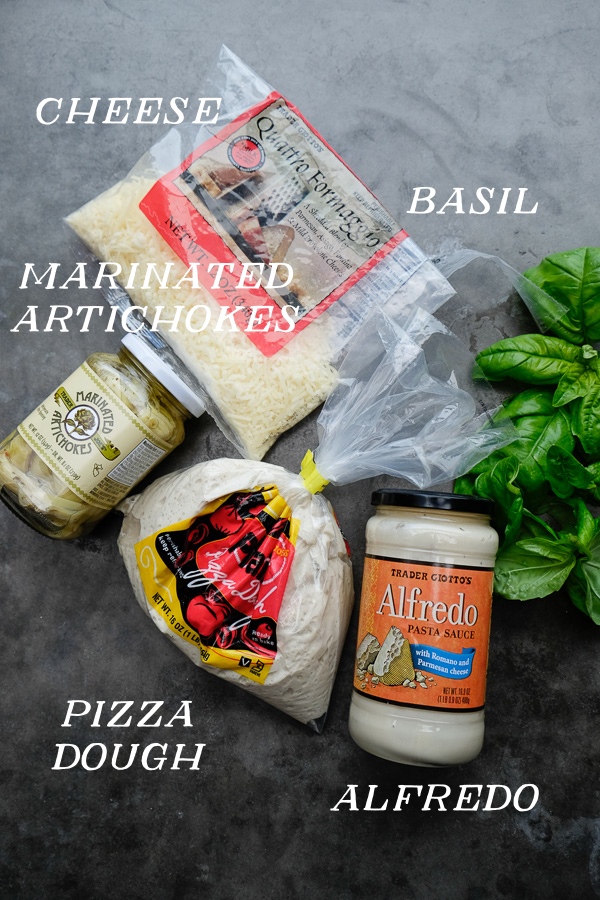 Dough is ready to work with. I lined the bottom of my pizza tray with some cornmeal because I love that cornmeal crust I get at good pizza places. It makes a difference.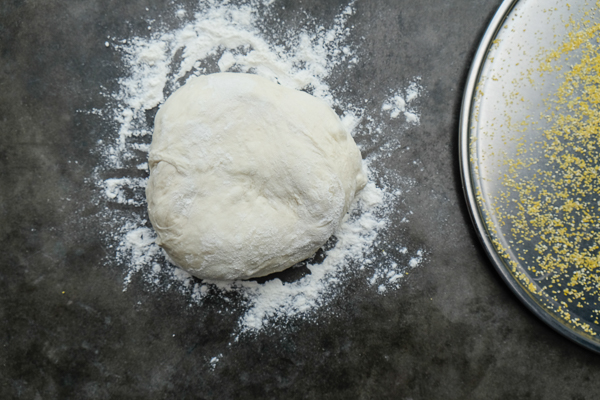 Dough stretched.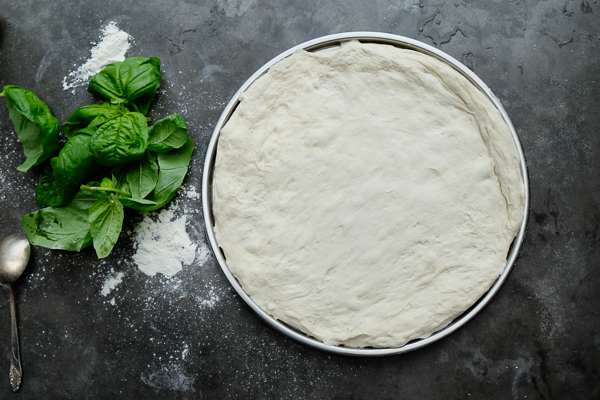 Alfredo sauce on.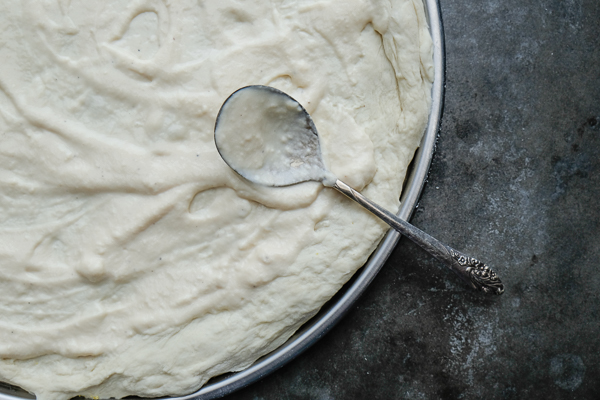 Followed by some cheese.
Let's put some basil on top.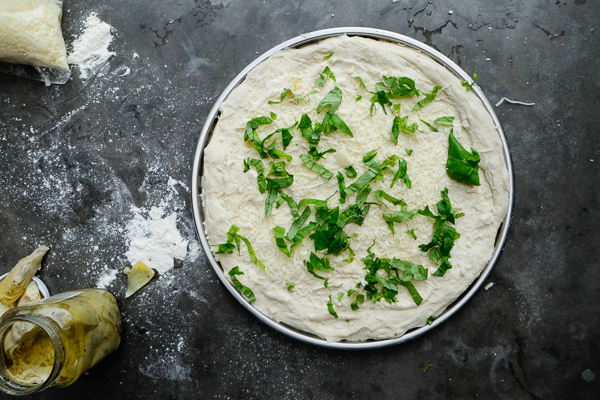 Let's make a starburst out of artichokes.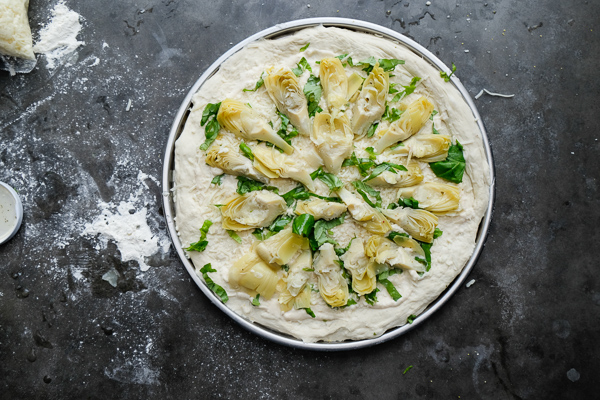 So pretty, huh?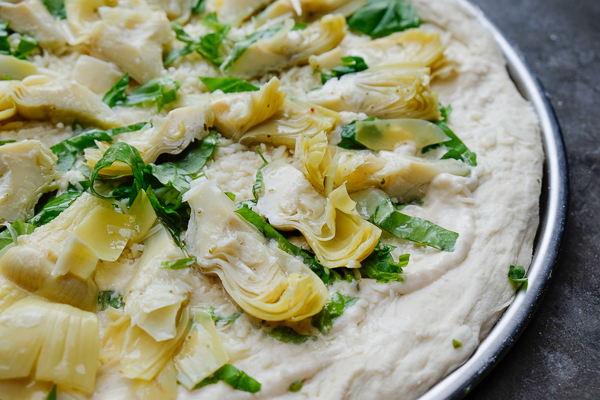 Let's take a little trip to the spice cabinet.
We're going to put some red pepper flakes & oregano on top.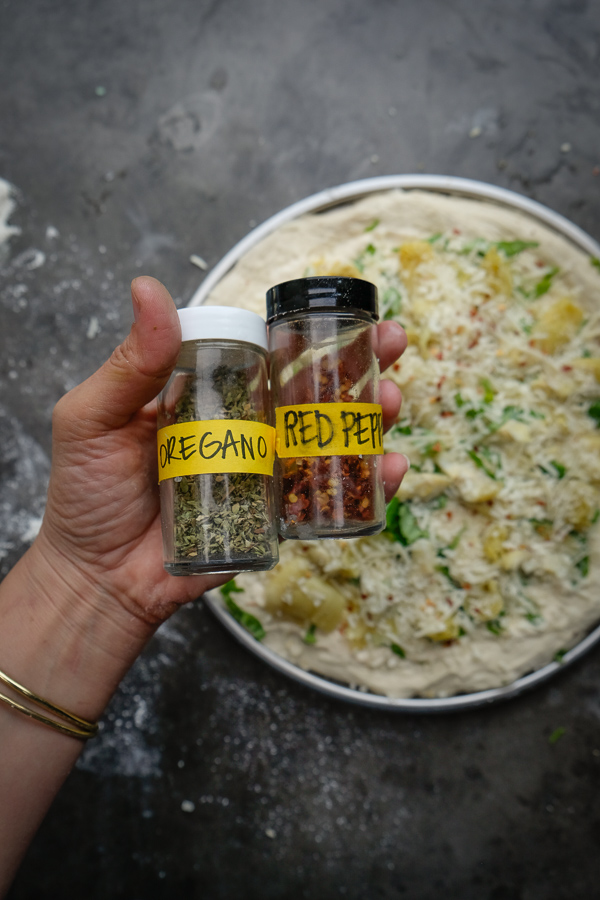 I like a lot of red pepper on my pizzas.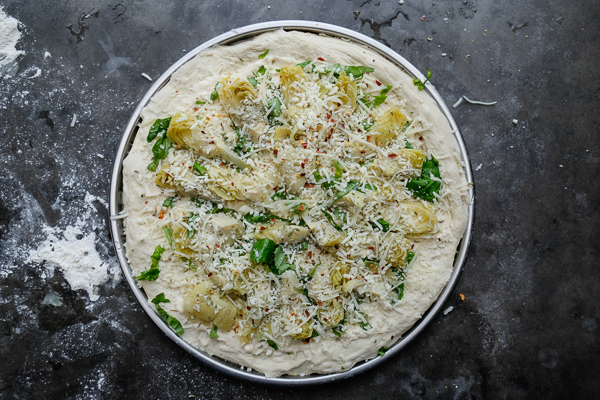 And then I put even more when I go to eat it. AHHHHH.
#redpepperflakeenthusiast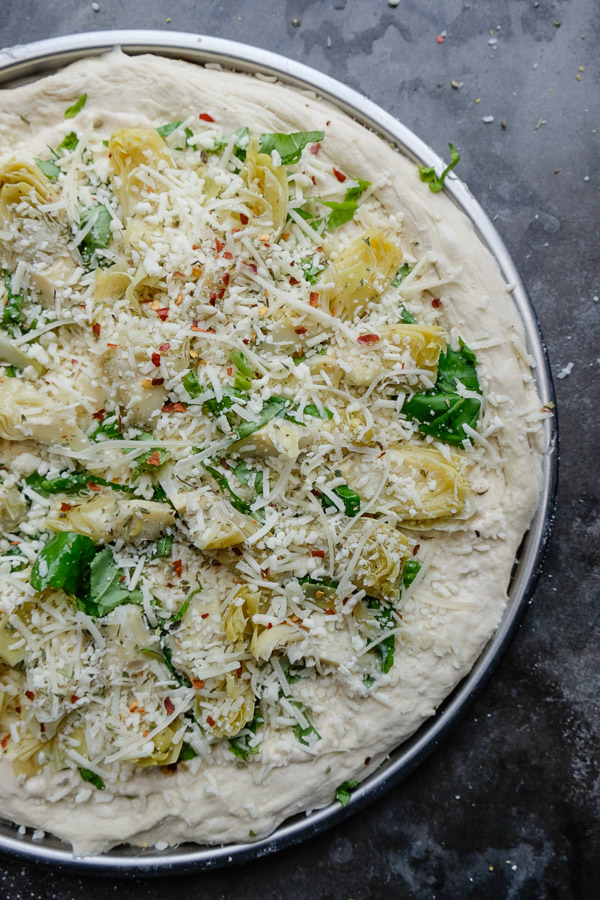 MMMMMMMMMM.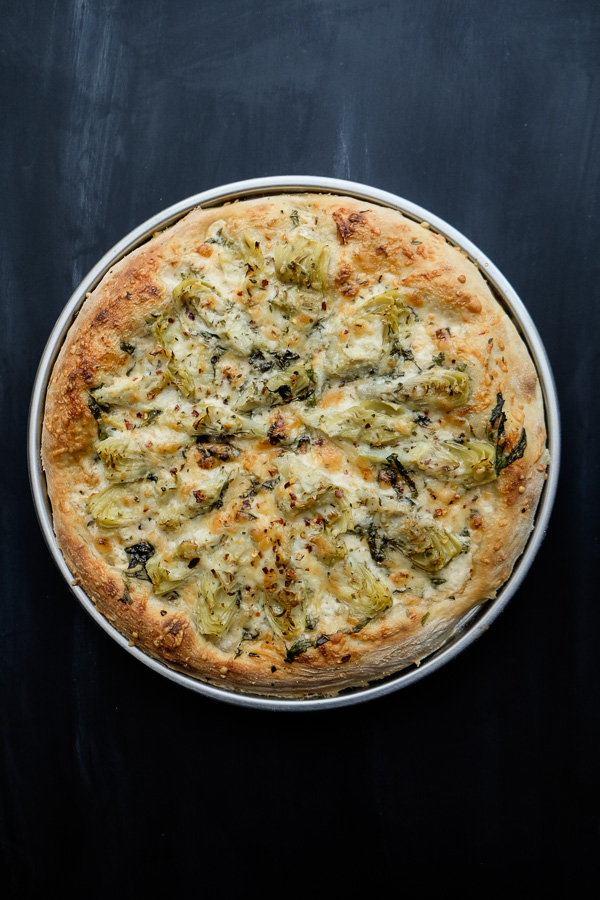 You get a pizza that's like creamy artichoke soup but tangy because of the marinated artichokes.
I love when there are charred bits on the artichokes. DIVINE!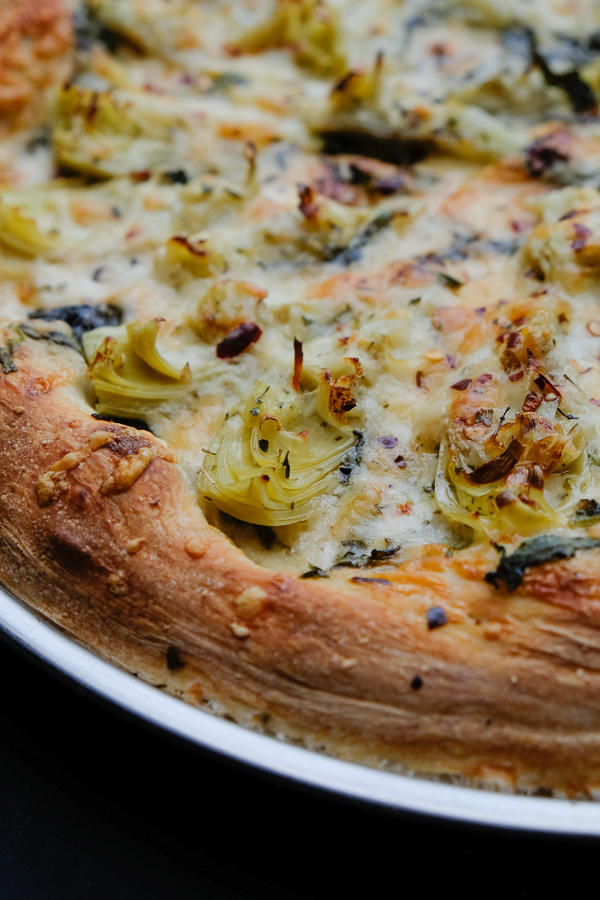 You're not going to want to stop eating it.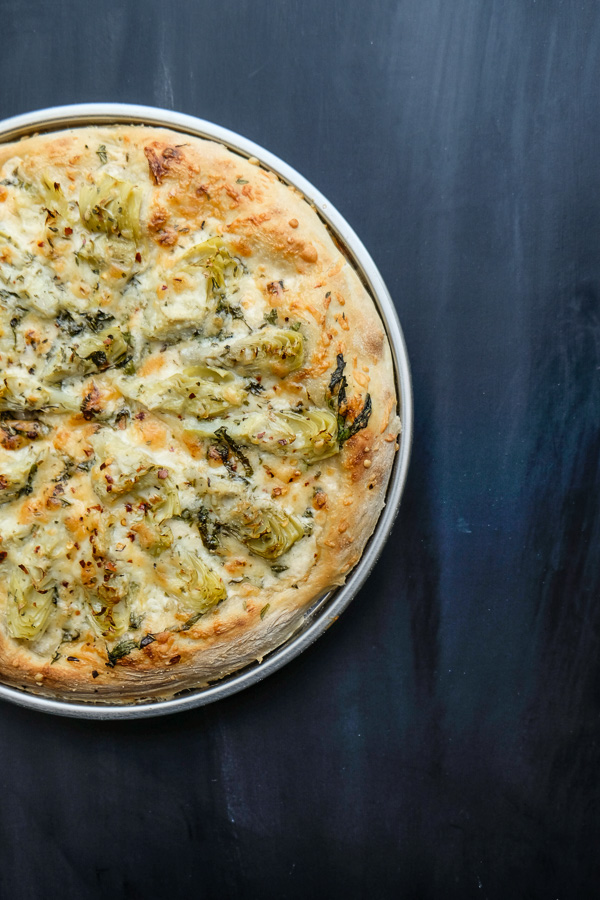 Consider yourself warned.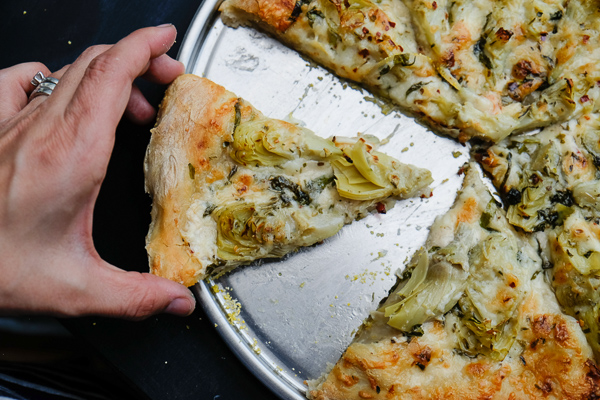 Also, what's with all of the parking lots at Trader Joe's? They're always NUTS.

serves 3-4

1 1lb. pizza dough
1/3 cup alfredo sauce
1 cup Quatro Formaggio (a cheese blend)
1 jar artichoke hearts, drained
8 basil leaves, julienned
a heavy pinch red pepper flakes
a good sprinkle dried oregano

Preheat oven to 500F.

Spread pizza dough to fit a pizza tray. Spread alfredo sauce over the top, followed by half of the cheese and basil. Evenly distribute the artichokes on top of the sauce and finish with remaining cheese, red pepper flakes and oregano. Place in the oven and bake 15-18 minutes, or until crust is nicely browned. Serve warm.