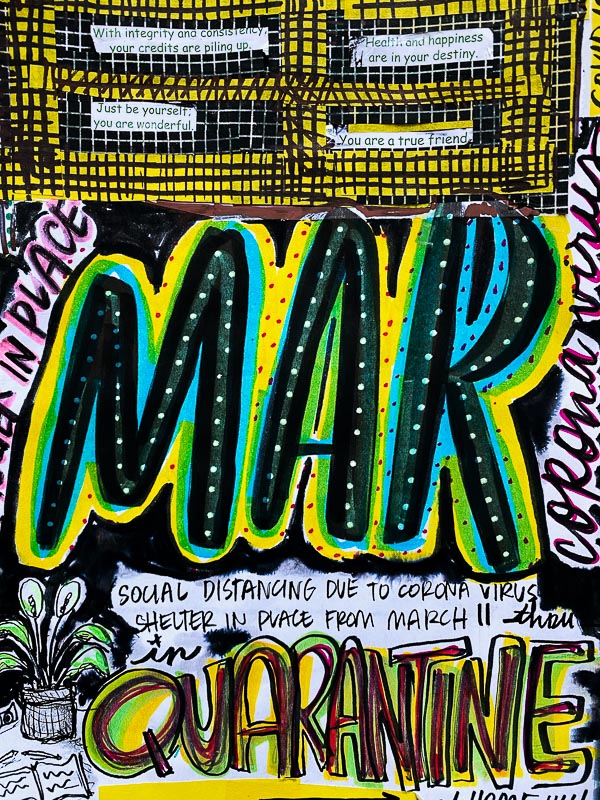 Currently March 2020
Hello, from quarantine.
March was pretty crazy, no?
We started our sheltering in place here in California on March 11th because of the coronavirus.
Casey and my brother both turned 43 this month we celebrated our 14th wedding anniversary.
We have enough toilet paper!
YAY!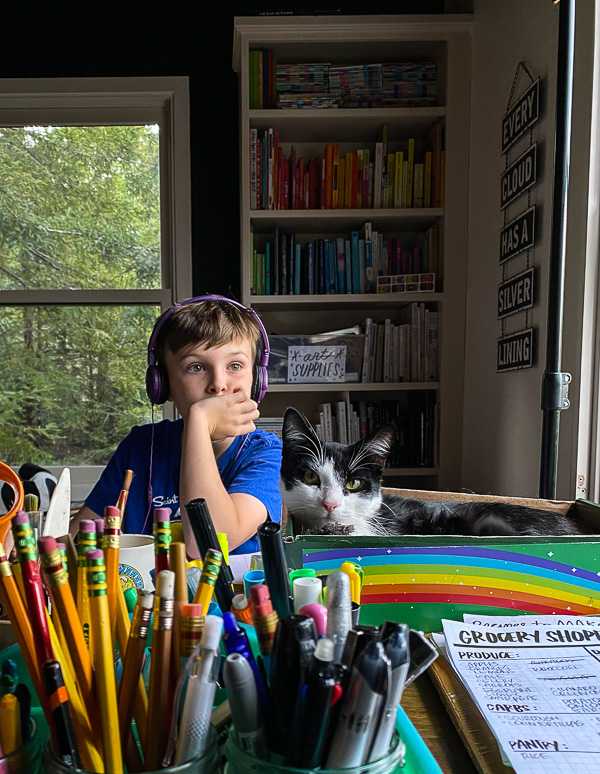 Cooper started school at home and we are navigating a new routine and digesting the fact that he probably won't be going back to school until next fall. *gulp*
WHAT A CRAZY MONTH. I am so grateful we are all healthy and we have what we need.
I am trying to be present and not live too much in the future in my brain.
Here are my pages from my Currently Workbook for March.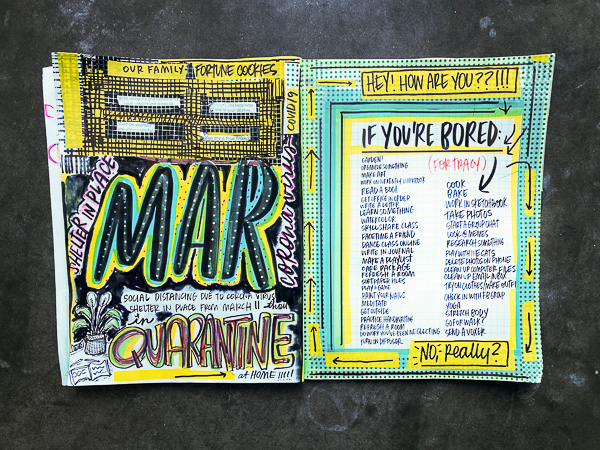 I put my If You're Bored list in my workbook.
I made this the second we had to shelter in place because I wanted Cooper to have something to refer to when he felt BORED. No excuses. There are plenty of things to do. It's a good way to encourage someone to become a self-starter.
I wrote down all of the things I like doing if I'm bored… really just need an activity to pass the time.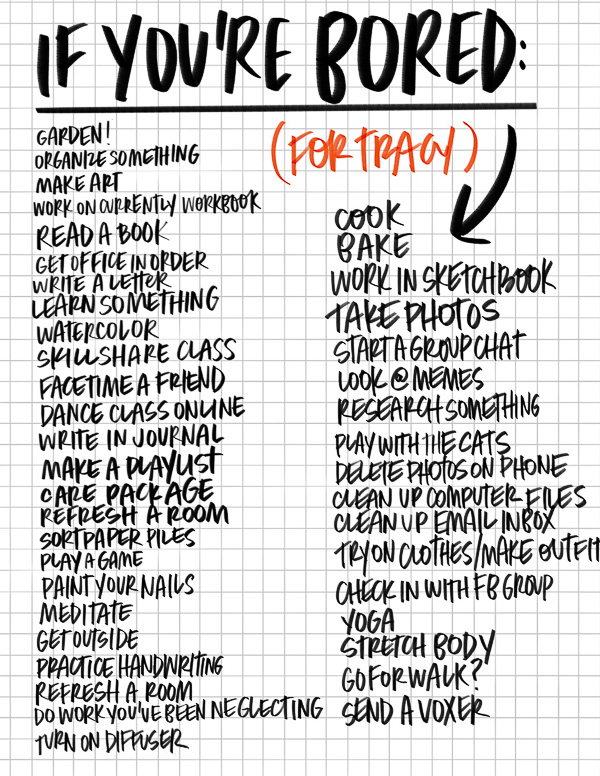 Having this art practice of writing in my Currently Workbook
has been so helpful.
It makes me look for the light.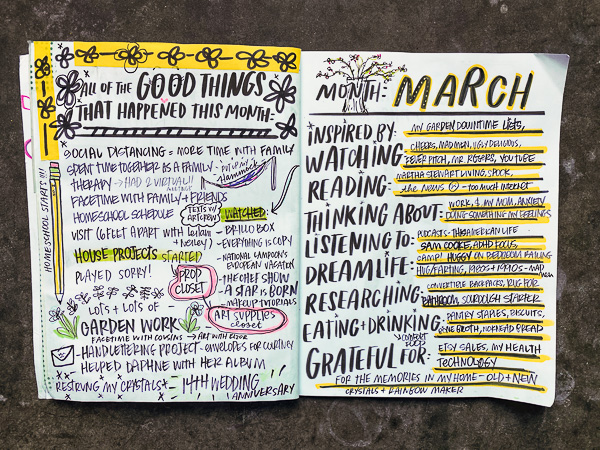 And I get a chance to write down all the good things that happened this month..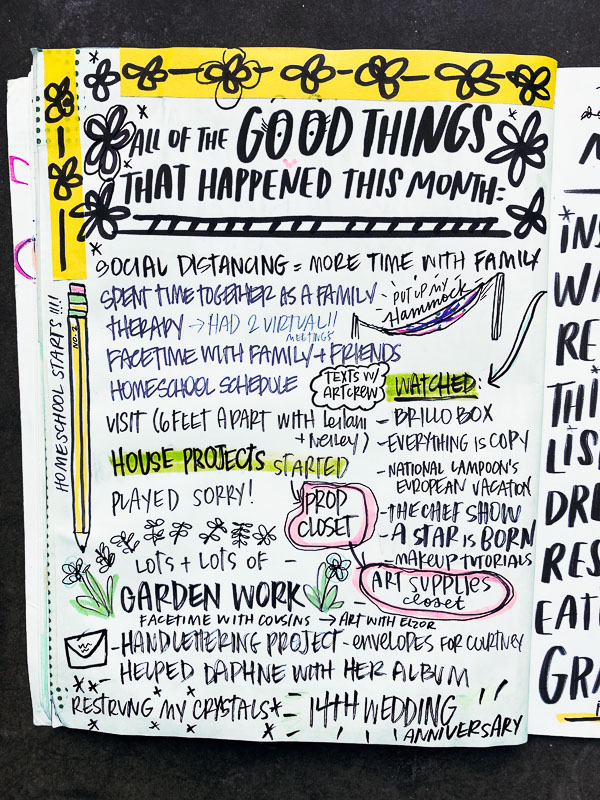 Breaking it down!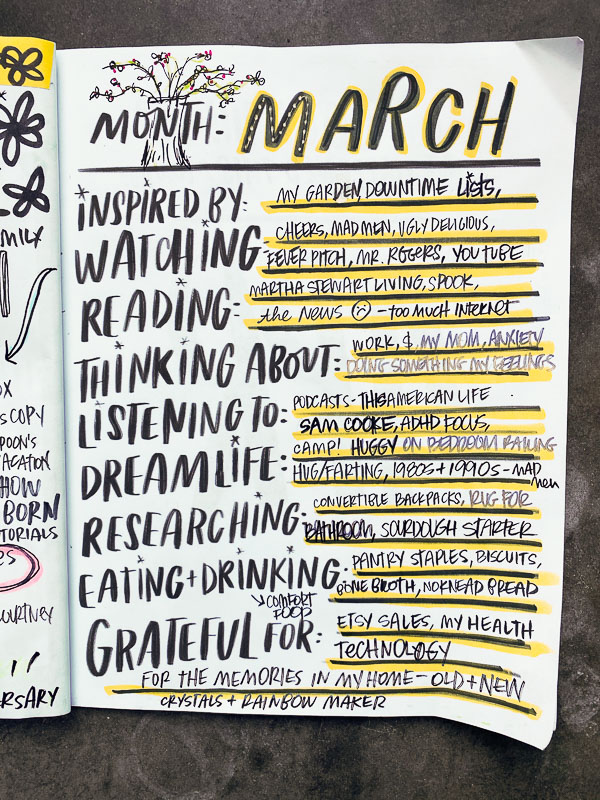 I read this article about how we're collectively going through grief.
I feel it. I can recognize grief so easily not. Life is so unexpected. I know this much is true.
My mantra for the month comes from something my Mom used to say to me.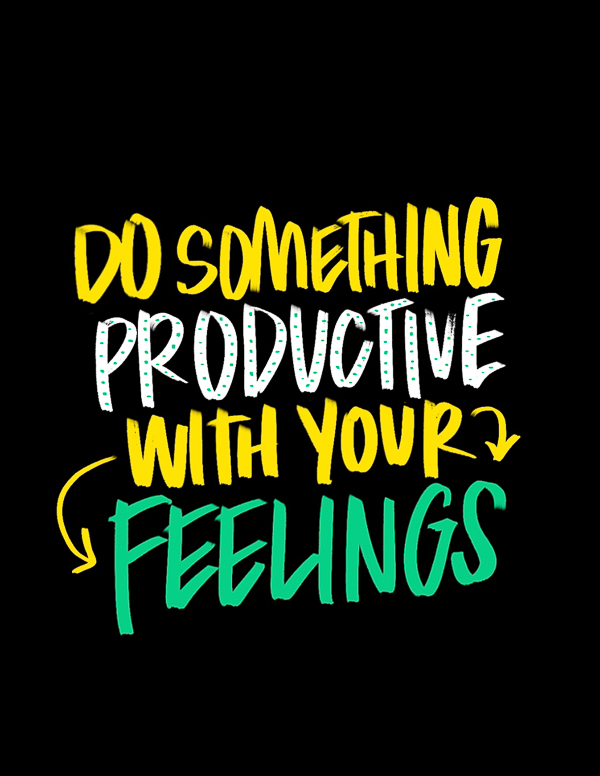 I had a lot of feelings this month and I tried really hard to put them to good use.
My Mom would have been happy about that. Thanks, Mom.
Let's get into it.
INSPIRED BY:
This time of year. The weather…growth in my garden.
These orange pops really make me happy.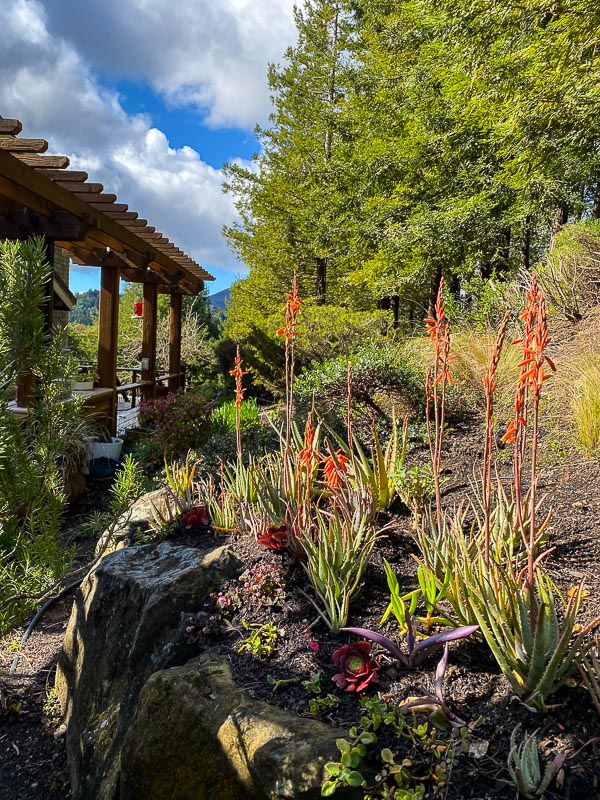 I planted seeds! I looked at pictures of what my yard looked like last May and felt so hopeful.
It was such a beautiful gift to feel hope again.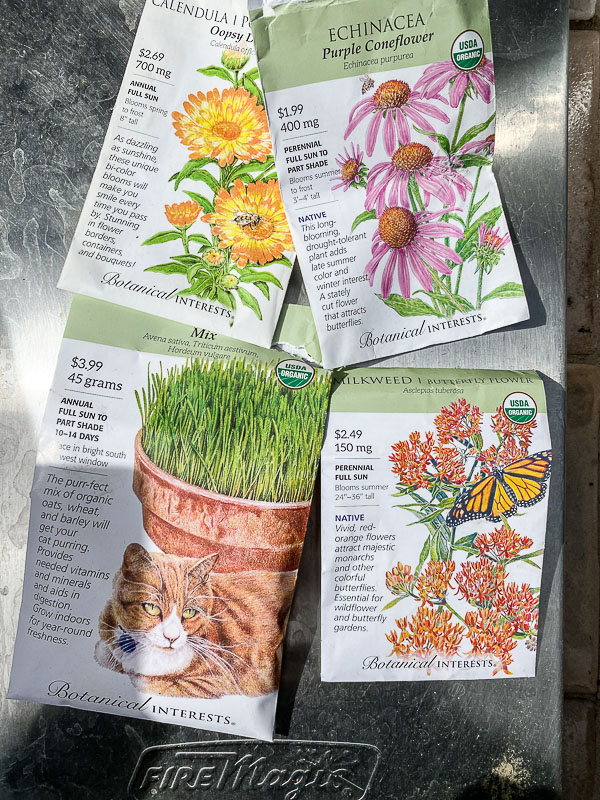 Perhaps that's why I chose the word GROW as my word for the year.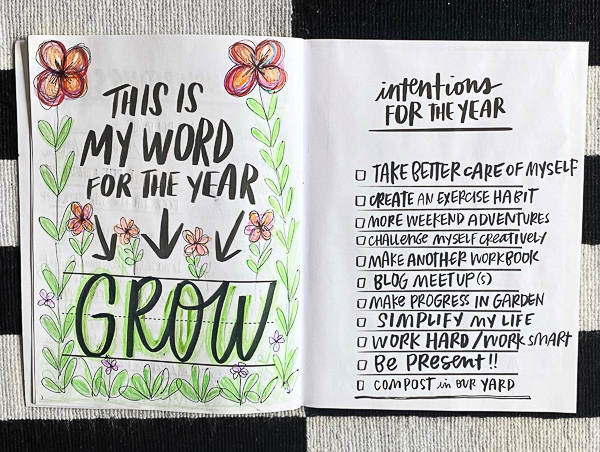 My note to myself has been coming in handy.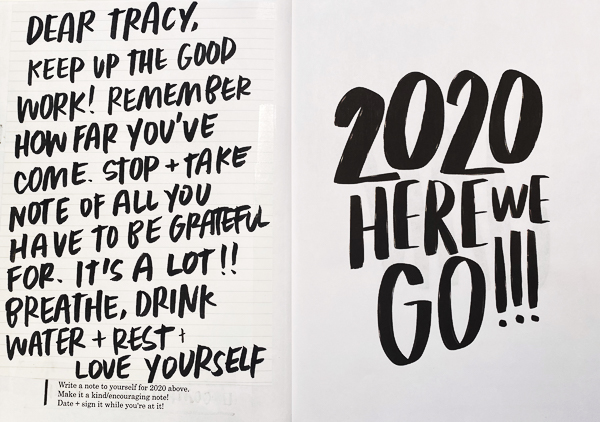 Been working on a succulent project.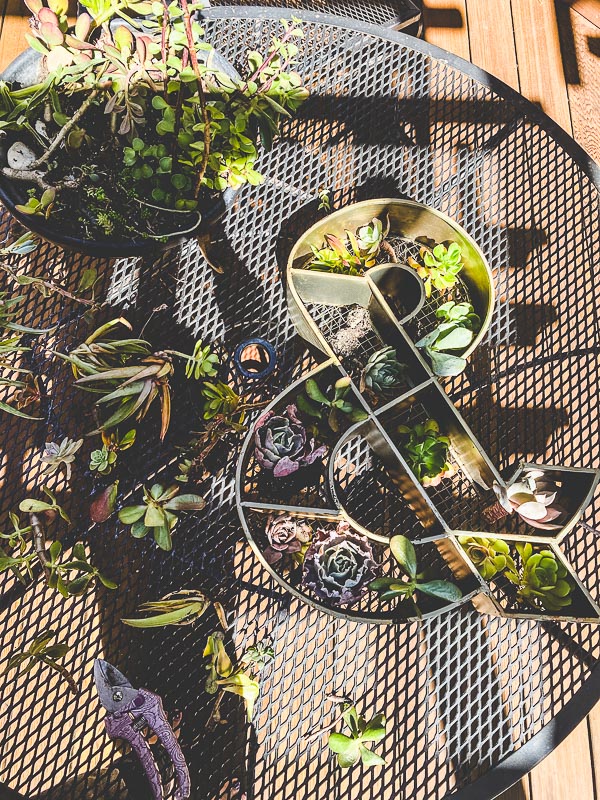 I've been minimizing things and organizing spaces in our house while we have downtime.
I cleaned up our broom closet.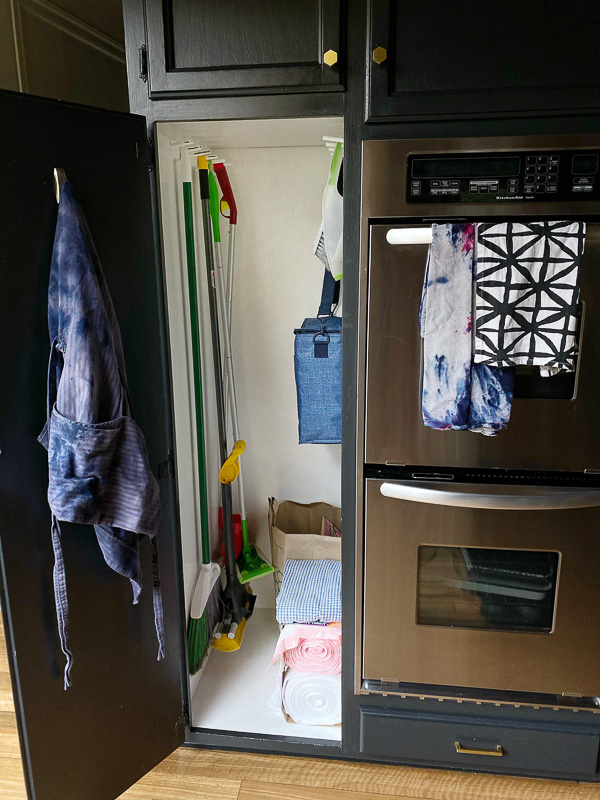 Organized my prop closet!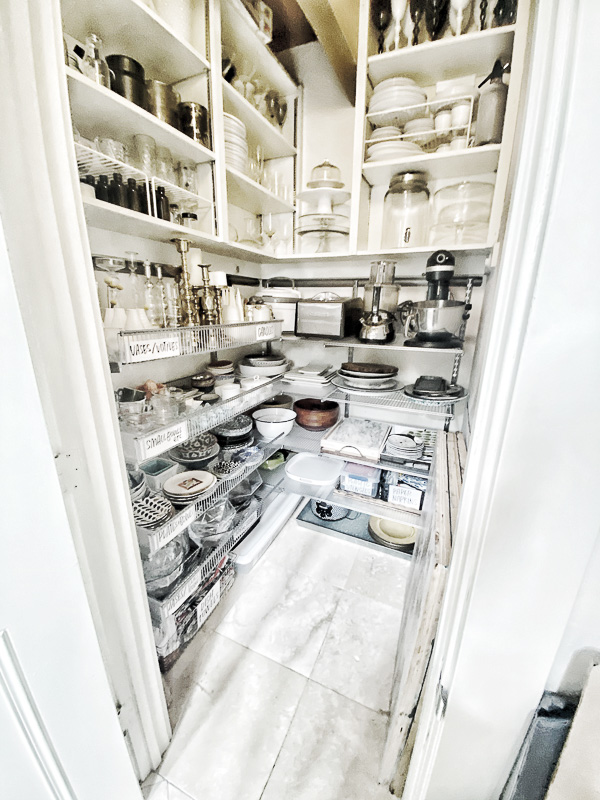 Sorted old art school stuff.
GOT RID OF SO MANY THINGS I DO NOT NEED ANYMORE AND IT FEELS AMAZING. I have a few more spots in my office to be organized. I am making incredible progress and I want to keep the momentum going.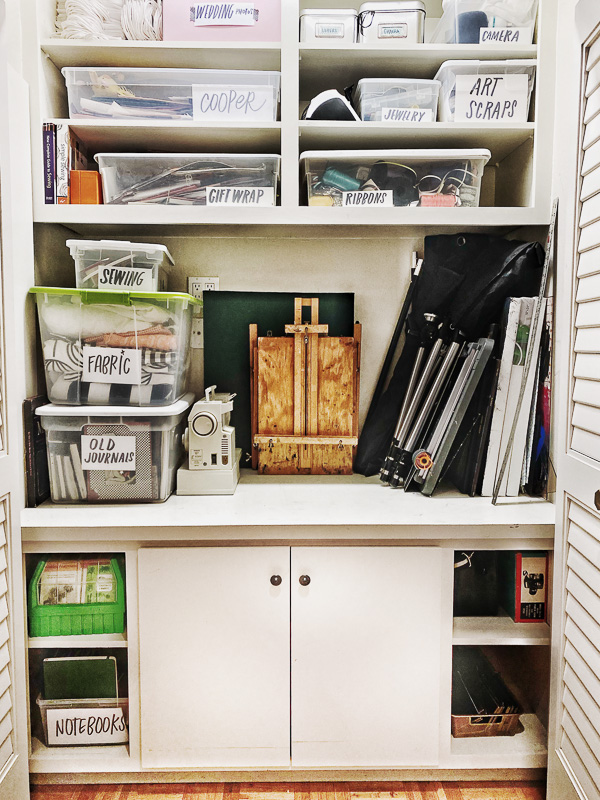 My horoscope for 2020 said that I would be pushing myself creatively and I've been working on it! I did the hand-lettering & design for a client's save-the-date cards and I completed the envelopes last week. I am feeling grateful for the opportunity to push myself and remind myself how hard work & practice pays off.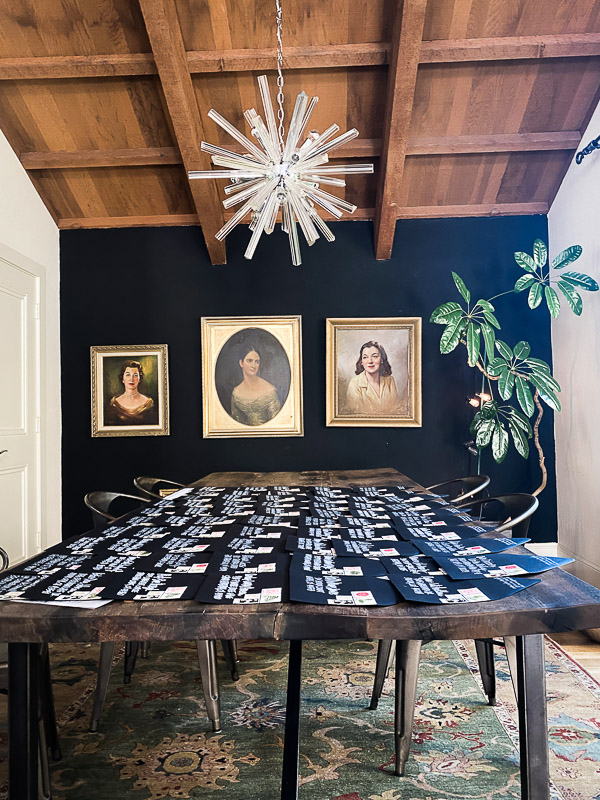 Watching:
We have been watching a lot of things this month since we have been spending every night at home.
Mad Men– We are now on season three. Love watching it again!
Cheers– finished! Sad it's over.
Fever Pitch– watched this with Cooper. It's basically my life.
Mr. Rogers Documentary– watched this with my boys!
Won't You Be My Neighbor?– then we watched this! My heart needed this.
Ugly Delicious– David Chang makes me hungry.
The Chef Show– I love Rob Choi. Sad I finished this series!
Brillo Box– watched this documentary on HBO. Loved it.
Everything is Copy– documentary on HBO about Nora Ephron.
National Lampoon's European Vacation– a blast from the past!
A Star is Born- Casey watched this for the first time. I watched it while I was working
Makeup tutorials on Youtube because WHY NOT.

Reading:
Not doing as much reading as I thought I would. Probably because I am too exhausted by the time I get into bed after a long day of working with Cooper. I'm spending too much time on the internet reading the news and scrolling through Instagram. Must make some limits. Mostly because it amps up my anxiety.
On my nightstand: Spook
& Make Time
Thinking About:
Work. Money. School. Stress. Health. The future. How my Mom never had to deal with having to quarantine in this house. Trying not to entertain my anxiety. Working on doing something positive with my feelings.
Listening To:
Working from home with distractions requires FOCUS.
This playlist has been helping.
This song helps me have hope.
Cooper sometimes sings this out of nowhere and it makes me a proud mama.
Dream Life:
Been waking up at between 5am-6am every morning. Been having crazy dreams due to watching Mad Men before bed.
Had a few dreams that I was being hugged by people so hard that they made me fart. I was like heh…everyone farts. Weird.
I would like to work on my lucid dreaming skills. Then I could probably hold in those farts. HAHA.
Eating/Drinking:
This month has been all about COMFORT FOODS. HOW DID I GO ALL OF JANUARY WITHOUT EATING BREAD??!!!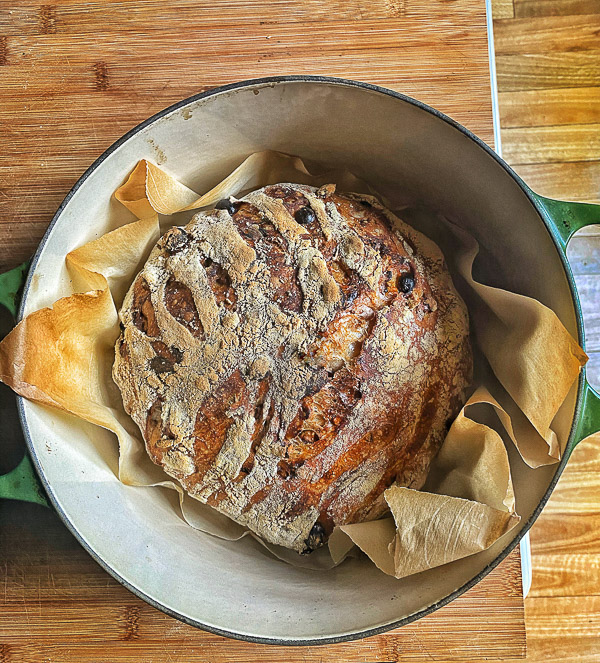 Raisin Walnut Bread for the win!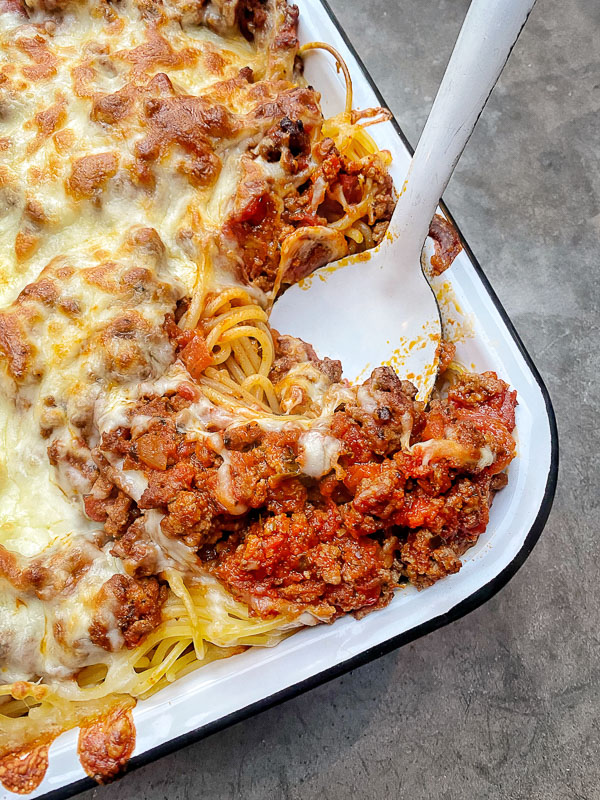 Baked Spaghetti makes everyone happy.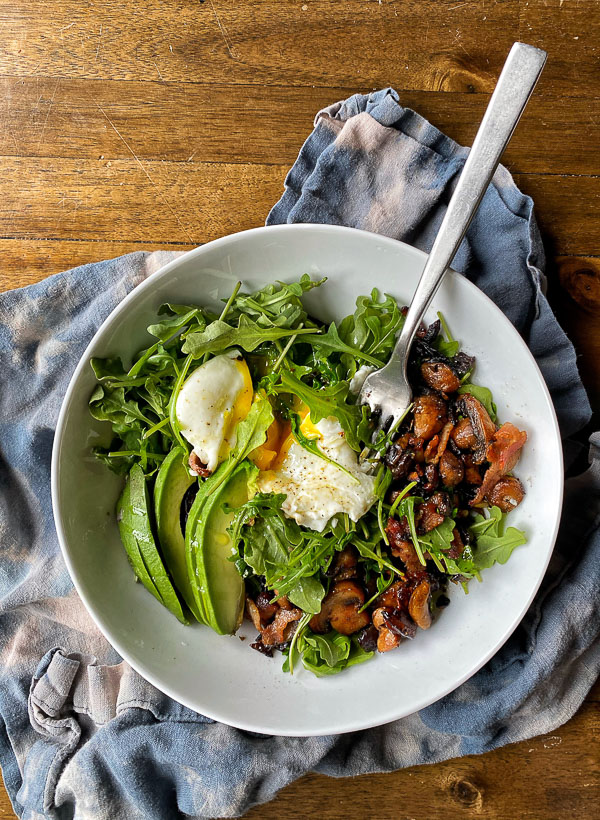 A breakfast salad that I should probably bring to the blog!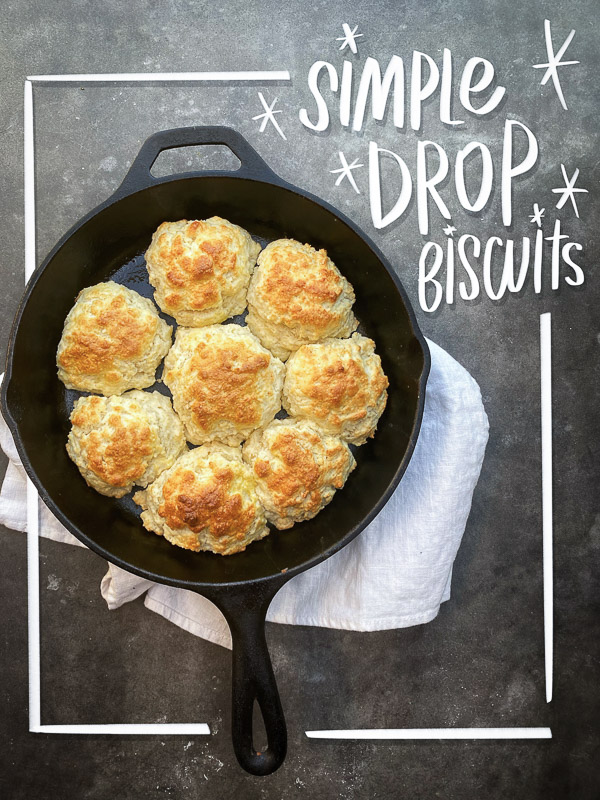 Simple Drop Biscuits worth almost running out of flour for.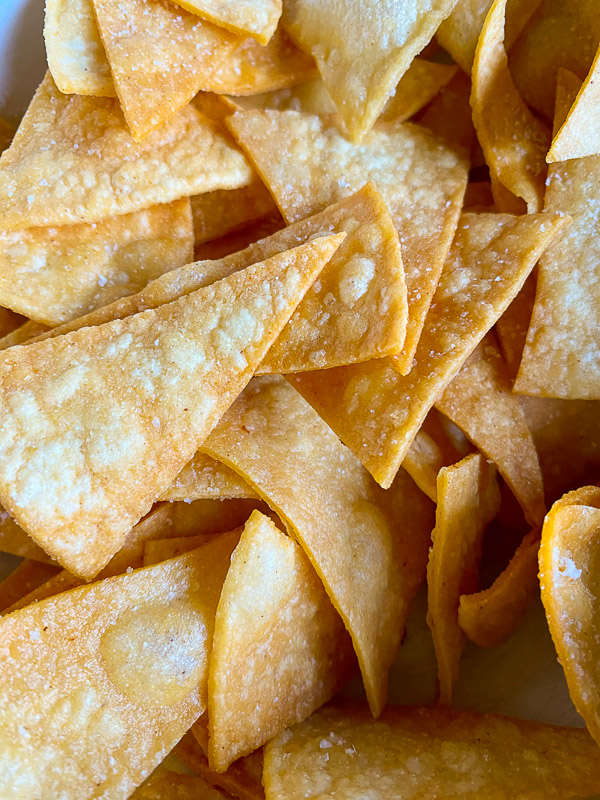 Tortilla chips made at home!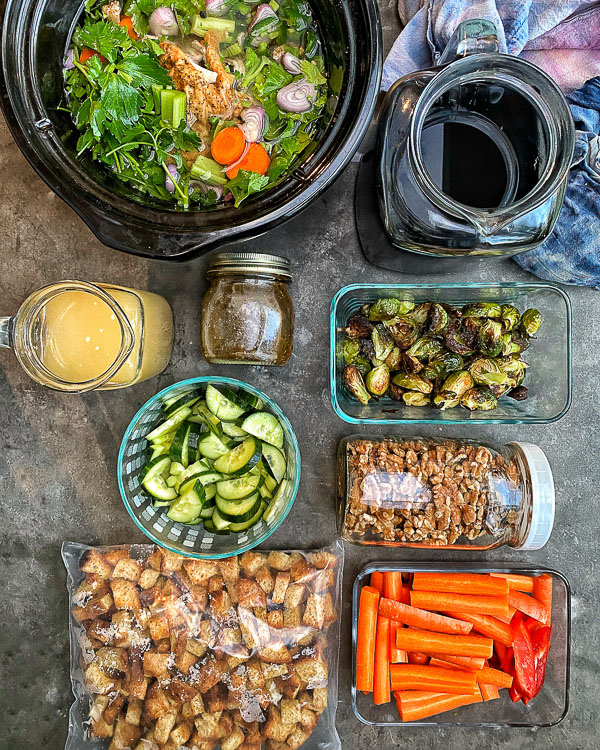 A meal prep before we were quarantined. Been making chicken stock…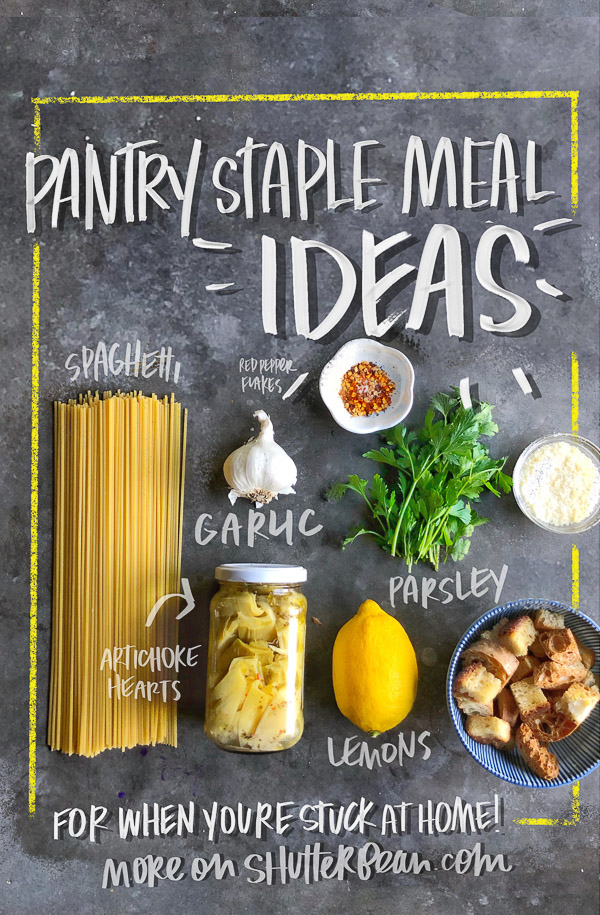 I shared my Pantry Staple Meals this month.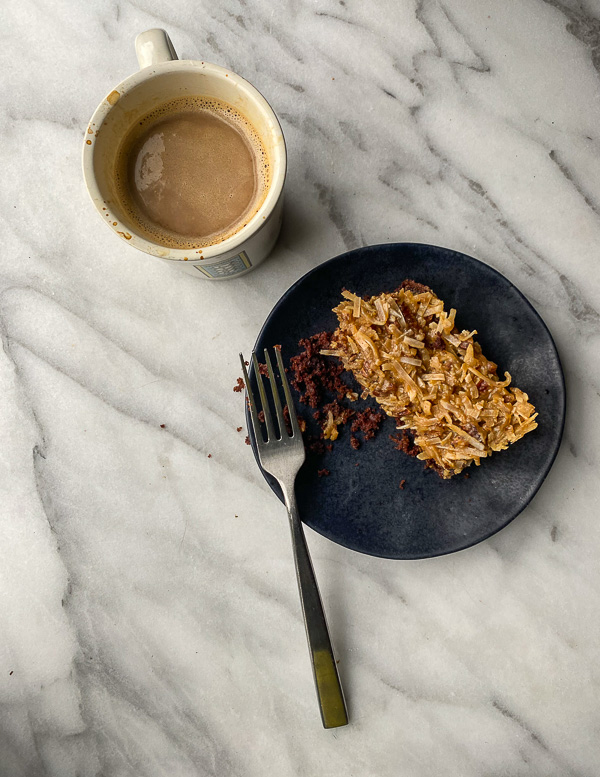 Casey's birthday cake! Made this German Chocolate Sheet Cake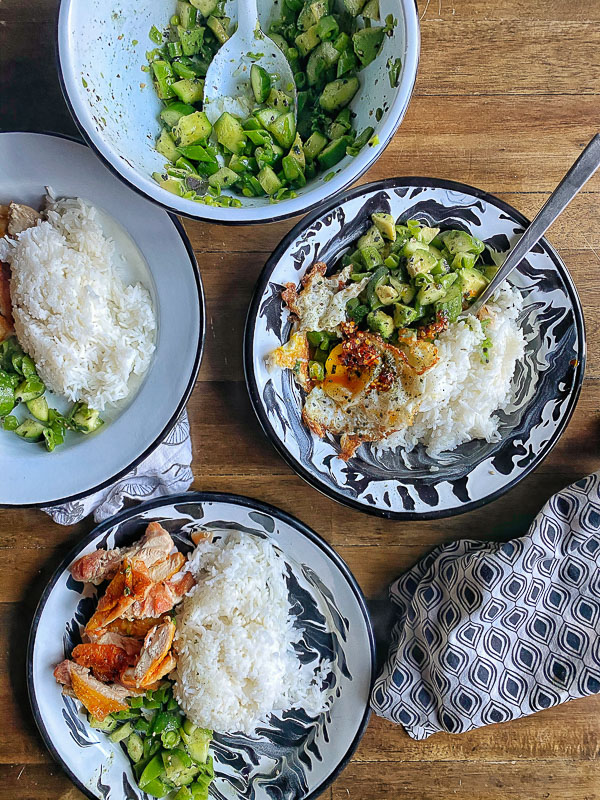 Cracklin' Chicken is Cooper's favorite.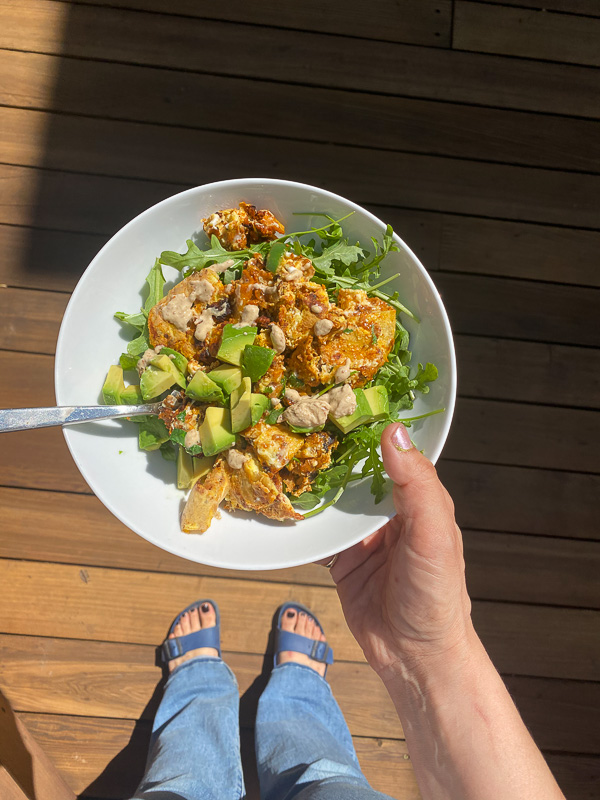 I will never take fresh produce for granted again.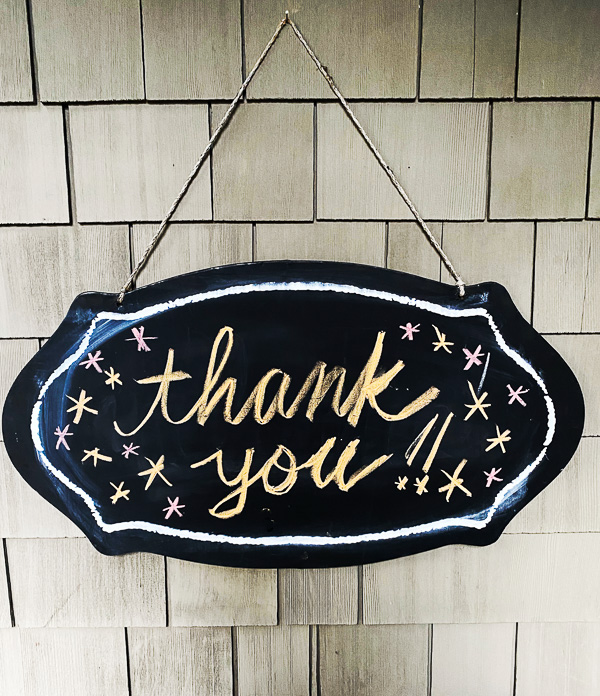 Grateful For:
I am grateful for all of the people who are working in public for us.
I am grateful that people are following the guidelines of sheltering in place.
I am grateful for my health.
I am grateful for technology because it keeps us connected! Having a Zoom meeting with my family has been wild! I did an art date with my niece over Facetime and it was the best. Facetiming with friends has also been a nice silver lining! People are less busy and have more time to chat. I like it.
Self Portrait for March 2020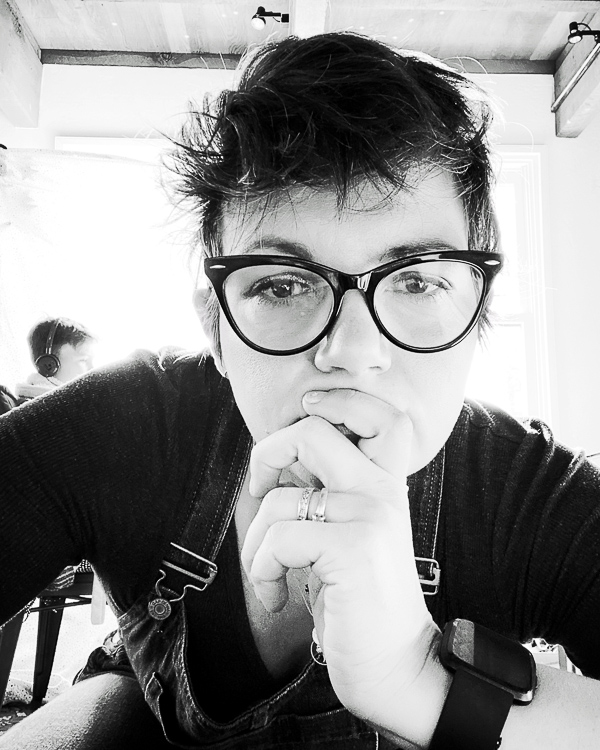 Trying to be prepared for what comes next.
Goodbye March, hello April.