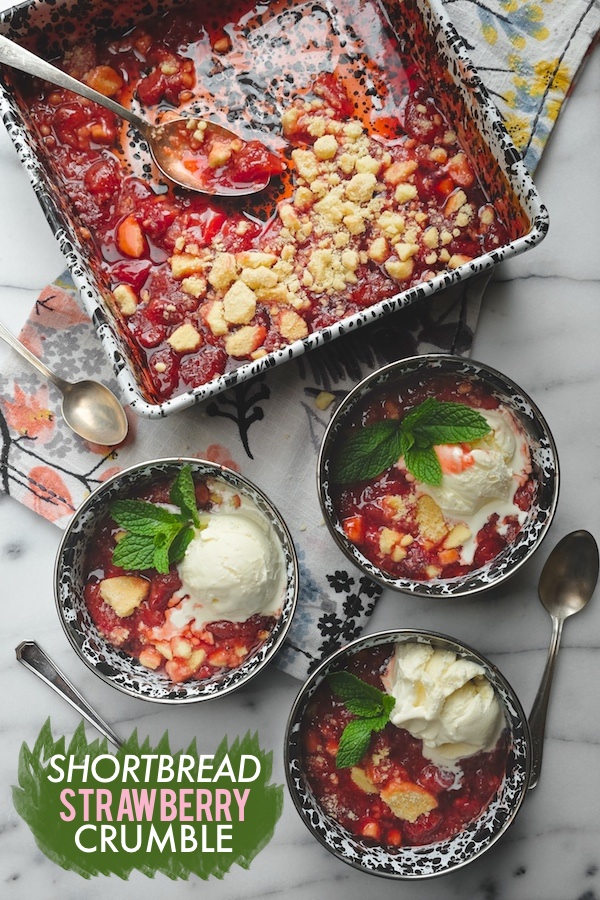 I am still riding a high from Memorial Day Weekend. Can we prolong the weekend? Please? Can I just sit here with this Shortbread Strawberry Crumble??!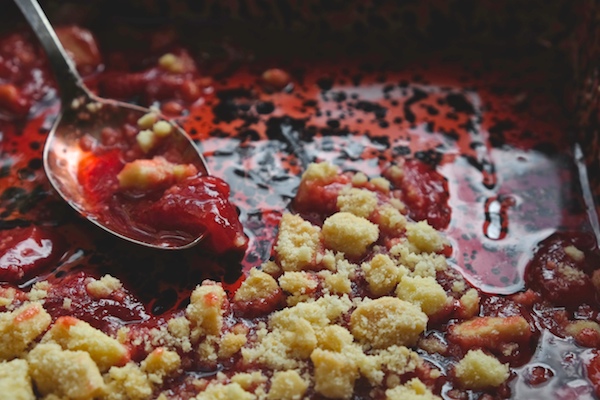 Casey and I went to one of our favorite places for the weekend and we ate like it was our last weekend on Earth. One of the highlights was the special dessert we ordered from Glen Ellen Star. And to think Casey wasn't sure if he wanted dessert! I knew it would be the first recipe I'd recreate when I got home and here it is!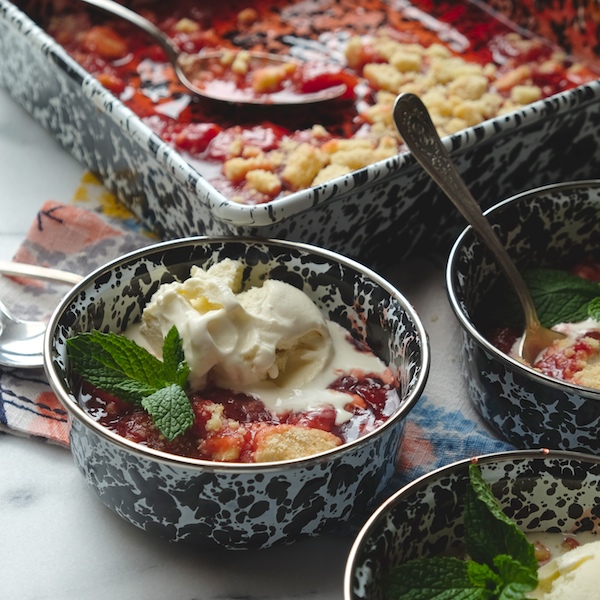 For this recipe, we take juicy strawberries and roast them. If you've never roasted strawberries, you should definitely DO IT NOW. Then we top them with crumbled shortbread cookies when they're hot from the oven. It's the simplest/most rewarding dessert. It takes no effort at all! When it comes to Summertime eats, simple is always best. Let the strawberries SHINE.
And we're off!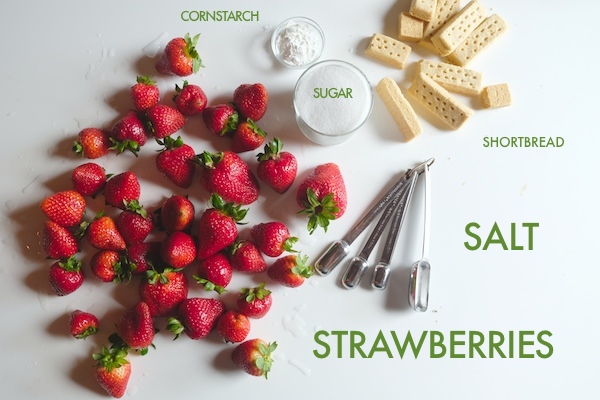 Bash up shortbread cookies!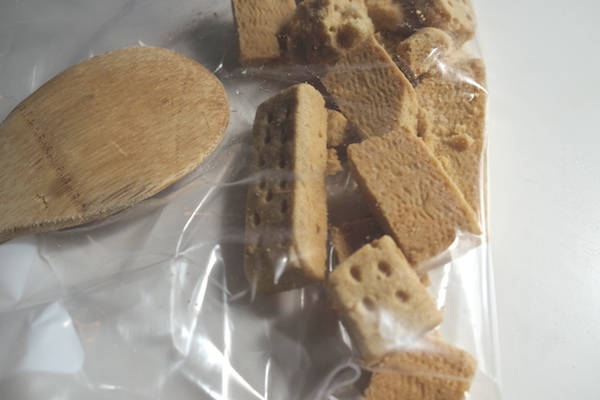 Set aside. Leave some good chunks. You'll be rewarded later 😉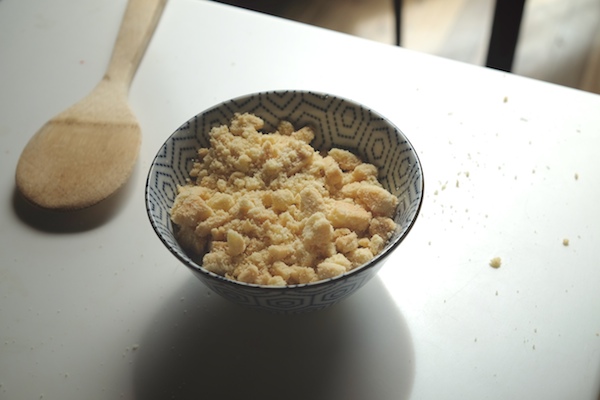 In a baking pan (I used a super cool brownie pan from Crown Canyon Home!) mix the strawberries with cornstarch, sugar and salt.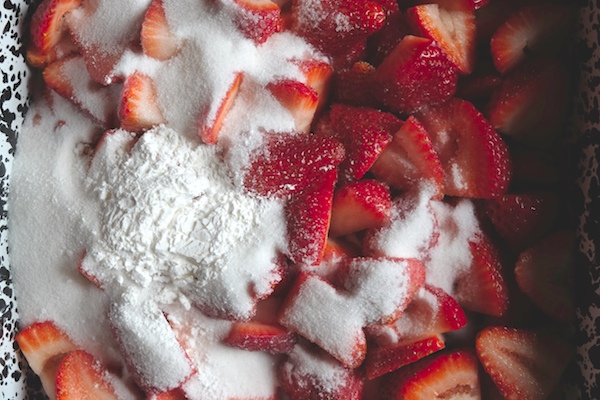 Mixed. Just wait. It gets JUICY.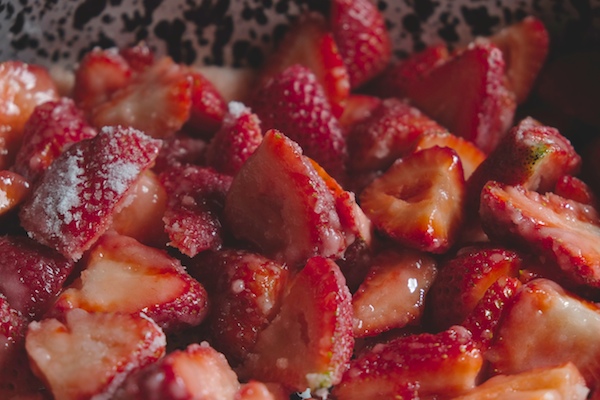 AND ROASTED.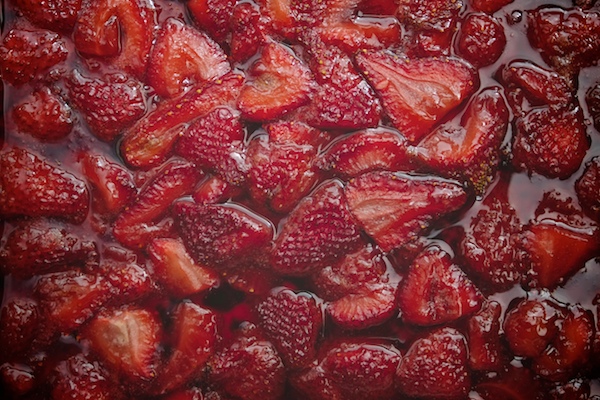 HELLO. Let's top you.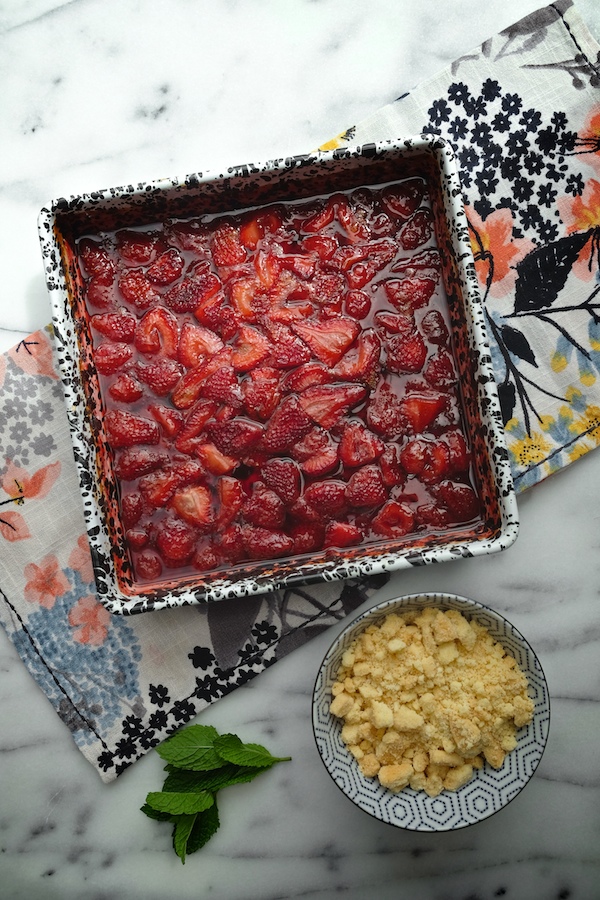 Let me just show you how juicy this is first…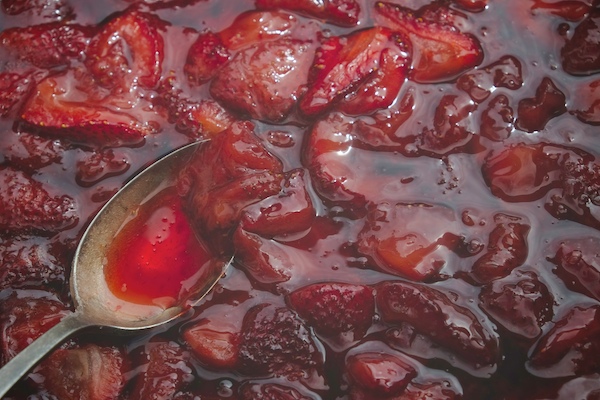 TOPPED.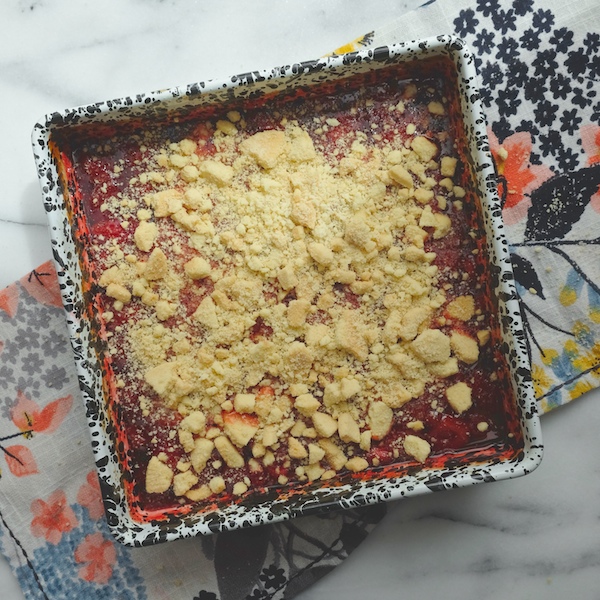 Gahhhhhhh.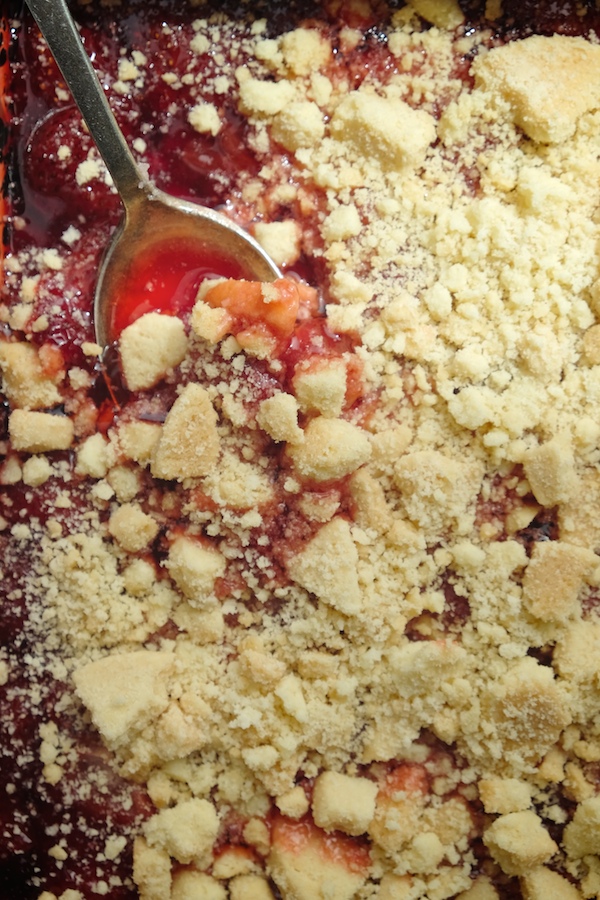 Let's talk about toppings! We're going to need vanilla ice cream and some mint sprigs!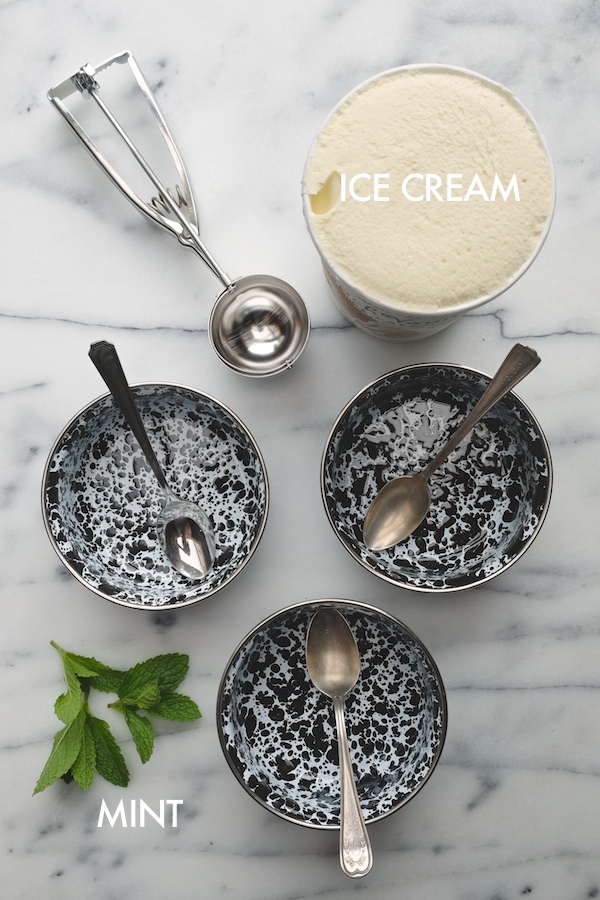 YOU GOT SERVED.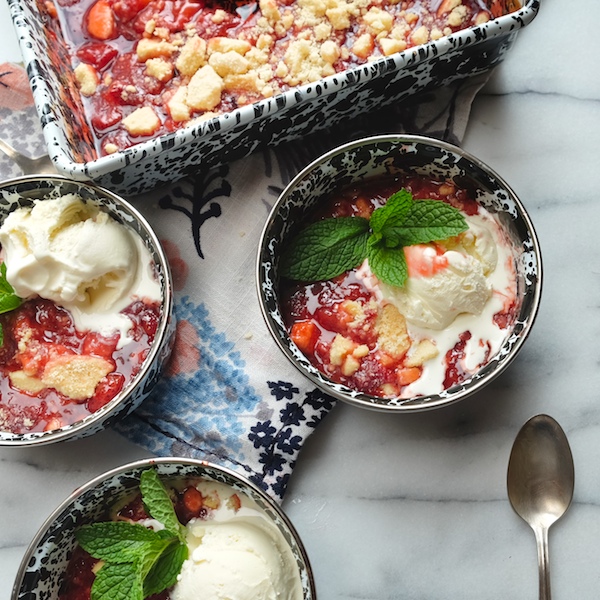 When that ice cream melts in the warm strawberry sauce…..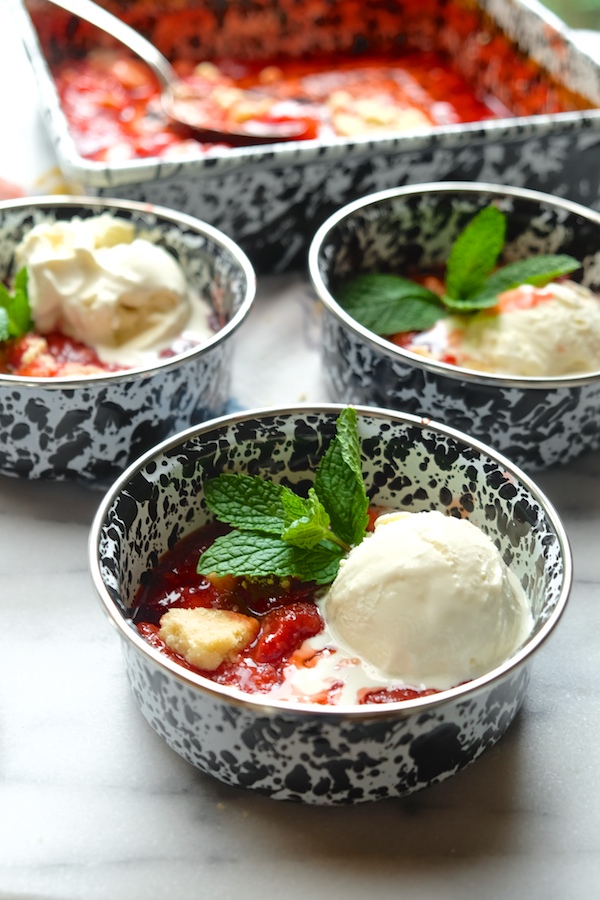 I CAN'T EVEN HANDLE IT.
Shortbread Strawberry Crumble

serves 4-5

2 lbs. strawberries, hulled and quartered
1/2 cup sugar
1 tablespoon cornstarch
1/2 teaspoon kosher salt
1 package shortbread cookies (about 16 cookies), smashed into crumbles
vanilla ice cream, for serving
fresh mint, for serving

Preheat oven to 400F. Toss strawberries with sugar, cornstarch and salt in a 9 x 9 baking dish. Roast strawberries for 30-40 minutes, or until berries burst and start bubbling. Remove from the oven and let sit for 5 minutes. Evenly sprinkles the shortbread crumbles on top of the roasted strawberries. Spoon warm strawberry crumble into small bowls. Top each serving with a scoop of vanilla ice cream and a mint sprig for garnish. Serve immediately.