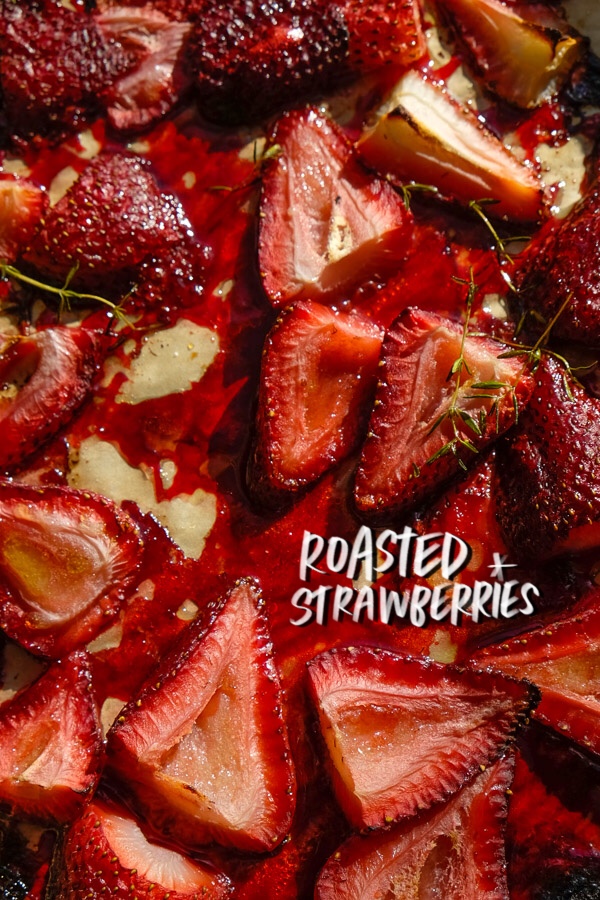 New post! Roasted Strawberries!
I'm no stranger to roasted fruit. I know how intense fruit becomes when it's been sizzling & caramelizing in a high-temperature oven. I also know how intense those thick, syrupy juices are when they burst out of the roasted fruit. I know because I'm the first one to dip my finger along the sides of the pan to collect the runoff. Can we just have a moment to look at this? Thank you.
What I didn't know about roasting strawberries is that the seeds add a whole new dimension to the experience. Their poppy crunch is pretty unreal mixed with the tender, supple structure of the roasted strawberry. I think I might really like it! Wait. I really do! How does your house smell when you roast strawberries? Divine. It's like the fruit roll-up factory made a new Strawberry Pie flavor in your kitchen. A whole new revelation is waiting for you. You're gonna love it!
And we're off!
Get your strawberries together.
Cut them all in half.
Concoction time! Mix olive oil, balsamic, maple syrup & salt!
I used an balsamic reduction for this recipe.
Pour the mixture over the strawberries & toss to coat.
Spread the berries out on a parchment-lined baking sheet and ROAST.
40 minutes later you have this…..
Let's take a moment….
to lick the parchment paper!
Put the berries in a dish.
Add them to your yogurt for breakfast! Or if you look up top, you'll see I spooned some onto buttered toast.
What are you waiting for?
Roasted Strawberries

Makes 1 heaping cup of strawberries

(recipe slightly adapted from Super Natural Every Day Cookbook)

16 oz. medium strawberries, hulled & cut in half
3 tablespoons maple syrup
2 tablespoons balsamic reduction
2 tablespoons olive oil
1/2 teaspoon fine grain sea salt

Preheat oven to 350 F. Line a rimmed baking sheet with parchment paper and set aside. Take the cut strawberries and put them in a large mixing bowl. In a separate small bowl, mix the maple syrup, balsamic reduction, olive oil and sea salt. Pour mixture over the strawberries and toss to coat.

Spread a layer of strawberries on the baking sheet and roast for 40-45 minutes. Use the strawberries immediately or store in the refrigerator for up to one week.

***Shutterbean Notes***

-The original recipe calls for balsamic vinegar & port wine to be tossed in the strawberries at the end. I used a balsamic reduction I had in my pantry and put it in at the beginning of the roasting process. If you don't have a reduction, add regular balsamic vinegar and increase the maple syrup by a tablespoon.