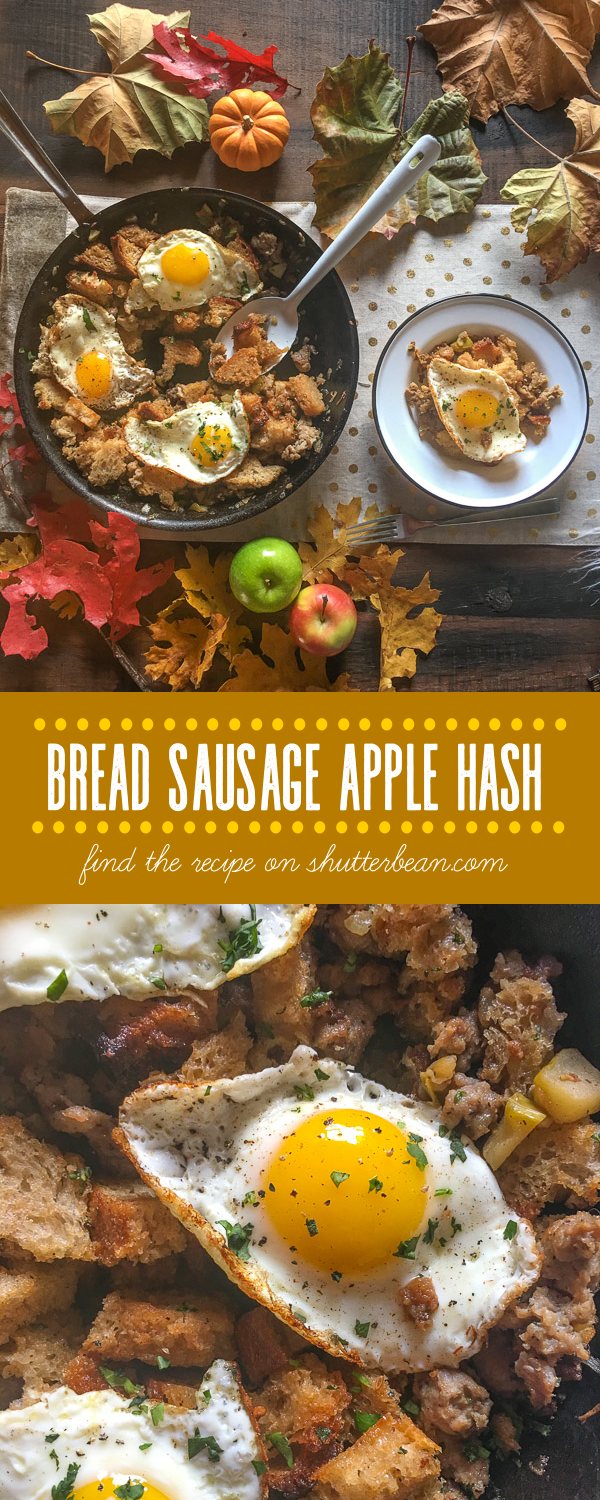 I've made several hashes in my lifetime. Heck, I made a ton with I was on Whole 30!  I was browsing through a Julia Turshen's book- Small Victories Cookbook and thought this recipe for Bread Sausage Apple Hash would be the perfect thing to
break the whole30 with
whet your appetite for Thanksgiving meals
serve company for breakfast or breakfast for dinner!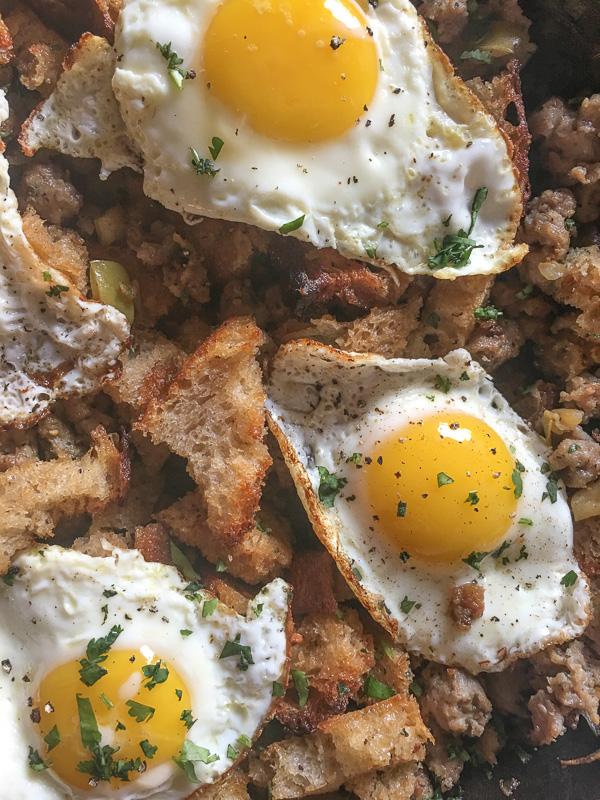 So what's a bread hash? It's a lot like stuffing but a little less mushy.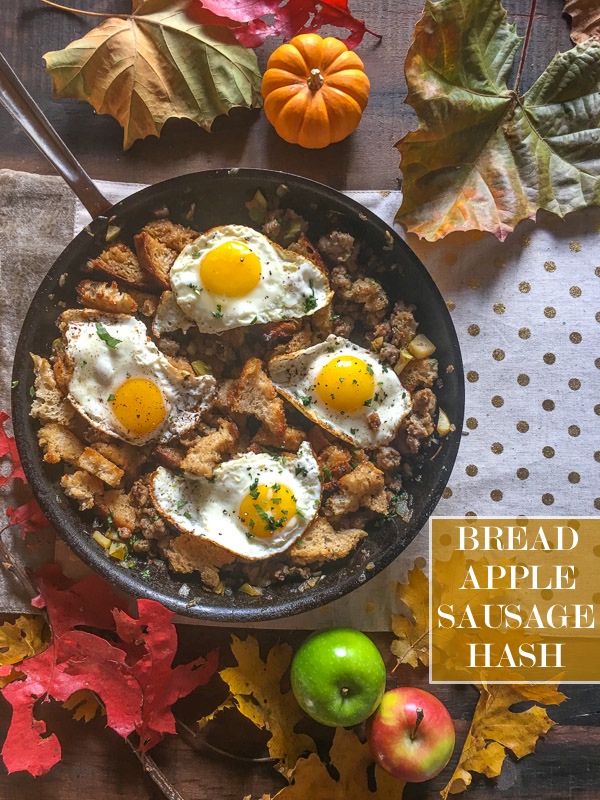 This recipe has a sweet savory vibe. The sausage is balanced out with the tart/sweet apples and the flavors enhanced with a nice dose of sage.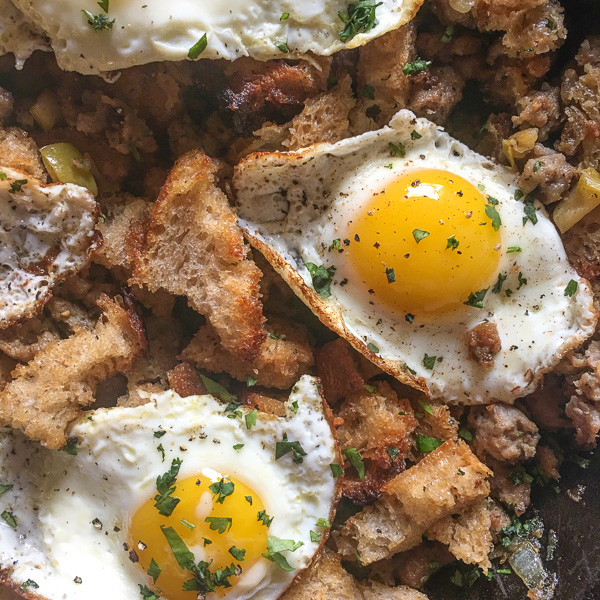 Any excuse to have bread, sausage & eggs is fine with me!
Let's gather our ingredients: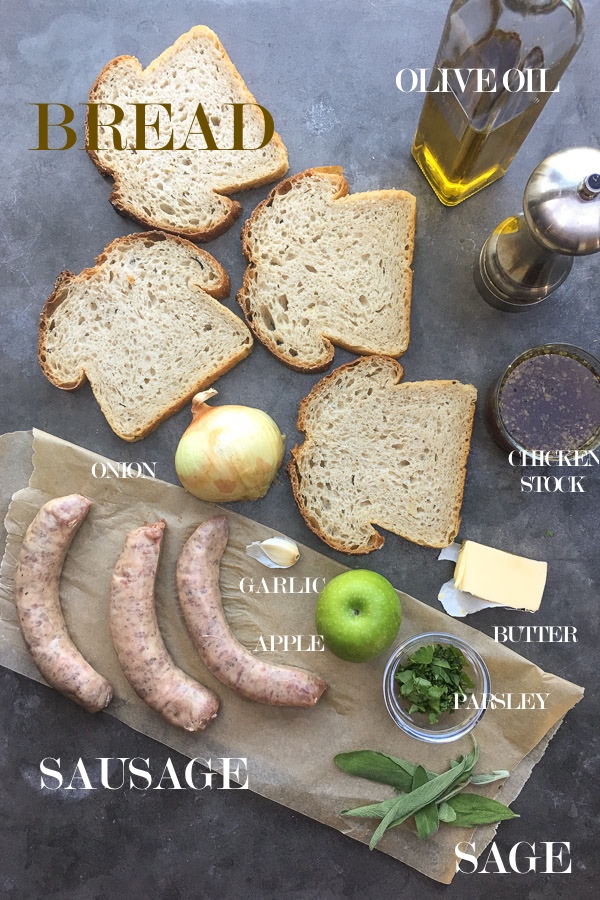 I forgot to include some eggs in the ingredients shot. So here are some eggs! We're gonna fry them after the sausage hash has been made.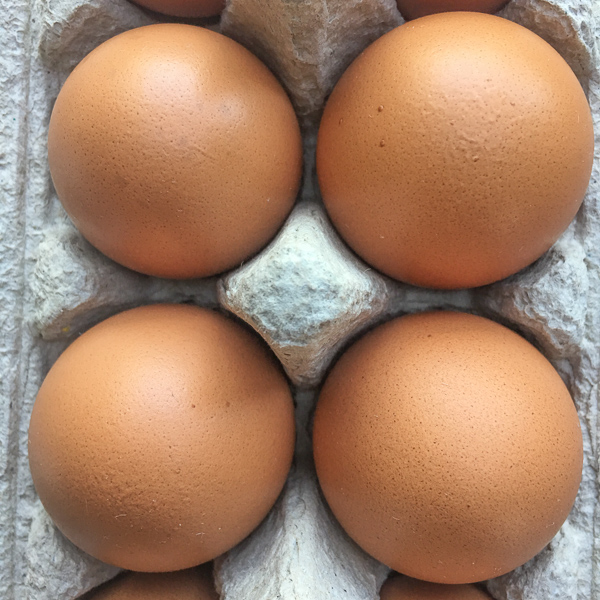 First we take some bread. GLORIOUS BREAD.
I used a super thick sourdough slice for this.  Tear up the bread into bite-sized and put it on a baking sheet. TOAST!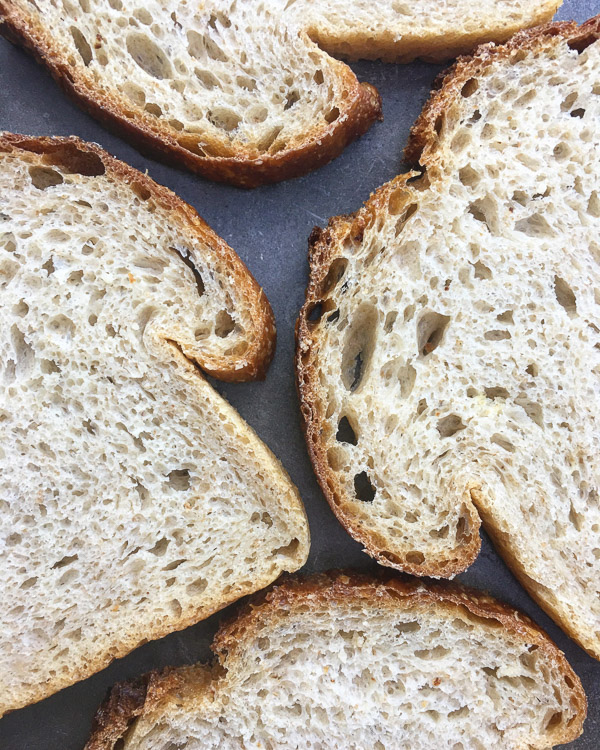 Chopping party.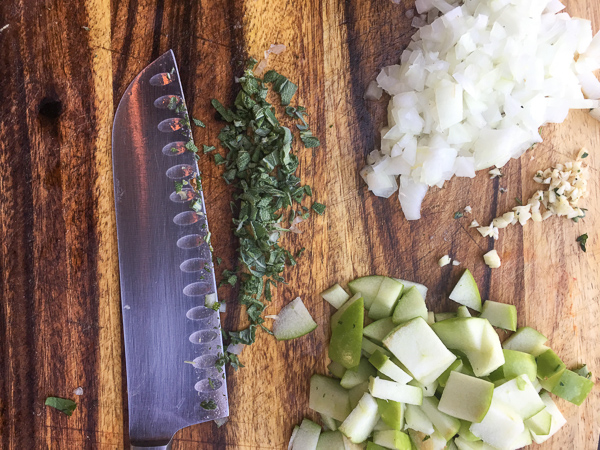 Sausage is removed from casing and browned in a little olive oil.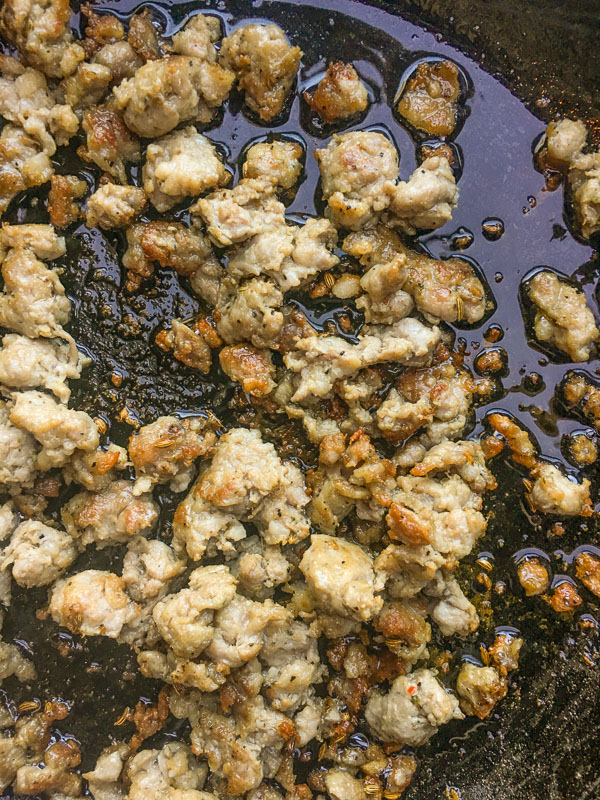 Onions, apples and BUTTER.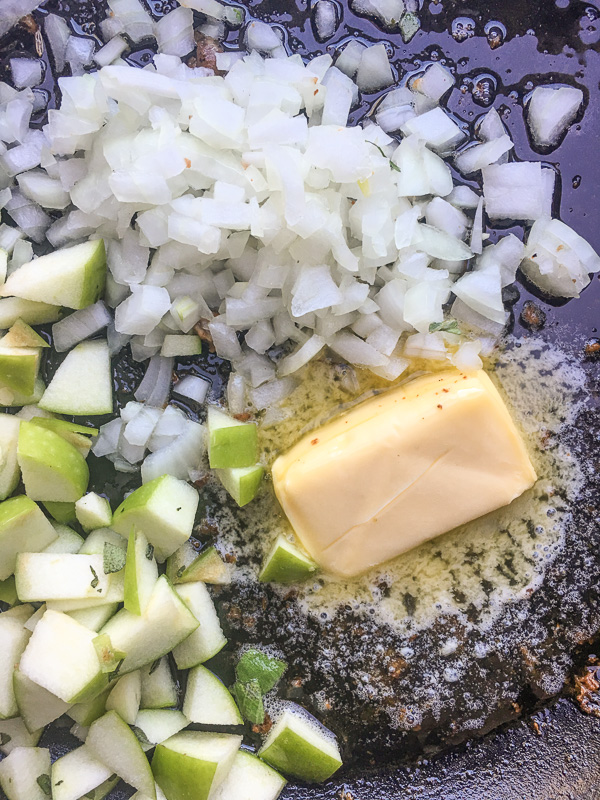 Oh look. Toasted bread is done.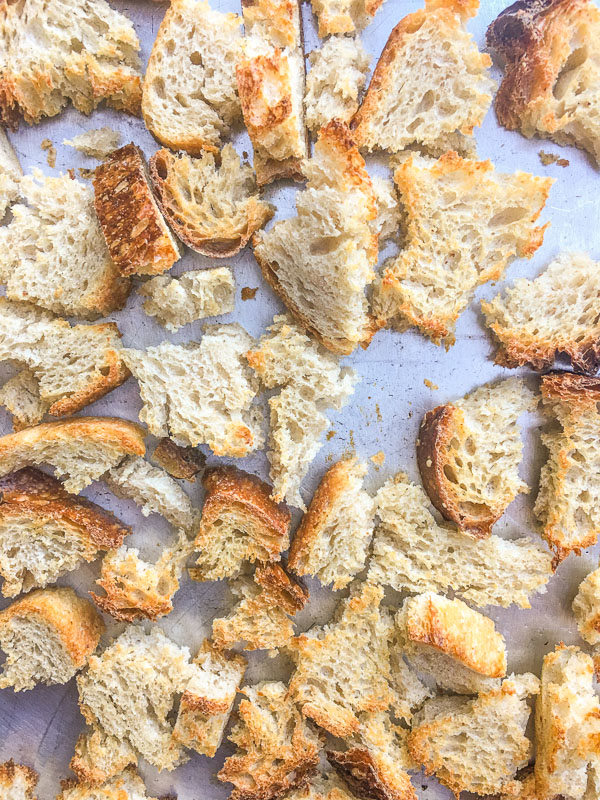 Apples are cooked. Sage and chicken stock were added.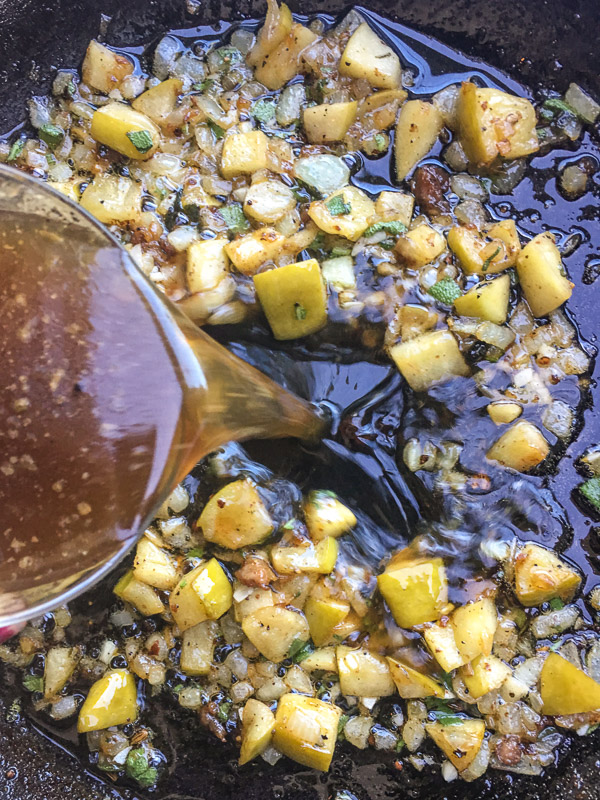 When mixture starts to boil, we marry the sausage & bread with the sauce.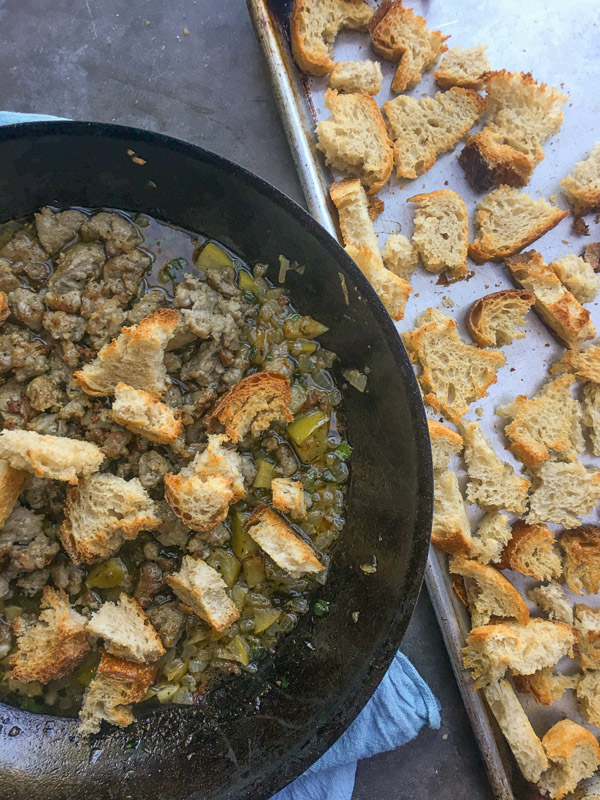 MMMMMM.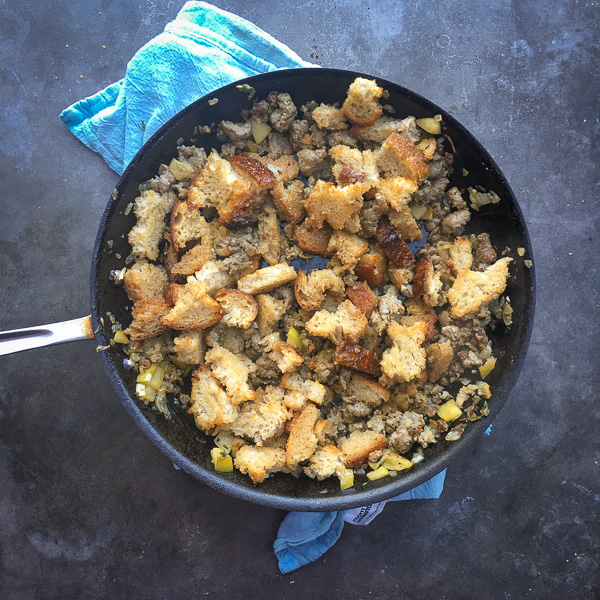 If you've ever had the bread salad with your chicken at Zuni, this recipe reminds me of that.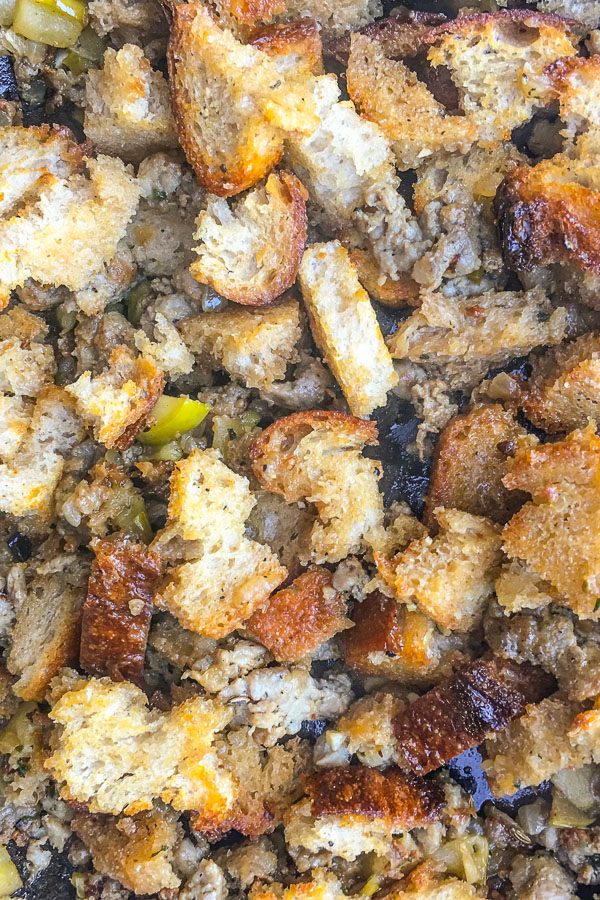 Eggs are fried and placed on the hash. Parsley for serving.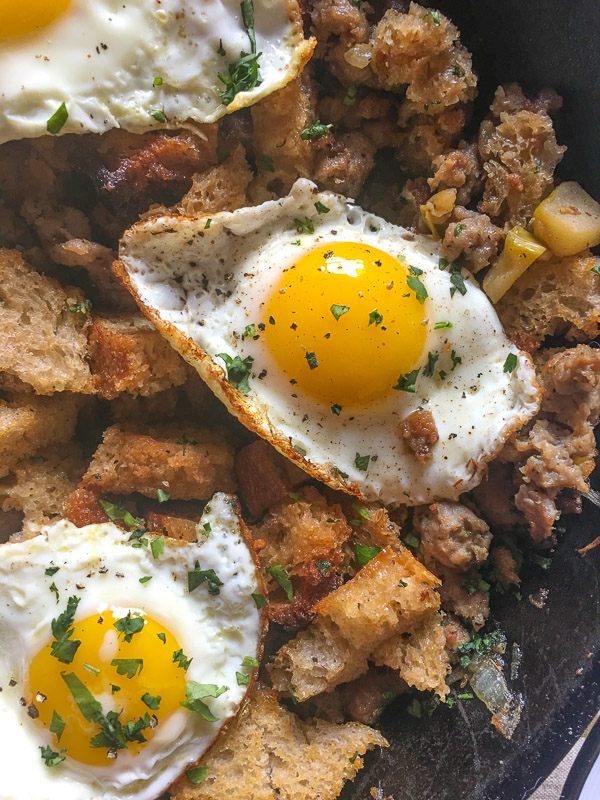 This is the idea situation. Bread dunked in that EGG YOLK.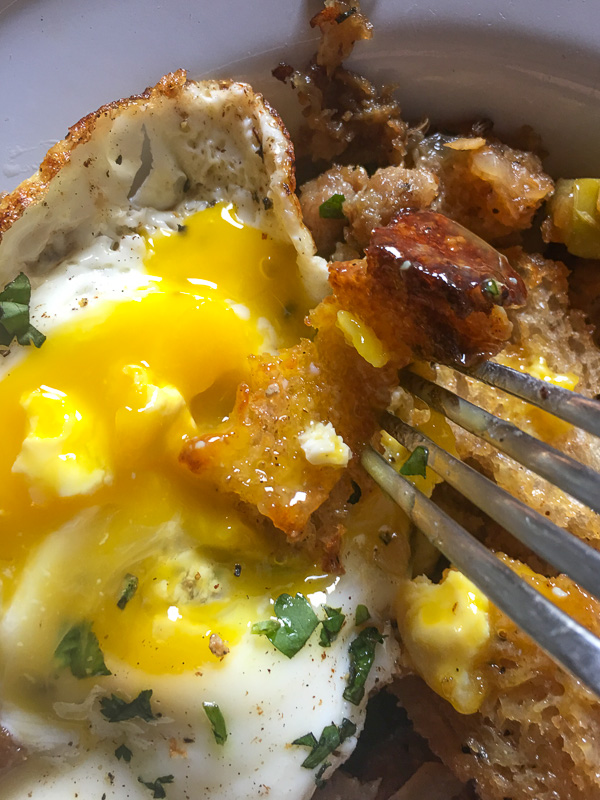 It's an easy way to bring the flavors of Thanksgiving into breakfast!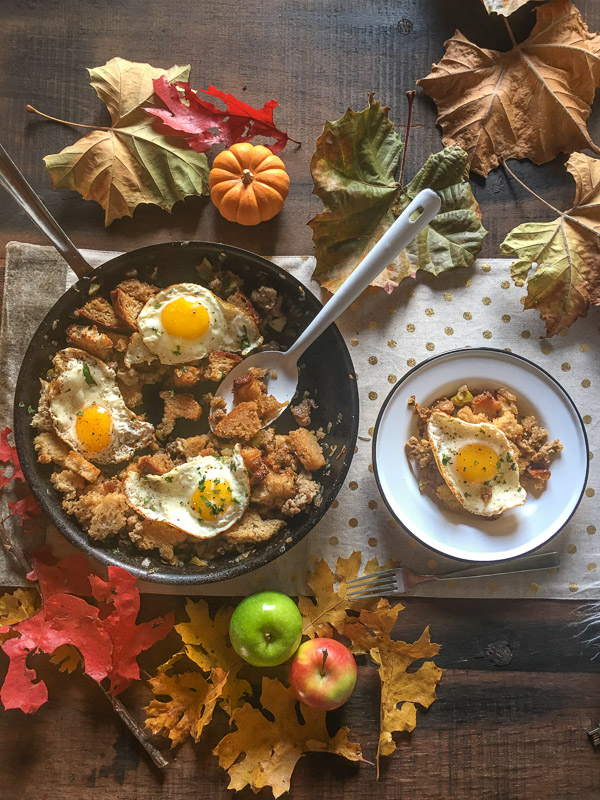 Even better yet, make breakfast for dinner!
Julia Turshen is hosting an online Friendsgiving to raise awareness for childhood hunger with her No Kid Hungry fundraiser.  Every $10 donated can help connect a child with up to 100 meals!!!  No child should have to grow up hungry in this country. 
Bread Sausage Apple Hash

Serves 4

Recipe from Small Victories Cookbook

4 thick slices day old bread

2 tablespoons extra virgin olive oil

8 oz. sweet Italian sausage, casings removed

2 tablespoons unsalted butter

1 green apple, halved, cored, and cut into ½ inch dice

½ small yellow onion, finely diced

Kosher salt

Freshly ground pepper

6 fresh sage leaves, finely chopped

1 garlic clove, minced

¾ cup chicken stock or vegetable stock

A small handful of chopped Italian parsley

4 fried eggs

Preheat oven to 400F.

Put the bread on a baking sheet and toast, stirring now and then, until it is browned and crisped, about 10 minutes. Set aside.

Meanwhile, in a large skillet over medium high heat, warm the olive oil. Crumble sausage into pan and cook, stirring, until the meat is browned and the fast is rendered, about 10 minutes. Use a slotted spoon to transfer the sausage to a plate, leaving the fat in the pan.

Turn the heat to medium-low; add the butter, apple, and onion to the pan; and season with a generous pinch of salt and a few grinds of pepper. Cook, stirring now and then, until the vegetables begin to soften, about 10 minutes. Add the sage and garlic and cook, stirring until the garlic has lots its raw edge and smells fragrant, about 1 minute.

Add the chicken stock to the pan and bring to a boil. Use a wooden spoon to scrape the bottom of the pan, picking up any browned bits. Add the toasted bread and sausage, stirring every now and then until the bread is slightly softened, all over the liquid has evaporated and it smells like Thanksgiving, 5 minutes or so. Stir in the parsley and season to taste with more salt and pepper. Serve immediately, topped with fried eggs.