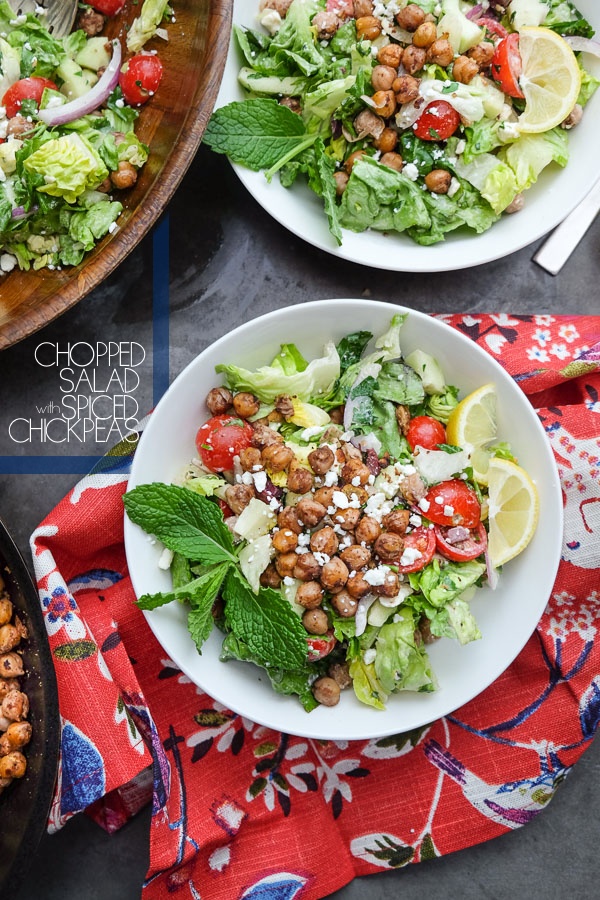 I am soooooooo close to finishing  It Was Me All Along by Andie Mitchell.  It's a fantastic read; I've been savoring the last few pages. I read a great deal on our trip to Vancouver. If you're curious, here's a quick synopsis from Amazon:
"A heartbreakingly honest, endearing memoir of incredible weight loss by a young food blogger who battles body image issues and overcomes food addiction to find self-acceptance."
YES.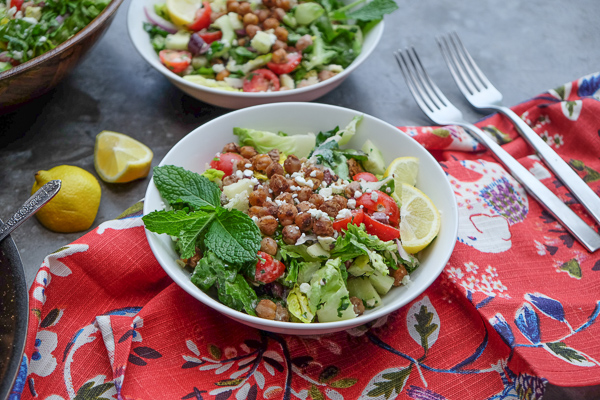 And while I've been reading her book, Andie's cookbook Eating in the Middle  landed on my doorstep!  I feel like her way of eating is super similar to mine. She's all about balance when it comes to food and you know how it goes here on Shutterbean…
healthy food + indulgent food = happy Tracy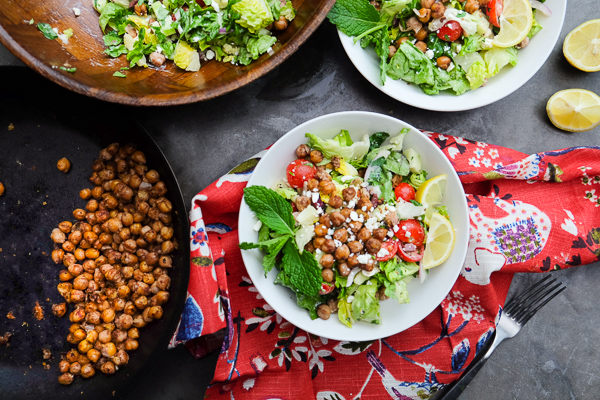 So, here I am starting off with one of her healthier recipes– Chopped Salad with Spiced Chickpeas!  Fret not, I am soooooo going to make her Peanut Butter Mousse Pie with Marshmallow Whipped Cream (!!!) next.
Casey and I really enjoyed this salad. The spiced chickpeas makes it a very substantial, hearty salad. I swear, it kinda tastes like a shawarma. I think it's something about the spice in the chickpeas, the tahini dressing and of course the parsley, feta & tomatoes.  Definitely going to add this to one of my future meal preps!
Let's gather our ingredients: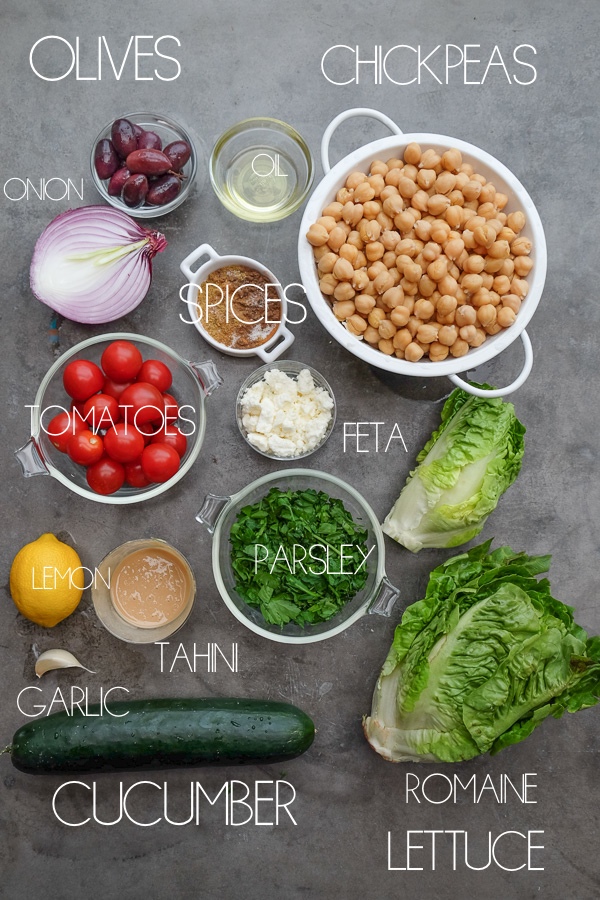 We start with the dressing. It's tahini, lemon juice, garlic & water.
Her recipe called for a bit of fresh chopped tarragon but my store was out. Womp womp.
If I didn't kill my oregano plant, I would have chopped some fresh herbs in the dressing.
Next time! And there will be a next time fo sho.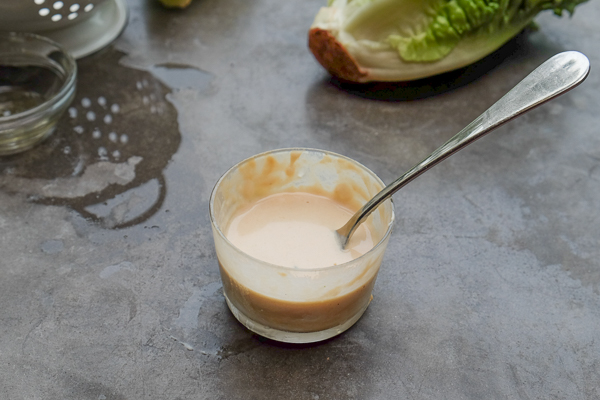 Chickpeas + spice mix + oil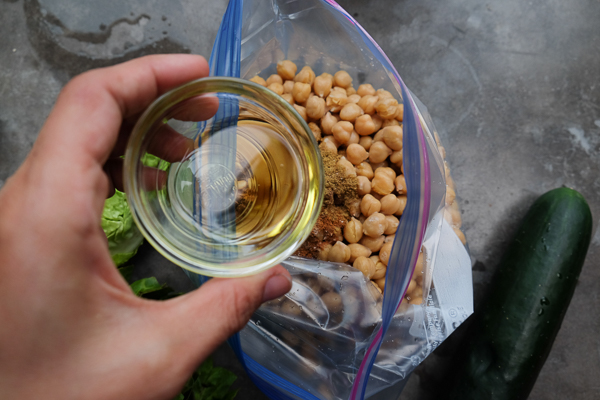 I like the way you work it.  I gotta bag it up.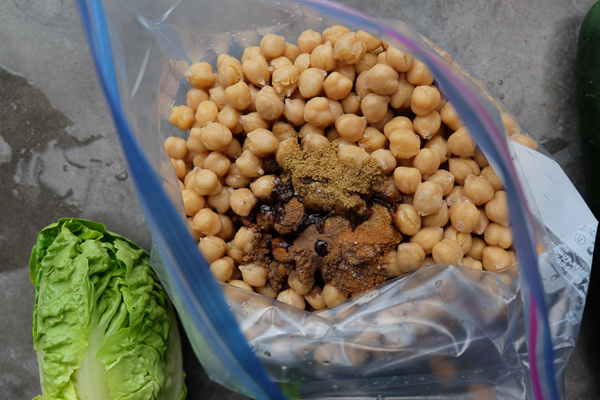 Bean bag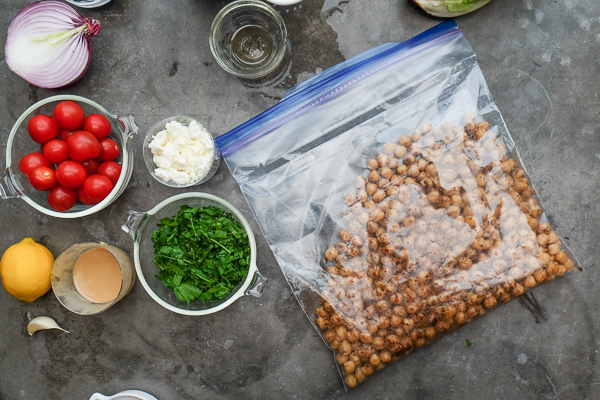 Beans in a skillet!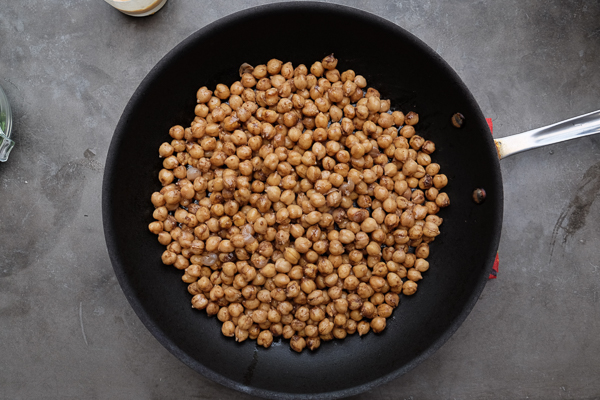 Cook them until they get crispy.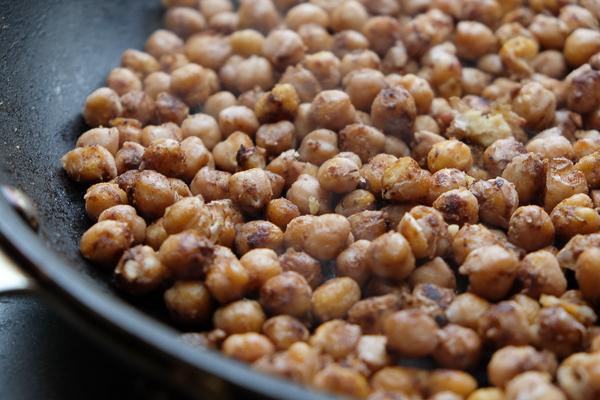 Assemble the salad.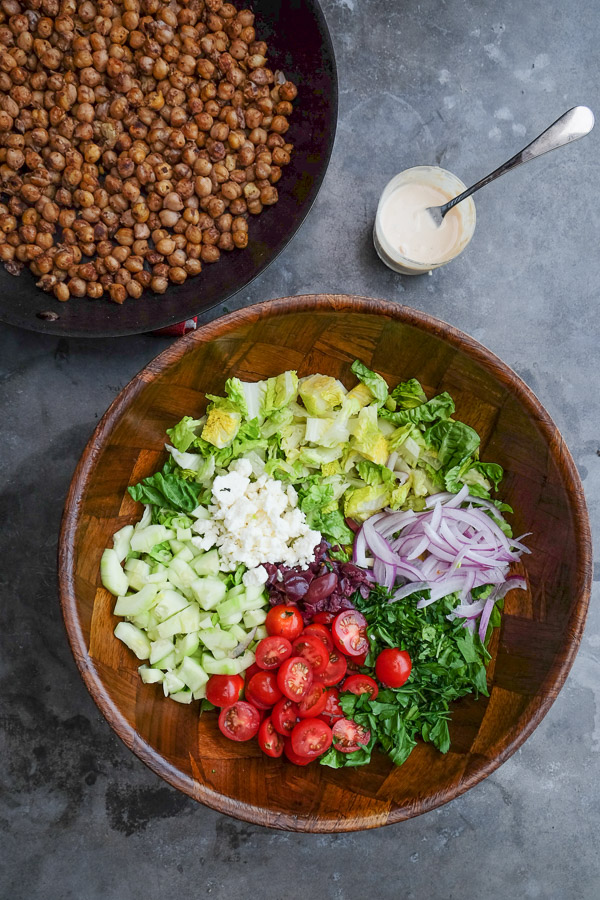 Chopping is my therapy.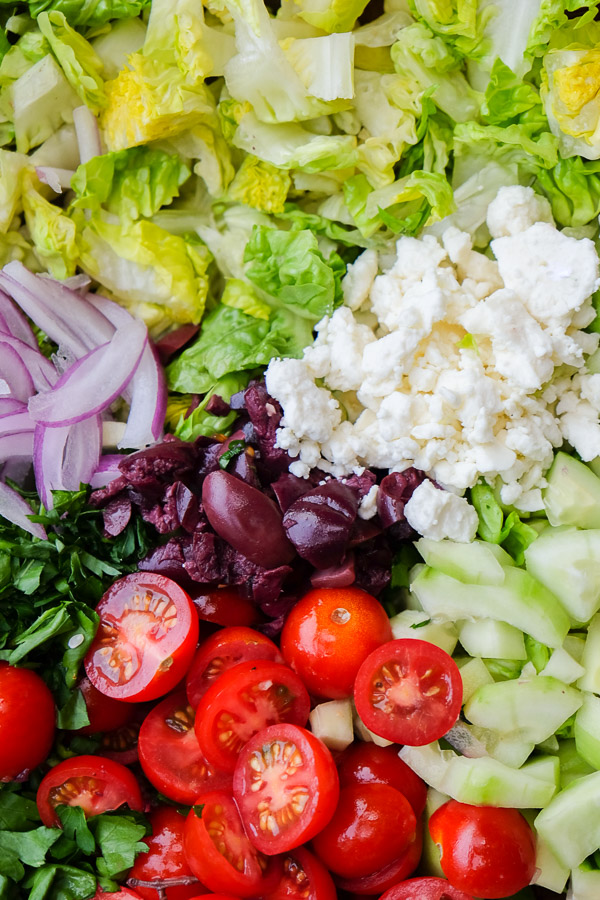 Salad gets dressed.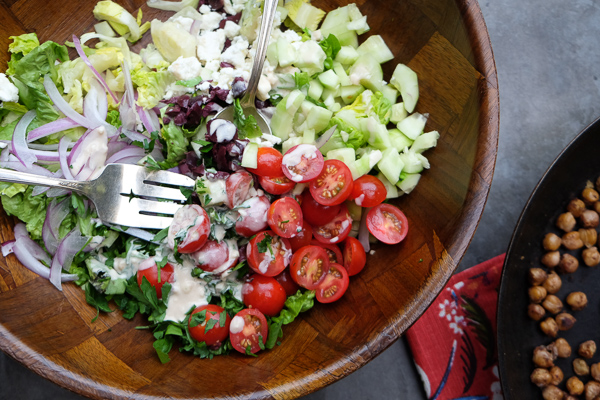 Chickpeas go on top.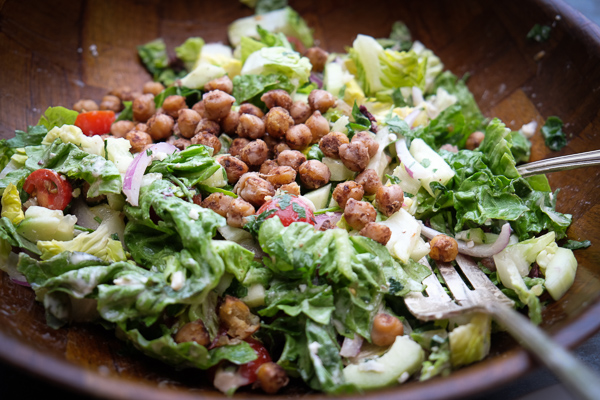 If you want to bring some to work, portion out some salad without the dressing.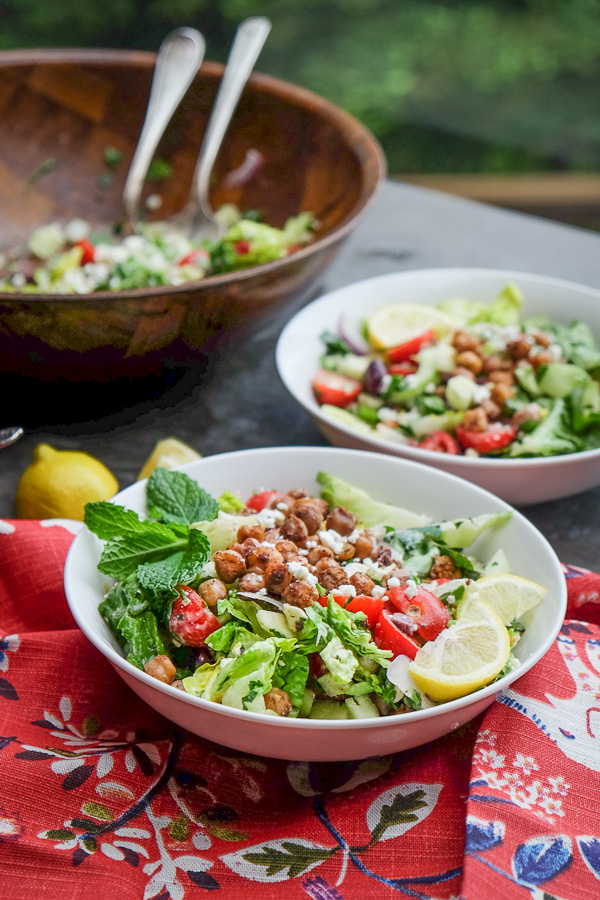 You're going to love those chickpeas.
Chopped Salad with Spiced Chickpeas

serves 4

recipe slightly adapted from Eating in the Middle 

for the dressing:

3 tablespoons tahini
2 tablespoons fresh lemon juice
1 garlic clove, minced
pinch salt

for the salad:

2 romaine lettuce hearts, chopped (about 6 cups)
1 medium cucumber, peeled, halved lengthwise, seeded & chopped into 1/2 inch pieces
1 pint grape tomatoes, halved
1/3 cup chopped pitted kalamata olives
1/2 cup packed chopped flat-leaf parsley
3 oz. feta cheese, crumbled (about 3/4 cup)
spiced chickpeas (see below)

For the dressing, in a small bowl, whisk together the tahini, lemon, juice and 2 tablespoons of water. Whisk in the garlic and salt.

For the salad, in a large bowl, toss together the romaine, cucumber, tomatoes, olives, onion and parsley.

To serve, divid the salad among four serving bowls. Top each with a quarter of the feta, a quarter of the chickpeas and 2 tablespoons of the dressing.

Spiced Chickpeas 

(makes 3 1/4 cups)

1 teaspoon ground cardamom
1/2 teaspoon ground cinnamon
1 1/2 teaspoons allspice
1 teaspoon ground cumin
generous pinch cayenne pepper
1/4 teaspoon salt
2 – 15 oz. cans chickpeas, rinsed & drained
2 teaspoons olive oil

In a small bowl, combine the cardamom, cinnamon, allspice, cumin, cayenne and salt.

Pat the chickpeas dry with paper towels. Put them in a gallon sized resealable plastic bag with 1 teaspoon olive oil. Add the spice mixture, reseal the bag and shake to coat the chickpeas with the spices.

In a 12-inch nonstick skillet, heat the remaining 1 teaspoon of oil over medium-high heat. Add the chickpeas and sauté, shaking the pan occasionally, until they are browned and crispy, about 5-8 minutes. Let chickpeas cool and serve them with salad.