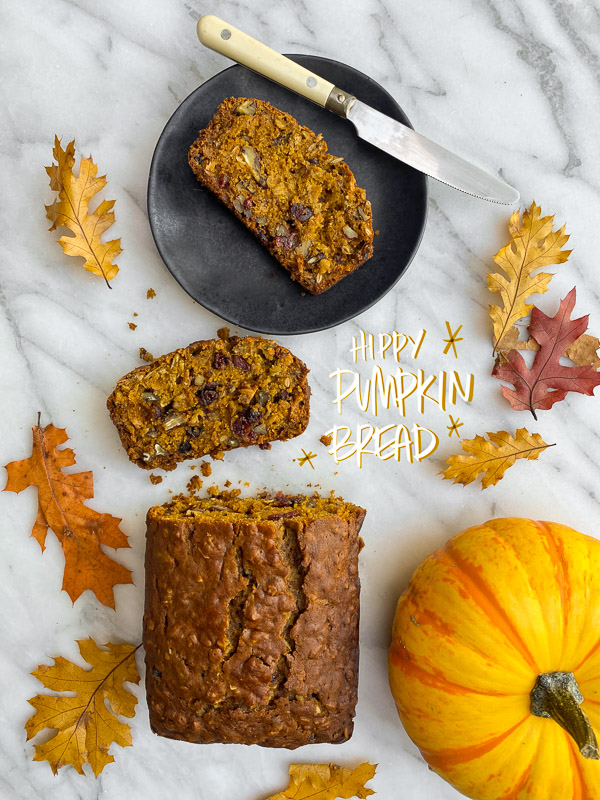 We all know and love Hippy Banana Bread right?? Now that it's Autumn, let's shift gears and make Hippy Pumpkin Bread!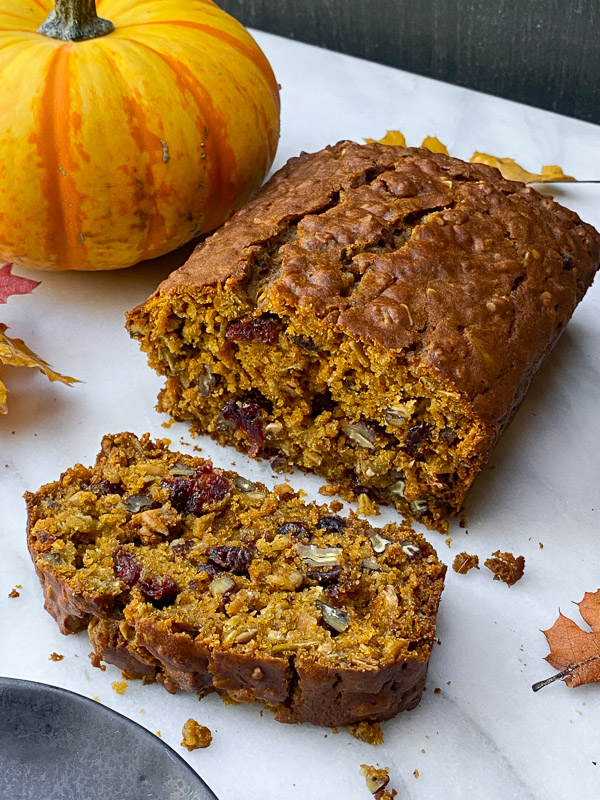 What's better than warm Autumn light hitting a cup of coffee and a slice of pumpkin bread???!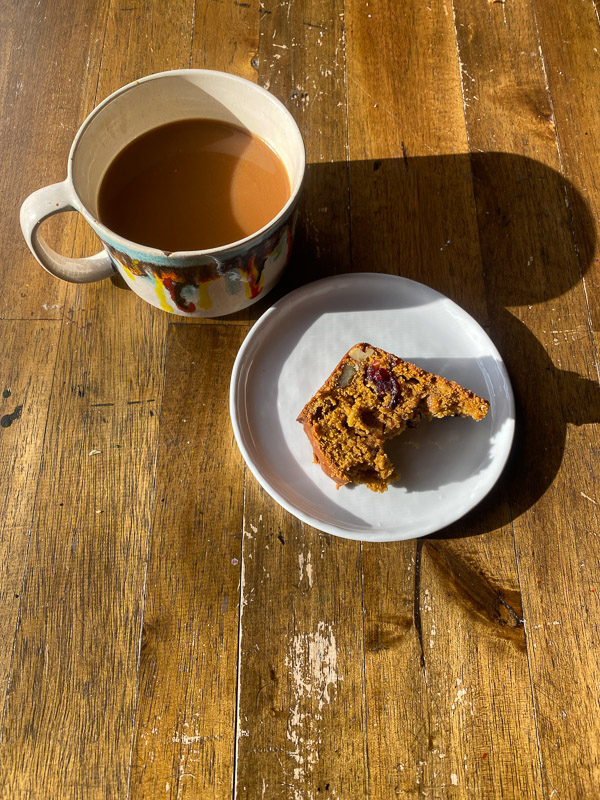 In this new iteration, we have
oats!
pepitas!
dried cranberries!
pecans!
With just the right amount of sweetness this 42-year-old woman desires (hint: NOT TOO SWEET!). Let's get to baking!
Ingredients involved: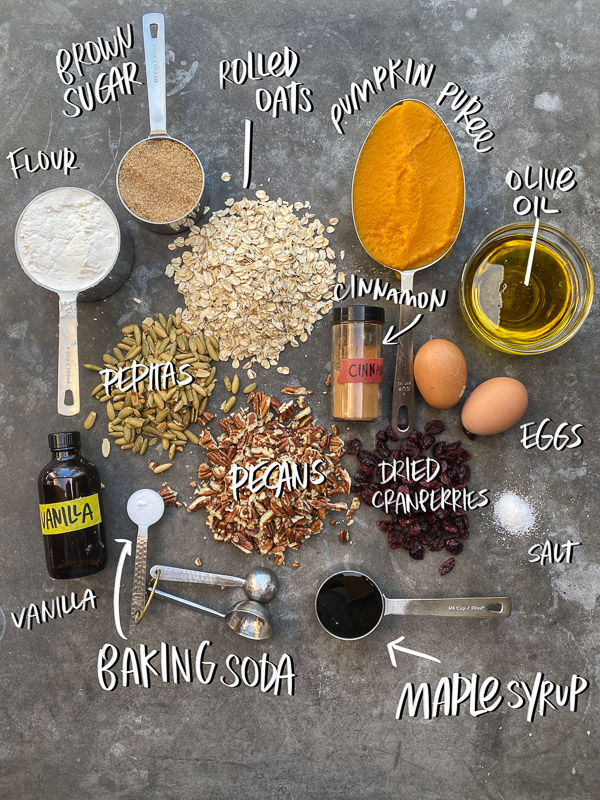 We mix the dry ingredients.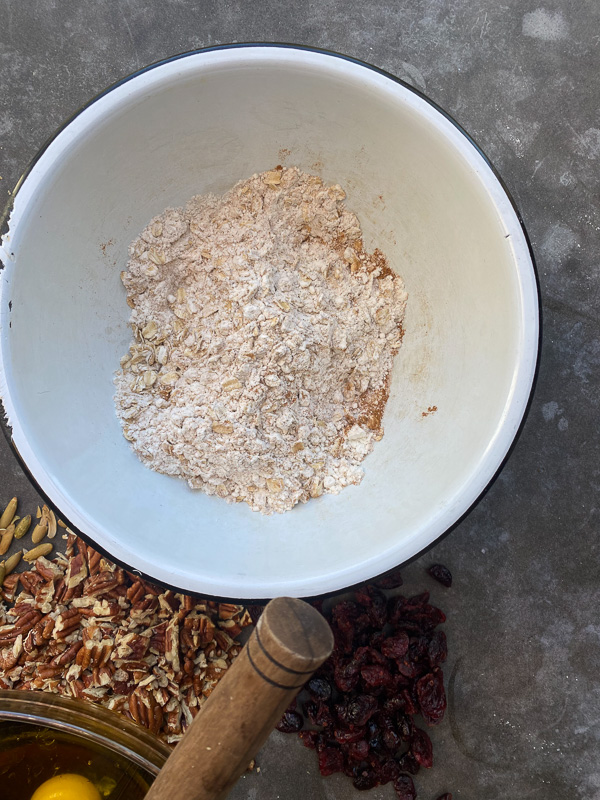 We mix the wet ingredients & brown sugar!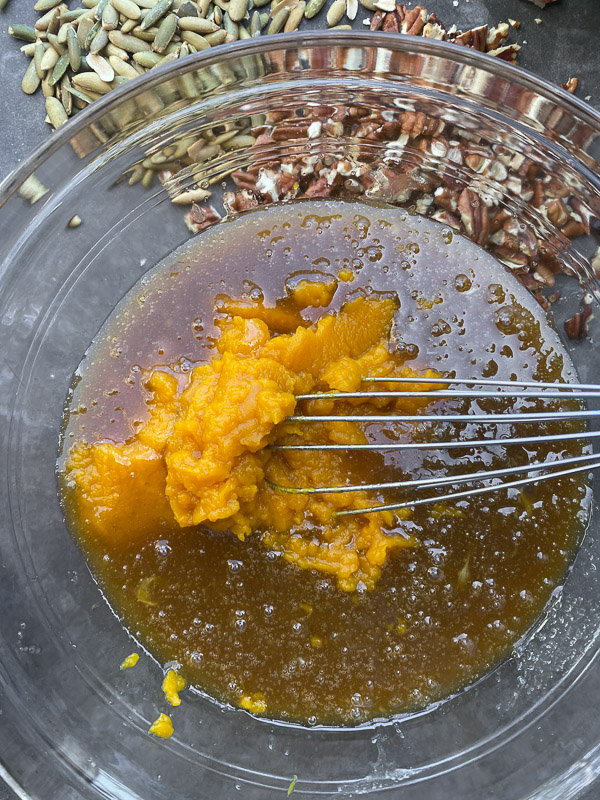 Dry meets wet.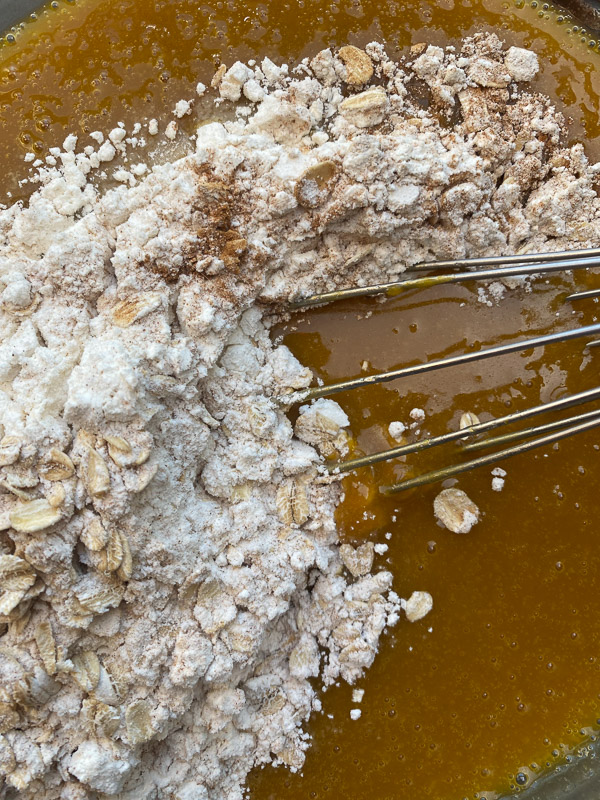 All of the things!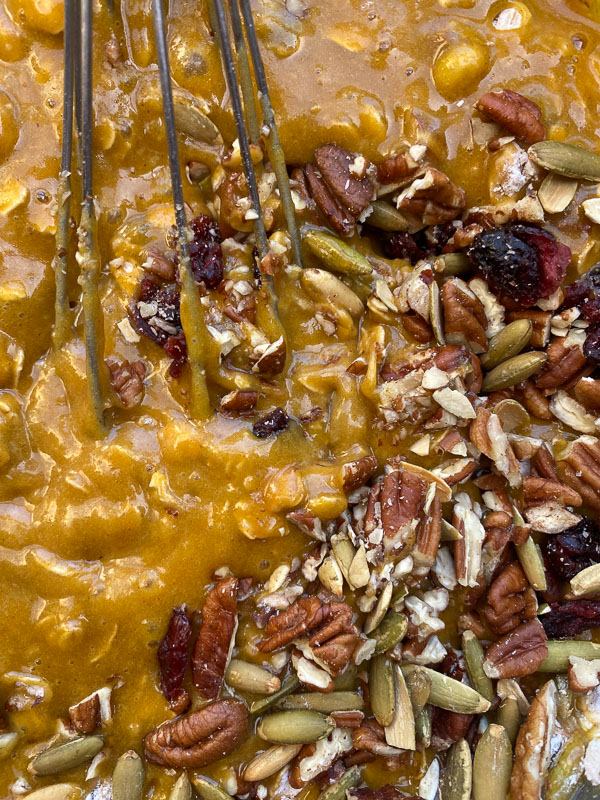 Such a pretty batter.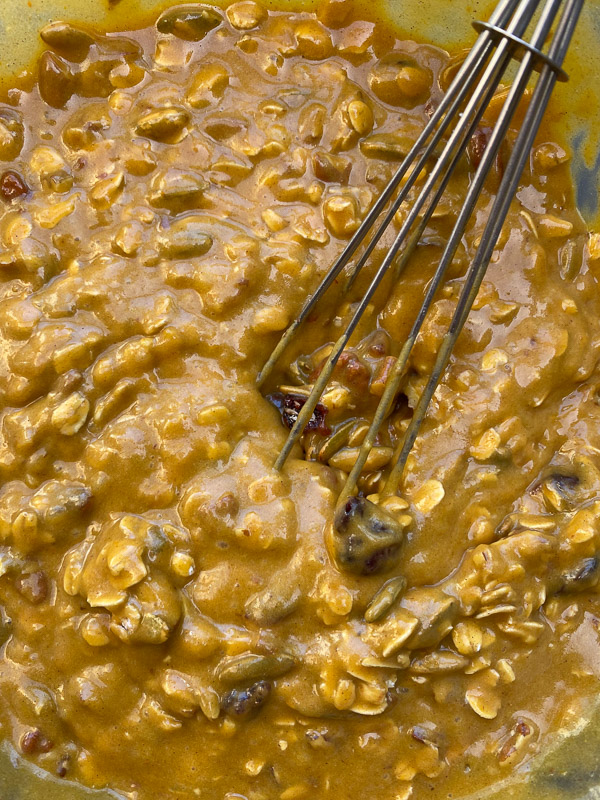 Batter goes into prepared pan.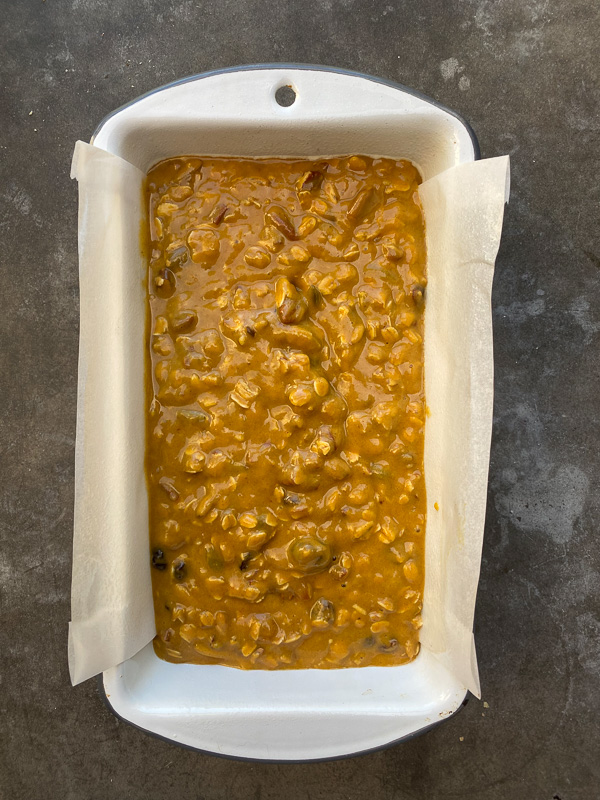 BAKED!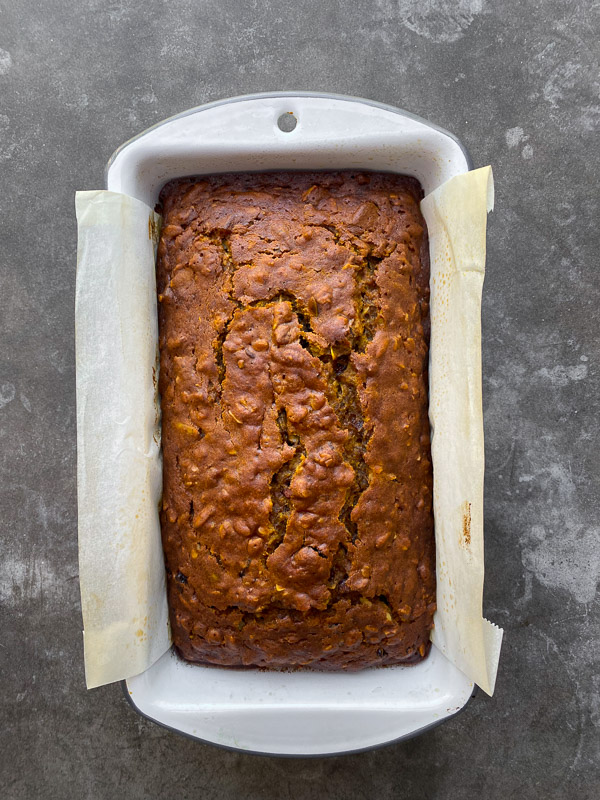 Let cool and then dig in!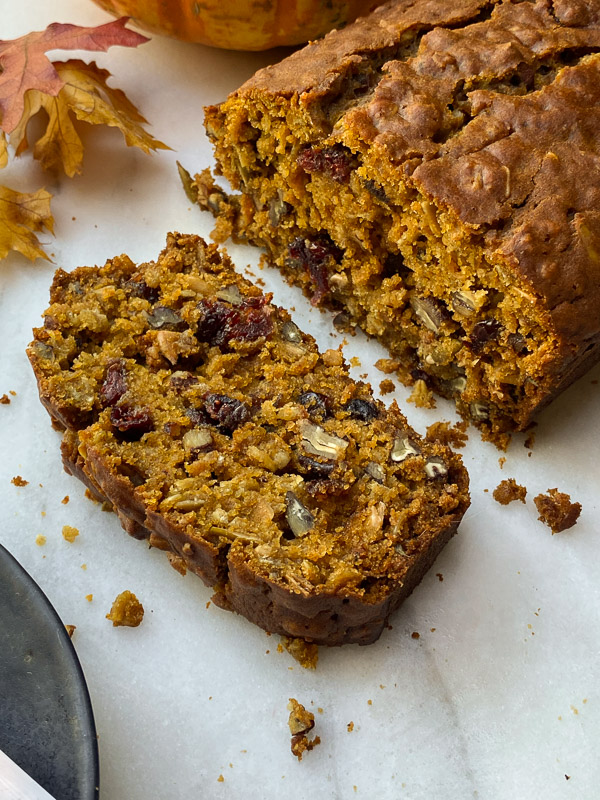 I normally could eat several pieces of bread but there's so much goodness in each piece that it fills you up!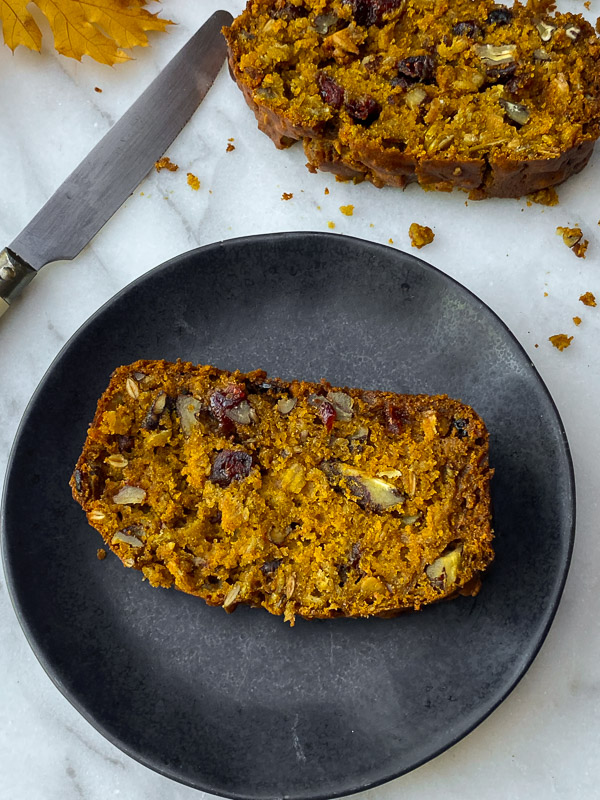 It's like a portable bread/granola hybrid. I'm in love.
Hippy Pumpkin Bread

makes 1 loaf

1 cup all-purpose flour

3/4 cup rolled oats

1 teaspoon baking soda

1 teaspoon salt

2 teaspoons ground cinnamon

1/2 cup olive oil

1/2 cup brown sugar, packed

1/4 cup maple syrup

1 1/2 teaspoons pure vanilla extract

2 eggs

1 cup pumpkin puree

1/2 cup chopped pecans

1/2 cup dried cranberries

1/3 cup raw pepitas

Preheat oven to 350F.

Butter an 8 x 4 inch loaf pan. Line pan with a piece of parchment paper, with the long sides overhanging. Lightly butter the parchment, then set the pan aside. (cooking spray can be used instead of butter)

Whisk together the flour, oats, baking soda, salt and spices in a medium bowl. Set aside.

In a large bowl, whisk together the olive oil and brown sugar, breaking up any lumps. Add the maple syrup and vanilla, whisking until smooth. Add the eggs, one at a time and beat until fully incorporated followed by the pumpkin puree. Add the flour mixture to the liquids, stirring until just combined. Stir in the pecans, cranberries, and pepitas until fully incorporated. Pour batter into the prepared pan, and even out the top if necessary.

Place bread in the oven and bake until a knife inserted in the middle of the loaf comes out clean, about 55-60 minutes. Remove from the oven, and leave the bread to cool in its pan for 10 minutes. Using the parchment sling, lift the bread out of the pan, unwrap and allow to cool completely on a wire rack before serving.