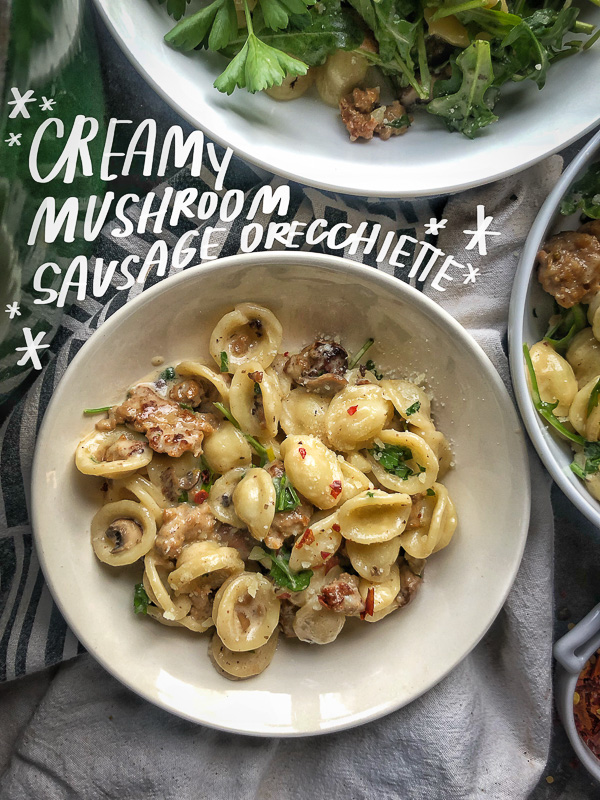 I have a thing for sausage and mushroom. It's always what my Mom ordered on her pizza and the combination became all-time favorite too. See also: pizza bowls This Creamy Mushroom Sausage Orecchiette dish is comfort in a bowl. It's actually my cousin Elaine's recipe, although I took the liberty and added a bunch of arugula to the mix.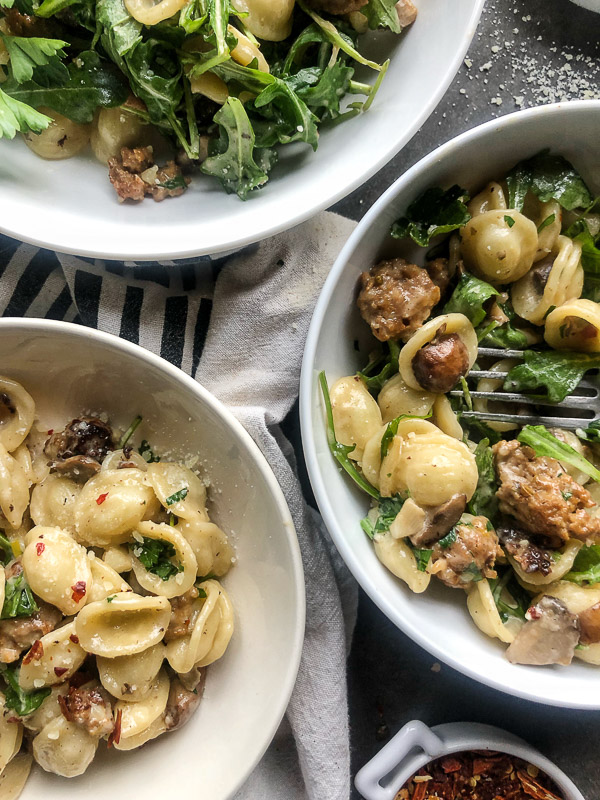 It's January. It's practically salad now, huh?
My cousin Elaine has always been my cooking mentor. It's probably because anytime my Mom went to visit her back east, she would launch into a "Tracy! You should have seen what Elaine made us!" conversation followed by her showing off a handwritten recipe from Elaine. She'd wave around the paper like Charlie with the golden ticket. My Mom really admired Elaine's ease in the kitchen and how it never seemed to phase her having 20+ people over at her house. She can whip up anything at any time, just like my grandma could. In my eyes, my cousin Elaine is basically Martha Stewart.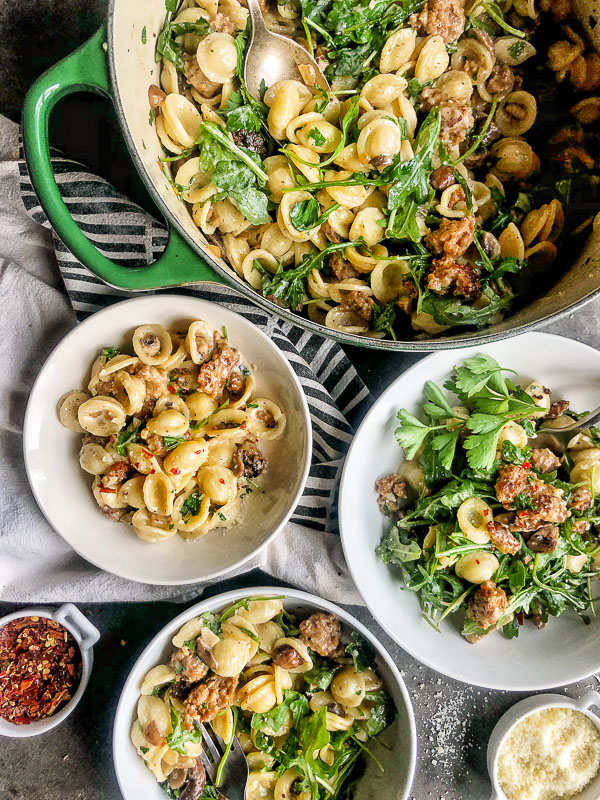 After my Mom died my Dad's cousins from New York came out for a week. It was like having cooking fairy godmothers come to visit. They stayed with my Dad and cooked for him, stocking up his freezer with meals for him to reheat in my Mom's absence.
Elaine made my family this pasta dish that I COULD NOT GET ENOUGH OF. It was something that both my parents loved and it felt so special that I got experience too. The mascarpone makes the pasta creamy and each bite is just wonderful. I didn't want my bowl to end! I'm thinking that maybe mascarpone needs to make more of an appearance in our pasta life? Next time I have company, I'm going to wow them with this dish. Thank you, cousin!
Let's gather our ingredients: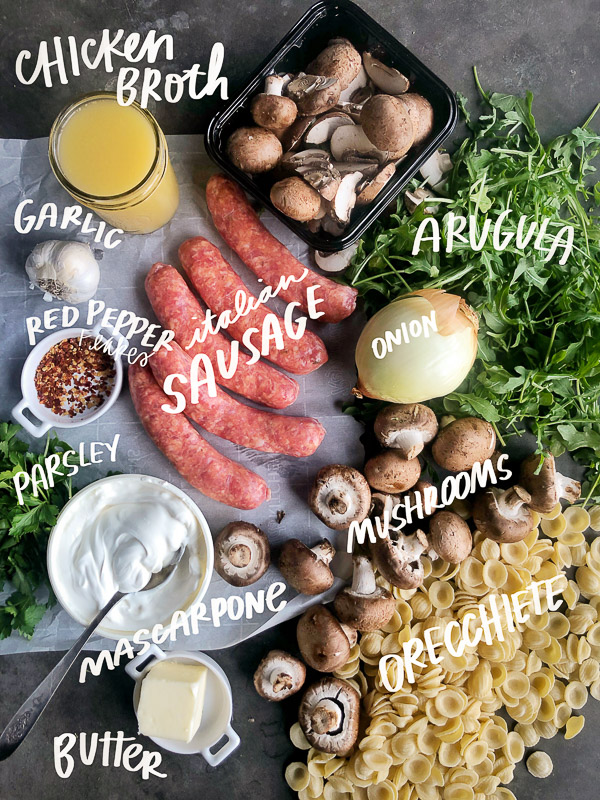 The first thing to do is brown the sausage! Take it out of the casing. Cook. Set aside.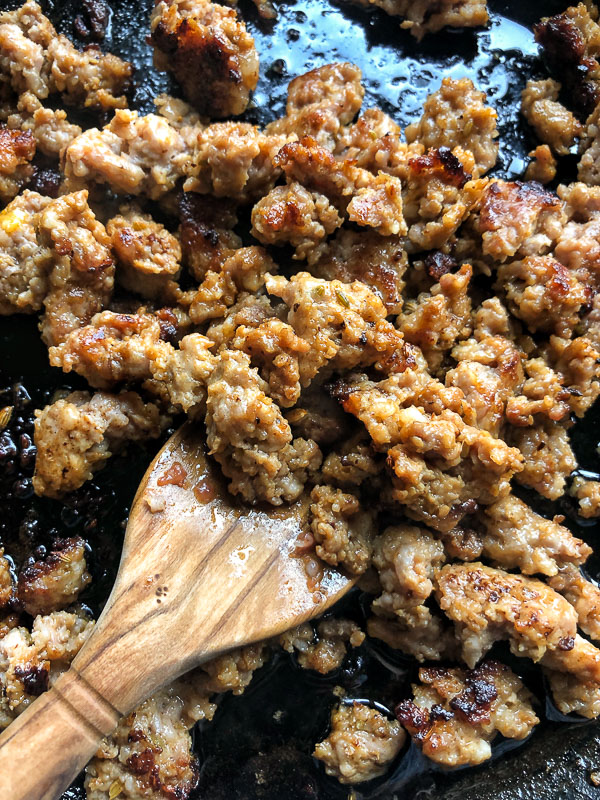 Butter and onion. Followed by garlic.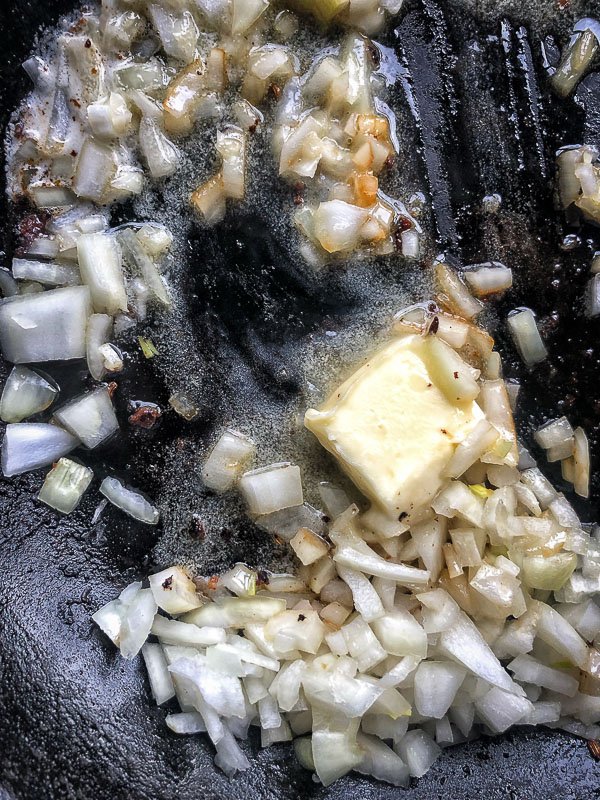 Mushrooms enter the picture.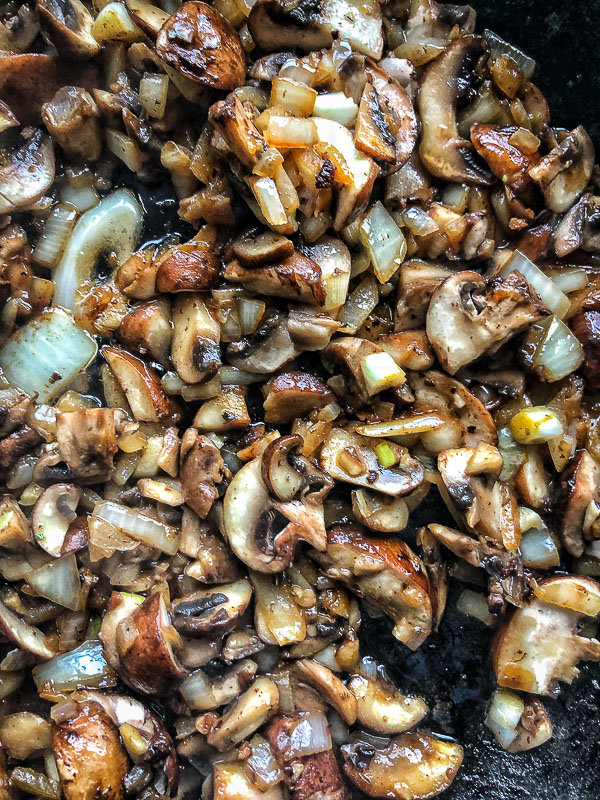 Sausage returns!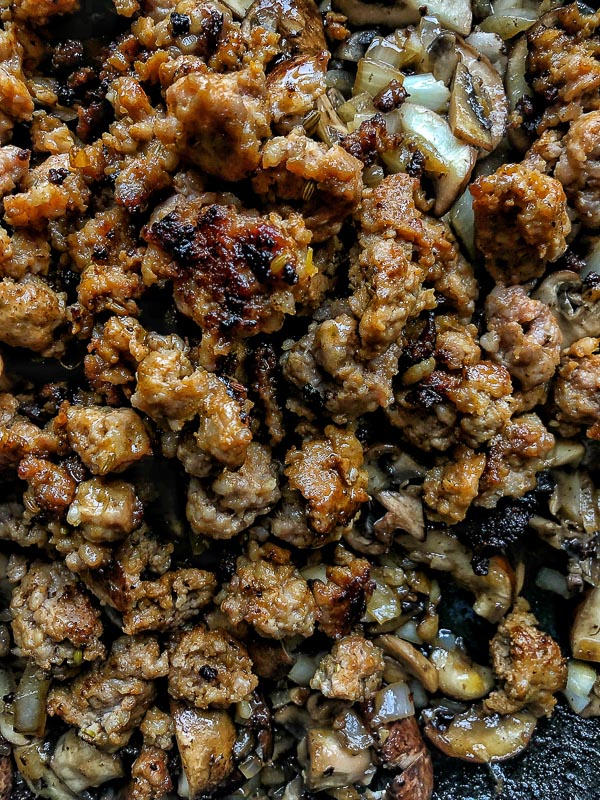 Pasta has been cooked! Let's mix it all together.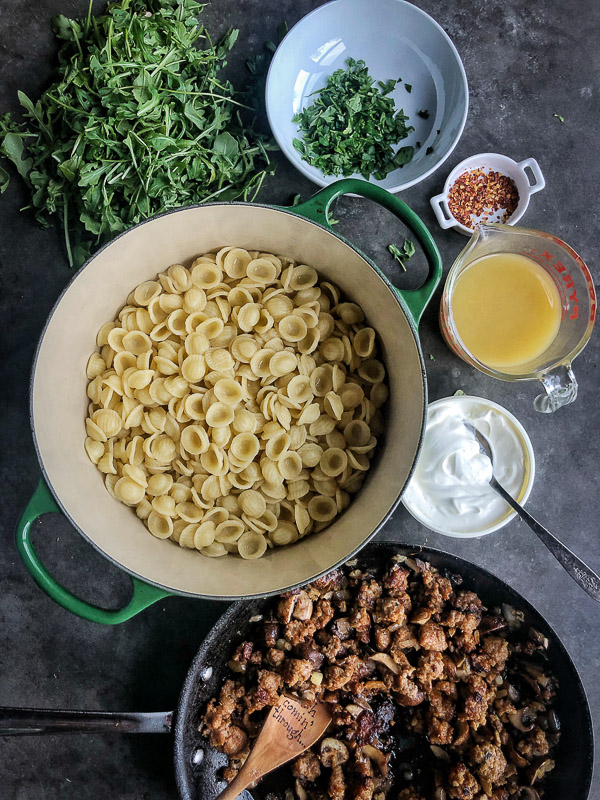 Start with the mascarpone.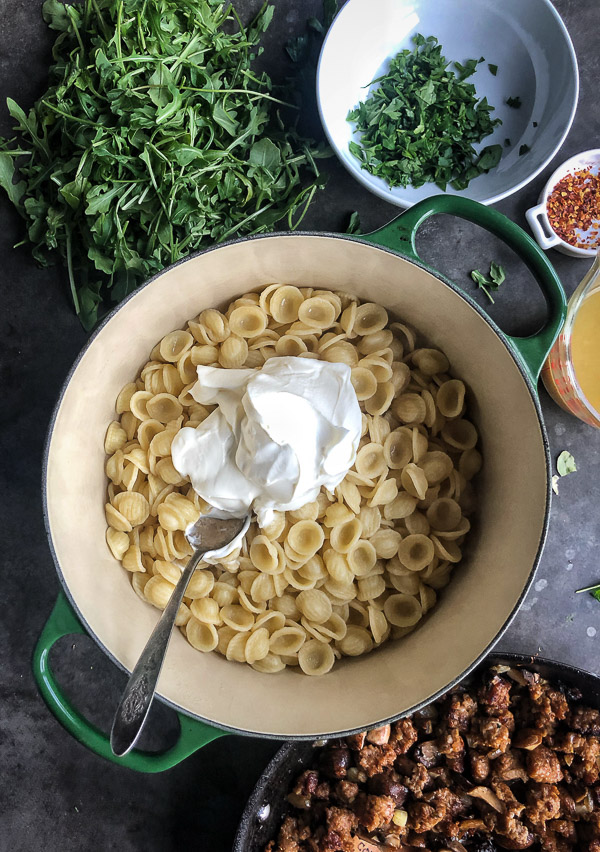 Hello, sausage and mushrooms.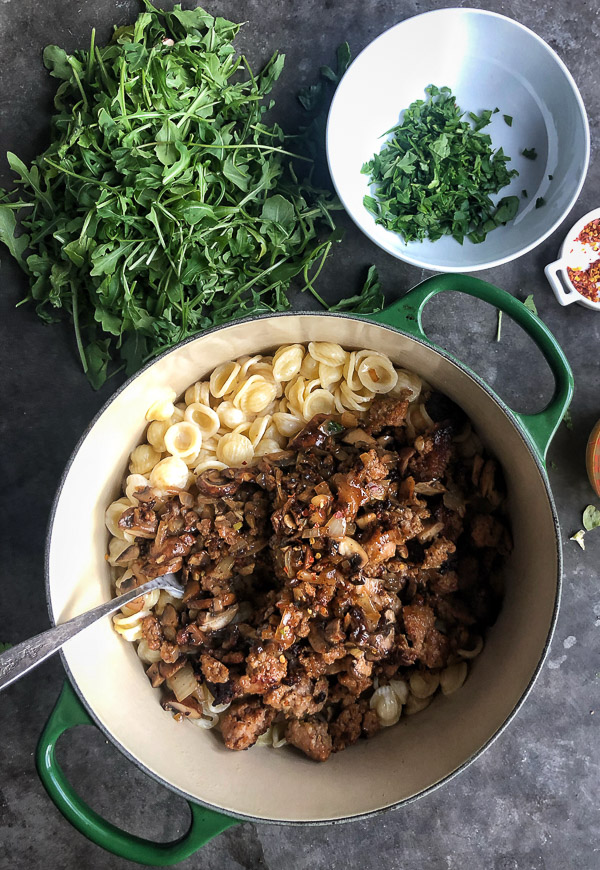 Use chicken broth to thin the sauce.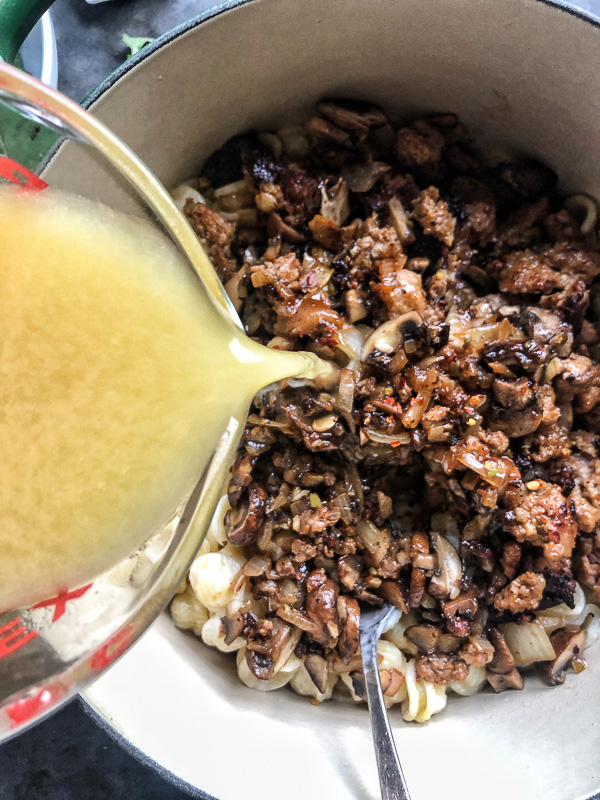 Arugula if you're into it. Parsley too!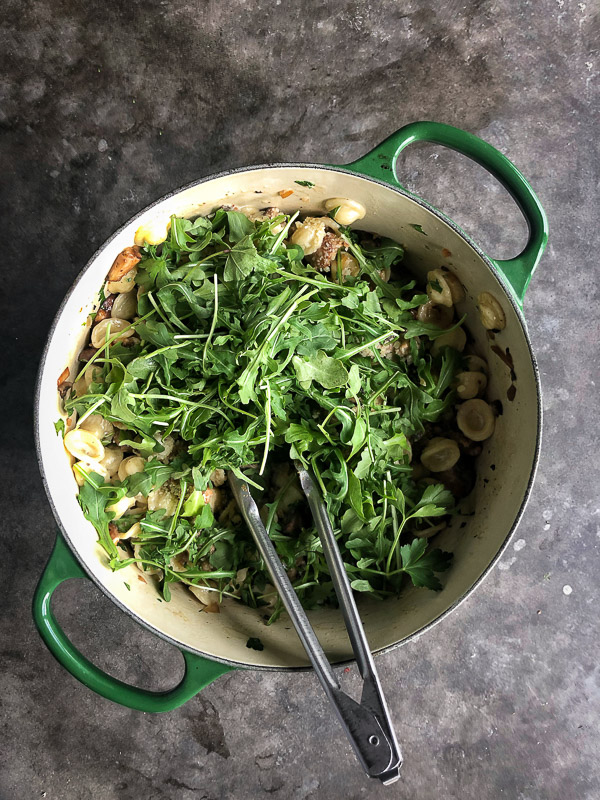 I love how the arugula adds a bite to it. Look at that creamy sauce!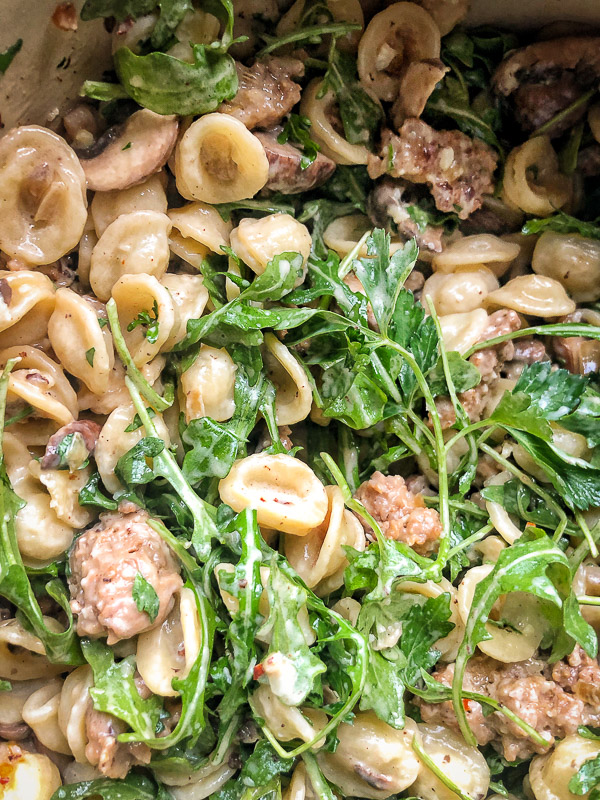 You're going to want more than one bowl.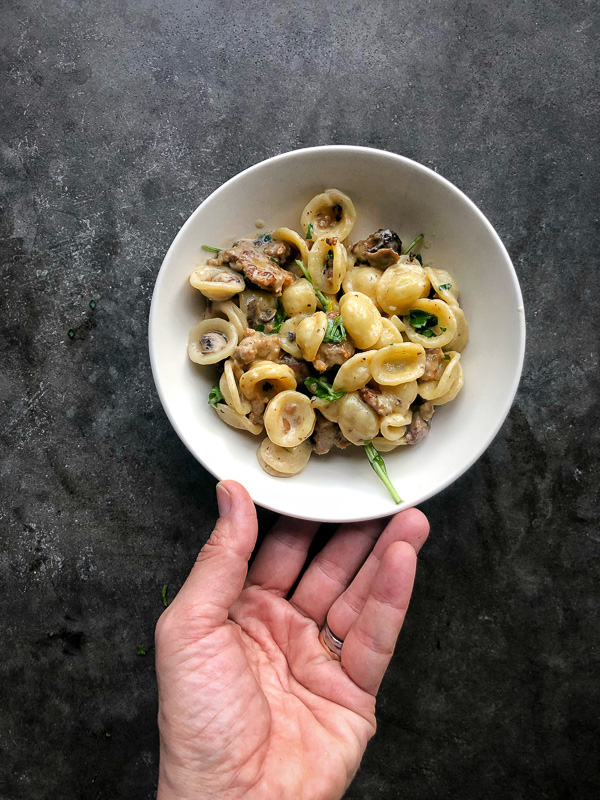 This, I promise you.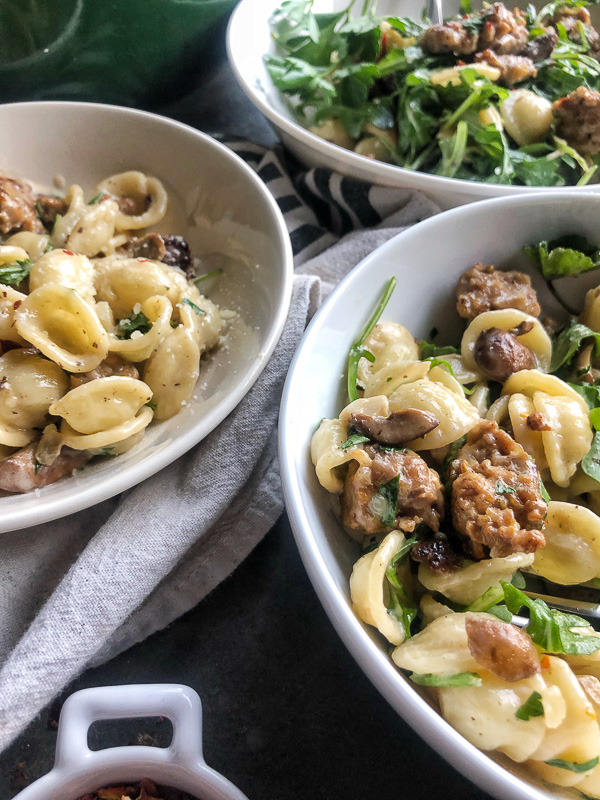 Top with red pepper flakes and Parmesan. Fresh lemon juice brightens up leftovers (if you have any).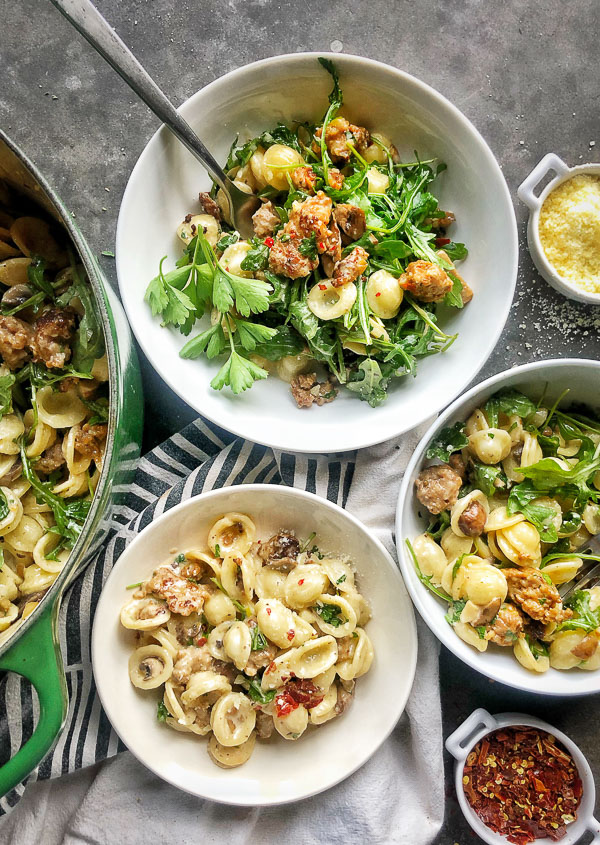 Dreamy Creamy Mushroom Sausage Orecchiette.
Creamy Mushroom Sausage Orecchiette

serves 4-5

1 1lb. Italian sausage
1/2 stick salted butter
1 medium onion, chopped
2 cloves garlic, chopped
16 oz. sliced mushrooms
10 oz. mascarpone
1 1lb. pasta shells
1 cup chicken broth
1/3 cup chopped parsley
2-3 handfuls fresh arugula
fresh cracked pepper
parmesan cheese, for serving
red pepper flakes, for serving

Remove the sausage from its casing and cook in a medium saucepan with a splash of olive oil over medium-high heat until browned and cooked through. Set aside. Add butter to the pan and cook onions until softened, about 3-4 minutes. Mix garlic into the onions and cook for another 2 minutes. Add mushrooms to the pan, saute with onion garlic mixture until softened, about 5-6 minutes. Return the sausage to the pan and keep warm.

Meanwhile, bring a large pot of water to a boil. Add 2 tablespoons of the salt and return to a rolling boil. Add the pasta and cook according to instructions. Drain pasta and return to pot. Stir in mascarpone followed by sausage and mushroom mixture until well combined. To loosen the sauce, add chicken broth, a little bit at a time. Mix in the parsley and arugula. Season with fresh cracked pepper and serve with parmesan and red pepper flakes.