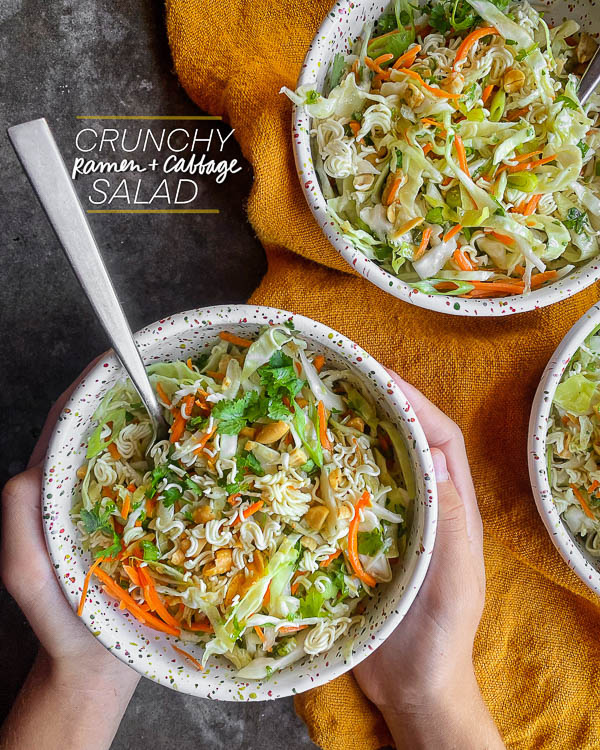 When I made Casey this Crunchy Ramen and Cabbage Salad for lunch on Monday, he said, "You just tricked me into eating SO MANY vegetables!"
He proceeded to eat another bowl after that proclamation…
Hahaa.
(He's not wrong!)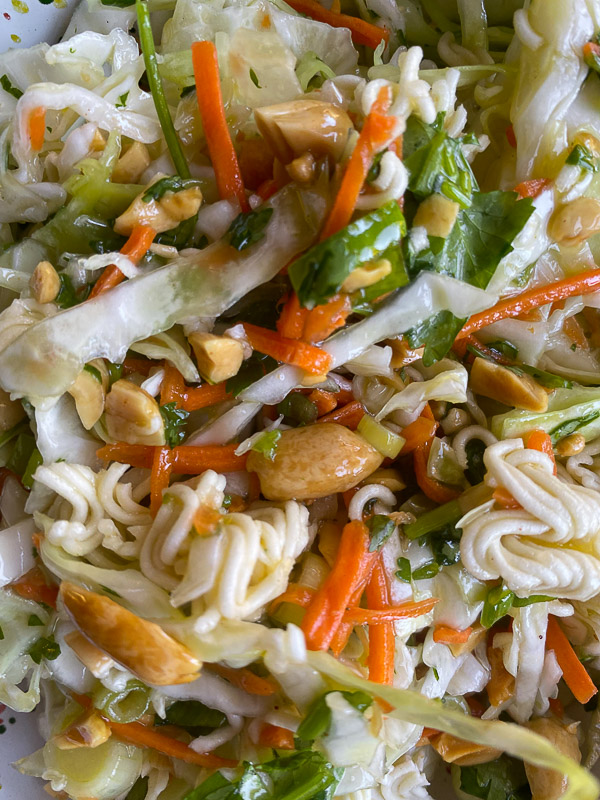 I saw this recipe in Bon Appetit in June and wanted to try it because we always have ramen in my house because we have a growing boy who snacks 24/7 and I'm always looking for additional ways to use it.
See also: cold sesame noodles + mushroom ramen + smoked salmon ramen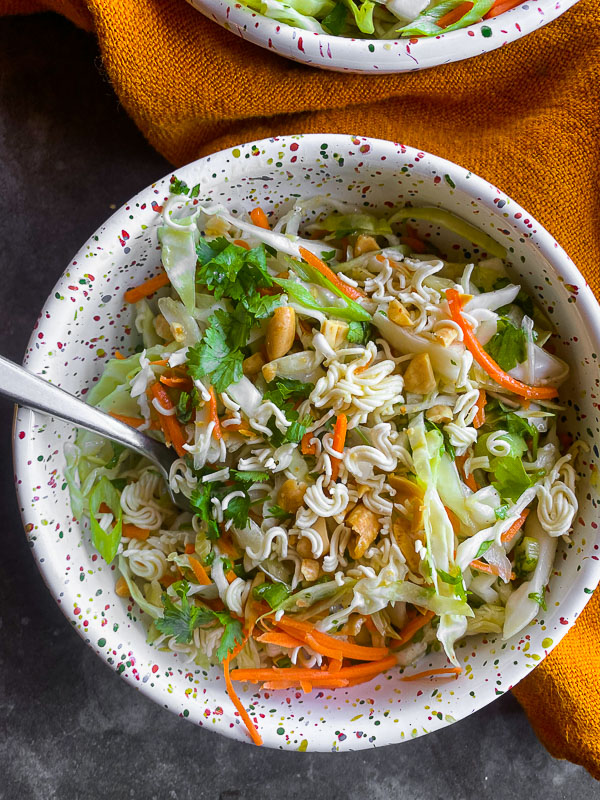 Obviously this salad will be going into the rotation if I can trick a person into eating more vegetables! I made some adjustments because the original recipe called for way too much dressing and sugar.
I liked that the ramen flavor packet was used in the dressing. Definitely added an umami zing. What I'll change for next time is to add some sriracha and/or jalapenos (we love spicy!) to the next batch and maybe add the noodles in when I'm ready to eat in order to preserve that ramen crunch I love. If you let the noodles sit in the salad for a bit, they turn soft and almost cook? Preserve the ramen crunch! Bon appetit!
Ingredients involved: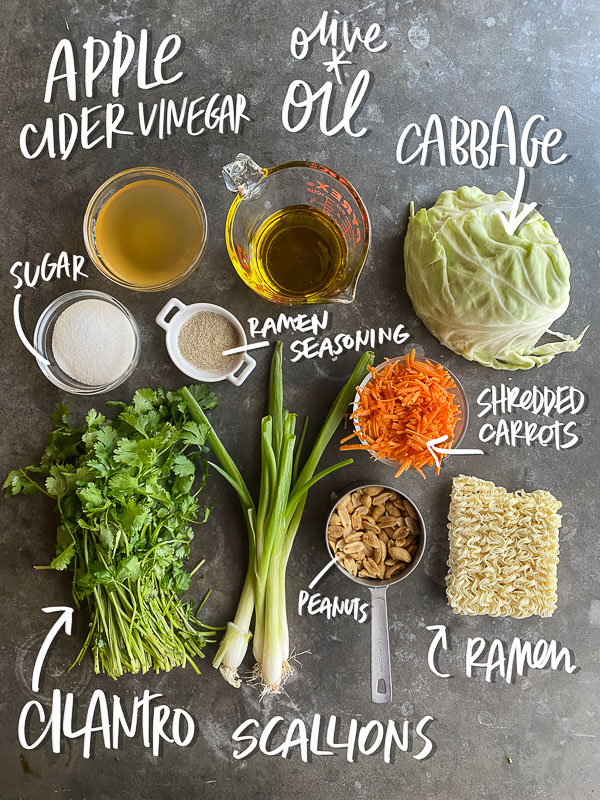 The dressing is made. I used a jar so I could shake things up!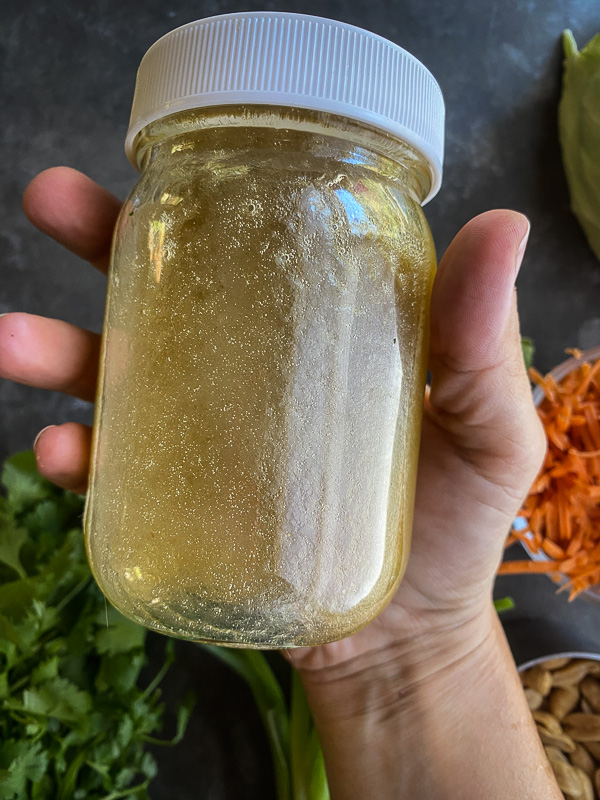 Ready for chop therapy?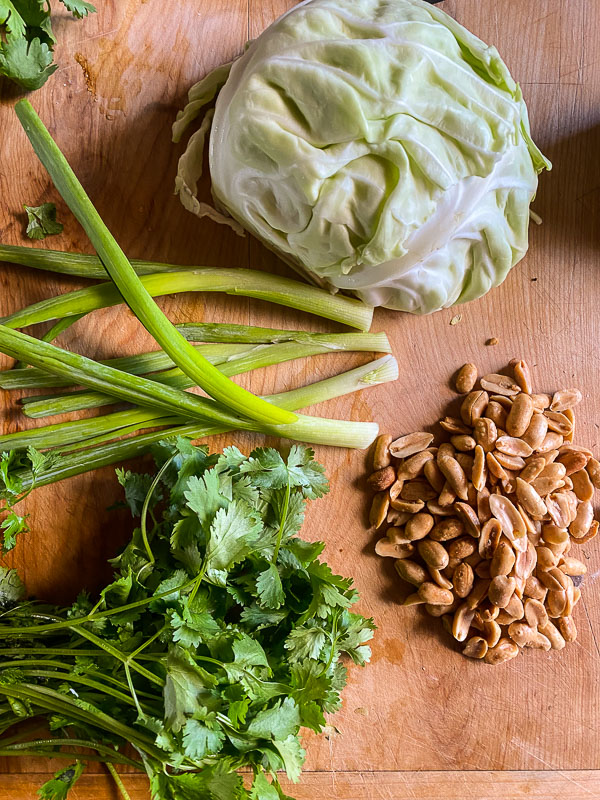 Oh and smash therapy?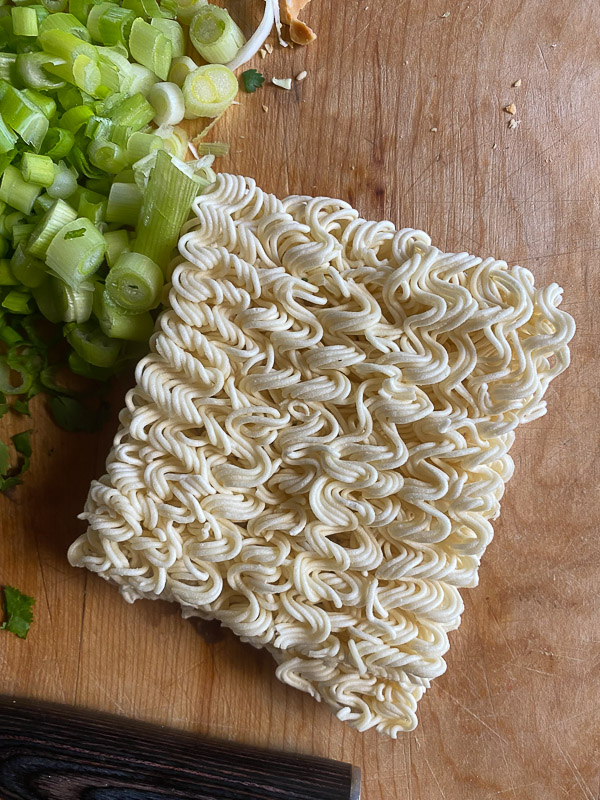 TADA!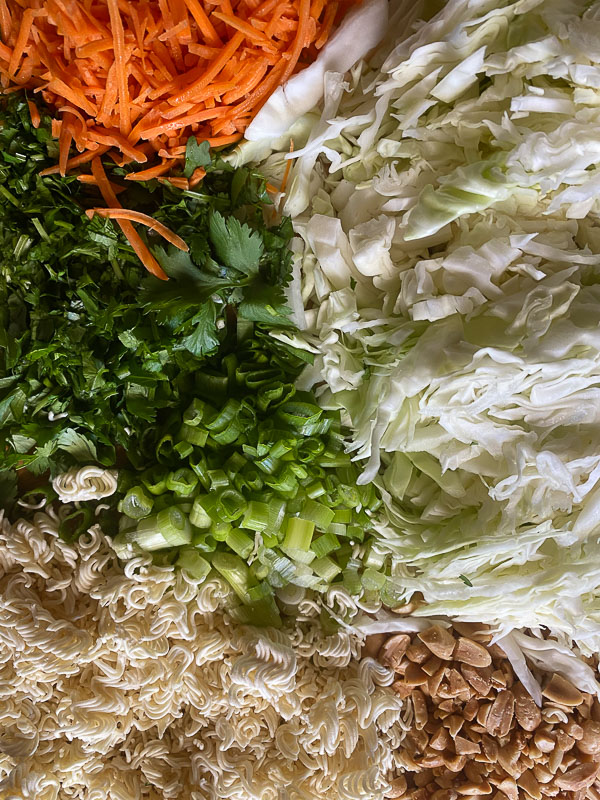 Put the ingredients in the bowl. Save at least half of the peanuts/ ramen for topping!
But like I said…maybe save it for right before serving.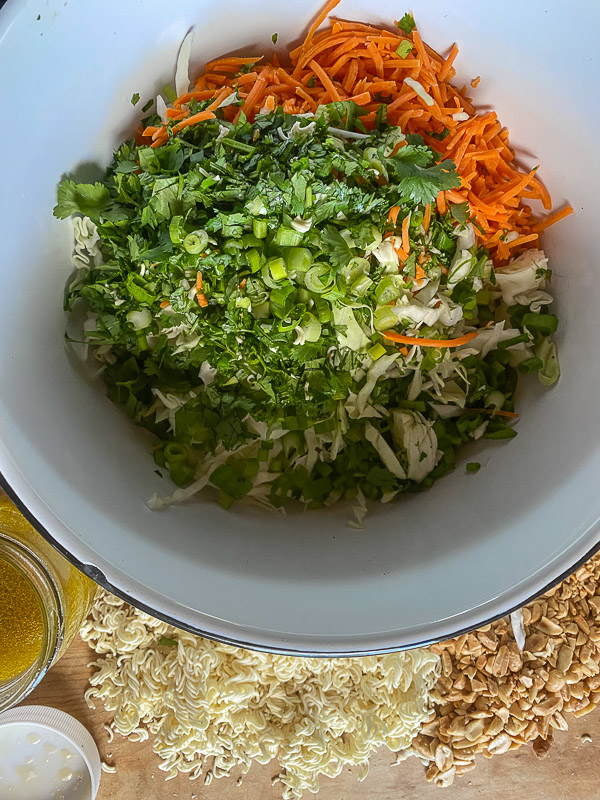 Ready to dress?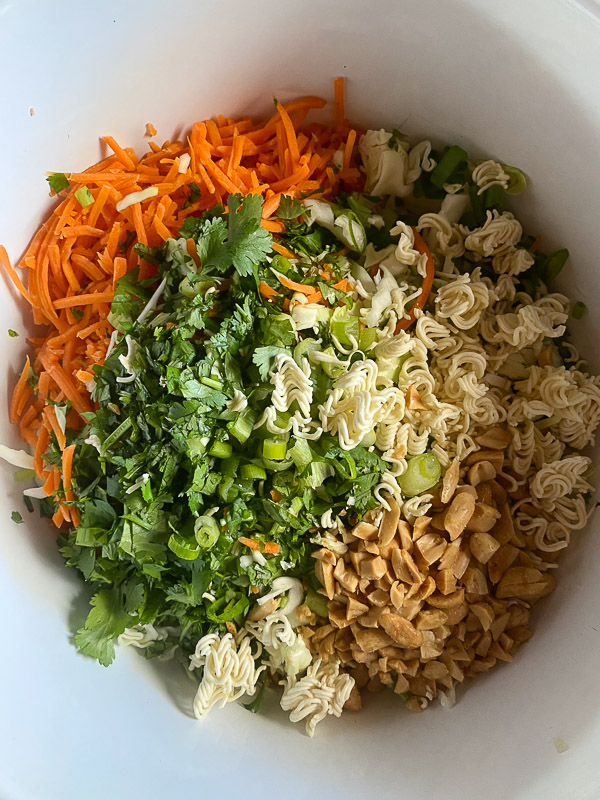 We are!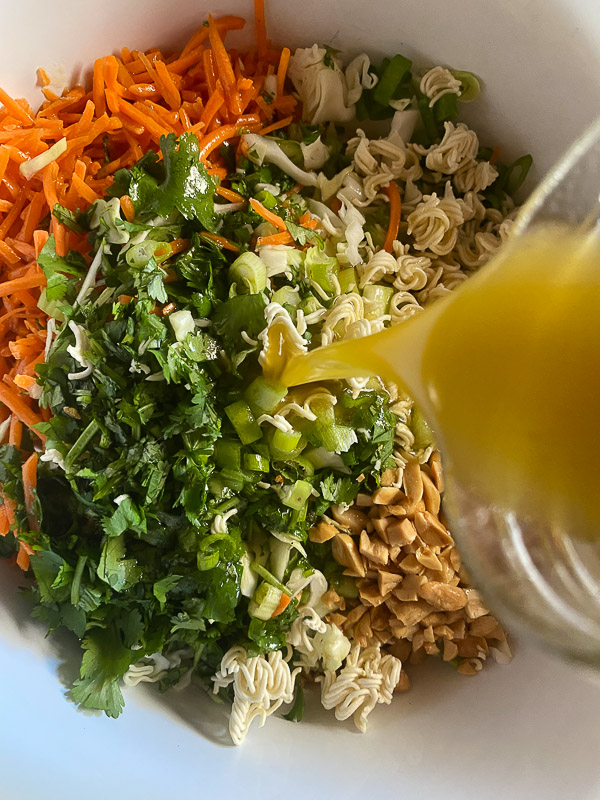 Tossed!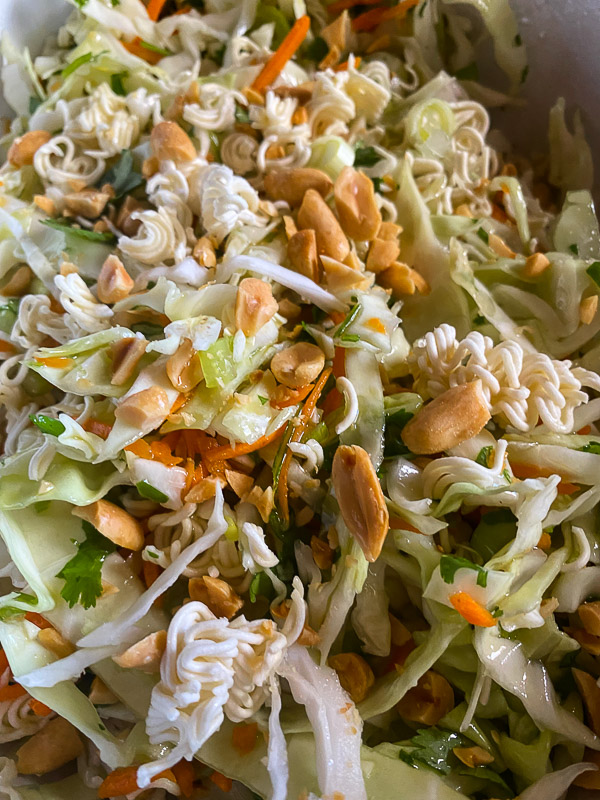 Serve it up!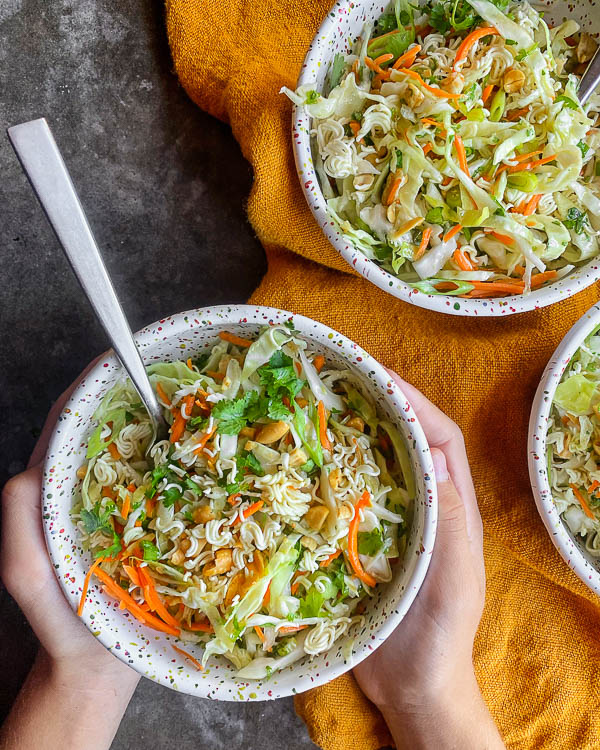 We had some with bbq chicken and corn the other night.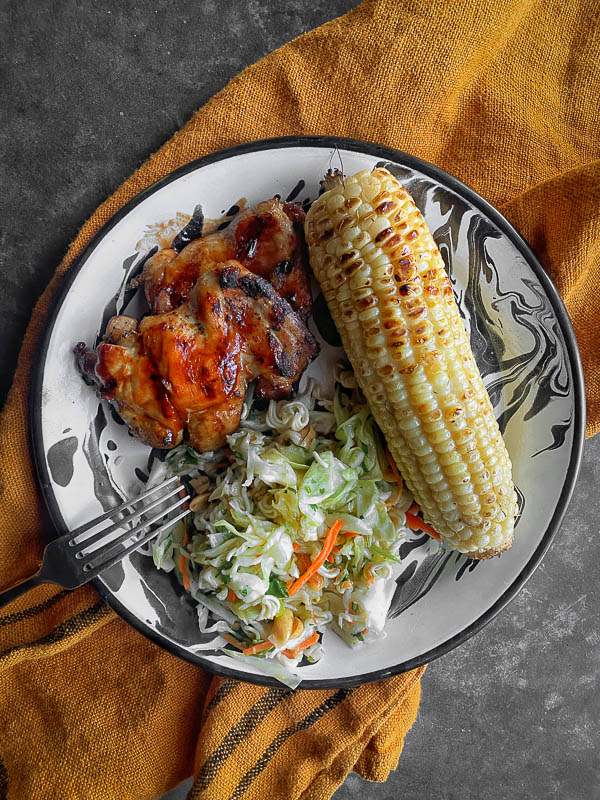 Helps make a legit summer meal!
Crunchy Ramen and Cabbage Salad

makes 6-8 servings (as a side dish)

recipe adapted from Bon Appetit

1 cup chopped roasted peanuts
1 4oz. package instant ramen noodles (any flavor!)
3/4 cup apple cider vinegar
1/3 cup olive oil
1/4 cup sugar
kosher salt & pepper to taste
1 large head of green cabbage, thinly sliced
1 cup shredded carrots
1 cup chopped fresh cilantro
5 scallions, thinly sliced (both white and green parts)

Remove seasoning packet from ramen noodles and set aside. Crush noodles into pieces that are peanut and walnut size.

In a jar add vinegar, oil, sugar, and reserved packet of ramen seasoning together. Put the lid on the jar and shake vigorously until well combined. Add salt & pepper to taste.

In a large bowl, toss cabbage, shredded carrots, cilantro, scallions, half of the ramen noodles, and half the peanuts with the dressing. Top with remaining ramen and peanuts when ready to serve.*

*add the ramen and peanuts right before serving if you want maximum crunch!