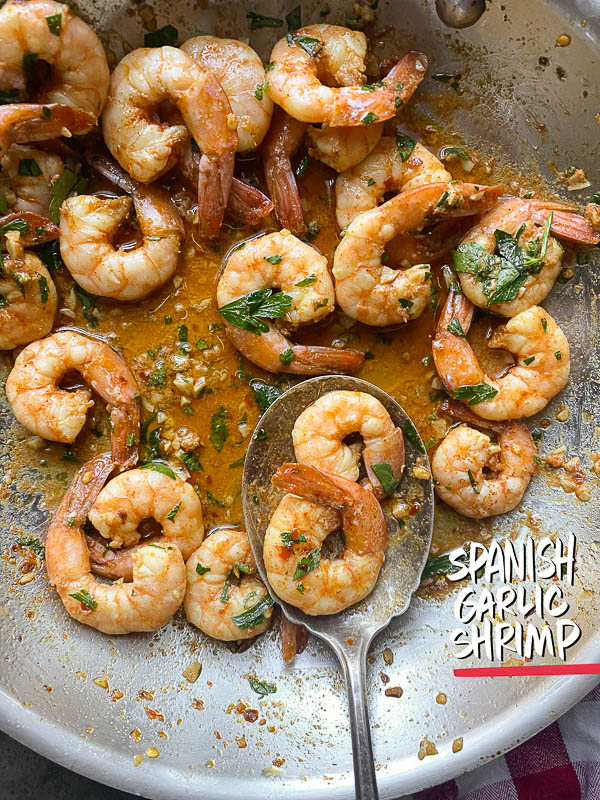 This Spanish Garlic Shrimp was a recipe that popped up in the last decade (and a half?) of my Mom's life. A trip to Spain and a tapas restaurant up the street from her helped spark a culinary renaissance for Bev. Ina Garten had a lot to do with it too. If she was still here, she would also tell you that my blog had something to do with it and hand you my business card.*
* she needed a place to send people to try some of her recipes.

My brother and niece have both recently asked if I had this recipe because I have her recipe binder. We all want to remember what it was like to be fed by my Mom. We had her Spanish Garlic Shrimp when she had us over for spontaneous I NEED TO SEE MY GRANDCHILD visits. It's one of those whip-together real fast meals you can make with what little ingredients you have. No sherry? Vermouth or white wine will do.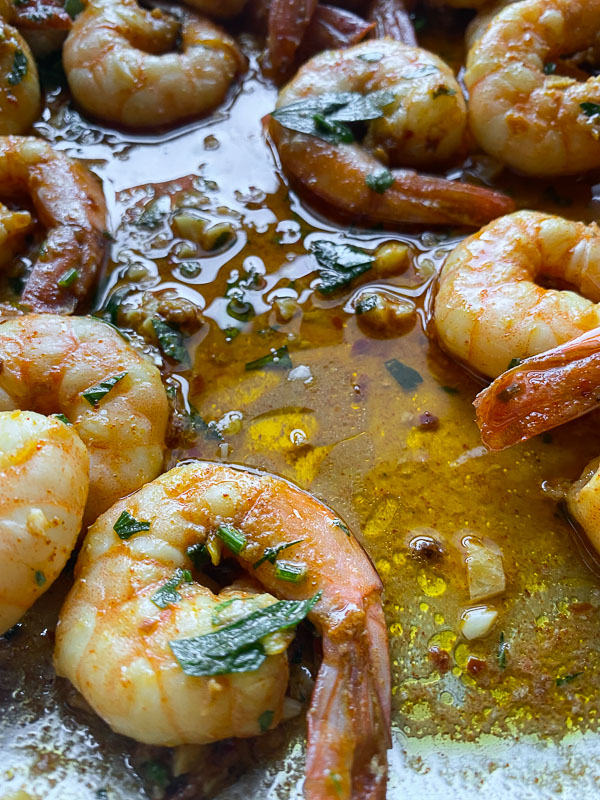 If you thought you loved the sauce on this Lemon Roasted Garlic Shrimp, this one is that and MORE. I added smoked paprika to our new iteration because we like things smokey and spicy here. There's a good depth that will make you want to add carbs to sop up the sauce. When Bev had us over for dinner, she would pair the shrimp with brown rice (my dad's choice) and her green salad. I'm sure she would have added crusty bread to the situation with the Spanish Garlic Shrimp but I don't think a loaf of crusty bread could have been trusted on the counter at her house before dinner. A little "mouse" always got into something…
She would be very happy to know that it is now Cooper's favorite shrimp dish and OH BOY can almost 14-year-old eat a lot of shrimp!
Ingredients are gathered.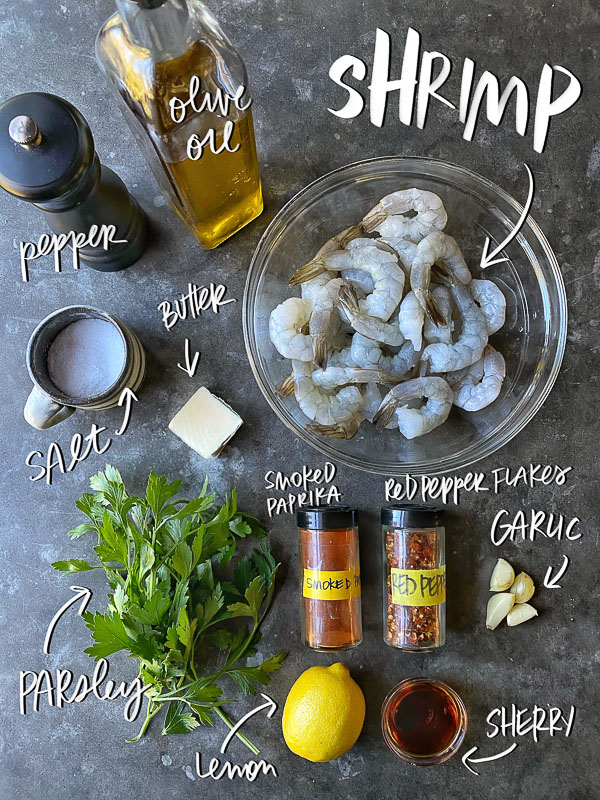 The first step is to infuse the olive oil with red pepper flakes and garlic.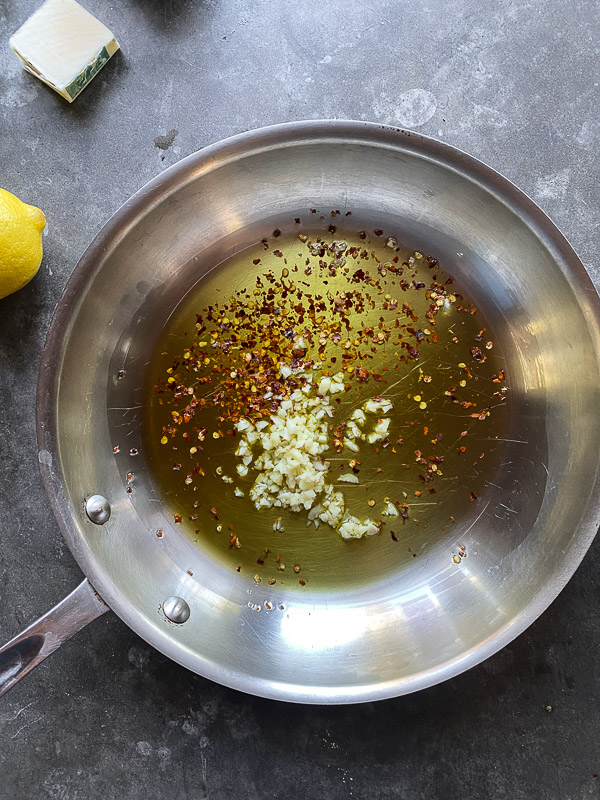 Then everything else goes in and we cook it! It all takes less than 10 mins.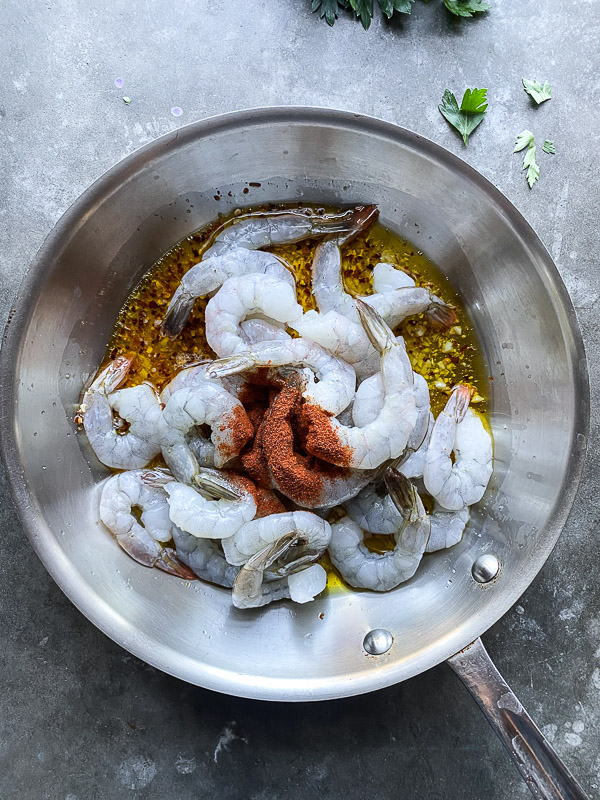 I like to finish the shrimp with a little bit of butter because WHY NOT?!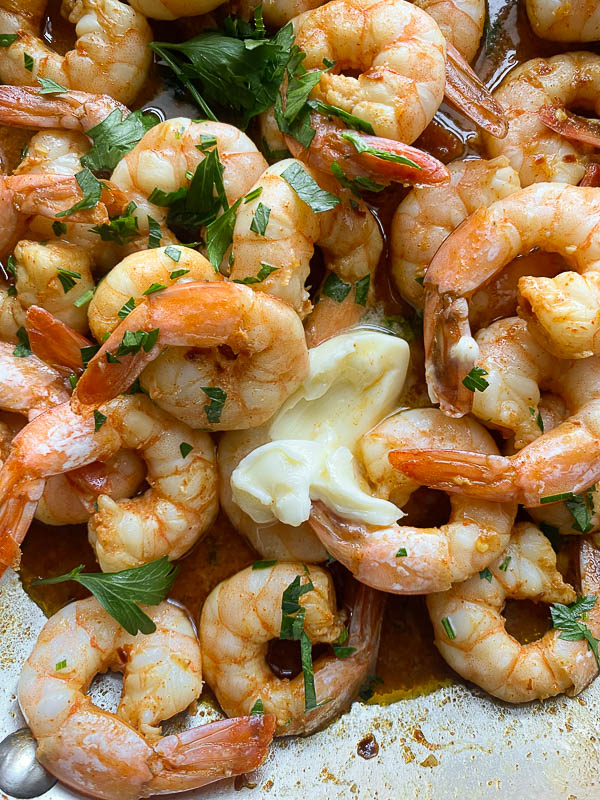 Now that you have shrimp…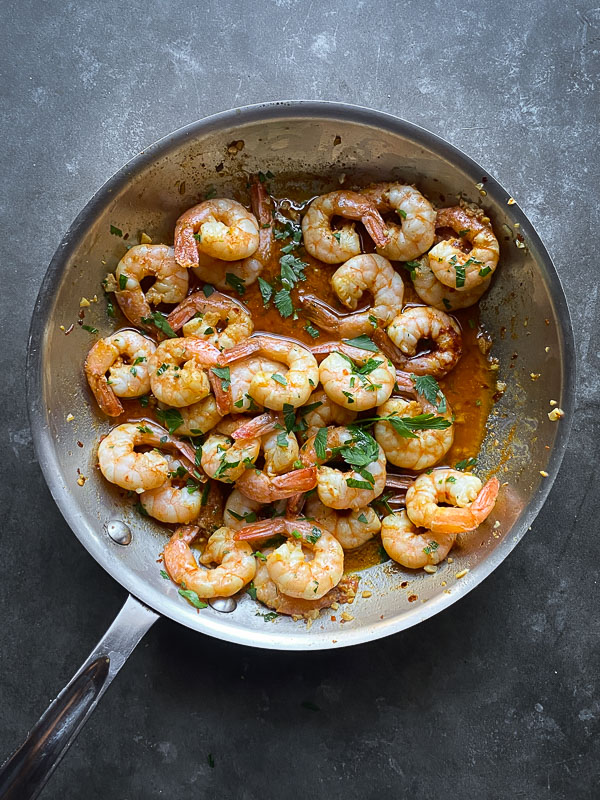 Do you use rice or bread? Someone recommended frozen brown rice from Trader Joe's to me many years ago and I am forever grateful for that person. It's really good and I like it cuz my child won't eat brown rice and I don't want to have to make two batches of rice in one night.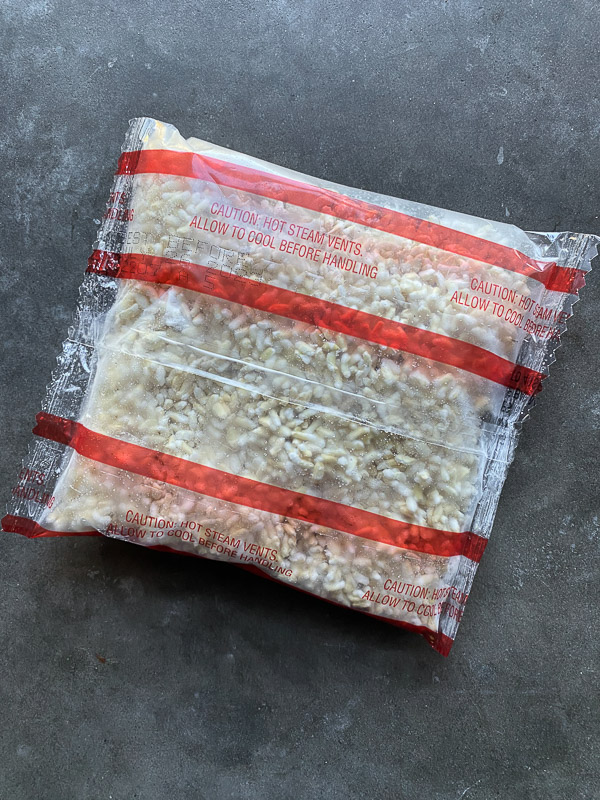 Serve it up!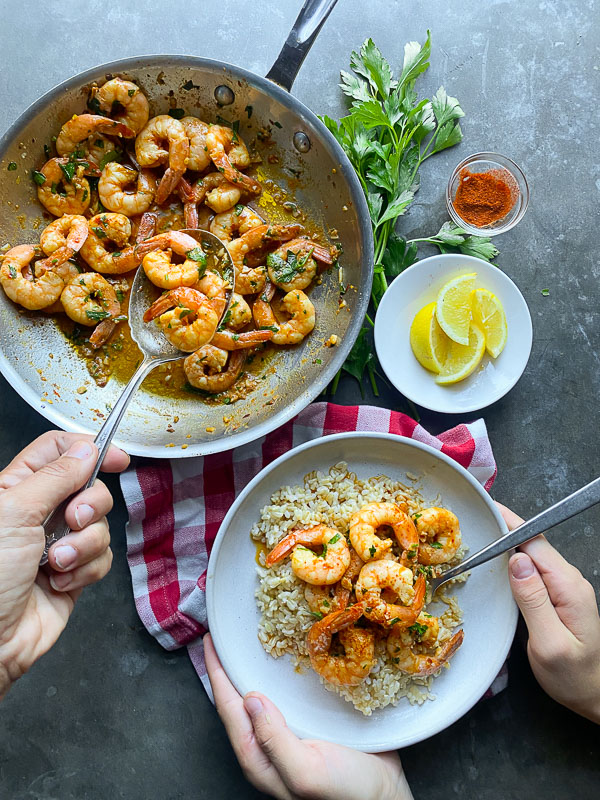 Sauce it up.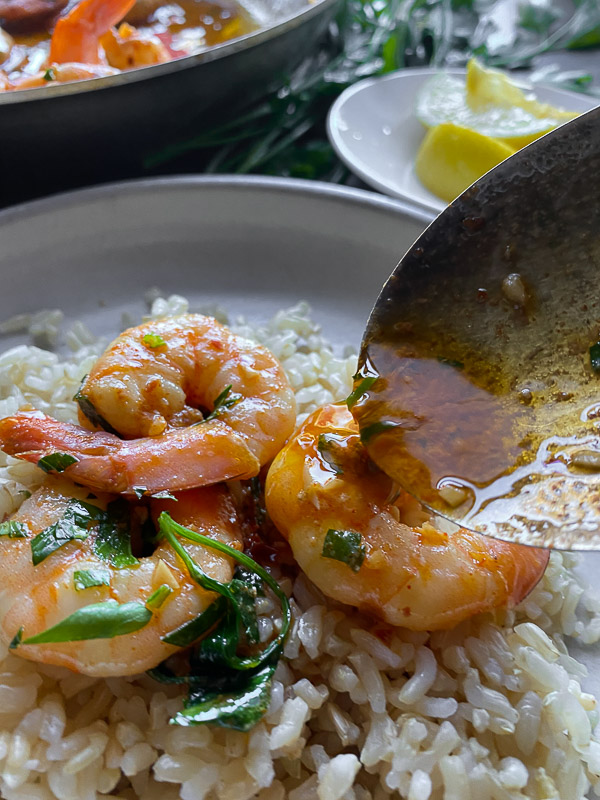 I am going to have to start doubling the recipe if my child's hunger keeps at this rapid pace.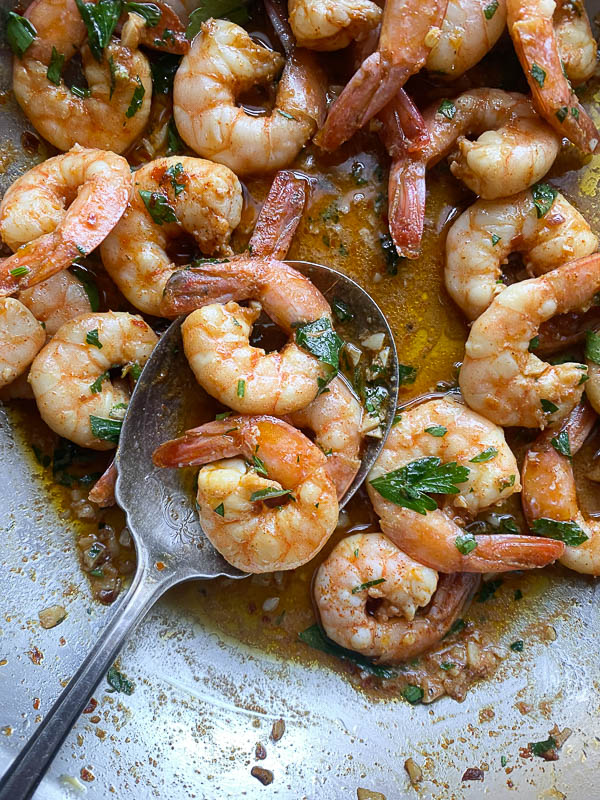 He's a dunker.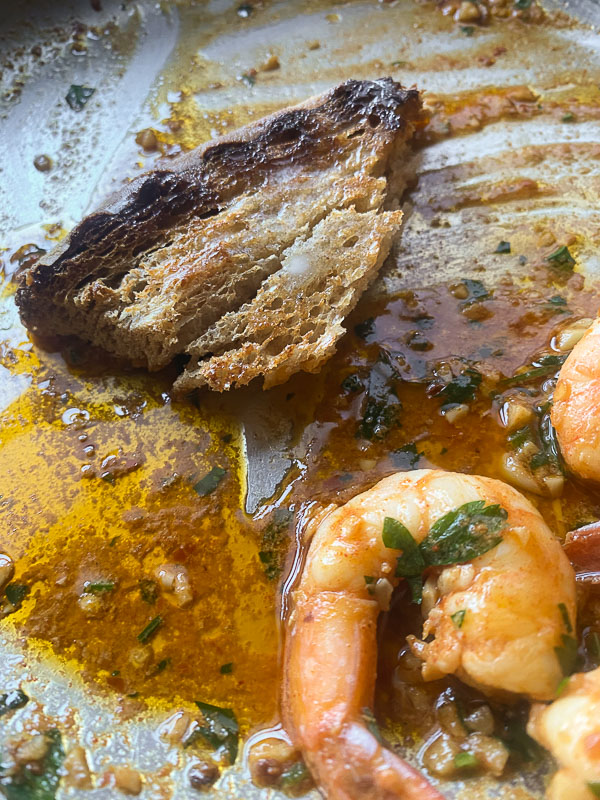 The best of both worlds.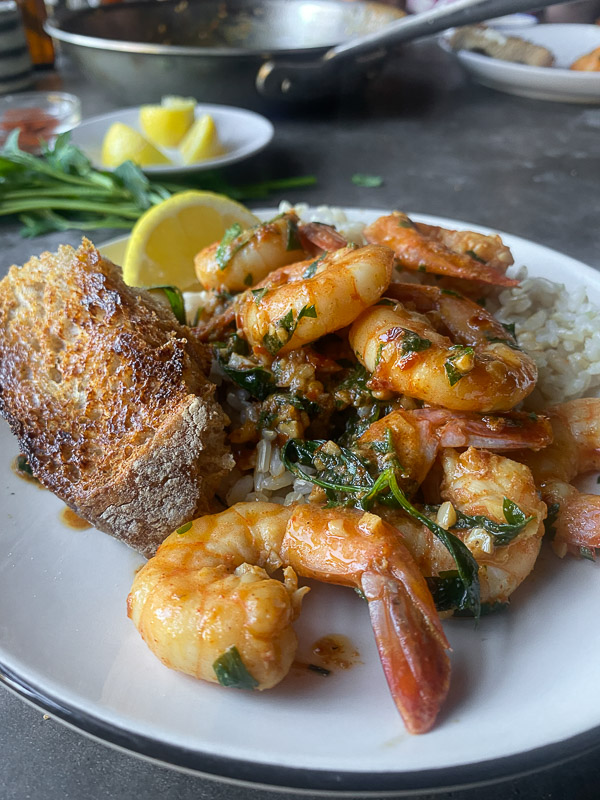 Bev will be so happy you like it too!
Spanish Garlic Shrimp

serves 3-4

recipe adapted from The San Francisco Chronicle

1/4 cup olive oil

4 cloves garlic, finely minced

1 teaspoon red pepper flakes

1 pound medium shrimp, peeled & deveined

2 tablespoons lemon juice

2 tablespoons dry sherry

1 teaspoon smoked paprika

1 tablespoon salted butter

salt and freshly ground pepper

chopped fresh flat-leaf Italian parsley, for garnish

In a saute pan over medium heat, warm the olive oil. Add the garlic and red pepper flakes and saute for 1 minute. Raise the heat to high and add the shrimp, lemon juice, sherry and smoked paprika. Stir well, then saute, stirring briskly, until the shrimp turn pink and curl slightly, about 3 minutes. Stir in the butter and season to taste with salt and pepper and sprinkle with parsley. Serve hot