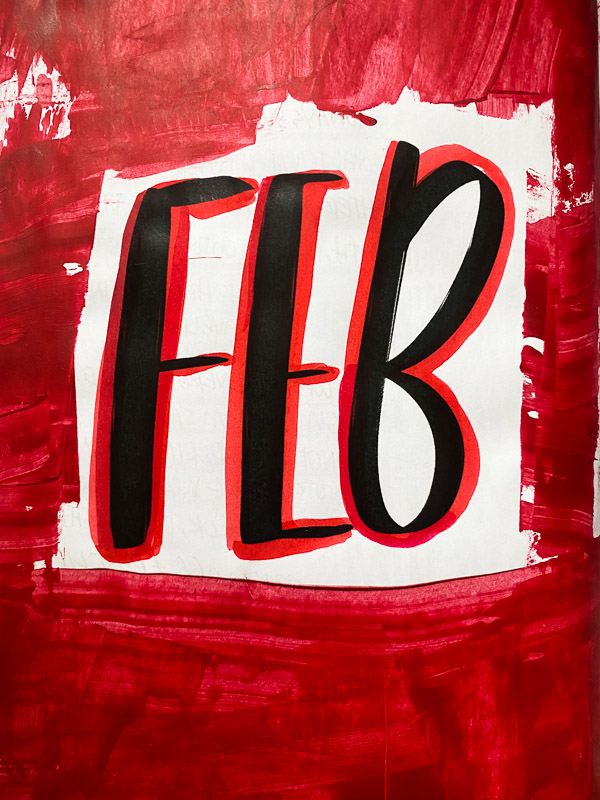 Currently February 2023
Hello Hello! What a short month, huh? Let's see what I did this month. Well FIRST, I hosted a Currently Workbook Zoom meeting. My intention with this practice is to help people finish every month of their Currently Workbook this year. I will be working on my spreads with YOU and we will have a whole year of tracking our months together under our belts. For more information, sign up for my newsletter and you'll be notified of the next one!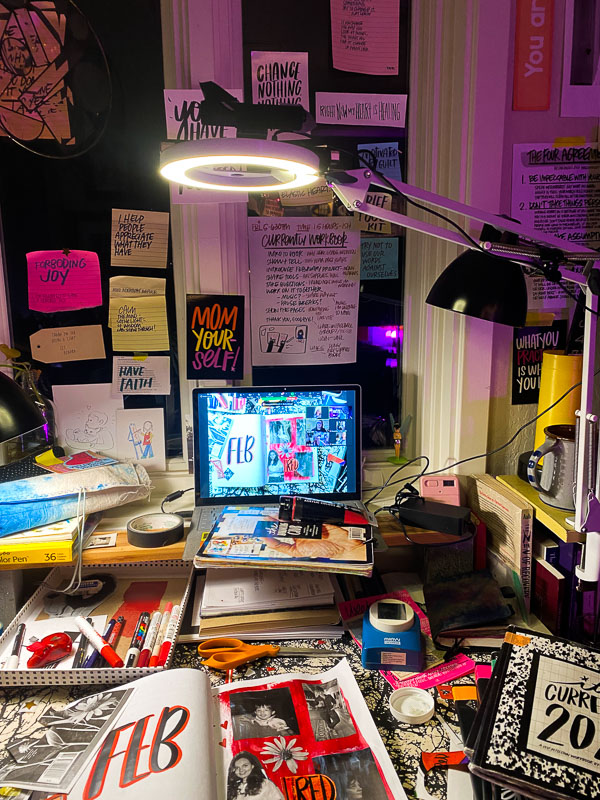 I had fun picking things out for my spread this month.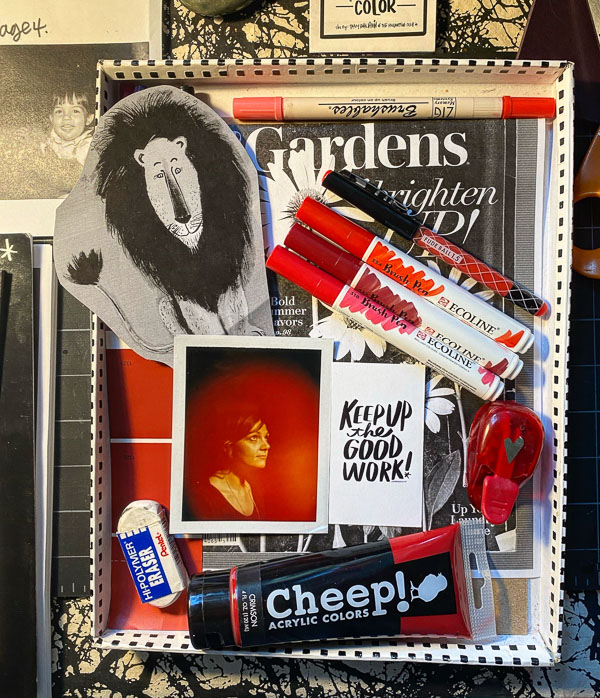 I decided to shake things up and use RED on my spread. All of my past years have been pinks or purples.
I did this live on the call.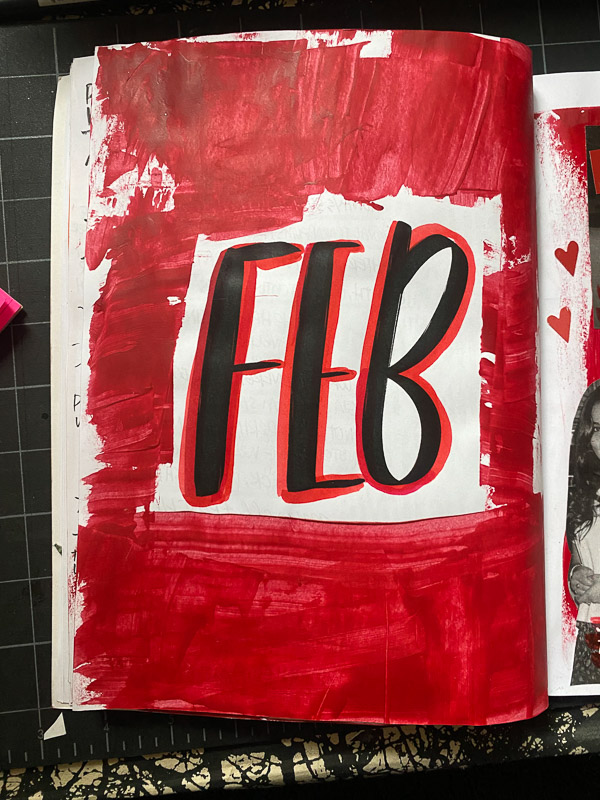 Here we are! The end result.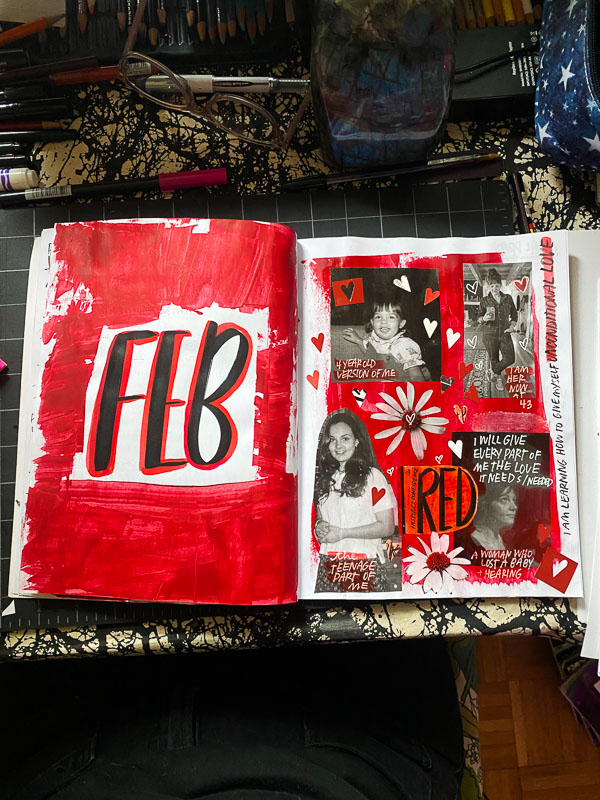 Last year's spread was about UNCONDITIONAL LOVE (see below)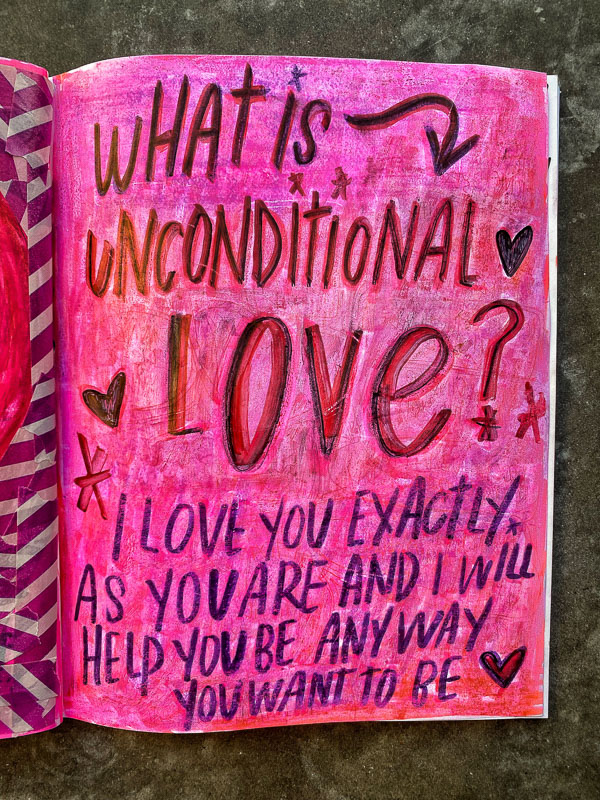 I am learning to give myself the unconditional love that I need/needed so I made this page about that.
I used a part of my Color Therapy zine for the RED.
All the good things that happened this month. I realize I am wrong about my duolingo score.
It's actually 75. I am brushing up on Italian!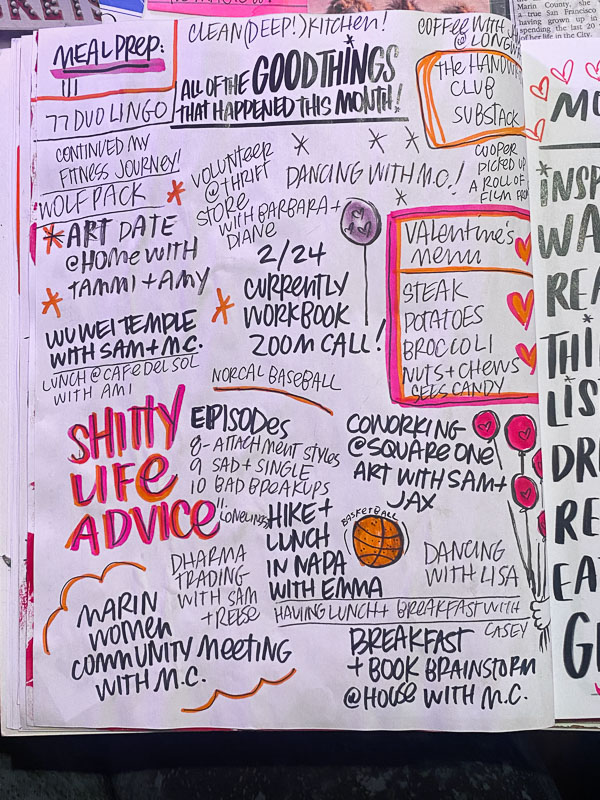 Let's break it down!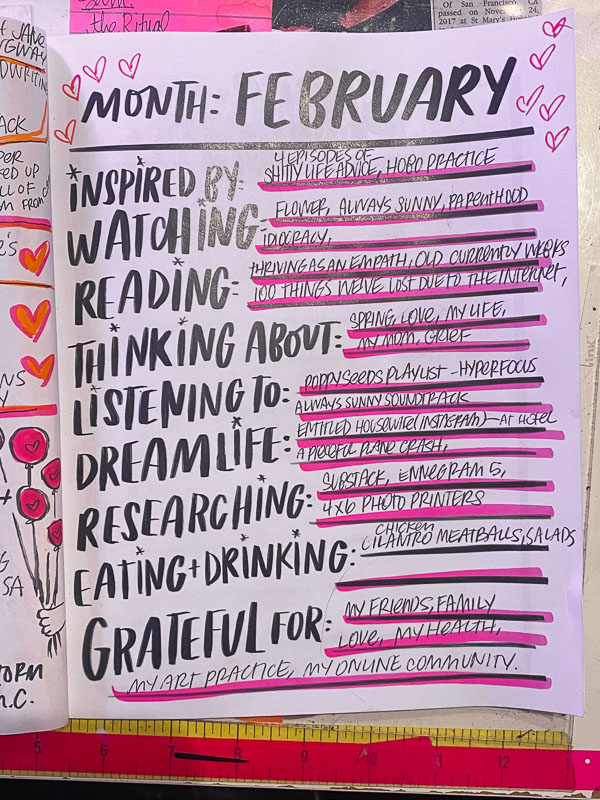 Inspired By:
Working on a live stream and learning so many new things- Shitty Life Advice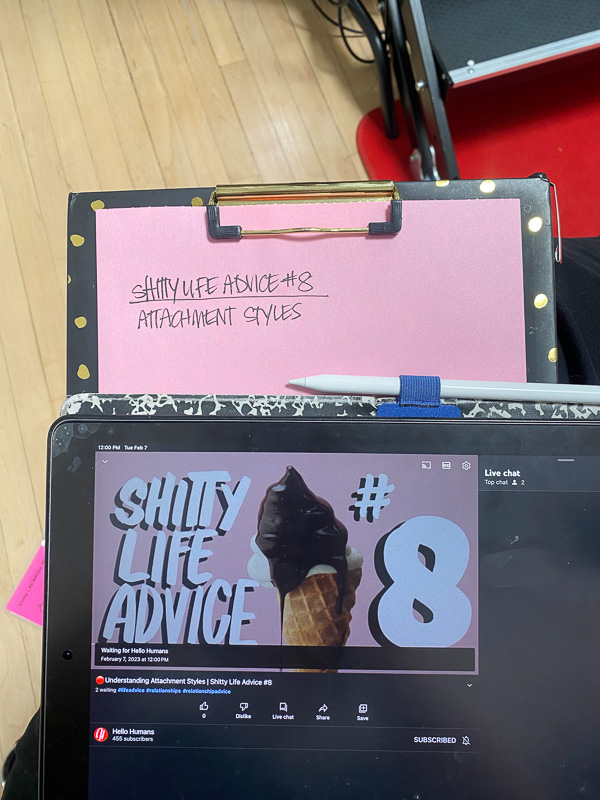 I have been enjoying the daily art practice of logging time in my hobonichi techo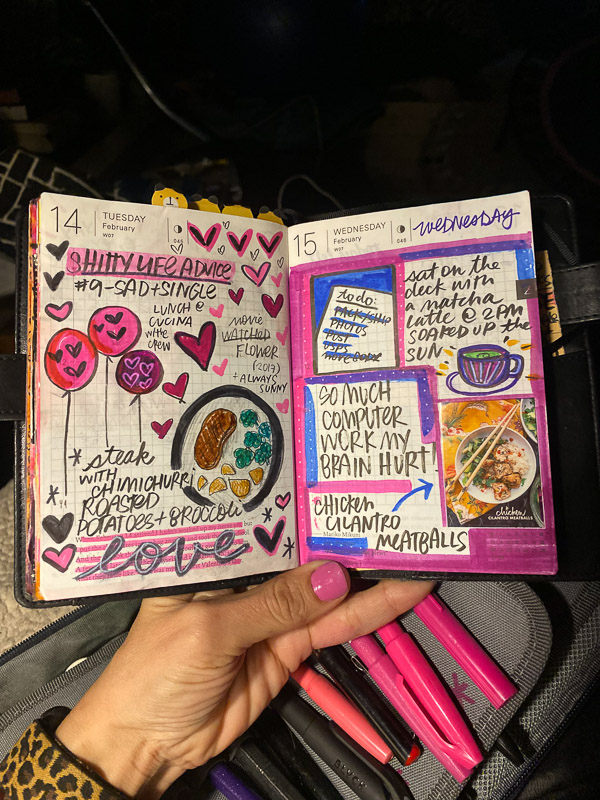 It's really helped me flex my creative muscles!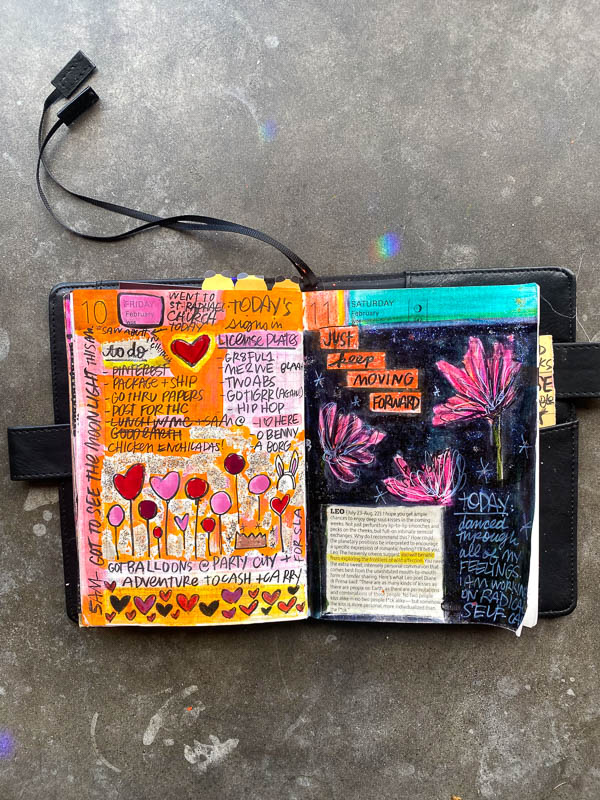 Went to a Marin Women's Community meeting with MC! It was super inspiring & fun.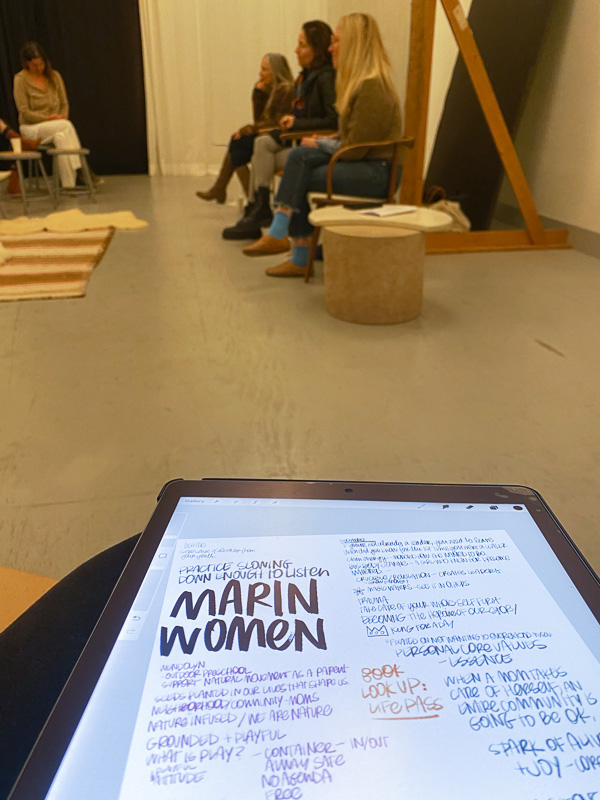 Went on a long amazing hike with Emma in Napa and got to see Marin (Mt. Tam!)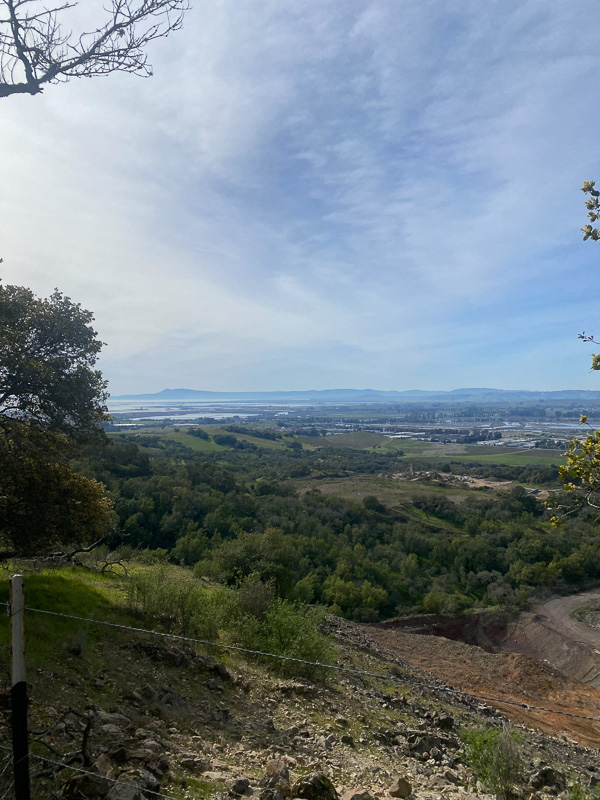 I started sharing the magical mail I get on The Handwriting Club Substack. (subscribe!)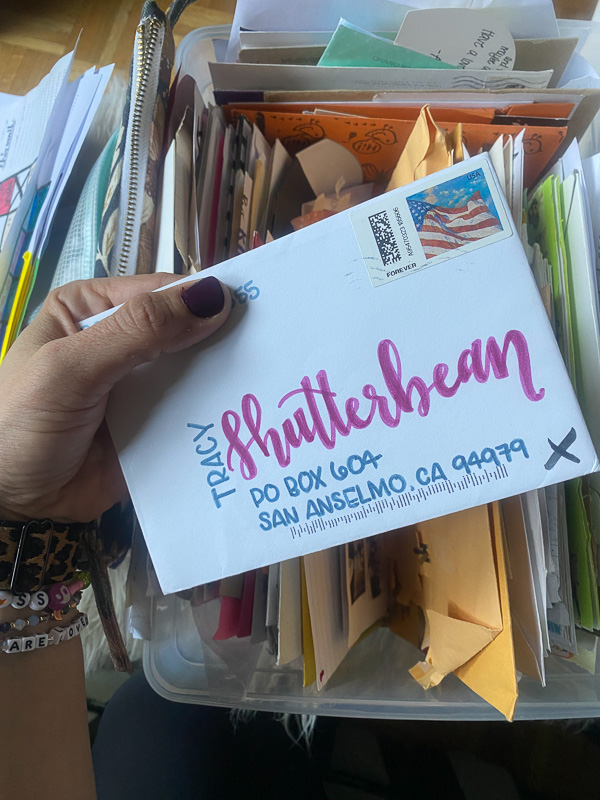 I had a coffee with my friend Jane and she brought her Currently Workbook and it was such a delight to look through her pages.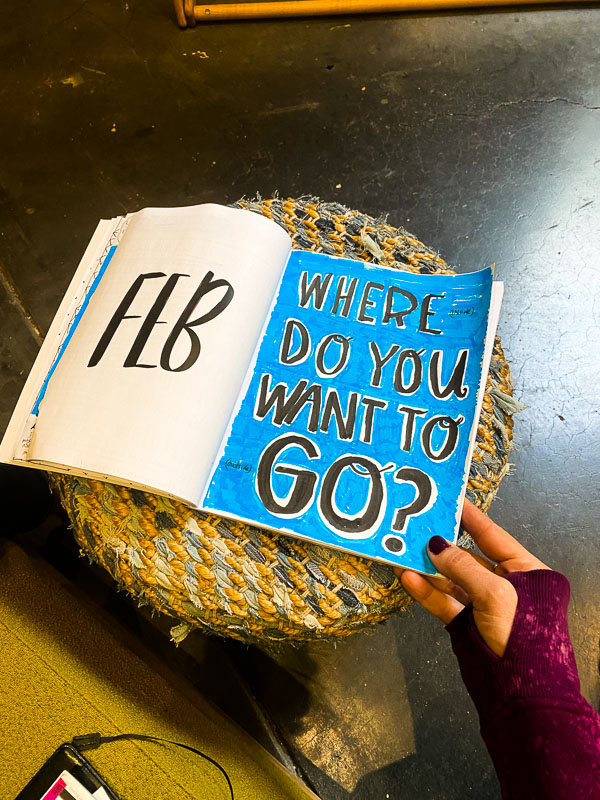 Made my kitchen cozy this month…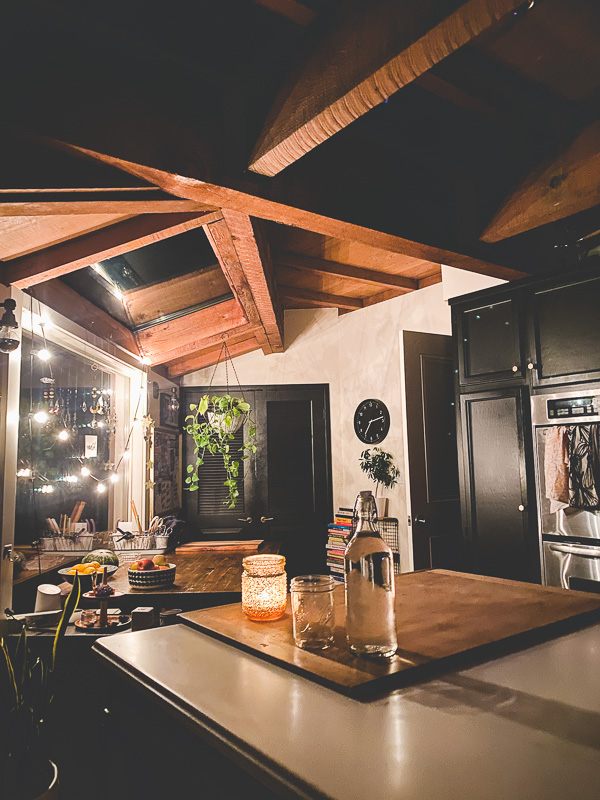 Had Tammi and Amy over to my house to work on art together.

Watching:
Flower
Parenthood
Always Sunny in Philadelphia
Idiocracy
youtube
Reading:
100 Things We've Lost to the Internet
Lighter- Yung Pueblo
Thriving as an Empath
Thinking About:
The Spring! I am excited to start planning my garden, warm weather and seeing what all of the rain has brought to our hill.
Listening To:
I have been listening to this when I need to hyperfocus on computer:
I love this How to Human Podcast episode with my friends!

This is a good mood.
This is such a good song to stay focused with. I am glad I found it.
Dream Life:
This month I've been waking up between 5-6AM. My sleep has been annoying. I don't like it.
Eating/Drinking:
Been having some good salads lately.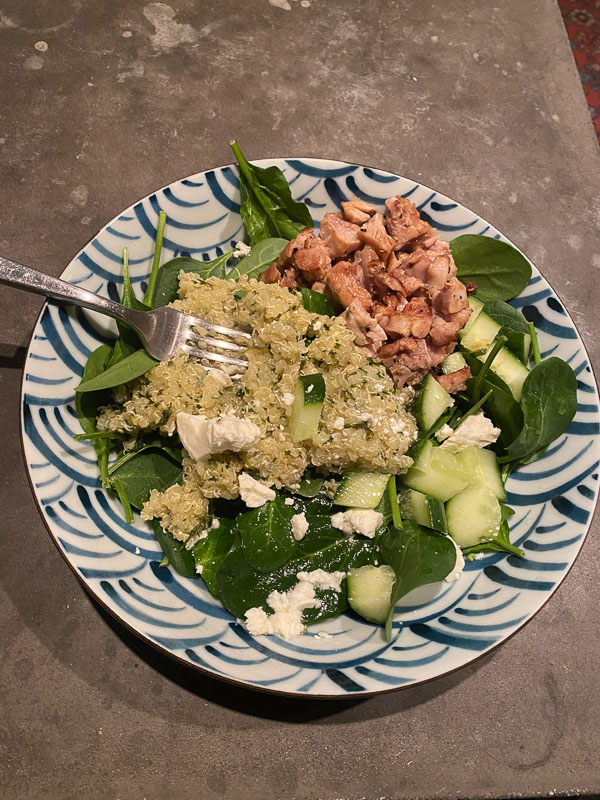 I did meal prep three times this month which means I am actively working on taking the time to nourish myself.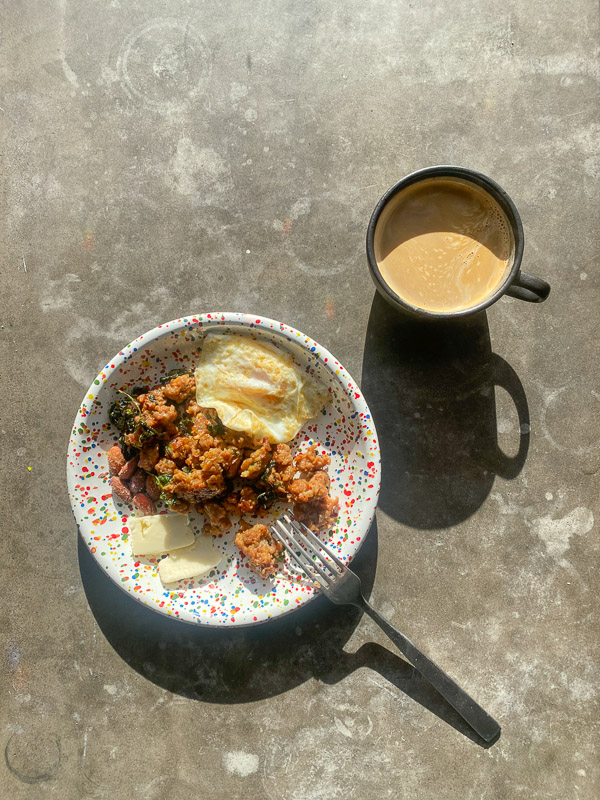 I prepped sausage and arugula and I turned it into breakfast and dinner.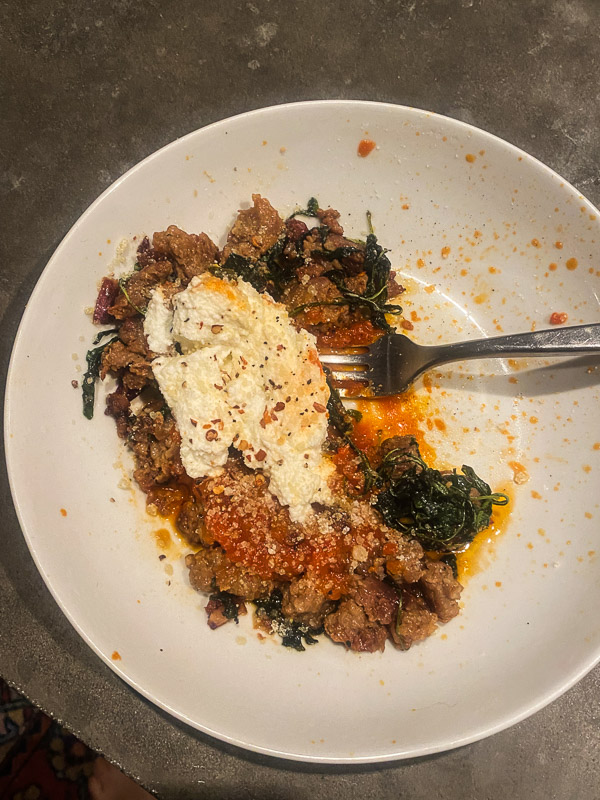 My friend Emma fed me this beautiful salad and soup at her house.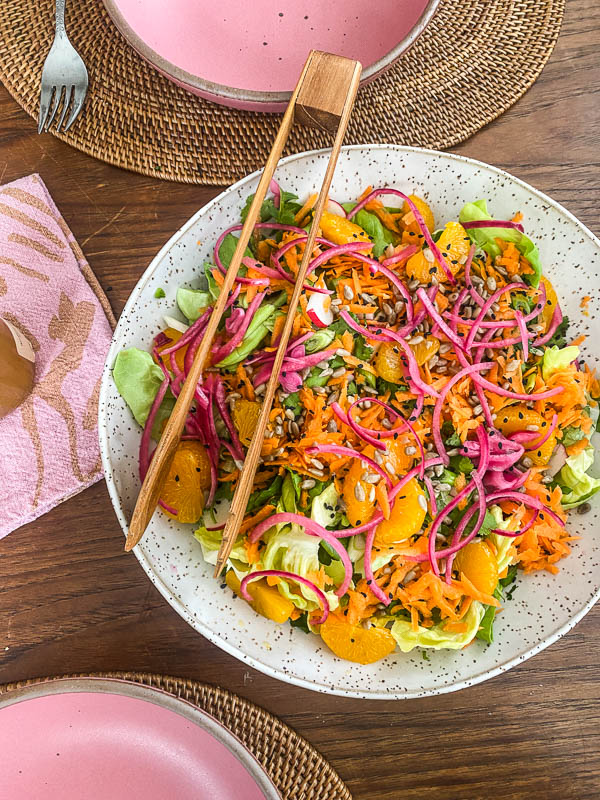 This is the salad that I am trying to recreate.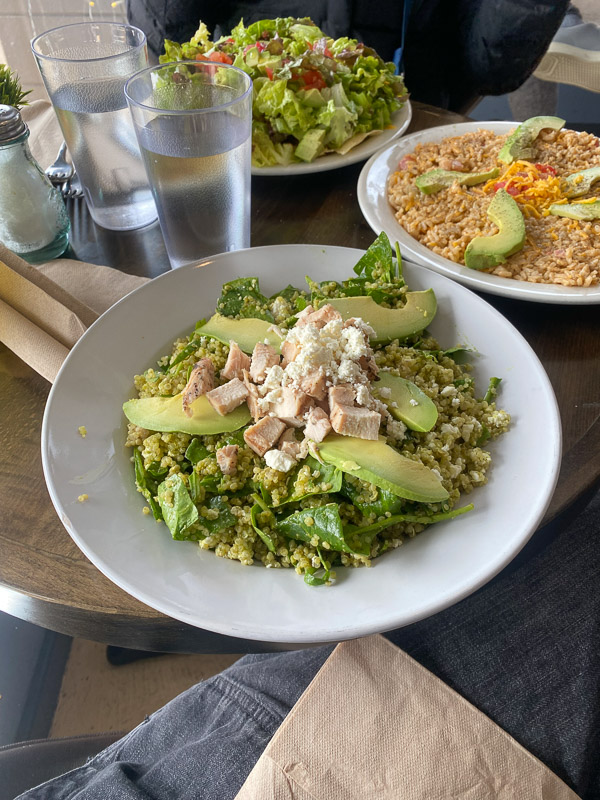 Valentine's Day Dinner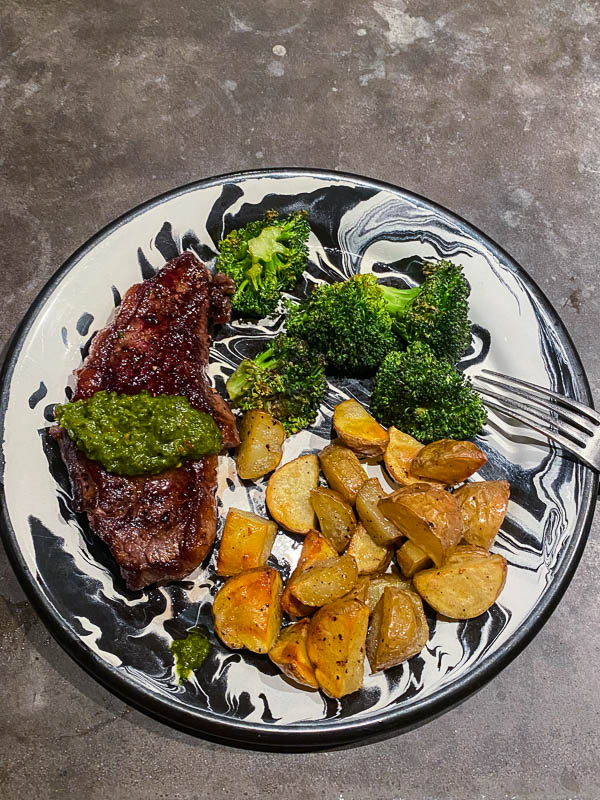 Another salad I am obsessed with that has kale and brussels sprouts in it.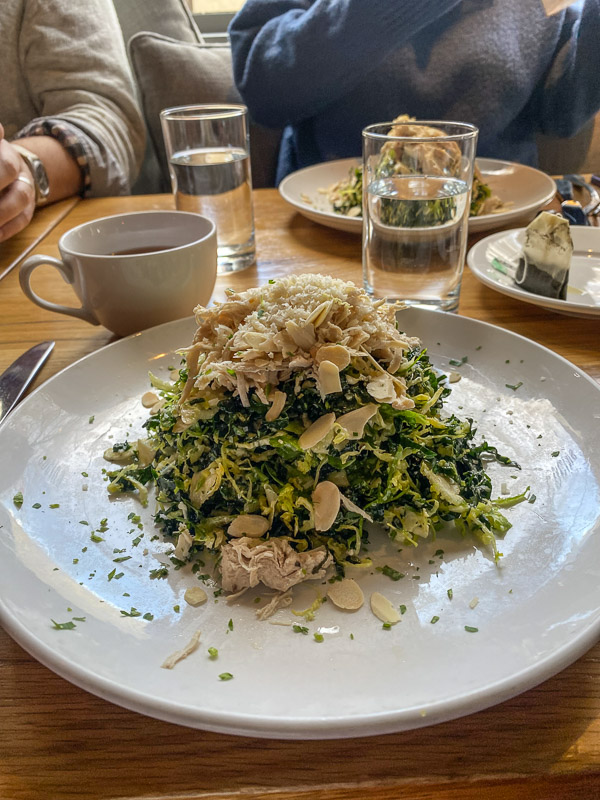 This month I found love in a pineapple apple salad.
I shared this Chicken Cilantro Meatball recipe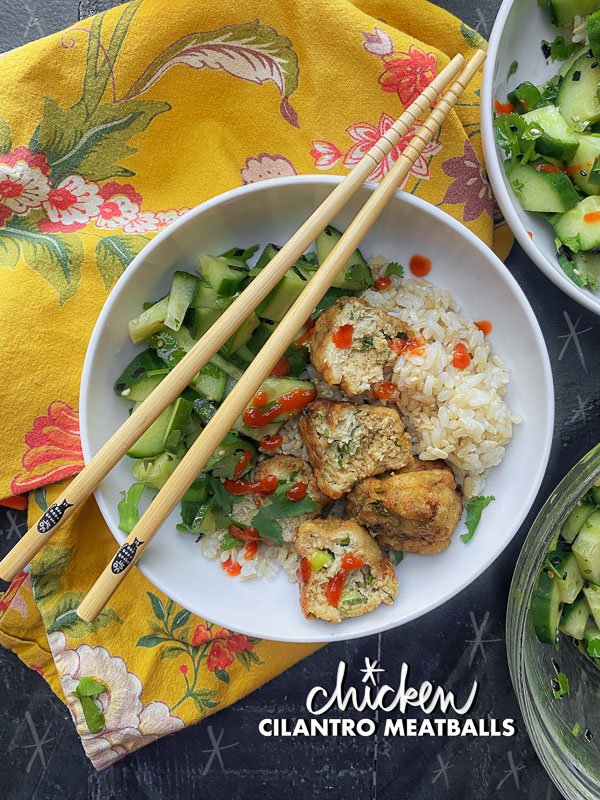 I had a few reset button salads too.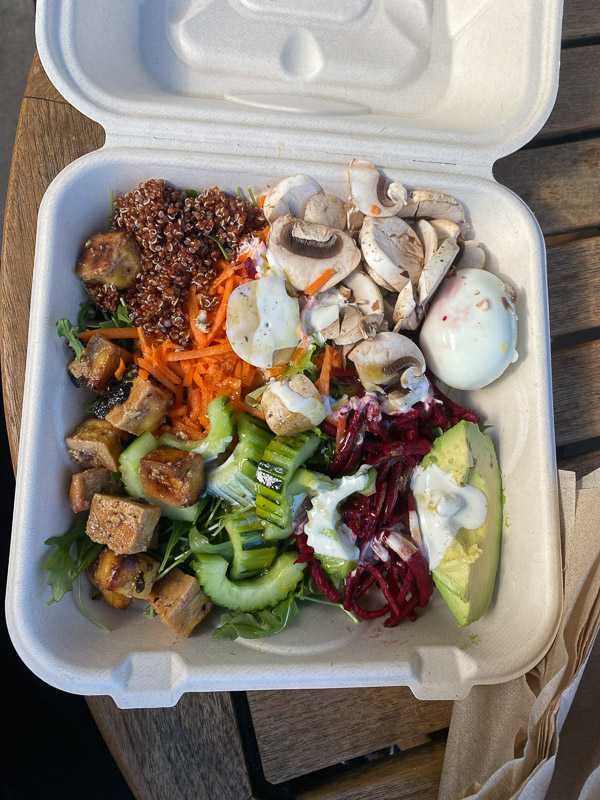 I brought back this broccoli cheddar soup into the mix.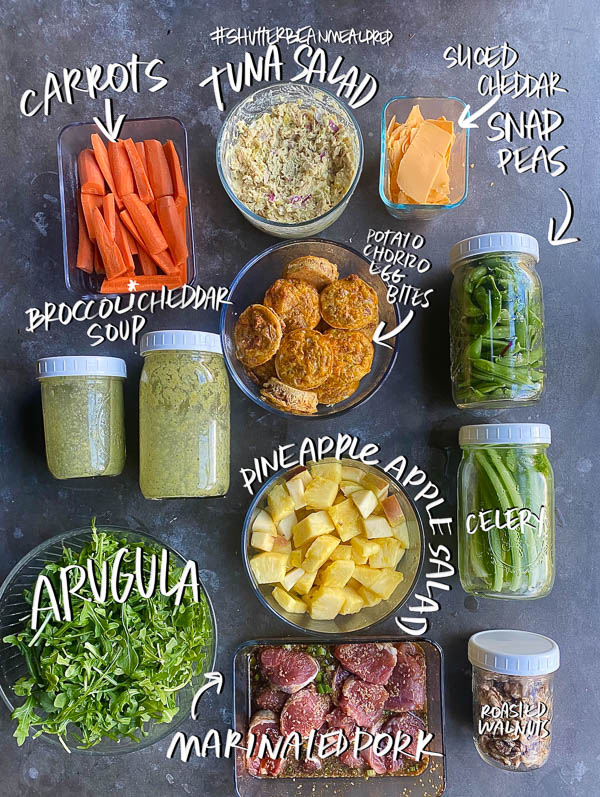 Grateful For:
my family
my friends
my health
love/feeling it and giving it
my art practice
my online community
Self Portrait for February: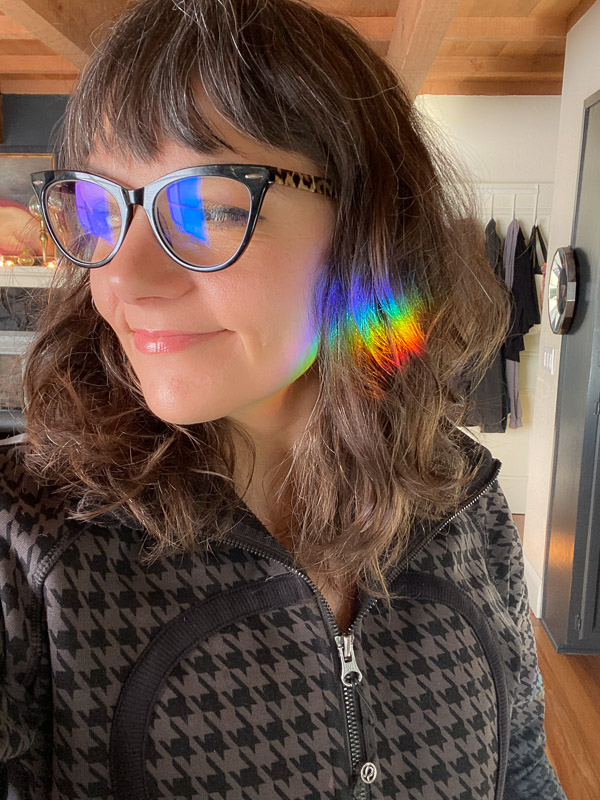 trip down memory lane…
I hope you have a great March! xo Tracy