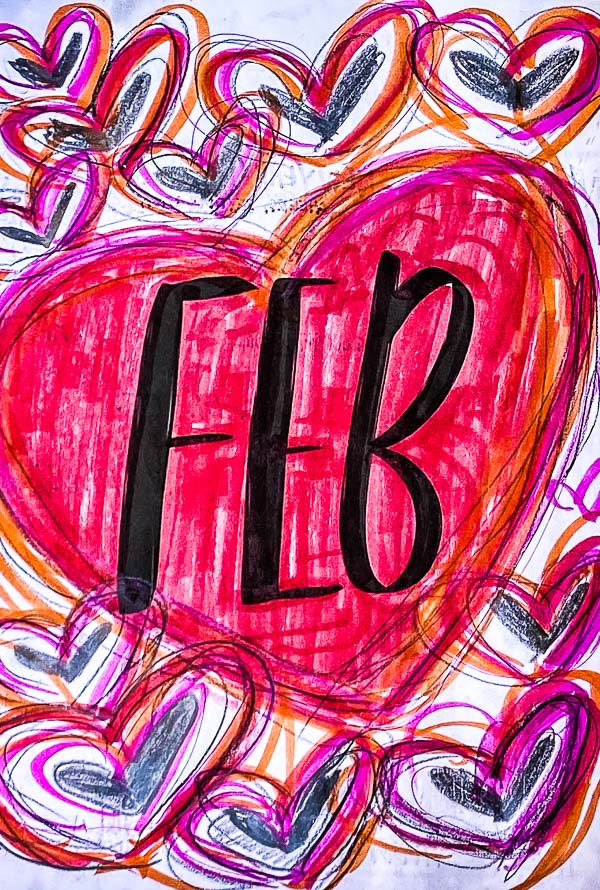 Currently February 2020
Goodbye Feb! SOOO LONG.
PEACE OUT.
BYE.
You were kinda weird!
Not gonna lie.
First of all, the weather here was WARM. It felt like a VERY premature Spring. I wasn't mad about the sun and the light or starting to see blossoms bloom, but I just know we need some more rain. It's also freaking me out that it's not raining and I have to fix my sprinkler system so I have to take extra time to water my yard. February is normally a rainy month around these parts. I am so grateful when nature does the watering for me.
I hit a grief wave this month.
Mostly because I had a breakthrough in therapy and really wish I could call my Mom to discuss it and ask her a few things. I had to feel the pain of being stuck with unanswered questions because I have lost all access to that.
My brain all month was like IF WE DO NOT ASK, WE DO NOT KNOW. IT SUCKS THAT I WILL NEVER KNOW XY&Z. MY MOM WAS THE LAST PERSON IN HER FAMILY. ALL OF THEIR LIFE STORIES HAVE ENDED AND I WILL NEVER KNOW WHAT HAPPENED! I AM REPAIRING TRAUMA THAT I DO NOT HAVE ACCESS TO. I DO NOT KNOW THE TRUE STORY. HOW AM I GOING TO UNDERSTAND?????!!!!!
Just when I think I'm fine, and I've got control over it and then it just hits.
It comes out of the littlest thing like…
Seeing that we have a lot of poison oak around our house and thinking about how my brothers were always covered in rashes during the Spring & Summer. Which lead to me wondering if Dad ever had it? I don't remember Mom having it…which lead to texting my Dad to ask. "I think so?" was his response. My mom would have totally known. I've never had poison oak and how will I know which parent of mine wasn't allergic??!
Like I said, it comes out of nowhere.
I am still learning how to be the only female in my family. Grief has been one big wild ride.
Anyways!
Here's what Feb looked like in my Currently Workbook!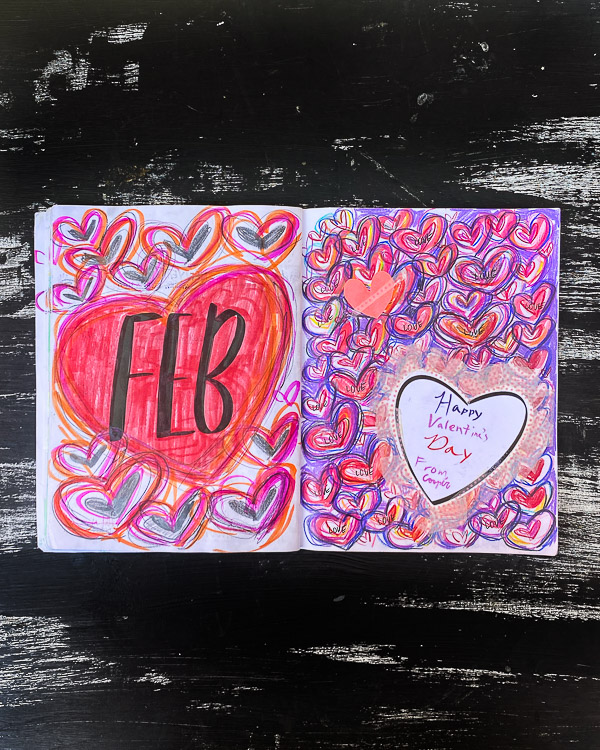 I put one of Cooper's valentine's day cards in it: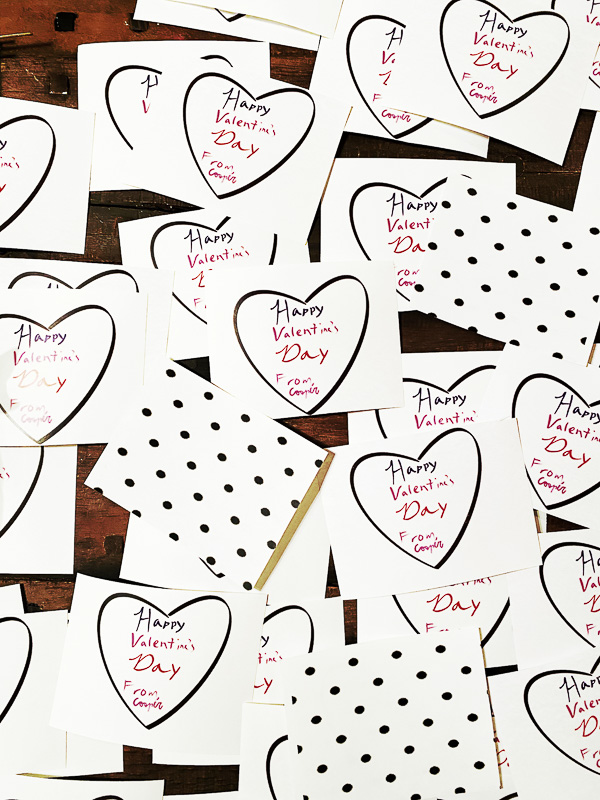 All the good things that happened this month!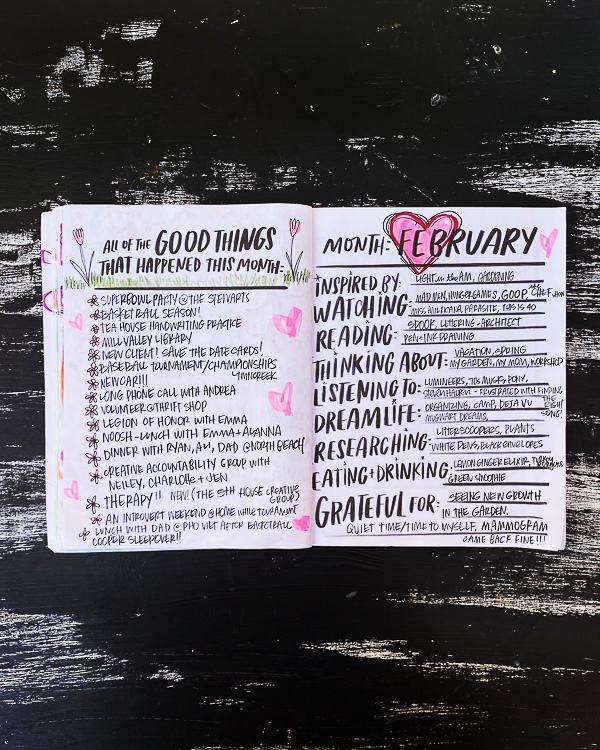 Let's break it down!
Inspired By:
I spent a lot of time outside whenever I could in February.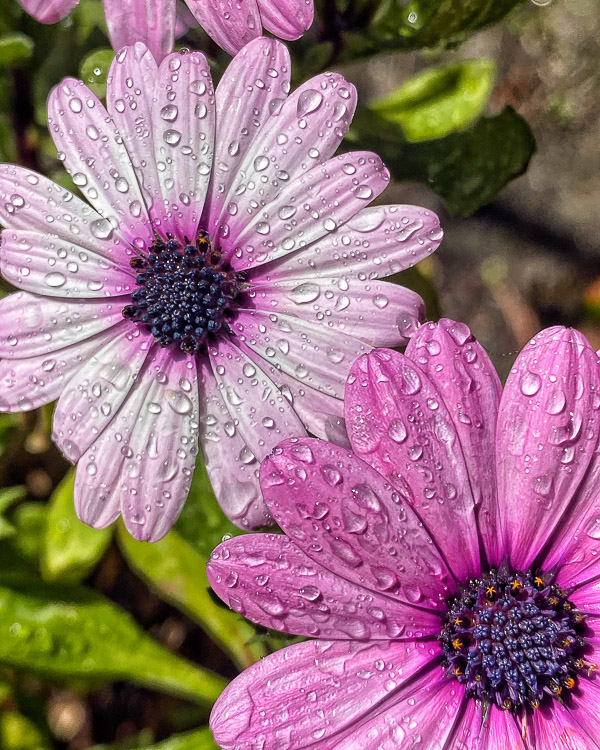 Got to go on a SF adventure with my friend Emma. Such a beautiful day in the city.
My grandpa used to play at this golf course. Made me think of him and my Mom.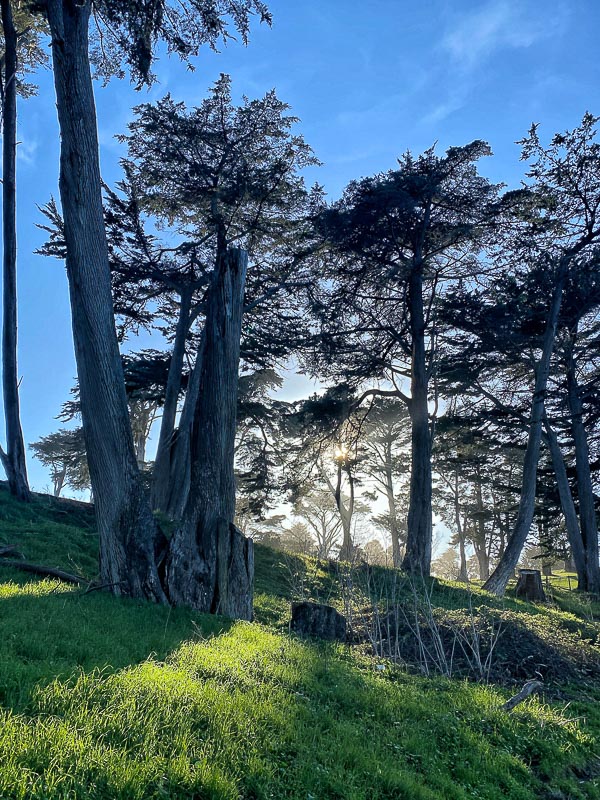 Working in my garden is how I meditate in the mornings. I am happy to have this back in my life.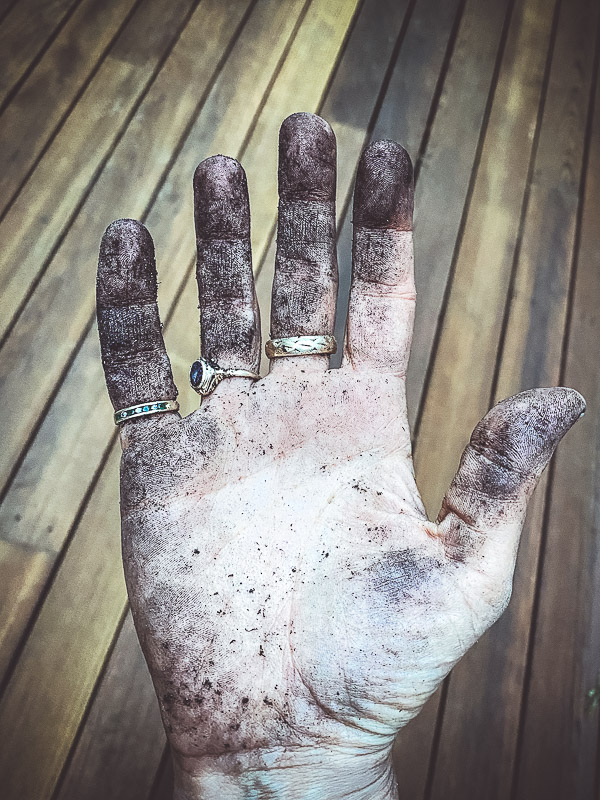 I got to wear sandals twice this month. I TOLD YOU FEBRUARY WAS WEIRD.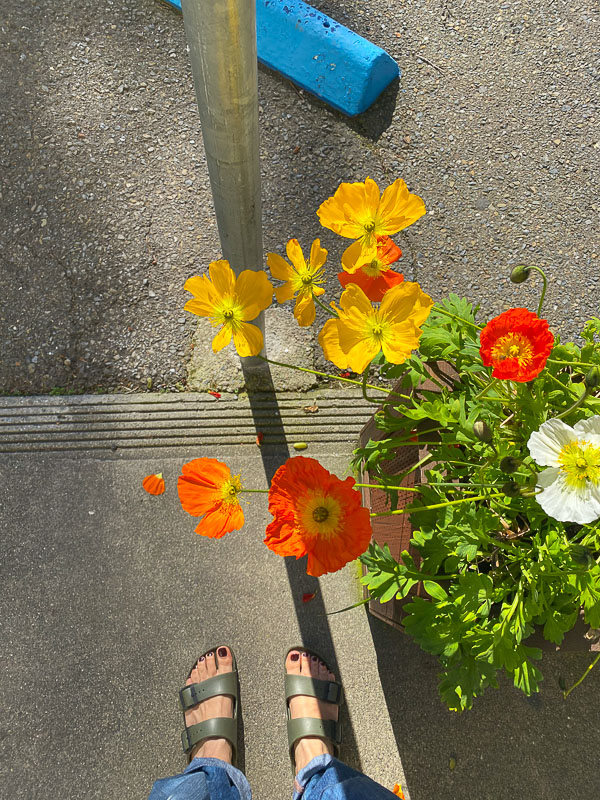 Watching:
Mad Men- this is our second time watching it. I like that I know everything about Don already. Sometimes it's so cringey and uncomfortable to see how men treated women back then. Also people smoking in BED. HOW?! And it's so unbelievable to me that people had bar carts in their offices. It really makes you think. Also… it's such eye candy to watch. I get mesmerized by the set design and the clothing.
Hunger Games- we watched this one with Cooper for family movie night! I forgot how intense it is at times. Jennifer Lawrence is a badass. Nuff said.
Goop Lab- I had a full night to myself this month. Didn't have to share the TV with anyone. This is what I chose to watch. I totally blew through all of the episodes. I actually really liked it!
The Chef Show- Cooper and I have been watching this together. I think it's getting him more interested in food. It's making me inspired to play around in the kitchen. I really like listening to Roy Choi. His voice is so soothing and I like watching him laugh.
Miss Americana- liked this more than I thought I would. Taylor Swift is so striking. It's amazing to watch her morph into so many different personalities. Her honesty about living in the public eye was refreshing.
Parasite- we had no idea what the movie was about until we saw it this month! Which is great because it was GREAT and no one ruined it for me. Very entertaining. It makes you realize how much we can get into a story when it's well crafted. It was the first movie in a long time that had me on google searching for articles to read about it.
This is 40- The last time we watched this, Casey and I hadn't turned 40 yet. He's about to be 43 and I'm 40. Still hilarious. Paul Rudd and Jason Segel made me laugh. I needed to laugh.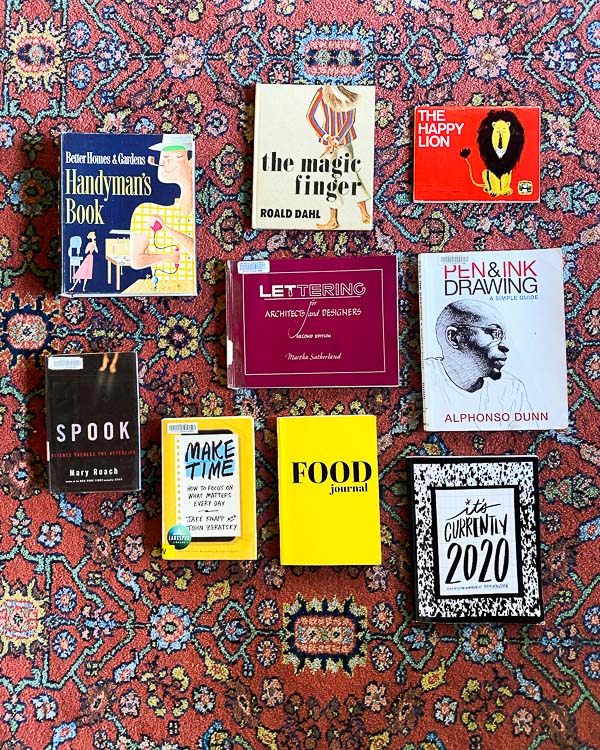 Reading:
Books scored from free mini libraries:
From the library:
Workbooks I'm working with: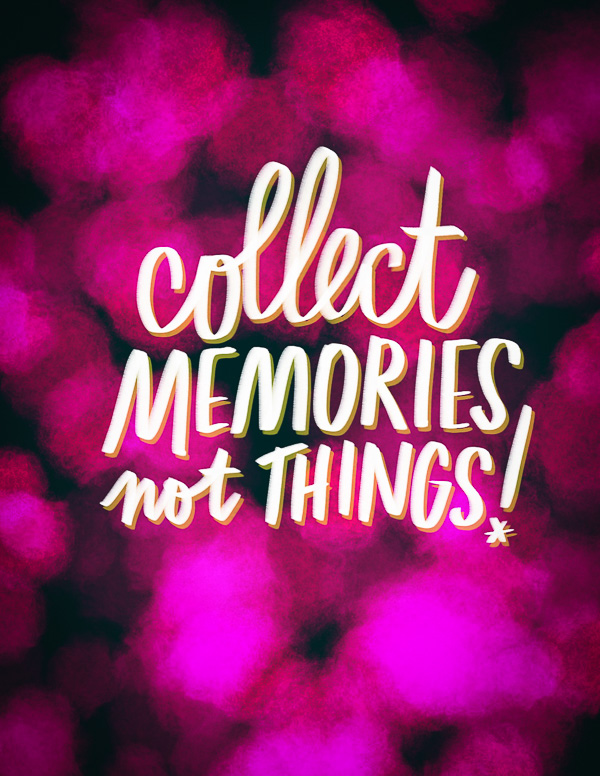 Thinking About:
My next vacation…..
My mom.
My garden.
The food photography & styling class I am going to be teaching in May in Santa Fe!
Listening To:
This playlist is helping me when I need to sit at the computer for a long period of time.
Been listening to my top songs from 2019…
This is a happy song I like:
Also enjoying:
Instant relaxation: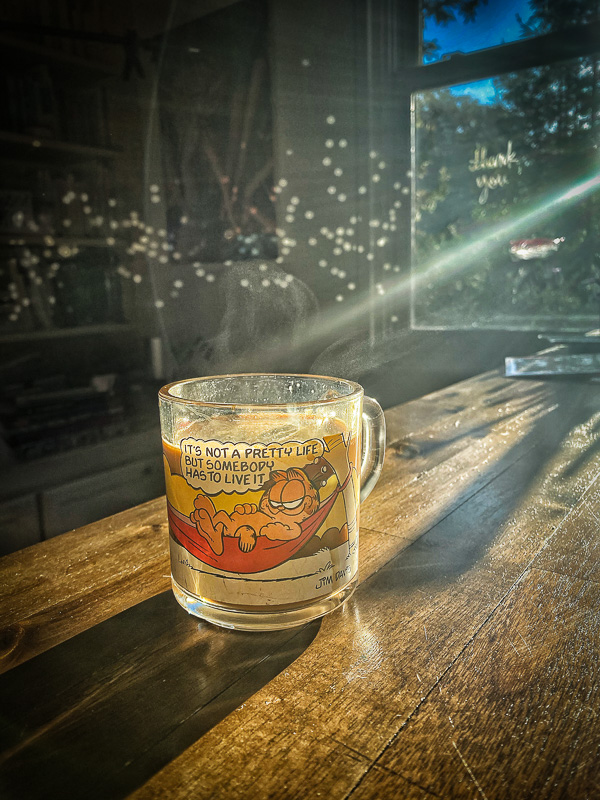 Dream Life:
Been dreaming a lot of my childhood. I think it's because I'm in therapy right now and a lot of stuff is coming up!
Researching:
The best litter scooper, white pens for black envelopes, outdoor plants & spring capsule wardrobes.
Eating/Drinking:
This month I enjoyed food!!!!!!!
I wrote everything down in my food journal!
Completed almost two full months of tracking my food. I missed a few days but got right back on.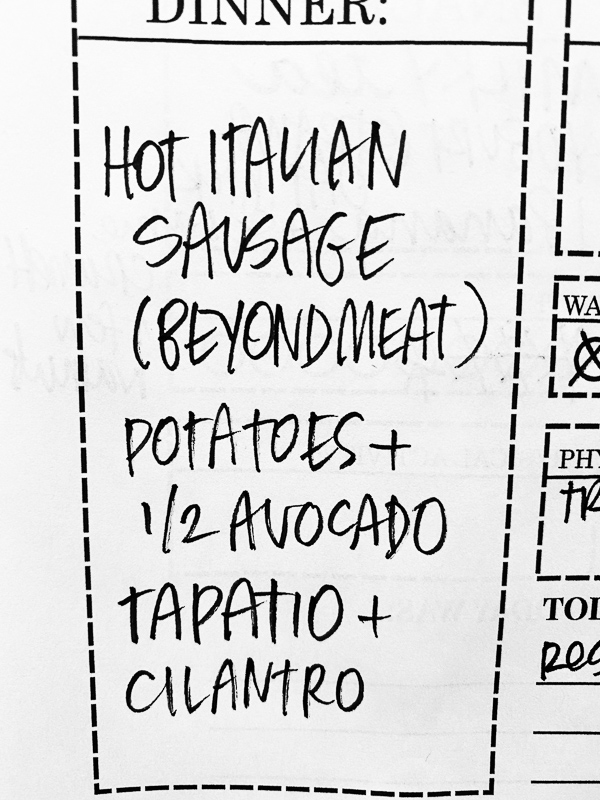 Favorite thing to come out of my kitchen was this Vegan Ranch Dip!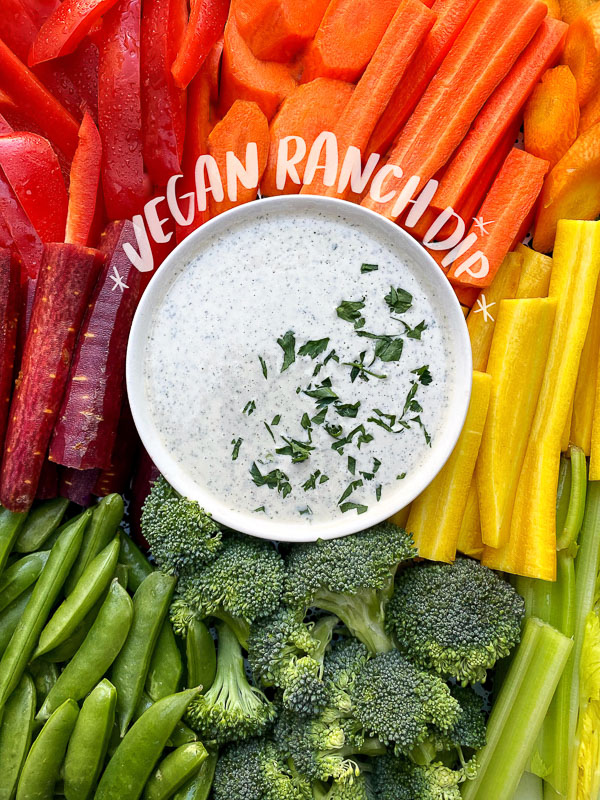 Went into my archives for dinner inspiration and made veggie tempura! I threw a few shrimp in there too.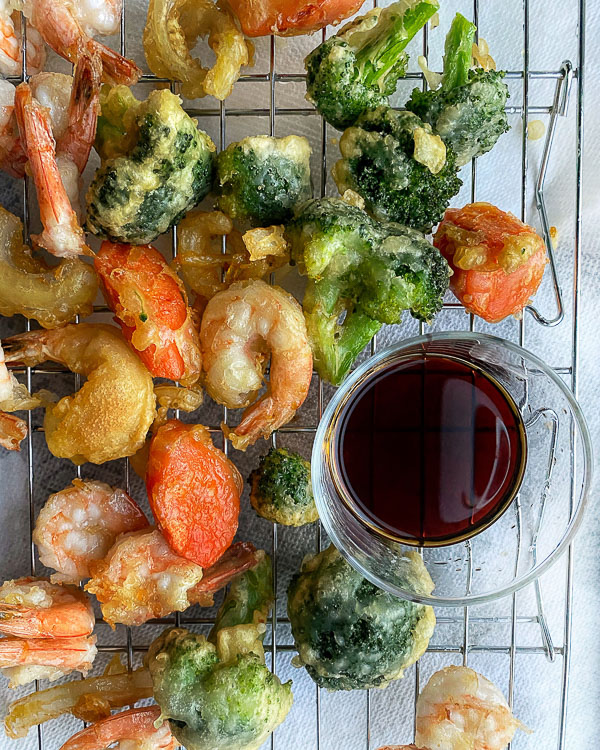 I made several batched of Lemon Ginger Elixir.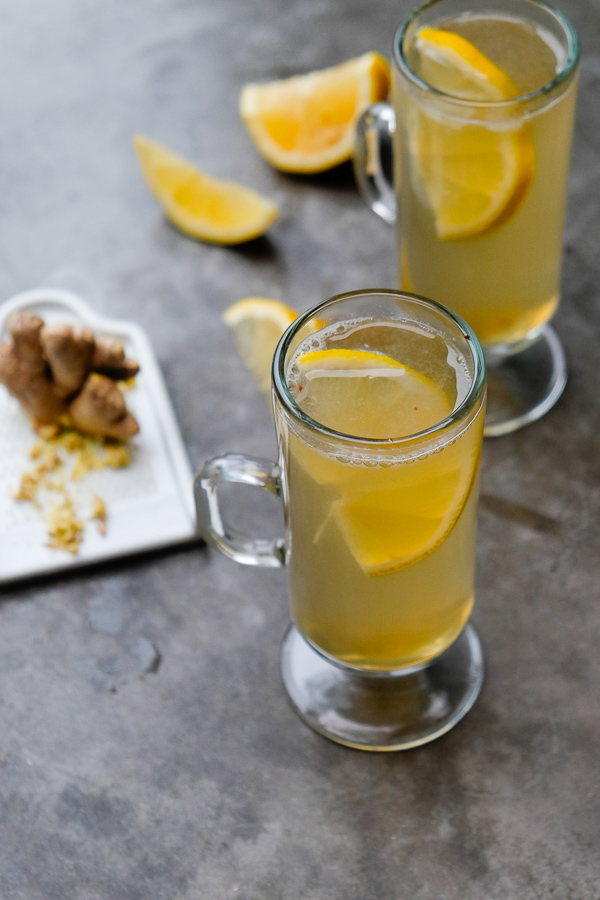 Had gluten, dairy & alcohol in moderation!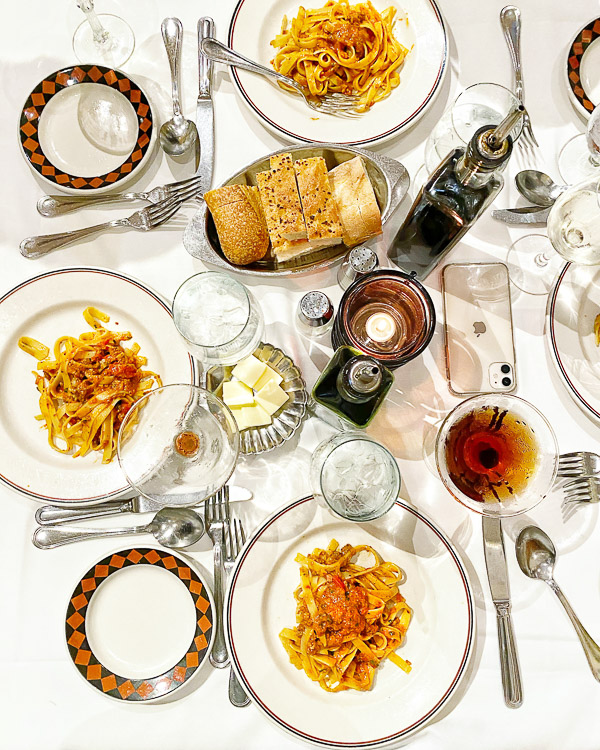 Enjoyed a nice lunch at Noosh with Emma & Alanna.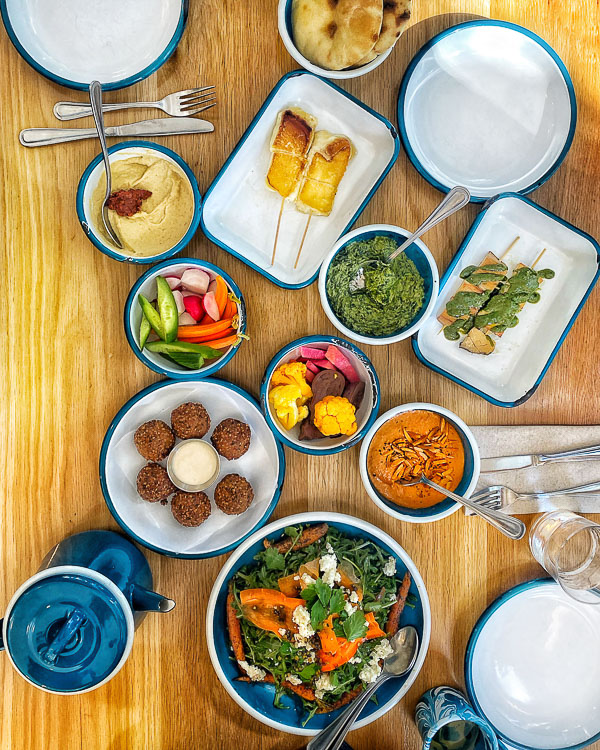 Shared my Indian Turkey Burger Recipe!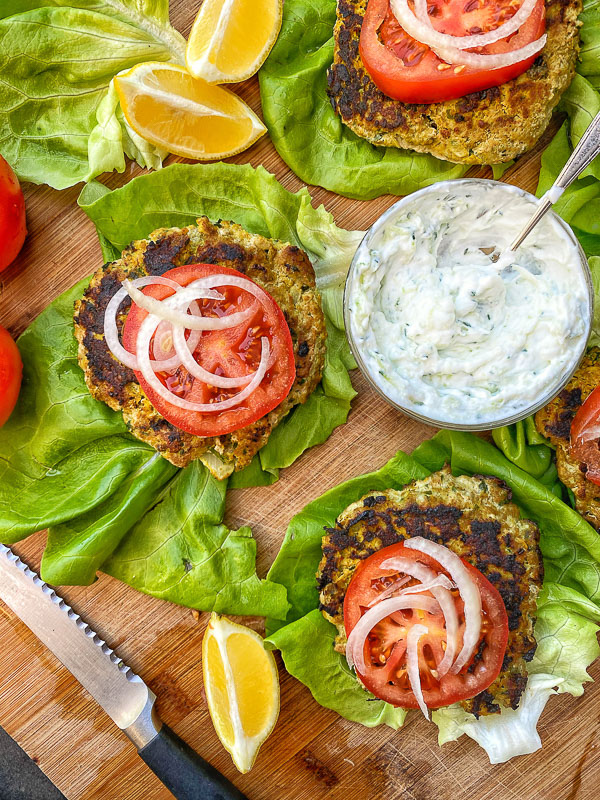 Comfort food.
Coconut yogurt, granola & bananas for a lot of breakfasts this month.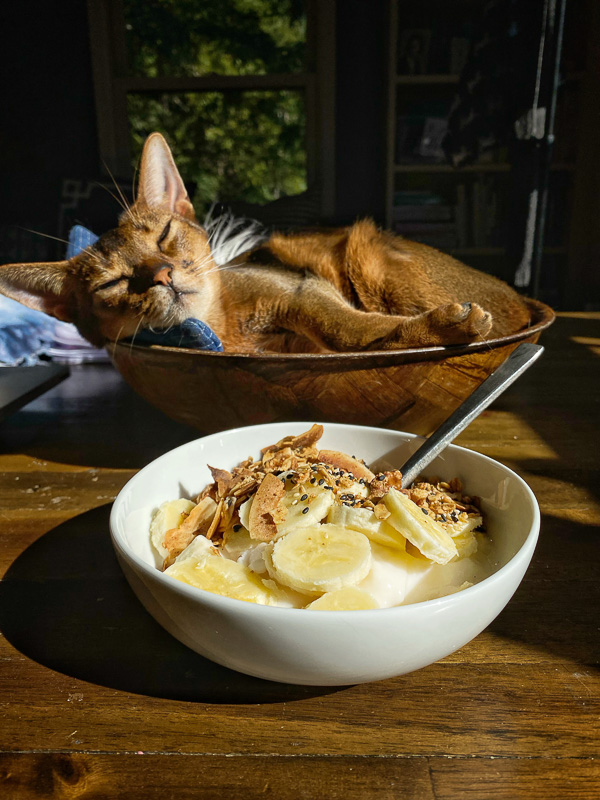 Frozen peach after dinner phase.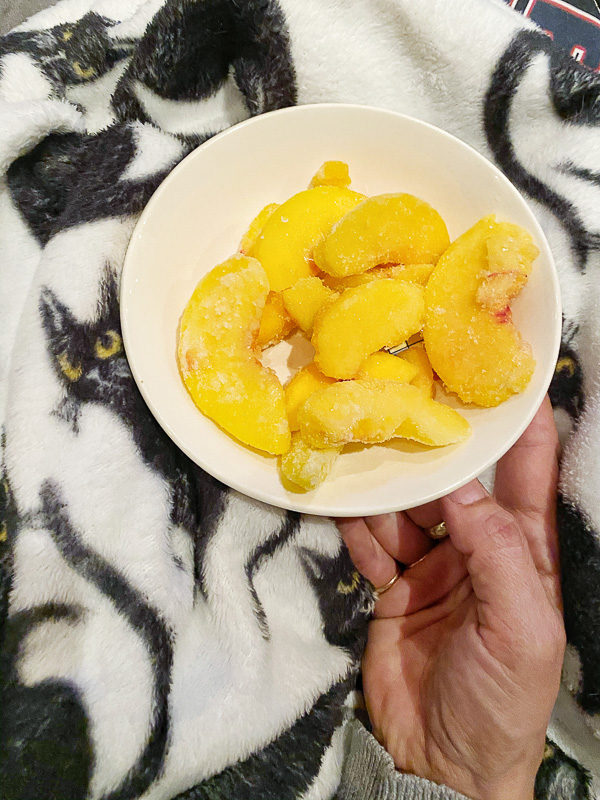 Shared this Bright Green Smoothie (perfect for St. Patrick's Day!) and gave away a blender!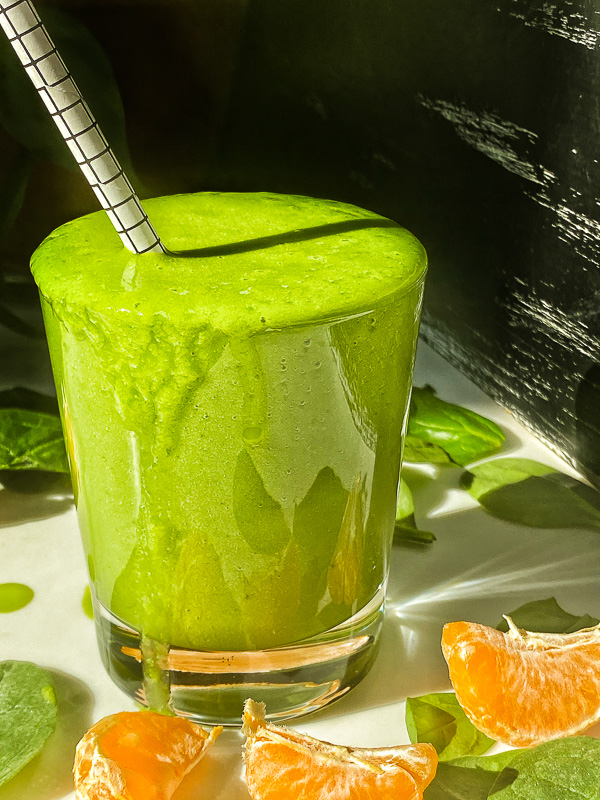 Had a salad that made me remember how much I love arugula.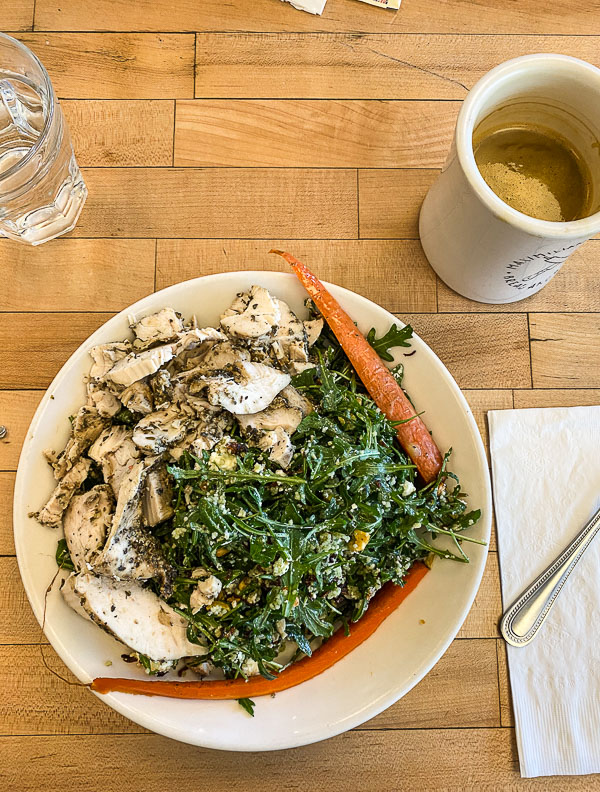 Went through a Beyond Sausage & potato hash breakfast phase too.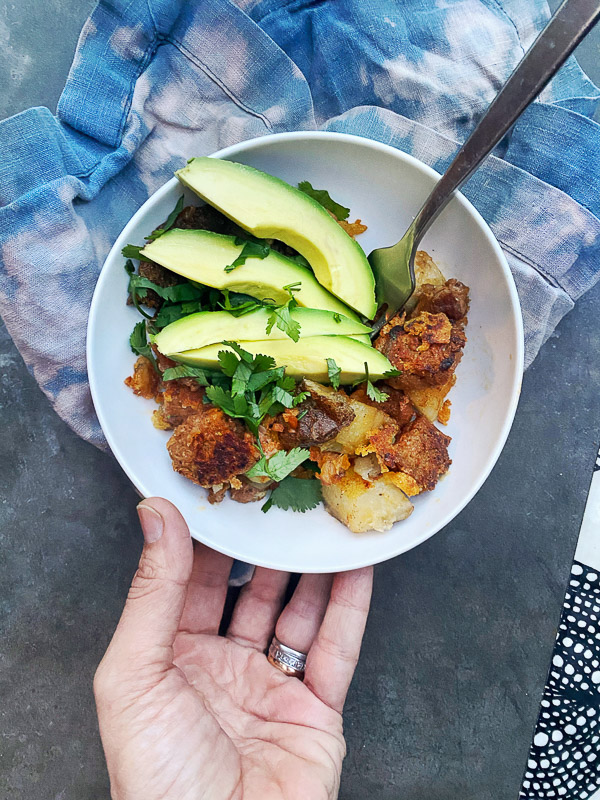 Maple Olive Oil Banana Bread for the kids at school.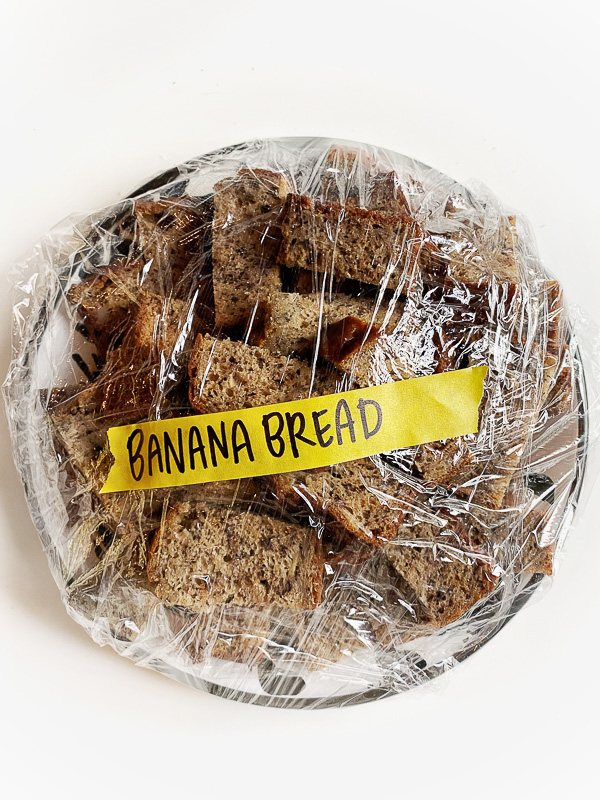 Alllll of the tea. Especially this one.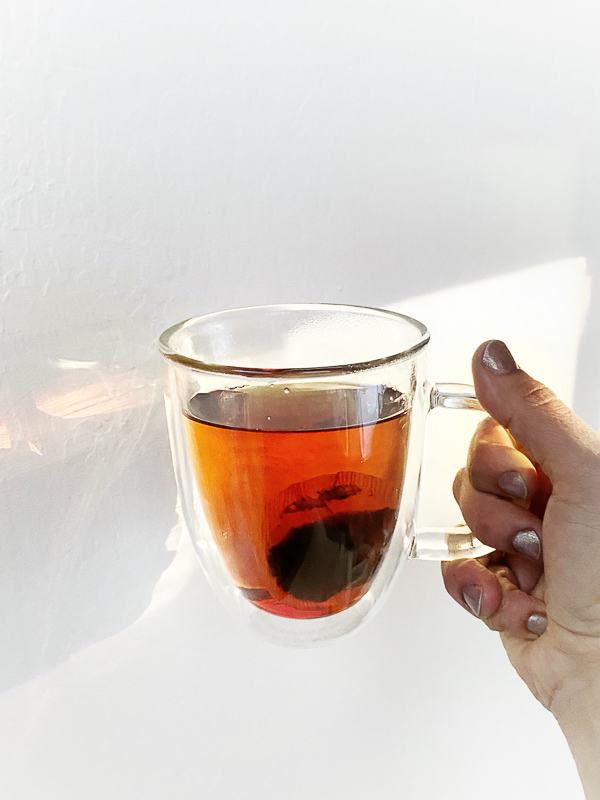 Self-Portrait for February: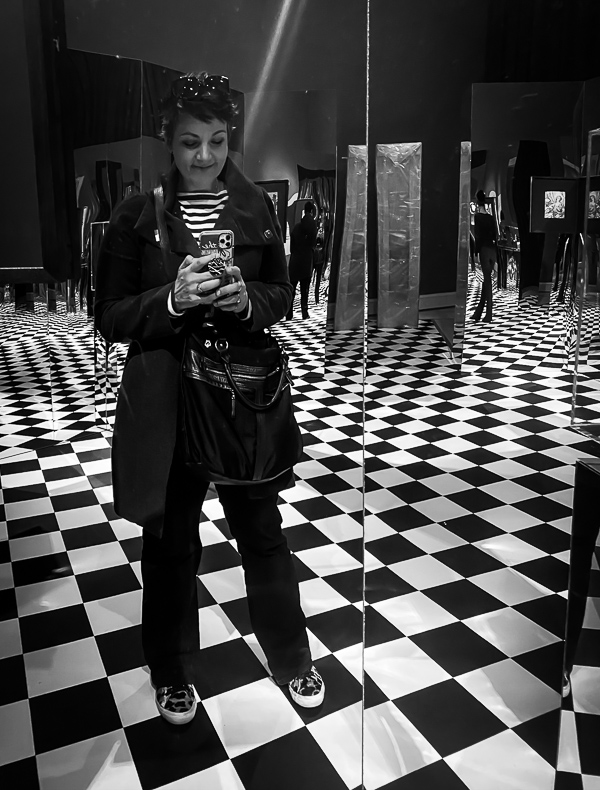 Here is my Currently Workbook!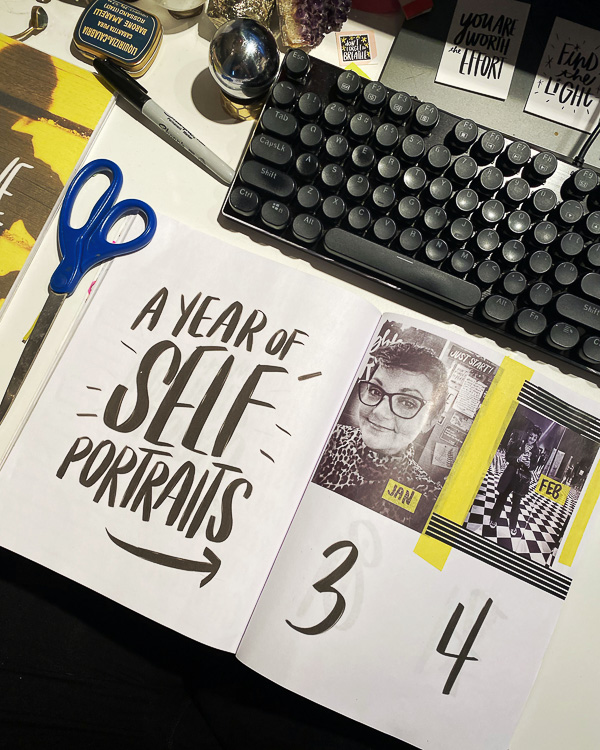 If you want to see more about my Currently Workbook project, here is more information!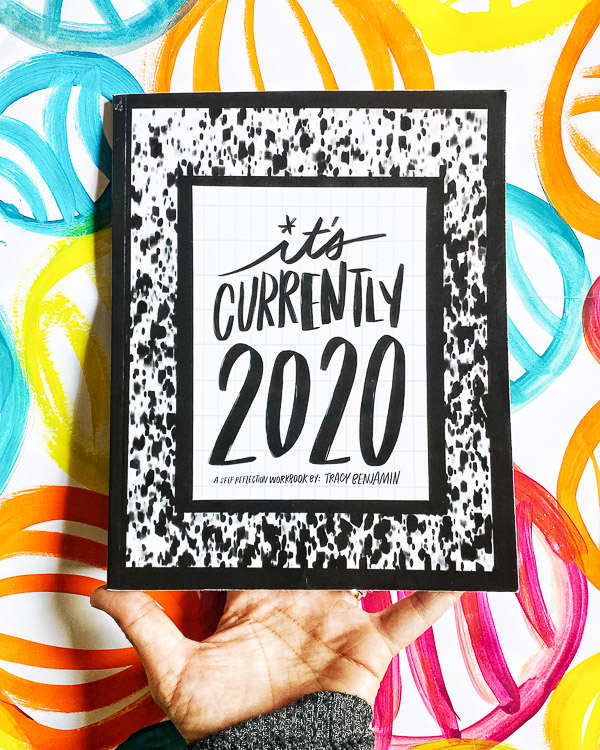 In February, I added a new print to my Etsy Shop.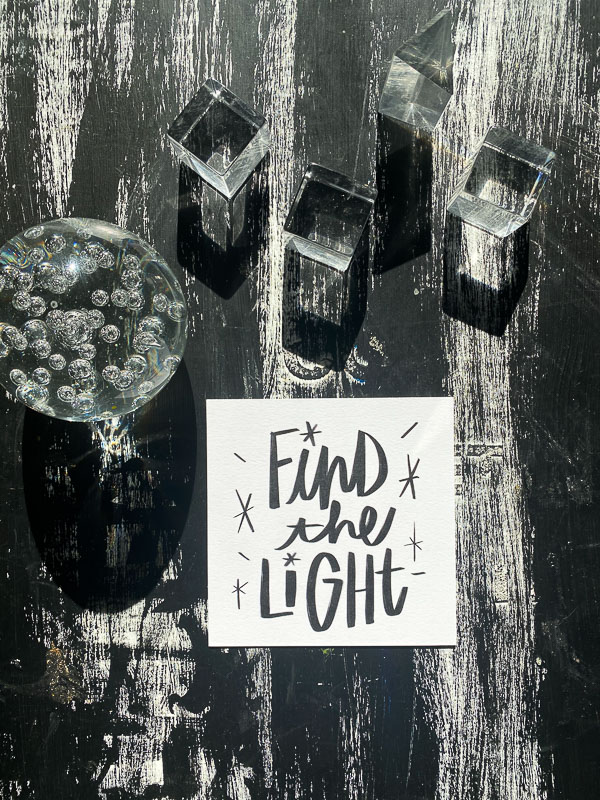 Enjoy your March! Here's what February looked like in 2019, 2018 and 2017 for me.
Thanks for reading Shutterbean! If you'd like to check out more of my everyday life, follow me on Instagram and be sure to keep in touch via Facebook, Twitter, Bloglovin, Pinterest, or subscribe via email to get new posts delivered to your inbox.