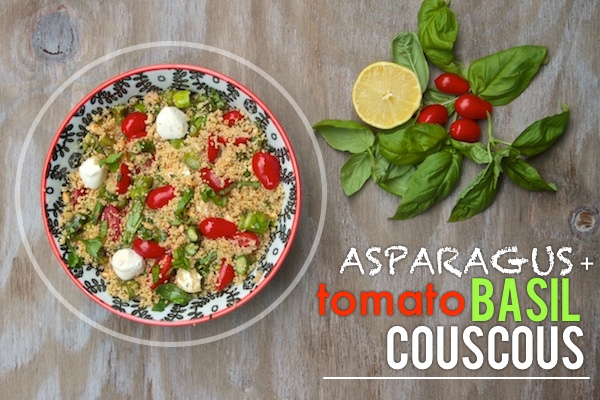 I can always tell when there's a new season approaching when I'm doing my weekly shopping at Target. Right now it's OUTDOOR BBQ, get your ice buckets, garden lighting, stock up on sunscreen!!! season and it's one of my favorite times of year. I love the promise of longer days and eating outside by candlelight (albeit citronella!)  I also LOVE seeing what the color trend is for the year and picking out a new table cloth & a few new dishware items for outdoor parties. It's a ritual I have and it means that soon life will slow down a bit.  People take it a bit easier during summer. Life gets simpler and so does the food.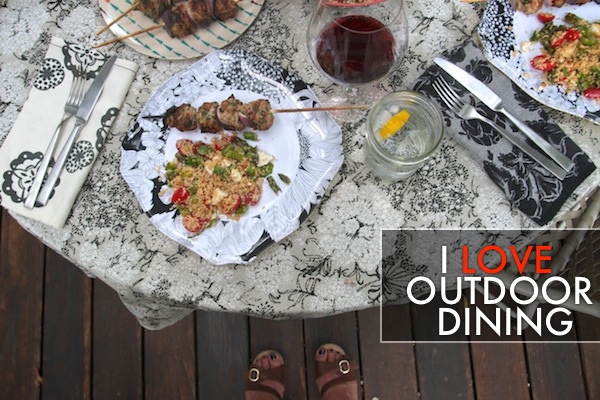 When it's time to start eating outside, my brain shifts gears. I think of easy yet satisfying dishes that can be thrown together instantly.  I always gravitate towards dishes that include some type of vegetable and the use of an outdoor grill!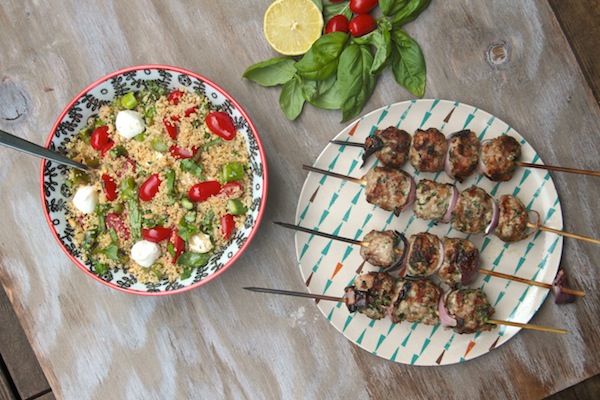 I teamed up with Archer Farms (only found at Target!) to come up with a simple recipe (using one of their products) that will help you kick off the BBQ season. This Asparagus Tomato Basil Couscous uses Archer Farms Roasted Garlic & Olive Couscous. I grilled asparagus, pulled fresh basil from my patio, added toasted pine nuts, tomatoes & fresh mozzarella. This couscous is finished with a hefty squeeze of lemon juice to really wake up the asparagus.  The fact that the couscous already has some simple seasoning helps cut down on the ingredients list. And that's exactly what we need when we just wanna chill out & relax outside. Am I right?
And we're off!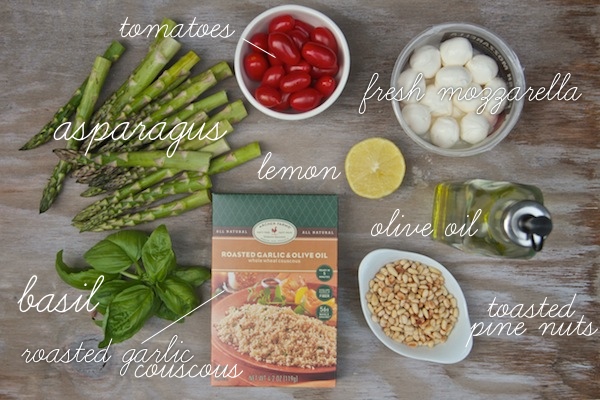 Here's the Roasted Garlic & Olive Oil Whole Wheat Couscous I used.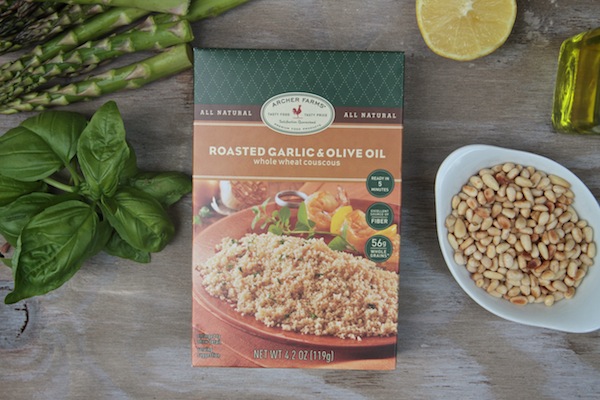 I actually brought my electric tea kettle outside and made this WHOLE dish outdoors. I just covered the couscous with a tea cloth & set it aside for 15 minutes to fluff up in the measuring cup I mixed it in.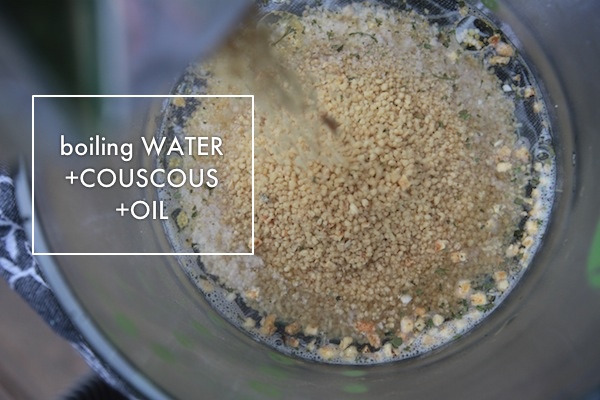 Drizzle the asparagus with olive oil. Season with salt & pepper and throw them on the grill!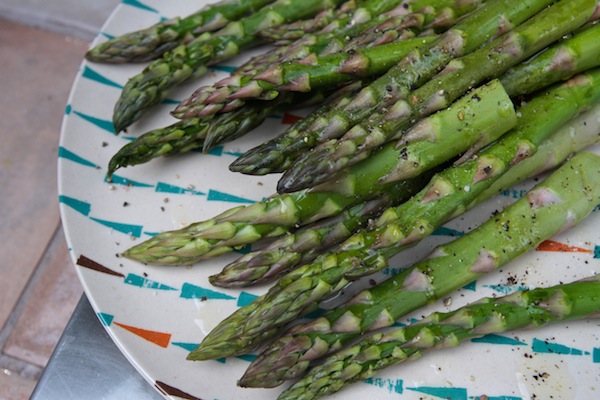 GRILL TIME!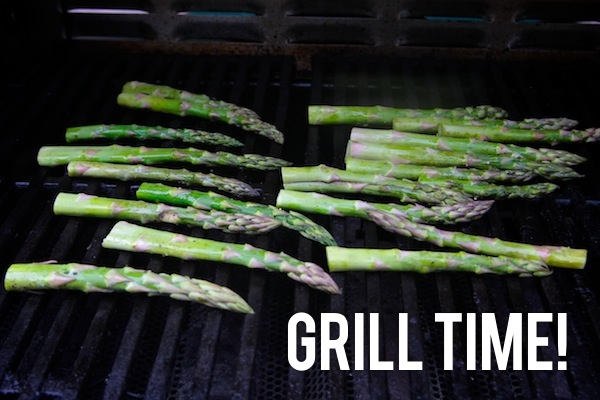 Once grilled, cut the asparagus into bite sized pieces. You could totally roast asparagus in the oven if you're without a grill/grill pan. It will be just as good!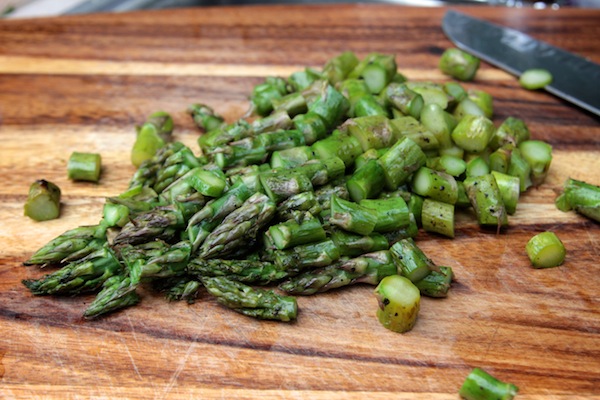 Now we get ready to assemble the couscous. Look! I'm doing this all outside!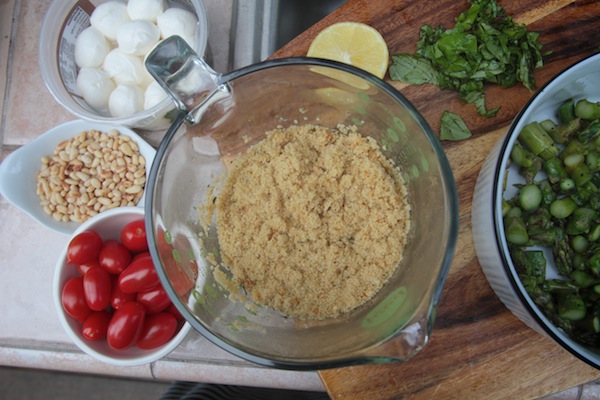 Put the asparagus in a bowl with the couscous, pine nuts & basil. Drizzle about 1 tablespoon olive oil on top.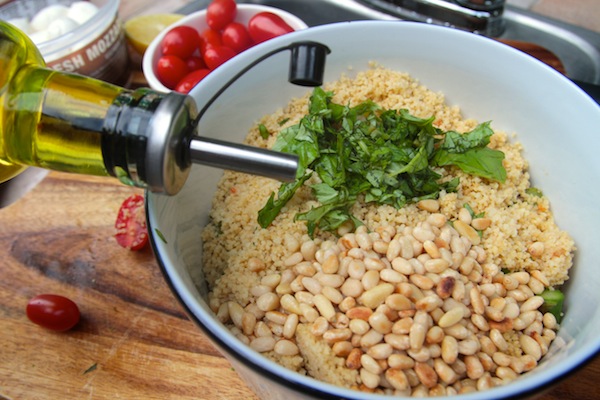 Next you stir in the tomatoes and gently fold in the fresh mozzarella. You could sub feta in if you want!
Zucchini would be another great vegetable to use.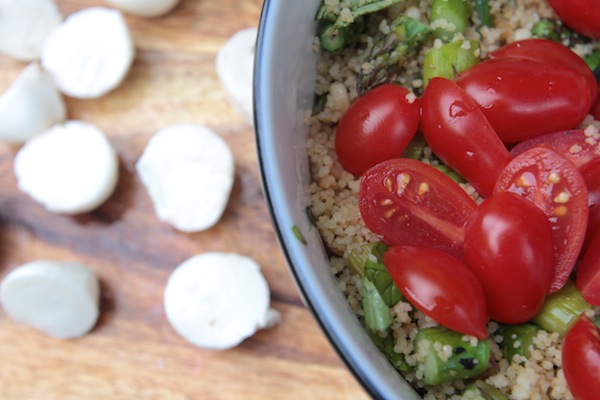 Squeeze about a half of a lemon into the mix. STIR STIR STIR.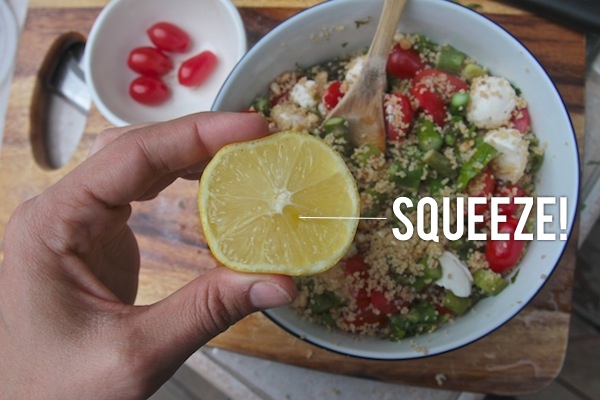 Dinner is SERVED.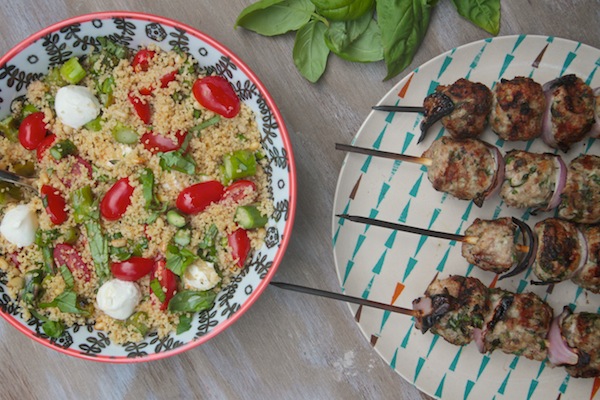 Casey took out a nice bottle of wine for the occasion…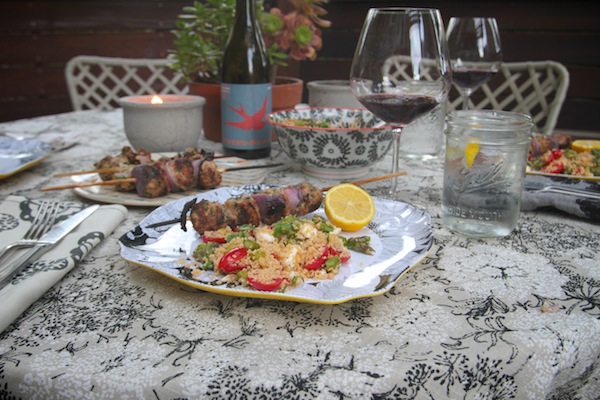 Here's a closeup on the couscous. It's like a salad & carb side all in one. Summer is all about shortcuts!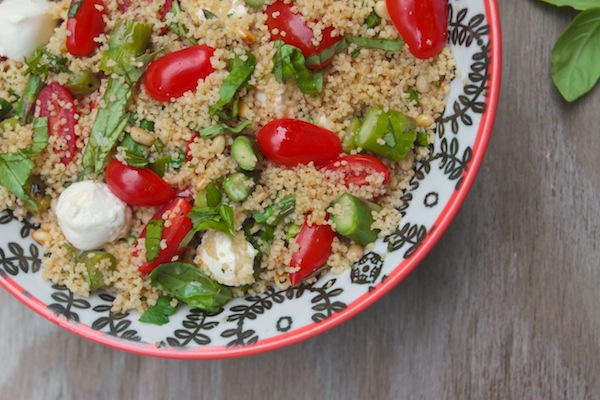 Hope you love eating outside as much as I do.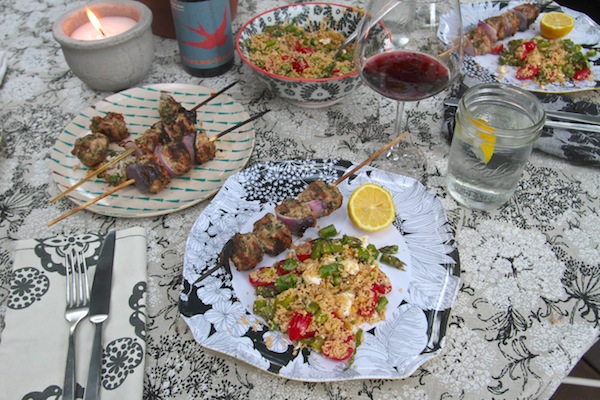 Just watch out for bugs!

Brought to you by Archer Farms only at Target.

Asparagus Tomato Basil Couscous

serves 4

1 package Archer Farms Roasted Garlic & Olive Oil Couscous

1 bunch asparagus (about 1 lb.)

2 tablespoons extra virgin olive oil
kosher salt & freshly ground black pepper
1/3 cup toasted pine nuts
1 cup grape tomatoes, halved
1/2 cup fresh mozzarella, cut into small pieces
1/3 cup chopped fresh basil
juice of 1/2 lemon

Cook couscous according to instructions on package. Set aside.

Preheat grill/grill pan to medium-high heat. Drizzle asparagus with 1 tablespoon olive oil, season with salt & pepper. Grill 3-4 minutes per side, until charred & slightly tender (you still want a nice bite to it). Transfer asparagus to a cutting board and chop into small pieces. Set aside.

In a large bowl, toss cooked couscous with 1 tablespoon olive oil. Stir in pine nuts, tomatoes and asparagus. Gently stir in mozzarella, & basil and squeeze lemon juice on top to finish off the dish. Season with salt & pepper and serve cold or at room temperature.