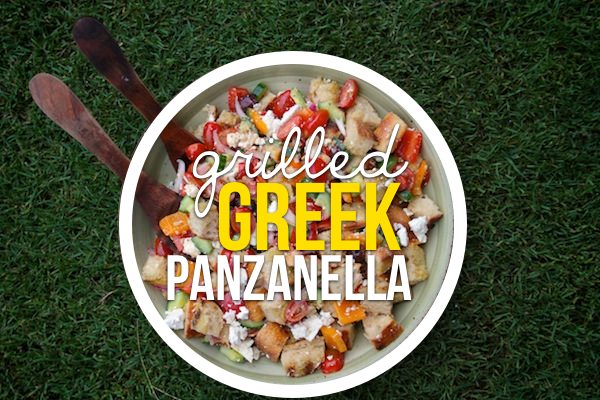 Take one of my favorite salads and mix it with grilled bread and you have the perfect way to win my heart. Need me to alphabetize your DVD collection? No problem. Want help unpacking your closet after a move? OK. Looking for someone to help you detail the inside of your car and or fridge? You've come to the right place. All I require is this entire bowl of Grilled Greek Panzanella alongside a tasty cocktail (or three). Give me some headphones and let me go!
I have a feeling the waiting list will be long…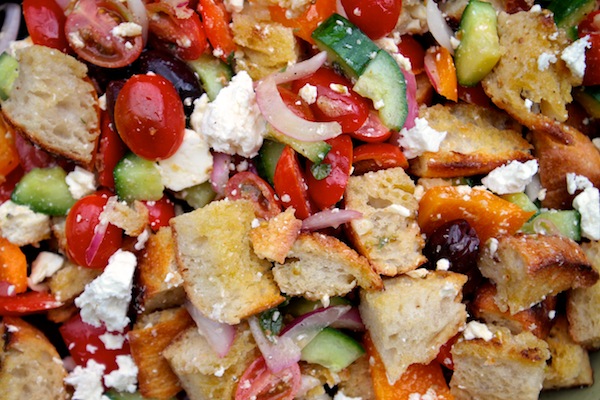 I made this recipe when we were on vacation!  Our friends had a couple of Barefoot Contessa Cookbooks  in the condo my parents were staying and while flipping through the pages, my brain immediately locked in on this recipe.  Mama wanted GREEK…in Hawaii! I also wanted to make a recipe because I was JONESING to blog.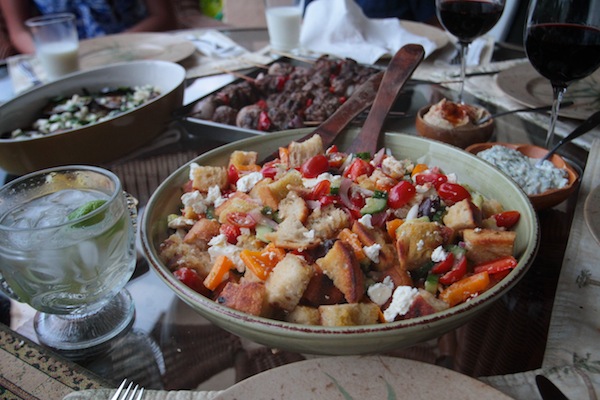 This panzanella salad is well rounded with flavors. Salt from feta & olives. Crunch and sweetness from the peppers, tomatoes & cucumbers. And the grilled bread that soaks up a little of the tangy dressing?? I think I may have fainted…INCREDIBLE. It's sure to be a bribing tool this summer.
And we're off. Gather your ingredients for the salad. The garlic here goes into the dressing.
Dang you, garlic! Quit stealing the show (it's totally not).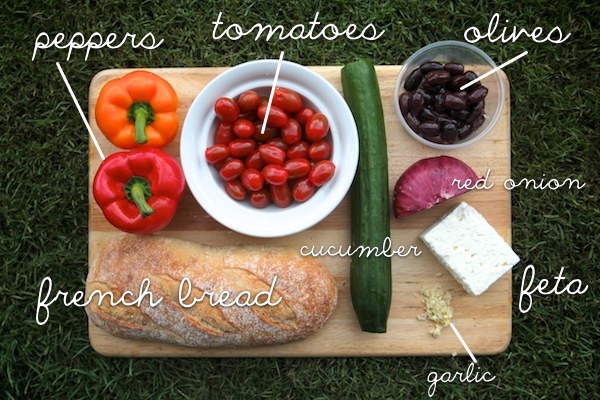 Ahhh there we go. Here's the dressing. Put it in a jar. Put the lid on the jar. Shake it up. Instant dressing.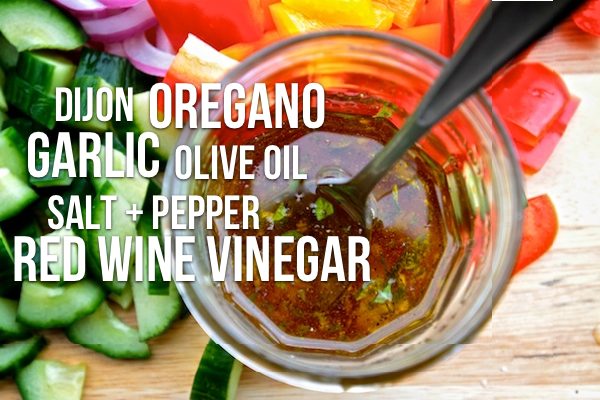 Here's where I thought…Oh Ina! I'm in Hawaii and I don't want to be inside toasting bread over the stove. Let me at the grill, lady! Tell Jeffrey to move over. Seriously. It's not the weekend, what is he doing home anyway??!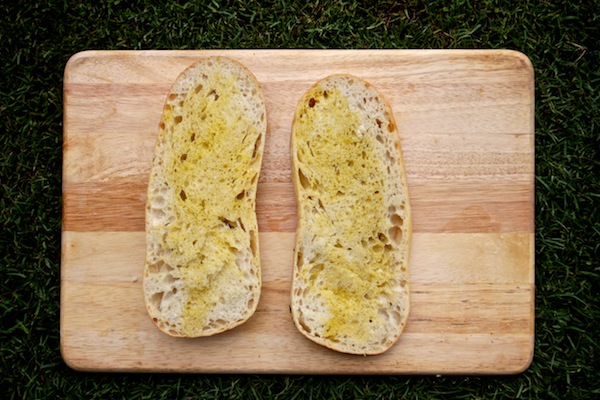 Chopping as therapy. Much needed when traveling with little ones & family.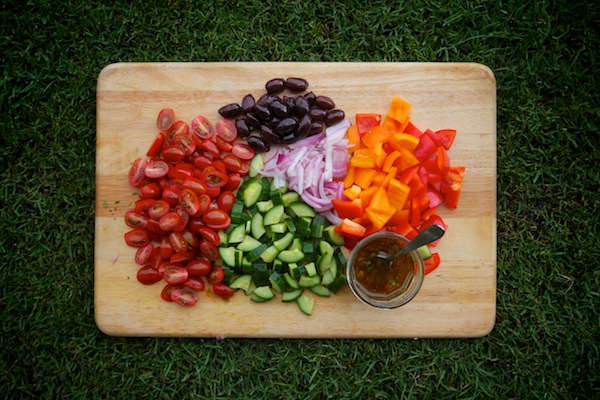 Grilled bread! Let's chop it up!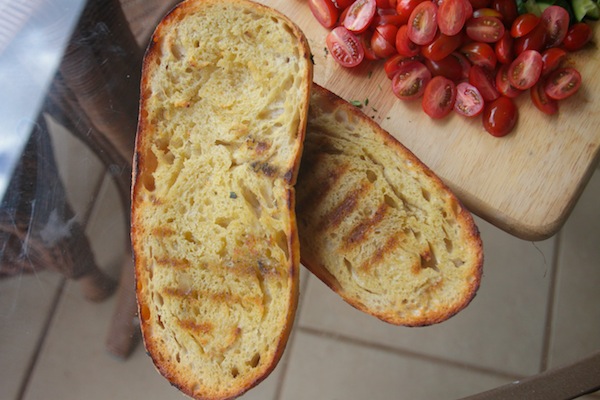 Tomatoes, cucumber, peppers, onions & olive oil go into the bowl… dressing goes on top.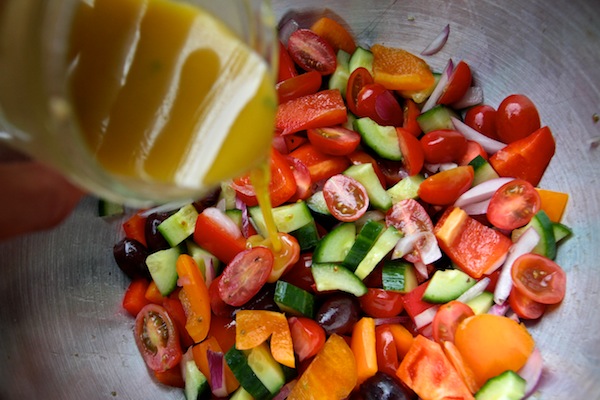 Bread gets cut into cubes.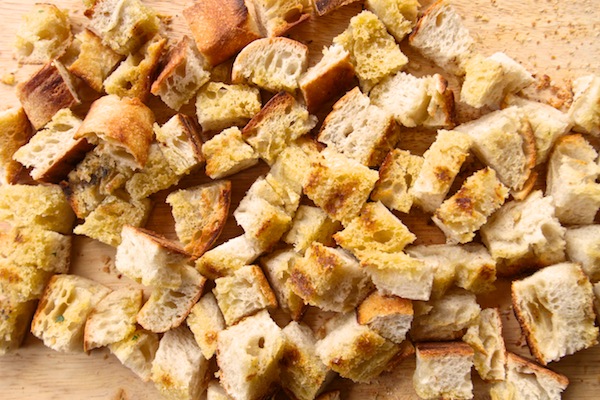 Bread & feta go into the bowl.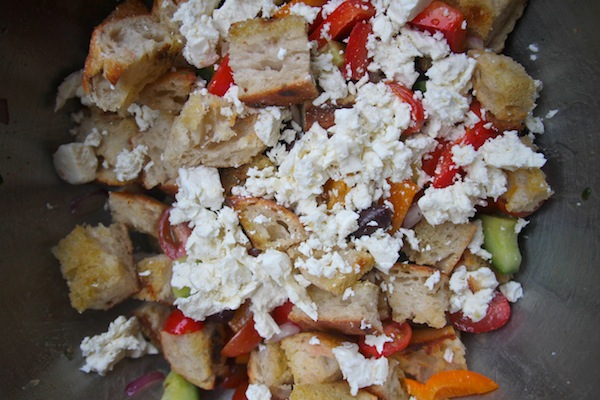 HELLO.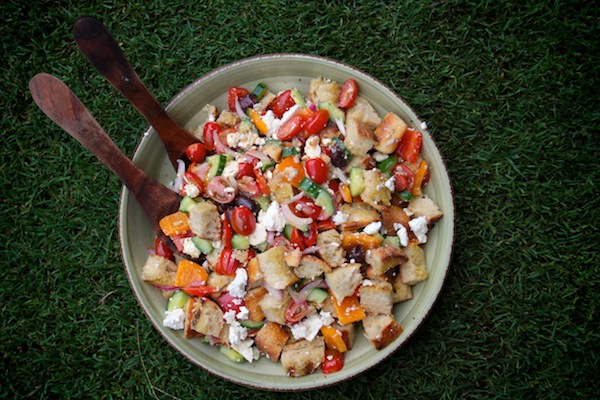 Here's dinner! I was on dinner duty this night.
I made up a lamb meatball recipe & skewered/grilled them with peppers & onions.
There's tzatziki sauce, the panzanella & I grilled eggplant and dressed it with parsley, olive oil & lemon juice.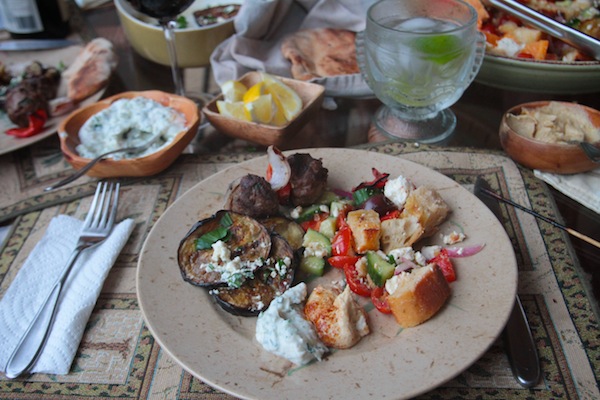 The perfect dinner outside.

Grilled Greek Panzanella

serves 6

recipe adapted from The Barefoot Contessa 

1/3 cup Extra virgin olive oil
1 small French bread or boule, cut in half
Kosher salt
1 English cucumber, seeded, and sliced 1/4 inch thick
1 red bell pepper, large diced
1 orange bell pepper, large diced
1 pint grape tomatoes, halved
½ red onion, sliced in half rounds
½ pound feta cheese, cut in ½-inch cubes
½ cup Calamata olives, pitted

For the vinaigrette:

2 cloves garlic, minced
1 teaspoon fresh oregano (about 1-2 sprigs)
1/2 teaspoon Dijon mustard
¼ cup good red wine vinegar
1/2 cup good olive oil
1/2 teaspoon freshly ground black pepper

Heat a grill or grill pan to medium-high heat. Drizzle 1/3 cup olive oil evenly on both sides of the bread. Season with salt and place on the grill for 4 -5 minutes per side until bread is golden brown. Set bread aside and cut into 1 inch cubes.

Place the cucumber, red pepper, yellow pepper, tomatoes, red onion, and olives in a large bowl.

For the vinaigrette, whisk together the garlic, oregano, mustard, vinegar, 1 teaspoon salt and the pepper. While still whisking, add the olive oil and make an emulsion. Pour the vinaigrette over the vegetables. Add the bread cubes and feta and mix together lightly. Set aside for 30 minutes for the flavors to blend. Serve at room temperature.