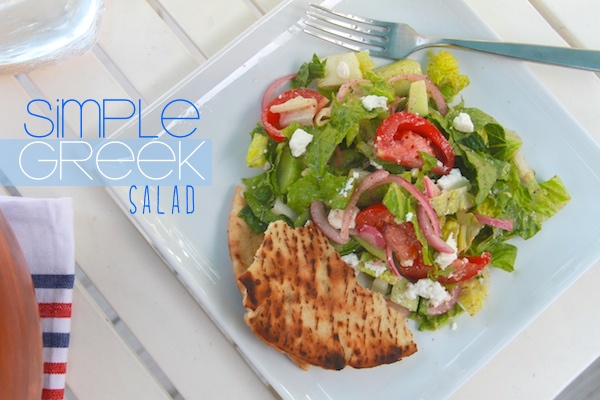 Let's start the week with a simple recipe. Mondays are hard!
Say hello to my favorite standby, my big fat simple GREEK SALAD. It may not be the most authentic Greek salad but is sure is good. When I'm grocery shopping, I almost always make sure to have these salad ingredients so I can easily whip it up on a week night. It's a no brainer and it's healthy. I love that in a salad.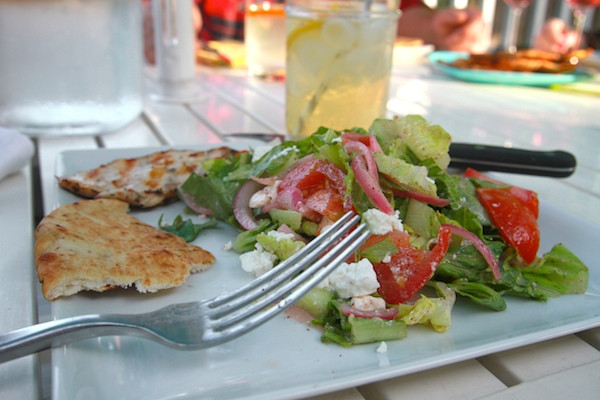 I'm also kind of addicted to it. I think it's the sumac. Do you know about sumac?  It's a Middle Eastern spice that adds a lemony tang to salads & meat. It MAKES this salad one of my favorite salads ever. It's absolutely delicious.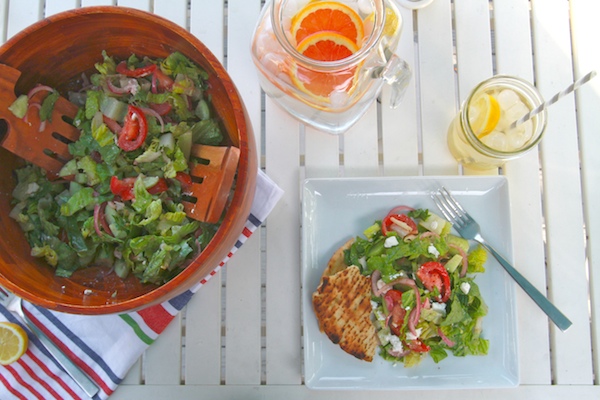 If you feel like you need to add a lil somethin' somethin' to the salad, you could top it with grilled shrimp, sausage, chicken or steak. Marinated artichoke hearts or sun-dried tomatoes are a good additions too but don't forget to serve it with some grilled PITA. Pita in all caps. CARBS deserve capital letters. I shouldn't have to explain that to you.
And we're off!
Gather your ingredients.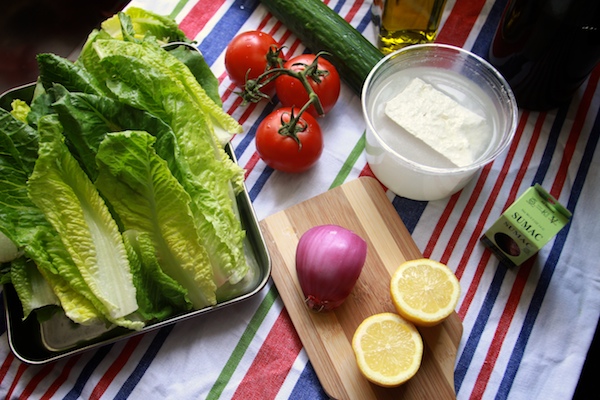 This is sumac. Sumac says hello. It's totally polite like that.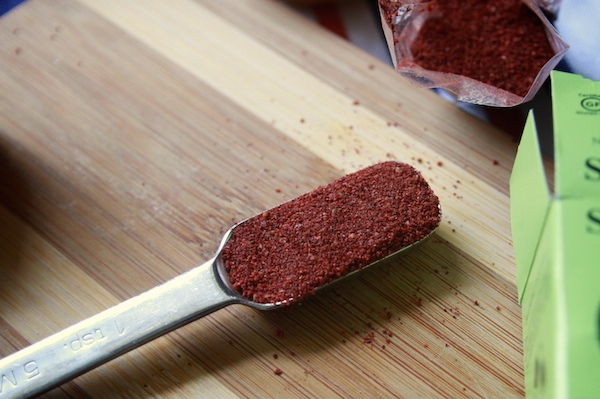 First up! Onion marination.  This dressing is just olive oil & red wine vinegar with sumac.
When you let the onions sit in the dressing, it reduces the sharp bite they tend to have.
So when you're done eating this salad you won't taste onions for 4 hours. Promise.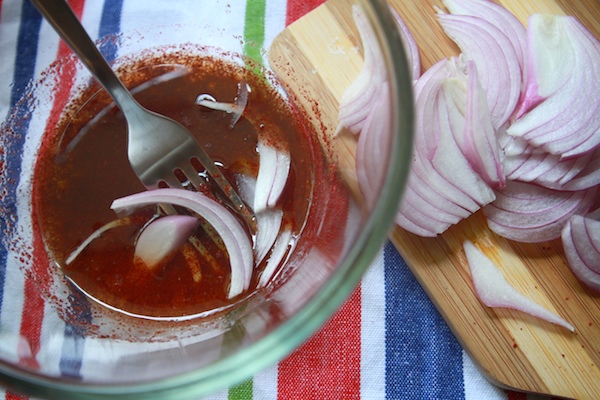 While the onions sit in the dressing, chop up the lettuce, tomatoes & cucumber.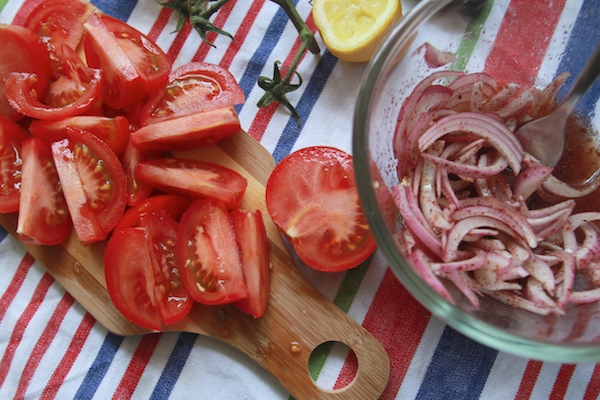 Add everything to a bowl.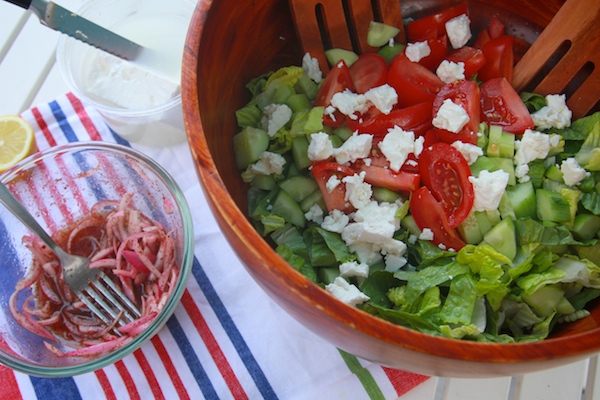 Add the onions & the dressing on top and give it a good toss. A little lemon squeezed on top. Golden.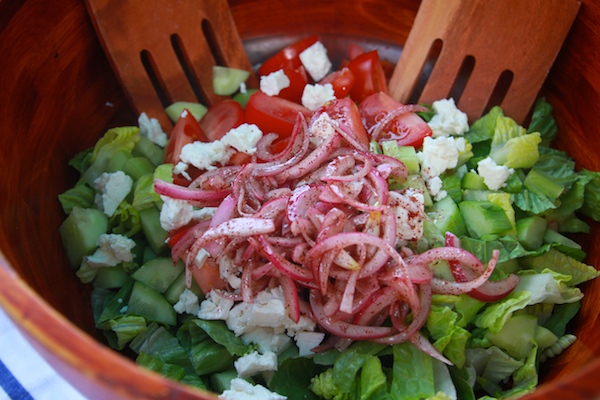 Serve it up!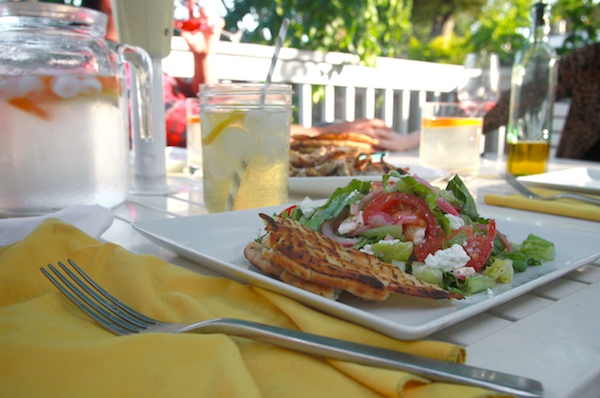 Eat it outside! It tastes 1000 times better when eaten outside. I guarantee it.

Simple Greek Salad

serves 3-4

1/4 red onion, thinly sliced
2 tablespoons extra virgin olive oil
3 tablespoons red wine vinegar
1 teaspoon sumac
1 english cucumber, peeled & chopped
3-4  tomatoes, chopped (I used medium vine-ripened tomatoes)
8 oz. Romaine lettuce, chopped (about 7-8 cups)
1/3 cup crumbled feta
salt & pepper
lemon wedge for finishing

In a small bowl mix the sliced red onion with the olive oil, vinegar & sumac. Let onions marinate for 30 minutes.

In a large serving bowl, toss the cucumber tomatoes, lettuce, feta & onions with the dressing together. Finish with a squeeze of lemon on top. Season with salt & pepper to taste.