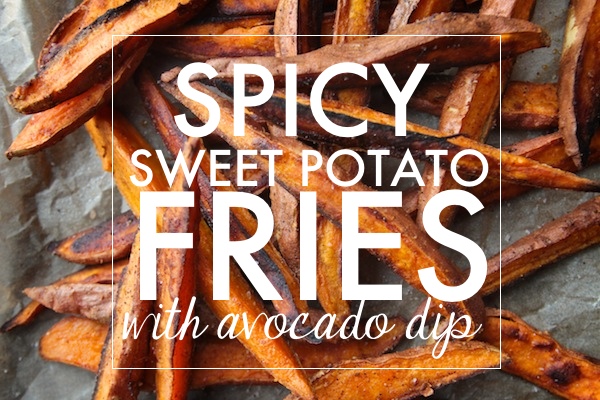 I think it's perfectly acceptable to have Sweet Potato Fries for dinner–especially on a Monday night. Sure you could add a side salad into the mix or even pair it with a perfectly grilled steak, but what I want on the first day of a busy week is something that's both easy and comforting. I also don't want to share Spicy Sweet Potato Fries with anybody else on any day that ends in Y. And that's a true fact.
These fries have such a wonderful spice to them…at times a little too spicy…but the spice is extinguished by this cool avocado dip that's both creamy and tangy thanks to the limes. I like it when something spicy stops me in my tracks. I like an avocado dip that makes it easier to eat things that stop me in my tracks. It's a win/win situation here. I feel like I've  somehow won the balancing act.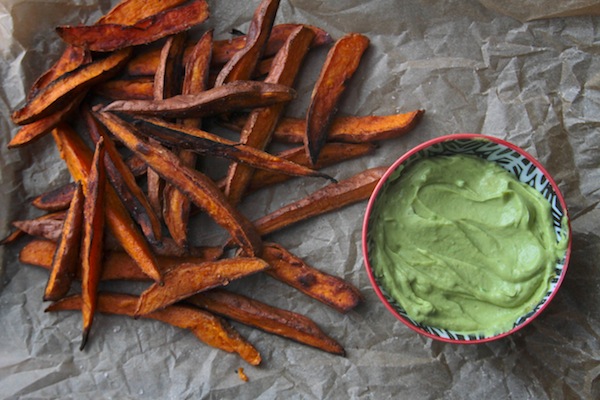 I imagine some of you might enjoy a batch of these while watching trashy TV. Yes, Mondays are hard and dinner shouldn't have to be. This is like a step up from eating popcorn for dinner (which you know that I'm a fan of!). Now what do we drink with it? My vote's for a Moscow Mule.
And we're off!
Ingredient gathering!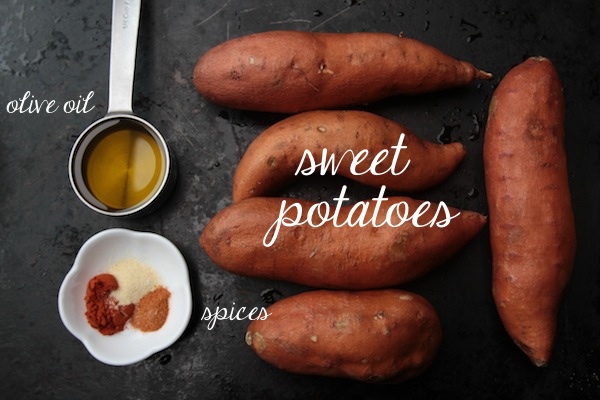 Here we have the spicy flavor component!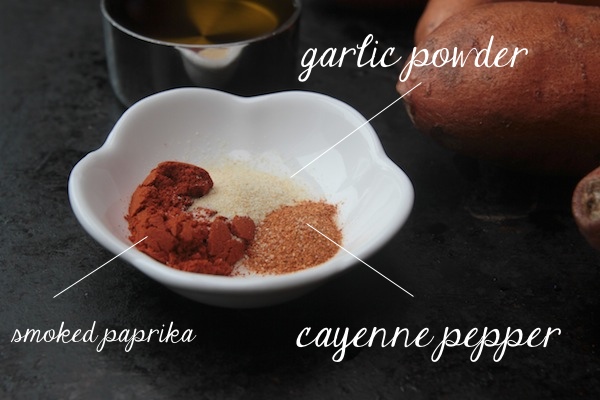 Cut each sweet potato up into 8 segments. You might get away with 10 segments…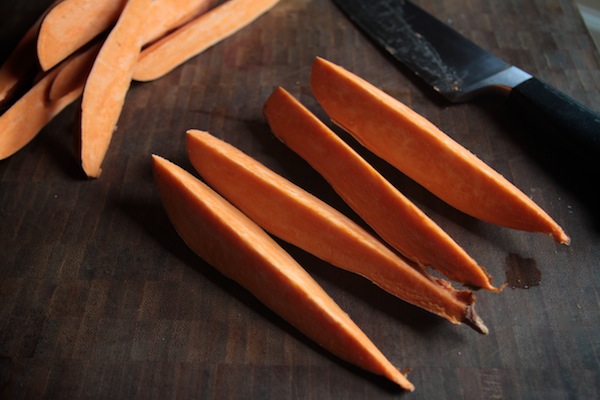 What I learned is that the smaller the fry, the crispier it gets.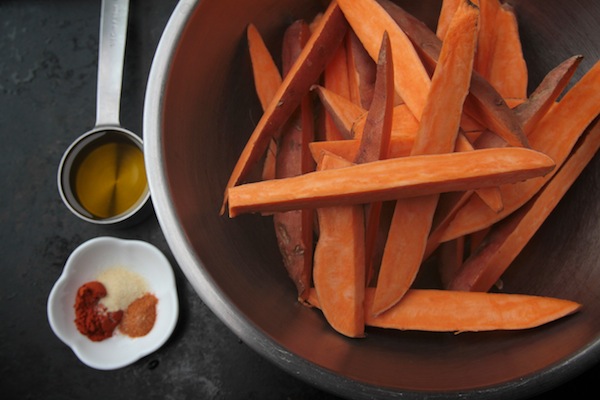 Toss them in a bowl with olive oil and spice mixture. Use your hands and mix thoroughly.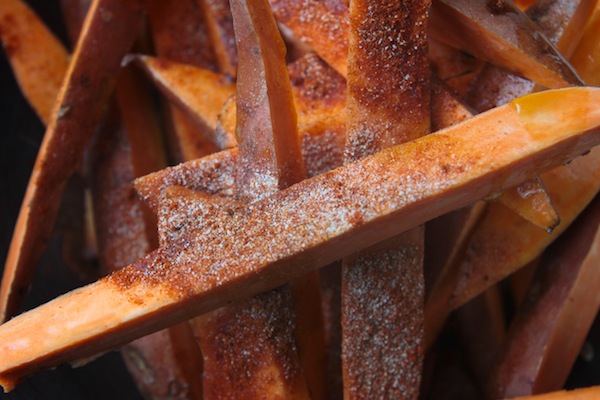 Place the fries on a foil lined baking sheet. If you have to, divide into two baking sheets.
When they're crowded, they steam rather than crisp. Key to crispy sweet potato fries!
You also want to flip them half way through for even crispness.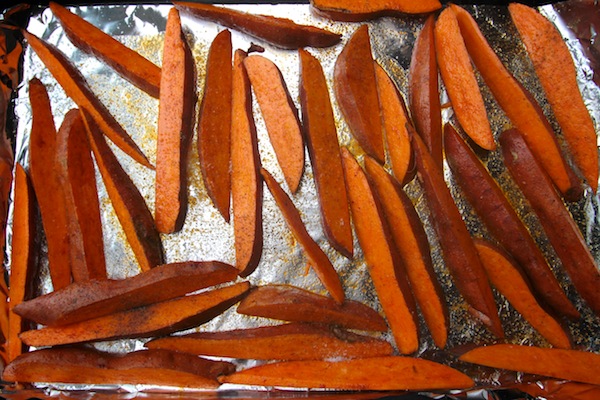 While their cooking it's avocado dip time!
I wanted to make a crema, but didn't have sour cream. So I just used two avocados & lime.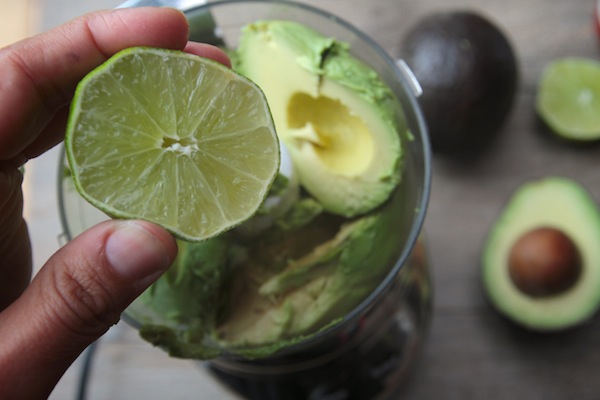 I added a little Tapatio hot sauce (my favorite!) with a little bit of kosher salt & blended it in my mini food processor.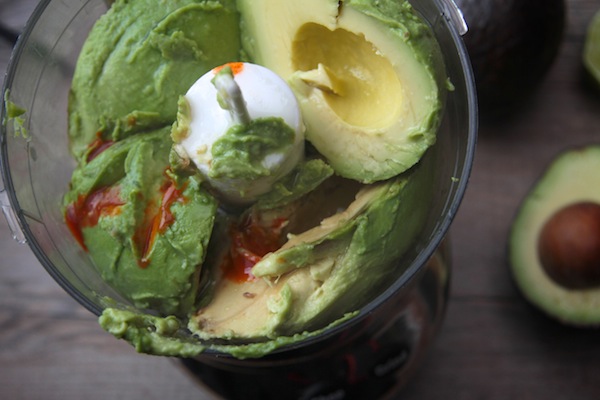 Instant dip! The lime makes it tangy and prevents it from turning brown.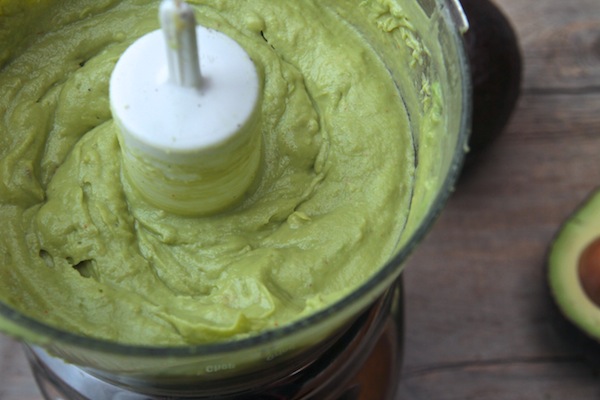 Transfer it into a bowl.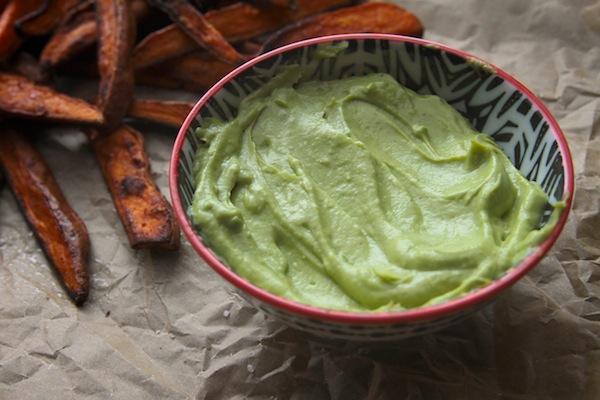 Yeah…
Pretty good dinner if I do say so myself.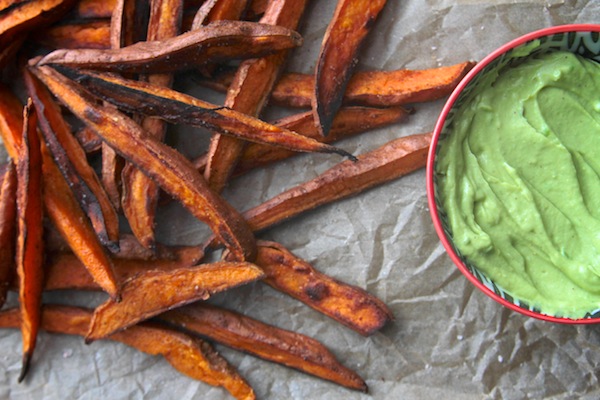 Spicy Sweet Potato Fries w/ Avocado Lime Dip

makes 4 servings

recipe adapted from Bon Appetit 

4-5 sweet potatoes (about 1 1/2 lb.), unpeeled, each cut lengthwise into 8 wedges
1/4 cup olive oil
1/2 teaspoon smoked paprika
1/4 teaspoon garlic powder
1/8-1/4 teaspoon cayenne pepper
Kosher salt, freshly ground pepper

Preheat oven to 450°. Toss potato wedges, oil, paprika, garlic powder, and cayenne pepper on a foil-lined large rimmed baking sheet to evenly coat; season potatoes with salt and pepper.

Roast, turning once, until wedges are golden brown and crisp, 25-30 minutes.

AVOCADO LIME DIP:

2 Haas avocados
half lime juice
3-4 dashes hot sauce
salt & pepper to taste

In a mini food processor, process avocados with lime juice, hot sauce and season with salt & pepper. Adjust seasoning accordingly. Transfer dip to a bowl and serve alongside the sweet potato fries.