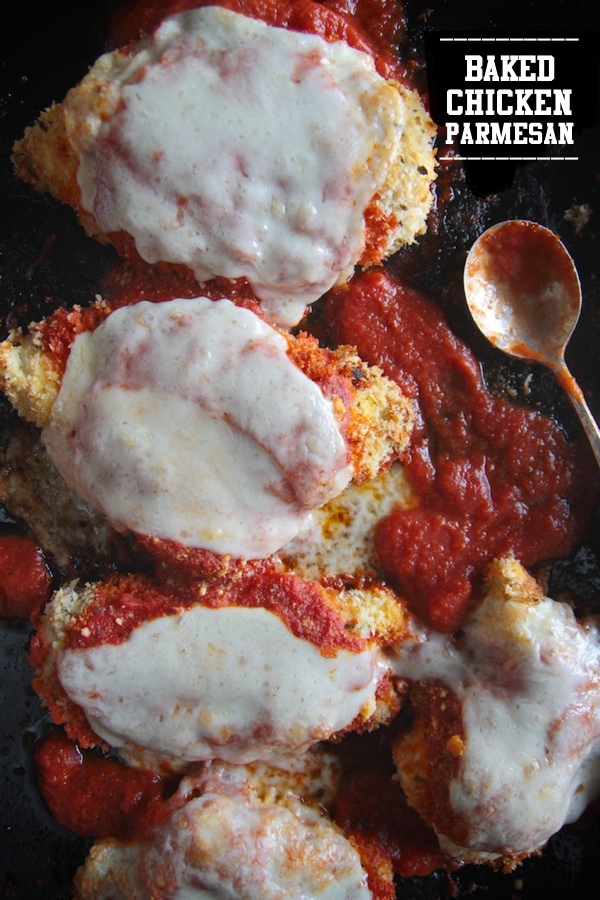 Happy Monday! I'm currently writing this as my husband is shouting at the TV in the other room (Super Bowl*).  This is what we had for dinner tonight with a side of garlic bread & a big ole salad.  I think it'd go well with creamed spinach too but I didn't have the time.  Casey is too nervous to eat dinner…I on the other hand enjoyed it and my son freaked out because I put marinara sauce on his chicken.. So, it was a typical Sunday night….. How awesome was that surprise performance from Missy Elliot at halftime? I swear that MADE MY YEAR.
*Updated PATS WON so he stopped shouting.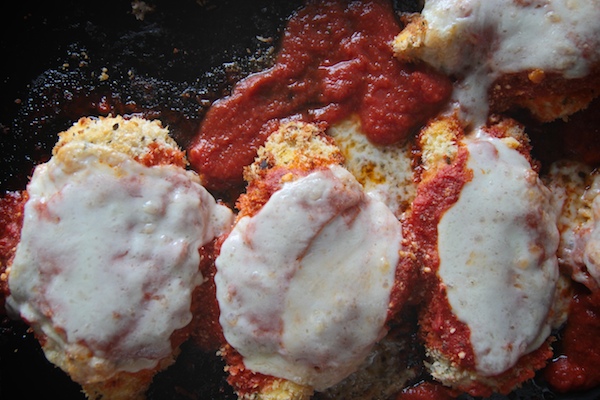 This recipe comes from a new cookbook I'm obsessed with the– Sheet Pan Suppers Cookbook, by Molly Gilbert.  It's a whole cookbook for hands-off meals straight from the oven.  Umm SCHYEAH!! Let all the oven do the work so you don't have to!  This is exactly what we need to start the week with.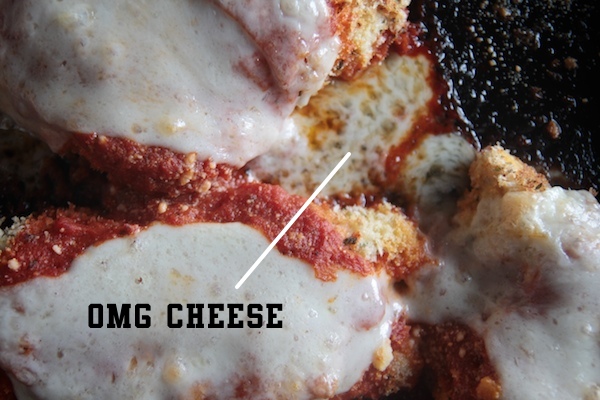 Panko crusted Chicken Parm….and it's BAKED and it was so easy!  I have two servings leftover that I'll probably sandwich between some grilled buttery/garlic focaccia this week. But, who am I kidding?? It's Monday and I'm probably going to come home from work and eat it cold… standing over the kitchen counter with a fork while I fix something for my family for dinner.
And we're off!
Ingredient party. Let's do it.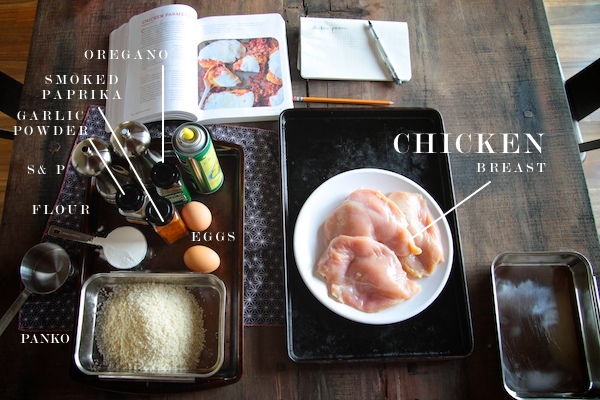 Take your baking sheet and spray it with cooking spray.
This is to ensure it won't stick and to help crisp up the bottoms of the chicken.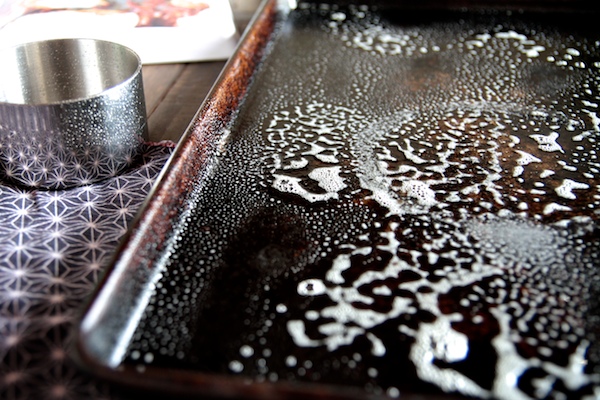 Flour and salt.
Eggs get beaten.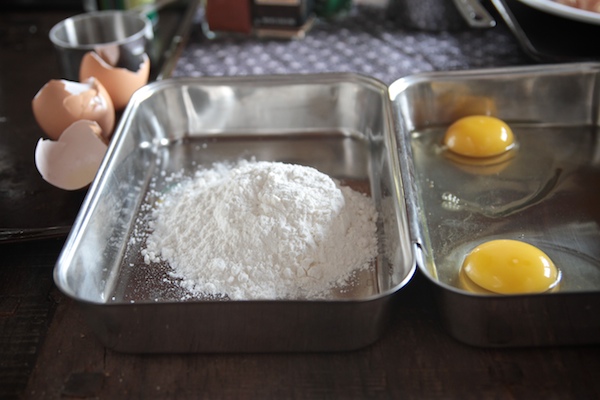 Panko spice mixture. MIX.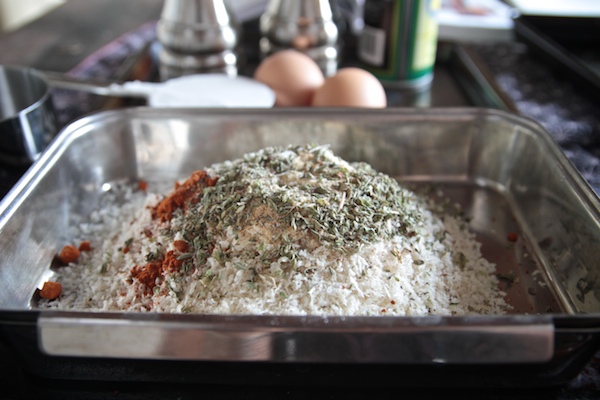 Let's get ready.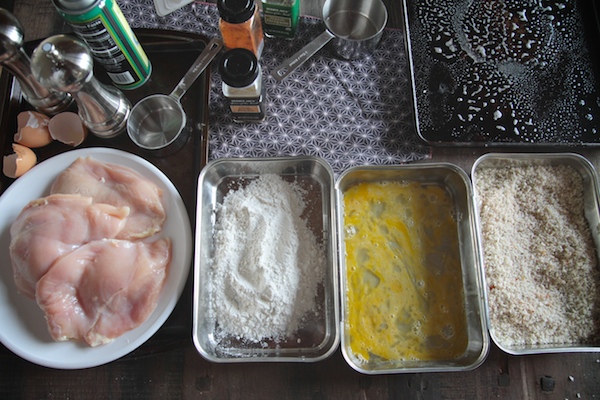 Flour first.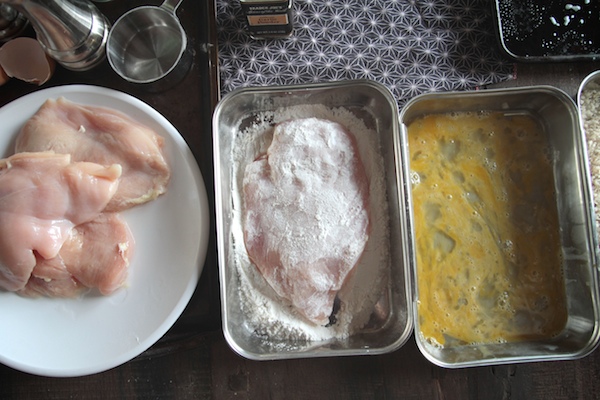 A little dip in egg wash. Both sides.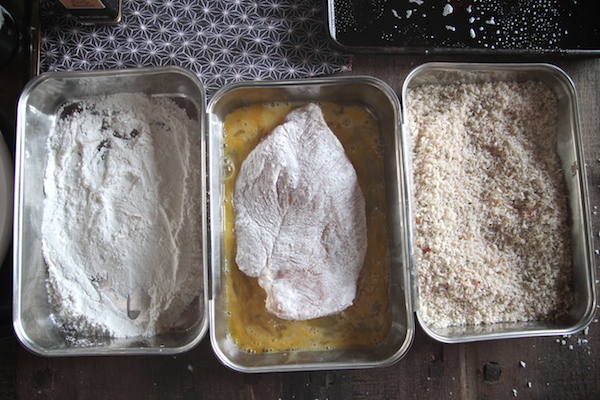 Panko. Both sides.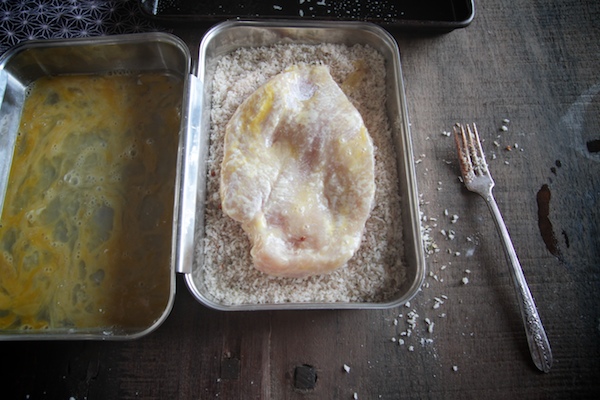 Done. REPEAT.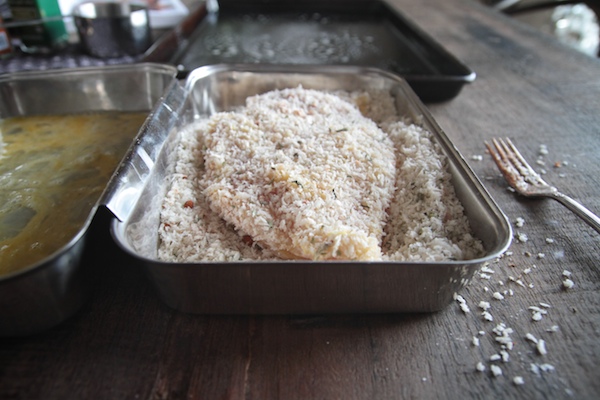 I got about 6 pieces. 2 small ones.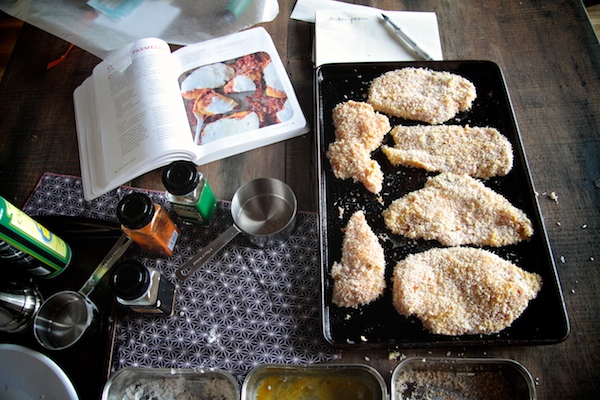 Breaded. Now we bake!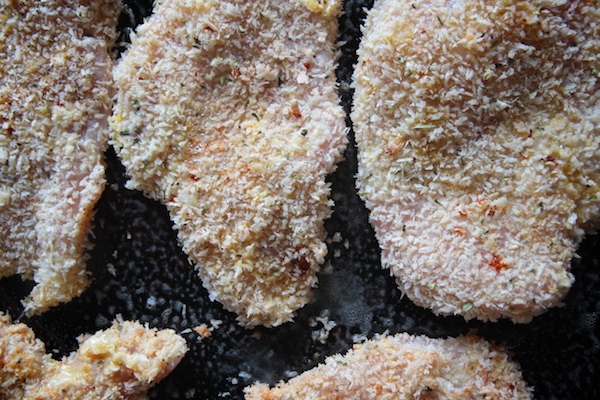 While the baking is happening we gear up for topping nation.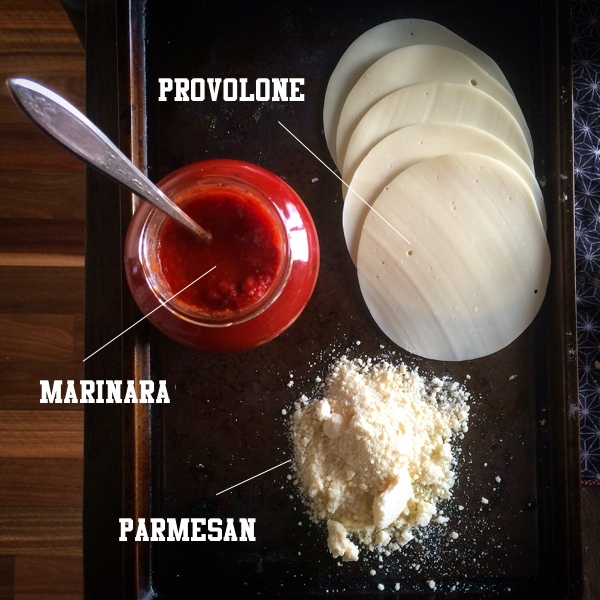 BAKED! Now we put on sauce and parm and provolone.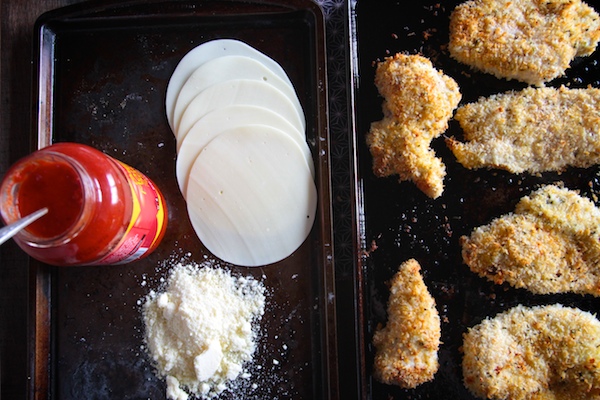 Sauce.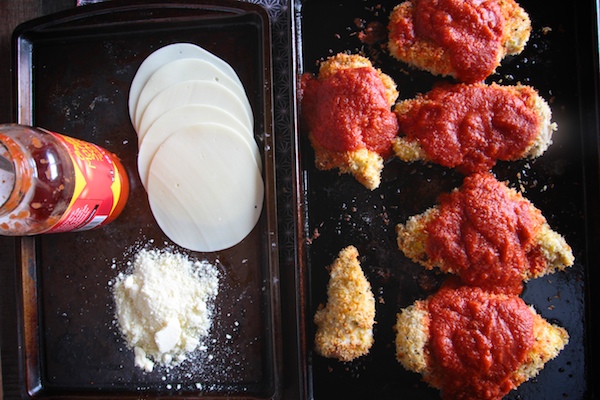 CHEESED.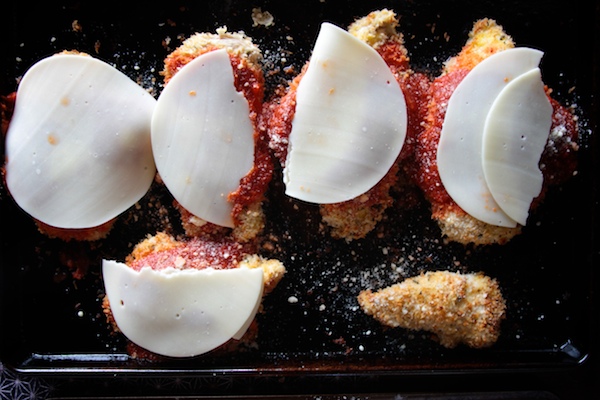 BAKED. Melted.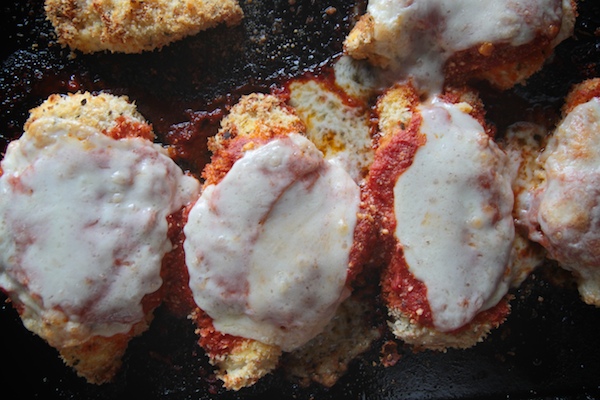 HOLLA!!  Get your freak on.
Baked Chicken Parmesan

serves 4-6

recipe from Sheet Pan Suppers Cookbook 

1  1/2 cups panko breadcrumbs
2 teaspoons garlic powder
2 teaspoons dried oregano
2 teaspoons smoked paprika
1 teaspoon kosher salt
1/2 cup all-purpose flour
1/2 teaspoon freshly ground black pepper
2 large eggs
4-6 boneless, skinless chicken breasts or cutlets, each about 1/2 inch thick (about 1  1/2 lbs. total)
1 jar (24 oz.) good-quality marinara sauce
6-8 slices provolone cheese
1/4 cup grated Parmesan cheese

Preheat oven to 400F with a rack in the upper third. Generously mist a sheet pan with cooking spray.

Stir together the panko, garlic powder, oregano, paprika, and 1/2 teaspoon of the salt in a large bowl to combine. In another bowl, whisk together the flour and remaining 1/2 teaspoon salt, and the pepper. In a third shallow bowl, whisk together the eggs.

Dip each chicken cutlet first in the flour mixture, shaking off any excess, then in the egg, and finally in the panko mixture, patting to coat thoroughly on both sides. Place the breaded chicken cutlets on the prepared pan. Mist the chicken with cooking spray to lightly coat.

Bake the chicken until the panko has browned and the cutlets are almost entirely cooked through (they'll no longer feel squishy when you poke them), about 15 minutes.

Remove the baking sheet from the oven. Top each chicken cutlet with about 1/2 cup marinara sauce (use up the jar),  the provolone and the Parmesan, and return to the oven. Bake until the cheese is melted and bubbly, an additional 10 minutes. Serve hot.