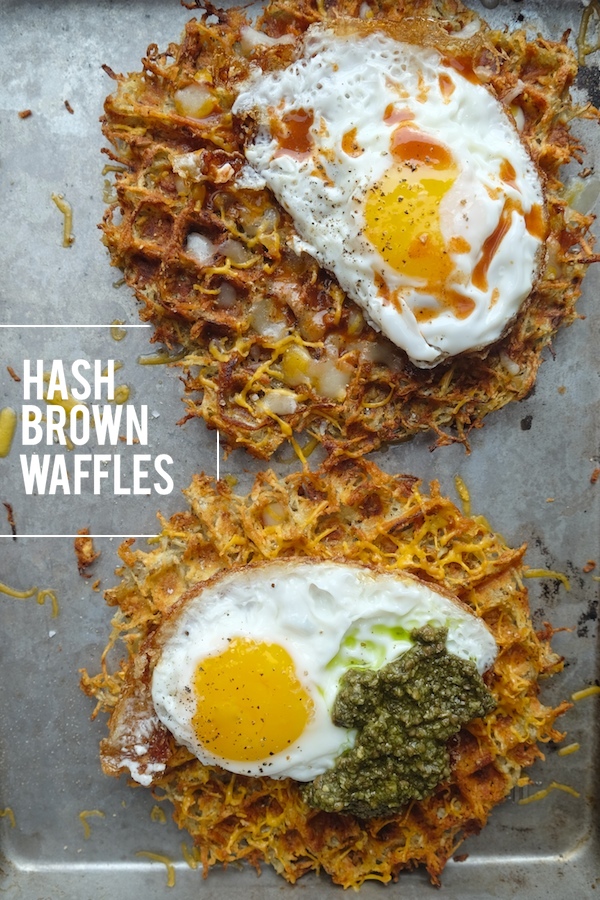 I'm thinking about you. I'm thinking about your Monday night dinner situation. How about Hash Brown Waffles?
Are you thinking about breakfast for dinner too? Cooooooool. We're brain twins.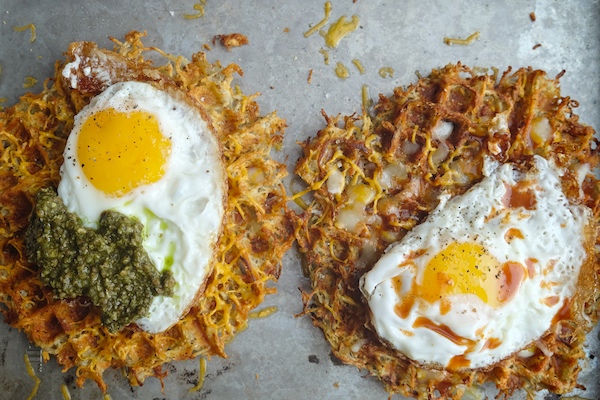 Let's shred up potatoes and put them in a waffle maker and make the most AMAZING crispy hash browns.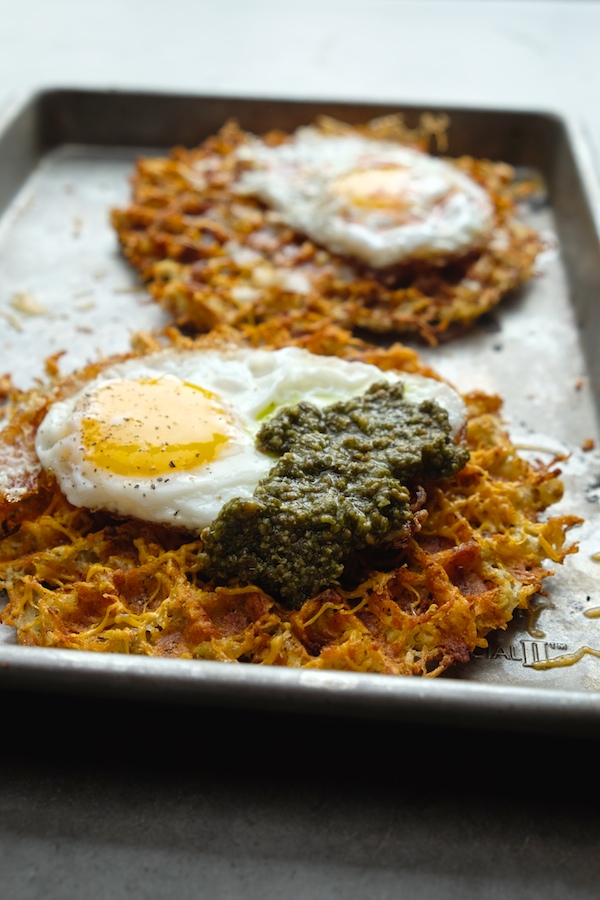 Let's top them with eggs, cheese and hot sauce! Or let's see what else you have in the fridge that would go well with crispy potatoes. Pesto? Cool. Let's do that. You're gonna love how crispy the potatoes get in a waffle maker. Plus, it's a set-it-and-forget-it situation. That means you can make yourself an amazing cocktail while your waffle maker does all the work. You can also get started on watching all the trashy TV a Monday night calls for. Hash Brown Waffles are in your future!
And we're off!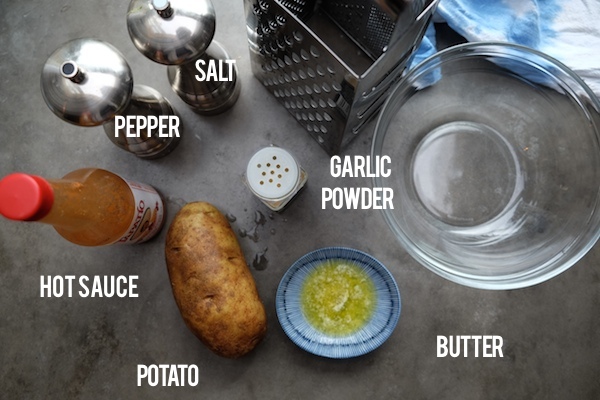 We shred the potato. We do this in stages. One waffle at a time. That means you need to preheat your oven so we can keep one of the waffles warm until we're ready to serve.
So HALF a shredded potato. Use the smallest shred. This makes for an extra crispy waffle.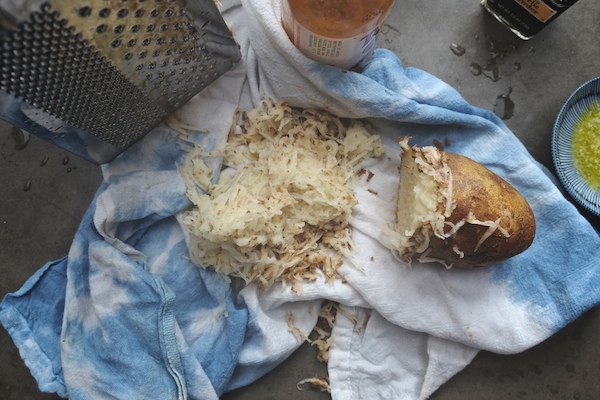 I put the potato shreds in a kitchen towel. Then I squeeze out the excess moisture.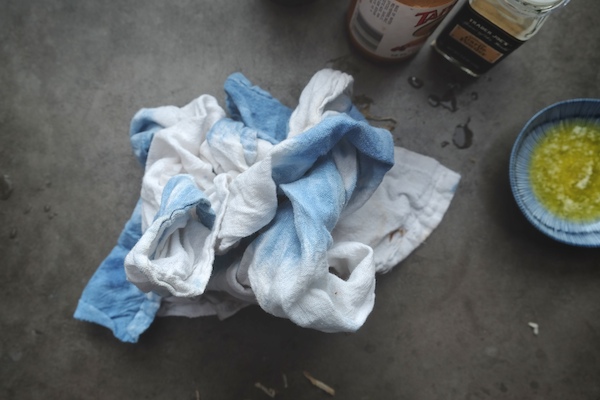 Butter is melted.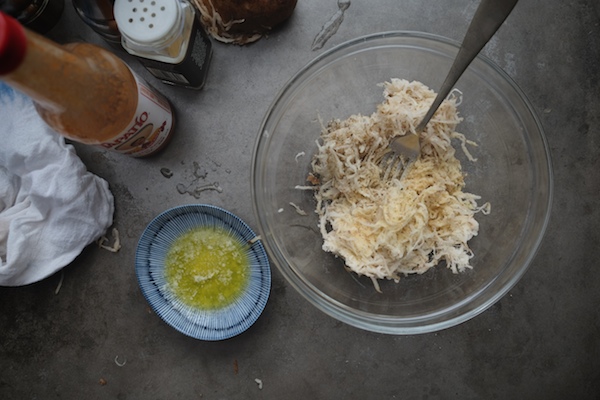 Mix! There's also garlic powder, salt & pepper in the mix.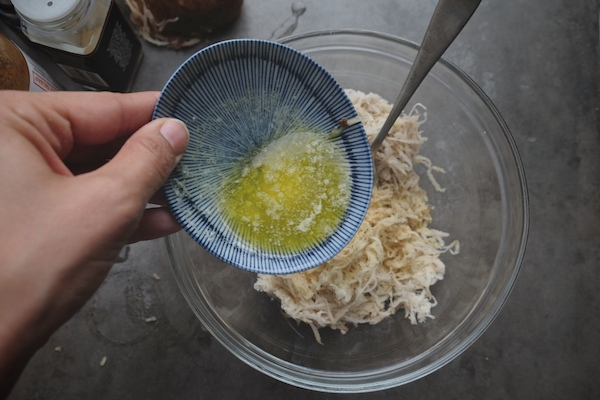 Hot sauce up in.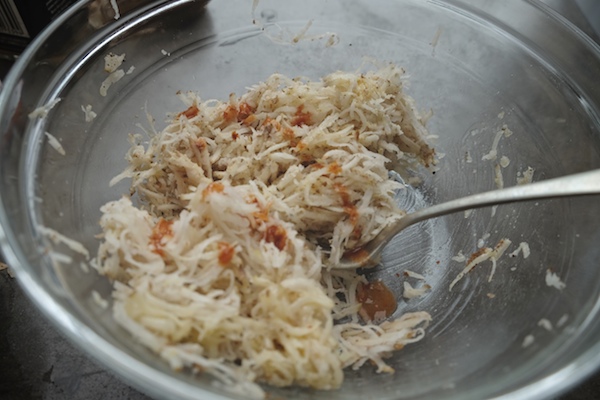 And we put the potato shreds into a waffle iron. I've had this waffle iron for 9+ years.
It was a wedding present and it beeps at me when waffles are done. It's a Villaware and I can't find it on the internet for you. BUT! I do have my eyes on this Belgian Waffle Maker . I want to make square waffles so bad and I think with the size of that machine, you could make ALL of your waffles at once instead of stages like this here situation. They used it when I was in the French Laundry test kitchen and I can't stop thinking about it.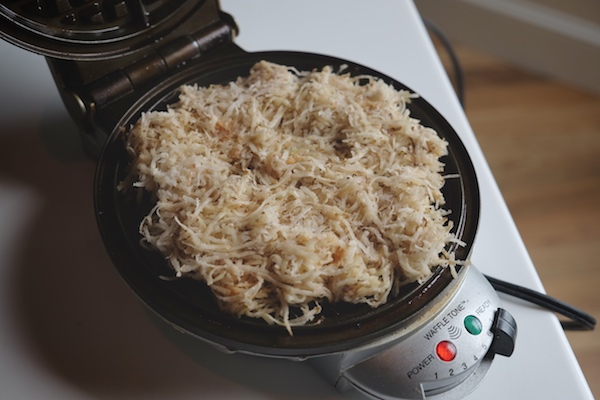 The key to making a hash brown waffle is that it's ready when the steam subsides.
If you like hash browns that are tender inside cook it until slightly crispy – about 8 minutes.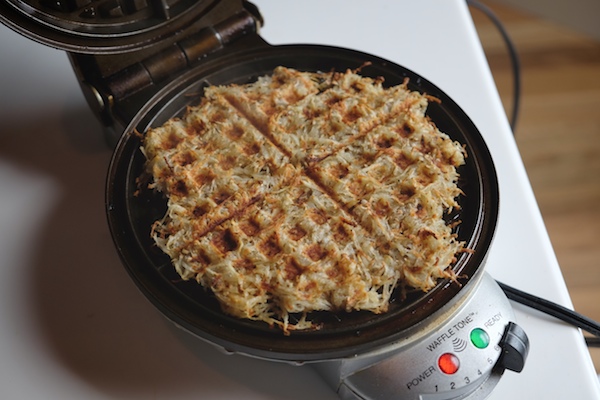 But I like my hash browns extra crispy…. I go long.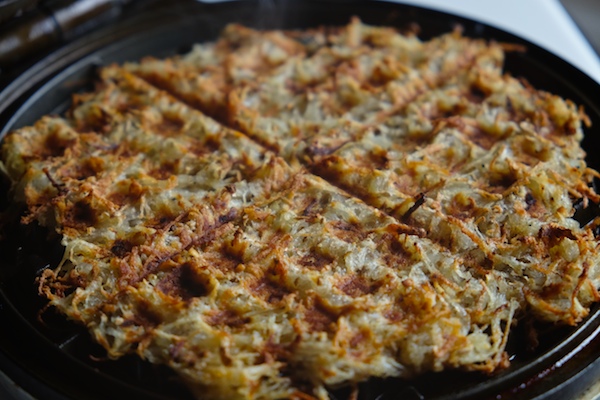 Now that we have hash brown waffles, let's do something with them!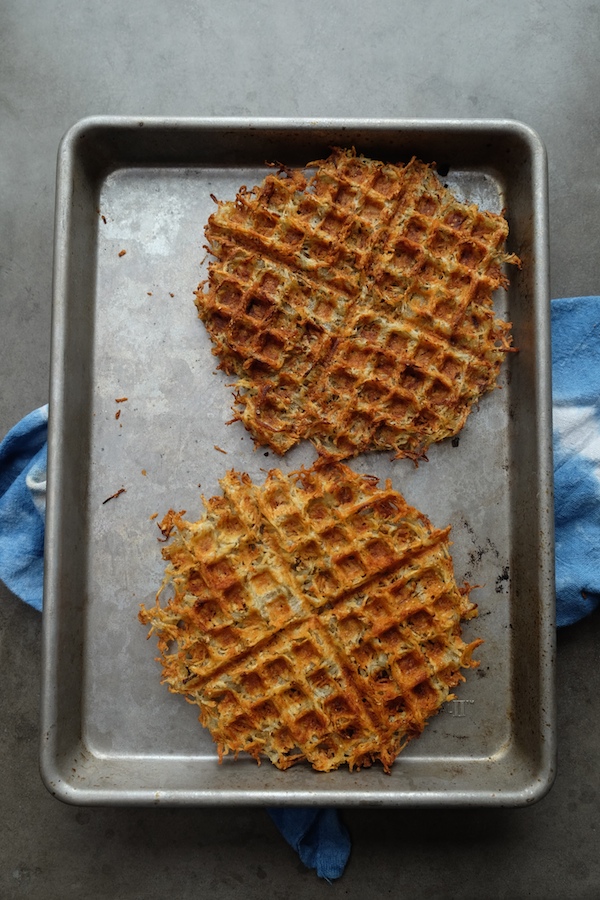 I grated cheese on top. Threw it back in the oven and put the broiler on just so it would melt real fast.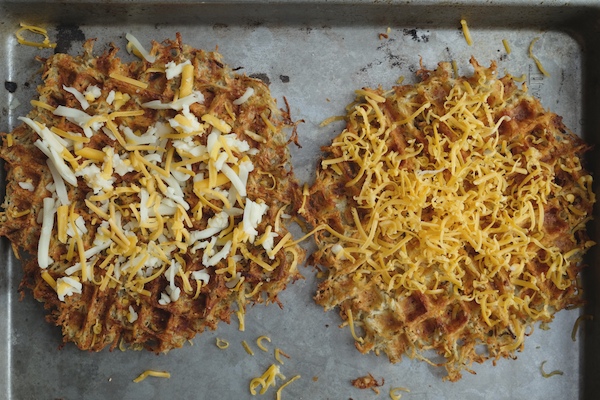 Meanwhile I fried some eggs in olive oil until CRISPY!!!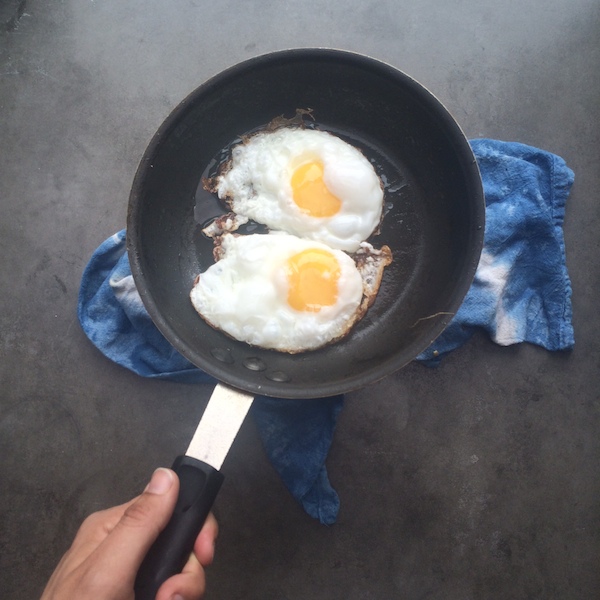 Cheese has been melted.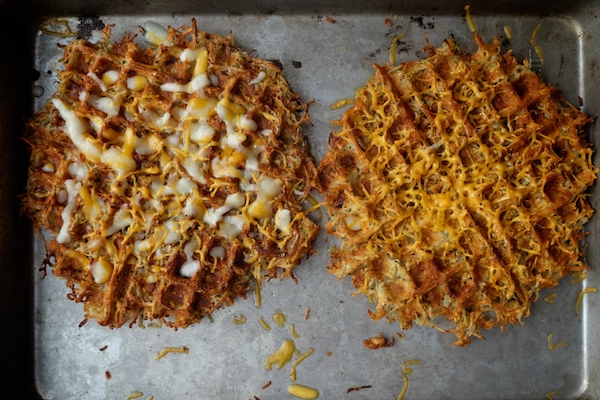 Casey just wanted a little hot sauce on his….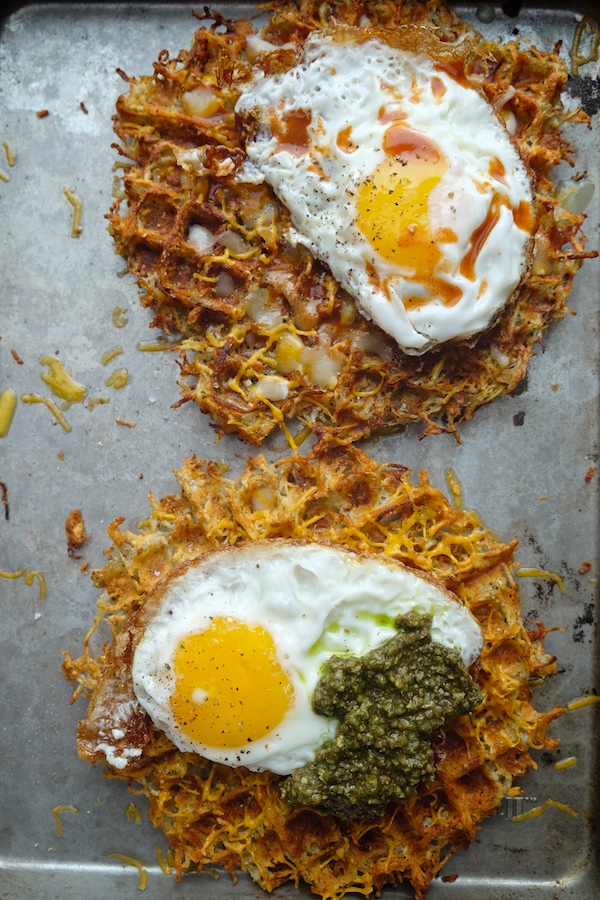 I went with a little bit of pesto.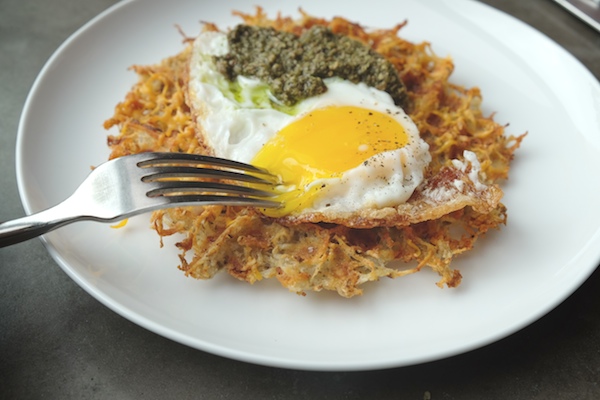 The potential flavor combinations are endless! I'm gonna do a smoked salmon version next!
Hash Brown Waffles

makes 2

1 large russet potato, finely shredded and patted dry
2 tablespoons unsalted butter, melted
1/2 teaspoon garlic powder
salt & pepper
3-4 dashes hot sauce
cooking spray

Preheat oven to 200F. Place a baking sheet on the middle rack.

Heat waffle iron according to manufacturer's instructions. Spray the iron with cooking spray. In a medium bowl, mix half of the shredded potatoes (I find it's best to shred right before you plan on making each waffle) with 1 tablespoon butter, 1/4 teaspoon garlic powder, salt & pepper and a few dashes of hot sauce. Stir until well combined. Place the shredded potato mixture on the waffle iron and cook until steam from the waffle iron dissipates and the waffle is crispy, about 10-15 minutes. Place waffle in the oven on the baking sheet to keep warm and repeat the process with the remaining ingredients. Serve waffles with your favorite ingredients.