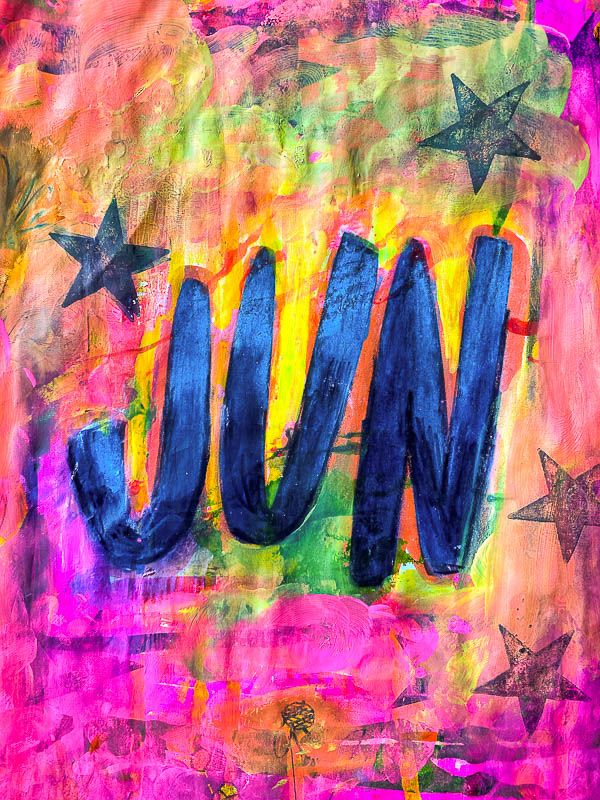 Currently June 2020
Here we are. It's July as a type this up.
Not gonna lie… June was a tough month.
My timing has been off with everything. My diet has been off. My energy has been off too. Everything is off!
No more school and no Summer camps have made it a very precarious time to be working at home with my husband and Cooper. We rely heavily on summer camps to get us through the summer but now it's Camp Mom + Dad (mostly Mom) every day while we try to get work done.
The hardest part is not having boundaries between work, home, and family time.
Not knowing when the end is in sight makes it hard to plan anything.
Not being able to plan anything or have an idea of what the next year will look like is tough.
Worrying about worrying too much and that some people aren't worrying at all. Worrying a lot! Worrying is exhausting!
And then there's grief…grieving our old lives and trying to make space to accept some of the things that we are dealing with are beyond our control.
But I know that when I am feeling feelings, I must put some time into reflection.
Let's look at my June spread in my Currently Workbook
This spread has so many layers cuz I didn't like the way it looked and kept covering it up until I found the colors I was looking for.
I printed out a few of my 100days project and put them on the spread.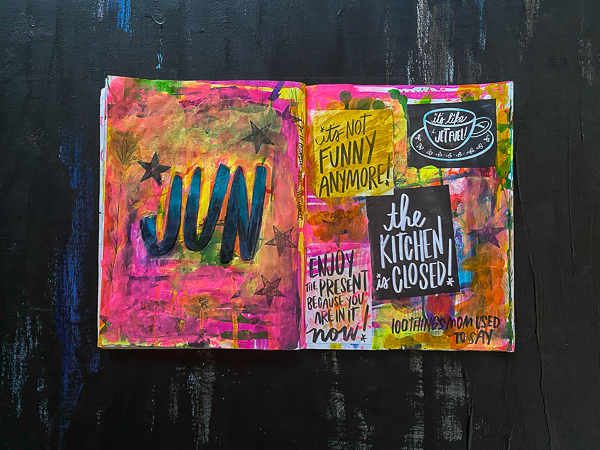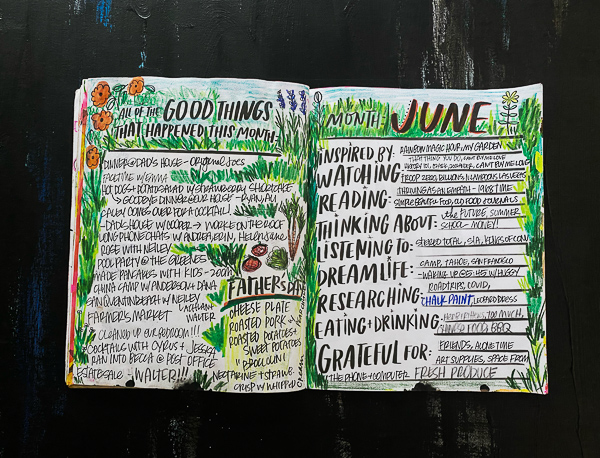 All the good things that happened this month: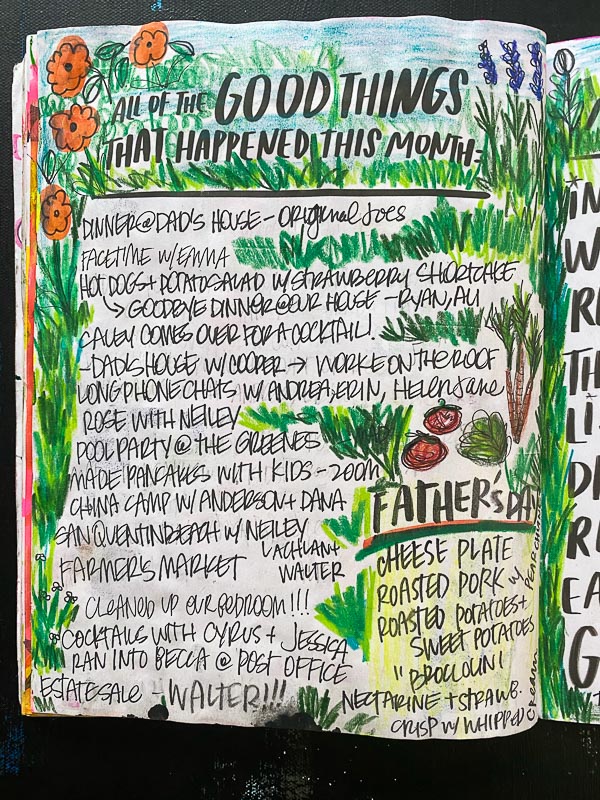 Let's break it down!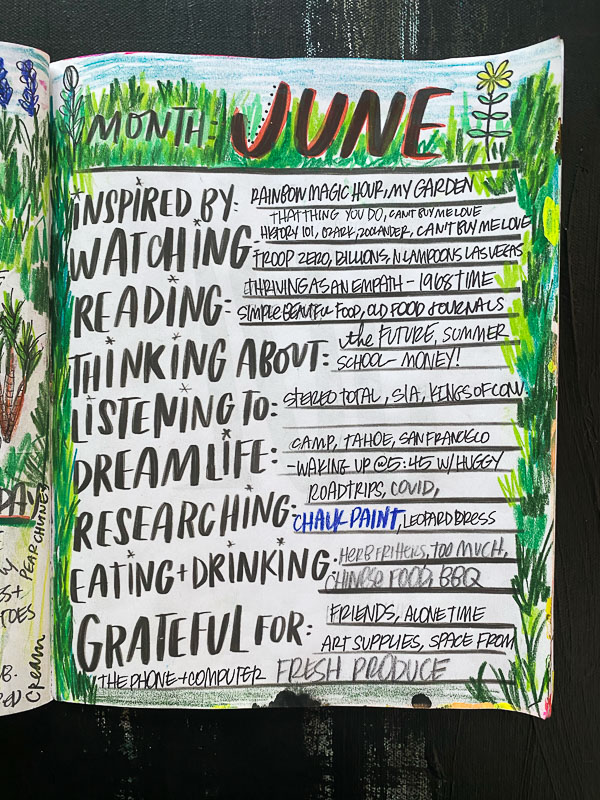 In the month of June… I was
Inspired By:
Garden growth!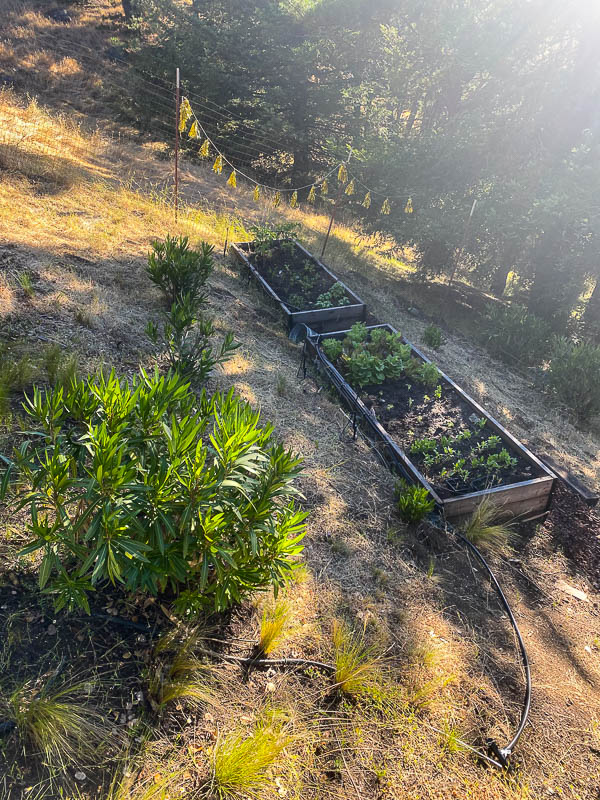 The light during happy hour at my house.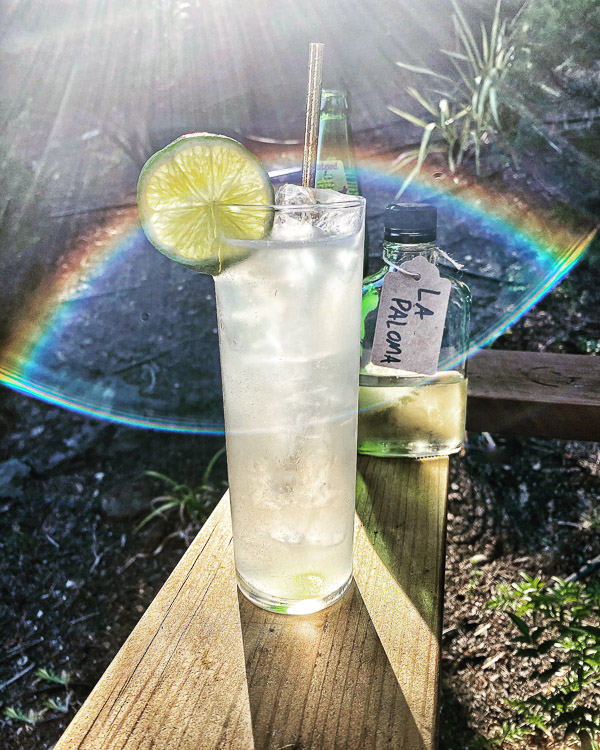 Impromptu beach trips.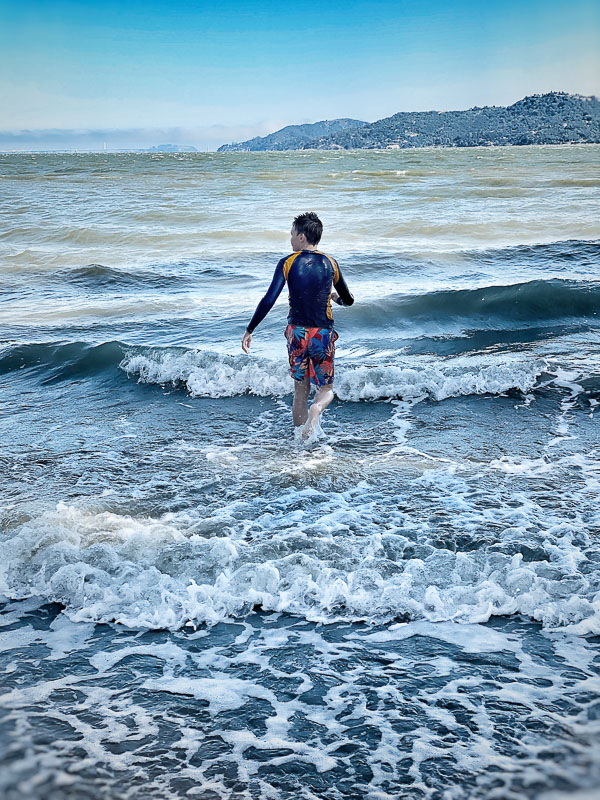 Art dates on my deck (from a distance)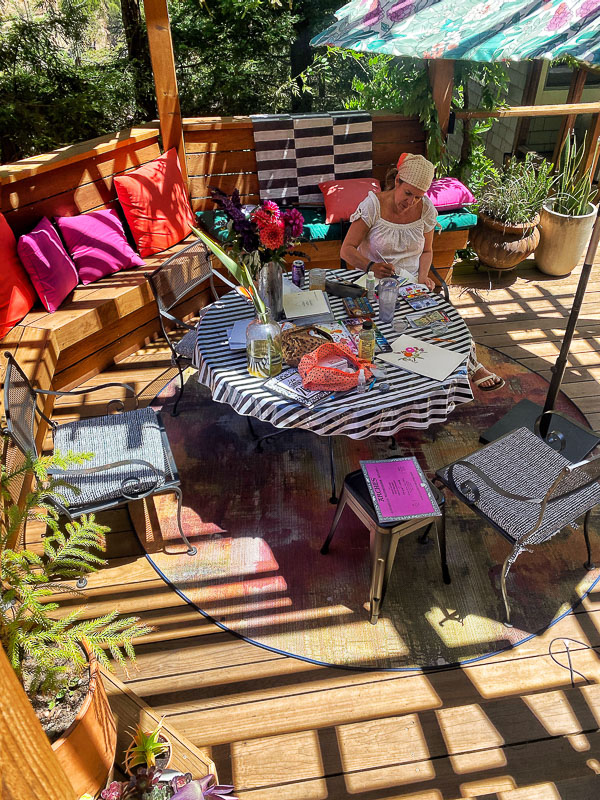 Watching:
Ozark– finished the latest season. WHEW!!!!
Dead to Me- finished the second season. I want more!
Jeffrey Epstein – what a piece of garbage human being.
Can't Buy Me Love– was excited to watch this with Cooper. He liked it! I watched it over and over again when I was a kid.
Troop Zero- was a sweet/wholesome story. We watched with Cooper and he loved it.
Zoolander– since we quote from this movie all of the time, it was fun to show Cooper where the quotes come from.
That Thing You Do– I was obsessed with this movie when it came out. It was fun to relive it with Cooper.
Billions– This show puts me to sleep but I continue to watch it. I'm not sure why.
Reading:
too much news/the internet
The Empath's Survival Guide
Simple Beautiful Food
– made the Salmon Avocado Nori Wraps from it!
Anti-Racism Daily– I signed up for this newsletter at the beginning of the month and have found the daily prompts by Nicole Cardoza to be extremely helpful and informative if you're wondering what you can do to help make change.
Thinking About:
The future. How we are going to manage the next year.
2020 and how it's nothing like I thought it would be. Daydreaming about vacation…
Listening To:
I had this song stuck in my head all month. It reminds me of high school/college.
I think it's because it was on one of my mix CDs after this song-

This song makes me happy:

I've had this one on repeat:

This one helps me feel feels:

This one helped me get focused and pumped up in June:
Dream Life:
Abandoned houses. Walking down the streets of San Francisco. I would love to sleep more but my brain keeps waking me up around 5:30-6 every morning. Even if I got to bed super late.
Researching:
cat harness/leash for outdoors
traveling plans…failing at it too.
Eating/Drinking:
We went out to dinner for the first time in months! It was weird, but also good.
A batch of turkey white bean chili got me through a week.
Also, my boys have been super into dominoes in June.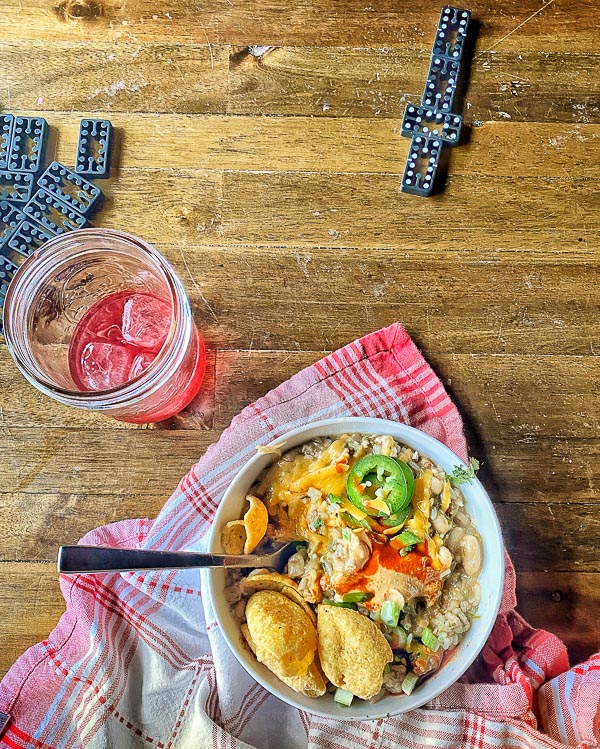 I had a lot of good avocados in June. I made a batch of my arugula pesto too!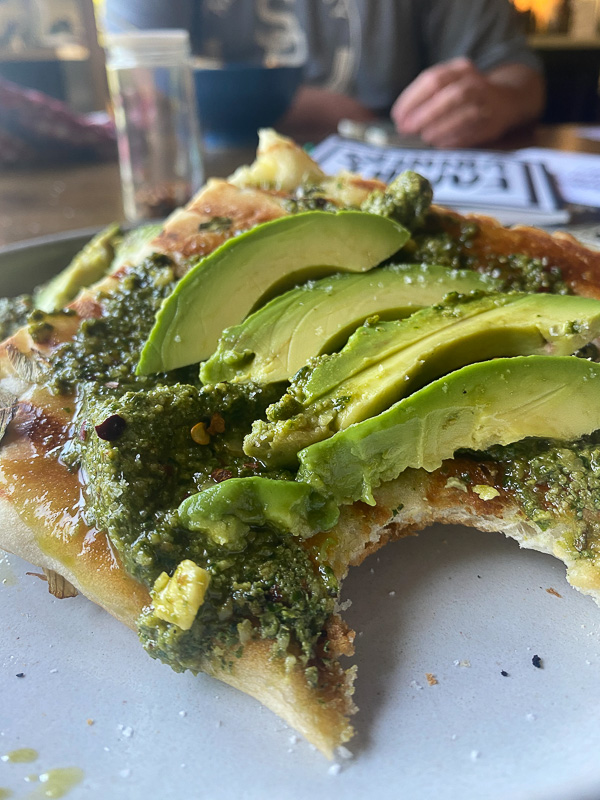 I made pancakes with kids through a Zoom call. It was so much fun and Cooper helped me!!!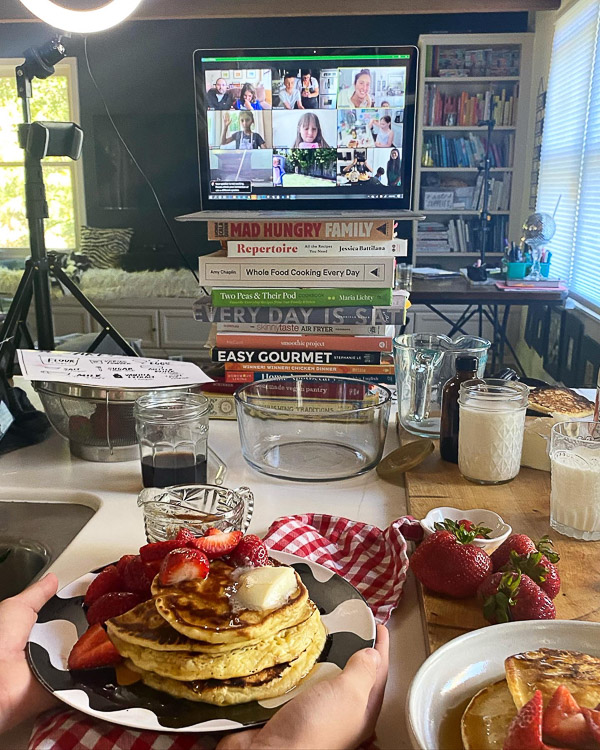 Used leftover fruit from the fridge to make a rendition of this mixed berry crisp.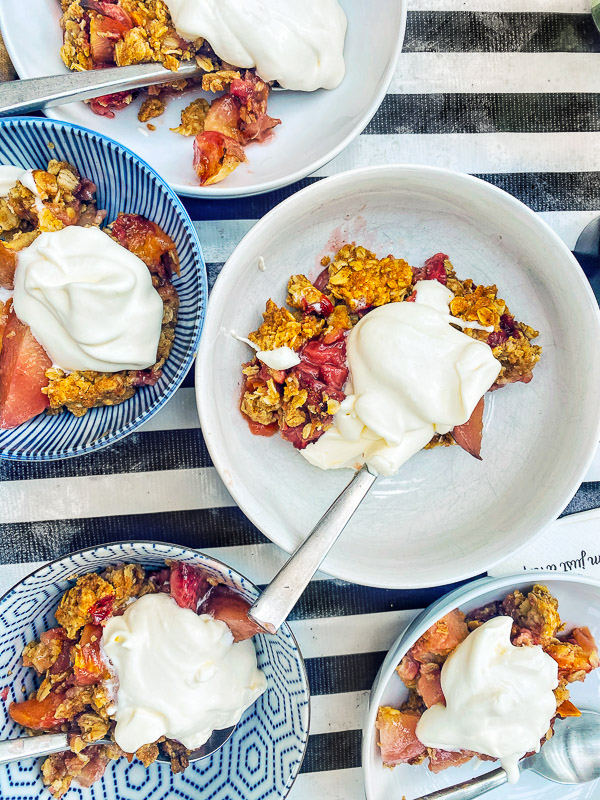 Salmon & Avocado Handrolls! They were so good!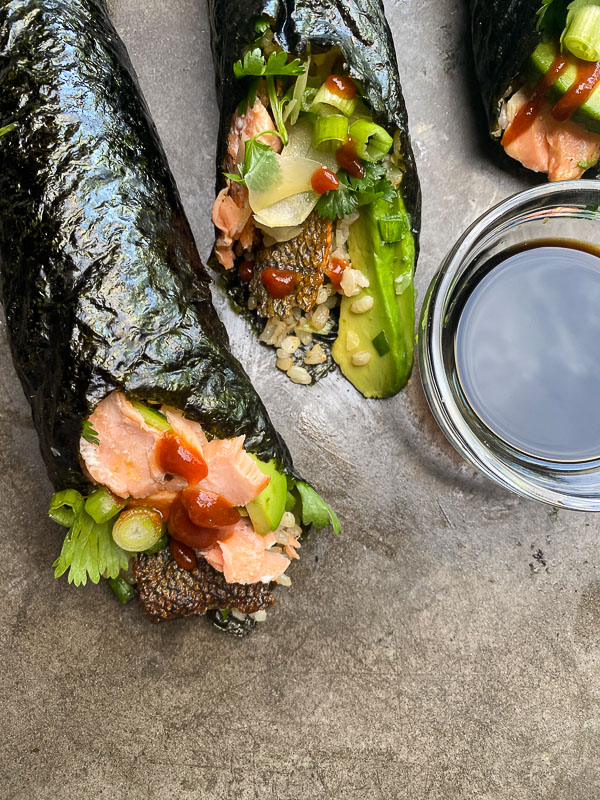 I kept on top of my fridge in June.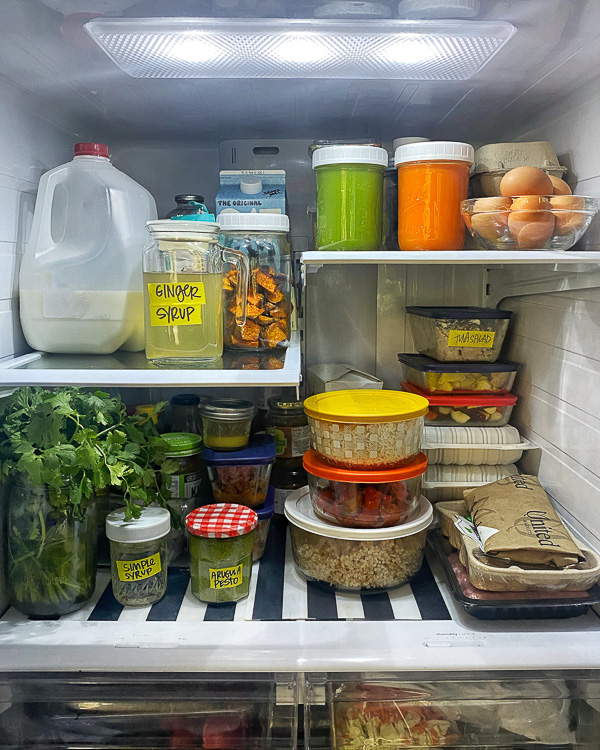 Meal prep helps me make healthier choices.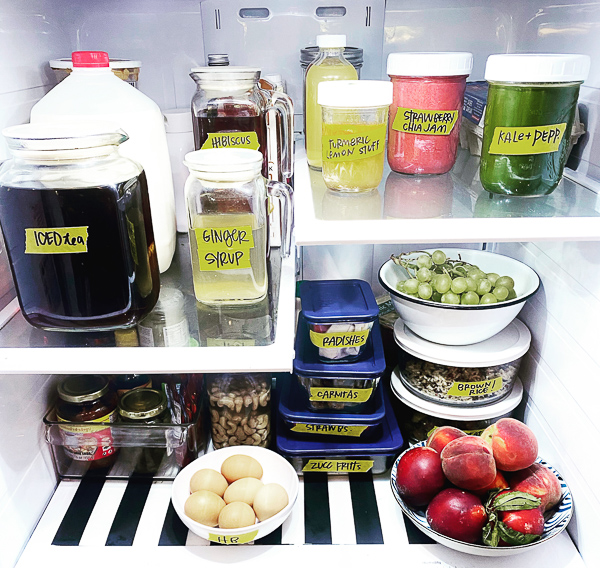 Been working in my food journal and on my Intentions for the Week template all month.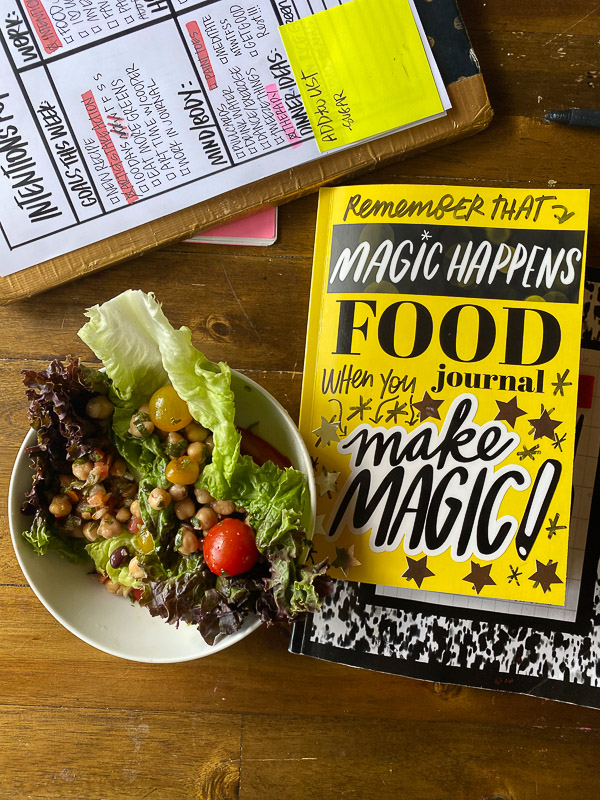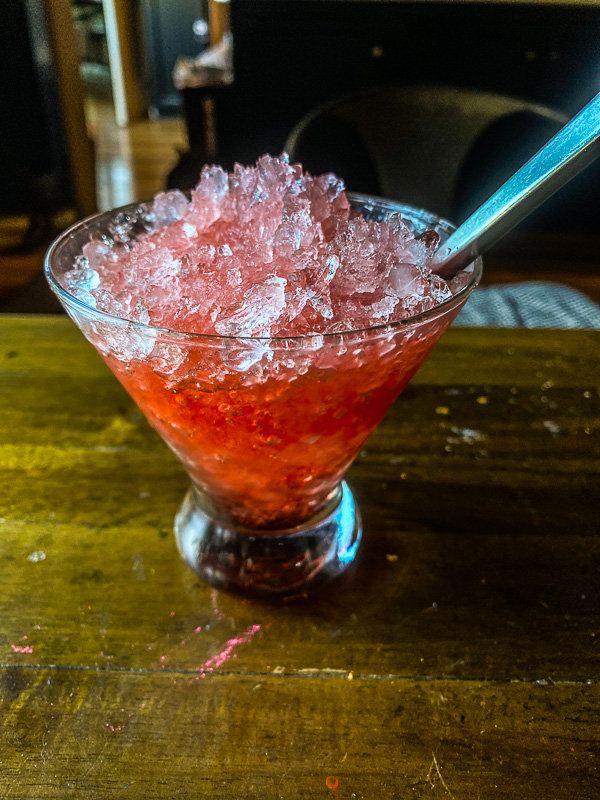 I enjoyed all of our Imperfect Produce deliveries this month.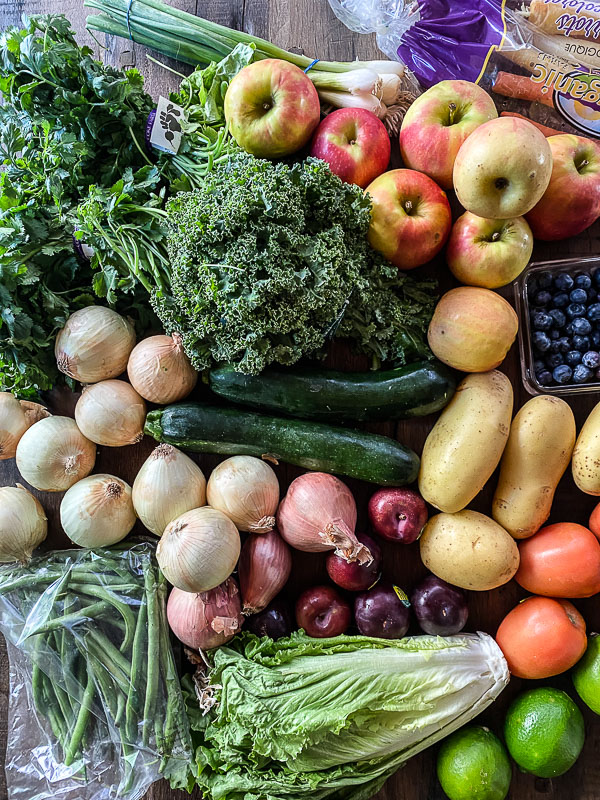 My family's favorite! Ribs!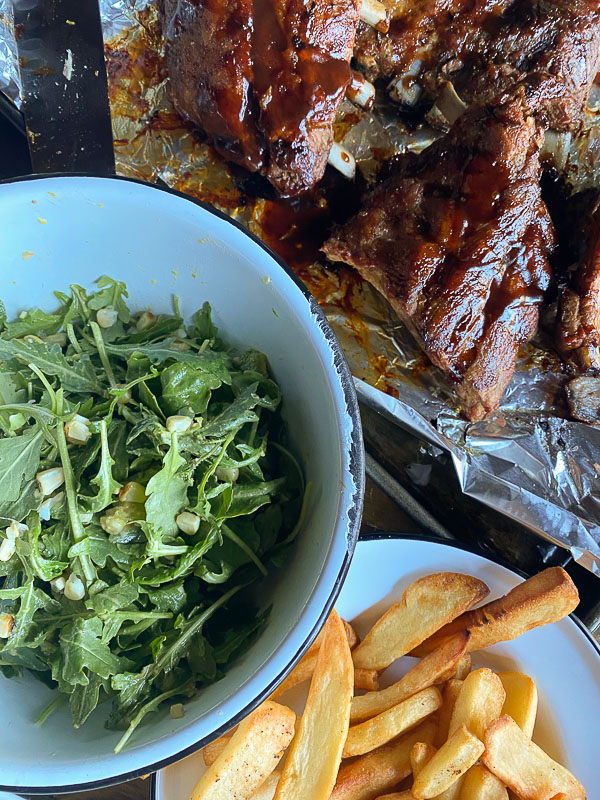 My Dad and his lady came over for dinner.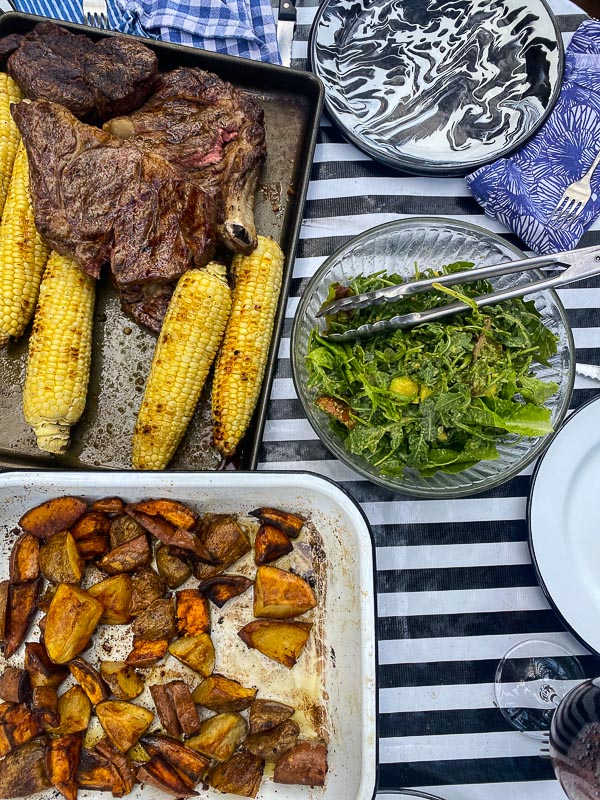 Neiley made me dinner.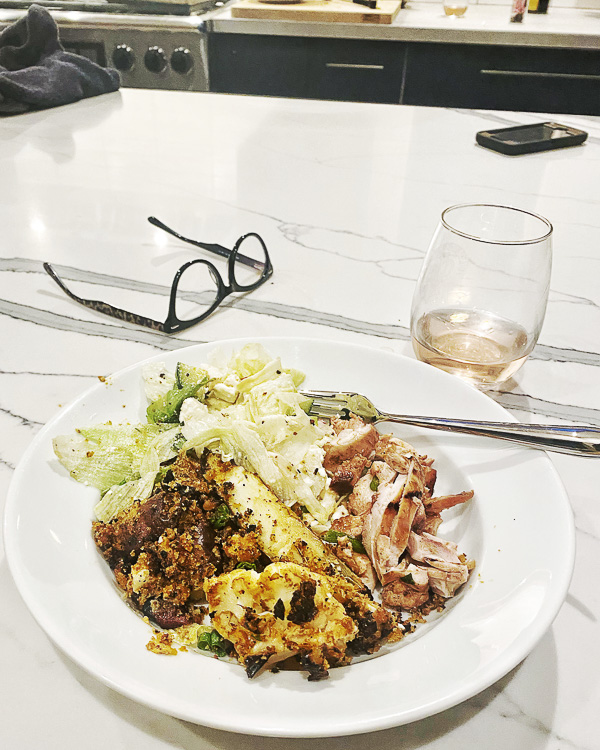 Brought Zucchini Herb Fritters back into the summer rotation.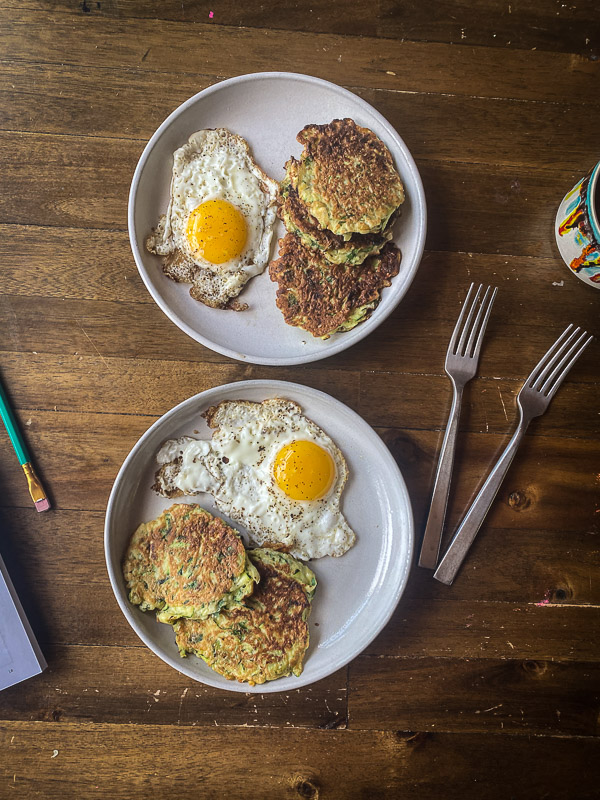 Grateful For:
friends
alone time
space away from computer and phone
art supplies
trips to the farmer's market
flowers
Self Portrait for June: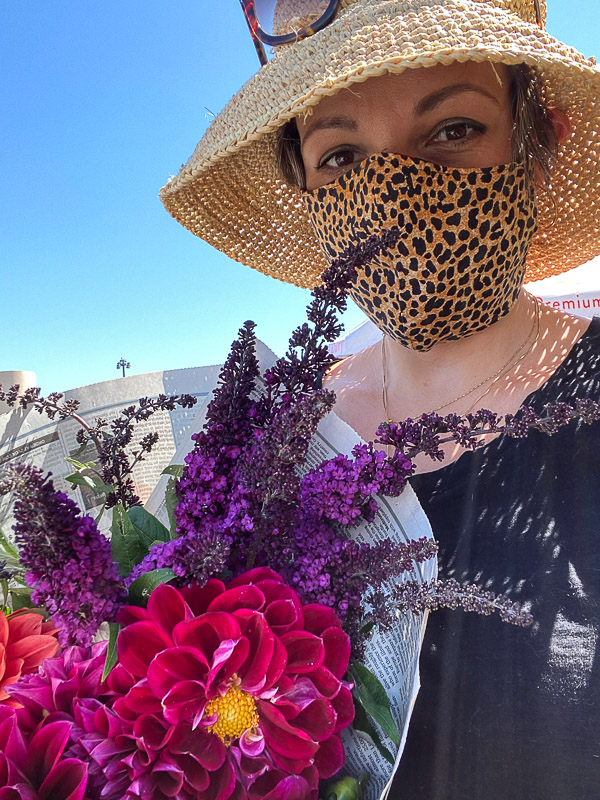 Hope your July goes well! I'm keeping you in my thoughts.