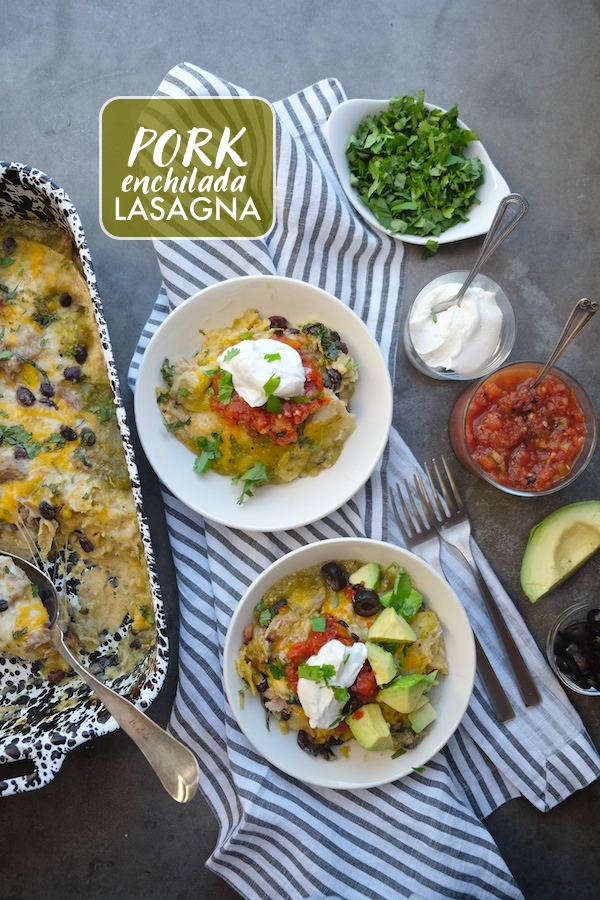 I wanted to show you a super simple/quick recipe with some of my favorite Trader Joe's staples. Since the guys in my life are serious taco lovers, I usually have TJ's carnitas in our fridge for those nights where I need to make something fast. They're pre-cooked and I usually just cut them up in chunks and heat in a sauté pan. Some nights I microwave it…in a bowl with a paper towel covering it. I always have a jar of TJ's salsa verde and at least 3 cans of their black beans in the pantry. There's always shredded cheese and cilantro in the fridge. We always have salsa for those happy hour snacks and if we don't have sour cream, there's Greek yogurt to fill the void. Let's be real. It doesn't quite fill the void. Maybe in baking, but not on tacos.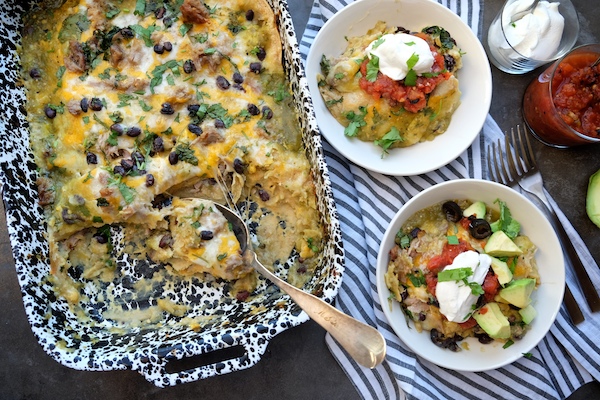 Let's go a step further. Let's make something kinda fancy out of our staples. Let's make something super filling….something that you can put toppings on because WHO DOESN'T LOVE TOPPINGS?!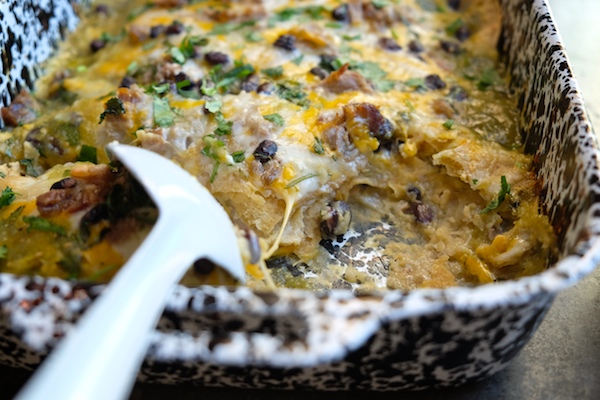 I made this Pork Enchilada Lasagna by layering corn tortillas with salsa verde, cheese, pulled pork and black beans. It's soft. It's crunchy. It's cheesy and it's DANG GOOD. You spoon it out into bowls and put your favorite toppings on top. We're definitely going to be eating this a lot this winter. I'm going to throw some roasted vegetables into our next batch for sure.
Let's gather our ingredients: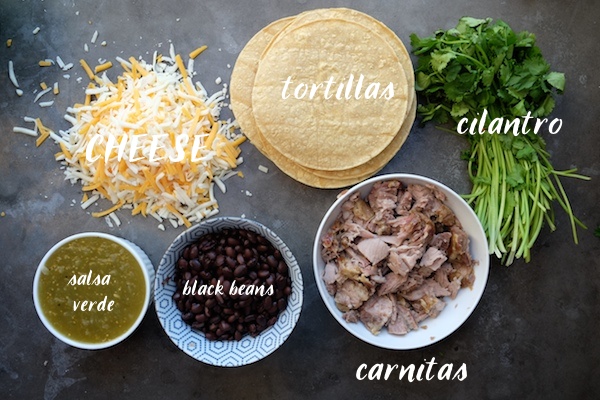 These are them! Unstyled. I am missing another jar of salsa verde…get two!
Add vegetables if you want. Omit the meat. Or use soyrizo!
Make it a breakfast situation by layering scrambled eggs into the layers.
OR heat up leftovers and #putaneggonit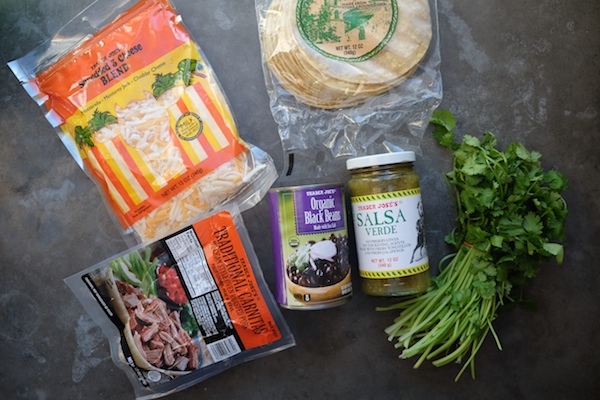 OK back to this.
Heat the carnitas up. Or if you have slow cooker pulled pork leftover, use that!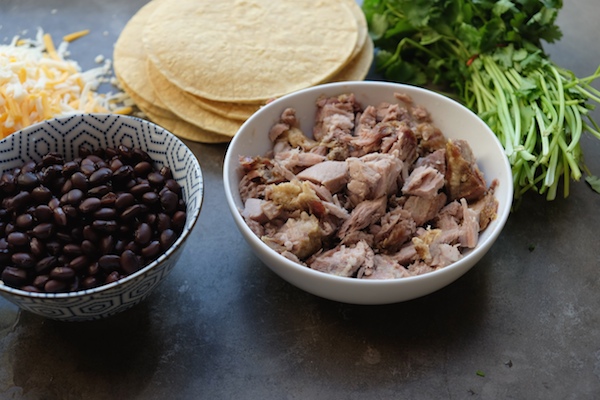 We layer the tortillas down. Add 1/3 of the salsa verde.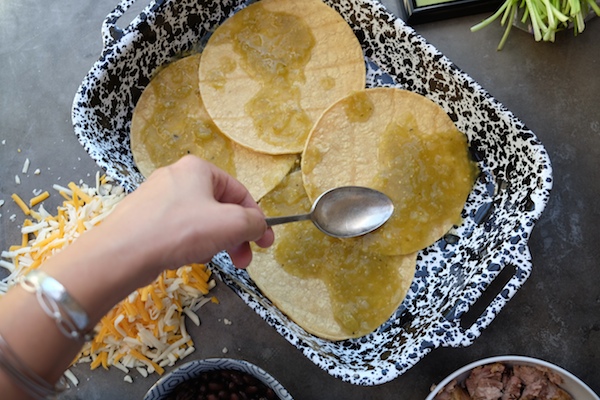 Top with cheese, followed by carnitas & beans.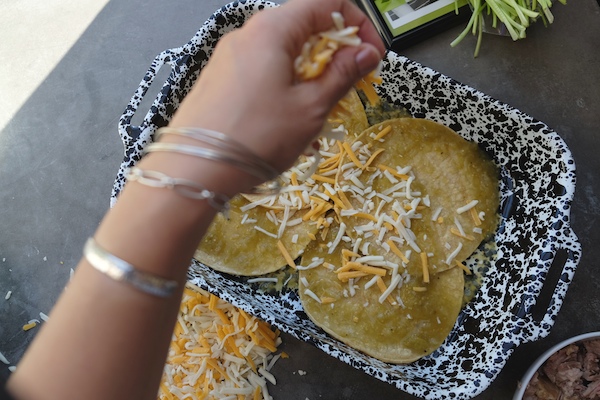 Cilantro. Repeat twice so you have three layers total.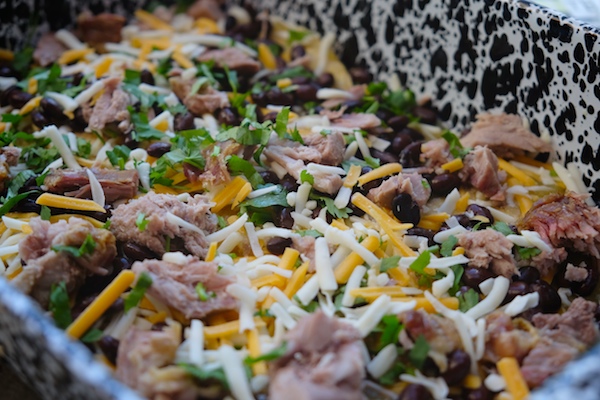 Layered. Ready to go into the oven.  We cover in aluminum foil for the first 20 minutes. We want the sauce to steam the tortillas, and make them soft and saucy. Then we take off the cover and let the cheese & the carnitas on top brown. It's delightful.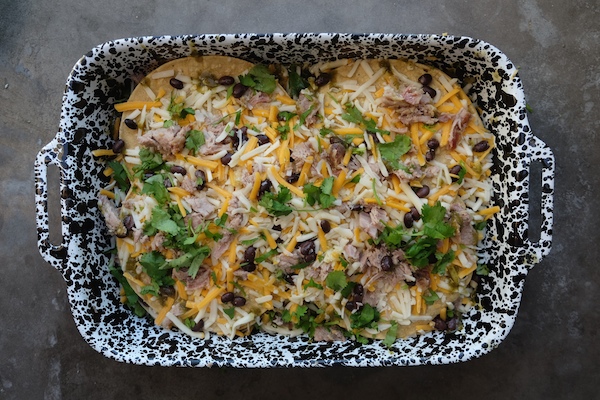 I'm in love with my new lasagna pan. You can find it here.
Here we have our lasagna pulled out of the oven.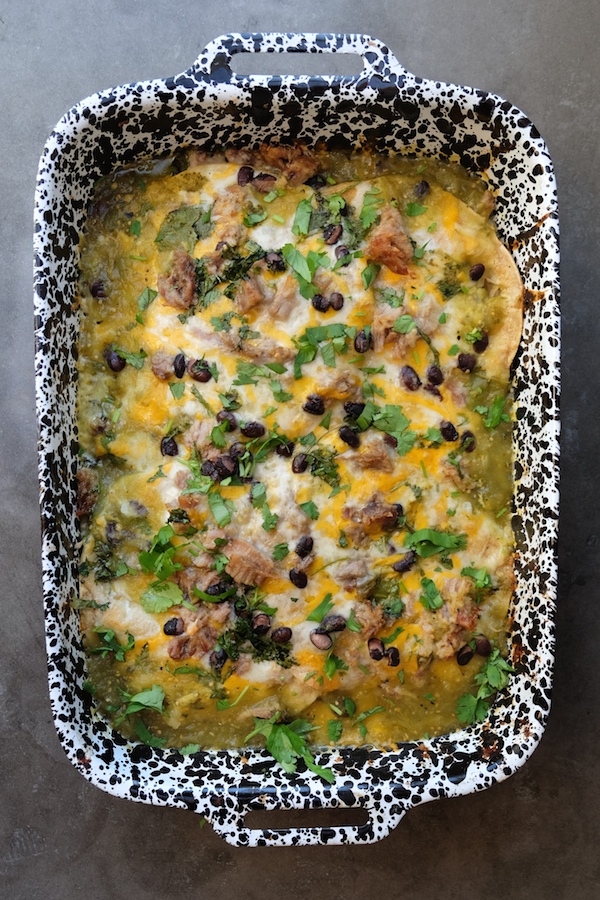 MELTED.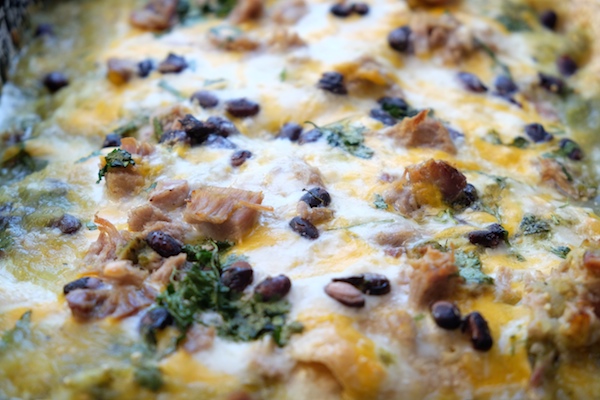 Spoon it out into bowls.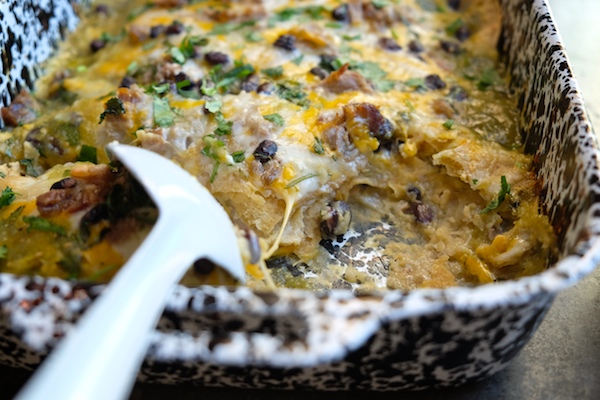 Get your toppings ready.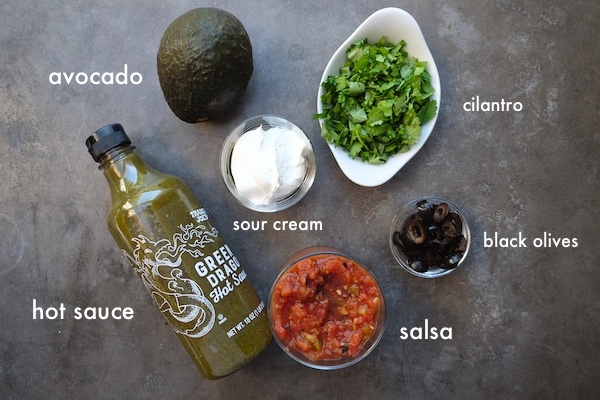 We're gonna need a bigger bowl.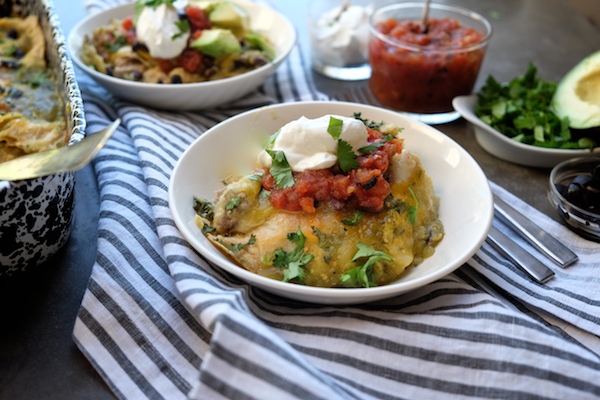 Have two servings. We both did.
Thanks for reading Shutterbean!  If you'd like check out my everyday life, follow me on Instagram and be sure keep in touch via Facebook, Twitter,  Bloglovin,  Pinterest, or subscribe via email to get new posts delivered to your inbox.
Pork Enchilada Lasagna

serves 4-6

12 corn tortillas
3 cups salsa verde
3 cups shredded cheddar cheese blend
1  14.5 can black beans, rinsed & drained
2 cups shredded carnitas
1/2 cup roughly chopped cilantro
sour cream, for serving
salsa, for serving
black olives, for serving

Preheat oven to 400F.

Line 4 tortillas on the bottom of a 9 x 13 baking dish. Spread 1 cup of salsa verde over the top of tortillas, followed by 1 cup shredded cheddar and about 1/3 cup of both the black beans and pulled pork. Sprinkle with about 1/8 cup cilantro. Add the next layer of 4 tortillas on top followed by the salsa verde, cheddar, black beans and pulled pork. You'll want 3 layers total. Cover the top with any remaining salsa verde. Place aluminum foil over the top and bake for 20 minutes. Remove the foil and bake for another 10, until parts of the pork are crispy and the cheese is bubbling. Serve with sour cream, salsa, black olives and additional cilantro.