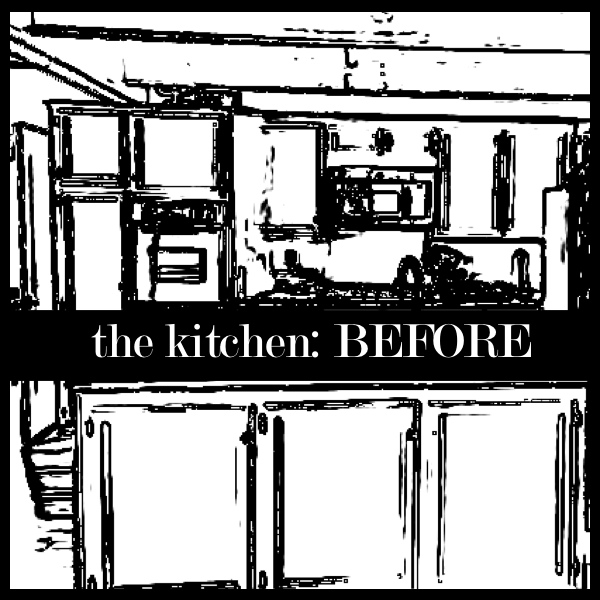 Our family has lived in our house (the house I grew up in!) for the past 4 years. The kitchen I've been cooking in is the SAME kitchen I learned to cook in when I was a kid. That really trips me out sometimes. This week our kitchen is being painted, so we moved EVERYTHING out into our dining room. I'm currently living this life…and it's kinda weird because I got a flashback today of when I was little and my parents had our floors refinished and our whole house was turned upside down.
Currently: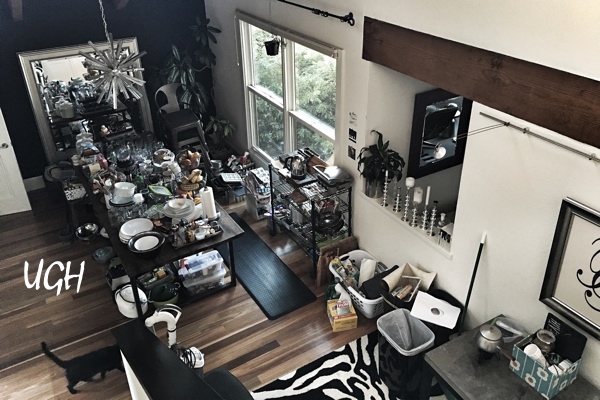 When I was in college my parents did some renovating. Oh gosh…that was awhile ago.   My mom had the kitchen cabinets painted an antiqued taupe faux finish which made for a dramatic difference from the original dark wood cabinets.
Truth be told, my mom and I have pretty different styles. I love contrast…. which should come as no surprise and she's more of an Autumn-tone person.  Since we moved in,  I've been dreaming of painting our current cabinets DARK and now it's finally happening. I have a thing for black & white kitchens. You can see my last kitchen at our old house here.
I thought that I would share some of the BEFORE photos with you guys.
This is what the kitchen looked like when we moved in. Nevermind the fridge…that photo was from a High Straightenance post on Homefries. This picture was taken right before we replaced our leaking/dying fridge.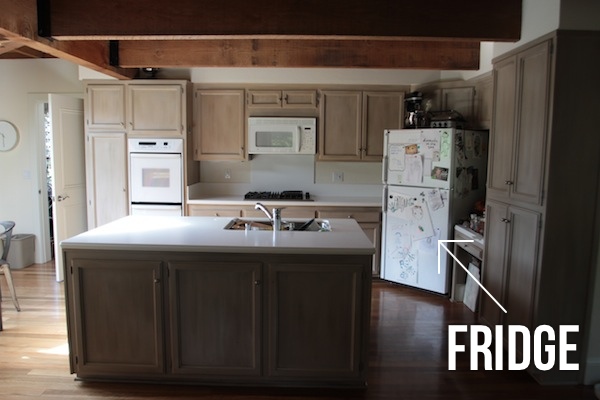 This was our kitchen on Saturday.
In the past 4 years we've replaced the microwave, fridge, dishwasher, ovens & most recently- the faucet.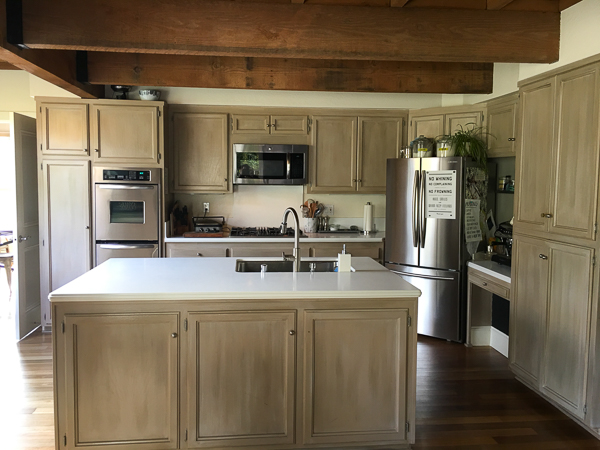 The house was built in the late 70s. Back then kitchen design was a little bit different. The island was smaller and the countertop tiled with big white tiles with dark grout. Oh man, I hated cleaning them.  One thing that makes the space kind of awkward is the fridge placement.  I don't think kitchens these days would have a fridge in the corner like ours does. The kitchen is apart of our family room- You can see pictures of the family room from my Pier1 post.  It's a pretty cool space because Cooper can be playing/watching TV while I'm working in the kitchen. It's a great space for kids.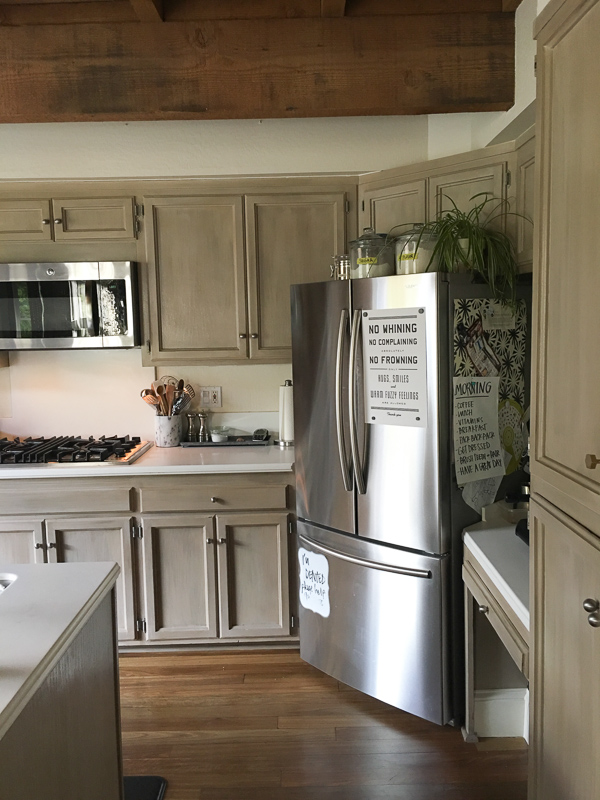 We eventually want to remodel the whole kitchen. Maybe turn the kitchen/family room into a giant kitchen area/work space…extending the island out and giving me more counter space.  Casey and I priced out new custom kitchen cabinets, an IKEA cabinet option, refacing the cabinets, and painting the cabinets. Painting the cabinets is what works best for our budget at this point. But here's the thing! We looked FOREVER for the hinge hardware for the cabinets and realized that it would be a royal PAIN to take them ALL off and try to match the new hinges with the old hinges. The hinges that we have now are not a standard size so it would require patching and drilling new holes. This challenge has been a huge barrier for us to start the painting job. Like…we've been debating this decision for 4 years now!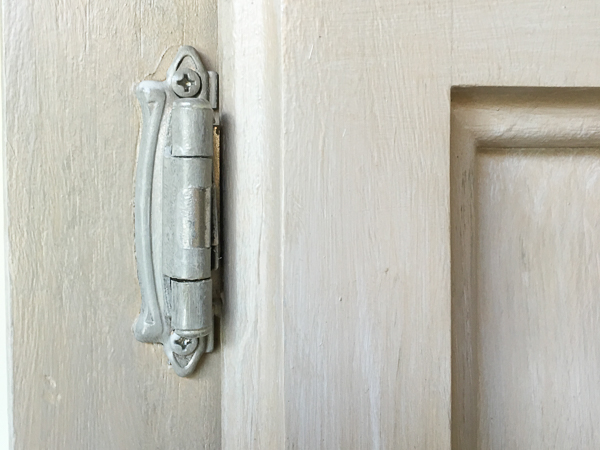 Casey was really reluctant to paint over the old hinges, but somehow I got the OK and here we are. These hinges were painted 20+ years ago and this is how they've held up over time. You can see there's a bit of wear, but nothing tooooo atrocious.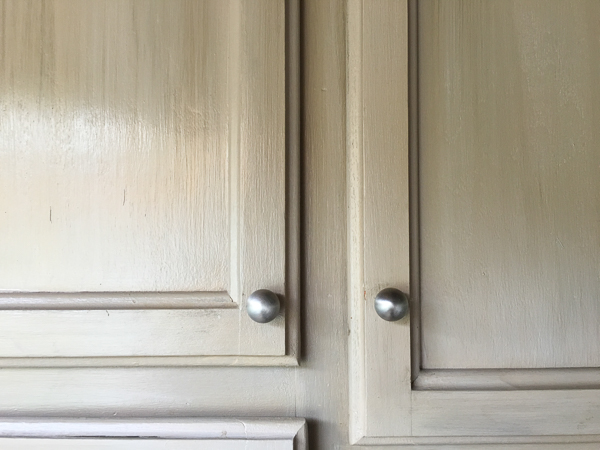 We're hoping that painting the cabinets/hinges will get us through the next 5+ years until we're in the right position to redesign the space. I know that painting the cabinets the color we want will help us love being in our kitchen. I'm so freaking excited, you have no idea.
Btw- that table over there is where I shoot most of my food photos. We get a healthy dose of light over there in the morning and the skylight helps keep light in the kitchen until the sun goes down. I'm not really worried about the kitchen looking too dark. We have ample light!
Plus…you know how I like to shoot dark backgrounds? I'm thinking that the pantry doors will create a nice backdrop to food photos. Win-win!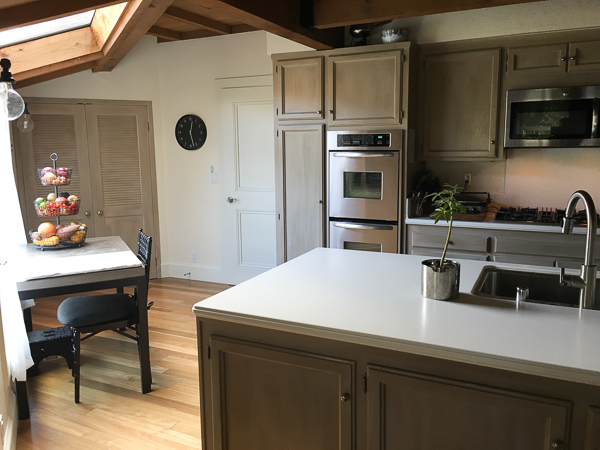 I took this picture last night after I took every single item out of the cabinets.  Right now the insides are plywood so I am so excited to see how all of our stuff looks with a fresh white background inside the cabinets.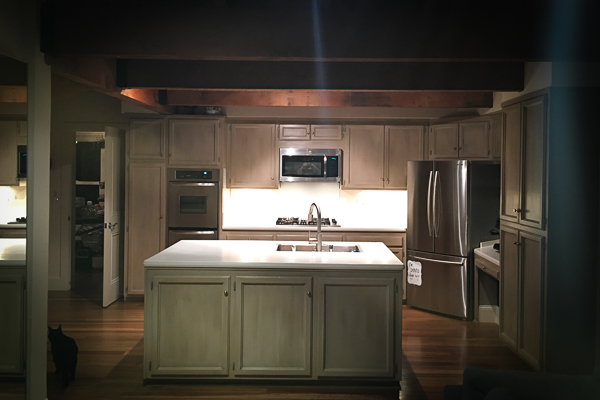 We're going with a dark gray/almost black shade for the cabinets.
If you look at my Pinterest board, you can see the vibe we're going for with our house.
Black/white/wood/industrial modern.
I wanted to go dark with our cabinets because I actually really like having white countertops (these are Corian) and I want them to POP with more contrast. If we painted our cabinets a lighter color, the only thing I think I'd see would be all of the appliances. I want them to blend in and I'm hoping the dark paint will help that happen. We'll see!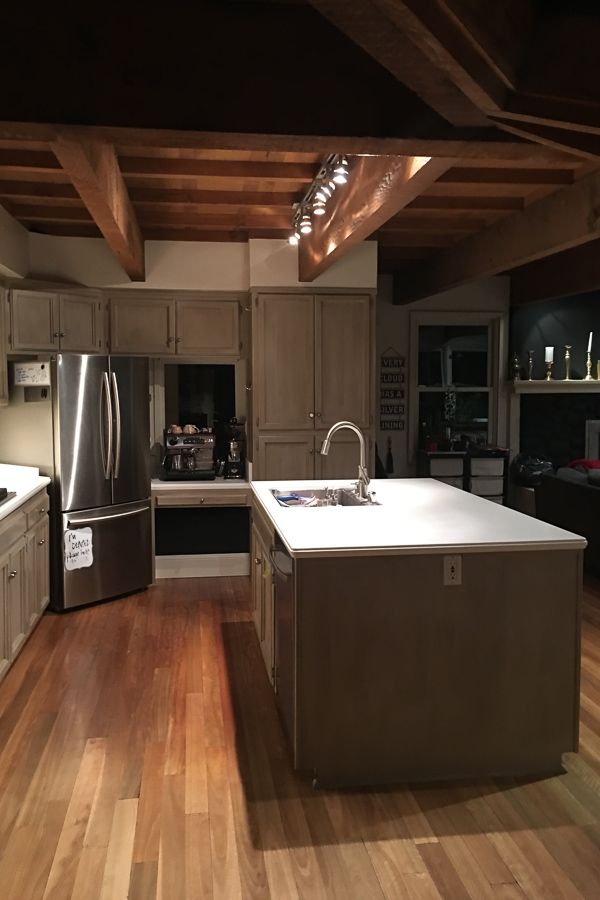 Making meals this week and next is gonna be interesting…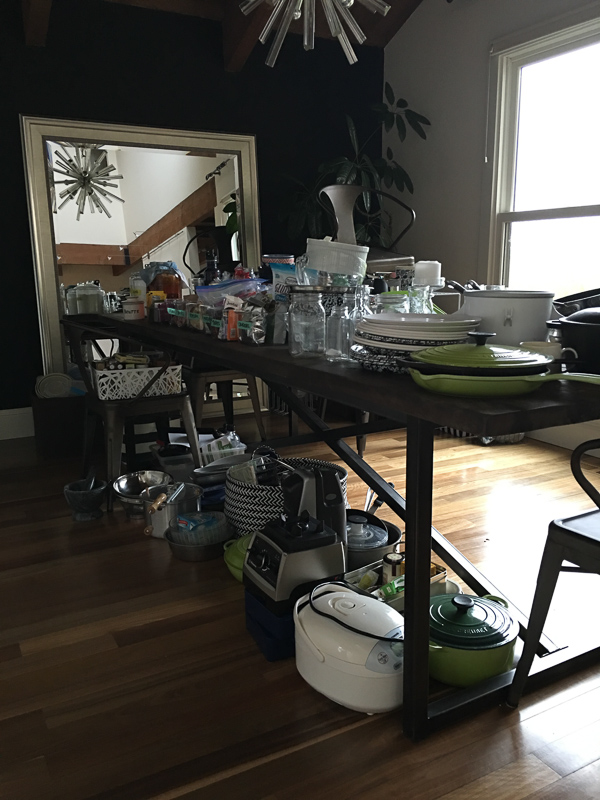 I've been sharing some snaps of our kitchen on snapchat- username tshutterbean  Follow if you're interested!
Can't wait to show you the end results. Stay tuned!