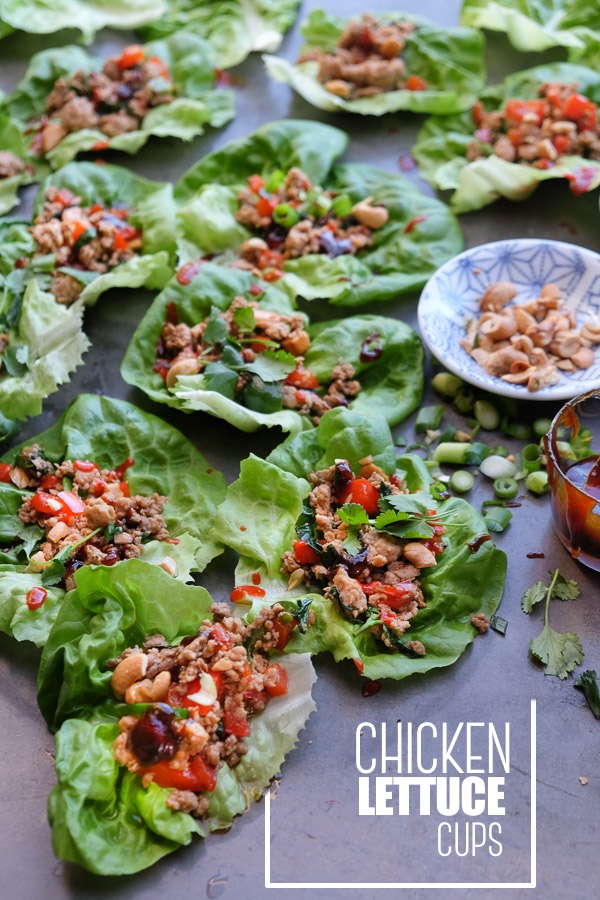 One of my side projects includes shooting the recipe cards for One Potato (an organic/healthy meal kit delivery service created by my friend Catherine of Weelicious).  I shoot an average of 4-5 new recipes each week and it's been changing how I cook- for the better!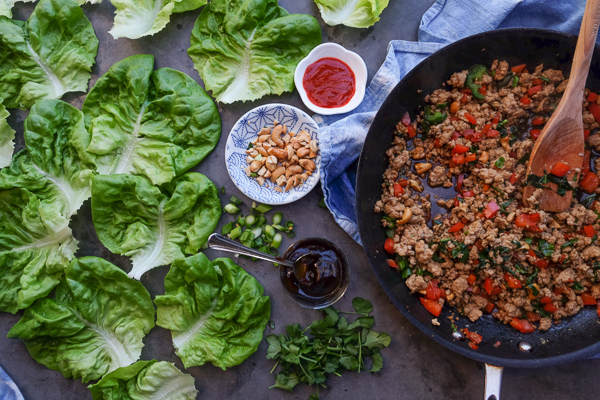 Through this opportunity, my family has been introduced to many great meals!  This Chicken Lettuce Cup recipe is one of our all time favorites. To see my husband and kid eat so much lettuce…and ask for more, tickles me.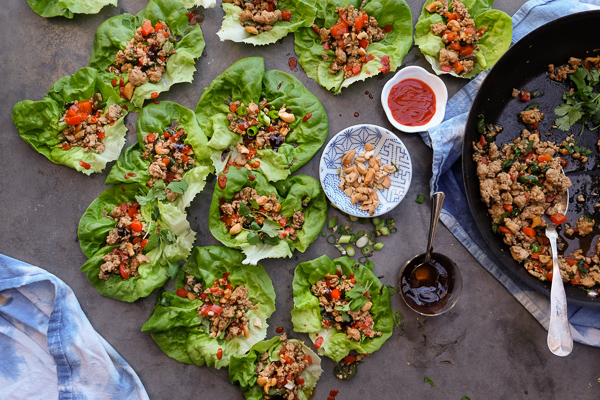 I add cashews because I love a crunchy kick in our lettuce cups. Cooper loves it too…which is awesome because he normally says NO to nuts. The leftovers (if you have any!) make a really great base to fried rice.  You can also serve the chicken over rice instead of lettuce cups. Thanks so much for making dinner a stress free/no hassle situation, Catherine. I'm so thankful that I have a dish that we ALL can eat in my household…and the best part is that NO ONE COMPLAINS.
Let's gather our ingredients: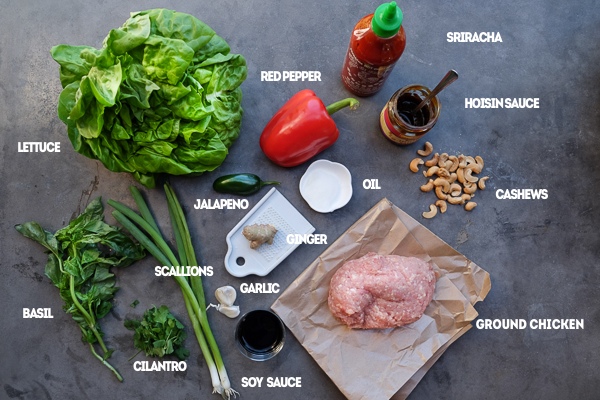 Lettuce is washed.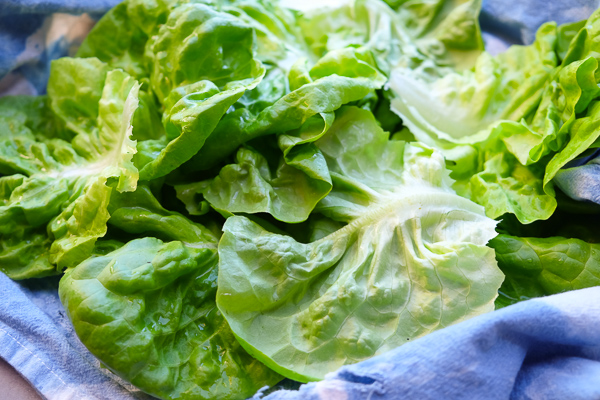 Things are prepped.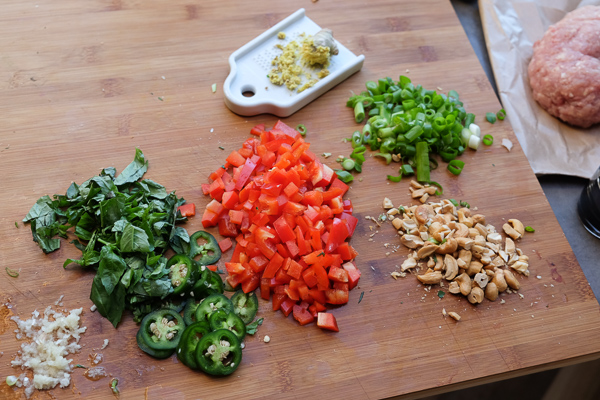 Ground chicken is cooked in coconut oil.
Red pepper & jalapeño addition after the meat is totally cooked.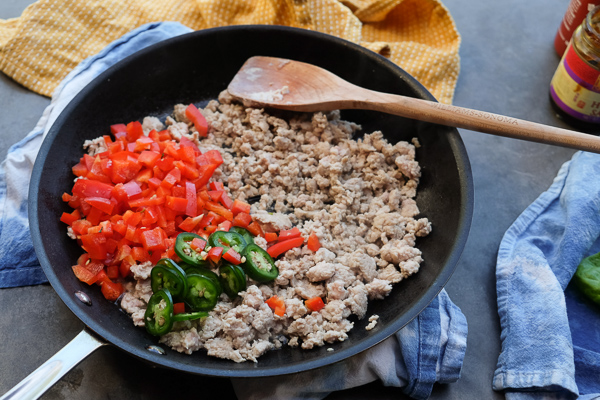 Garlic and ginger say hello.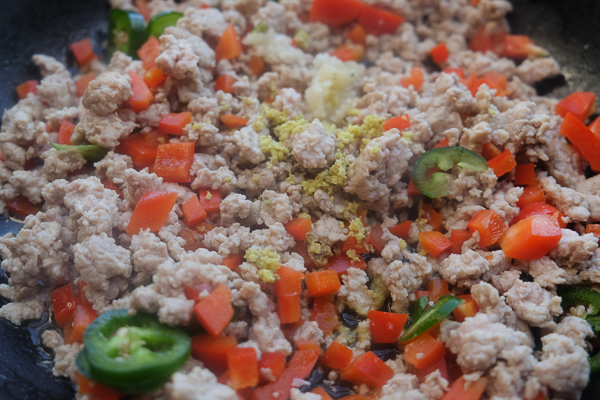 Tamari makes an entrance. WHATUP TAMARI?!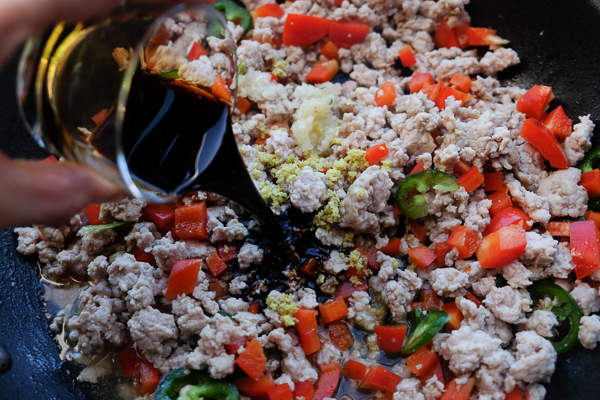 Basil, cilantro, scallions, cashews and hoisin say howdy.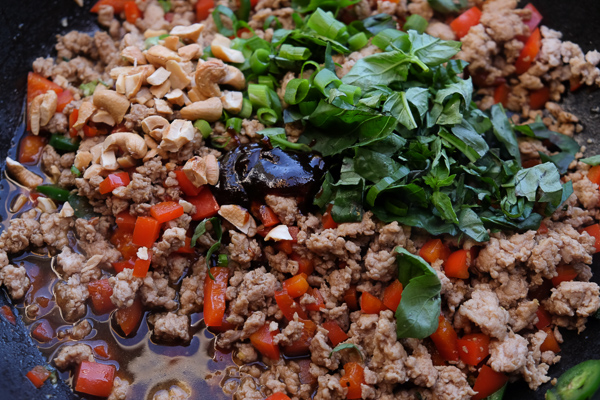 Let's get it all ready.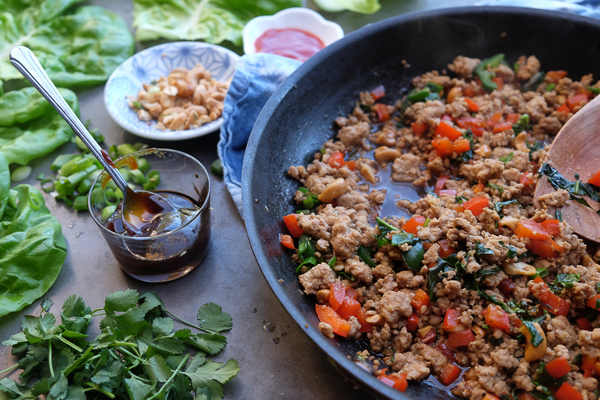 The meat is tender and full of flavor.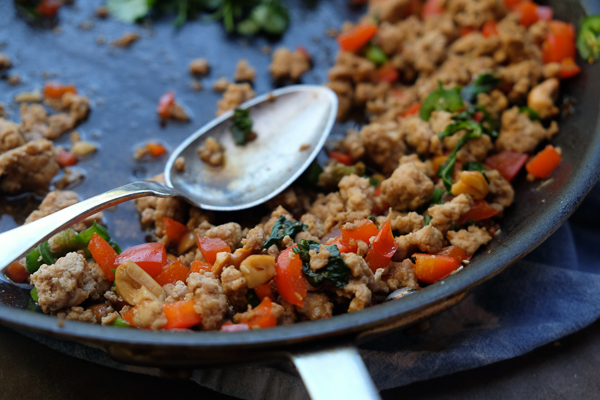 Spoon it out!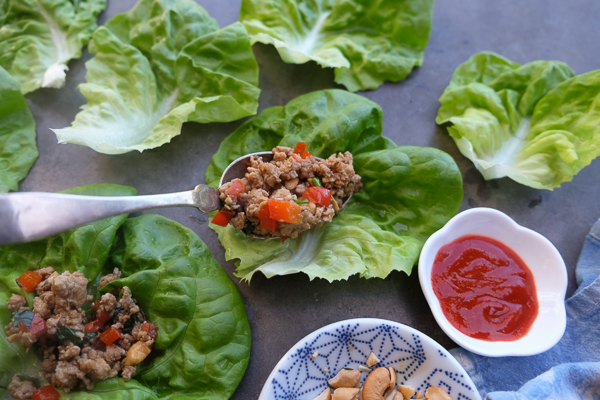 Drizzle with extra hoisin. Casey and I love sriracha on top too.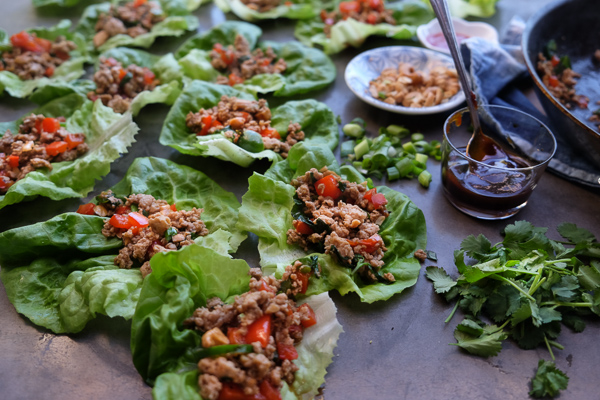 You won't feel bad about having 5+ lettuce cups.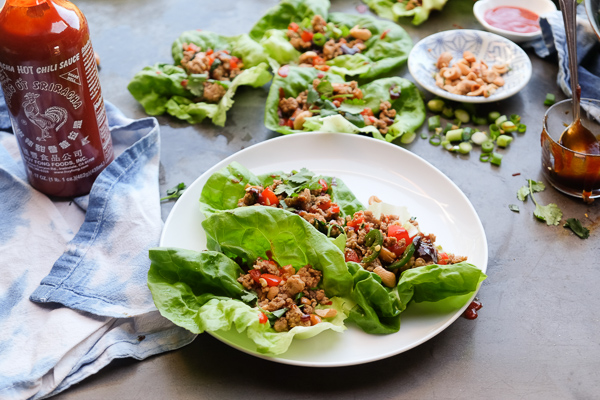 Thanks for reading Shutterbean!  If you'd like check out my everyday life, follow me on Instagram and be sure keep in touch via Facebook, Twitter,  Bloglovin,  Pinterest, or subscribe via email to get new posts delivered to your inbox.
Chicken Lettuce Cups

serves 4

recipe inspired by Weelicious

1 head bibb lettuce
1 tablespoon coconut oil
1 1lb. ground chicken
1 red pepper, diced
2 cloves garlic, minced
1 inch knob ginger, grated
1 jalapeño, thinly sliced
2 tablespoons tamari (or soy sauce)
2 scallions, thinly sliced (both white & green parts)
1 heaping tablespoon hoisin sauce, plus more for serving
1/3 cup chopped basil
1/3 cup chopped cilantro, plus more for serving
1/3 cup roasted cashews, roughly chopped
sriracha, for serving

Wash lettuce, pull apart leaves and set aside.

Heat coconut oil in a large skillet over medium-high heat. Add ground chicken and cook until meat is no longer pink, about 4-5 minutes. Add red pepper and jalapeño and continue to cook, until softened, about 2-3 minutes. Add garlic and ginger and cook for another minute. Stir tamari into mixture until well combined. Follow with scallions, hoisin, basil, cilantro and cashews. Cook until herbs have softened, about 2 minutes.

To serve, spoon 2 heaping tablespoons of the ground chicken mixture into each lettuce cup. Drizzle with hoisin sauce and sprinkle with cilantro for garnish. Serve immediately!