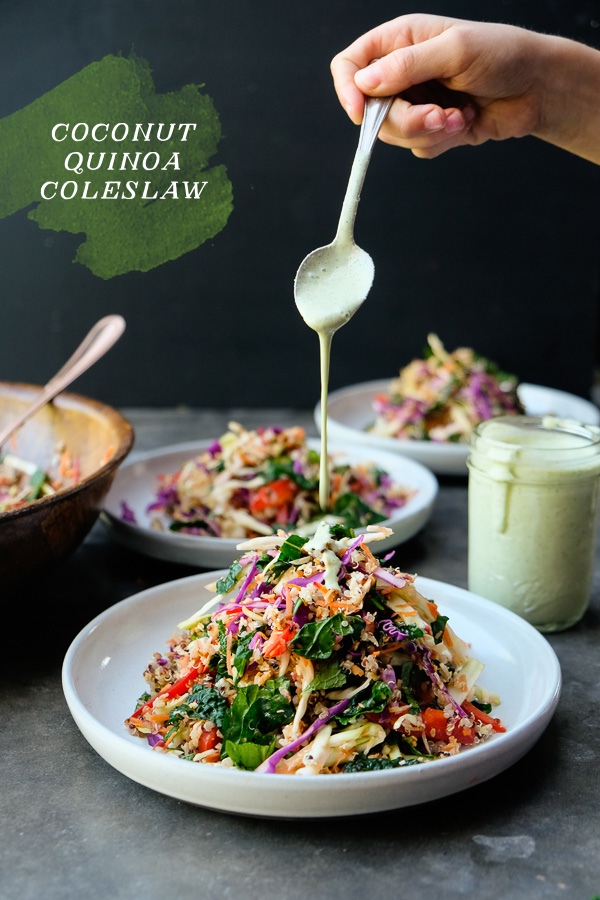 Thank you for all of your food rut suggestions. If you're experiencing one yourself and want to get back on track to eating healthy, I suggest you pick up Naturally Nourished and work your way through it. Cuz, that's what I'm doing!
It's helping me to remember that I love eating healthy foods… and that dinners made up of pretzels and cheese don't always make me happy.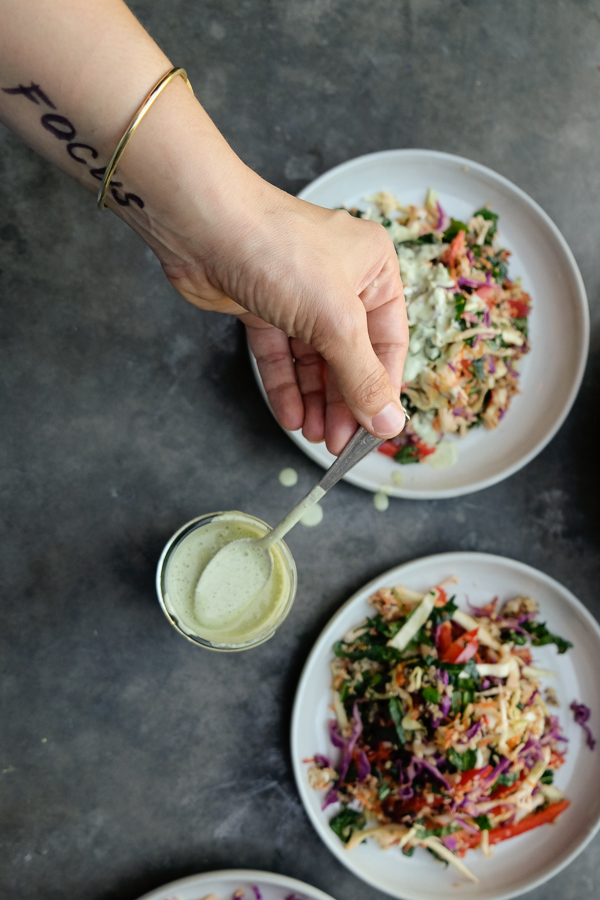 My first stop? This Coconut Quinoa Coleslaw.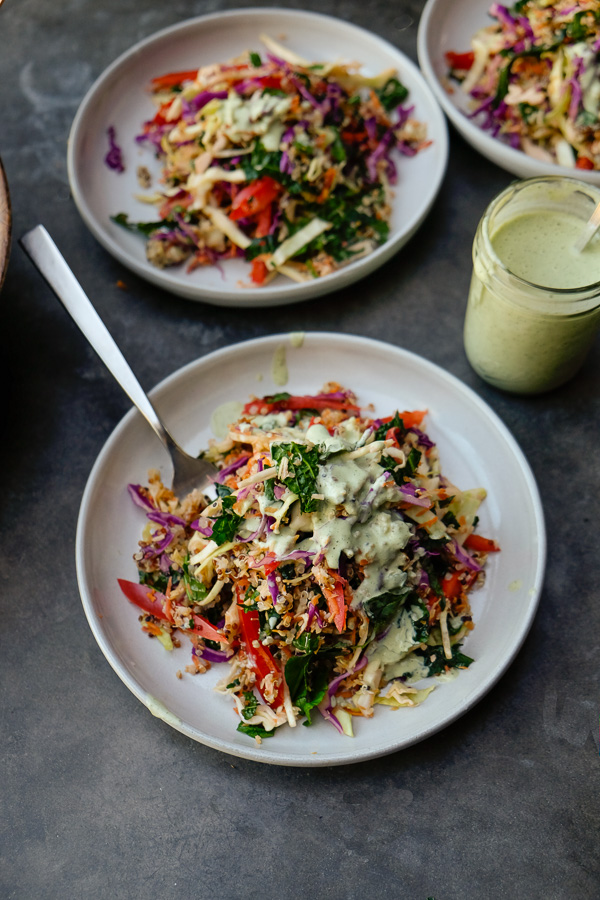 It's a hearty coleslaw. One that keeps your attention! Sarah is right, the toasted coconut in the slaw gives it a subtle sweetness and that minty tahini dressing on top is out of this world.
My tastebuds are ready to go now!
Let's gather our ingredients: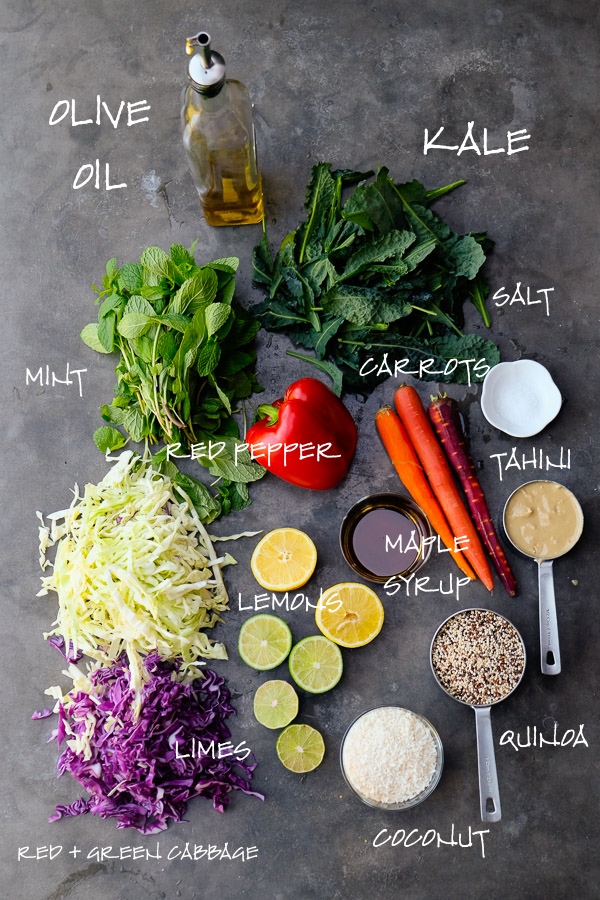 Make your quinoa.
Make your dressing. It goes in a blender. WHIRL!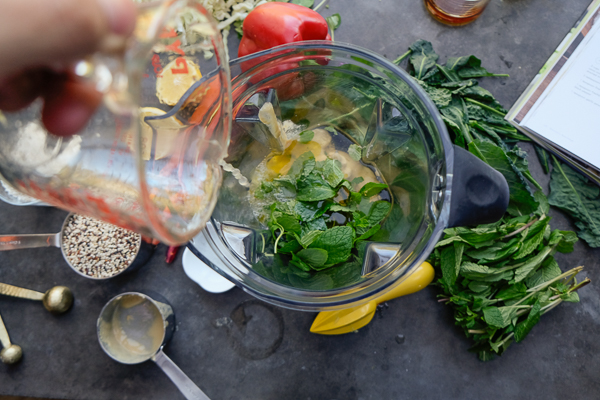 All dressed up!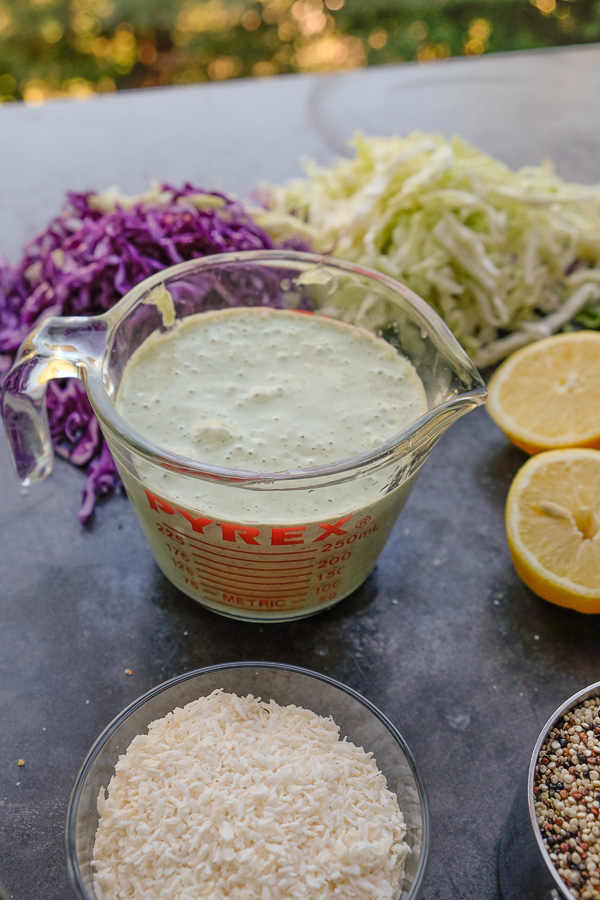 Chopping party. Vegetables get tossed in a lemon olive oil mixture. We are going to let it sit so that the kale softens. The vegetables soak up the flavor!
Make sure you grab a big enough bowl. My spatial recognition was off this day!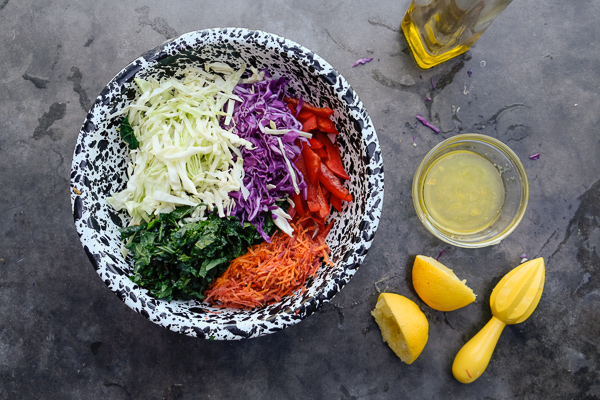 Toast the coconut.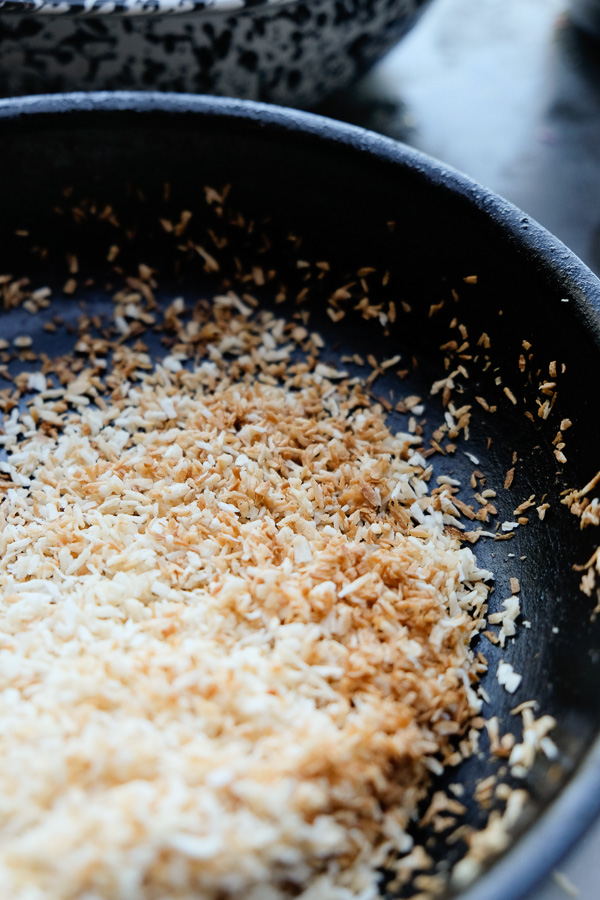 Toasted coconut & quinoa enter the equation.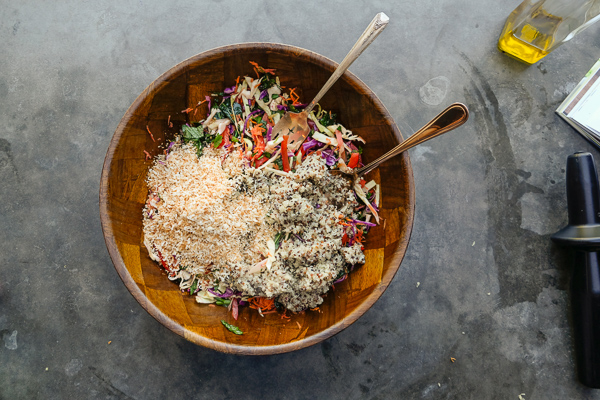 Toss toss toss.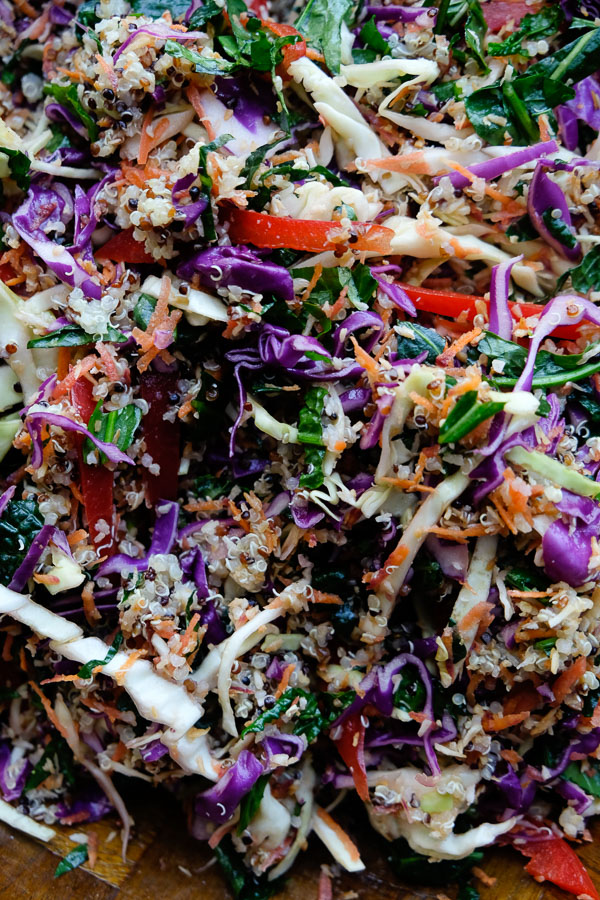 Plate it up!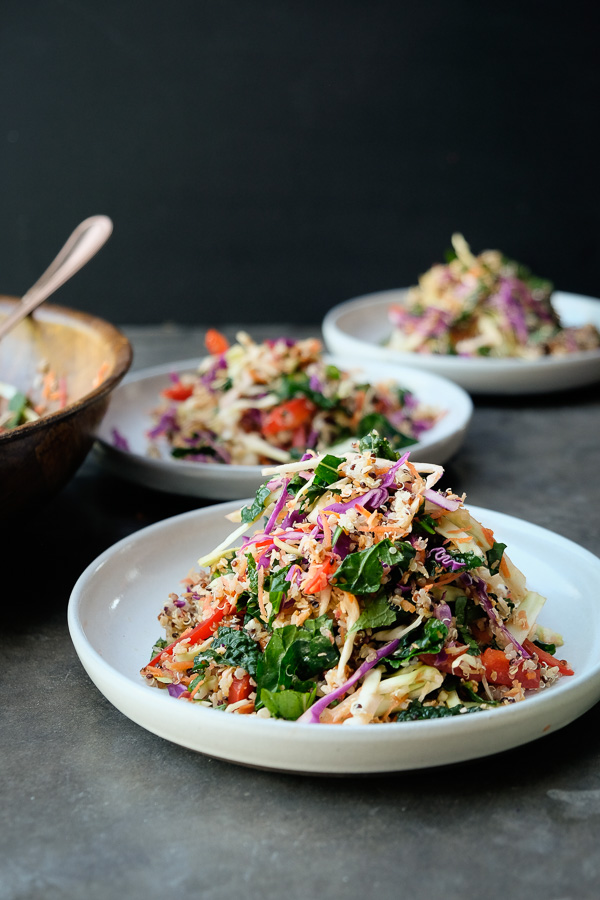 Dressing drizzle.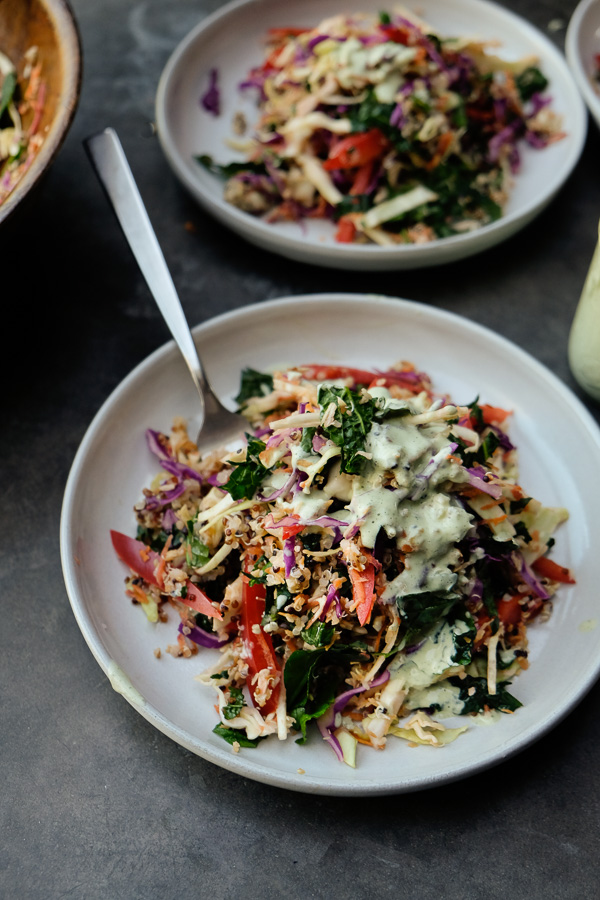 Health is just one recipe away.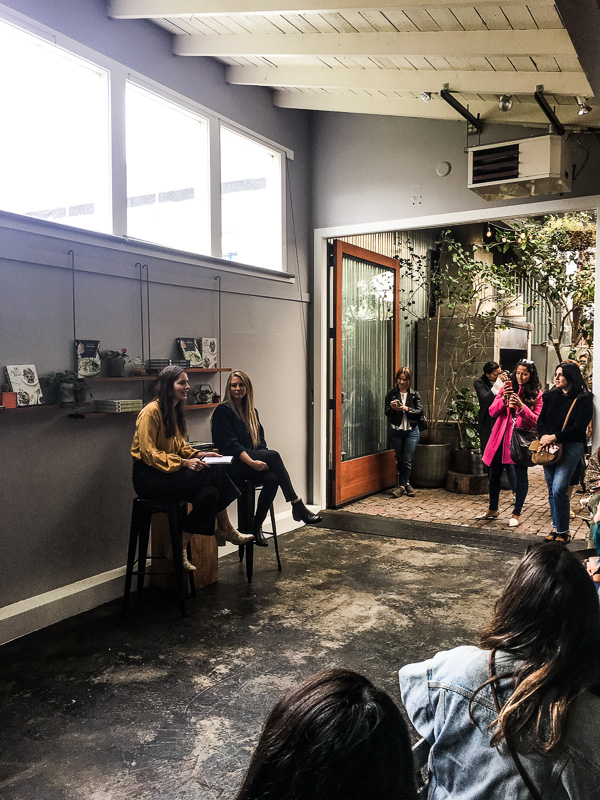 Thanks to Sarah Britton of My New Roots who constantly inspires me to fill my body with good fuel.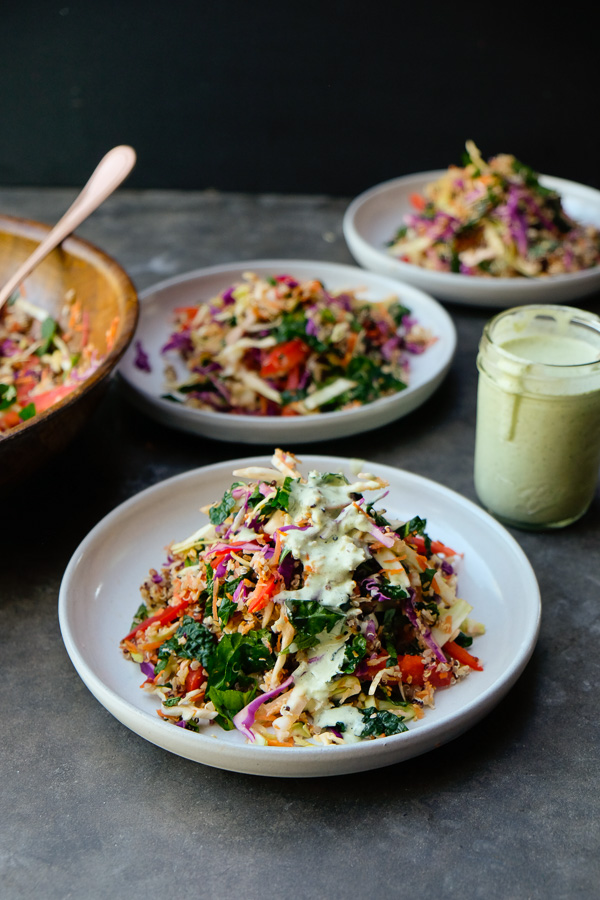 Enjoy!
serves 6 as a main/ 8 as a side
recipe slightly adapted from Naturally Nourished

for the quinoa:

1/2 cup quinoa
1 cup of water
1/4 teaspoon kosher salt

for the minty tahini dressing:

1/2 cup tahini
1/4 cup fresh lime juice
2 tablespoons olive oil
1 tablespoon maple syrup
3/4 cup water
1 cup (packed) mint leaves

for the coleslaw

2 cups shredded red cabbage
2 cups shredded green cabbage
2 cups shredded kale
3 medium carrots, julienned
1 red bell pepper, julienned
1/4 cup fresh lemon juice
1 tablespoon olive oil
1/4 teaspoon kosher
1 cup unsweetened, desiccated coconut

Make the Quinoa:

Rinse the quinoa well. In a small saucepan, combine the quinoa, water, and salt. Bring to a boil, reduce the heat to low, and cook, covered until all the water has been absorbed and the quinoa grains are tender, about 20 minutes. Fluff with a fork.

Make the dressing:

In a blender, combine the tahini, lime juice, olive oil, maple syruip, water, salt and mint leaves; blend on high until smooth and creamy, Season with more salt as needed. Set aside.

In a large bowl, combine the cabbages, kale, carrots, and bell pepper.

In a small bowl, whisk the lemon juice, olive oil, and salt together and pour over the vegetables. Toss well and lightly massage the liquid into the kale and cabbage, then let marinate for 5 to 10 minutes.

Preheat a dry skillet over medium heat. When hot, toast the coconut, stirring often, until golden brown and fragrant, 2 to 3 minutes. Immediately remove pan from heat and set aside.

Finish the salad:

Add the quinoa and coconut to the vegetable bowl. Toss well to combine. When ready to serve, dish out portions and allow guest to pour the dressing on their salads.