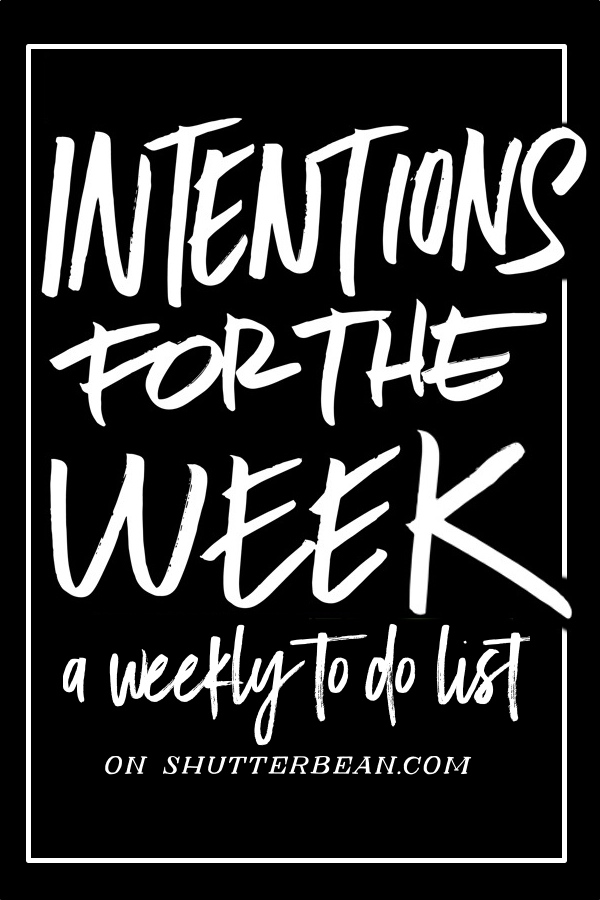 Happy Monday! This is our first full week of school. We're back in the mix! My house is in disarray after the weekend. A few obligations took away some of my cleaning time, so I have some extra work to do.  It was worth it, though!  Some weekends are busier than others and it seems like that's how our whole September will be. Before we say goodbye to August, we've got a holiday weekend ahead of us. If you need some food ideas for your weekend plans, I put together a Labor Day Weekend Food Idea list to inspire you.
Let's see what's up for the week!
Intentions for the Week
make a list of lunches for lunch post/map it out
LAUNDRY
yoga + dance class
grocery shop
prep for photoshoot for One Potato
clean out fridge
clean the bathrooms
library visit
book a chiropractor appointment
make it so I have two eyebrows and not one…
give myself a pedicure
work on Currently post for August
figure out if I will do the Whole30 in September
map out/plan Cooper's birthday party
make banana bread with leftover overripe bananas
try to make good food choices this week
work on editorial calendar
catch up on letter writing
catch up on emails
catch up on podcasts while I do house cleaning
transfer photos to external hard drive
DRINK WATER (this helps greatly!)
make some time to keep my creativity going
spread the word about The Handwriting Club on Instagram!
Last Week's Intentions:
unpack from trip
haircut for Cooper
gather back to school supplies
LAUNDRY
go to a yoga class

(went to dance class!)

grocery shop for school lunches
make a list of school lunches (maybe write a post about it?)
spend extra time with the cats this week
edit photos from trip/import them into a blurb book
prepare for speaking on an Instagram panel at TechMunch
ease back into the school routine
write some intentions for the school year

(working on it)

eat dinner outside
work in the garden
write a few letters  

(working on it)

keep reading Cheaper by the Dozen 

(didn't get to read this week)

put a few get-togethers on the calendar

(calendar is booking up!)
What about you? What are you up to this week?
Leave your Intentions for the Week in the comments!